This baked salmon recipe is flavorful, tender, and super moist. Smothered in a quick garlic butter sauce, this is probably our favorite way to bake salmon in the oven. Ready in less than 20 minutes, serve with your favorite healthy side dishes for a complete meal.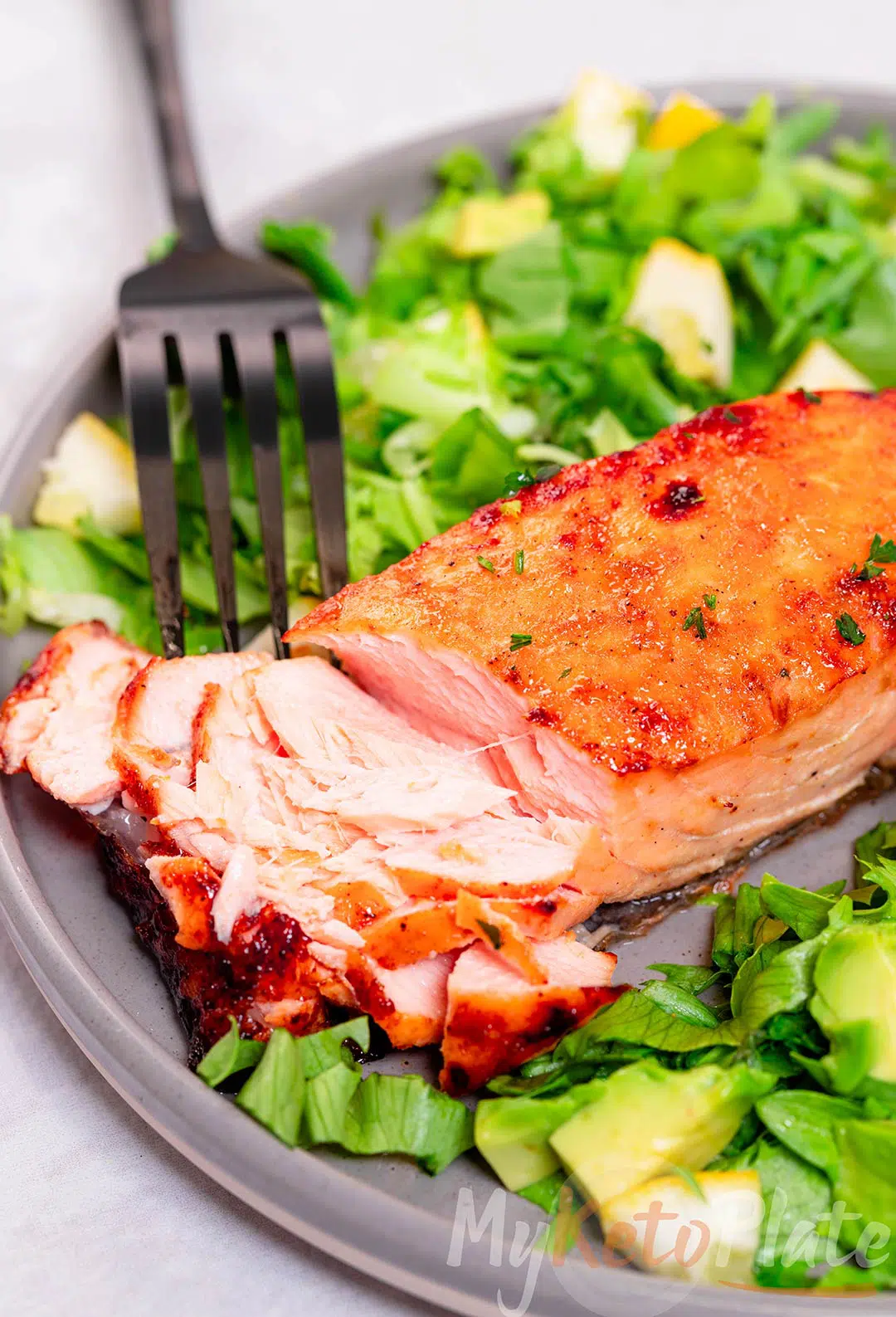 Are you looking for a foolproof salmon recipe, perfect for lunch or dinner and loved even by the little ones? Baked salmon is one of the recipes I often make for quick weeknight dinners, and it always turns out succulent and perfectly crispy.
You can easily double the quantities in this recipe for meal prep, and you can also serve it with a variety of side dishes to make a complete meal.
This baked salmon recipe requires minimal prep, and it's loaded with flavor. Here's how to properly cook salmon in the oven to make it super juicy every time.
Why Are You Going To Love This Baked Salmon
It's extremely easy to make.
It's perfect for meal prep since it can be cooked and stored in the fridge until you are ready to eat it.
It's a low-carb and keto-friendly recipe.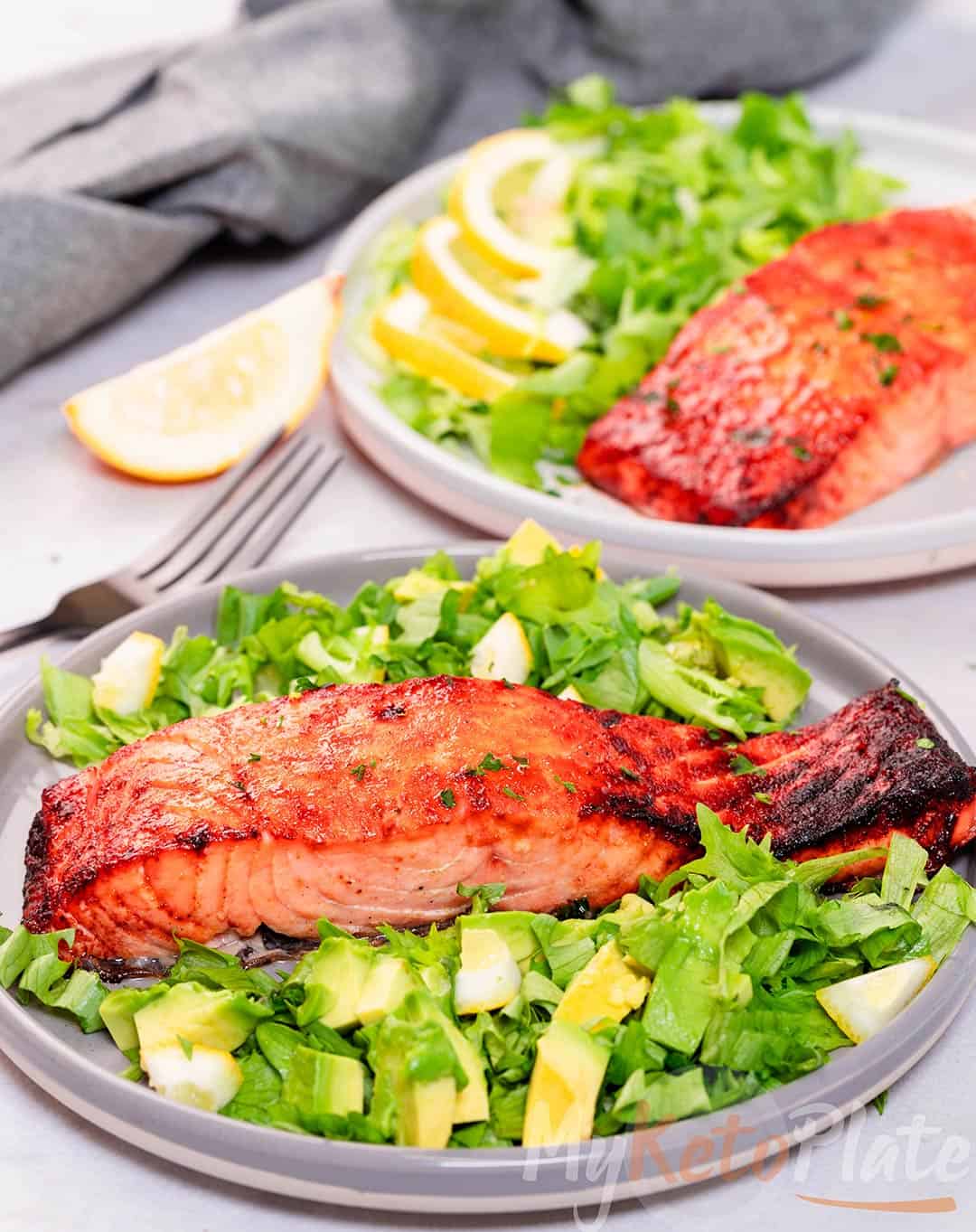 Baked Salmon Ingredients
The best part about this recipe is that you can enjoy a delicious dinner without spending too much time in the kitchen with only a few ingredients.
Here is everything you need:
salmon fillets – choose fresh salmon fillets that look moist and pink. Frozen salmon fillets are also a good choice.
butter – I use salted butter, but you can also substitute it with olive oil or any other kind of vegetable oil.
lemon – a medium-sized lemon is perfect for adding extra tanginess to this baked salmon recipe.
garlic cloves – freshly minced garlic for the best flavor. Garlic powder works too!
fresh parsley and dill 
paprika 
salt and pepper – to taste
How To Make Oven Baked Salmon
This salmon cooks very quickly in the oven, and the garlic sauce is divine. Here is everything you have to do:
Prepare the salmon – Start by wiping the salmon fillets with a paper towel to remove as much moisture as possible. Mix the melted butter with the rest of the ingredients. Brush the fillets with the prepared garlic sauce.
Bake the salmon – Place the salmon fillets onto a baking tray lined with foil and bake for 12-15 minutes, depending on the thickness.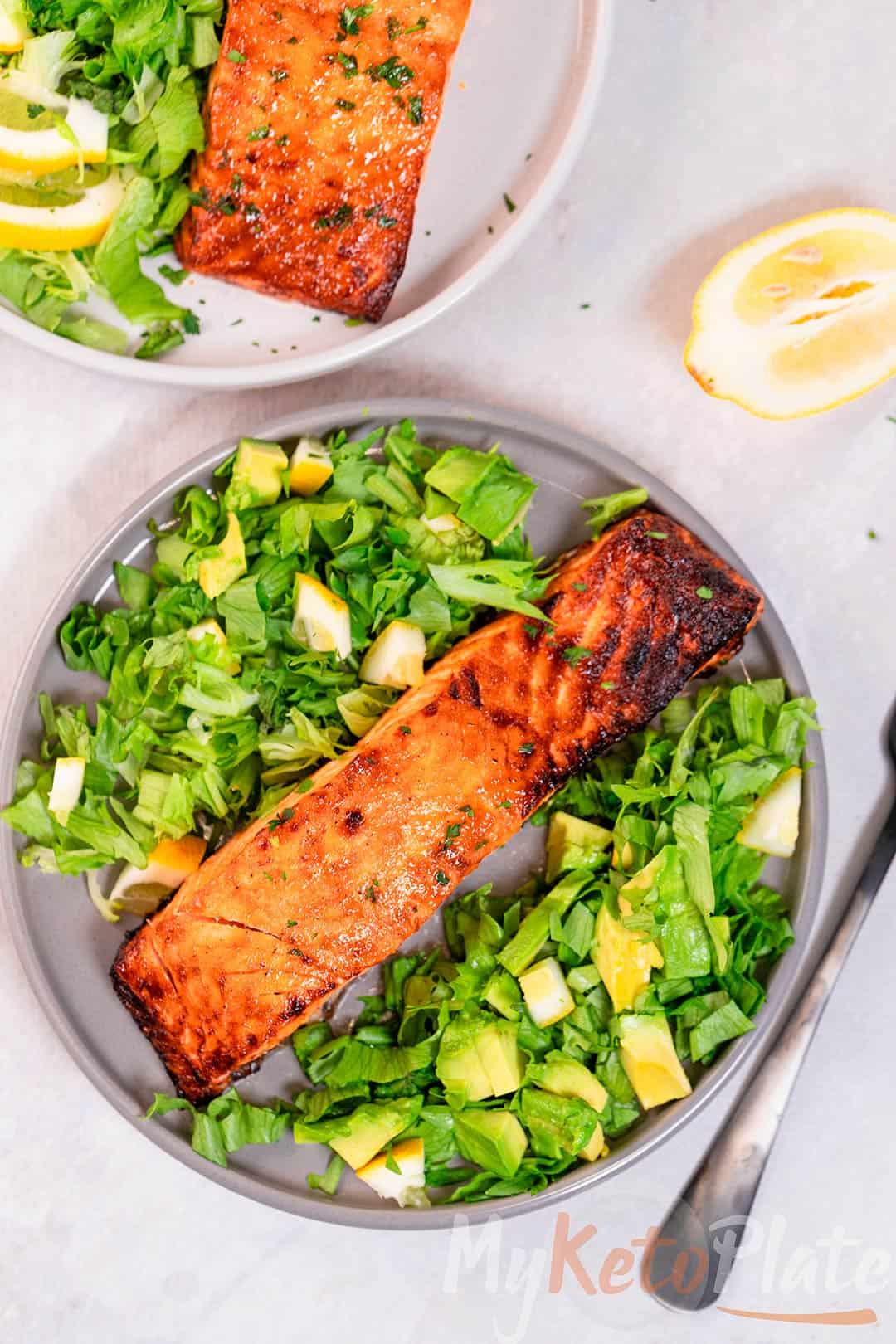 How To Tell If Salmon Is Cooked?
You can check if the salmon is cooked using a fork and has a light pink color. If it flakes easily, it means that it's cooked.
You can also use an instant meat thermometer to test salmon for doneness. According to the FDA, salmon is done cooking when the thermometer inserted in the thickest part of the salmon reads 145 degrees F (63 degrees C).
Tips For Making The Perfect Baked Salmon
Don't overbake your salmon because it will dry out too much, which you don't want.
To keep the tasty juices inside the salmon, you can wrap them in aluminum foil before putting them in the oven. In this way, it will cook well and lock the juices in.
Storing Ideas
Fridge: Oven-baked salmon can be stored in the fridge in an airtight container for up to 3 days. Reheat in the microwave for about 30 seconds or in the oven at 400 F for about 5 minutes.
Freeze: Oven-baked salmon is freezer friendly and can be stored for up to 4 months. Thaw salmon overnight, then reheat in the oven.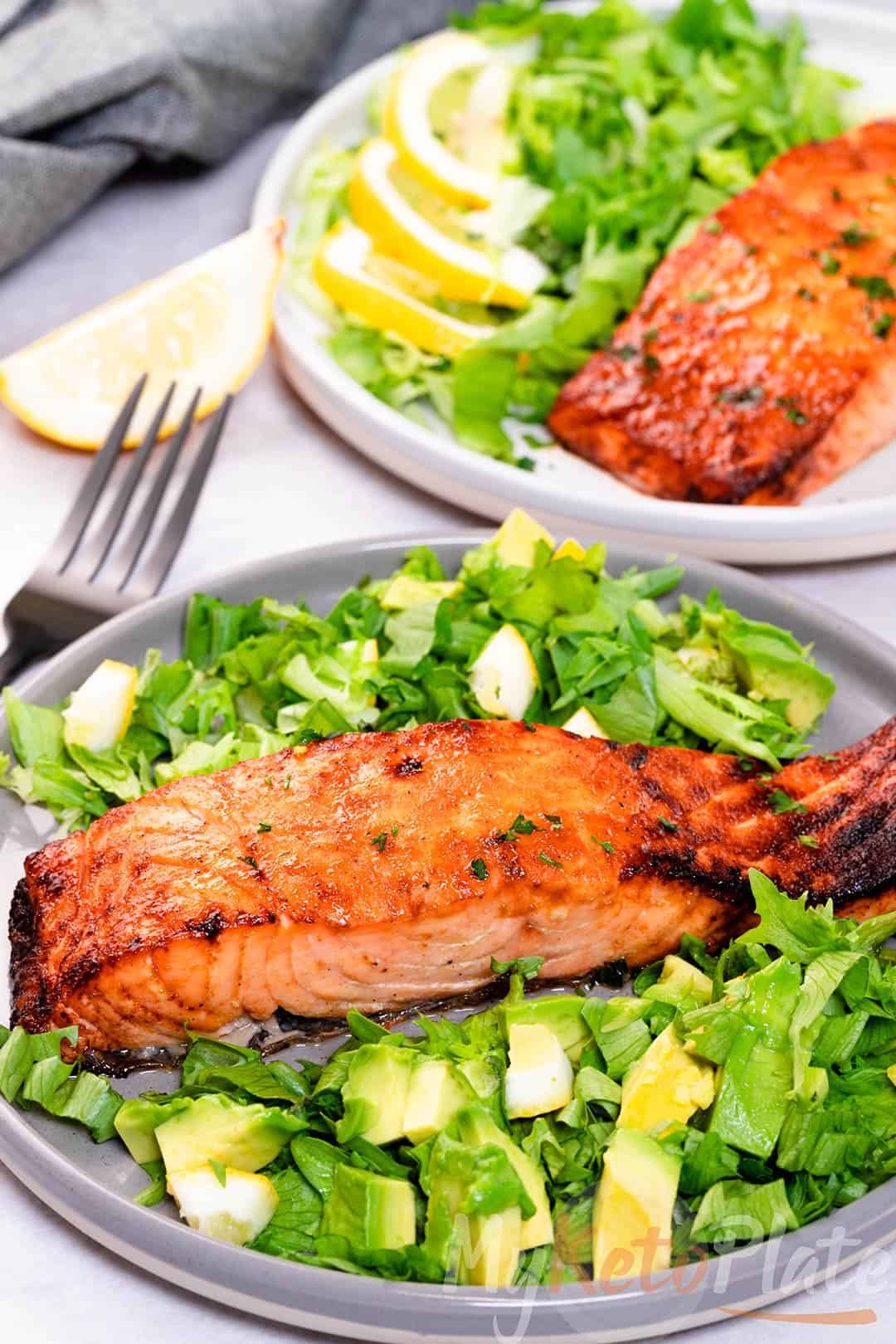 Serving Suggestions
Once the salmon fillets are done cooking, it's time to serve with the favorite side dishes. Here are just a few of my favorite options:
Oven-roasted vegetables such as asparagus, green beans, brussels sprouts, peppers, mushrooms, or broccoli.
Roasted potatoes
Creamy Cauliflower Mashed Potatoes f
Equipment Needed To Make Baked Salmon
A mixing bowl.
Paper towel.
Baking Paper
Baking Tray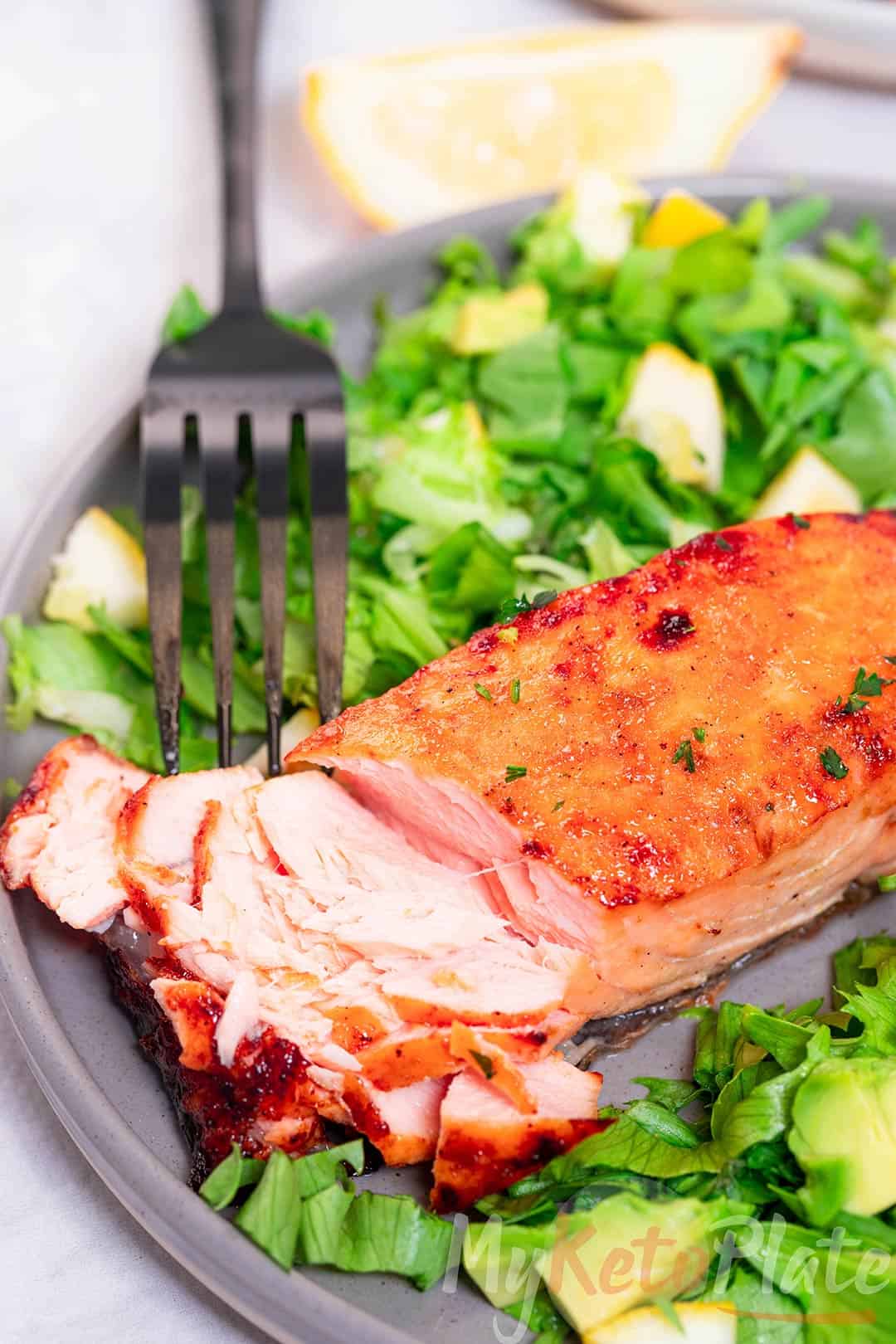 Is Salmon Keto?
Salmon is delicious, recommended for its nutritional qualities, and is probably one of my favorite proteins to eat on a keto diet.
So yes, salmon is a healthy option for any diet. It's one of the most nutrient-dense foods available and a fantastic source of protein. In addition, salmon is an excellent keto food since it is low in carbs, high in good fats, B vitamins, and selenium.
How To Choose The Perfect Salmon
There are three characteristics to keep in mind when choosing a salmon.
First, texture – Choose glossy filets that are firm to touch.
Then, appearance – Look for filets that have a vibrant, rich color. Salmon should be pink or coral in hue, depending on the salmon variation. You should look for a brightly colored fish rather than a white one.
Smell – The fish should not have a bad smell. Salmon with a fishy smell should be avoided.
Can I Cook Frozen Salmon In The Oven?
Sure, you can cook frozen salmon in the oven, and here is a great way to do it:
Preheat the oven to 425 degrees F / 220 degrees C.
Season the salmon fillets and place them on a baking sheet.
Bake in the oven for 12-15 minutes with the baking paper on top. Then remove the paper and leave for another 8-10 minutes. The total time may depend on the size and thickness of the fish.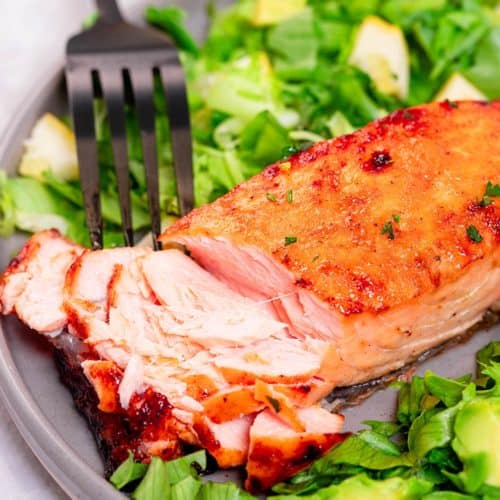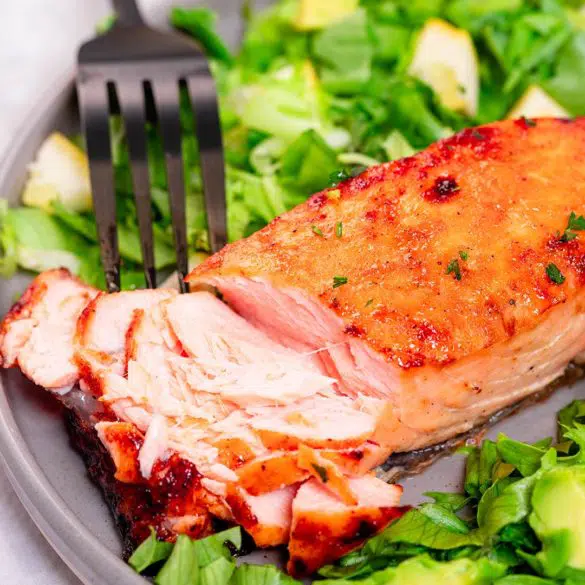 Best Oven Baked Salmon Recipe
---
Description
This oven baked salmon recipe is flavorful, tender, and super moist. Smothered in a quick garlic butter sauce, this is probably our favorite way to bake salmon in the oven. Ready in less than 20 minutes, serve with your favorite healthy side dishes for a complete meal.
Ingredients
4

6-ounce salmon fillets

2

tbsp

melted butter

or olivev oil

1/2

tbsp

lemon juice

2

garlic cloves

minced

1

tsp

fresh parsley

finely chopped

1

tsp

fresh dill

finely chopped

1

tsp

paprika

salt and pepper

to taste
Instructions
Preheat your oven to 375°F/190°C and line a rimmed baking sheet with foil or parchment paper. Remove the salmon fillets from the refrigerator.

In a small bowl, mix together the melted butter, lemon juice, minced garlic, chopped dill, parsley, paprika, salt, and pepper.

Place the salmon fillets onto the prepared baking dish and generously brush with the butter mixture.

Bake salmon for 12-15 minutes, depending on the thickness of the fillet. The salmon is done baking when an instant meat thermometer reads between 135 degrees F – 145 degrees F.

Remove the salmon from the oven and allow it to rest for a few minutes before serving.
Nutrition Facts
Amount per serving.
How do we calculate the nutrition info?
These nutrition facts listed are determined using nutrition information from the USDA Food Database. Our nutrition facts are accurate, but if you are using different products, please make your calculations. Net carb count is calculated by subtracting both fiber and sugar alcohols because they don't raise blood sugar.