This easy stuffed chicken breast recipe is super simple to make and perfect for a quick family dinner. The baked chicken breast is super moist and loaded with cajun flavor. So say goodbye to boring chicken and make the best baked stuffed chicken breast in just 30 minutes!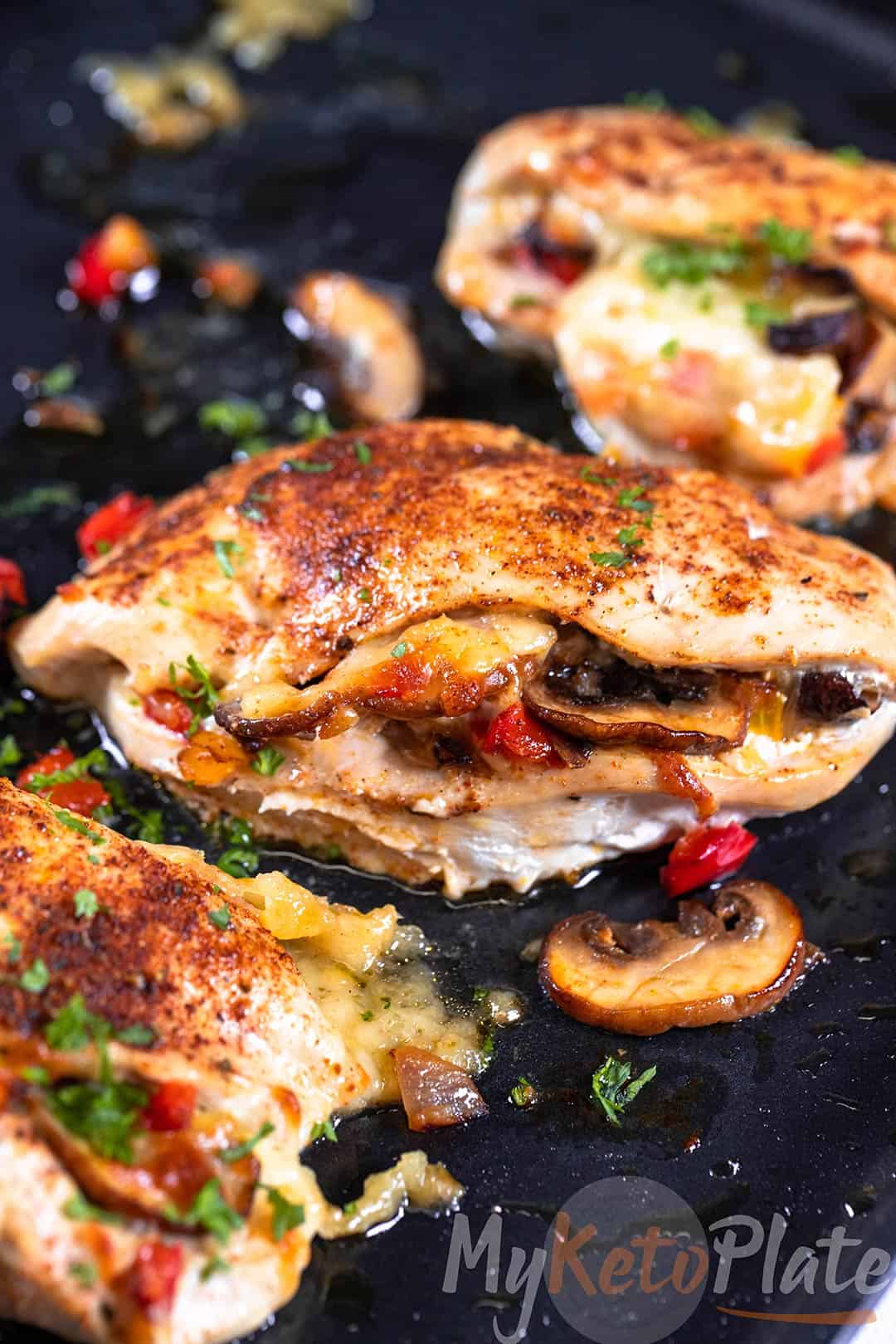 I'm excited to share this low-carb cajun stuffed chicken breast recipe with all of you today. The flavors of this recipe are incredible, and I'm sure it will become a family favorite!
This chicken breast recipe is super versatile, naturally low in carbs, so it's perfect even if you follow a keto diet.
Why Are You Going To Love This Stuffed Chicken Recipe
Easy to prepare- ideal for a busy day when you don't have enough time to cook.
Made with low-carb ingredients and is ideal for anyone searching for a keto-friendly chicken recipe that is also high in protein and fiber.
Perfect for meal prep– a chicken recipe that can be made ahead of time, and served during the week with your favorite sides.
The chicken is super juicy and the filling super delicious.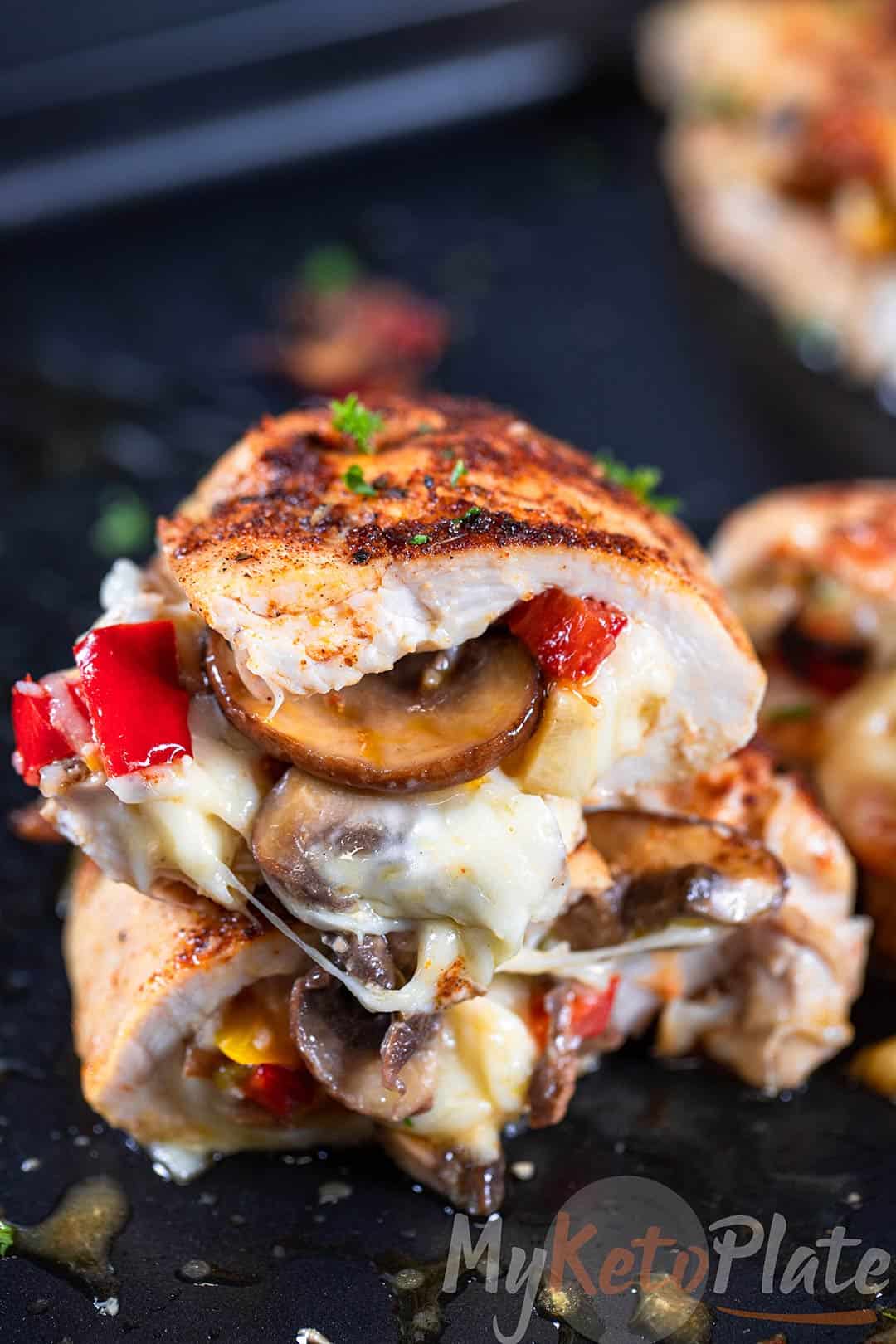 Ingredients in Stuffed Chicken Breast
This baked stuffed chicken breast recipe requires just a few basic ingredients. It's incredible how you can cook such a delicious chicken breast recipe by using so few ingredients:
Chicken Breast – make sure that your boneless skinless chicken breasts are large enough to be stuffed.
Olive oil – is used to saute the vegetables for the stuffing, but you can also use butter instead.
Mushrooms – I like using mushrooms because they have an earthy, delicious flavor that pairs perfectly with the chicken. Spinach is also great to use in the stuffing.
Bell Peppers – I used fresh red and green bell peppers in this recipe. Roasted bell peppers are also a tasty option in this recipe.
Onion- adds a little sweetness to the mixture.
Shredded Cheese- Shredded mozzarella, cheddar cheese, or any other good melting cheese like Monterey Jack can also be used.
Cajun Seasoning – you can use a store-bought one, but you can also make this mix at home.
Butter- helps the chicken stay juicy and tasty.
How To Make Baked Stuffed Chicken Breast
1. Start by making the chicken stuffing mixture- Heat the olive oil in a skillet over medium heat and saute the onions, pepper, and mushrooms for about five minutes. Season with Cajun seasoning to taste.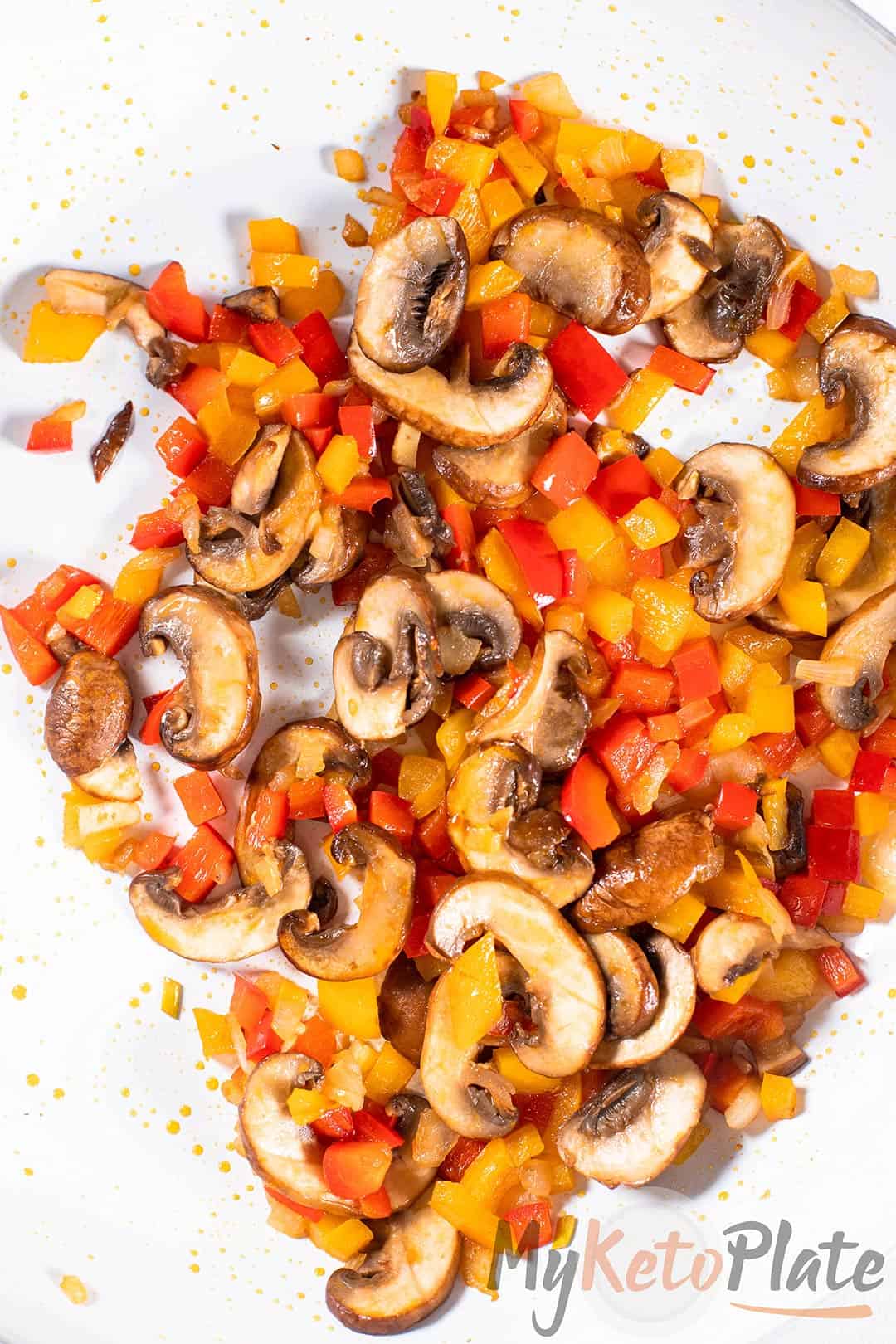 2. Cut pockets into your chicken breast and fill them with the stuffing mixture. Top with the shredded cheese, and secure with toothpicks.
3. Bake the stuffed chicken breast at 400F for about 35-40 minutes or until the internal temperature reaches 165F.
Tips For Making The Stuffed Chicken
Place the chicken breast on a cutting board and cut a deep pocket into the side with a sharp knife, rather than cutting it all the way through.
If you want a creamier stuffing mixture, add some cream cheese to the mixture.
Make sure that you don't overcook your chicken breasts. You can use a meat thermometer to check the internal temperature.
Add bacon to the stuffing mixture for even more flavor.
To reduce the cooking time, pan-sear chicken breast for about 5 minutes on each side, then bake in the oven for 20-25 minutes.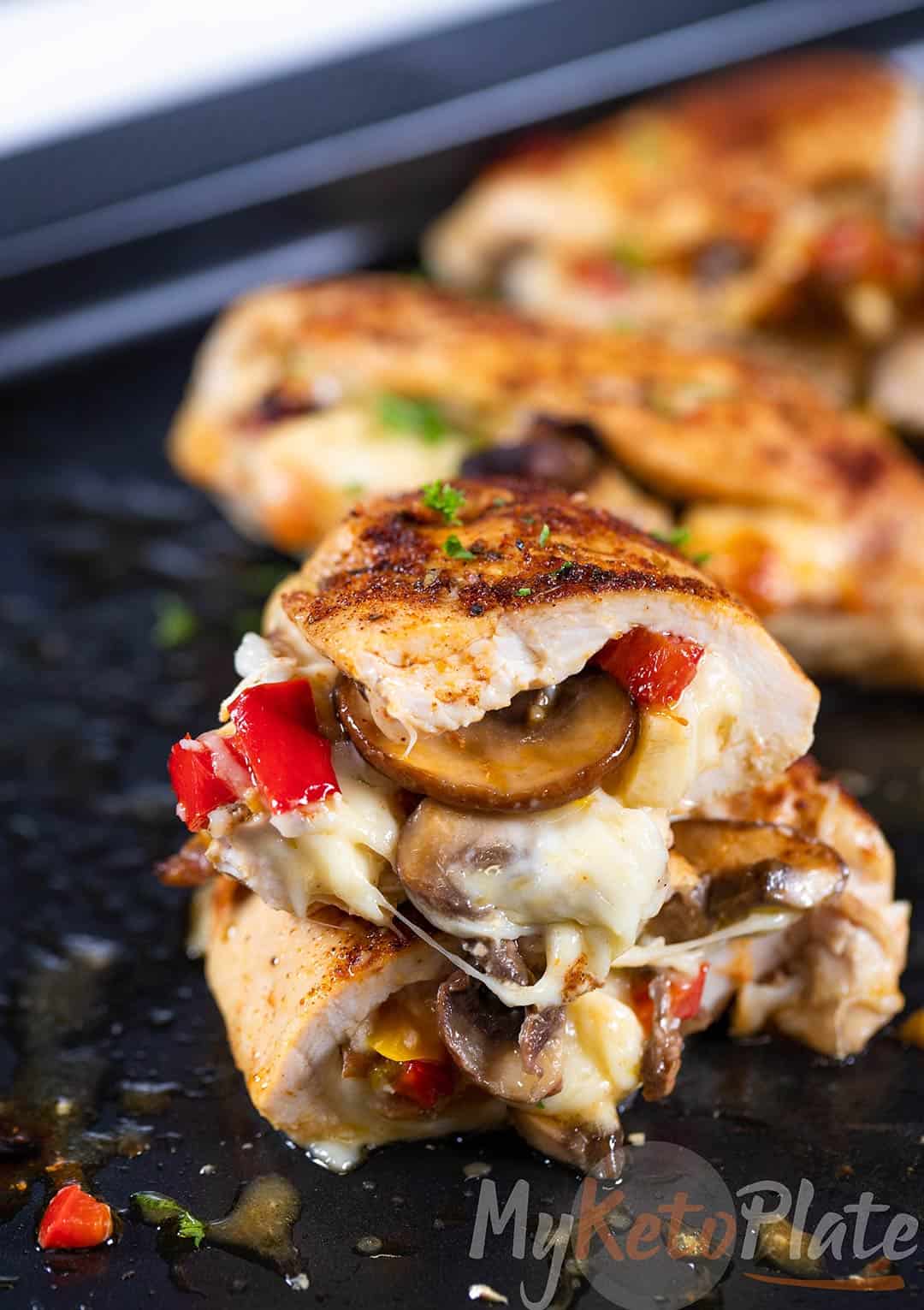 Can I Grill Stuffed Chicken Breast
Sure, this is another great option for cooking chicken breast. Just prepare the chicken just like I did in this recipe, then cook it in a large grilled pan over medium heat or until each side is thoroughly cooked through.
Can I Use Chicken Thighs?
Chicken thighs are a little more difficult to seal, but you can use less stuffing mixture.
How Long Do You Cook Stuffed Chicken Breast
When your chicken reaches an internal temperature of 165 degrees Fahrenheit, it is completely cooked. So make sure you're testing the temperature using an instant meat thermometer. Insert the thermometer into the thickest part of the chicken.
Got Leftovers?
Fridge: if there are any leftovers, you can store them in an airtight container in the fridge for up to 7 days.
Freezer: Another great idea to keep this stuffed chicken breast recipe fresh is to freeze it. Check to see if your chicken breasts are totally cooled, then wrap them in plastic wrap and store them in the freezer for up to three months.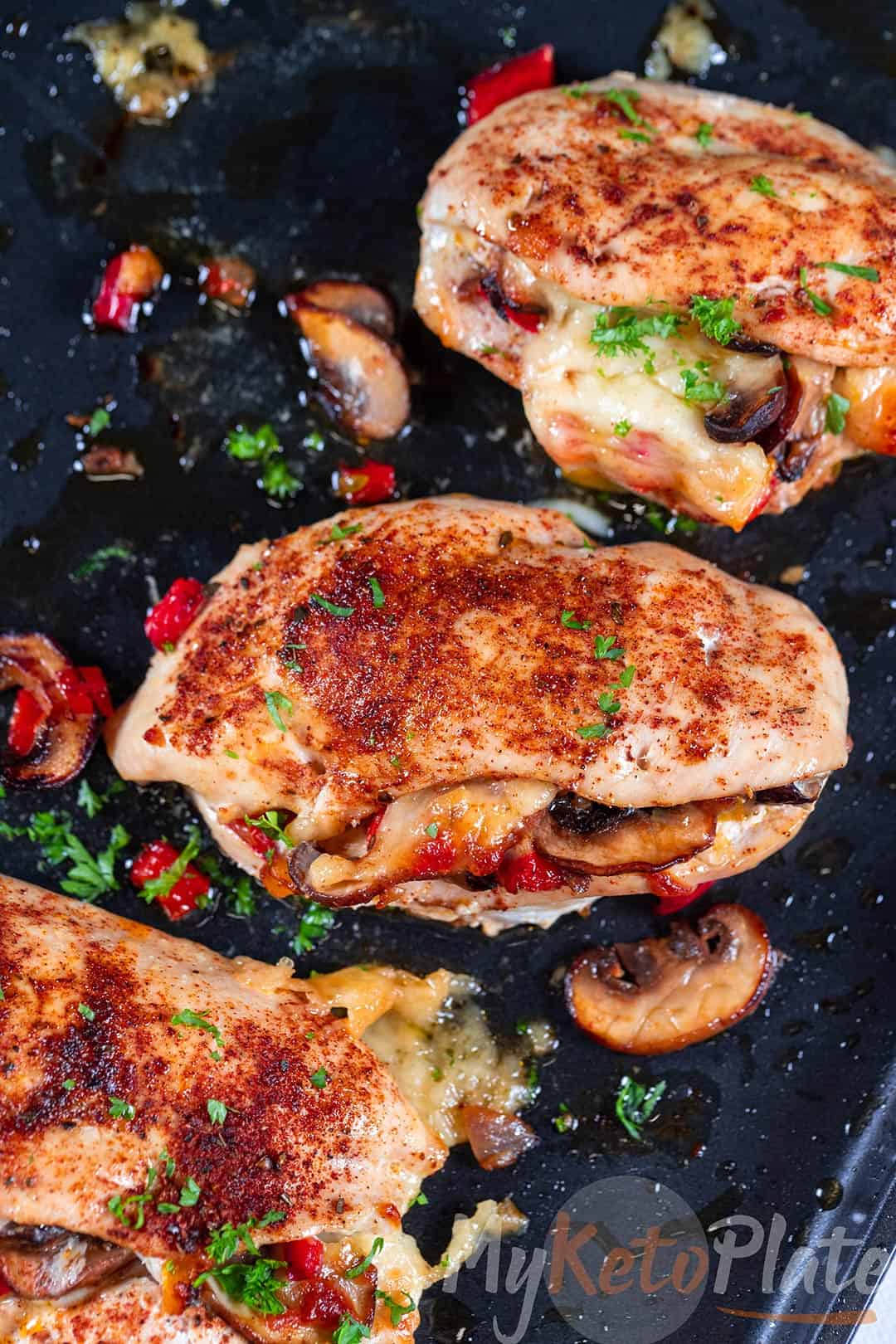 Reheating Ideas
When ready to enjoy, you can reheat it in different ways:
In the microwave for about two minutes, but make sure to add some water to the dish you use for reheating the chicken.
Oven: Preheat the oven to 325F, cover with foil to prevent drying, and bake for 10-15 minutes, or until heated.
What to Serve With Cajun Stuffed Chicken Breast
Although these stuffed chicken breasts are extremely delicious, simple as they are, you can also enjoy them with your favorite side dish such as:
Cauliflower Mashed Potatoes
Roasted Veggies
Grilled Asparagus
More Chicken Recipes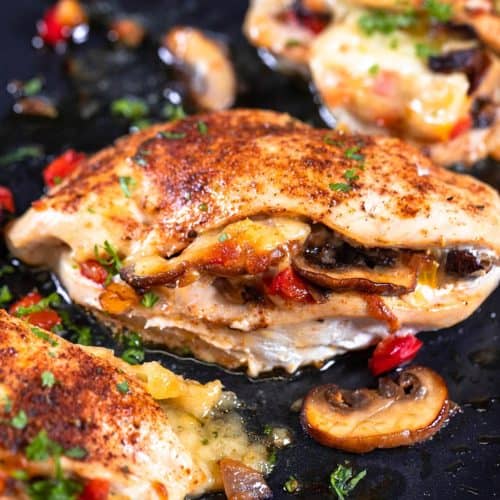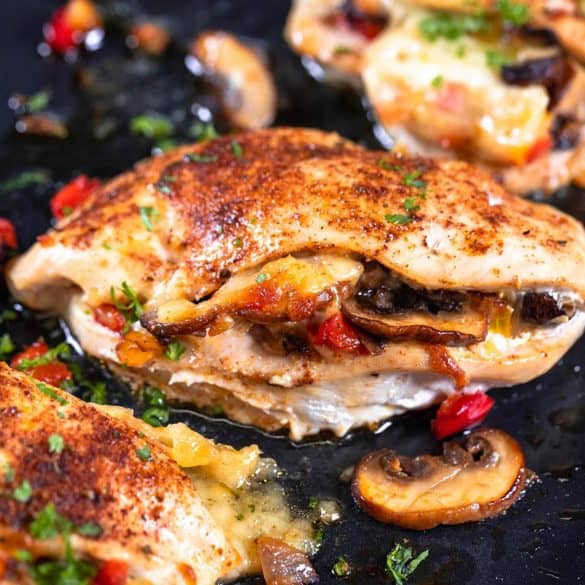 Cajun Stuffed Chicken Breast
---
Description
This easy stuffed chicken breast recipe is super simple to make and perfect for a quick family dinner. The baked chicken breast is super moist and loaded with cajun flavor. So say goodbye to boring chicken and make the best baked stuffed chicken breast in just 30 minutes!
Ingredients
4

large chicken breasts

skinless boneless

1

tbsp

olive oil

4

large

mushrooms

sliced

1/2

red bell pepper

diced

1/2

yellow bell pepper

diced

1/4

medium white onion

diced

1/2

cup

mozzarella cheese

shredded

4

tsp

Cajun seasoning

2

tbsp

butter
Instructions
Preheat oven to 400°F/200°C.

Using a sharp knife, cut a pocket into the side of each chicken breast. Season with cajun seasoning and set aside.

Place a large pan over medium heat and add the olive oil. Cook the onion, peppers, mushrooms for 5-6 minutes or until slightly softened. Season with a pinch of cajun seasoning.

Spoon the mushroom and bell pepper mixture into each chicken breast and generously top with shredded cheese. Secure each pocket with toothpicks.

Place the stuffed chicken breast in a lightly greased 9×13-inch baking dish. Top the chicken breast with a tsp of butter.

Bake uncovered for 35-40 minutes or until the chicken is cooked through.
Notes
Make your own Cajun seasoning –

In a small bowl combine:
2 tsp paprika
1 1/2 tsp salt
1 tsp onion powder
1 tsp garlic powder
1 tsp oregano
1 tsp basil
1/2 tsp dried thyme
1/2 tsp black pepper
1/2 tsp pepper
1/2  tsp cayenne pepper
Use this mix to season your stuffed chicken breast and filling mixture. You can double or triple the recipe and store it in an air-tight container.
Nutrition Facts
Amount per serving.
How do we calculate the nutrition info?
These nutrition facts listed are determined using nutrition information from the USDA Food Database. Our nutrition facts are accurate, but if you are using different products, please make your calculations. Net carb count is calculated by subtracting both fiber and sugar alcohols because they don't raise blood sugar.