This keto meatloaf is ultra moist, juicy, and super easy to make in just 10 minutes of prep. Topped with a perfectly sweet and tangy sauce, it's the best low carb dinner that everyone loves.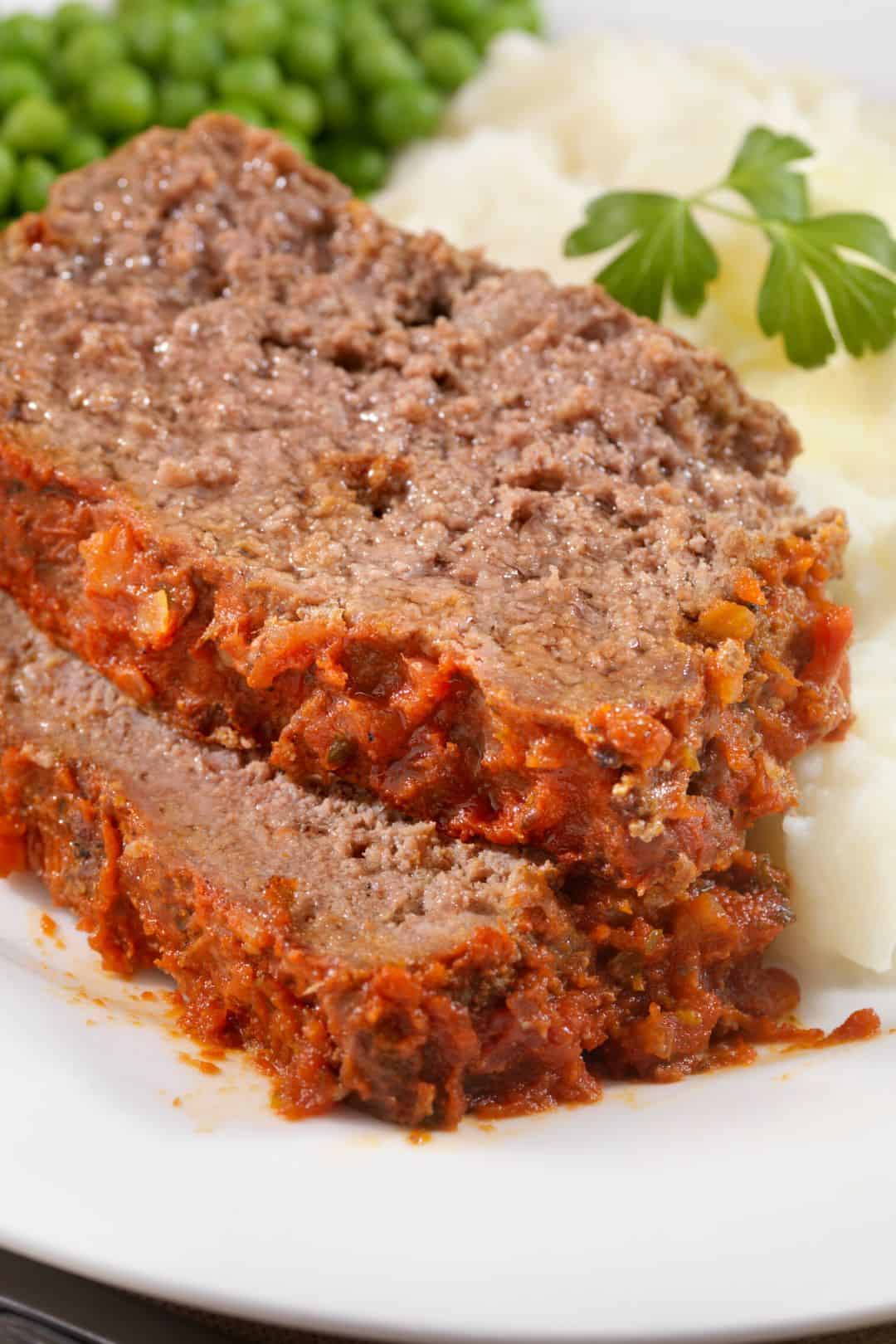 This meatloaf is tender, flavorful, and quick to make, perfect for a festive meal but not only; you can also serve it as an appetizer or with a side dish to enjoy a complete meal.
You don't have to wait for a certain opportunity to eat this easy and comforting meatloaf. You can prepare this hearty dish for any occasion, even for a weekend lunch.
Everyone loves this meatloaf recipe topped with a sweet and tangy glaze.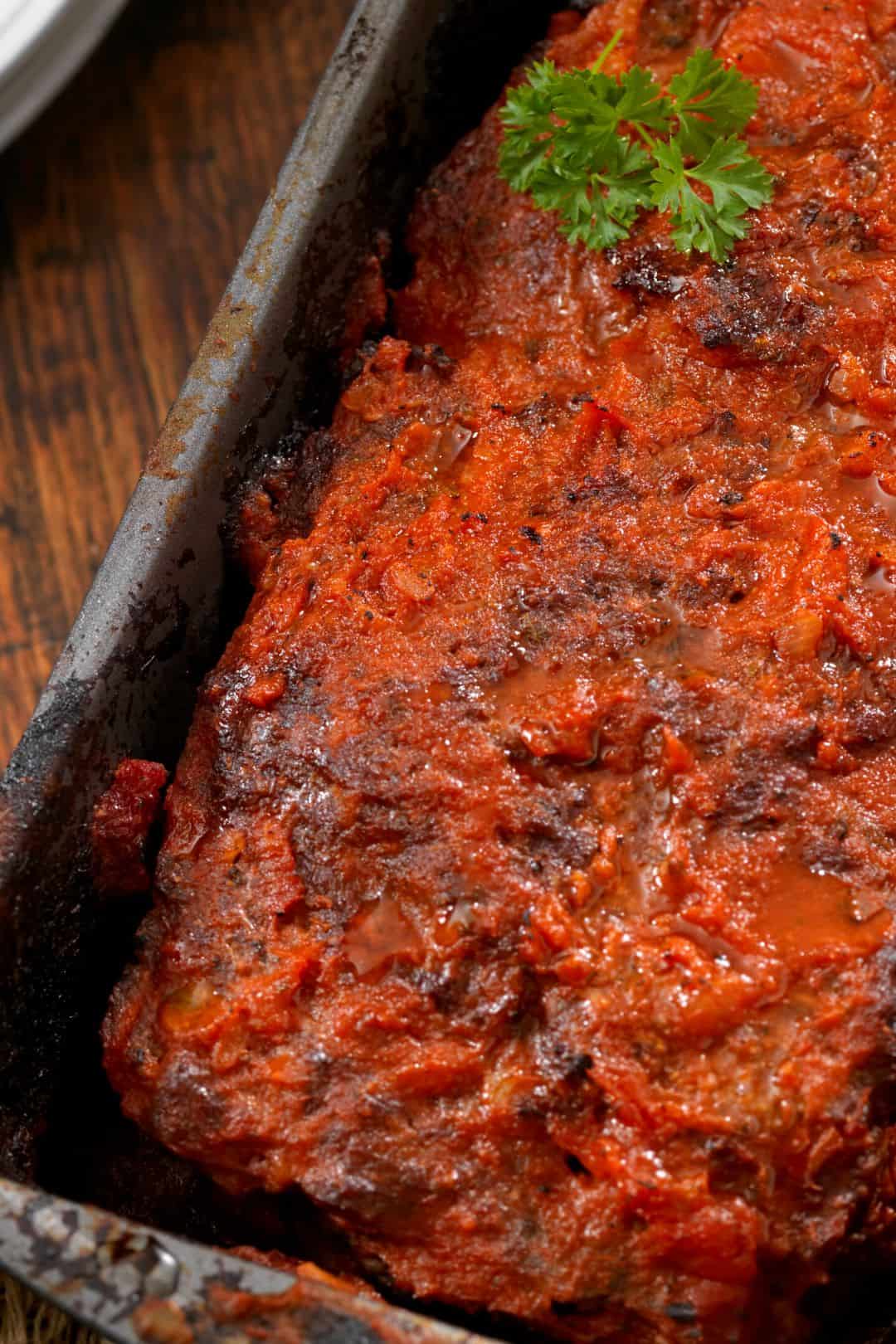 Why Are You Going To Love This Keto Meatloaf Recipe
Easy to make with only a few ingredients.
Comforting, hearty, and satisfying
Super tender and juicy
Economical and quick to make
Is Meatloaf Keto-Friendly?
Traditional meatloaf is made with breadcrumbs, milk, ketchup and is not keto because it's high in carbs.
But fortunately, there is a keto version that is just delicious as the traditional one MINUS the carbs.
Keto Meatloaf Ingredients
To make the best keto meatloaf, you will need only a few simple ingredients that are extremely easy to find. Here is a note on the ingredients
Ground Beef – Chose lean 85/15 ground beef which still has some fat to prevent this meatloaf from drying out. To make a keto turkey meatloaf replace it with ground turkey.
Eggs – used as a binder for the beef mixture that helps the meatloaf from falling apart.
Almond Flour – this ingredient is used instead of breadcrumbs and helps everything bind together.
Garlic – use fresh garlic for the best flavor. However, you can also use 1 tsp of garlic powder instead.
Onion – finely diced onion.
Salt&Pepper – to taste.
Meatloaf Sauce
This meatloaf is baked in a delicious meatloaf sauce that's perfectly balanced, both sweet and tangy. Traditional meatloaf recipes require a simple ketchup glaze, but this meatloaf sauce adds incredible flavor.
Tomato Sauce – you can make your tomato sauce or buy it; just make sure it is sugar-free.
Mustard – feel free to use your favorite type of mustard.
Worcestershire Sauce – This ingredient adds richness and great flavor.
Sweetener – if possible, choose a brown sweetener replacement.
Vinegar – adds a tangy flavor to the sauce.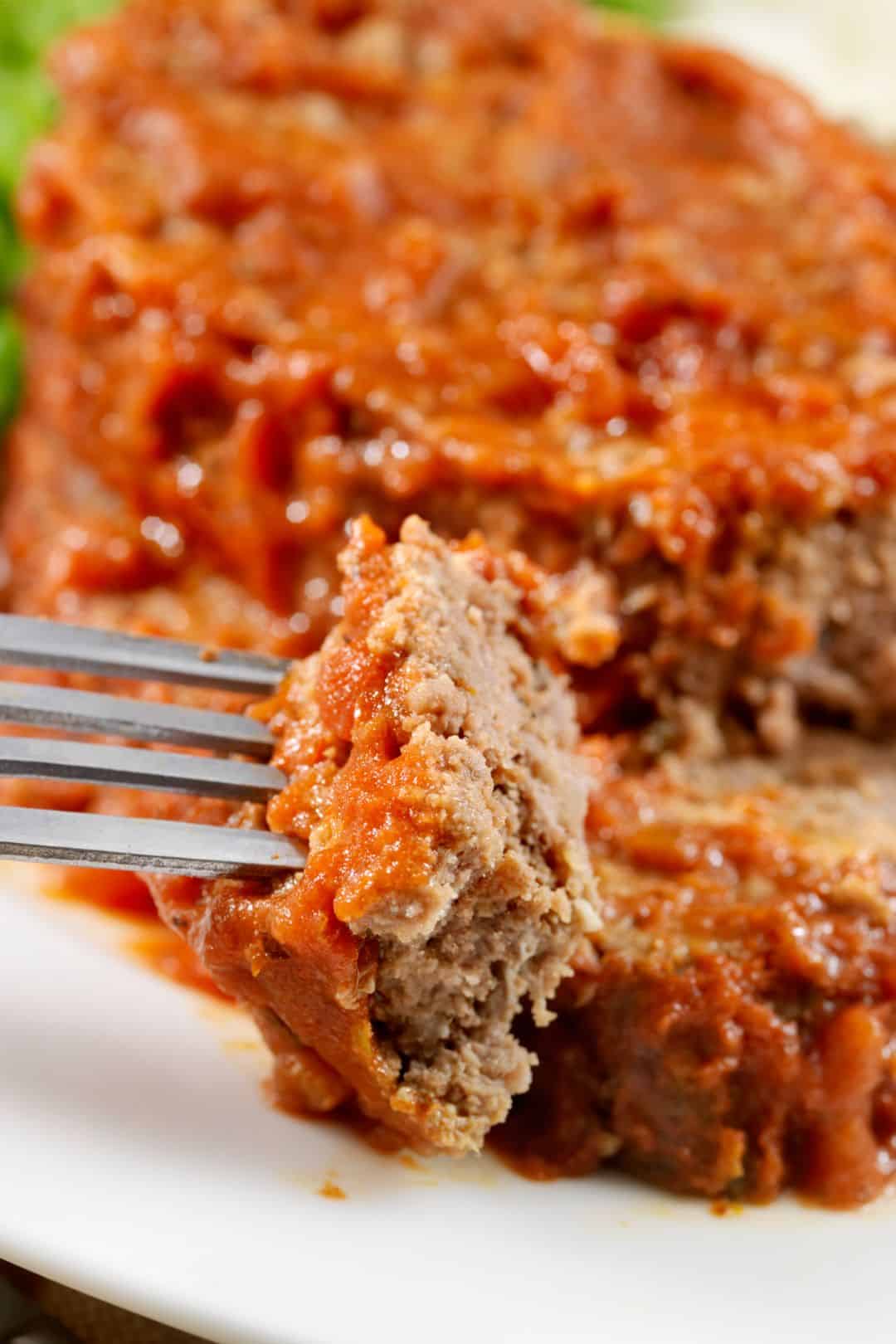 How To Make The Best Keto Meatloaf
I love how easy it is to make this delicious keto meatloaf; you will need a few minutes to prepare the mixture, then bake in the oven until perfectly tender and juicy.
Start by mixing the eggs, ground beef, almond flour, onion, garlic, and seasonings in a large bowl.
Transfer the mixture into a loaf pan lined with foil or parchment paper.
Bake in the preheated oven at 350F for 30 minutes.
Meanwhile, make the baking sauce. Add all the ingredients for the sauce to a bowl and mix them.
Remove the meatloaf from the oven and spread the sauce.
Bake for another 30 minutes or until cooked through. The meatloaf is ready when the internal temperature reaches 160 degrees F. I recommend using an instant meat thermometer to check for doneness.
Remove from the oven and rest for about 10 minutes before slicing.
Tips For Making This Keto Meatloaf
Before slicing the meatloaf, let it rest for 10 minutes to sear in the juices.
Use a slightly larger meatloaf pan so that the meatloaf has breathing space to allow for caramelized edges.
If you used high-fat ground beef, any liquid left over after baking is normal; don't be worried. Drain the liquid, and that's it.
Don't overwork the meat mixture if you want a juicy, tender meatloaf that holds together.
For a lighter meatloaf, swap the beef with ground turkey or chicken.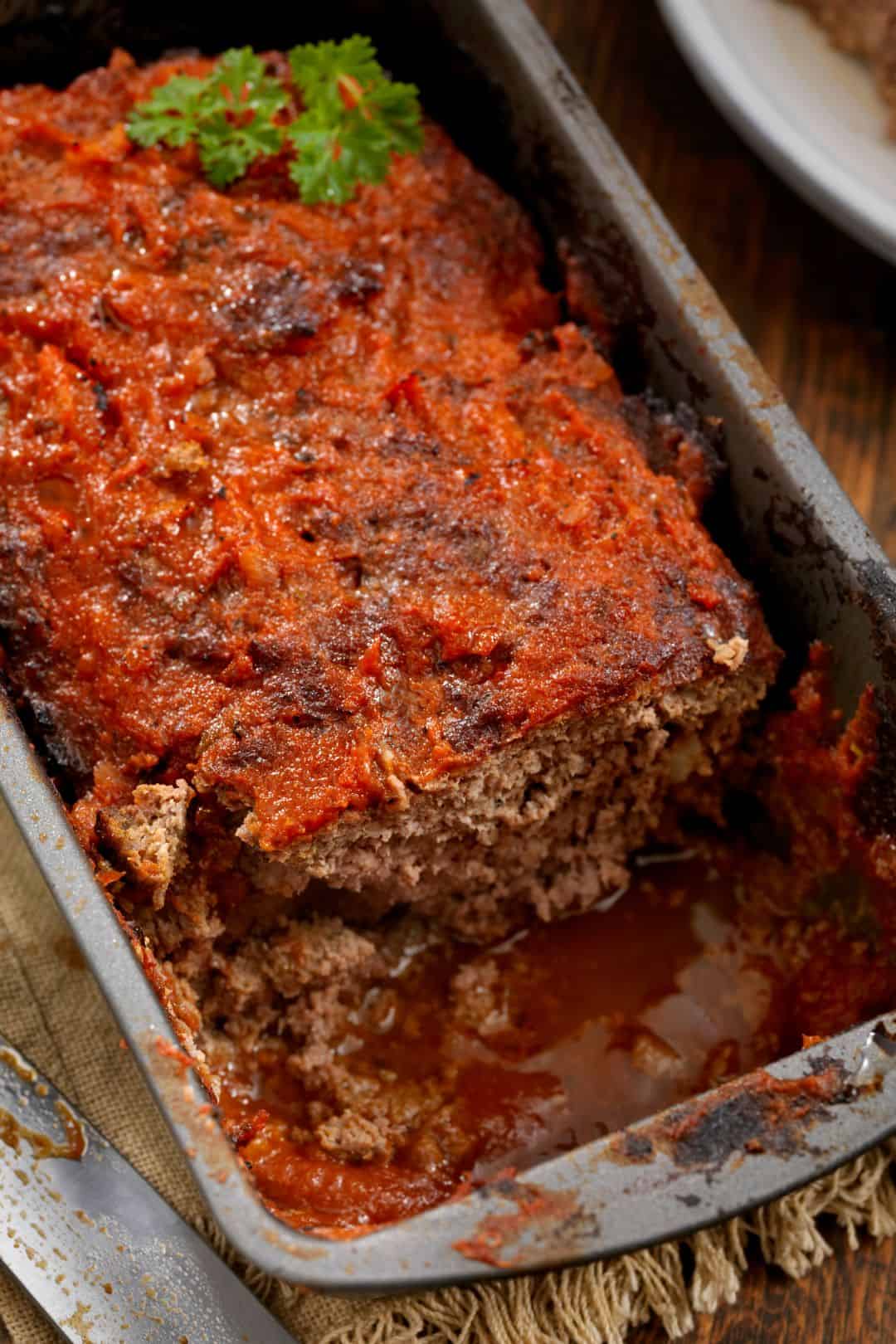 Storing Ideas
Make ahead – It's easy to prepare the meatloaf mixture and cook one hour before serving. Store uncooked meatloaf in the fridge for up to 3 days, covered tightly in plastic wrap.
Fridge – Store any leftover meatloaf in an airtight container for up to 4 days.
Freezer – You can also freeze this meatloaf. First, ensure that the meatloaf is completely cool before slicing it. Wrap the slices and freeze for 3-4 months.
To reheat – microwave the meatloaf slices until warm.
How To Serve This Keto Meatloaf
You can serve this meatloaf as an appetizer or pair it with your favorite side dish to make a complete meal. Here are some great ideas:
Cauliflower Mashed Potatoes
Oven Roasted Vegetables
Roasted Green Beans
Sauteed Eggplant
Frequently Asked Questions
What Is Meatloaf?
Traditionally made with ground beef, herbs, and spices, meatloaf is a comforting dish. These are frequently hand-mixed before being baked.
In this recipe, I used almond flour instead of the breadcrumbs traditionally used in meatloaf recipes. You can also use coconut flour, ground flaxseeds, or hemp hearts.
Should I Cook This Meatloaf Covered Or Uncovered?
You don't have to cover the meatloaf since the mixture is moist, and the sauce will make it super tender. However, if you choose to cover yours because you are concerned about drying out, take the foil off for 15 minutes before it is ready.
Can I Use Another Type Of Meat?
Sure, for example, you can use a mix of ground beef and pork. Or you can use ground chicken or turkey for a healthier alternative; you need to know that your meatloaf might not be as moist.
Can I Substitute the Egg?
If you have an egg allergy or you're simply out of eggs, you can make this meatloaf using an egg substitute. My favorites include flax eggs, mayonnaise, applesauce, or unflavored gelatin.
More Keto Recipes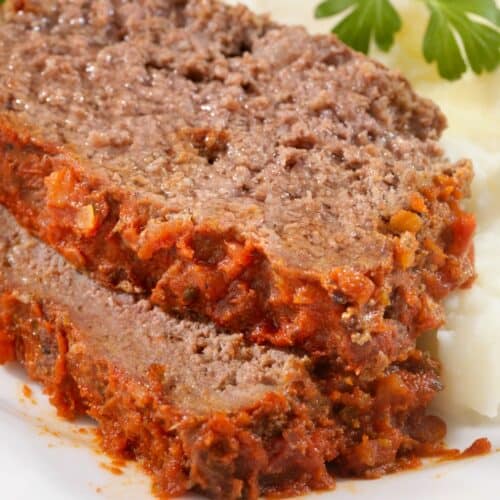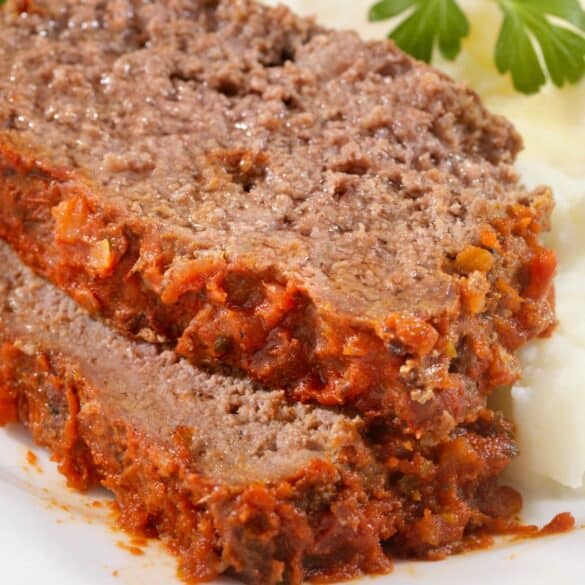 Description
This keto meatloaf is ultra moist, juicy, and super easy to make in just 15 minutes of prep. Topped with a perfectly sweet and tangy sauce, it's the best low carb dinner that everyone loves.
Ingredients
The beef mixture
2

lbs

ground beef

85% or 90% lean

2

large eggs

1

cup

almond flour

3

garlic cloves

minced

½

medium onion

diced

1 ½

tsp

salt

½

tsp

black pepper

1 ½

tsp

Italian seasoning
Meatloaf Sauce Ingredients:
1/2

cup

sugar-free ketchup

2

tbsp

olive oil

2

tbsp

mustard

2

tbsp

Worcestershire sauce

2

tsp

brown sugar replacement

2

tsp

vinegar
Instructions
Preheat the oven to 350°F/180°C. Line a 9×5 inch loaf pan with parchment paper or foil. Set aside.

In a large bowl, mix all the ingredients for the meatloaf using your hands.

Transfer the mixture to the prepared loaf pan. Bake for 30 minutes.

Make the meatloaf sauce: Whisk all the ingredients for the baking sauce in a medium bowl.

Remove the meatloaf from the oven and spread the meatloaf sauce. Bake for 30 more minutes or until the internal temperature reaches 160F.

Rest for 5-10 minutes before slicing.

Serve the meatloaf cauliflower mash, keto gravy, and roasted green beans. You can also drizzle with the baking juices from the pan.
Nutrition Facts
Amount per serving.
How do we calculate the nutrition info?
These nutrition facts listed are determined using nutrition information from the USDA Food Database. Our nutrition facts are accurate, but if you are using different products, please make your calculations. Net carb count is calculated by subtracting both fiber and sugar alcohols because they don't raise blood sugar.