This Creamy Chicken Curry is a quick and healthy dish that can be made in just one pot, making clean-up a breeze. It's loaded with delicious flavors and creamy textures that will satisfy your cravings. Ready in just 30 minutes, this recipe beats take-out any day and is sure to become a new family favorite.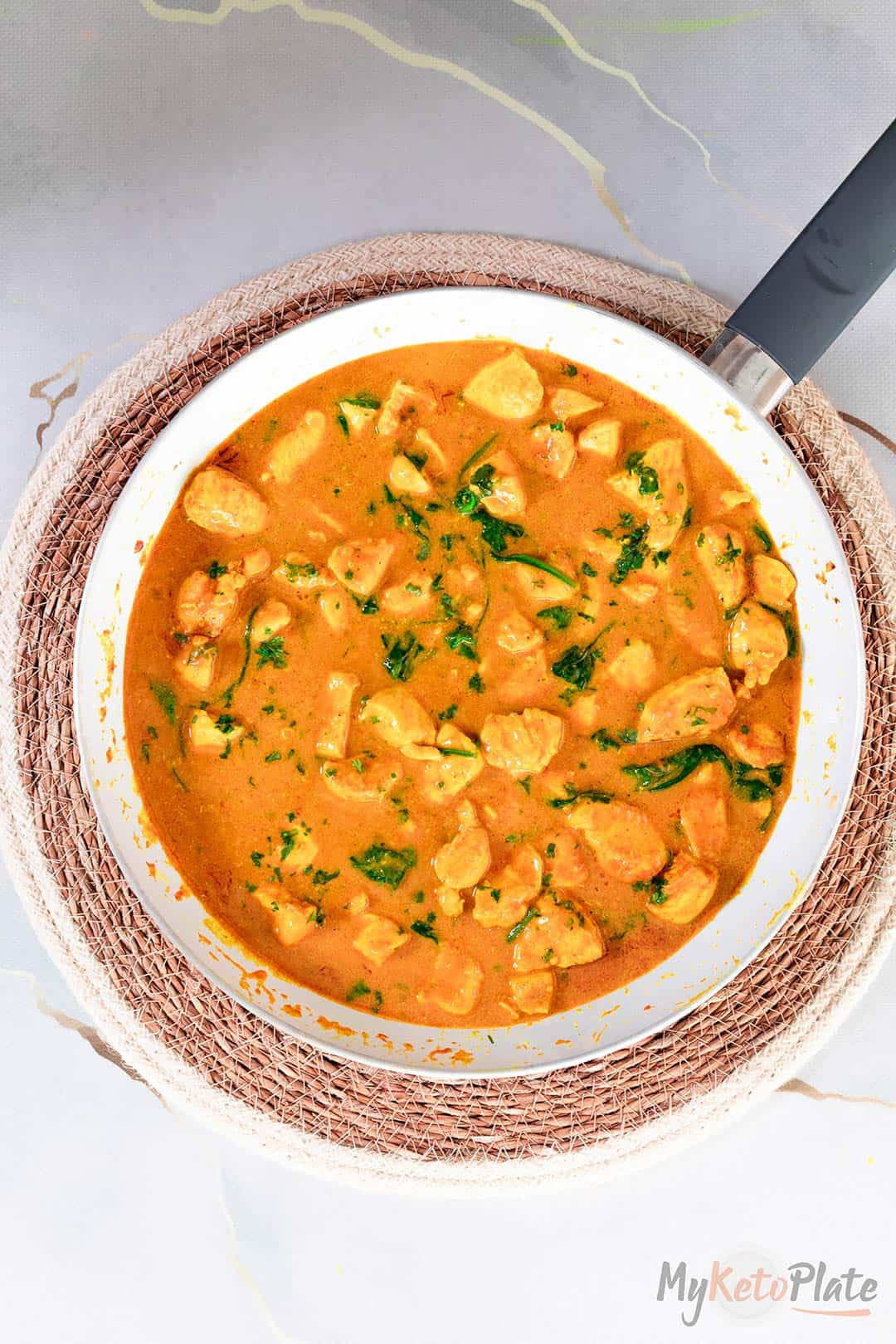 If you're a fan of slightly spicy Oriental recipes, this chicken coconut curry is the perfect choice for you. It is filled with delicious flavors, from tender chicken bites to refreshing coconut milk and fragrant spices.
In just 30 minutes, you can prepare this light and creamy recipe in the comfort of your own home, making it a great option for lunch or dinner.
Why settle for restaurant food when you can enjoy the same delicious flavors in the convenience of your own kitchen?
Give this chicken coconut curry a try and experience the perfect blend of flavors and textures for yourself.
 Great served with some cauliflower rice or some keto buns, this chicken curry is extremely easy to make and perfect for making it ahead of time for those busy days.
Is Chicken Curry Keto-Friendly?
To answer your question, it depends on the specific curry recipe you are referring to. Some curry dishes are made with high-carb ingredients such as potatoes or peas, and the sauce may be thickened with cornstarch, which is not keto-friendly and can kick you out of ketosis.
However, you can still enjoy a delicious chicken curry while following a keto diet by using recipes made with naturally low-carb ingredients. By doing so, you can avoid carb-heavy ingredients and still get that rich and flavorful taste that you love. In fact, you might find that this type of chicken curry recipe is even better than those you find at an Indian restaurant.
Why Are You Going To Love This Chicken Coconut Curry
It is super easy to make in only 30 minutes.
It tastes like the one from Indian restaurants.
You can make it ahead of time.
Loaded with a lot of Indian flavors.
It doesn't have any added sugar.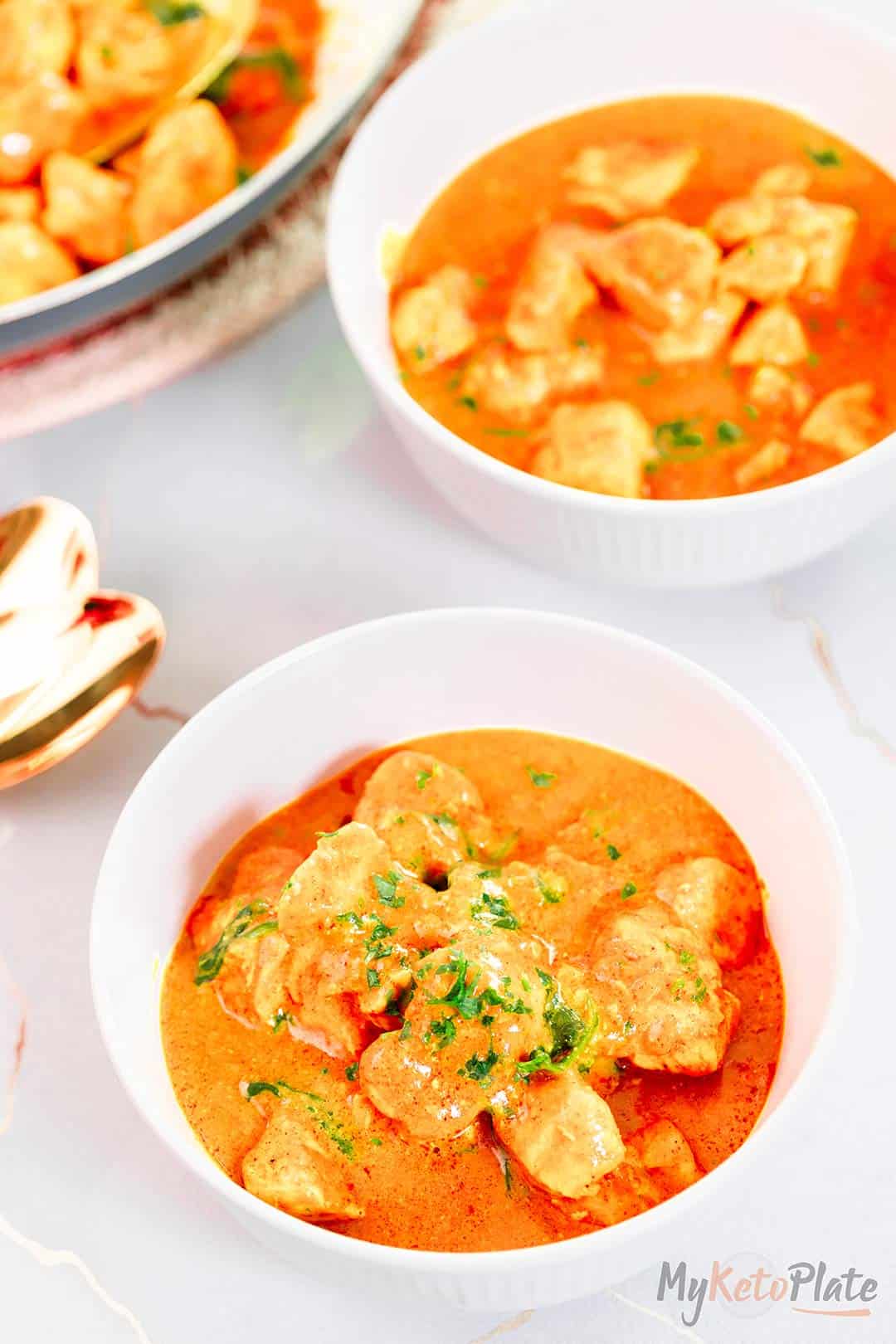 Ingredients For Chicken Coconut Curry
You need some basic ingredients that I'm sure you already have in your pantry. So here is a list of all the ingredients you will need to create the best creamy chicken coconut curry.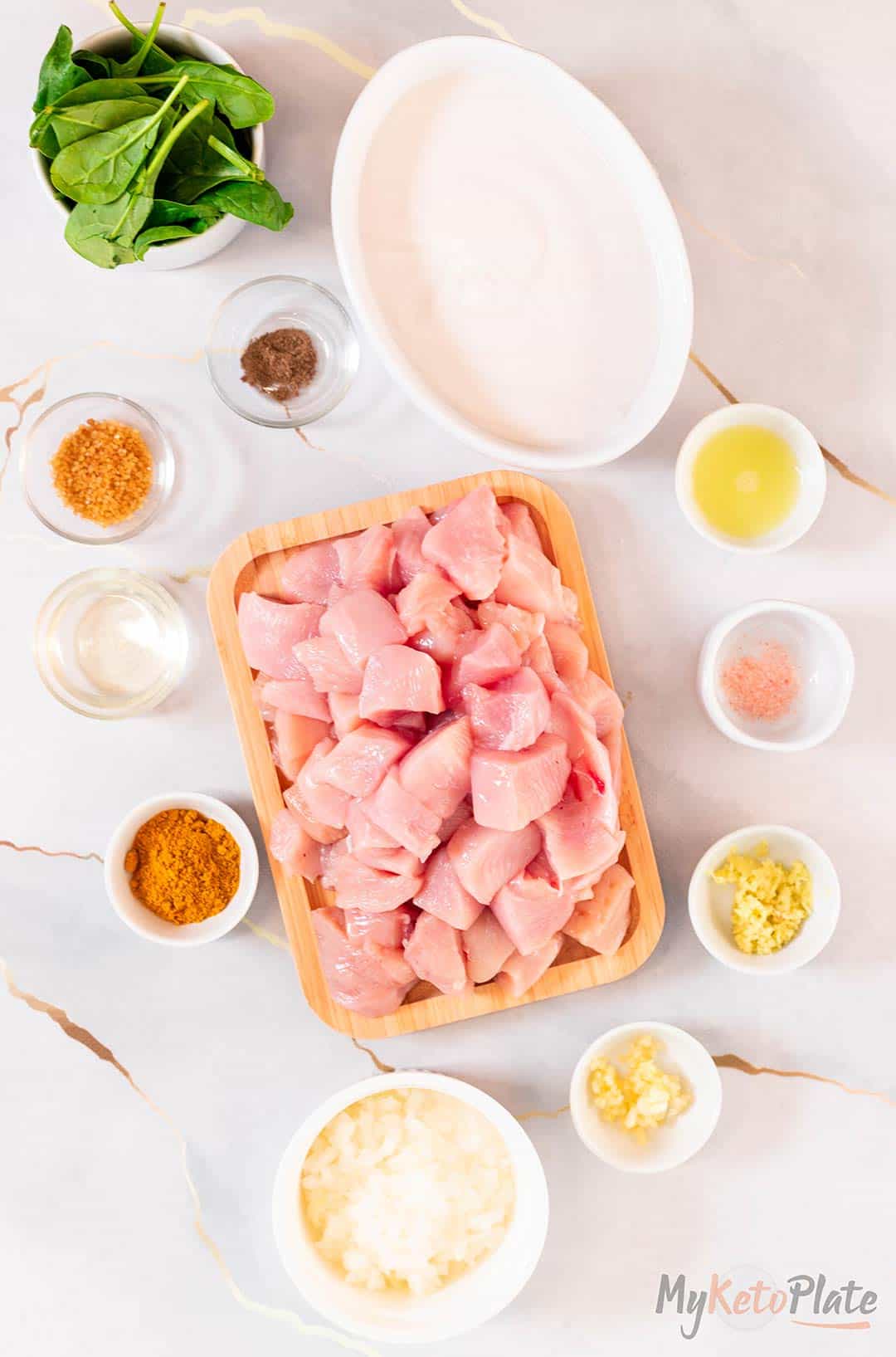 Coconut Oil – is used for cooking the onion and chicken breast. You can also replace it with avocado or olive oil.
Onion – make sure that you chop it finely to cook well.
Garlic – use fresh garlic for a more intense flavor.
Chicken Breast – you can also use shredded chicken leftovers for this recipe.
Ginger – use fresh ginger to give this dish a spicy, warm, and peppery taste.
Coriander – is used to give a sweet and lemony flavor.
Coconut Milk – use full-fat canned coconut milk to obtain a rich and creamy sauce.
Curry – no chicken curry recipe without curry. So make sure you use the best curry powder you can find.
Salt&Pepper – to taste.
Spinach Leaves – add color and texture to the recipe.
Lime Juice –
Cilantro – fresh chopped cilantro to garnish this dish.
How To Make Chicken Coconut Curry
This recipe for chicken coconut curry will become one of your favorite recipes since it's so easy to make in only 30 minutes. Here is everything you will need to create this delicious recipe:
Begin by sautéing an onion in a large skillet with some coconut oil over medium-high heat until it becomes tender.
Next, add bite-sized chicken pieces to the skillet and cook for around 10 minutes, or until they turn golden brown.
Stir in minced garlic and fresh ginger and cook for an additional minute to release their flavors.
Add a can of coconut milk, curry powder, salt, and pepper, and stir until all the ingredients are well combined. Reduce the heat and let the mixture simmer for 5 minutes.
Next, toss in a handful of fresh spinach leaves and some lime juice. Continue cooking for an additional 2 minutes or until the spinach has wilted.
Finally, turn off the heat and garnish with some fresh parsley. Serve alongside your favorite side dish, and enjoy your delicious homemade chicken curry.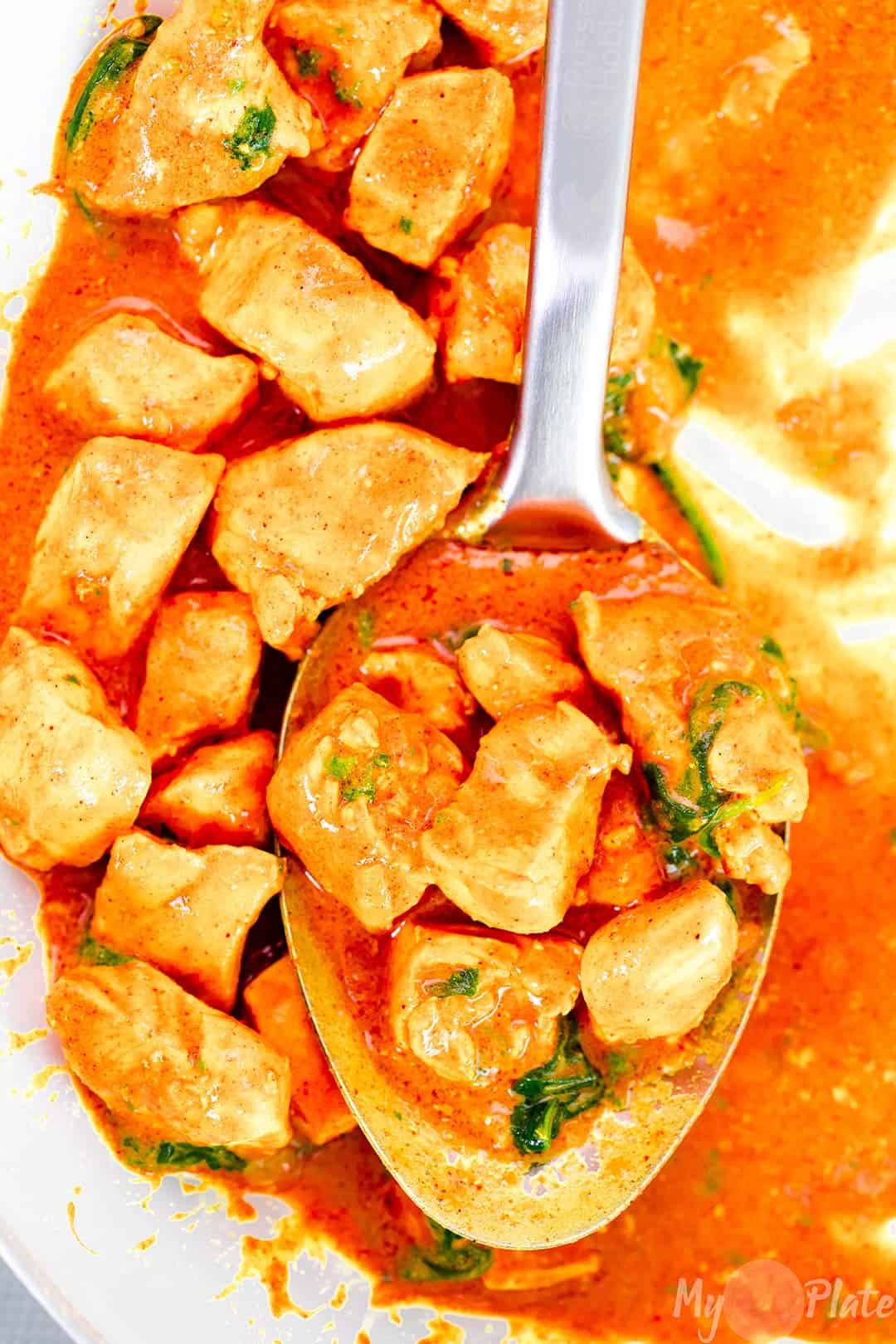 Can I Make Coconut Curry in The Instant Pot?
If you want to make this creamy coconut chicken curry in an instant pot, it's a breeze! First, select the sauté function and add some olive oil to the pot. Sauté the onion and garlic until they become fragrant. Then, add the chicken, curry powder, salt, and pepper, and give it a stir.
Next, pour in the coconut milk, and 1 cup of chicken broth and give everything a good mix. Close the lid and select the manual function on high pressure for 5 minutes. Once the time is up, let the pressure release naturally for about 10 minutes before opening the instant pot.
Finally, add in the spinach leaves and lime juice, and stir until the spinach wilts. Garnish with fresh parsley and serve with your favorite side dish. Remember, you can adjust the spice level by adding more or less chili powder or red pepper flakes. Enjoy your creamy coconut chicken curry made in an instant pot in no time!
Tips For Making The Best Chicken Coconut Curry
Cut the chicken breast into similar pieces to ensure that it cooks evenly.
To keep the chicken juicy and tender, avoid overcooking it. Cook the chicken until it turns golden brown, but be careful not to overdo it, as it may become dry and tough.
If you prefer a spicier curry, add more chili powder or red pepper flakes. Alternatively, if you prefer a milder curry, reduce the amount of spice you use
Serving Ideas
There are many ways to serve creamy coconut chicken curry, depending on your preferences. One popular option is to serve it over a bed of fluffy rice, such as basmati or jasmine rice. You can also opt for cauliflower rice or roasted vegetables if you're following a low-carb or keto diet.
To add some texture and crunch, you can also sprinkle some toasted coconut flakes or chopped nuts on top of the curry before serving. No matter how you choose to serve it, this creamy coconut chicken curry is sure to be a hit at any mealtime!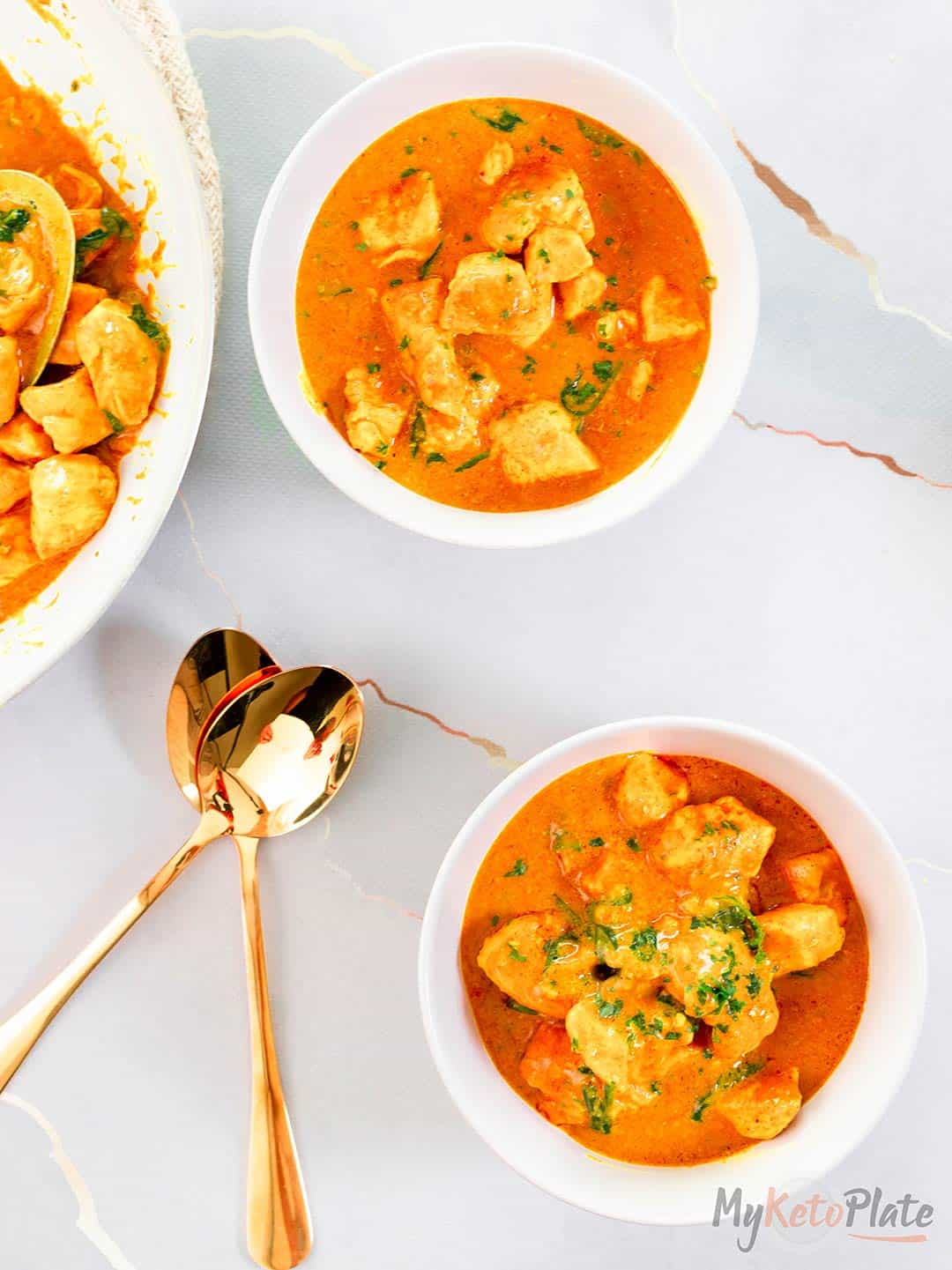 Storing Leftovers
Fridge – You can store the chicken curry leftovers in an airtight container in the fridge for up to 5 days.
Freezer – I don't recommend freezing this chicken coconut curry because sauces made with coconut cream are not freezing well.
To Reheat: You can warm the leftovers on the stovetop in a saucepan for about five minutes. You can also microwave them until heated through in a microwave-safe container.
Frequently Asked Questions
What Is Chicken Curry?
Curry chicken is an Indian dish made from chicken bites sautéed in onion combined with a delicious creamy sauce. The flavor of curry chicken is deep, earthy, and distinctive.
Can I Make This Recipe With Other Type Of Meat?
Sure, this recipe also tastes great if you use chicken thighs. However, make sure you cut them into similar pieces to ensure they are evenly cooked.
Can I Make This Recipe Ahead Of Time?
Sure, this recipe is great for making ahead of time and enjoying dinner when you are having a busy day. So all you have to do is prepare it as we did in this recipe, then store it in an airtight container until you are ready to serve it.
What Should I Do If My Chicken Curry Is Too Thick?
If your curry sauce is too thick, you can make it thinner by adding some water or coconut cream.
More Delicious Chicken Recipes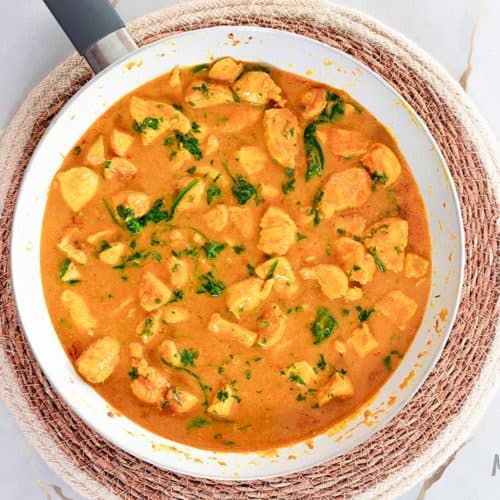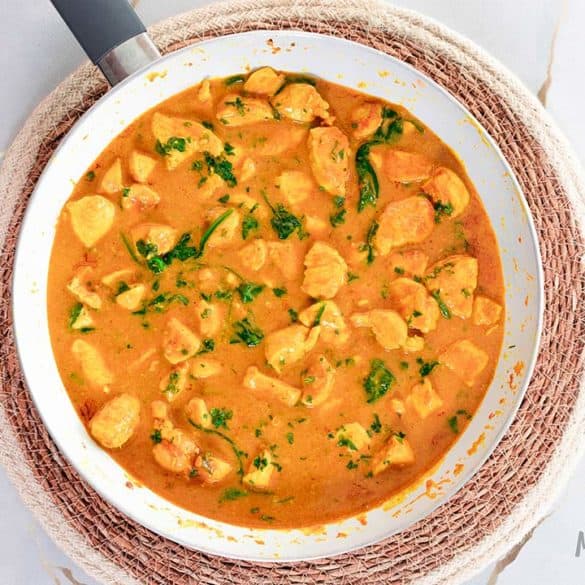 Description
This Creamy Coconut Chicken Curry is a quick and healthy dish that can be made in just one pot, making clean-up a breeze. It's loaded with delicious flavors and creamy textures that will satisfy your cravings. Ready in just 30 minutes, this recipe beats take-out any day and is sure to become a new family favorite.
Ingredients
3

tbsp

coconut oil

1

medium yellow onion

diced small

1

pound

boneless skinless chicken breast

bite-sized pieces

3

cloves

garlic

finely minced

1

tbsp

fresh ginger

finely chopped

2

tsp

ground coriander

one 13-ounce can of coconut milk

1

cup

shredded carrots

3

tbsp

curry powder

1

tsp

kosher salt

1/2

tsp

freshly ground black pepper

3

cups

fresh spinach leaves

1

tbsp

lime juice

1/4

cup

fresh cilantro
Instructions
Add the coconut oil to a large skillet and cook the onion over medium-high heat for about 3-5 minutes.

Cut the chicken into bite-sized pieces and cook for about 10 minutes or until the chicken is done. Flip and stir often to ensure even cooking.

Add the garlic, ginger, and coriander, and cook for about one more minute or until fragrant.

Add the coconut milk, carrots, curry powder, salt, and pepper to combine.

Reduce the heat to medium, and allow the mixture to boil for about 5 minutes.

Add the spinach and lime juice, and stir to combine. Cook until spinach is tender, for about 2 minutes.

Evenly sprinkle with the cilantro and serve immediately with your favorite side dish.
Nutrition Facts
Amount per serving.
How do we calculate the nutrition info?
These nutrition facts listed are determined using nutrition information from the USDA Food Database. Our nutrition facts are accurate, but if you are using different products, please make your calculations. Net carb count is calculated by subtracting both fiber and sugar alcohols because they don't raise blood sugar.