Looking for a quick and satisfying breakfast or snack option that aligns with your keto or paleo lifestyle? Say hello to this incredibly easy and fiber-packed homemade keto granola recipe. With just 10 minutes of prep time, this delicious low carb treat will keep you energized and satisfied throughout the day.
Plus, with only 5g net carbs per half cup, it's the perfect guilt-free indulgence. Let's dive into the details of this delightful crunchy granola that pairs perfectly with low carb yogurt or unsweetened nut milk.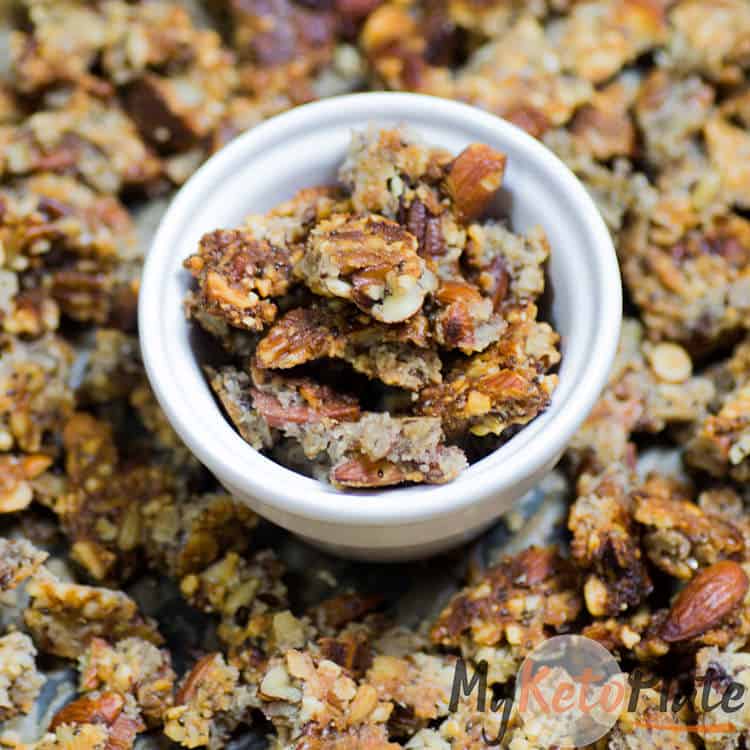 I am not sure you can call it muesli, granola, or cereal, but it reminds me of the usual healthy breakfast I had each day before going to school. Making granola at home is cheaper than buying keto granola from the store. Buy all the ingredients in bulk to make a bigger batch. This low carb granola recipe is a staple in our house, and I make it super often!
Reasons This Keto Granola Is The Best
Just 10 minutes of prep
Stores well in an air-tight container
Super crunchy, crispy, grain-free, and sugar-free
Only 5g net carbs for 1/2 cup
Is Granola Keto?
No, store-bought granola is not keto since it's high in sugar, loaded with unhealthy fats and oils, and other fillers that are not necessary. According to the USDA website, half a cup of granola has more than 40 grams of carbs while this homemade keto granola has only 5 grams of net carbs for the same quantity.
Ingredients for The Best Keto Granola
Making this low-carb homemade granola is super quick with just a few wholesome ingredients that are mostly nuts, seeds. The best part? Get creative and change things up by adding your favorite flavors. Here are all the ingredients needed to make the best keto granola: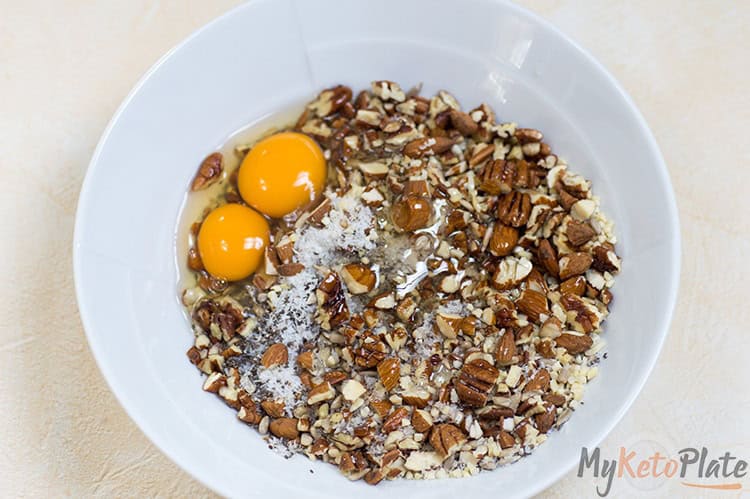 Nuts: I used a mix of almonds, almond flakes for texture, pecans, and almond flour, but you can use walnuts, hazelnuts, or cashews.
Seeds: sunflower Seeds, Chia Seeds, Flax Seeds
Coconut Flakes – read the labels and choose unsweetened coconut flakes.
Eggs – helps all the ingredients bind together.
Coconut Oil – adds a lovely sweet flavor, but you can use avocado oil and even butter or ghee.
Keto Maple Syrup – my homemade keto maple syrup adds sweetness and flavor.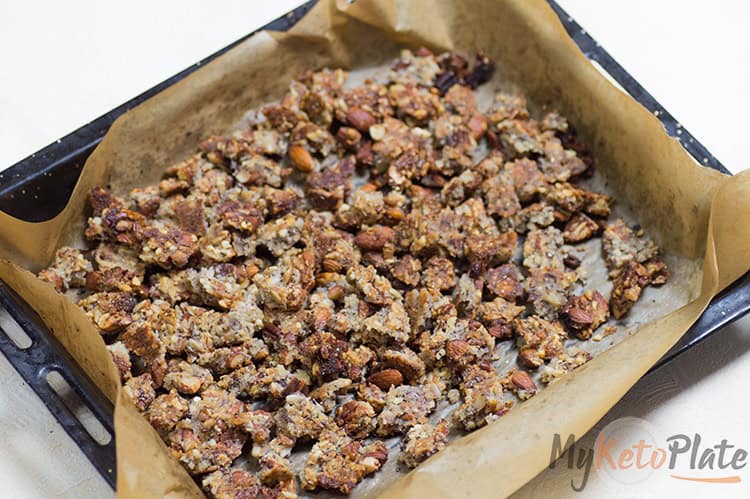 How to Make Crunchy Keto Granola?
This recipe is super simple, and you probably have all the ingredients in your kitchen. You can easily use a food processor to mix all the ingredients, but I love to chop them using a sharp knife.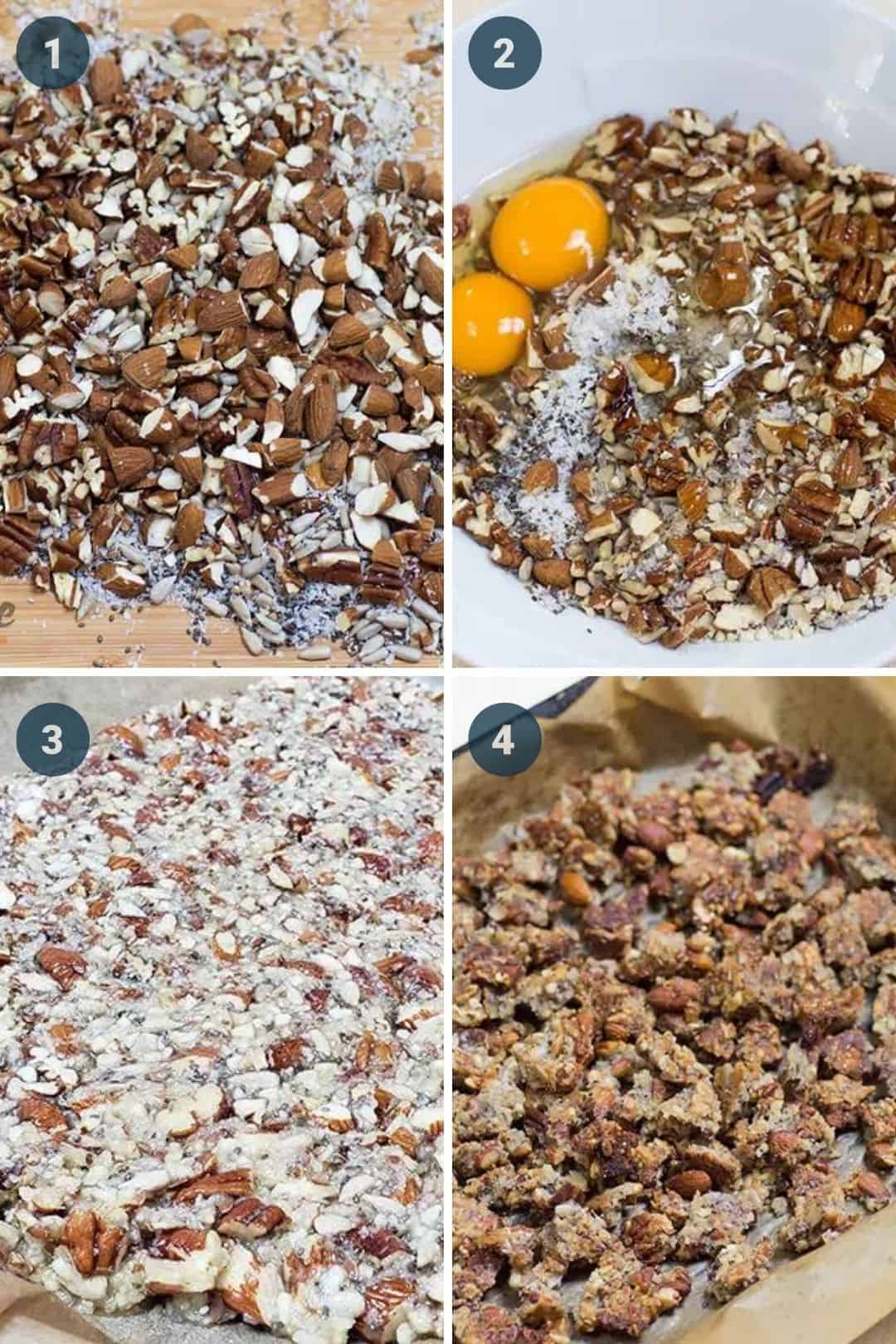 There are two ways to make this recipe:
Chop the nuts in a food processor until they are still chunky; you don't want a fine powder, or use a sharp knife cut the nuts into little pieces.
Find a large bowl throw all the ingredients, and give them a thorough mix. I used two eggs to help everything bind together.
After you add the coconut oil and the sugar-free syrup, you should get a slightly wet mixture. If your "dough" is too wet, add some coconut flour to absorb most of the moisture.
Line a baking sheet with parchment paper and evenly spread the granola like in the picture above.
Bake for about 25-30 minutes or until it begins to harden. Once you get it out of the oven, allow it to cool down completely. Using your hands, break the granola into big chunks.
Always keep an eye on the granola because nuts and seeds burn quicker than wheat. You'll want to make sure that the mixture is cooked in the middle too, because the edges burn faster.
How To Store Keto Granola
Room temperature: Store the paleo low carb granola in an airtight container for up to one week.
Fridge: store keto granola in an airtight container for up to two weeks.
Freezer – can be stored for up to 3 months.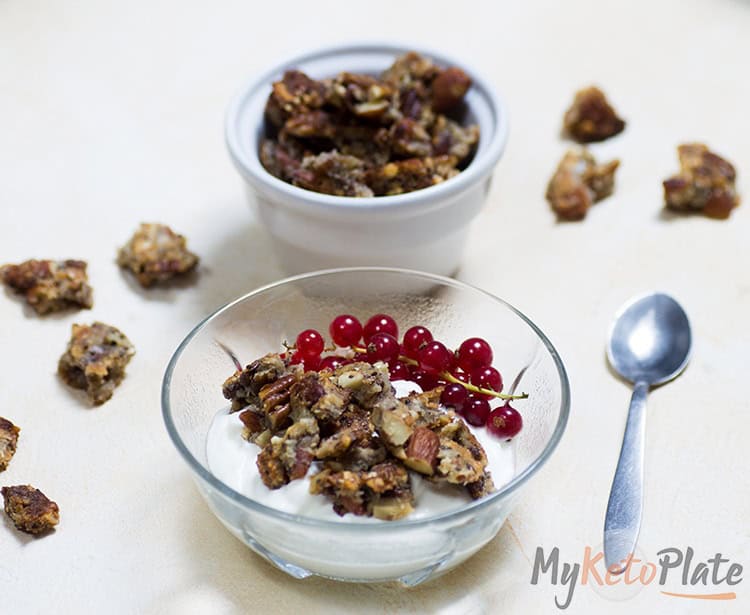 How To Serve Keto Granola
Yogurt Parfaits
Ice Cream
Unsweetened Vanilla Almond milk
More Keto Breakfast Recipes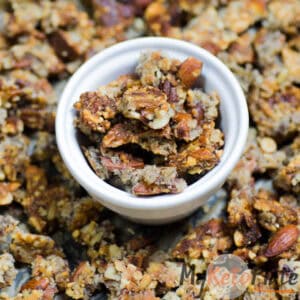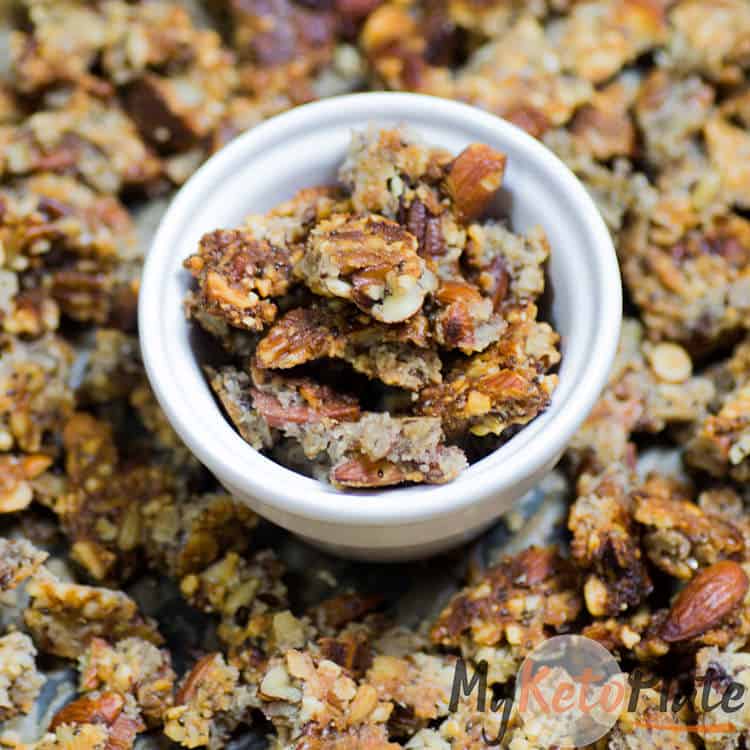 Super Crunchy Keto Granola
---
Description
Keto Granola is the perfect alternative to the classic keto breakfast. Serve it with low carb yogurt and enjoy a filling first meal of the day. It tastes like real granola, is sweet enough, crunchy, and good for meal prep.
Instructions
Preheat your oven to 180°C / 350°F. Meanwhile, chop all the nuts and seeds into smaller pieces.

Into a large bowl add the chopped nuts and seeds, the melted coconut oil, sugar-free syrup and the eggs. Mix until all the ingredients are well incorporated.

Line a baking tray with parchment paper and place the granola mixture out into a flat even layer.

Bake for about 20 minutes, then keep an eye on it for ten more minutes to prevent it from burning.

Allow it to cool down entirely then break the keto with your hands into small pieces.

Serve it with keto yogurt or with unsweetened milk.
Notes
Store the keto granola in an airtight container for up to one week. 
Nutrition Facts
Amount per serving.
How do we calculate the nutrition info?
These nutrition facts listed are determined using nutrition information from the USDA Food Database. Our nutrition facts are accurate, but if you are using different products, please make your calculations. Net carb count is calculated by subtracting both fiber and sugar alcohols because they don't raise blood sugar.