This is the best almond flour cookies recipe ever! No funky ingredients, no chilling time required, loaded with chocolate chips. It's an easy, amazingly delicious recipe that makes some thick, chewy grain-free cookies.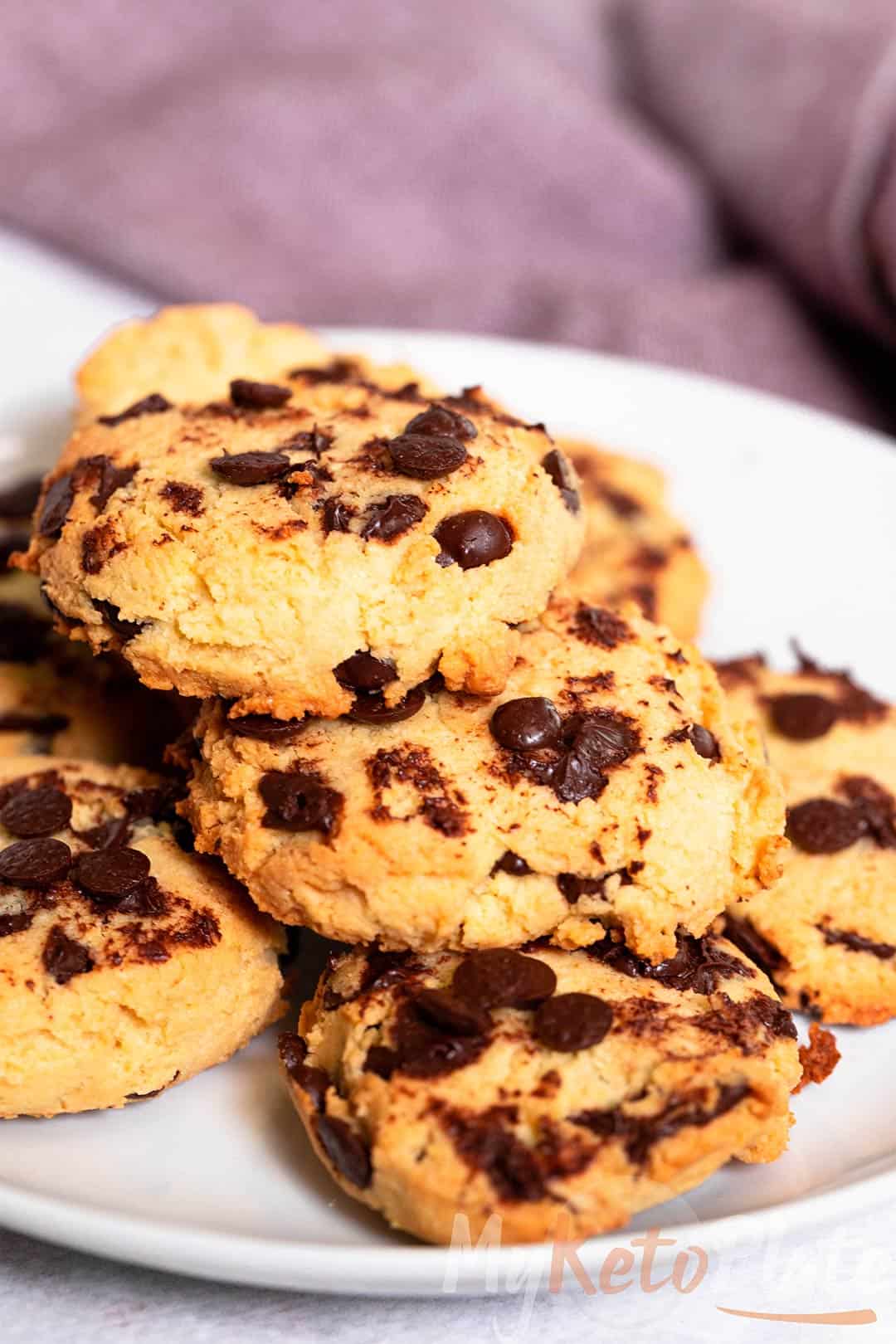 Not to mention that these almond flour cookies are ready in just 20 minutes and are refined sugar-free.
If you're looking for a grain-free cookie recipe that turns perfect every time, you're in the right place. They are way easier to make than regular cookies, and there's no way to mess up this recipe.
I'm so excited about how these tender almond flour cookies turned out.
I've been baking with almond flour for a long time and have made tons of delicious grain-free desserts, including keto chocolate chip cookies, flourless peanut butter cookies, and our favorite keto magic cookies with no flour.
They are soft on the inside, melt in the mouth, but also crispy on the outside. These are probably the best cookies made with almond flour! Super buttery and loaded with chocolate chips, you have to try them as soon as possible!
Why Is This The Best Almond Flour Chocolate Chip Cookies Recipe
Extremely easy and quick to make.
Crispy on the edges and moist in the middle.
One bowl keto cookie recipe that requires no chilling time.
It's and gluten-free, sugar-free, and keto recipe.
Watch this video to see how easy it is to make the best almond flour cookies!
Ingredients in Almond Flour Cookies
I am sure that you probably already have all the ingredients in your pantry. Just 7 simple ingredients are needed for these gorgeous cookies that everyone loves. Here's a note on the ingredients: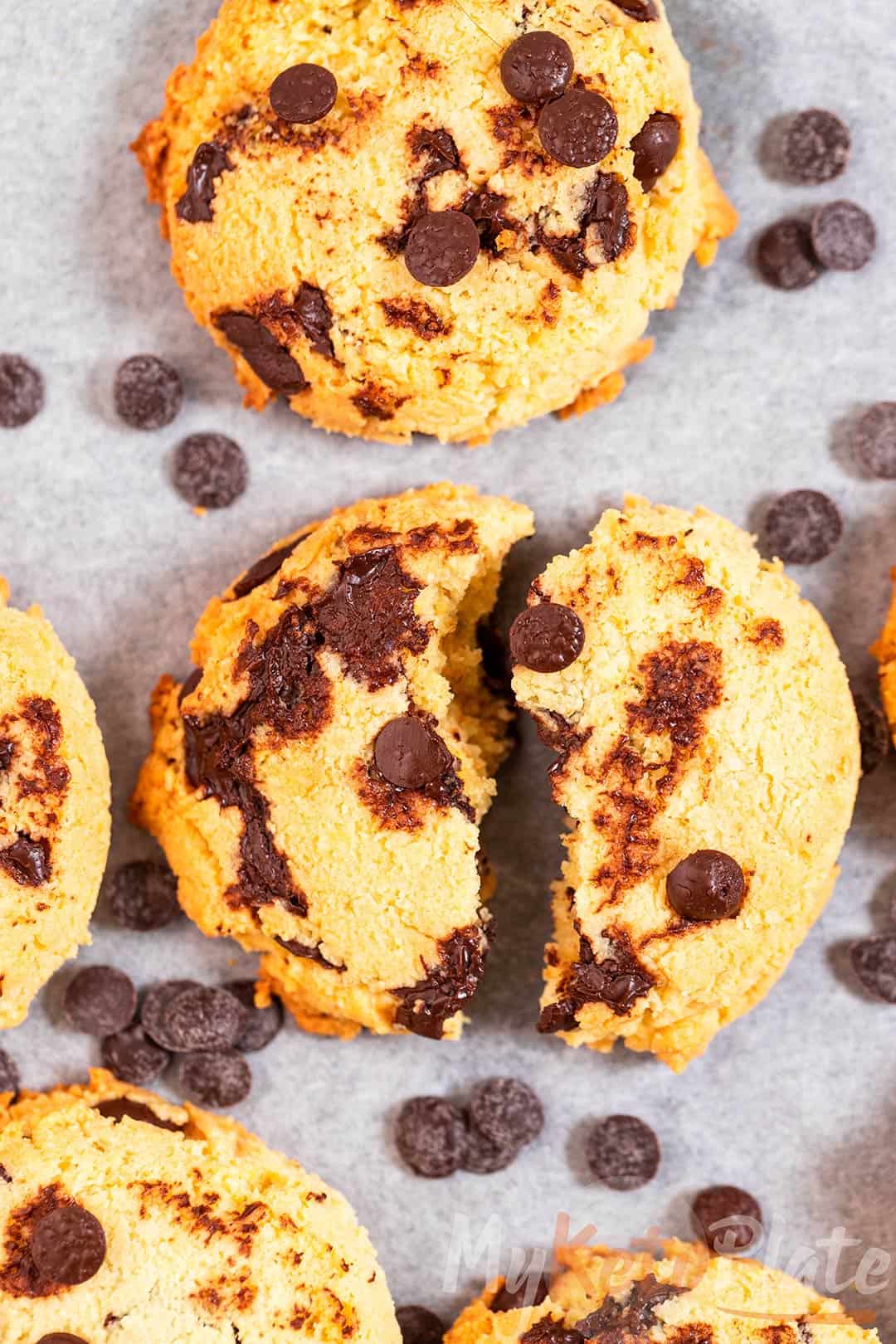 Almond Flour- The almond flour gives the cookies texture and prevents them from spreading too much. It's essential to use superfine blanched almond flour, not almond meal. Almond meal has a different texture and tends to make the cookies greasy and super dense.
Baking Powder- Gives the cookies a soft and airy texture.
Egg- This adds that chewy texture to the cookies while providing structure.
Butter- to add that buttery taste that's so delicious. Use vegan butter instead to make vegan almond flour cookies.
Sweetener- feel free to use your favorite powdered sweeteners such as Erythritol, Monk Fruit, or Allulose.
Vanilla Extract – a high-quality vanilla extract is a must for a delicious cookie recipe.
Chocolate Chips – chocolate chips are a must for chocolate lovers! I prefer using unsweetened dark chocolate chips or chopping up a chocolate bar in chunks.
How To Make Cookies with Almond Flour
This almond flour cookies recipe is ridiculously easy to make. You need just one bowl to mix all the ingredients and about 5 minutes to make the dough.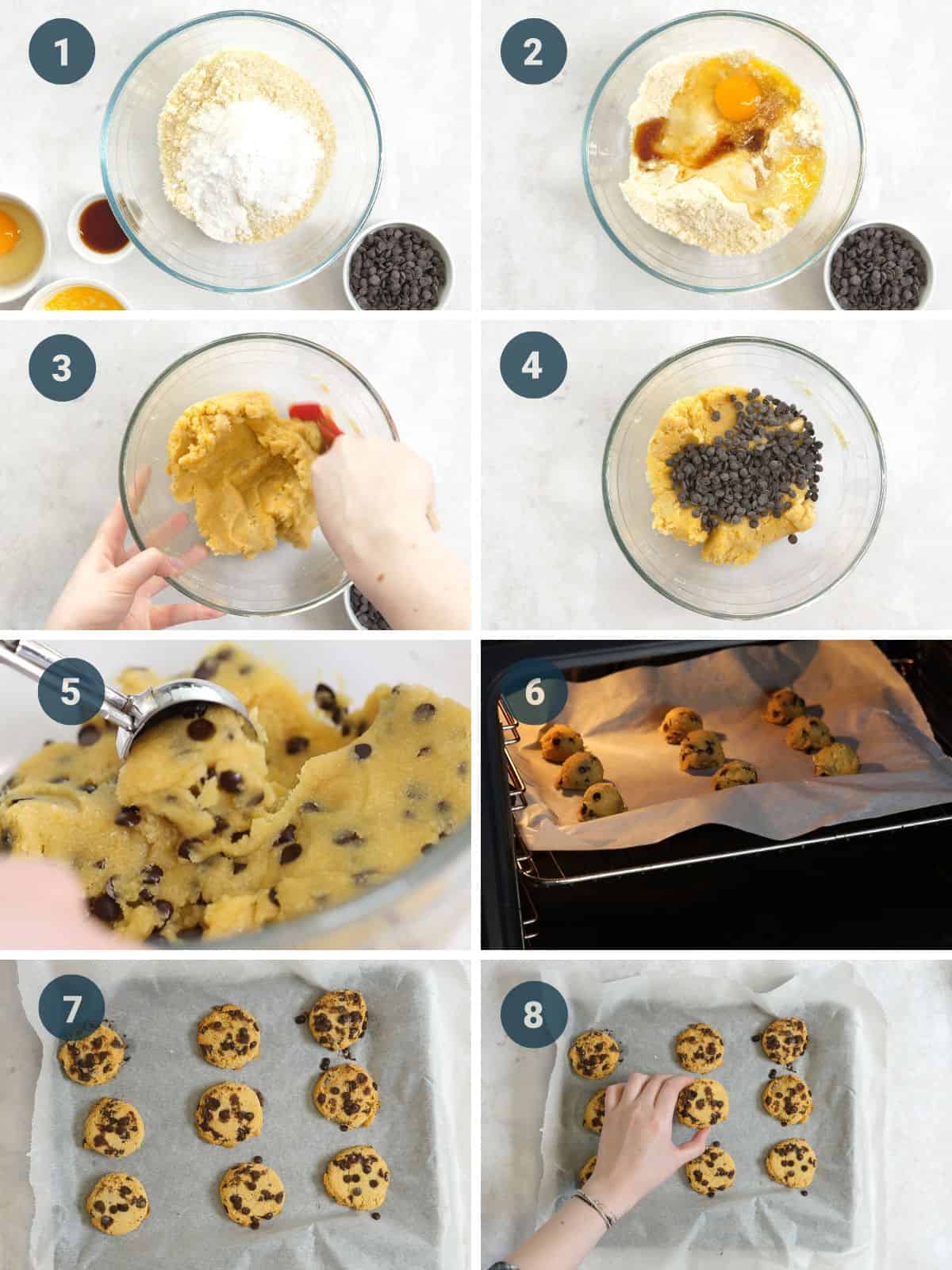 Preheat the oven- Start by preheating your oven at 180 degrees and line a baking sheet with baking paper.
Make the almond flour cookie dough – Add the wet ingredients to a bowl. Add the dry ingredients and mix until everything is well incorporated and a thick dough is formed.
Using a silicone spatula mix in chocolate chips or sugar-free chocolate chunks.
Form the cookies- Use a small cookie scopp to for 12 balls. Place them on the prepared baking sheet and slightly press them down to flatten. These cookies keep their form while baking.
Bake the cookies for about 15minutes or until they are golden brown on the edges.
Tips To Make The Best Cookies
Make sure that you don't overbake them because you don't want to have some dry and crumbly cookies.
You'll need to keep an eye on these cookies because cookies made with almond flour tend to brown quicker.
Use a small cookie scoop to create to make 12 cookies.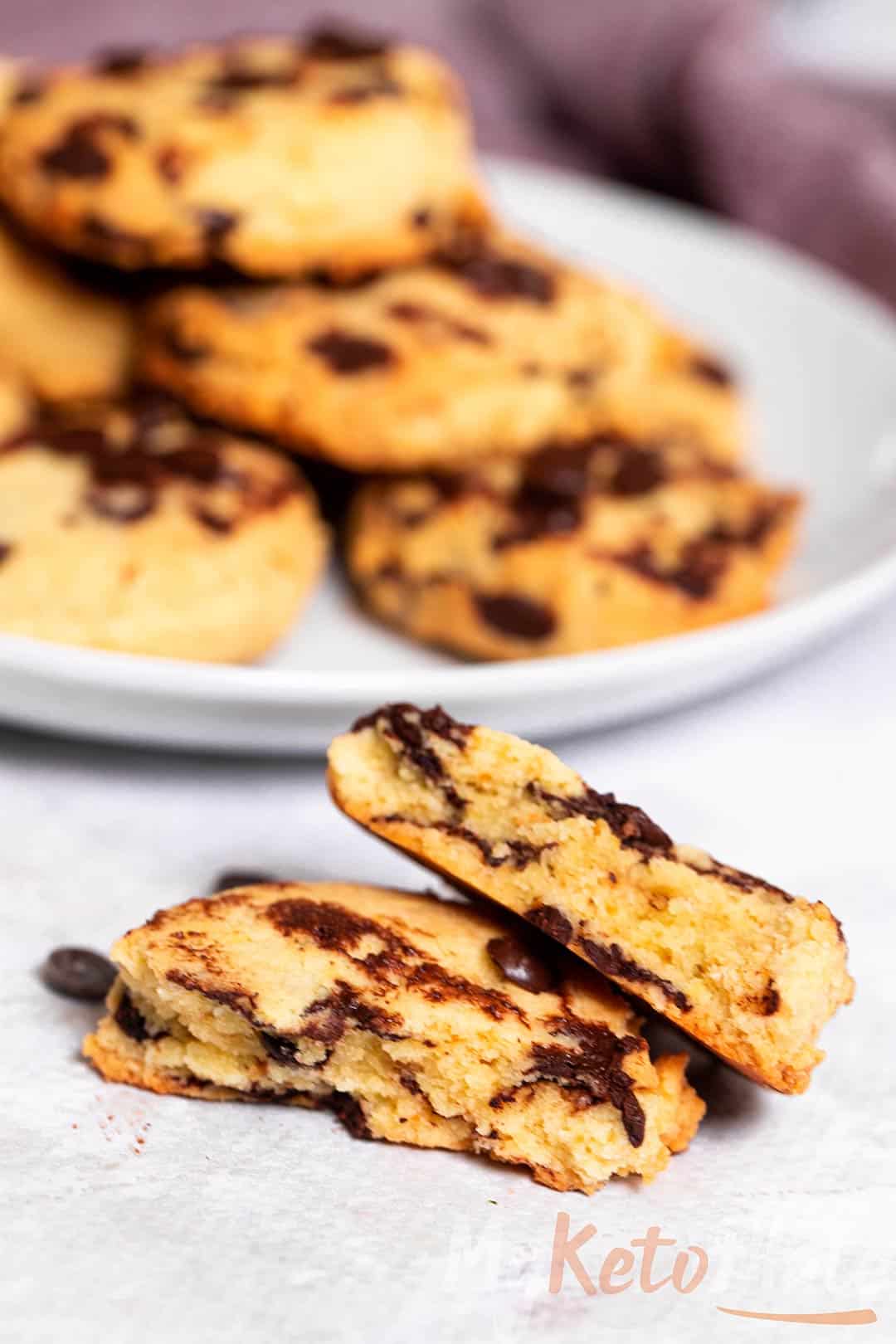 Can I Make Coconut Flour Cookies?
In this keto cookies recipe, almond flour can't be substituted with coconut flour as they have totally different properties. I really recommend using almond flour for the best results. You can find it at most grocery stores or order a few bags online.
Can I Have Almond Flour on a Keto Diet?
Almond flour is an excellent keto alternative to wheat flour because it's low in carbs, high in fiber, and has a neutral taste. It has only 2 grams of net carbs for a 2 tablespoons (28g) serving.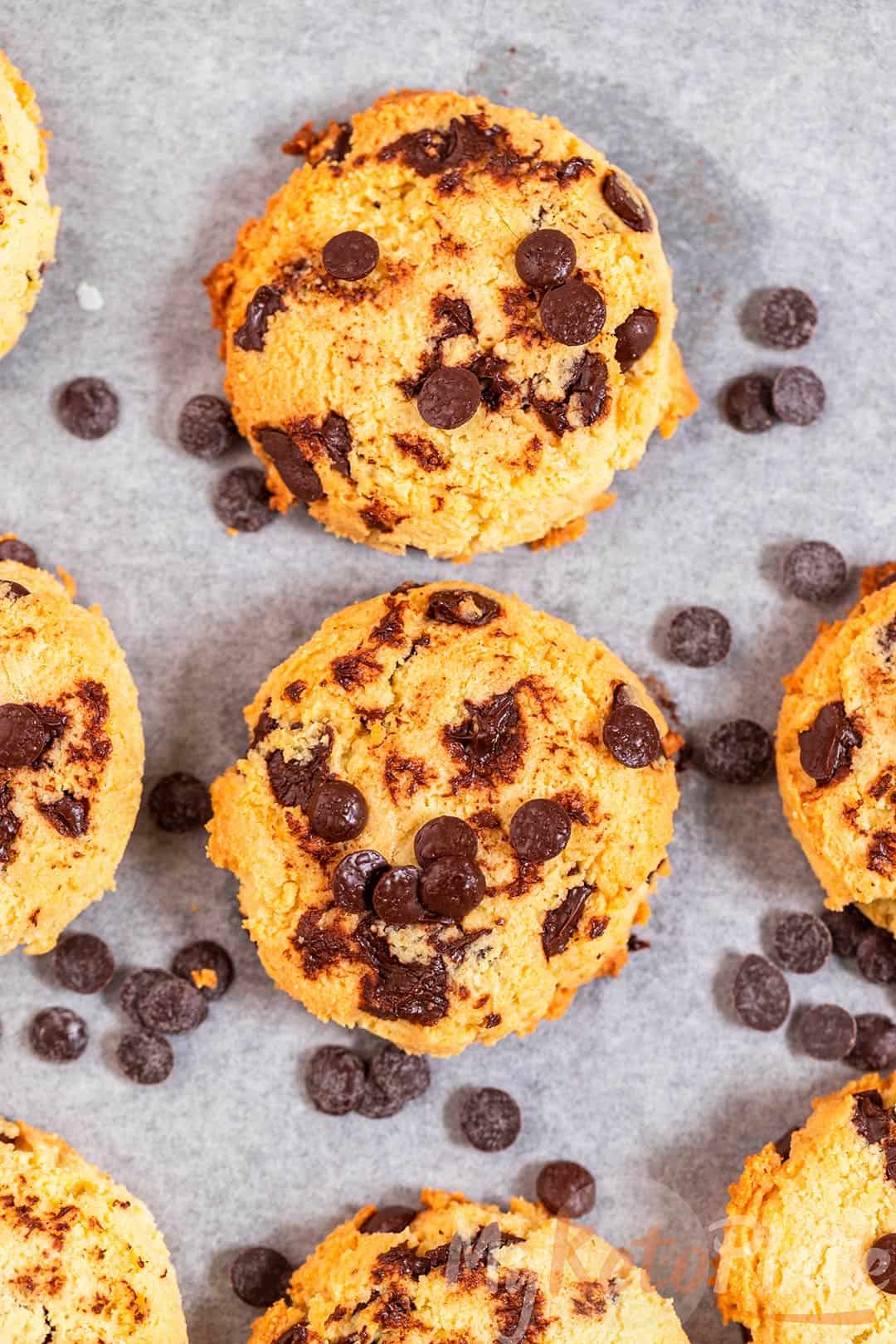 Can I Use Almond Meal Instead Of Almond Flour?
I honestly don't recommend using almond meal as it has a different texture, and the final result isn't as chewy but rather greasy.
Why Are My Almond Flour Cookies Crumbly?
Although the baking time has passed, it seems that the cookies are too soft and crumbling, don't worry. This is only because they are still very hot. Take them out of the oven and let them cool completely; you will see that they will harden on the outside and be very soft and fluffy on the inside as they cool down.
Ways to Make Almond Flour Cookies
As I said before, this recipe is super versatile. You can use it as a base and improvise with your favorite extracts and mix-ins.
Plain almond flour cookies– leave out the chocolate chips and enjoy some simple cookies with your coffee.
Keto Double Chocolate cookies– add two tablespoons of cocoa powder to the dough.
Toasted Almonds– mix in some toasted almonds.
Can I Make These Cookies Ahead Of Time?
Sure, a great idea for making these cookies ahead of time is preparing the dough. Form the cookie balls and freeze them in a ziplock bag. When you are ready to enjoy, just place the cookie balls in the oven and bake. Enjoy the freshest almond flour cookies!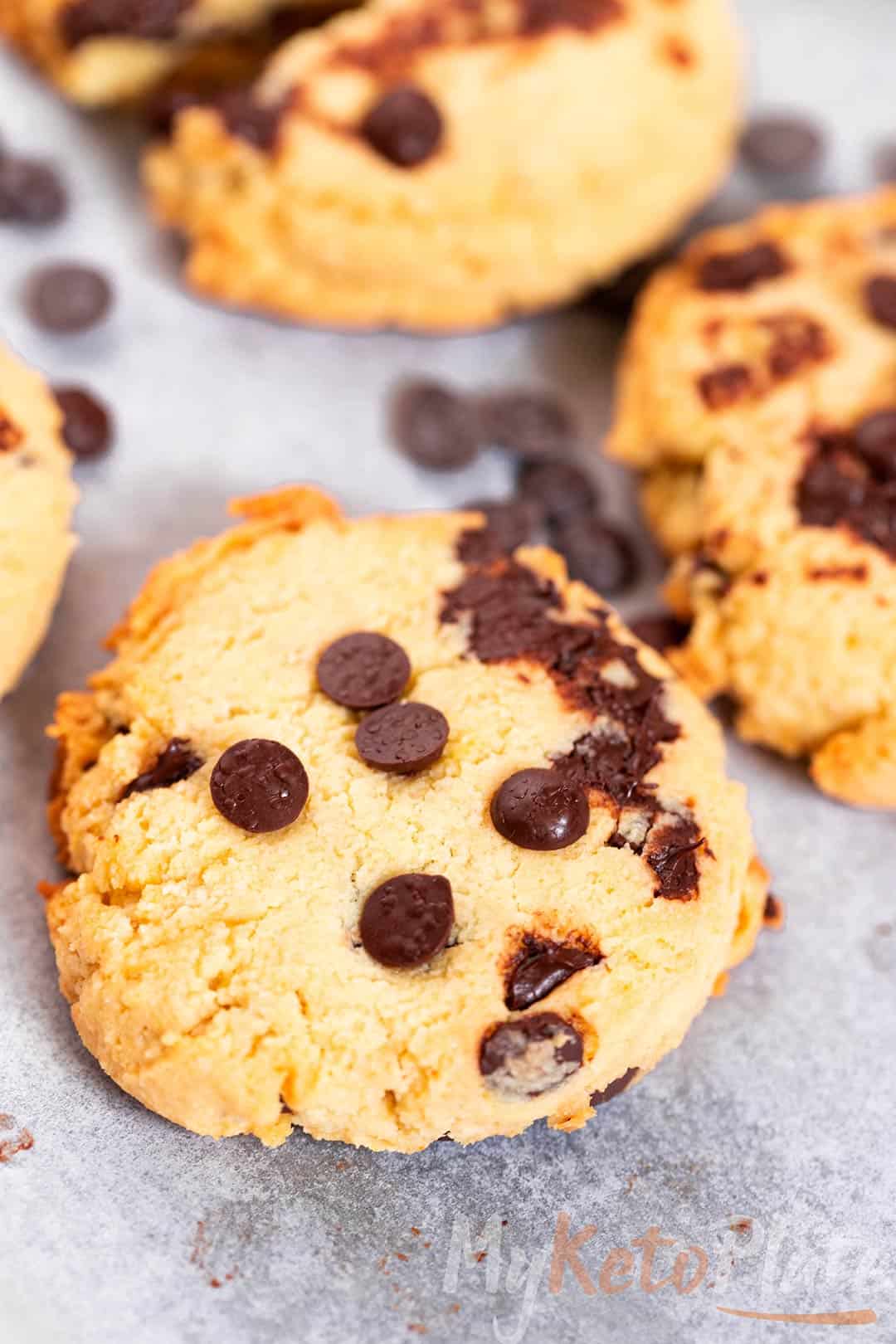 Storing Ideas For These Almond Flour Cookies
Fridge: You can keep these almond flour cookies in an airtight container for one week.
Freezer: You can also store the cookies in the freezer. Place in an airtight container and store in the freezer for up to two months.
More Easy Desserts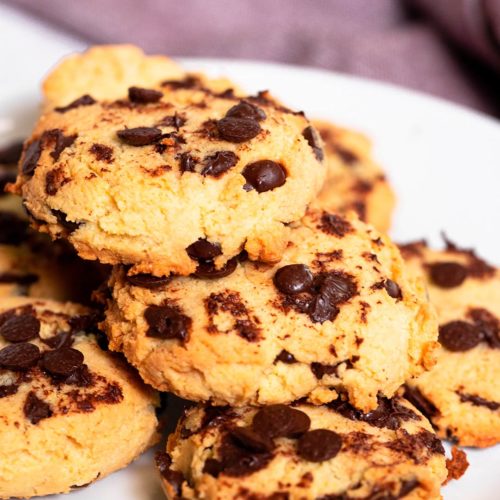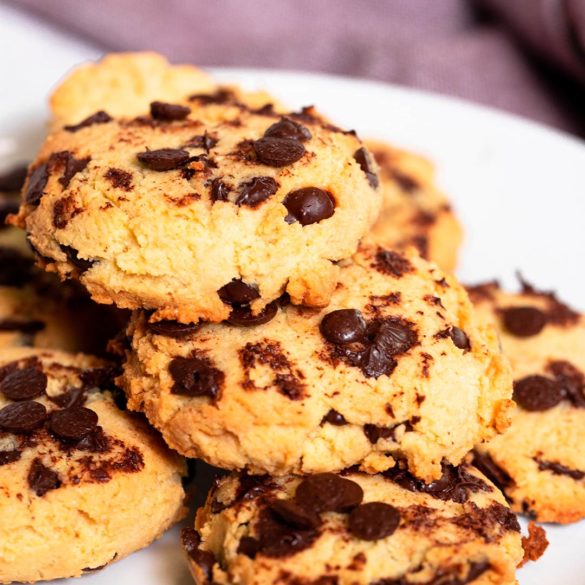 The Best Almond Flour Cookies
---
Yelds
12
almond flour cookies
Description
This is the best almond flour cookies recipe ever! No funky ingredients, no chilling time required, loaded with chocolate chips. It's an easy, amazingly delicious recipe that makes some thick, chewy grain-free cookies.
Instructions
Preheat the oven to 350°F/180°C and line a baking sheet with parchment paper. Set aside.

Mix the almond flour, powdered sweetener, and baking powder into a large bowl. Pour the melted butter, the egg, and vanilla extract. Mix until well combined. Incorporate the chocolate chips using a silicone spatula.,

Use a small cookie scoop to form 12 cookie balls. Slightly press them into a cookie shape.

Bake the cookies for 10 to 12 minutes, or until they just begin to brown on top.

Remove from the oven and allow cool on the baking sheet for 10 minutes, then transfer to a cooling rack.
Nutrition Facts
Amount per serving.
How do we calculate the nutrition info?
These nutrition facts listed are determined using nutrition information from the USDA Food Database. Our nutrition facts are accurate, but if you are using different products, please make your calculations. Net carb count is calculated by subtracting both fiber and sugar alcohols because they don't raise blood sugar.