Made from only 3 ingredients and ready in 10 minutes, this sugar-free sauce for cheesecake is one of the best toppings for your favorite cheesecake, pancakes, or ice cream.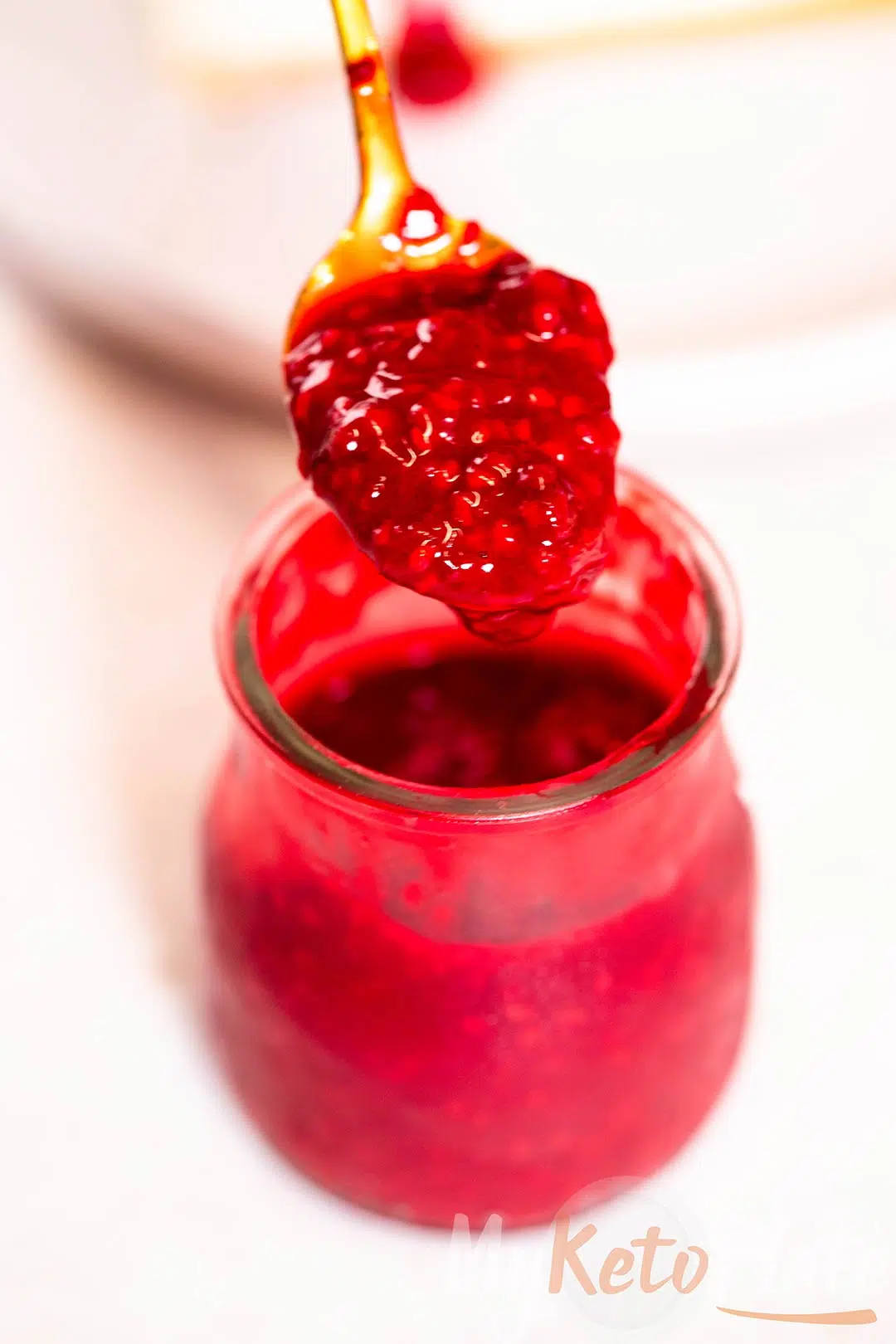 For me and my family, cheesecake is one of the best desserts we choose to make whenever we have a sweet carving. And what better than a cheesecake topped with a delicious sugar-free sauce that completes all the flavors?
So today, I decided to share with you one of the easiest and most delicious raspberry sauces that are always a hint, especially for cheesecake. Trus me – this sauce makes everything taste better.
The recipe is simple and quick; waiting for the sauce to cool is harder. You can serve it with cheesecake and panna cotta, chocolate desserts, cakes, and pancakes.
Why Are You Going To Love This Recipe
It's extremely easy to make.
A sugar-free sauce made from only 3 ingredients
It's ready in just 10 minutes.
It can be used to top many desserts like cheesecakes or pancakes.
You can make it ahead of time.
It's a versatile recipe.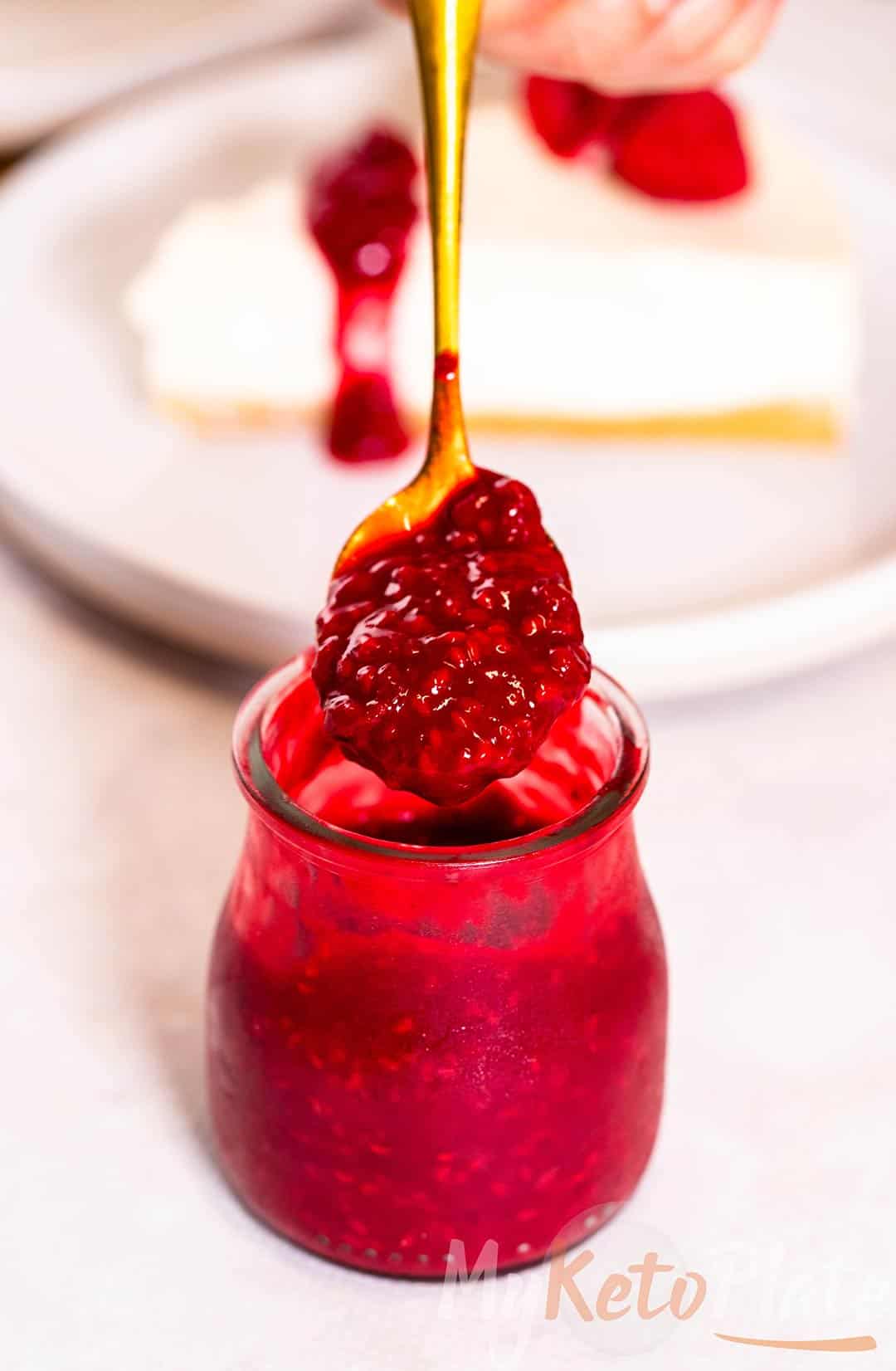 Ingredients For This Sugar-Free Sauce For Cheesecake
You will need only three ingredients to create this delicious sauce that pairs perfectly with your cheesecake.
Raspberries – you can use both frozen or fresh raspberries; the final result will be the same as delicious.
Lemon Juice – gives a sour taste and perfectly completes the flavors in this sauce.
Sweetener – make sure you use powdered sweetener to mix well into the sauce.
How To Make This Sugar-Free Sauce
I love making this sugar-free raspberry sauce for cheesecake since it's so easy to prepare. Here is everything you have to do:
Add your raspberries, sweetener, and lemon juice to a medium saucepan.
Reduce the heat to low heat, mash the raspberries with the back of a spoon, and cook for about 8 minutes until the sauce has thickened.
Once the sauce is ready, pour it into a glass jar and let it cool until you are ready to use it.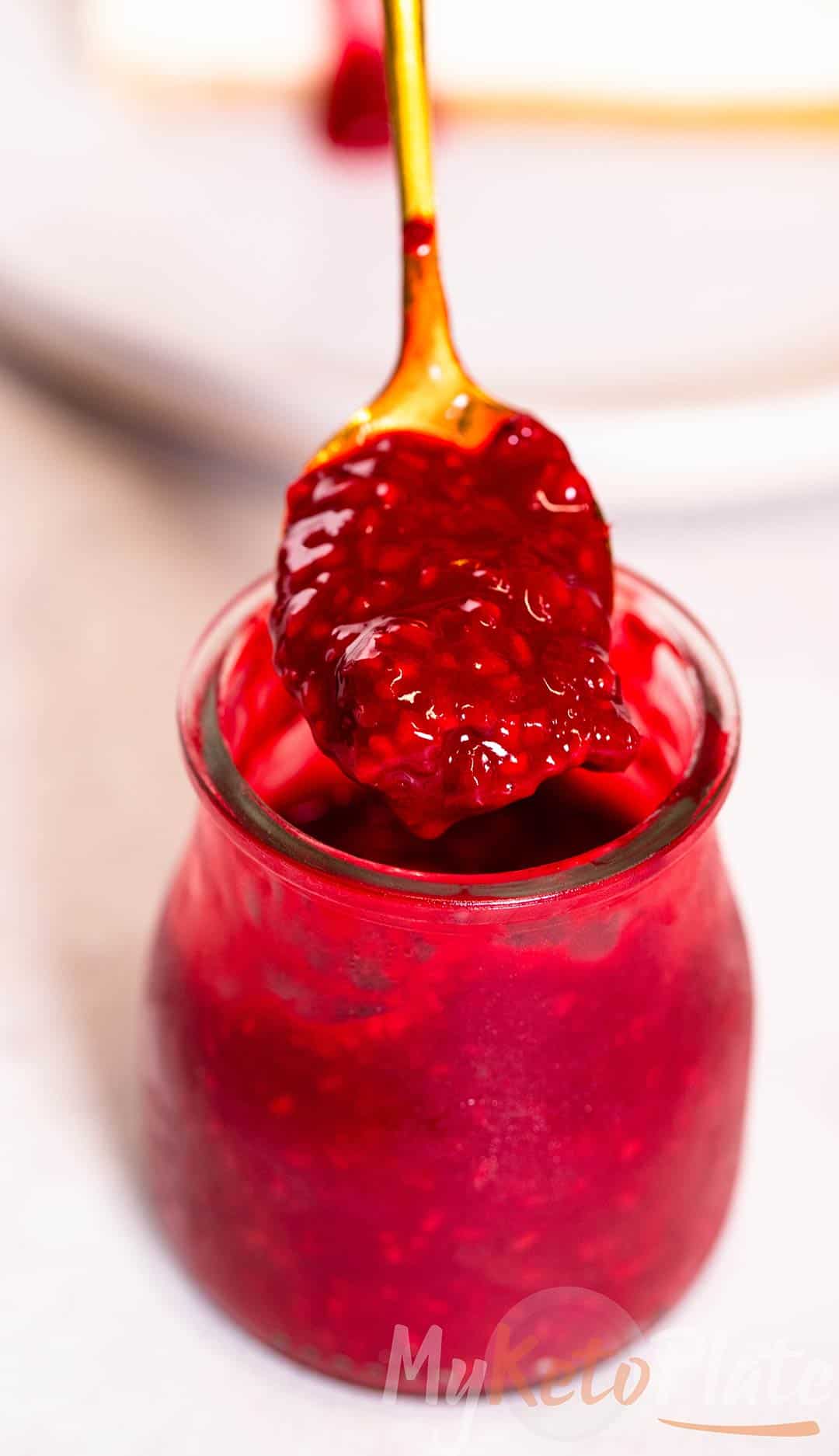 Add-Ins Variations
Feel free to adjust the flavor of this sauce to suit your tastes! It's delicious and can be made in a variety of flavors. Here are some ideas:
You can add some vanilla extract.
Chia Seeds.
How To Use This Sugar-Free Sauce
Once I tried this recipe, it became my favorite, and I always choose to use it when I prepare my Keto Pavlova, Cheesecake, No-Bake Keto Cheesecake, and Keto Pancakes with Coconut Flour.
Storing Leftovers Ideas
Fridge: It can be kept in the fridge for two or three days, and it is recommended to leave it for at least an hour before serving.
Freezer: You can also freeze this sugar-free sauce. Put it in a freezer-safe container and store it for up to one month.
Place in the refrigerator overnight to defrost.
Frequently Asked Questions
Are Raspberries Keto-Friendly?
Yes, this fruit is keto-friendly. The carb content of raspberries is low enough that you can eat them frequently when following a ketogenic diet.
Can I Make This Sauce With Different Berries?
Sure, you can make this sauce using blueberries, cranberries, strawberries, or even a mix of them.
What Should I Do If My Sauce Contains Too Many Seeds?
You'll need to strain the raspberry sauce to make it seedless. You can strain it through a sieve by pushing the raspberry mixture around with the back of a spoon until the seeds are fully gone from the sauce.
How To Make A Thicker Sauce?
You can simply add additional cornstarch or Xanthan gum to make a thicker raspberry sauce.
Is It Better To Serve The Sauce Hot Or Cold?
This sugar-free sauce can be served warm, at room temperature, or chilled. I think that it's great served warm on waffles and cold on cheesecake and other cakes.
How To Check If The Sauce Is Ready?
The raspberry sauce is done when it is thick and coats the back of a spoon. It will continue to thicken as it cools.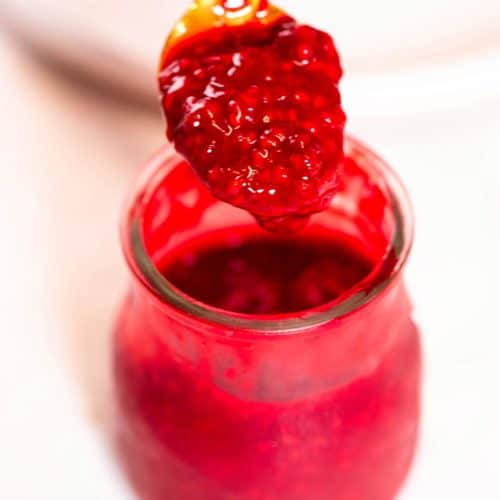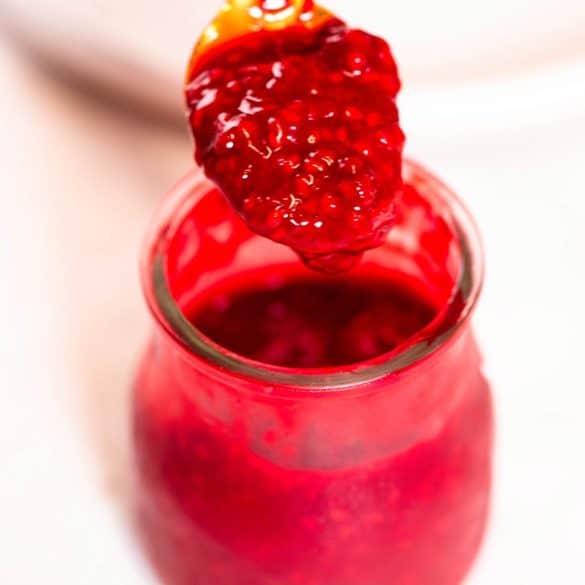 Sugar-Free Sauce For Cheesecake
---
Description
Made from only 3 ingredients and ready in 10 minutes, this sugar-free sauce is one of the best toppings for your cheesecake, pancakes, or ice cream.
Ingredients
1

Cup

raspberries

fresh or frozen

1/4

cup

sweetener

2

tsp

lemon juice

2

tbsp

water
Instructions
Add the raspberries, sweetener, lemon juice, and water to a medium saucepan.

Bring everything to a boil and stir occasionally.

Simmer the sauce for about 8-10 minutes.

Remove the saucepan from heat and enjoy on top of your favorite dessert!

Store any leftover sauce in an airtight container in the fridge.
Nutrition Facts
Amount per serving.
How do we calculate the nutrition info?
These nutrition facts listed are determined using nutrition information from the USDA Food Database. Our nutrition facts are accurate, but if you are using different products, please make your calculations. Net carb count is calculated by subtracting both fiber and sugar alcohols because they don't raise blood sugar.