Ready in 20 minutes, this delicious taco salad is extremely flavorful and satisfying. Made from naturally low-carb ingredients, this salad is loaded with healthy fats and fiber making it a great lunch or dinner idea.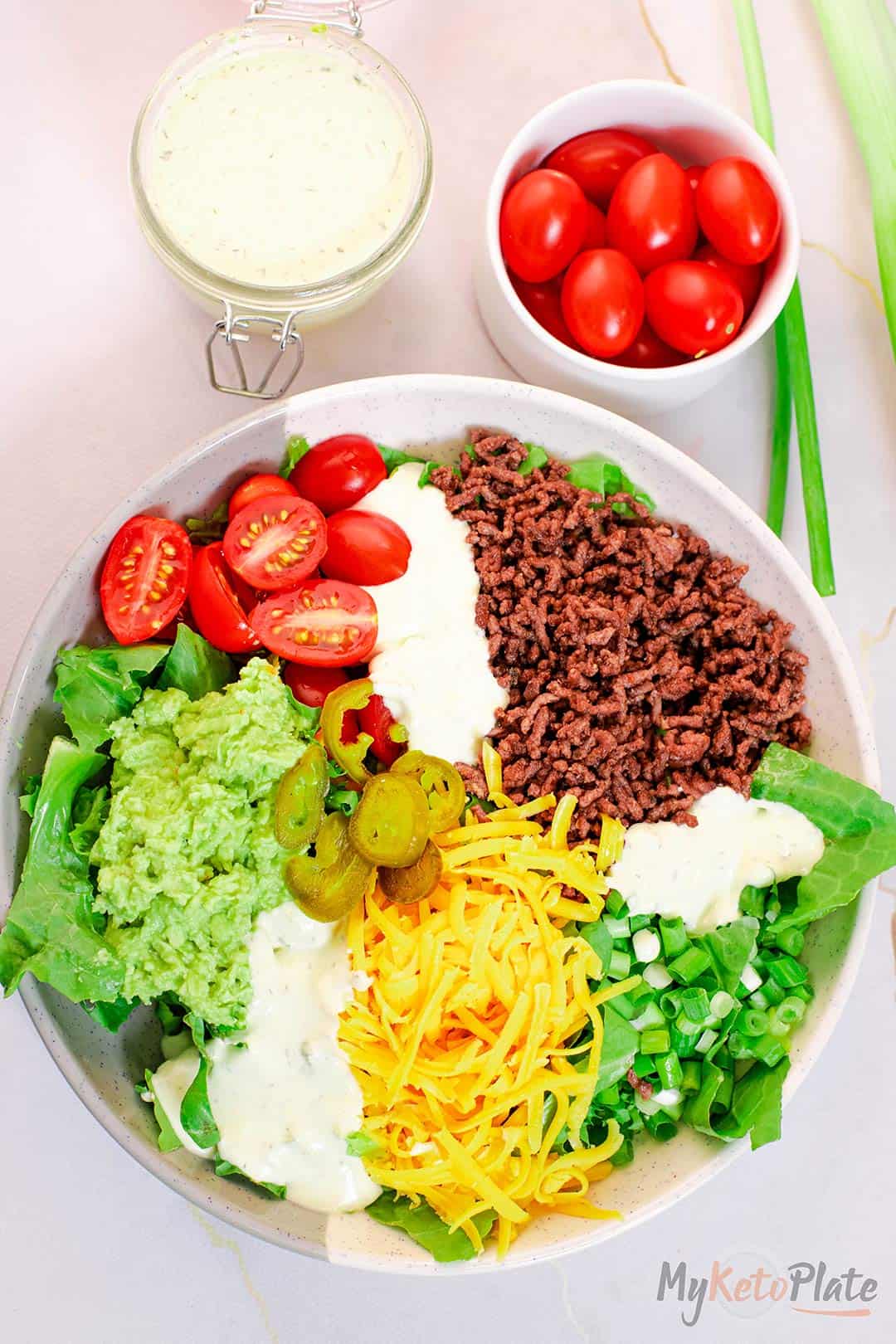 This is one of my favorite salad recipes since it's fresh and filling; my whole family loves it. The ingredients used in this recipe are delicious on their own, but combined create an incredible recipe filled with many flavors.
This recipe for a taco salad is a staple in our house, and I choose to make it anytime I need something delicious and easy to make for dinner. So make this recipe and tell us how it was.
What Is A Taco Salad?
Made from crisp lettuce, ground beef, cheddar cheese, and taco seasonings, taco Salad is a gluten-free version of regular tacos. It can be served plain, with tortilla chips, in a tortilla bowl, or in a deep-fried taco shell.
Why Are You Going To Love This Recipe
It's super easy to make; ready in 20 minutes.
Contain only 8g net carbs per serving.
Loaded with healthy ingredients such as avocado and other vegetables.
It's packed with many flavors.
It's perfect for any occasion.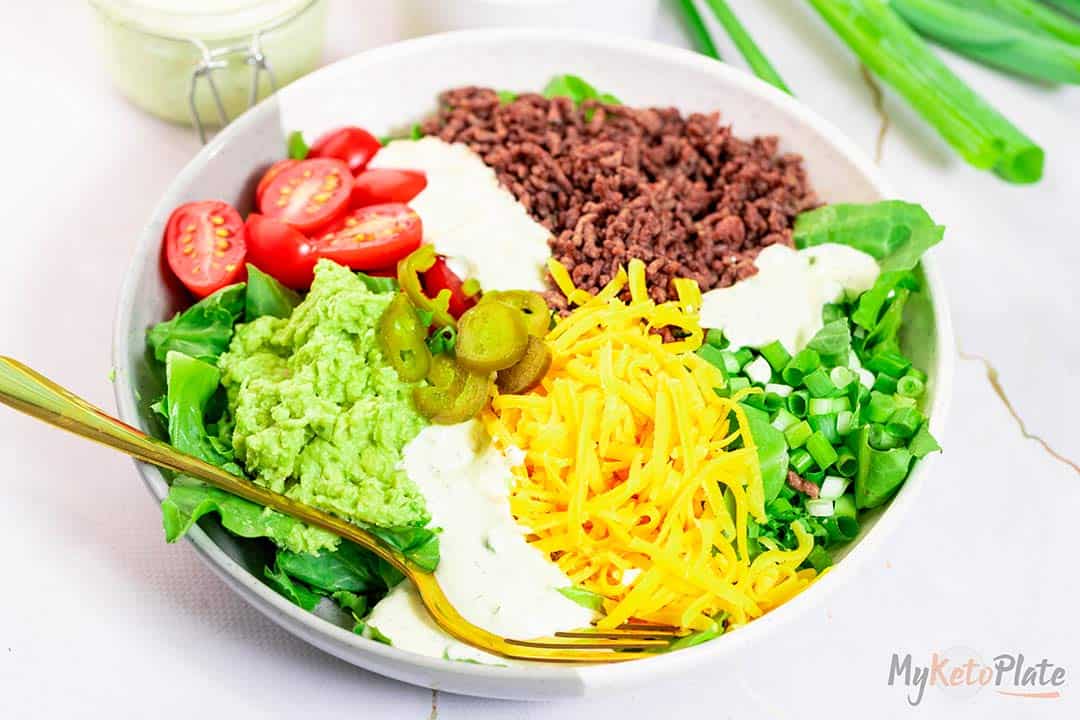 Ingredients For This Taco Salad
You will be surprised to see that this recipe only requires some easy, naturally low-carb ingredients that are so simple to find. Here is a list of the ingredients that you will need:
Ground Beef – Since I don't want to remove a ton of fat once the meat is cooked, I use 85% lean beef. You can also use your preferred ground meat, such as turkey.
Olive Oil – feel free to use any other vegetable oil you like.
Taco Seasoning – you can buy it or make it at home.
Romaine Lettuce – you can use any green leaf, such as iceberg or baby spinach.
Tomatoes – feel free to use any tomatoes you want.
Cheddar Cheese – I adore the creamy flavor and bright yellow of freshly shredded cheddar cheese.
Avocado – It's one of my favorite ingredients to add to almost any salad recipe since it's creamy and has many potential benefits.
Green Onion – if you find green onion, you can use yellow or red onion.
Salsa
Sour Cream – you can replace it with greek yogurt if you want.
How To Make This Taco Salad
Another reason why I love this recipe so much is because it's extremely easy to prepare without needing any cooking skills. Here is everything you have to do to enjoy this delicious taco salad:
Start by cooking the ground beef. Heat the olive oil in a pan over medium heat. Add the ground beef and cook for 10 minutes until browned. Then add the taco seasoning and mix.
Remove the pan from the heat and drain any fats.
Prepare the rest of the ingredients and add them to a bowl.
Add the salsa and sour cream, add the cooked meat and mix until combined. Enjoy.
Recipe Variations
You can replace romaine salad with baby spinach.
Add some crumbled bacon for an extra crunchy.
If there are ingredients that you don't like, you can replace them with others, like cucumber, bell pepper, or olives.
You can garnish this salad with some fresh chopped parsley.
Serving Ideas
Another great thing about this recipe is that it can be served in many ways. Here are some great ideas:
You can use it as filling for Lettuce Wraps.
You can eat it with a slice of your favorite keto bread.
You can make a sandwich with it.
It pairs great with some homemade tortilla chips.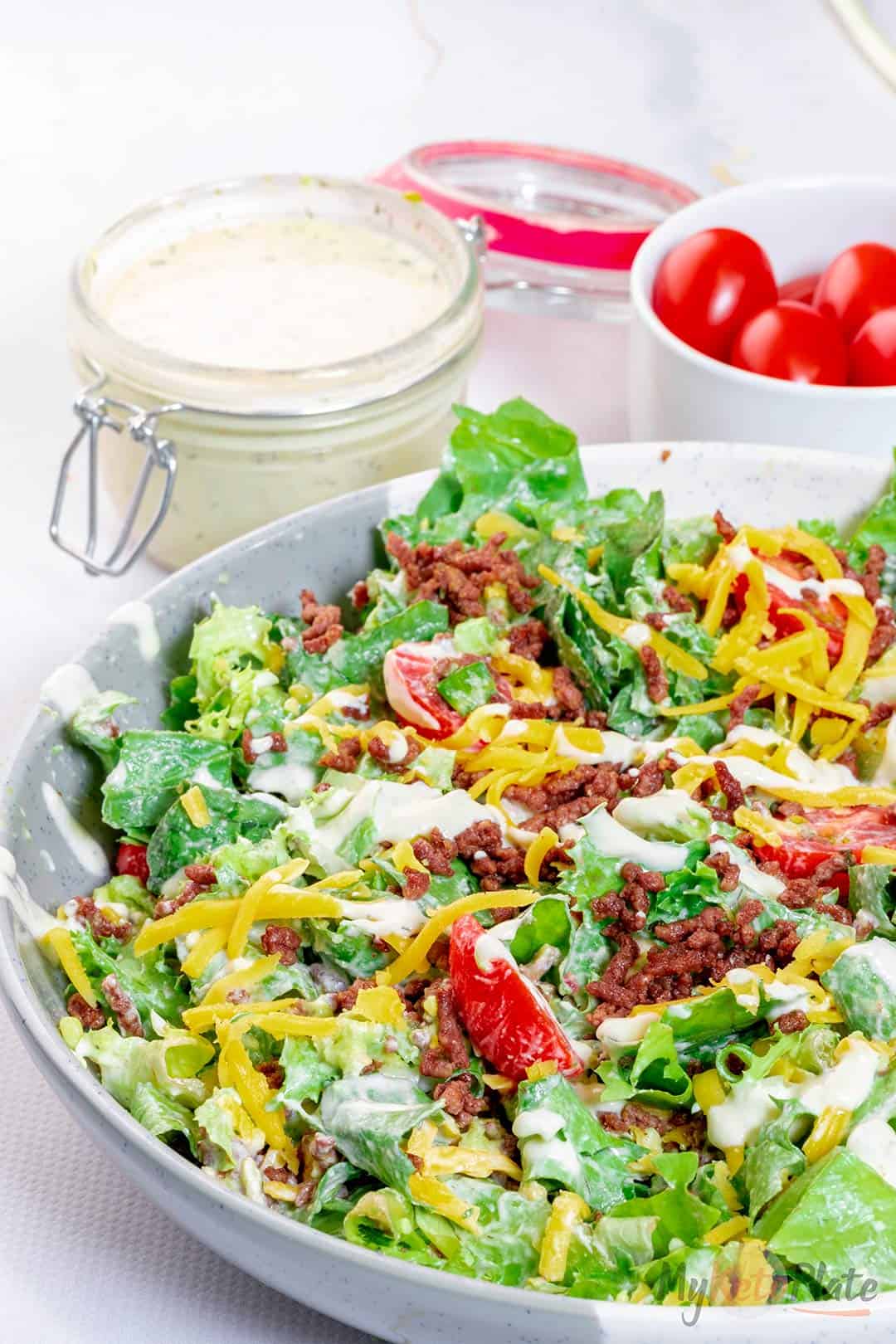 Storing Ideas
If there are any leftovers from this recipe, you can store them in an airtight container in the fridge for up to 3 days.
But in my opinion, it is best served fresh; you will find below some tips for making it in advance.
Frequently Asked Questions
Can I Make This Recipe Ahead Of Time?
Yes, this recipe is great for making in advance or on those busy days. All you have to do is to prepare the ground beef like we did in this recipe and store it in the fridge in an airtight container. Then you are hungry, prepare the rest of the ingredients, add the meat, and that's it.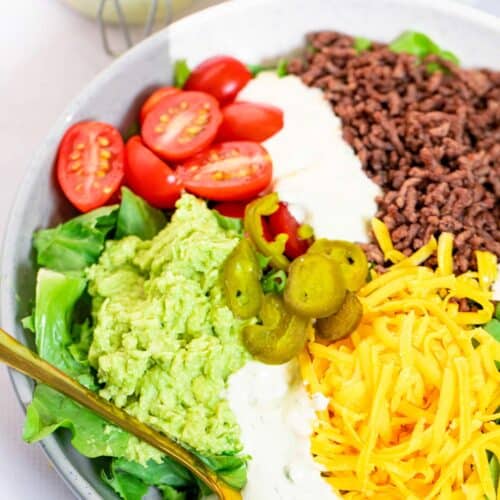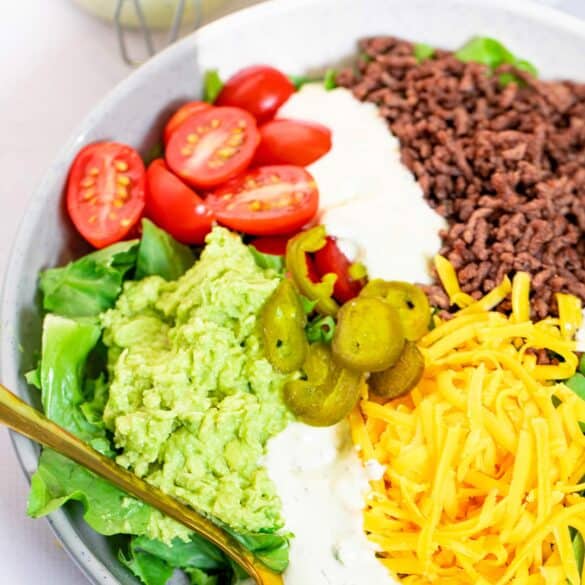 Description
Ready in 20 minutes, this delicious taco salad is extremely flavorful and satisfying. Made from naturally low-carb ingredients, this salad is loaded with healthy fats and fiber making it a great lunch or dinner idea.
Ingredients
1

lb

ground beef

1

tbsp

olive oil

1

tbsp

homemade taco seasoning

1

romaine lettuce

1 1/2

cups

tomatoes

3/4

cup

shredded cheddar cheese

1

avocado

medium ripe

1/2

cup

green onions

chopped

1/4

cup

salsa

1/4

cup

sour cream
Instructions
Add one tbsp of olive oil to a large skillet over medium-high heat.

Add ground beef and cook for 10 minutes until it is no longer pink. Season with taco seasoning and mix until well combined.

Once the meat is evenly browned, remove it from the heat, and drain any excess fat.

Add the chopped romaine lettuce, grape tomatoes, avocado, green onions, and shredded cheddar cheese to a large bowl.

Top with sour cream and salsa.

Add the cooked beef and toss all the ingredients until well combined. Enjoy!
Nutrition Facts
Amount per serving.
How do we calculate the nutrition info?
These nutrition facts listed are determined using nutrition information from the USDA Food Database. Our nutrition facts are accurate, but if you are using different products, please make your calculations. Net carb count is calculated by subtracting both fiber and sugar alcohols because they don't raise blood sugar.