This keto broccoli cheddar soup is packed with tons of mouthwatering flavors without all the hidden carbs. Ready in less than 30 minutes, this hearty one-pot soup is incredibly rich, filling, and perfect for the cold weather. Enjoy a velvety cheddar soup that's better than Panera's classic broccoli cheddar soup and has only 3g net carbs for a bowl.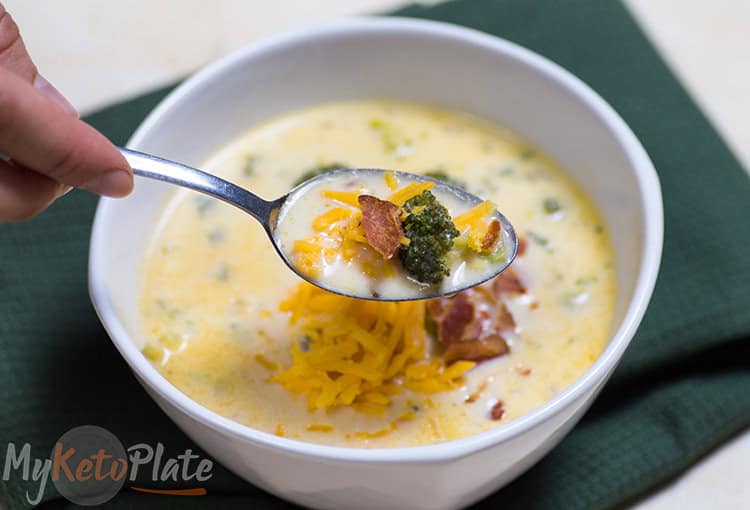 The weather starts to chill, so it's time to warm our souls with a delicious keto soup. I am always excited about comforting recipes because I love cold weather and comforting recipes.
If you've ever tried Panera's broccoli cheddar soup, then you'll love this keto cheddar broccoli soup too. I'd dare to say that this copycat version it's even much more flavorful and has the best texture.
I am going to fill My Keto Plate blog with tons of my favorite soul-warming recipes, keto-fied. Keto Broccoli Cheddar Soup is one of those recipes that I can't stop making because everyone in my family absolutely loves it.
When I tried this dish for the first time, I immediately fell in love. It's so incredibly tasty – you'd never guess it was low-carb. The combination of cheese, broccoli, and spices creates an unforgettable flavor profile that will leave your taste buds begging for more. Plus, by using only wholesome ingredients, you can feel good about serving this soup to your family.
Is Panera's Broccoli Cheddar Soup Keto?
No, Panera's Broccoli Cheddar Soup is not keto-friendly since the original broccoli soup is thickened with the flour in the roux. Luckily there are ways to thicken soups that don't increase the carb count.
Ingredients in Keto Broccoli Cheddar Soup
Let's start with one of my favorite soups ever, a super simple recipe that needs only a few low carb ingredients. The secret to a flavorful soup is to use high-quality ingredients. Shred your cheddar cheese, and don't use the cheapest brand you can find. It lacks flavor.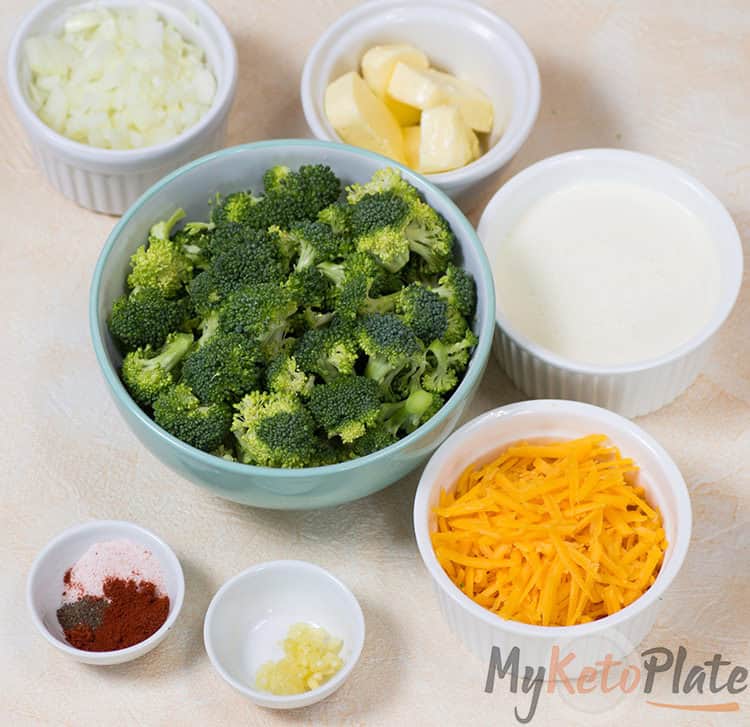 Broccoli – use fresh broccoli florets and stems chopped into bite sized pieces. Frozen broccoli is great too, just defrost completely and follow the same instructions.
Onion – the caramelized onion adds sweetness and depth of flavor, making this soup delicious.
Garlic – minced garlic is a key ingredient, and I recommend using fresh garlic, but if you don't have any use some garlic powder.
Chicken broth – you can replace with veggie stock for a vegetarian version.
Cheddar cheese – about 2 shredded cups of shredded cheddar are needed in this soup,
Heavy cream – Heavy cream is used to add richness and creaminess.
Butter – I sautee the onion and garlic in unsalted butter for maximum flavor.
How to Make Keto Broccoli Cheddar Soup?
Start by sautéing the onion and garlic in butter to allow the flavors to develop. Cook them over medium heat for a few minutes until the onion turns translucent and releases a delicious aroma.
Next, add the broccoli to the sautéed mixture and continue cooking. Stir and sauté the broccoli until it becomes tender and can easily be pierced with a fork. This process helps to soften the broccoli and enhance its flavor.
Once the broccoli is cooked to your desired tenderness, it's time to add the creamy elements to the soup. Pour in the heavy cream and stir it gently to combine with the sautéed ingredients. This step adds richness and smoothness to the soup's texture.
To elevate the flavor profile, incorporate high-quality cheddar cheese into the soup. Stir the cheese into the mixture, allowing it to melt completely and infuse the soup with its savory taste. Using a good quality cheddar cheese is essential as it contributes significantly to both the flavor and creamy texture of the soup.
When the soup is fully prepared and ready to be served, it's time to add some delightful toppings. Sprinkle crispy bacon bits on top of each serving to add a delicious crunch and smoky flavor. Additionally, a generous sprinkling of shredded cheddar cheese as a garnish will melt slightly into the hot soup, enhancing the cheesiness and adding visual appeal.
By following these steps and adding the finishing touches of bacon bits and shredded cheddar cheese, you'll create a flavorful and satisfying soup that will surely impress your taste buds.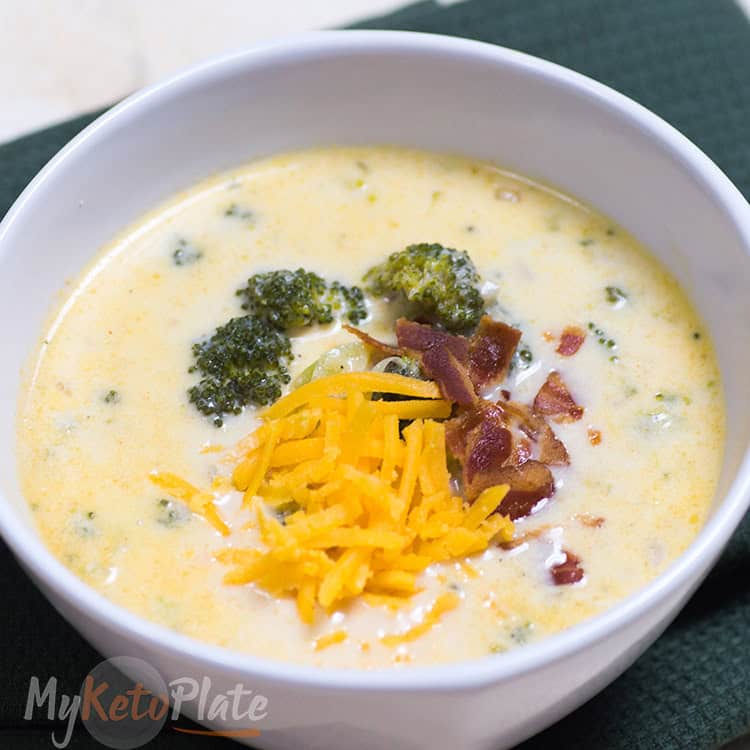 How To Thicken A Low Carb Soup
The broccoli cheddar soup is truly rich and decadent, but it's not as thick as the original. If you want to thicken the soup here are a few low carb options
Xanthan gum: Xanthan gum is my favorite low carb thickening agent because it can be added in small amounts (start with 1/4 teaspoon) and whisked into the soup to thicken it. Remember to use it sparingly, as too much can create a gel-like texture.
Psyllium husk powder: . When added to soup, psyllium husk powder can help thicken the broth and give it a smoother texture. It's important to note that a little goes a long way, so start with a small amount and gradually add more as needed to avoid over-thickening the soup.
Guar gum: Start with a pinch or 1/4 teaspoon and gradually increase if necessary. Be sure to whisk or blend it thoroughly into the soup to prevent clumping.
Coconut flour: Coconut flour absorbs liquid and swells, providing thickness to the broth.
Simmer and Reduce: Sometimes, simply simmering the soup for a longer period can help reduce the liquid and naturally thicken it.
Dairy-Free Variations Of Keto Broccoli Cheese Soup
If you're looking for a delicious way to enjoy broccoli cheese soup without the dairy, there are plenty of options. Ditching cream and cheese doesn't mean sacrificing flavor – it just requires some clever substitutions. To get that signature creamy texture, try using canned coconut milk in place of heavy cream and nutritional yeast as a cheese flavoring alternative.
For an even richer texutre, you could also add some cooked cauliflower florets when pureeing the ingredients together. The extra veggie will provide more bulk while still keeping the carb count low. And if you want to bump up the nutrition content further then consider adding fresh herbs like parsley or thyme into the mix for additional layers of flavor.
With just one simple substitution, this classic comfort food can become a healthy yet incredibly tasty meal that everyone can enjoy! Now let's take a look at how we can reduce carbs even further by swapping out traditional ingredients with lower-carb alternatives.
How To Store Broccoli Cheddar Soup
Refrigerator – Store soup leftovers in airtight continers and refrigerate for up to 3 days. When ready to serve reheat on the stove top over medium high heat stirring ocasionally.
Freezer – To freeze leftovers, pour the soup into freezer-safe bags or containers before placing in the freezer. The soup should be good for up to two months when stored this way.
To reheat – When you're ready to enjoy some of that delicious soup again, simply thaw overnight in the fridge if frozen. Then place your desired portion into a pot on medium heat until warm throughout — don't forget to stir occasionally! For smaller amounts, you can also microwave individual servings at 30-second intervals until heated through. Voila! Your leftover keto broccoli cheese soup is now just as tasty as it was on day one.
How To Serve Keto Broccoli Soup
This soup is packed with veggies and different flavors, so it can be enjoyed on its own, and it's a perfectly filling meal. It can be served along with a few keto bread slices for dipping or keto croutons.
Toppings: Add some toppings to the soup to enhance the flavor and texture. Some great options are grated cheese, crispy bacon bits, croutons, or chopped nuts.
Bread: Serve keto-friendly bread or crackers with the soup. You can opt for almond flour bread, coconut flour bread, or flaxseed crackers.
Salad: Pair the soup with a fresh and crispy salad to balance the creaminess of the soup. A green salad with a light vinaigrette dressing can be a great option.
You can also add more protein by topping the soup with some leftover shredded chicken.
More Keto Soup Recipes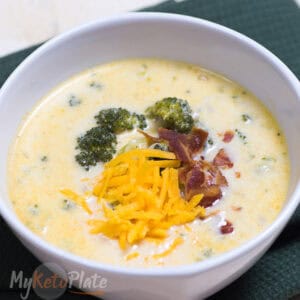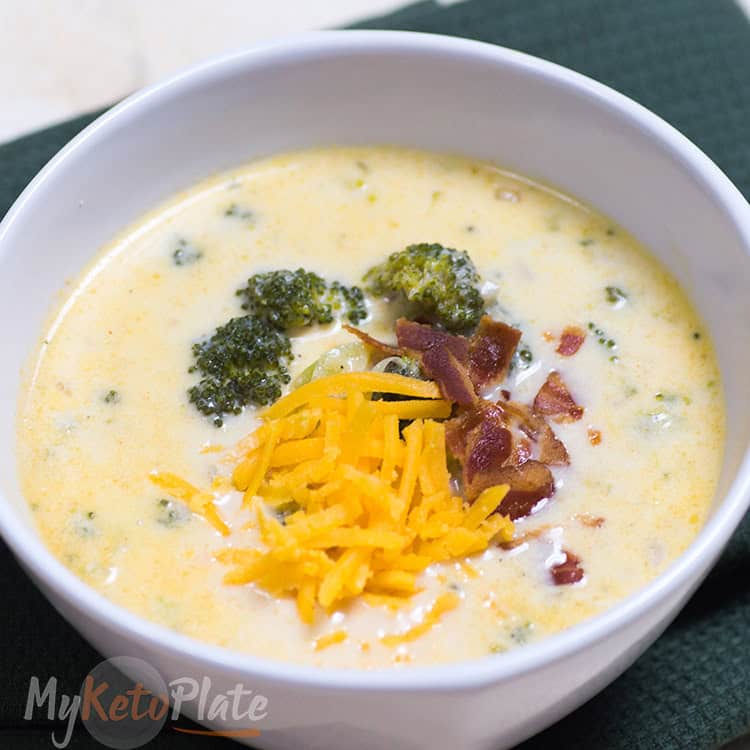 Keto Broccoli Cheese Soup – Creamy & Delicious
---
Description
This broccoli cheddar soup is packed with tons of mouthwatering flavors without all the hidden carbs. Ready in less than 30 minutes, this hearty one-pot easy broccoli cheese soup recipeis incredibly rich, filling, and perfect for the cold weather.
Ingredients
5

tbsp

butter

1/2

cup

medium onion

diced

2

garlic cloves

minced

5

cups

chicken broth

3

cups

broccoli

cut into small bits

2

cups

cheddar cheese

shredded

1

cup

heavy whipping cream

1

tsp

xanthan gum

optional (for a thick keto soup)

1

tsp

salt

1

tsp

pepper

1

tsp

smoked paprika
To garnish & serve
4

slices

bacon

fried and crumbled

1/4

cup

cheddar cheese

shredded
Instructions
Begin by melting the butter in a large pot over medium heat. Once melted, add in the diced onions, allowing them to sauté for 2-3 minutes until they become translucent. Following the onions, stir in the minced garlic, ensuring it doesn't burn, and let it cook for about 30 seconds.

Add the broccoli to the pot. Stir these well, ensuring it's nicely coated in the buttery onion-garlic mixture. Next, you'll pour in the chicken broth, turning up the heat slightly to bring your soup to a gentle simmer. Allow this mixture to cook for approximately 10 minutes, or until you find the broccoli has softened to your liking.

When your broccoli is tender, reduce the heat to its lowest setting. Add the heavy cream, salt, pepper, and that aromatic touch of smoked paprika. If you've opted to use xanthan gum for a thicker soup, sprinkle it in now, stirring constantly to ensure it integrates smoothly without clumping. Allow this rich mixture to gently boil for an additional two minutes, letting those flavors meld.

Turn off your stove's heat, and begin to gradually add the shredded cheddar, stirring continuously. This ensures a smooth melt and integration of the cheese into your soup. Remember, freshly grated cheese is always the best choice for melting purposes.

Finally, serve this creamy delight into individual bowls. Garnish each serving with a sprinkle of shredded cheddar and a generous topping of crumbled bacon. Enjoy your bowl of keto-friendly warmth, and savor every spoonful!
Notes
Tip: You can also blend a portion of the soup for a smoother texture if desired. Use an immersion blender or transfer a portion of the soup to a stand blender, blend until smooth, and then mix back into the pot. Adjust the thickness and seasoning as necessary.
Nutrition Facts
Amount per serving.
How do we calculate the nutrition info?
These nutrition facts listed are determined using nutrition information from the USDA Food Database. Our nutrition facts are accurate, but if you are using different products, please make your calculations. Net carb count is calculated by subtracting both fiber and sugar alcohols because they don't raise blood sugar.