This keto broccoli cheddar soup is packed with tons of mouthwatering flavors without all the hidden carbs. Ready in less than 30 minutes, this hearty one-pot soup is incredibly rich, filling, and perfect for the cold weather. Enjoy a velvety cheddar soup that's better than Panera's classic broccoli cheddar soup and has only 3g net carbs for a bowl.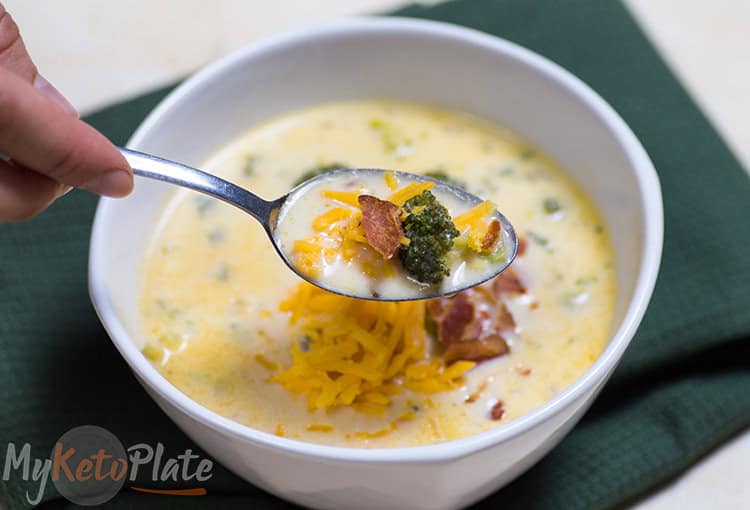 The weather starts to chill, so it's time to warm our souls with a delicious keto soup. I am always excited about comforting recipes because I love cold weather and comforting recipes.
If you've ever tried Panera's broccoli cheddar soup, then you'll love this keto cheddar broccoli soup too. I'd dare to say that this copycat version it's even much more flavorful and has the best texture.
I am going to fill My Keto Plate blog with tons of my favorite soul-warming recipes, keto-fied. Keto Broccoli Cheddar Soup is one of those recipes that I can't stop making because everyone in my family absolutely loves it.
Imagine that this soup has heavy whipping cream, cheddar cheese and you'll serve it with crispy bacon bits and more cheese on top.
Is this Panera's Broccoli Cheddar Soup Keto?
No, Panera's Broccoli Cheddar Soup is not keto-friendly since the original broccoli soup is thickened with the flour in the roux. Luckily there are ways to thicken soups that don't increase the carb count.
Ingredients in Keto Broccoli Cheddar Soup
Let's start with one of my favorite soups ever, a super simple recipe that needs only a few low carb ingredients. The secret to a flavorful soup is to use high-quality ingredients. Shred your cheddar cheese and don't use the cheapest brand you can find. It lacks flavor.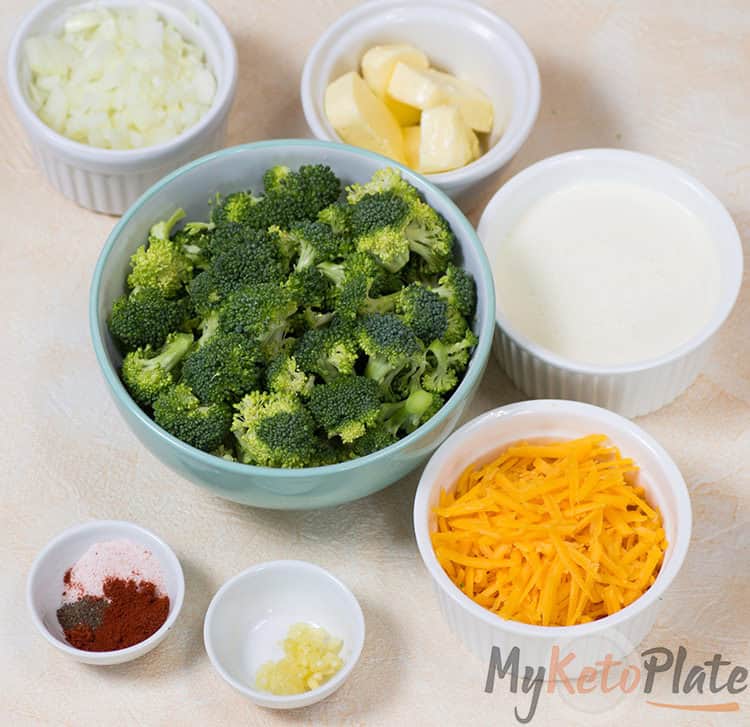 broccoli – use fresh broccoli florets and stems chopped into bite sized pieces. Frozen broccoli is great too, just defrost completely and follow the same instructions.
onion – the caramelized onion adds sweetness and depth of flavor, making this soup delicious.
garlic – minced garlic is a key ingredient, and I recommend using fresh garlic, but if you don't have any use some garlic powder.
chicken broth – you can replace with veggie stock for a vegetarian version.
cheddar cheese – about 2 shredded cups of shredded cheddar are needed in this soup,
heavy whipping cream
I'm a firm believer that while eating high fat low carb is good for you it but will never taste the same as the high carb versions.
The serving size of the soup that in my opinion is more than enough if it seems little it's one cup that comes with 33 grams of fat.
How to Make Keto Broccoli Cheddar Soup?
Start by sauteeing the onion and garlic in butter to allow the flavors to develop. Fry for a few minutes until the onion is translucent and smells delicious.
Sautee the broccoli and then simmer the soup until the broccoli is fork-tender.
Pour the heavy cream and stir in the cheddar cheese. It's important to use high-quality cheddar cheese because it's crucial for flavor and texture.
When ready to serve garnish with some crispy bacon bits and shredded cheddar cheese.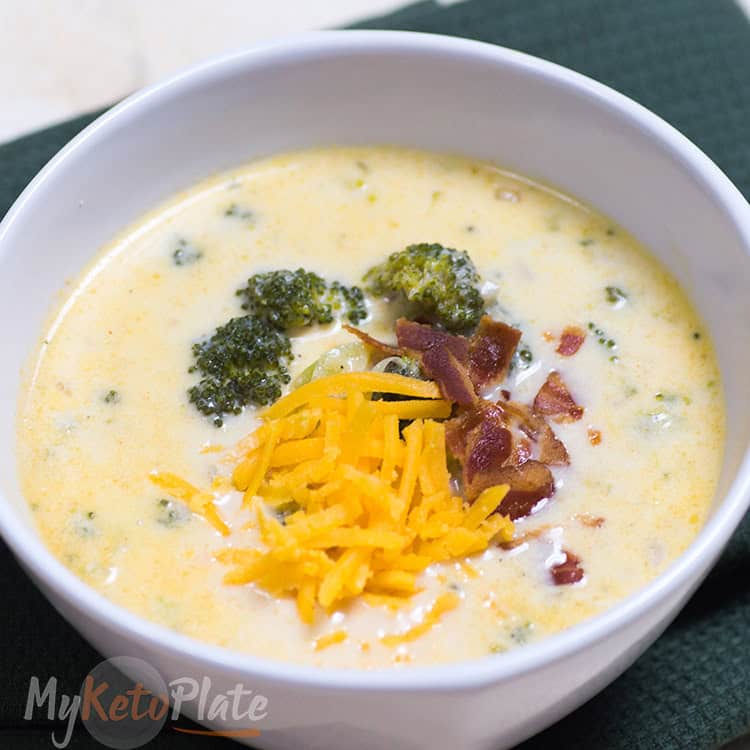 How To Thicken This Low Carb Soup
The broccoli cheddar soup is truly rich and decadent, but it's not as thick as the original. If you want to thicken the soup here are a few low carb options
xanthan gum
psyllium husk powder
guar gum
coconut flour
How To Store Broccoli Cheddar Soup
Refrigerator – Store soup leftovers in airtight continers and refrigerate for up to 3 days. When ready to serve reheat on the stove top over medium high heat stirring ocasionally.
Freezer – Place the soup in freezer-safe zip lock bags and freeze flat. Thaw completey, the reheat on low heat.
How To Serve Keto Broccoli Soup
This soup is packed with veggies and different flavors, so it can be enjoyed on its own, and it's a perfectly filling meal. It can be served along with a few keto bread slices for dipping or keto croutons.
Toppings: Add some toppings to the soup to enhance the flavor and texture. Some great options are grated cheese, crispy bacon bits, croutons, or chopped nuts.
Bread: Serve keto-friendly bread or crackers with the soup. You can opt for almond flour bread, coconut flour bread, or flaxseed crackers.
Salad: Pair the soup with a fresh and crispy salad to balance the creaminess of the soup. A green salad with a light vinaigrette dressing can be a great option.
You can also add more protein by topping the soup with some leftover shredded chicken.
More Keto Soup Recipes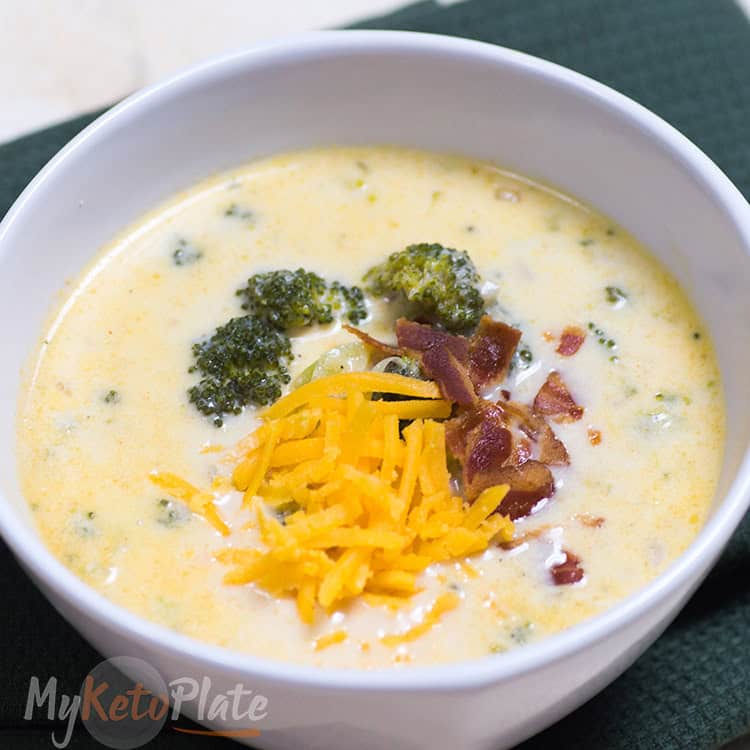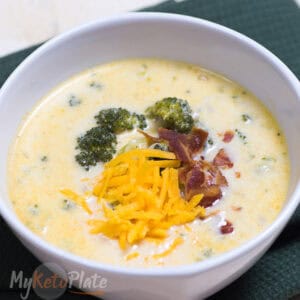 Keto Broccoli Cheese Soup – Creamy & Delicious
---
Description
This broccoli cheddar soup is packed with tons of mouthwatering flavors without all the hidden carbs. Ready in less than 30 minutes, this hearty one-pot easy broccoli cheese soup recipeis incredibly rich, filling, and perfect for the cold weather.
Ingredients
5

tbsp

butter

1/2

cup

medium onion

diced

2

garlic cloves

minced

5

cups

chicken broth

3

cups

broccoli

cut into small bits

2

cups

cheddar cheese

shredded

1

cup

heavy whipping cream

1

tsp

xanthan gum

optional (for a thick keto soup)

1

tsp

salt

1

tsp

pepper

1

tsp

smoked paprika
To garnish & serve
4

slices

bacon

fried and crumbled

1/4

cup

cheddar cheese

shredded
Instructions
In a large pot, add the butter and let it melt.

Sautee the onions in butter for 2-3 minutes on medium high heat then add the garlic and let it cook for about 30 seconds.

Add the broccoli in the butter and onion sauce and stir a few times.

Pour in the 5 cups of broth and let it simmer for about 10 minutes or until the broccoli is tender.

Reduce the heat and add the heavy whipping cream. Let it boil for another two minutes.

Turn off the heat and add the cheddar cheese continually stirring until the cheese melts and it's well incorporated. Grate your cheese as the one that is pre-shredded may not melt well.

Transfer the keto cheddar broccoli soup to bowls and serve hot with shredded cheese and bacon pieces on top.
Nutrition Facts
Amount per serving.
How do we calculate the nutrition info?
These nutrition facts listed are determined using nutrition information from the USDA Food Database. Our nutrition facts are accurate, but if you are using different products, please make your calculations. Net carb count is calculated by subtracting both fiber and sugar alcohols because they don't raise blood sugar.