Loaded with healthy protein and healthy fats, this tuna salad stuffed avocado is a healthy lunch or snack recipe that's super easy to make and has only 4g net carbs per serving.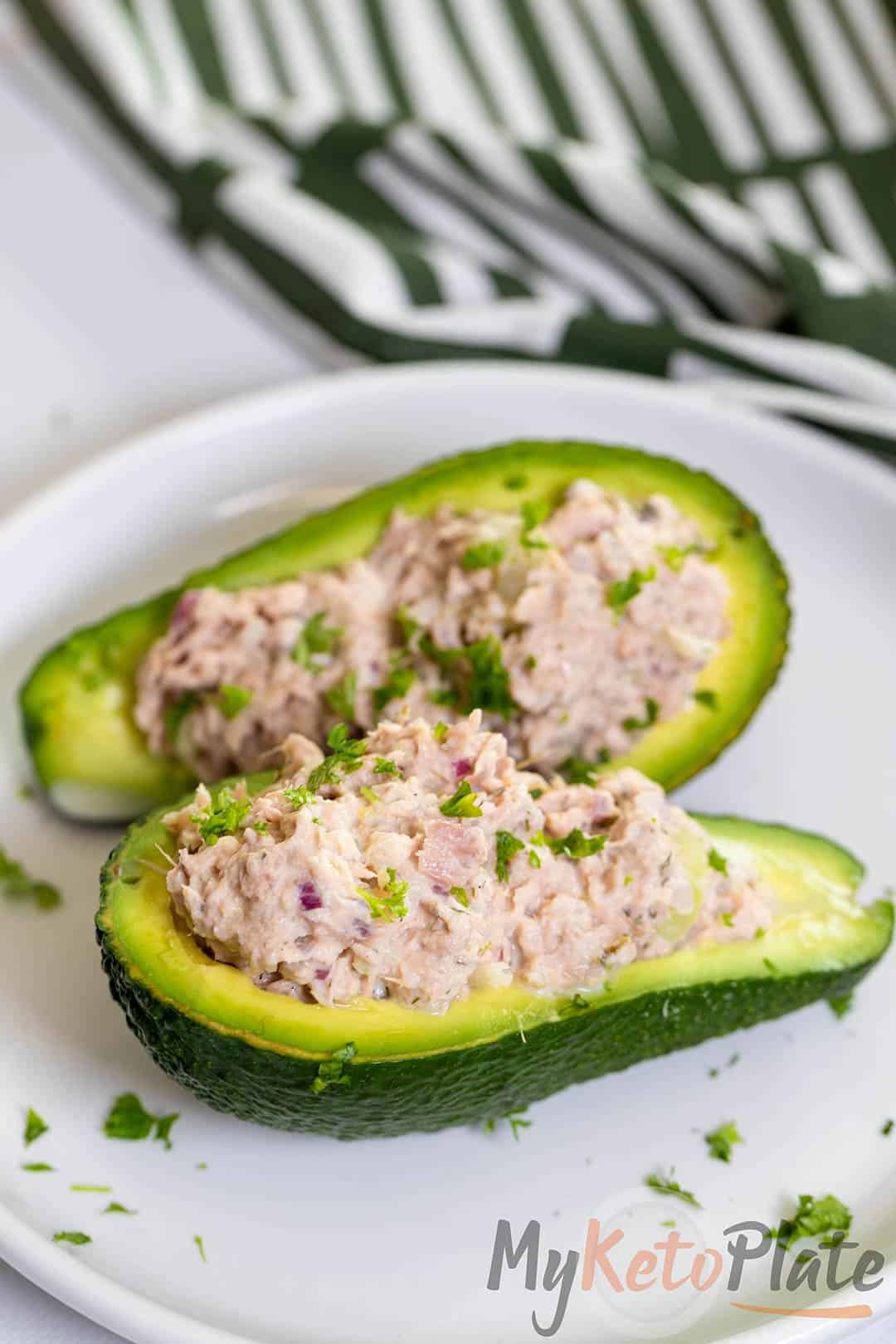 Are you craving an easy and healthy snack? Well, these tuna-filled avocado boats satisfy all tastes, are extremely delicious, and can be made in only 15 minutes.
Avocado is an excellent source of healthy fats and fiber, and in combination with tuna protein, these avocado boats help you enjoy a nutritionally balanced snack.
These avocado halves stuffed with tuna are the simplest recipe you can prepare for your loved ones! This dish is extremely healthy and light, full of antioxidants, and will be loved by everyone.
Why Are You Going To Love This Recipe
It's an extremely easy and delicious recipe.
It's extremely versatile.
Loaded with healthy fats and protein.
Has only 4g net carbs per serving.
You can make it ahead of time.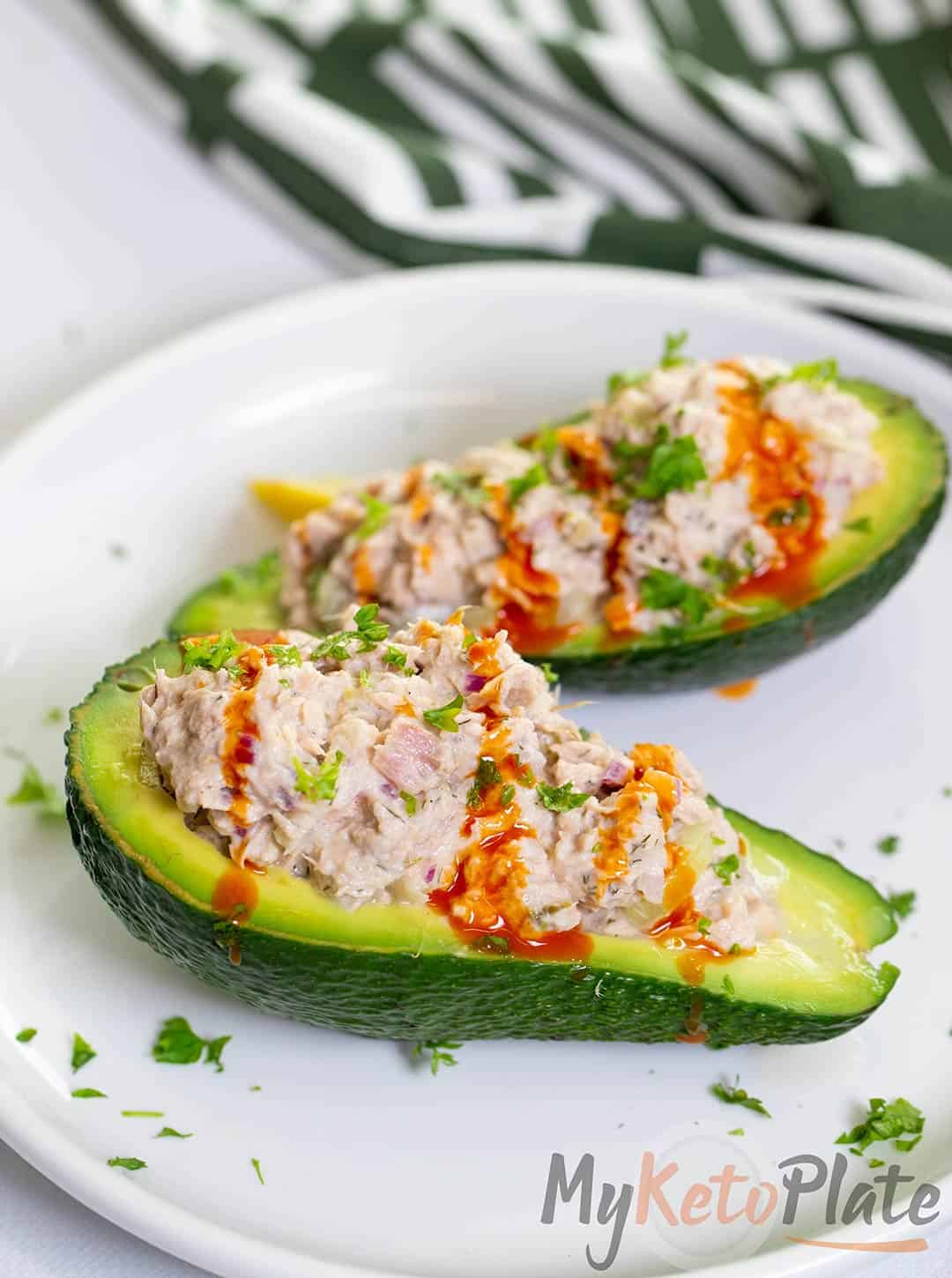 Is Tuna Keto-Friendly?
It certainly is. Whether in oil or water, Canned tuna is entirely acceptable on a ketogenic diet. Tuna is sugar-free, so it won't knock you out of ketosis. Furthermore, it contains a considerable amount of protein, which helps you feel satisfied for longer.
Is Avocado Keto-Friendly?
Yes! On the keto diet, avocados are a must-have fruit. In fact, an avocado embodies the keto diet's ideal ratio. They have a fat content of 77% and a fiber content of 18%.
Ingredients For This Tuna Salad Stuffed Avocado
This recipe requires only a few easy-to-find ingredients you probably already have in your kitchen. Here is a list of everything you will need:
Avocado – make sure you use a large, ripe avocado to make it easy to fill.
Tuna – To minimize calories, use high-quality tuna packed in water.
Greek Yogurt – you can also use mayonnaise. I chose to use Yogurt because it is a little sour and combines perfectly with the tuna.
Celery – It adds a nice crispness and taste to the salad. If you want, you can easily replace it with red bell pepper.
Dill Relish – will give the tuna and avocados a great, salty-sour boost.
Red Onion – Chop them thinly before adding them to your tuna salad–or, if they're still too strong for you, soak them in ice water for a couple of minutes before chopping and adding them to your tuna salad.
Lemon Juice – no recipe with tuna without some lemon juice; it completes the flavors in this recipe.
Dill – Whether you are using fresh or dried, dill pairs perfectly with this salad.
Garlic – garlic powder will add a great flavor to the salad.
Salt & Pepper –to taste. But feel free to add your favorite seasoning.
Parsley – you will need fresh chopped parsley to garnish.
How To Make This Delicious Tuna Salad Stuffed Avocado
I think this is one of the easiest recipes you've ever tried. Here is everything you need to do:
Cut the avocado in half and use your knife to take out the pit gently.
Spoon a good part of the fruit pulp and take it out in a bowl.
Prepare the tuna salad. Drain the liquid from the canned tuna first, then chop all ingredients finely.
Add all the ingredients to a large mixing bowl and combine them well.
Once the mixture is ready, fill the avocado halves with it.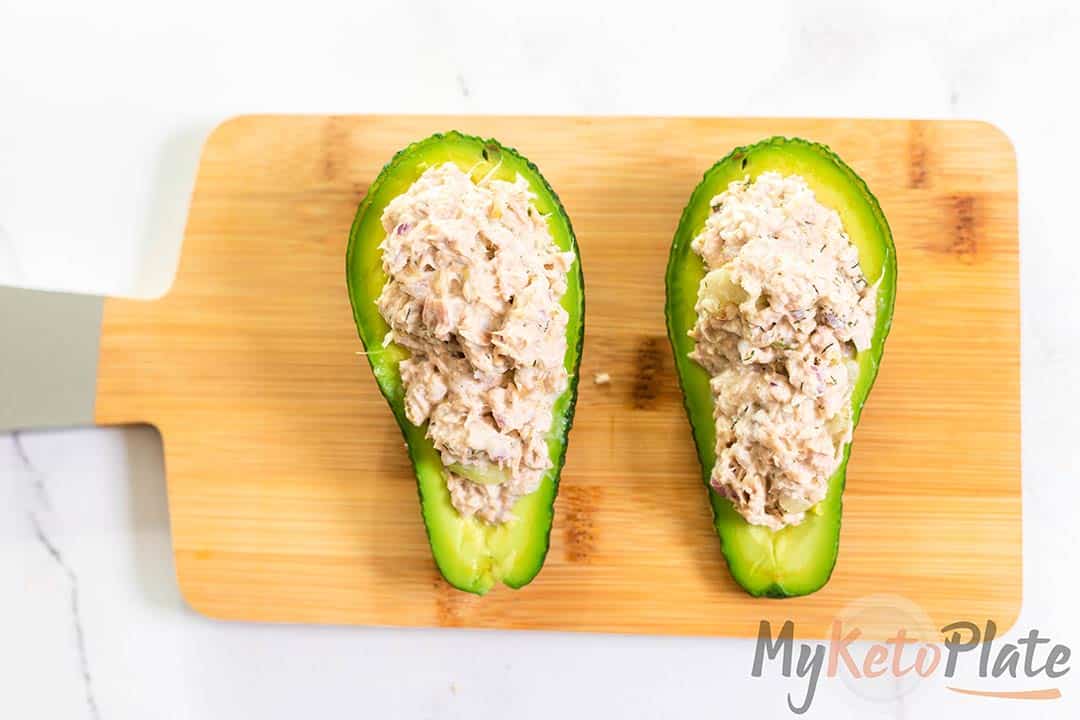 Recipe Variations
You can add some chopped tomatoes to the salad mixture.
Adding chopped boiled eggs to the healthy tuna salad with avocado will make it even creamier.
You can also add some red pepper chili flakes for a spicy taste.
Storing Ideas
Fridge: If there are any leftovers, you can store them in the fridge in an airtight container for up to 3 days.
But you need to know that it's best served immediately since the avocado will turn brown quickly. So I recommend storing it without the avocado.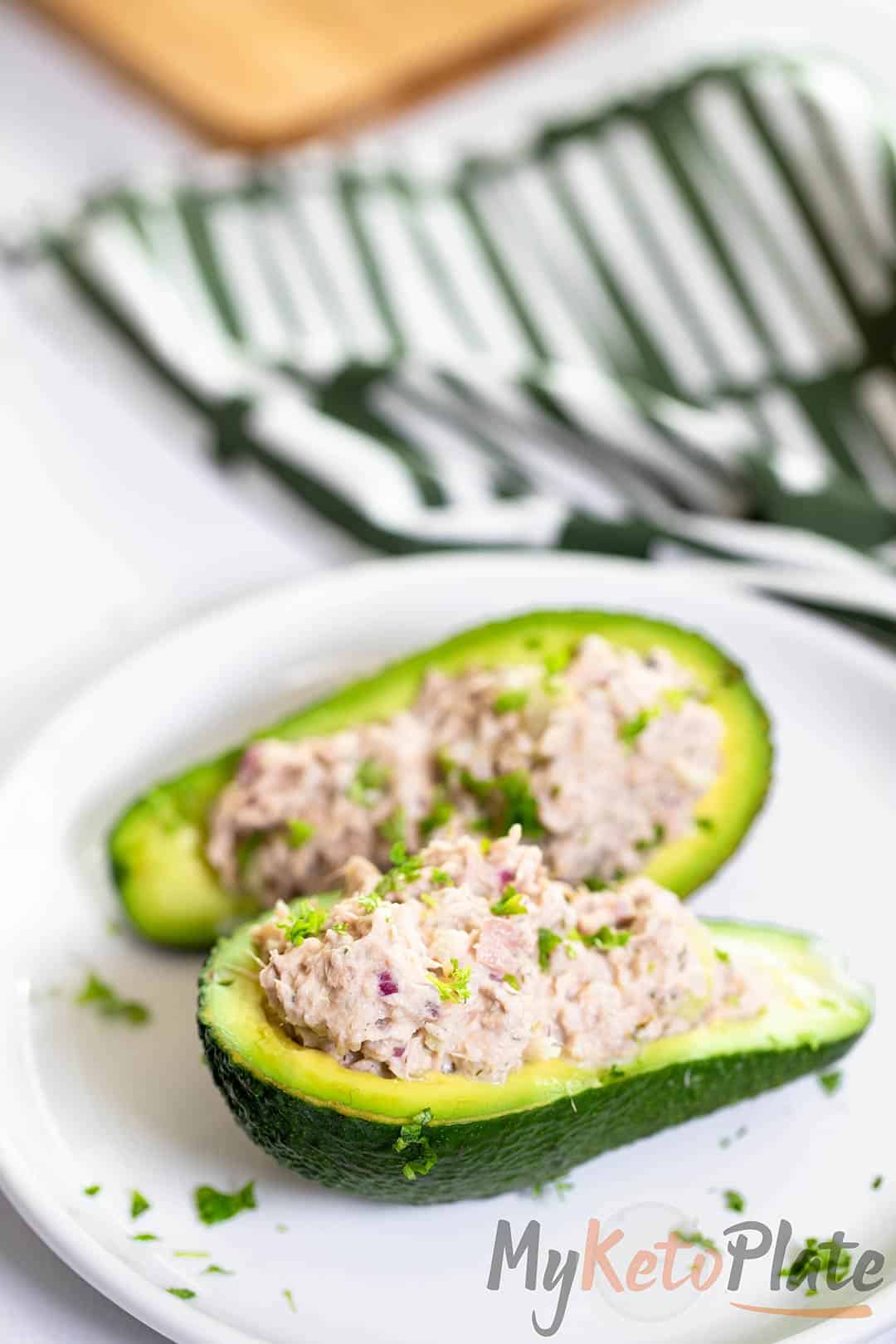 Benefits Of Eating Tuna
Potassium-rich tuna is known for its ability to decrease blood pressure.
It improves your immunity.
Macular degeneration is a disorder that affects the eye's vision and eventually leads to blindness. The all-powerful Omega-3 acids found in tuna help prevent this illness.
Tuna fish considerably impact heart health, perhaps the most well-known health benefit.
Frequently Asked Questions
Can I Make This Tuna Salad Stuffed Avocado Ahead Of Time?
Sure, this is another great thing about this recipe. Just prepare the tuna salad as I did in this recipe and store it in the fridge until you are ready to assemble it.
How Can I tell When An Avocado Is Ready To Eat?
The color of a ripe avocado ranges from dark green to practically black. Pick up the avocado and squeeze it lightly. It should be able to withstand slight pressure without becoming stiff or mushy.
Are These Tuna Salad Stuffed Avocado Healthy?
Sure, and much more, this recipe it's keto-friendly, low-carb, gluten-free, and dairy-free. It's also high in protein and fat, keeping you feeling full after lunch and preventing you from snacking.
More Salad Recipes
Best Keto Tuna Salad – This is the best keto tuna salad recipe that's super quick to make and loaded with flavor.
The Best Keto Egg Salad – This keto egg salad tastes amazing, it's perfect for breakfast on a low carb bread toast or for lunch.
Taco Salad – Ready in 20 minutes, this delicious taco salad is extremely flavorful and satisfying.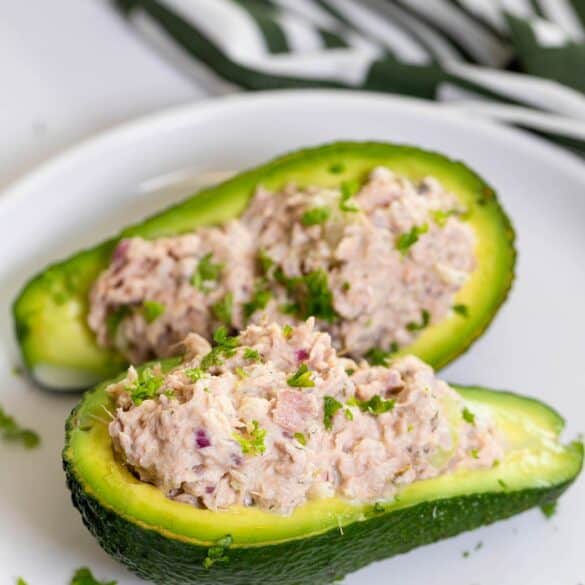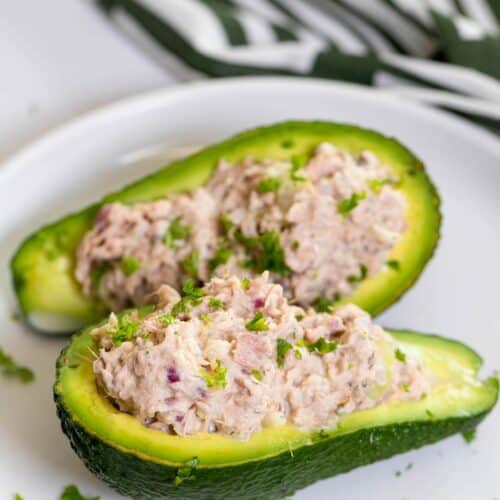 Tuna Salad Stuffed Avocado
---
Description
Loaded with healthy protein and healthy fats, this tuna salad stuffed avocado is a healthy lunch or snack recipe that's super easy to make and has only 4g net carbs per serving.
Ingredients
2

avocados halved and pitted

1 5-

ounce

can tuna in water drained

3

tbsp

Greek yogurt

1-2

celery stalks chopped

1

tbsp

dill relish

¼

cup

red onion

Juice of 1 lemon

Chopped dill

2

tsp

garlic powder

Salt and Pepper to taste

Parsley
Instructions
Start by draining one can of tuna and gently break the tuna with a fork.

Cut the avocado in half, then remove a part of the avocado using a spoon.

Add the avocado removed into a bowl and prepare the rest of the ingredients.

Mash all the ingredients with a fork until well incorporated.

Fill each avocado half with tuna salad. Garnish with fresh chopped parsley, and enjoy!!
Nutrition Facts
Amount per serving.
How do we calculate the nutrition info?
These nutrition facts listed are determined using nutrition information from the USDA Food Database. Our nutrition facts are accurate, but if you are using different products, please make your calculations. Net carb count is calculated by subtracting both fiber and sugar alcohols because they don't raise blood sugar.