Ready in 30 minutes, these delicious gluten-free keto fathead pizza rolls feature a light and fluffy dough that's filled with gooey melted mozzarella, zesty marinara sauce, and flavorful pepperoni slices. Plus, with only 7g of net carbs per serving, you can indulge in these scrumptious rolls without compromising your dietary goals.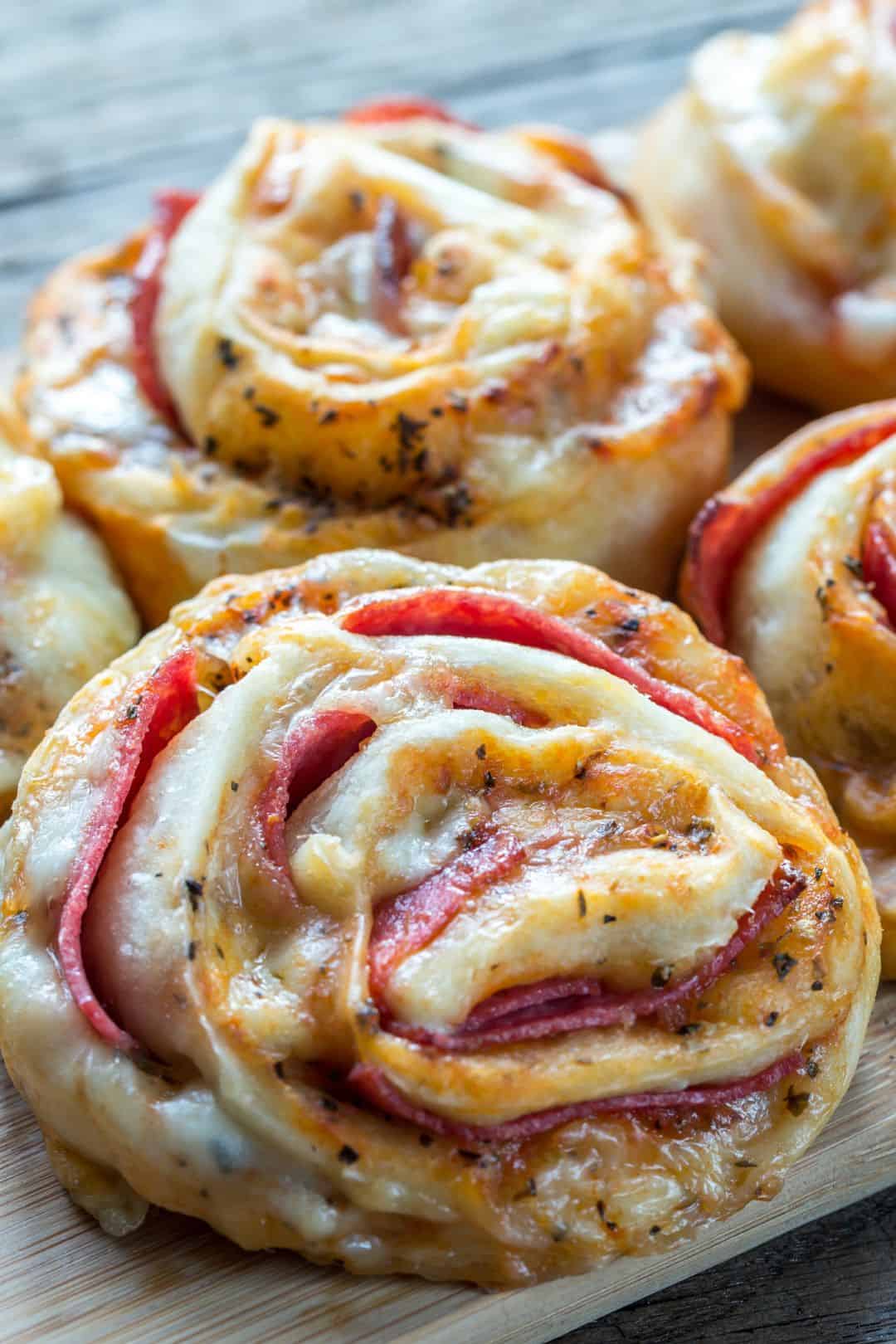 I love pizza and like recipes like my popular keto fathead pizza, crustless pizza, and cauliflower pizza. And since I discovered these easy-to-make fathead pizza rolls, I have made them at least 5 times so far because everyone loves them.
Packed with all the mouthwatering flavors of a classic pizza, but without the high carb count, these keto pizza rolls are the perfect addition to any low-carb or gluten-free diet.
The fathead dough is made from a combination of coconut flour, mozzarella cheese, and cream cheese, is light and fluffy while still delivering that unmistakable pizza crust texture. The melted mozzarella cheese, tangy marinara sauce, and savory pepperoni slices all come together to create a truly irresistible flavor combination.
And the best part? This recipe is not only delicious, but it's also easy to prepare, taking just 30 minutes from start to finish. It's a great option for a quick weeknight dinner or a crowd-pleasing appetizer at your next party.
Feel free to get creative with different fillings and toppings to make it your own. Whether you're a seasoned keto pro or just starting out, this recipe will surely become a new favorite.
It is a quick recipe and is great for those moments when you have unexpected guests or simply want to impress your family. So if you like cinnamon rolls, then you should also try this salted version and let us know how it turned out.
Why Are You Going To Love These Keto Fathead Pizza Rolls
Easy to make from scratch in just 30 minutes.
Only 7g net carbs per serving.

They are naturally gluten-free.

Made from naturally low-carb ingredients.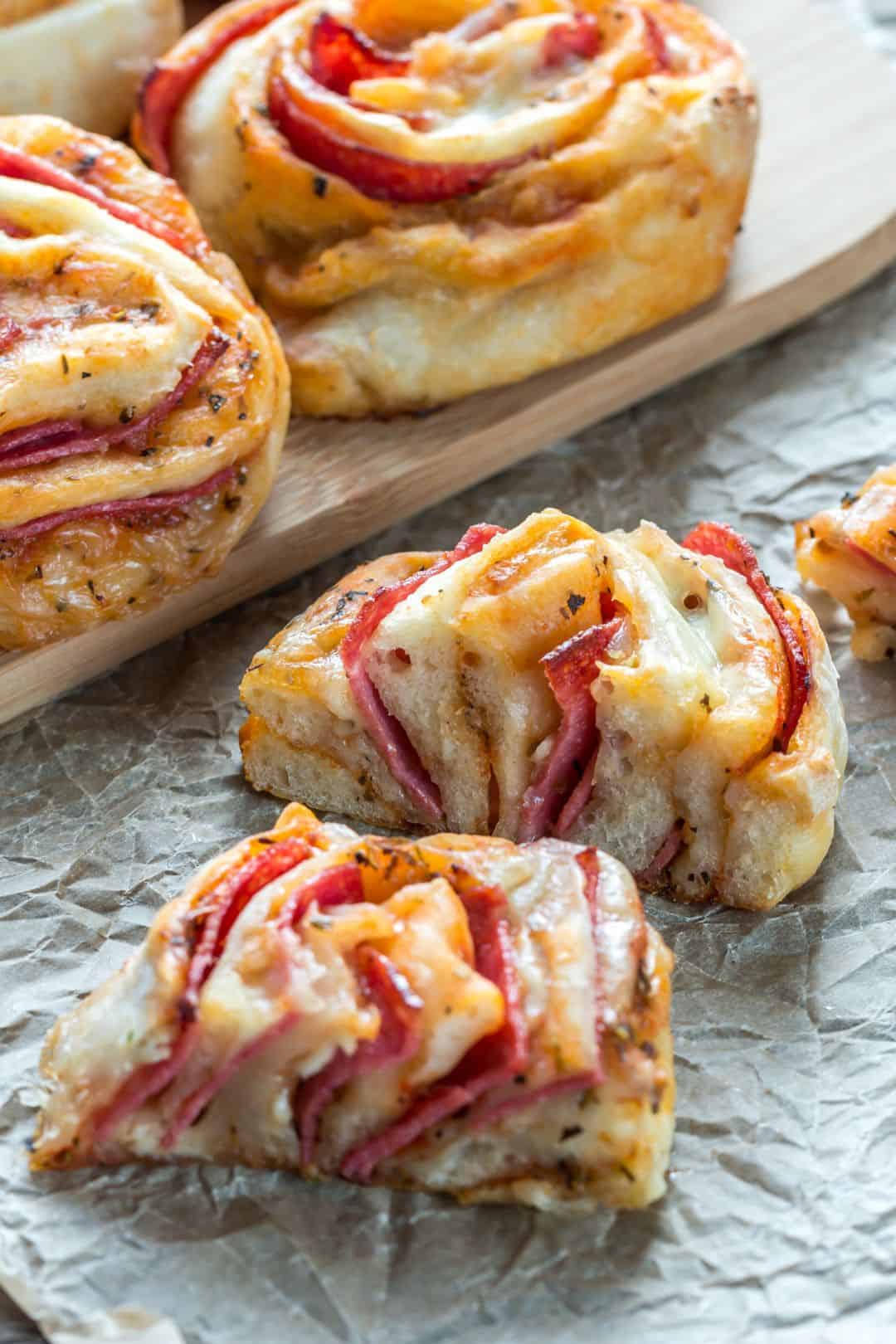 Ingredients For These Keto Fathead Pizza Rolls
You will need only a few easy-to-find ingredients you probably already have in your kitchen to create these delicious gluten-free fathead pizza rolls. Here is a list of everything you will need:
For The Fathead Dough
Coconut Flour – I recommend sifting the coconut flour to avoid lumps in the dough.
Mozzarella Cheese – helps to give it a specific chewy texture since it acts as gluten.
Cream Cheese – use full-fat cream cheese to make the fathead dough less dense.
Eggs – use large room-temperature eggs to avoid that eggy flavor and taste.
Baking Powder – helps the dough to rise.
Italian Seasoning – you can buy it or make your own at home.
Onion&Garlic Powder – gives an extra flavor to the pizza rolls.
For The Filling
Marinara Sauce – you can make it at home or buy it from the store. Just make sure you read the label to check that there is no added sugar.
Mozzarella Cheese – You can choose to use shredded or sliced mozzarella cheese.
Pepperoni Slice – Feel free to replace it with your favorite meat.
How To Make These Delicious Keto Fathead Pizza Rolls
One of the best things about this recipe is that it is extremely easy to make following some simple steps. Here is everything you have to do:
Start by making the fathead dough. First, melt the mozzarella cheese in the microwave, then mix it with the cream cheese.
Add in the rest of the ingredients and mix with your wet hands until the dough is formed.
Transfer the dough to parchment paper, cover it with another piece of parchment paper, and roll it to 8 by 16 inches.
Spread the dough with half of the sauce, then add the shredded mozzarella and pepperoni slices.
Roll the dough, then slice it into 10 pieces.
Transfer the rolls to a dish sprayed with cooking spray, then top it with the remaining sauce.
Bake the pizza rolls for about 25 minutes or until golden brown.
Once they are baked, remove the pizza rolls from the oven and let them cool for 10 minutes.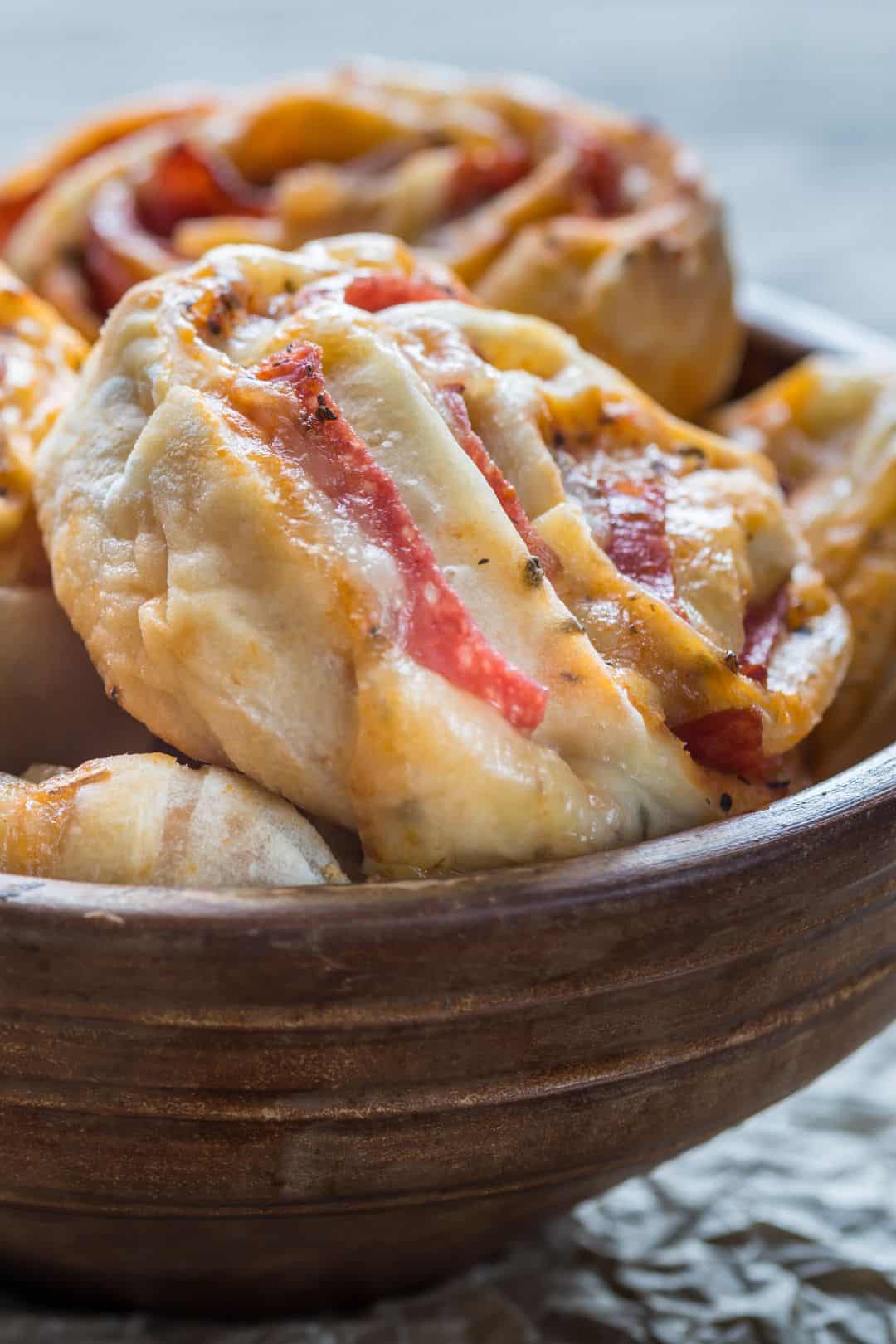 Recipe Variations
Another great thing about this recipe is that you can play with the ingredients and add whatever you want to them. Here are some great ideas:
You can add some sliced mushrooms to the filling
You can replace the pepperoni slice with your favorite meat.
Instead of mozzarella, you can add parmesan cheese or cheddar cheese.
Storing Ideas
Fridge: These keto fathead pizza rolls can be stored in the fridge in an airtight container for up to 5 days.
Freezer: You can also freeze these pizza rolls in freezer-safe bags for up to one month.
When ready to eat them, thaw in the fridge overnight and reheat them in the microwave for 3 minutes and in the preheated oven for 10 minutes.
Frequently Asked Questions
What Should I Do If My Dough Is Too Sticky?
You can solve this problem by chilling the dough in the fridge for 20 minutes. That will make it easier to roll it.
Can I Make This Recipe Ahead Of Time?
If you want to enjoy these keto fathead pizza rolls fresh, you can prepare the rolls in advance, store them in the fridge and bake them the next day for a warm and delicious lunch or dinner.
Can I Use Almond Flour Instead Of Coconut Flour?
No, you can't use almond flour instead of coconut flour because almond flour has different properties, and you will have to change the whole recipe.
More Pizza Recipe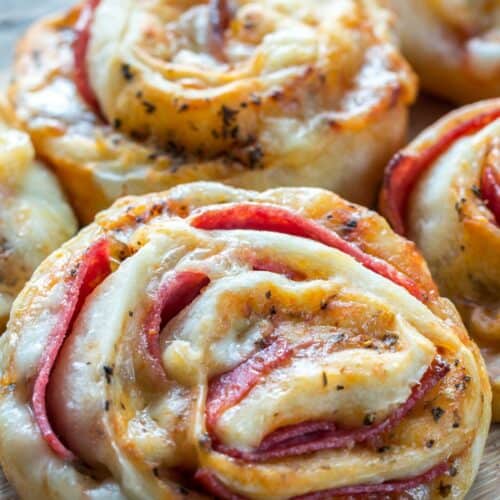 Description
Ready in 30 minutes, these delicious gluten-free keto fathead pizza rolls are made from a fluffy dough filled with melted mozzarella, marinara sauce, and pepperoni slices. All these delicacies in a dish with only 7g net carbs per serving.
Ingredients
Filling
½

cup

marinara sauce

8

ounces

mozzarella cheese

2

ounces

pepperoni slices
Instructions
Preheat the oven to 400 degrees F/200 C.

Make the dough. Add 2 cups of shredded mozzarella and cream cheese to a microwave-safe bowl and microwave it for 2 minutes.

Add the remaining dough ingredients and mix with your hands until the dough forms.

Roll between two pieces of parchment paper to 8 by 16 inches.

Assemble the fathead pizza rolls.

Spread half the sauce over the dough, add mozzarella over it, then spread out the slices of pepperoni.

Roll up and cut the roll in half. Then slice it into 10 pieces.

Lightly spray a pie dish with cooking oil spray and place the rolls in the pan. Top with remaining sauce.

Bake for 25-30 minutes or until browned on the edges.

Allow to cool for about 10 minutes, then enjoy.
Nutrition Facts
Amount per serving.
How do we calculate the nutrition info?
These nutrition facts listed are determined using nutrition information from the USDA Food Database. Our nutrition facts are accurate, but if you are using different products, please make your calculations. Net carb count is calculated by subtracting both fiber and sugar alcohols because they don't raise blood sugar.