These sugar-free marshmallows are easy to make at home using only naturally low-carb ingredients. Low carb marshmallows are sweet, fluffy, and soft, just like you'd buy at any grocery store.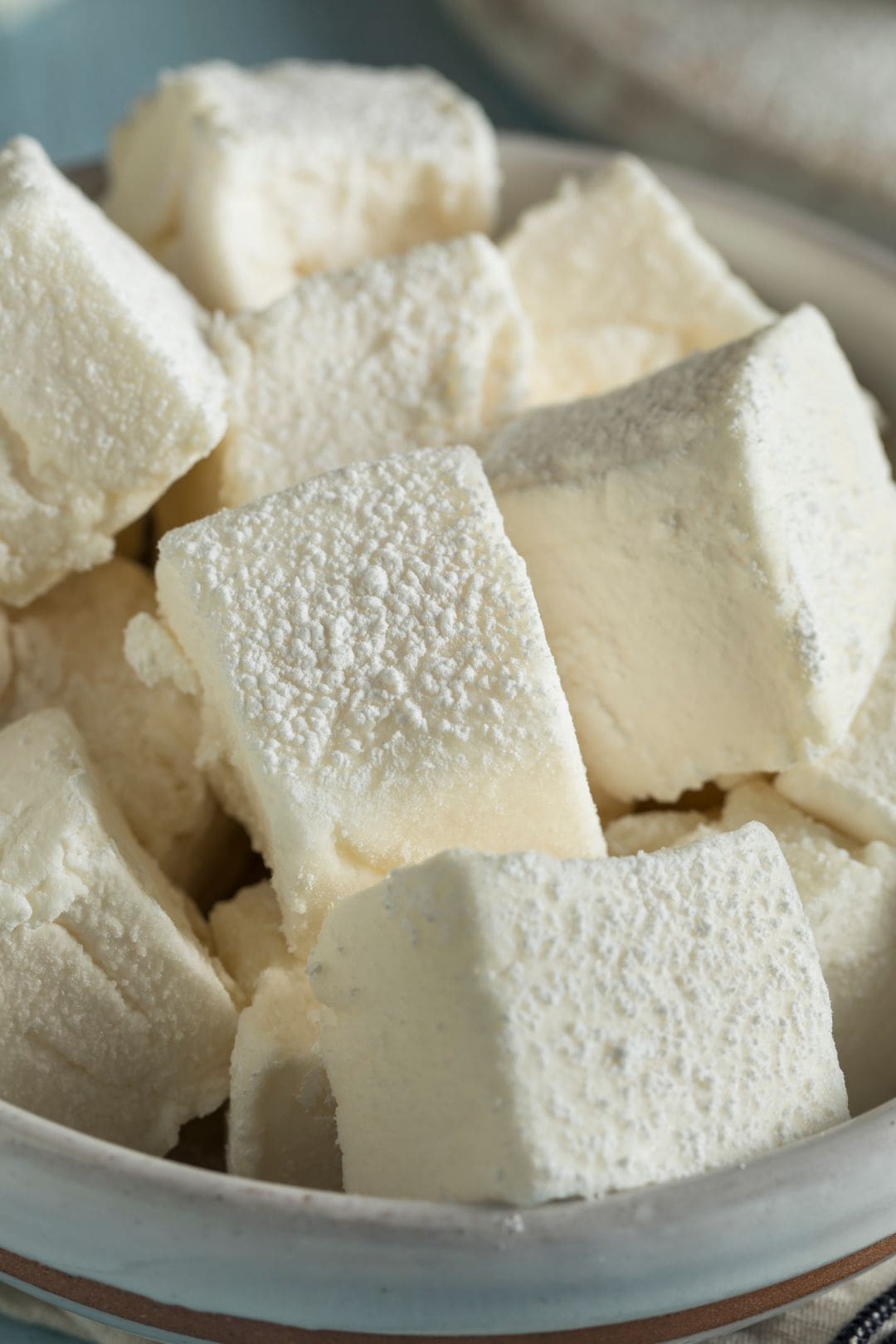 Nothing is better than a cup of hot chocolate on a cold day served with some fluffy and sweet homemade marshmallows.
These sugar-free marshmallows are made without sugar or corn syrup and are great for camping trips, or if you want to make something sweet that doesn't require too much time in the kitchen.
What Are Marshmallows?
Marshmallows are one of the most common and well-liked sweets in the world.
They are made from gelatine, sugar, and water whipped to a solid but soft consistency. They are usually used for fillings or simply coated with cornstarch, then enjoyed plain as they are.
Are Marshmallows Keto-Friendly?
Regular marshmallows are not keto-friendly because they are made from sugar and other artificial ingredients that will kick you out of the keto diet.
But if you make this recipe, you can still enjoy marshmallows even if you are on a keto diet because it's made from naturally low-carb ingredients and contains fewer carbs than the stores.
Why Are You Going To Love These Healthy Low Carb Marshmallows Recipe
Extremely easy to make. They are ready in 20 minutes.
You can make them ahead of time.
They have a light and airy texture like the ones from the stores.
Taste exactly like those from the store but with fewer carbs.
They are sweet, fluffy, and melt in your mouth.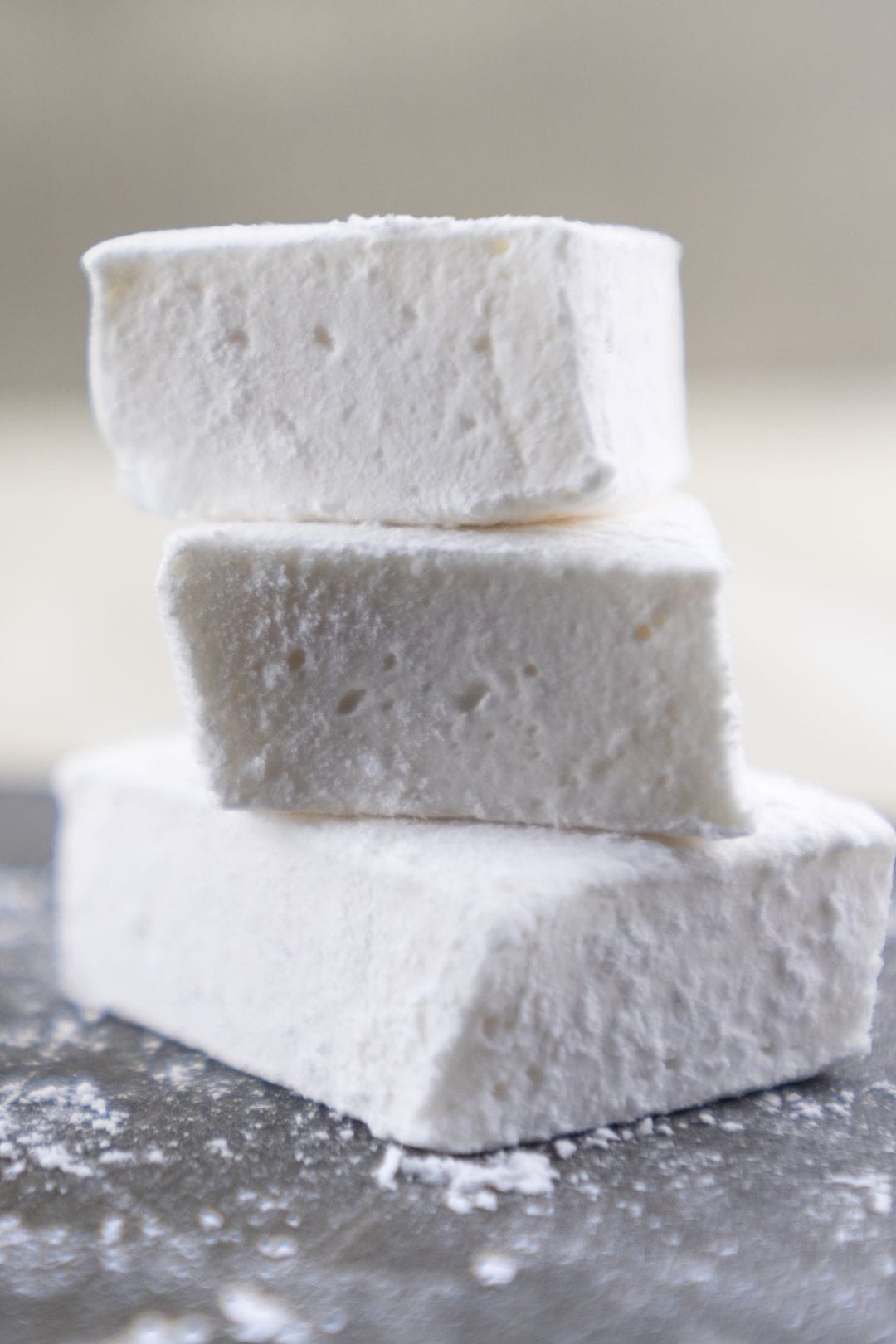 Ingredients For Keto Marshmallows
This delicious recipe calls only for 5 ingredients that you probably have already in your pantry. Here is a list of everything you will need:
Water
Gelatin Powder – You can use any gelatin you have on hand!
Sweetener – feel free to use your favorite sweeteners like erythritol, allulose, or monk fruit.
Vanilla Extract – try using pure vanilla extract for a better flavor. You can also use other flavors that you like.
Powdered Sweetener – used to dust marshmallows.
How To Make These Sugar-Free Marshmallows
Once you see how easy it is to prepare these sugar-free marshmallows, you will never want to buy them from the store. Here are the steps that you have to follow:
Start by dissolving the gelatin powder. Add the gelatin powder to a bowl and pour half the water over it. Let it sit for 10 minutes.
Add the remaining water and sweetener to a saucepan over medium heat and bring it to a simmer. Let it boil for a few minutes, then remove it from the heat.
Add the gelatine powder into a bowl and mix on low speed for 30 seconds. Pour the water mixture and vanilla extract slowly and mix for 10-12 minutes until stiff peaks start to form.
With a rubber spatula, transfer the marshmallow mixture to the prepared pan and smooth it out as much as possible.
Let it chill in the fridge for about 6 hours.
Once set, cut the marshmallow pieces using a wet knife.
Dust each marshmallow with keto powdered sugar, then enjoy.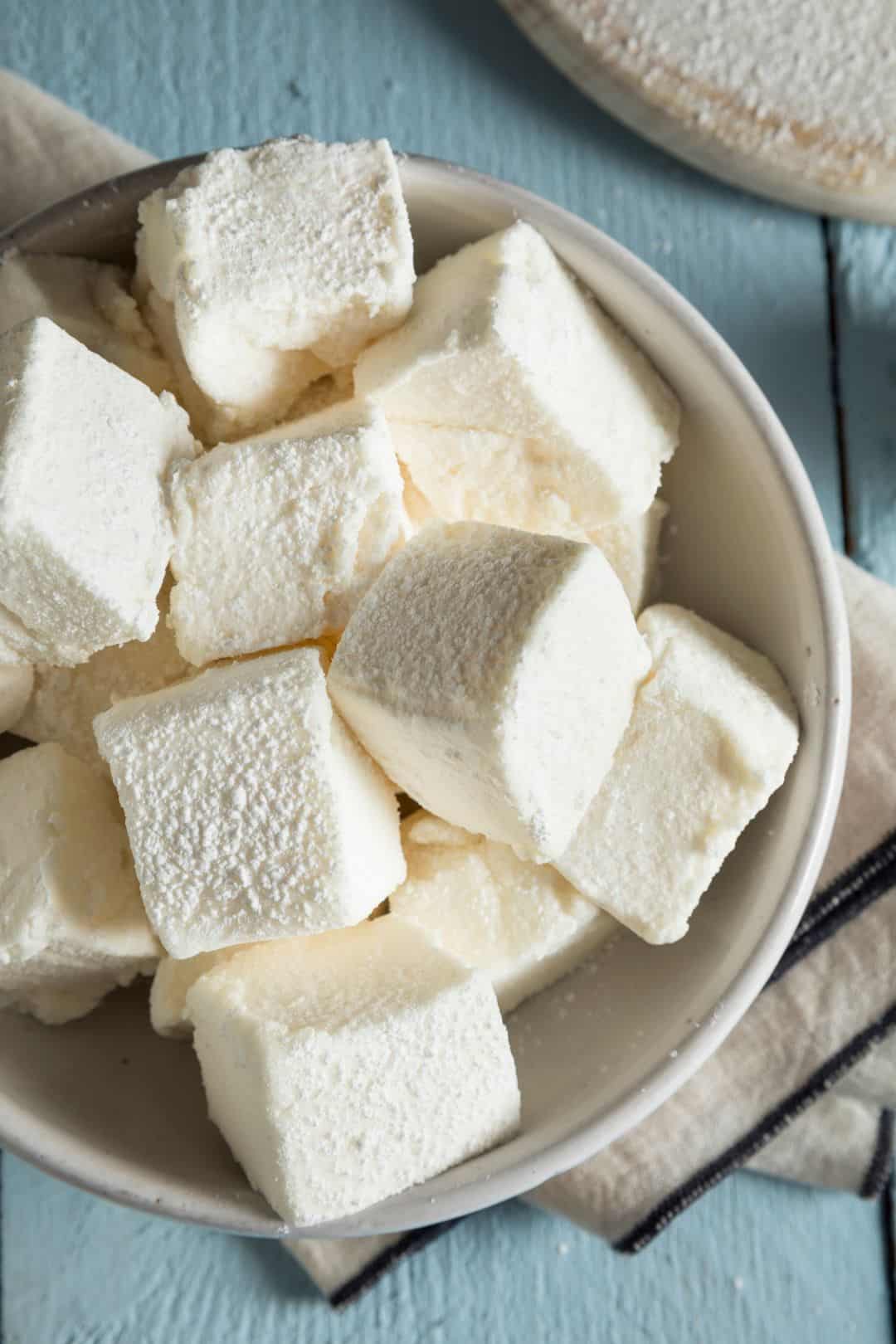 Tips For Making The Best Sugar-Free Marshmallows
Make sure you don't overmix the marshmallow mixture because it will be quite hard to spread it into the pan, and the final texture will be different.
If you want to roast them for s'mores, you can use a culinary blow torch to heat the marshmallows until quite melty.
How To Enjoy These Gluten-Free Marshmallows
Another great thing about these marshmallows is that they are extremely versatile. Here are some ideas for using them:
You can enjoy them on their own as a sweet treat.
You can add them on top of your hot chocolate or coffee.
You can use them in s'mores recipes as well.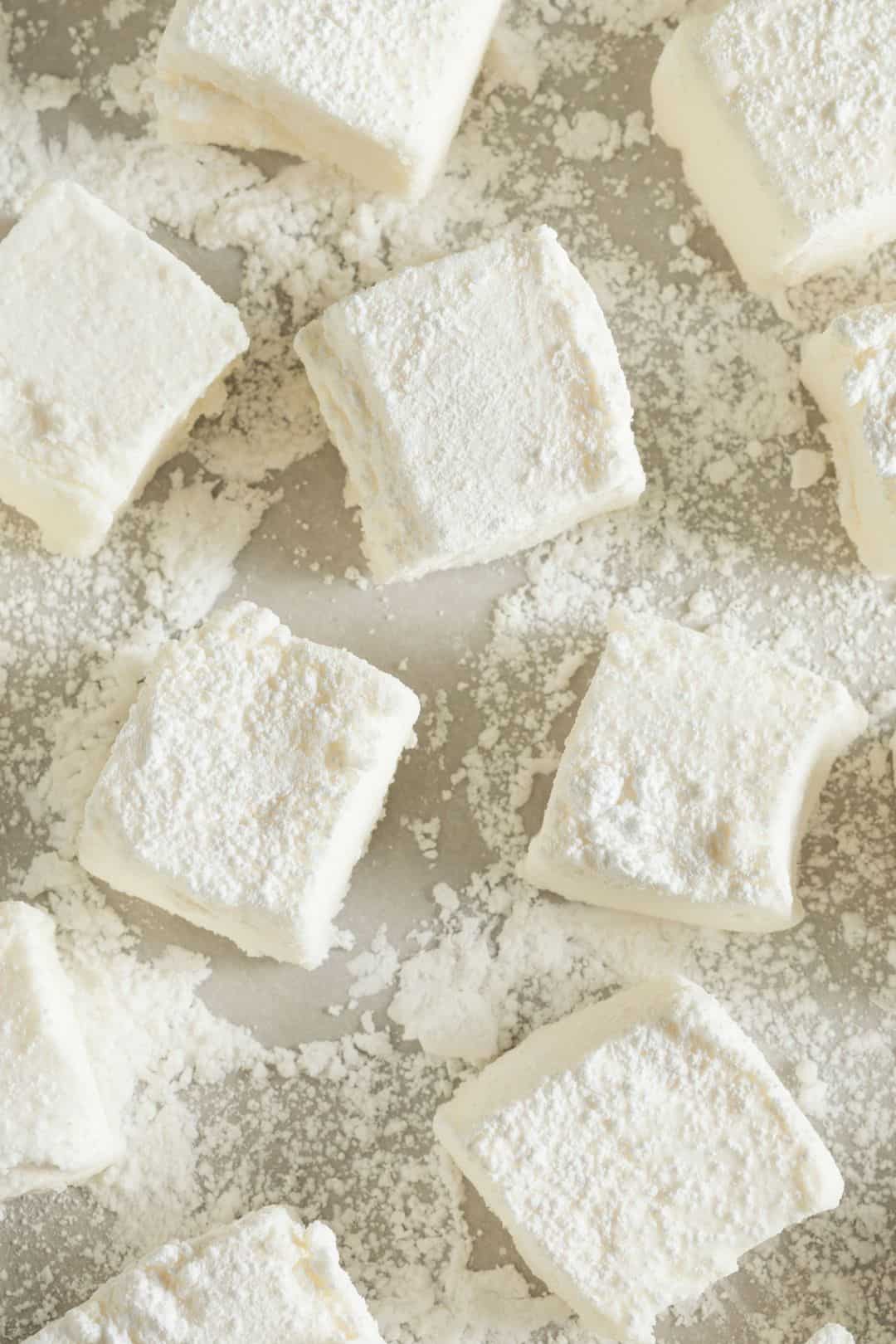 Storing Ideas
Fridge – You can store these sugar-free marshmallows in an airtight container lined with parchment paper in the fridge for up to 7 days.
Frequently Asked Questions
Can I Make These Sugar-Free Marshmallows Ahead Of Time?
Sure, you can make these marshmallows ahead of time since they can be stored for several days.
Can I Freeze These Marshmallows?
Yes, these marshmallows are also freezer-friendly. To freeze them, arrange the marshmallows in a single layer on a pan lined with parchment paper to ensure that they don't stick, and store them in the freezer. Once solid, transfer them to an airtight container or freezer bag and store them in the freezer for up to 2 months.
To thaw them, place the marshmallows in the fridge overnight.
Can I Roast These Sugar-Free Marshmallows?
These marshmallows won't roast the same as those from stores, but if you still want to do it, if you want to obtain a better result, make sure that you allow them to dry out as long as possible.
More Keto Dessert Recipes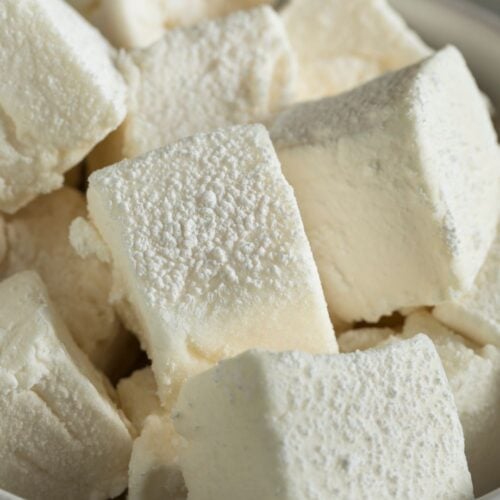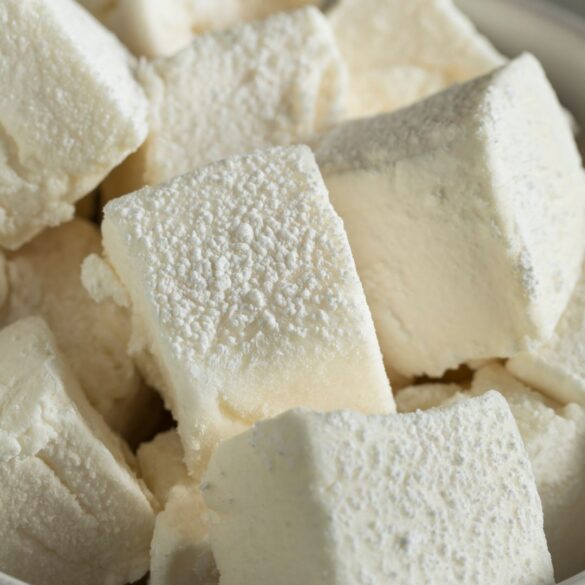 Description
These sugar-free marshmallows are easy to make at home using only naturally low-carb ingredients. Low carb marshmallows are sweet, fluffy, and soft, just like you'd buy at any grocery store.
Ingredients
1

cup

water

2

tbsp

unflavored gelatin powder

1

cup

powdered Allulose

1

tbsp

vanilla extract
Instructions
Line an 8×8-inch pan with parchment paper. Set it aside.

Add 1/2 cup of water to a small bowl and sprinkle the gelatin powder. Whisk to combine and let it bloom for 10 minutes.

Place a saucepan over medium heat. Add in the remaining water, powdered sweetener, and salt. Simmer for about 5 minutes, stirring constantly. Once the sweetener dissolves, remove it from the heat.

In the bowl of a stand mixer, add the gelatin mixture. Turn the mixer on low speed and pour the boiling water mixture. Beat for 10-12 minutes until the volume doubles, and the mixture looks fluffy and stiff, like egg whites.

Transfer the marshmallow mixture to the lined pan and use a rubber spatula to smooth it out.

Refrigerate it for at least 6 hours or until set.

Once set, cut the marshmallows, dust them with keto powdered sugar and enjoy.
Nutrition Facts
Amount per serving.
How do we calculate the nutrition info?
These nutrition facts listed are determined using nutrition information from the USDA Food Database. Our nutrition facts are accurate, but if you are using different products, please make your calculations. Net carb count is calculated by subtracting both fiber and sugar alcohols because they don't raise blood sugar.