These keto tortillas are perfect for wraps, pizza crust, dipping in sauces, and more. Make flourless tortillas with coconut flour that are super pliable, soft, and easy to make from scratch. Only 4g net carbs each!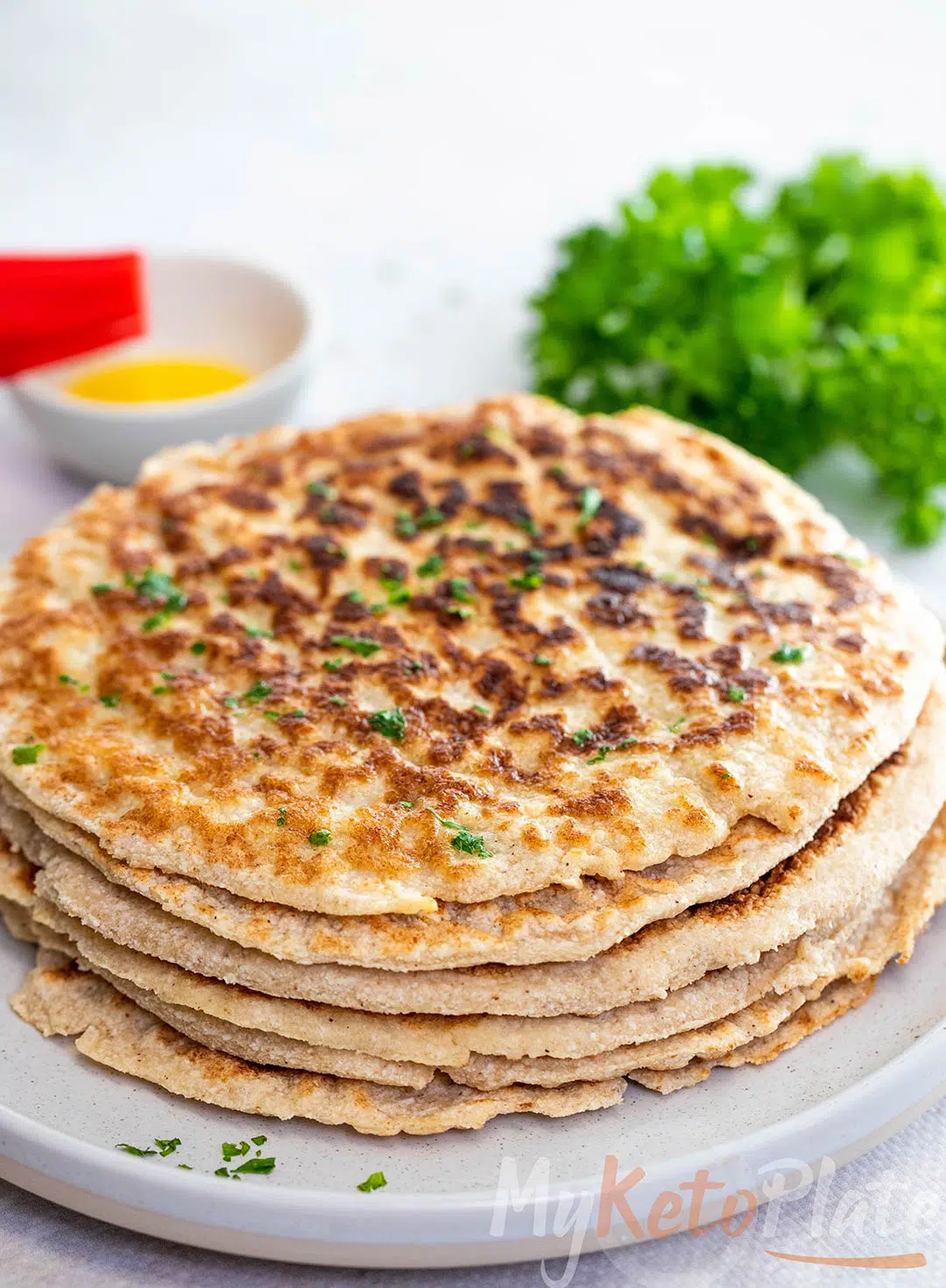 These low carb tortillas are perfect for wrapping or folding. Fill them with various things, such as delicious cauliflower hummus, cream cheese, ham, and cheese for a filling snack or lunch.
I decided to make homemade keto tortillas as it's quite difficult to find store-bought tortillas that contain only keto-friendly ingredients.
Bonus points: making tortillas keto is way cheaper since my recipe uses coconut flour and psyllium husk powder.
Are Corn Tortillas Keto?
No, regular corn tortillas are not keto-friendly as they are made with corn flour which is high in carbs. A small corn tortilla has over 10 grams of carbs which may kick you out of ketosis.
Luckily, making keto corn tortillas is possible when using low carb flour alternatives.
Why Are You Going To Love This Keto Tortilla Recipe
It's an extremely easy and quick recipe.
You can make it ahead of time.
It pairs perfectly with many dishes.
It's a gluten-free, keto, and low-carb recipe.
Has only 3 grams of net carbs.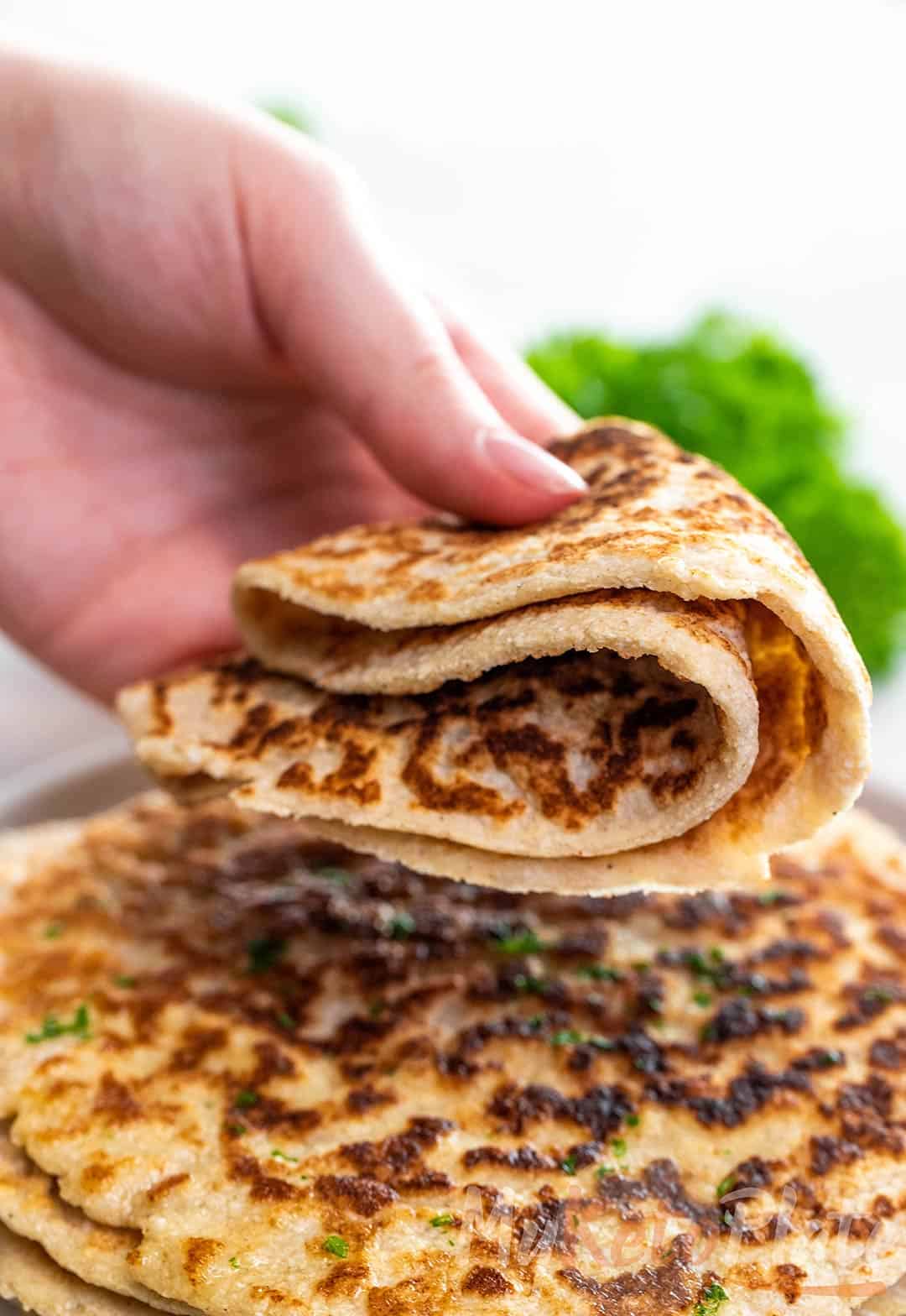 Is Coconut Flour Keto Friendly?
Coconut flour is a fantastic keto flour for making wonderful low-carb sweets, bread, and cakes. It's high in fiber, so it's a good choice if you're trying to cut down on carbs. Coconut flour is also gluten-free and naturally extremely absorbent.
Ingredients For Keto Tortillas With Coconut Flour
I love this easy gluten-free almond flour tortilla recipe because it requires a few ingredients that you can easily find at almost any store. Here is everything you will need: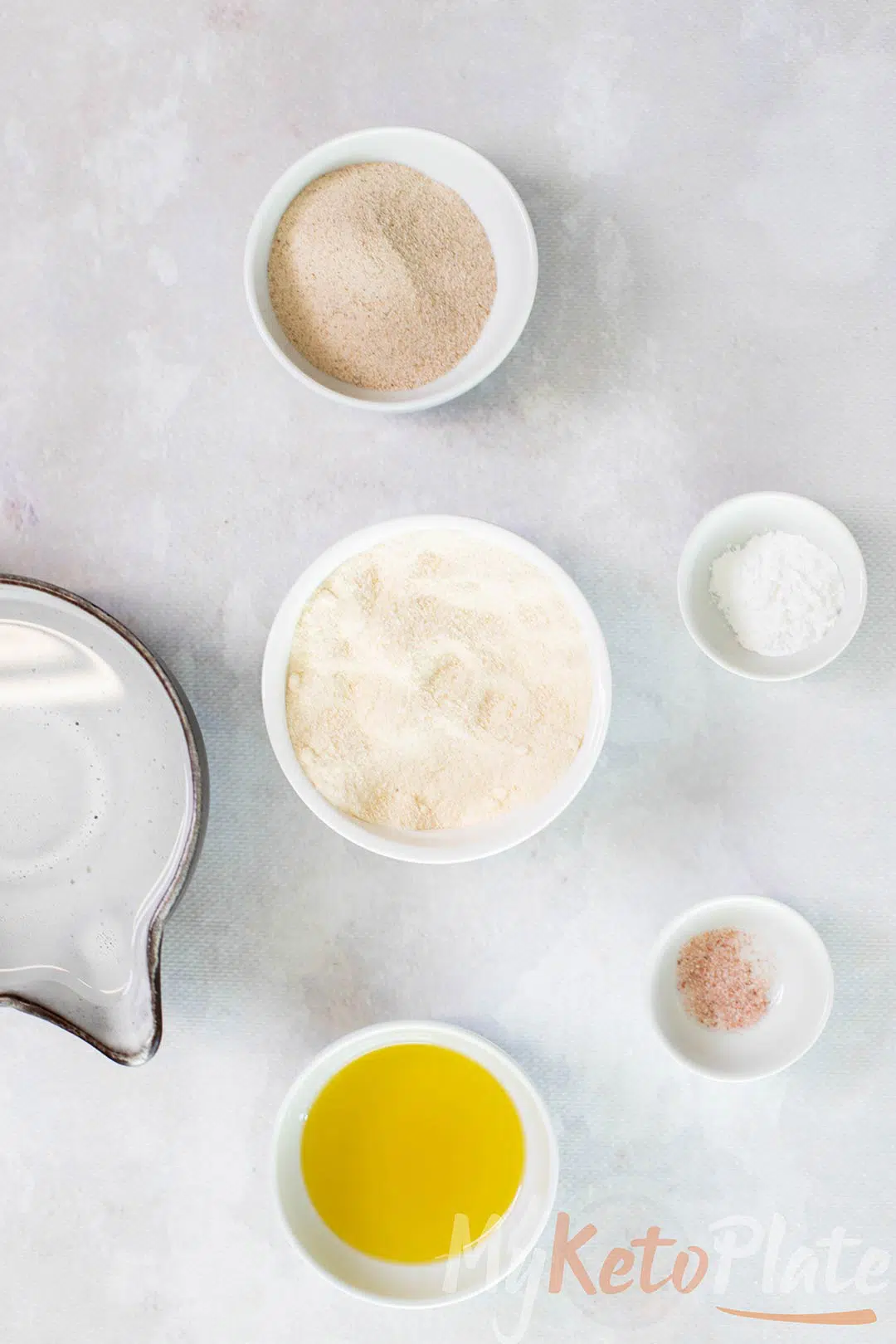 Psyllium Husk Powder – this ingredient gives that chewy texture of bread to your flatbread and makes them super pliable. Some brands of psyllium husk powder make the dough purple, which doesn't affect the taste and texture.
Coconut Flour – this type of flour is one of my favorite low-carb flour substitutes that absorbs well liquids.
Water – is the key element that activates the flours; we use it instead of eggs to avoid an eggy flavor.
Olive Oil – you can use your favorite vegetable oil; my favorite one is olive oil because it will give a special taste to these coconut flour.
Baking Powder- this ingredient helps give the flatbread a super fluffy wheat-like texture.
Salt – to taste.
How To Make Keto Tortillas
Here we go with another keto recipe that is extremely easy to make and doesn't require any cooking skills. Follow the next steps to make this incredibly delicious flatbread with coconut flour:
Combine dry ingredients. In a large mixing bowl, add the coconut flour and psyllium husk powder. Mix them until there are no visible lumps.
Mix the wet ingredients. Add warm water (you need to make sure that your water is warm, not hot) and the olive oil over the flour mixture. Combine all the ingredients using a spatula.
Knead the dough. After combining the dry and wet ingredients, use your hands to knead the dough for about two minutes.
Set aside. Let your dough rest for about 10 minutes in the mixing bowl.
Roll. Cut your dough into eight pieces, then roll each piece of dough into a ball. Place one ball between two parchment papers and roll the tortilla into a 1/8-inch thick circle.
Shape. To get that perfectly round shape use a plate or a bowl to cut out round flatbread.
Cook your keto tortillas. Pour some olive oil into a non-stick pan, and cook each tortilla for about three minutes on each side until golden brown.
Enjoy. Let your flatbread cool and serve it as you like.
Tips For Making The Best Keto Tortillas Recipe
You can also place a plastic wrap on the top and bottom of each dough ball before rolling.
If the dough is too crumbly, add a couple of teaspoons of water until it comes together.
Ensure the water you're using is warm and not hot; this will assist the psyllium powder to activate.
To avoid having any lumps a great idea to sift the coconut flour before mixing it with the psyllium husk.
Storing Ideas For This Keto Flatbread With Coconut Flour
Room temperature – This keto flatbread with coconut flour can be stored in a dark place wrapped in plastic foil for five days.
Can I Make Them Ahead Of Time?
Sure, this keto flatbread recipe is great to make ahead of time and eat whenever you want. You have to let the flatbread completely cool and store it in an airtight container in the fridge for one week.
Can I Freeze Low Carb Corn Tortillas?
Yes, you can freeze them for up to 2 months by placing them individually in ziplock bags.
Serving Ideas
These versatile and delicious grain-free tortillas can be served with various dishes. Here are our favorite ones: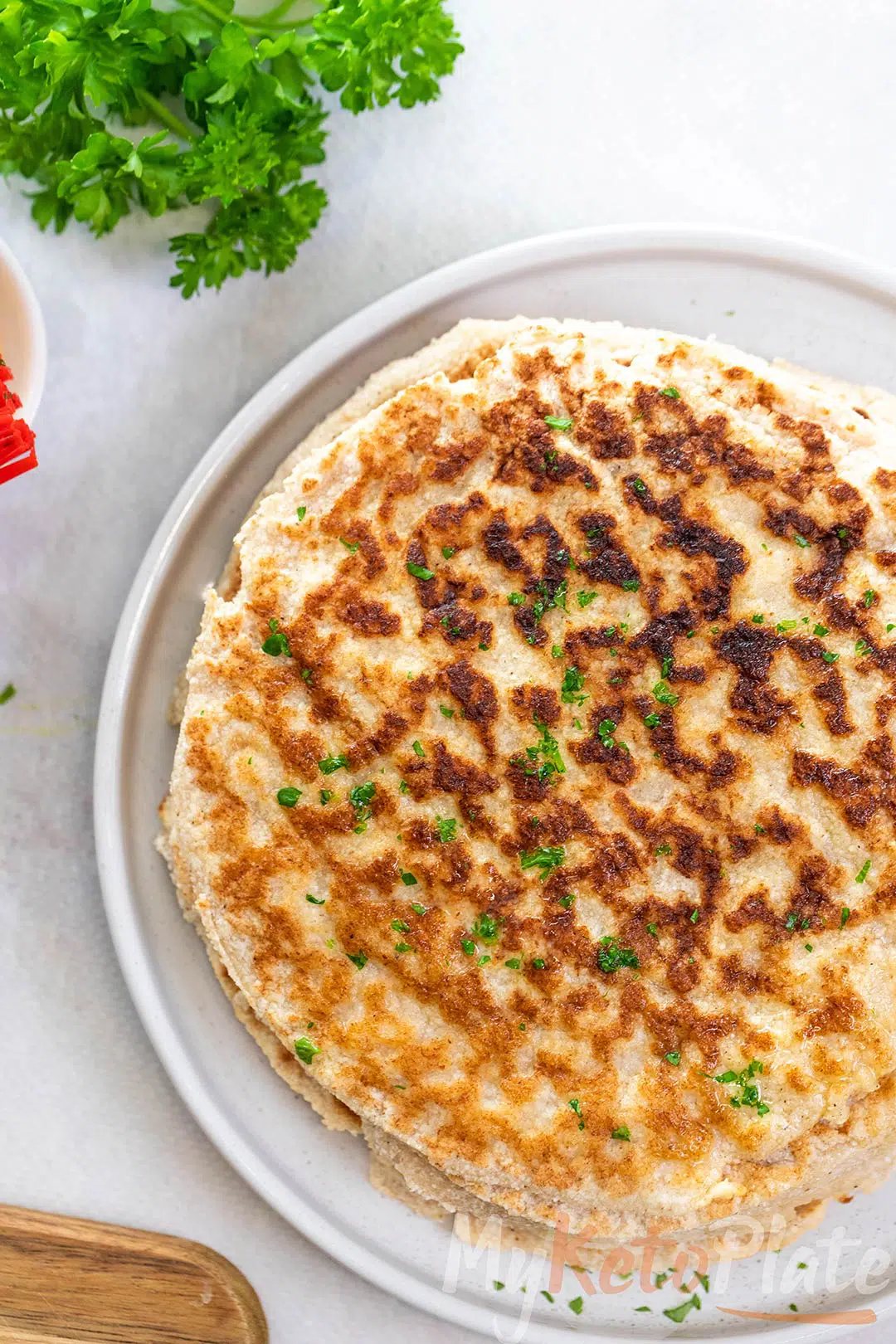 Equipment Needed
A mixing bowl.
A rolling pin.
A non-stick pan.
A silicon spatula.
Frequently Asked Questions
Is pita bread the same as this keto tortillas?
The short answer is no because pita bread is made using wheat flour, which we all know is not a keto-friendly
Can I make this recipe with almond flour?
I don't recommend using almond flour in this particular recipe because the properties of these two low-carb flour are different, and you will have to change the amount of all the ingredients.
Can I add different seasonings?
Sure, a great idea will be to add some dried parsley or oregano to the batter.
What should I do if my dough is too wet?
To absorb excess water in the dough, add more coconut flour or psyllium husk. But I recommend waiting a bit after you finish kneading the dough because the absorption properties of coconut flour will activate in a few minutes.
What psyllium husk does in this recipe?
Psyllium husk powder is flour prepared from psyllium husk shells. Because it is almost all soluble fiber, it is frequently used in keto baking due to its low net carbohydrate content. It also mimics gluten to give the bread a chewier texture.
More Keto Bread Recipes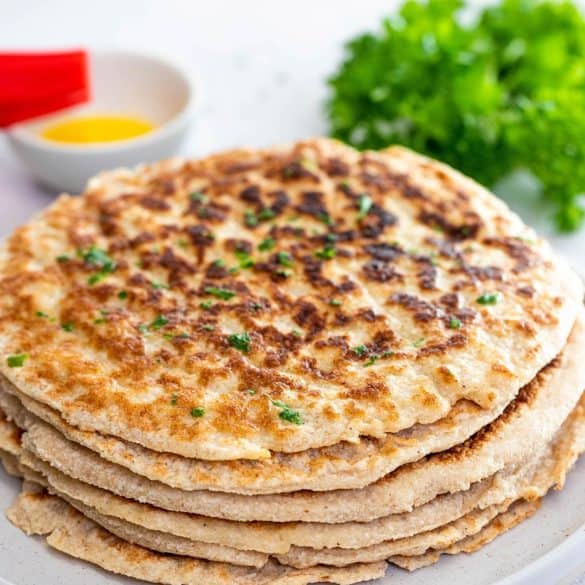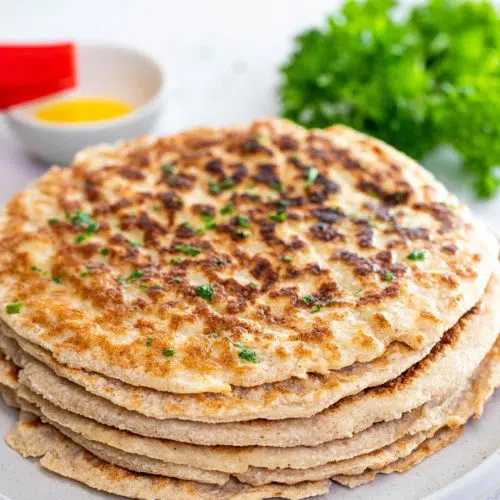 Description
These keto tortillas are perfect for wraps, pizza crust, dipping in sauces, and more. Make flourless tortillas with coconut flour that are super pliable, soft, and easy to make from scratch.
Instructions
In a large mixing bowl, combine the dry ingredients: coconut flour, psyllium husk powder, baking powder, garlic powder, and salt.

Add the olive oil and two cups of hot water. Mix using a spatula until a sticky dough forms.

Knead the dough using your hands for 2-3 minutes or until it starts to get firm.

Let the dough rest for 10 minutes at room temperature to allow the ingredients to bind together.

Divide the dough into 8 equal pieces and form small balls. Roll them between two oiled sheets of parchment paper. Use a round shape to cut a round tortilla. You can also use a tortilla press.

Place a non-stick pan over medium heat, grease, and cook each tortilla for about 60 seconds on each side or until brown sports form.

Repeat until you cook 8 low carb corn tortillas.
Nutrition Facts
Amount per serving.
How do we calculate the nutrition info?
These nutrition facts listed are determined using nutrition information from the USDA Food Database. Our nutrition facts are accurate, but if you are using different products, please make your calculations. Net carb count is calculated by subtracting both fiber and sugar alcohols because they don't raise blood sugar.