This bulletproof coffee recipe is the ultimate keto drink that's ultra-creamy and satisfying. This keto-friendly beverage is not only delicious but also packed with healthy fats and nutrients that will keep you fueled and focused throughout the day.
With just a few ingredients and a blender, you can enjoy a frothy, flavorful cup of bulletproof coffee that will leave you feeling satisfied and energized.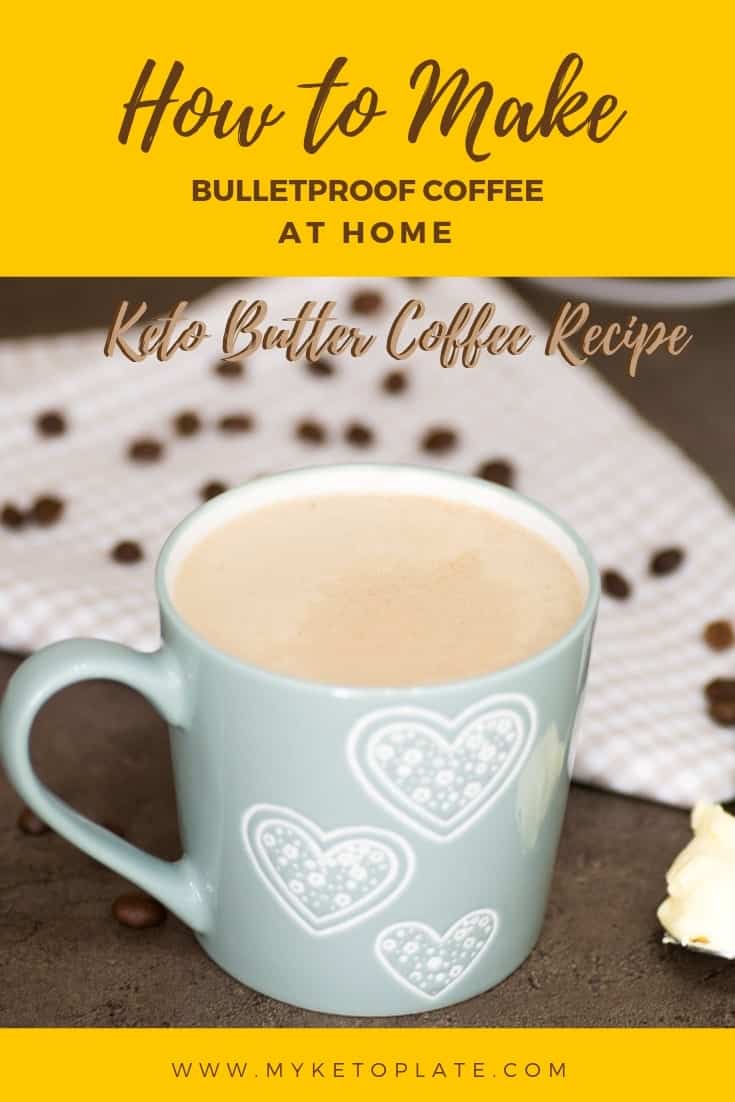 The reason why I consume Bulletproof Coffee is simply that I enjoy its taste. However, I do not rely on it as a meal replacement as I understand the importance of consuming other essential nutrients. Typically, I have a fulfilling breakfast consisting of eggs, avocado, greens, and bacon a few hours after savoring this creamy coffee.
Ready to try this delicious and nutritious keto coffee recipe for yourself? Keep reading to learn how to make bulletproof coffee, why to put butter in coffee, and how to enjoy all of its health benefits.
What is Bulletproof Coffee?
This fat coffee comes under many names in the keto community. Some call it Bulletproof Coffee, Keto Coffee, Keto Butter Coffee, or simply BPC. It is often consumed as a breakfast replacement or as a pre-workout drink.
The mastermind behind Bulletproof coffee is David Asprey, the CEO of Bulletproof Executive. The rich fat content of this coffee is believed to provide several advantages, such as high energy, improved metabolism, and enhanced brain function. You can conveniently purchase Bulletproof coffee beans on Amazon.
It is made by blending brewed coffee with healthy fats, such as grass-fed butter and medium-chain triglyceride (MCT) oil. Some people also add other ingredients like collagen protein, cocoa powder, or sweeteners to their Bulletproof coffee.
However, it is important to note that Bulletproof coffee should not be used as a meal replacement for a balanced and varied diet.
Why You'll Love This Bulletproof Coffee Recipe
There are several reasons why you might love this keto bulletproof coffee recipe:
Provides sustained energy: The combination of caffeine from the coffee and healthy fats from the butter and MCT oil can help provide sustained energy throughout the day.
Boosts mental clarity: The healthy fats in bulletproof coffee can help improve cognitive function and mental clarity, making it a great option for busy mornings or when you need a productivity boost.
May aid in weight loss: The high-fat content of bulletproof coffee can help keep you feeling full for longer, potentially reducing your overall calorie intake and aiding in weight loss.
Easy to make: This recipe is quick and easy to make with just a few simple ingredients and a blender.
Helps with Digestion – MCT's oil (medium chain triglycerides) is a saturated fatty acid that's easier to digest, so it's fantastic for digestion. 
Customizable: You can easily adjust the ingredients to suit your preferences, such as using different types of oils or adding sweeteners.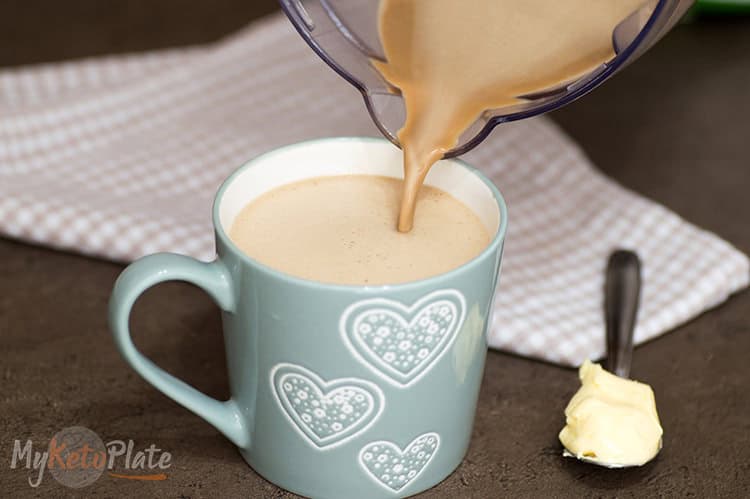 Bulletproof Coffee Ingredients
Coffee – Although the original recipe for bulletproof coffee recommends using mold-free coffee beans that are free from mycotoxins, you can still make it with any high-quality coffee. If you're seeking a caffeine boost, regular coffee is a suitable choice, whereas decaf coffee works well if you prefer to avoid caffeine. Organic, fair trade, or single-origin coffee is often preferred. You can use any method to brew the coffee, such as a French press, drip coffee maker, or espresso machine.
Butter – Use unsalted butter that comes from grass-fed cows. This type of butter in coffee is rich in nutrients like omega-3 fatty acids, vitamins, and minerals. It is also creamier and more flavorful than regular butter.
MCT oil – MCT stands for medium-chain triglycerides, which are fatty acids commonly found in coconut oil. They are known to be helpful in weight loss. However, it is crucial to understand that not all MCTs are created equal. When selecting an MCT oil blend, it is best to opt for those that contain C8 and C10 MCTs or pure C8 MCTs for optimal benefits. A highly recommended and cost-effective brand is available, or you can also try Bulletproof's Brain Octane Oil. While coconut oil can be used as a substitute to achieve the desired texture, it is not as effective as MCT oil when added to coffee.
Optional Additions for Bulletproof Coffee
You can find many ways to improve the taste and use it as a dessert drink by some delicious add-ins. I usually stick to the classic bulletproof recipe, but sometimes I like to jazz up the recipe.
Taste enhancers
Even though I love how this butter coffee tastes only blended with butter and MCT oil, sometimes I enjoy (usually over the weekends) a fancy coffee. Here are some things I love to add:
Cinnamon: Sprinkling cinnamon on top of your bulletproof coffee can add a warm and spicy flavor while providing antioxidant and anti-inflammatory properties.
Cocoa powder: Adding cocoa powder to your bulletproof coffee can make it taste like a mocha and provide additional antioxidants and mood-boosting benefits.
Vanilla extract: A drop of vanilla extract can add a sweet and aromatic flavor to your bulletproof coffee.
Sweeteners: If you prefer a sweet flavor, you can add keto-friendly sweeteners like stevia or monk fruit extract to your bulletproof coffee.
Salt: Adding a pinch of salt to your bulletproof coffee can balance the flavors and provide essential electrolytes.
Functional add-ins
Collagen peptides: Adding collagen peptides to your bulletproof coffee can provide numerous health benefits, including promoting skin health, reducing joint pain, and improving gut health.
Maca powder: Maca powder is an adaptogen that can help reduce stress and increase energy. It can also boost libido and improve mood.
Ashwagandha powder: Ashwagandha is an adaptogen that can help reduce stress and anxiety. Adding ashwagandha powder to your bulletproof coffee can provide these benefits.
How to Make Keto Coffee at Home?
Making keto coffee at home is effortless. Once you have all the ingredients in your pantry (coffee, butter, MCT oil), it's easy to make it every morning.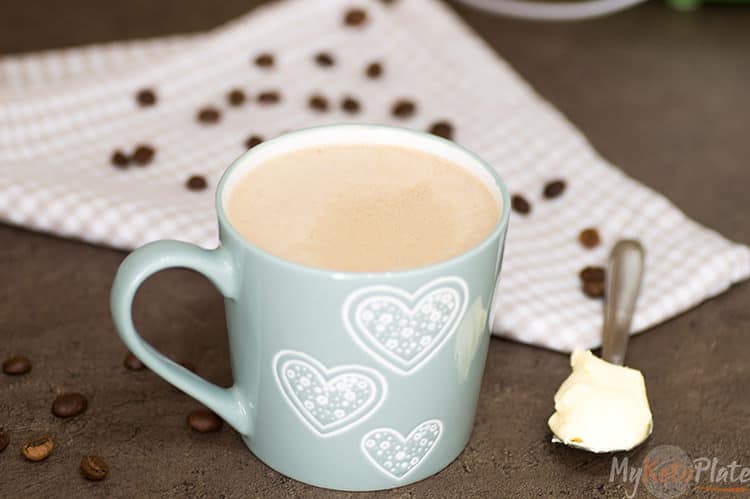 For some extra electrolytes, I like to add a pinch of Sea Salt. To enhance the taste you can add stevia, sugar-free syrups, but that's not mandatory.
You'll also need a blender (great for smoothies too), a milk frother (cheap and very effective) or an immersion blender to create that creamy keto coffee. Trust me, you want to blend these ingredients well, or else you'll end up with a mug of coffee with fat floating – and that's not very pleasant to ingest.
Make your favorite coffee as you usually would.
Into a blender, throw all the ingredients: hot coffee, butter or coconut oil, MCT oil, and blend for 20 seconds until smooth, frothy and creamy.
Serve hot and enjoy the benefits.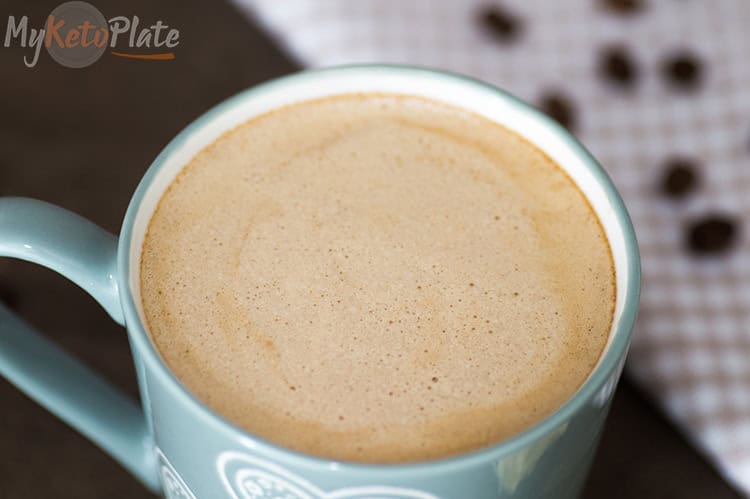 Enjoy your keto coffee with some amazing low carb chocolate chip cookies. 
Bulletproof Coffee Variations
Vanilla latte bulletproof coffee: Add a teaspoon of vanilla extract and a splash of unsweetened almond milk or coconut milk to make a creamy and delicious vanilla latte.
Chocolate bulletproof coffee: Add a tablespoon of cacao powder or unsweetened cocoa powder for a rich and chocolaty flavor.
Pumpkin spice bulletproof coffee: Add a teaspoon of pumpkin pie spicefor some warm and cozy fall flavor.
Cinnamon roll bulletproof coffee: Add a teaspoon of cinnamon and a splash of vanilla extract to make it taste like a cinnamon roll.
Mocha bulletproof coffee: Add a tablespoon of cacao powder or unsweetened cocoa powder and a shot of espresso to make a delicious mocha.
Peppermint mocha bulletproof coffee: Add a tablespoon of cacao powder or unsweetened cocoa powder, a shot of espresso, and a drop of peppermint extract for a festive holiday drink.
Matcha bulletproof coffee: Replace the coffee with a teaspoon of matcha powder and blend with grass-fed butter or ghee and MCT oil for a refreshing and energizing drink.
Chai bulletproof coffee: Add a teaspoon of chai spice blend to your bulletproof coffee.
Can You Drink Bulletproof Coffee While Fasting?
Bulletproof coffee can technically break a fast, as it contains calories from the added fat sources like butter or MCT oil. However, the extent to which it breaks a fast can vary depending on the type and duration of your fast, as well as your personal goals and preferences.
For some, drinking bulletproof coffee during fasting could be advantageous as it helps reduce hunger and cravings, boosts energy, and enhances mental clarity. However, if your fasting goals are purely for calorie restriction or to promote autophagy (a cellular repair process that occurs during fasting), consuming bulletproof coffee may not be suitable.
The decision to include bulletproof coffee in your fasting routine is subjective and reliant on your objectives and type of fasting. It is recommended to seek advice from a healthcare professional or qualified nutritionist to determine whether adding bulletproof coffee to your fast aligns with your overall health and wellness goals.
How to Store?
Refrigerator: Store the leftovers in an air tight container and keep for up to 2 days.
Freezer: Pour the mixture into an ice cube tray and freeze for at least 2 hours, or until the cubes are solid. Once the bulletproof coffee cubes are frozen, remove them from the ice cube tray and store them in an airtight container or freezer bag.
Reheating: When you are ready to enjoy your bulletproof coffee, simply heat up a cup of coffee and blend again until frothy/
I really hope you guys try this recipe. If the bulletproof coffee benefits are not enough to convince you maybe the fact that the keto coffee is super tasty will do the drill. Just give it a try, and you'll be amazed.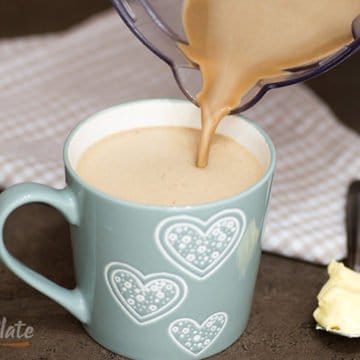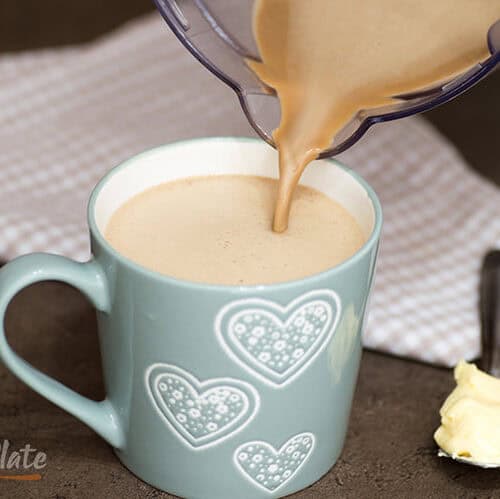 The Ultimate Bulletproof Coffee Recipe
---
Description
This bulletproof coffee recipe is the ultimate keto drink that's ultra-creamy and satisfying. This keto-friendly beverage is not only delicious but also packed with healthy fats and nutrients that will keep you fueled and focused throughout the day.
Instructions
Make a cup of coffee using your favorite method.

Meanwhile, add the grass-fed butter (or coconut oil) and MCT oil in a blender.

Add the hot coffee and blend for 20 seconds, or until the coffee looks frothy.
Nutrition Facts
Amount per serving.
How do we calculate the nutrition info?
These nutrition facts listed are determined using nutrition information from the USDA Food Database. Our nutrition facts are accurate, but if you are using different products, please make your calculations. Net carb count is calculated by subtracting both fiber and sugar alcohols because they don't raise blood sugar.