Keto Coffee is a popular high-fat low carb drink, creamy and delicious. I love to make bulletproof coffee at home because it's super easy and tasty. Fantastic for a Ketogenic Diet.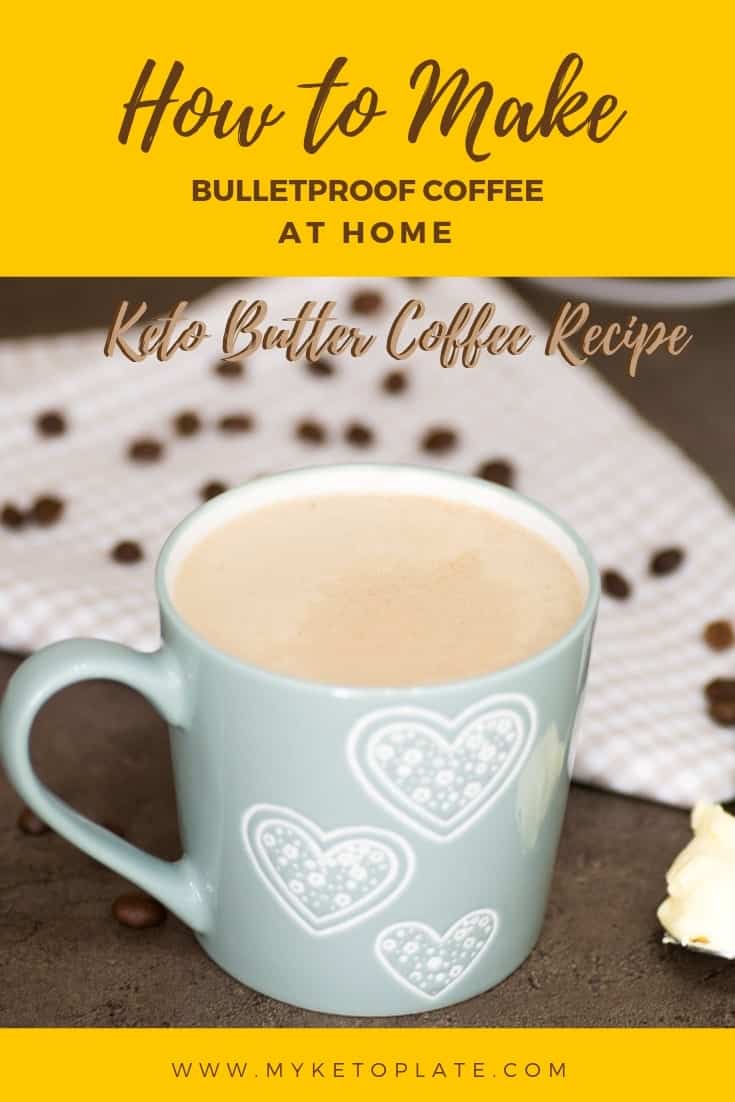 What is Bulletproof Coffee?
This fat coffee comes under many names in the keto community. Some call it Bulletproof Coffee, Keto Coffee, Butter Coffee, or simply BPC.
Bulletproof coffee was created by David Asprey, the CEO of the Bulletproof Executive. The fat content of this coffee should give you energy, improve metabolism, enhance brain function along with other benefits. You can get bulletproof coffee beans through Amazon.
Why Drink Bulletproof Coffee?
I drink Bulletproof Coffee because I love how it tastes. I don't use it to replace a meal because I still to get other essential nutrients. A few hours after I drink this fat coffee I make a satisfying breakfast: eggs, avocado, greens, and bacon.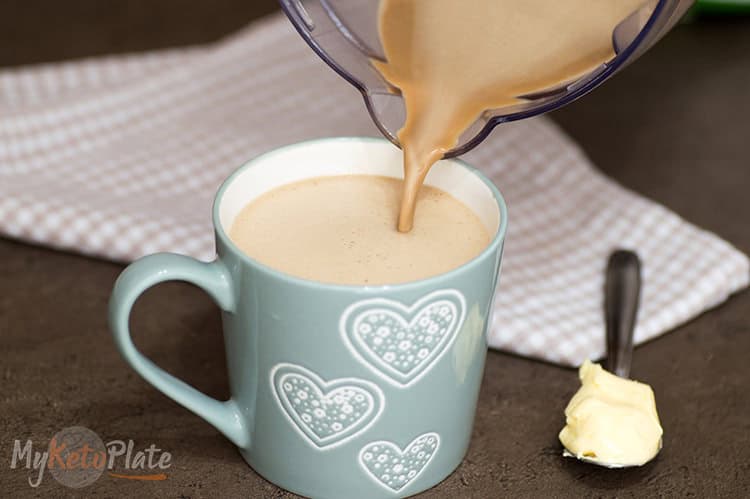 The main ingredients are coffee, grass-fed butter or extra-virgin coconut oil, MCT oil and you can add some heavy cream to make it taste like a delicious low carb latte.
Bulletproof Coffee Benefits
Drinking keto coffee every morning helps me feel more satisfied and not very hungry during the day. Here are other possible benefits of drinking bulletproof coffee:
Increases Energy – Drinking a high-fat coffee can give a steady and more reliable source of energy than drinking plain coffee.
May Aid Weight Loss – This is possible due to the healthy fats that will keep you full for longer and keeps cravings away, regulating appetite.
Helps with Digestion – MCT's oil (medium chain triglycerides) is a saturated fatty acid that's easier to digest, so it's fantastic for digestion.
How to Make Keto Coffee at Home?
Making keto coffee at home is effortless. Once you have all the ingredients in your pantry (coffee, butter, MCT oil), it's easy to make it every morning.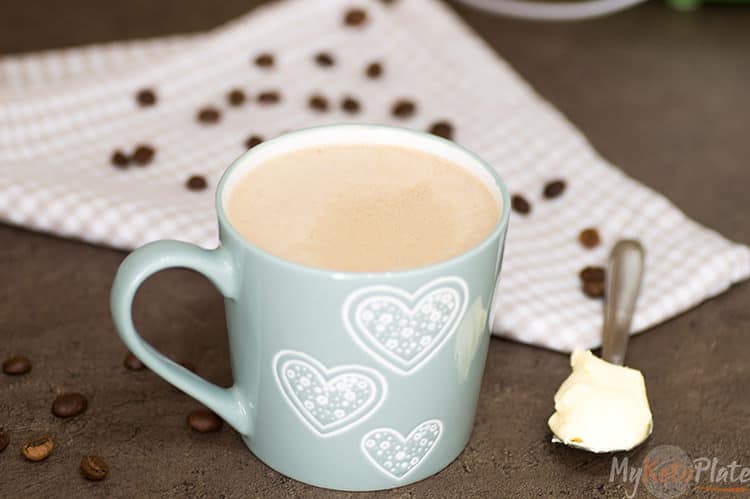 For some extra electrolytes, I like to add a pinch of Sea Salt. To enhance the taste you can add stevia, sugar-free syrups, but that's not mandatory.
You'll also need a blender (great for smoothies too), a milk frother (cheap and very effective) or an immersion blender to create that creamy keto coffee. Trust me, you want to blend these ingredients well, or else you'll end up with a mug of coffee with fat floating – and that's not very pleasant to ingest.
Make your favorite coffee as you usually would.
Into a blender, throw all the ingredients: hot coffee, butter or coconut oil, MCT oil, and blend for 20 seconds until smooth, frothy and creamy.
Serve hot and enjoy the benefits.
Optional Additions for Bulletproof Coffee
You can find many ways to improve the taste and use it as a dessert drink by some delicious add-ins. I usually stick to the classic bulletproof recipe, but sometimes I like to jazz up the recipe.
Taste enhancers
Even though I love how this butter coffee tastes only blended with butter and MCT oil, sometimes I enjoy (usually over the weekends) a fancy coffee. Here are some things I love to add:
Functional add-ins
Protein Powders
Collagen Peptides
Brain Octane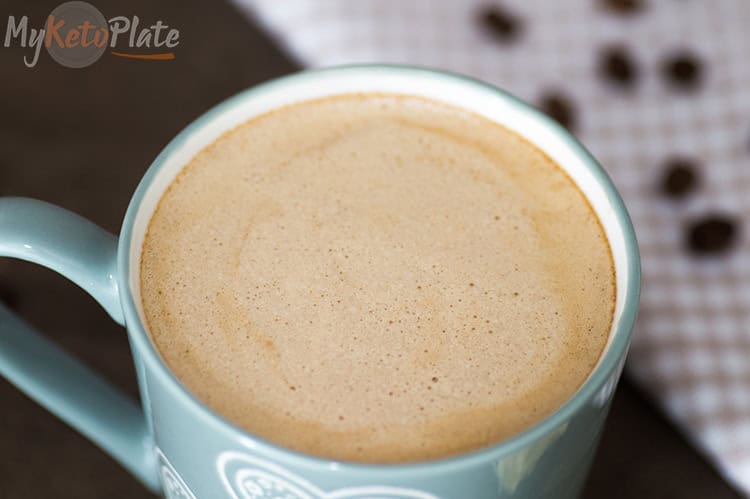 I really hope you guys try this recipe. If the bulletproof coffee benefits are not enough to convince you maybe the fact that the keto coffee is super tasty will do the drill. Just give it a try, and you'll be amazed.
Enjoy your keto coffee with some amazing low carb chocolate chip cookies.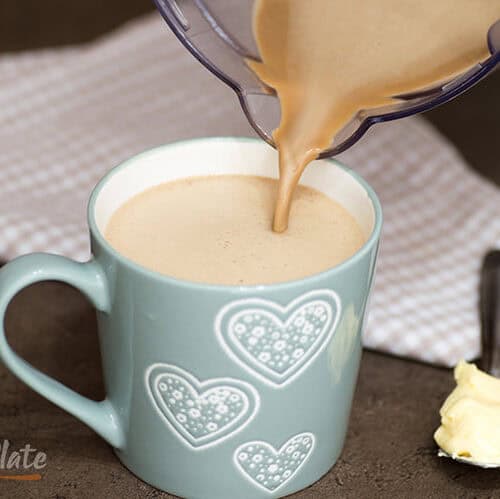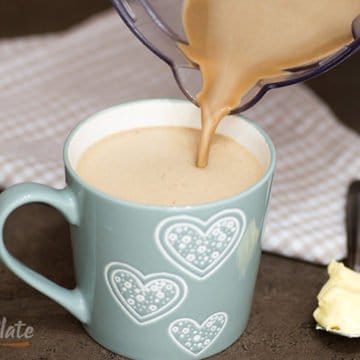 How to Make Bulletproof Coffee at Home? Keto Butter Coffee Recipe
---
Description
Learn how to make the popular Bulletproof Coffe recipe at home. Also called Keto Butter Coffee, Recipe this high-fat coffee is tasty, creamy, delicious and very low in carbs.
Instructions
Make a cup of coffee using your favorite method.

Meanwhile, add the grass-fed butter (or coconut oil) and MCT oil in a blender.

Add the hot coffee and blend for 20 seconds, or until the coffee looks frothy.
Nutrition Facts
Amount per serving.
How do we calculate the nutrition info?
These nutrition facts listed are determined using nutrition information from the USDA Food Database. Our nutrition facts are accurate, but if you are using different products, please make your calculations. Net carb count is calculated by subtracting both fiber and sugar alcohols because they don't raise blood sugar.