This keto maple syrup recipe has zero carbs, it's rich, and is perfect for enjoying over keto pancakes, waffles, or chaffles! Make the best sugar-free maple syrup that tastes just like regular maple syrup but without the carbs.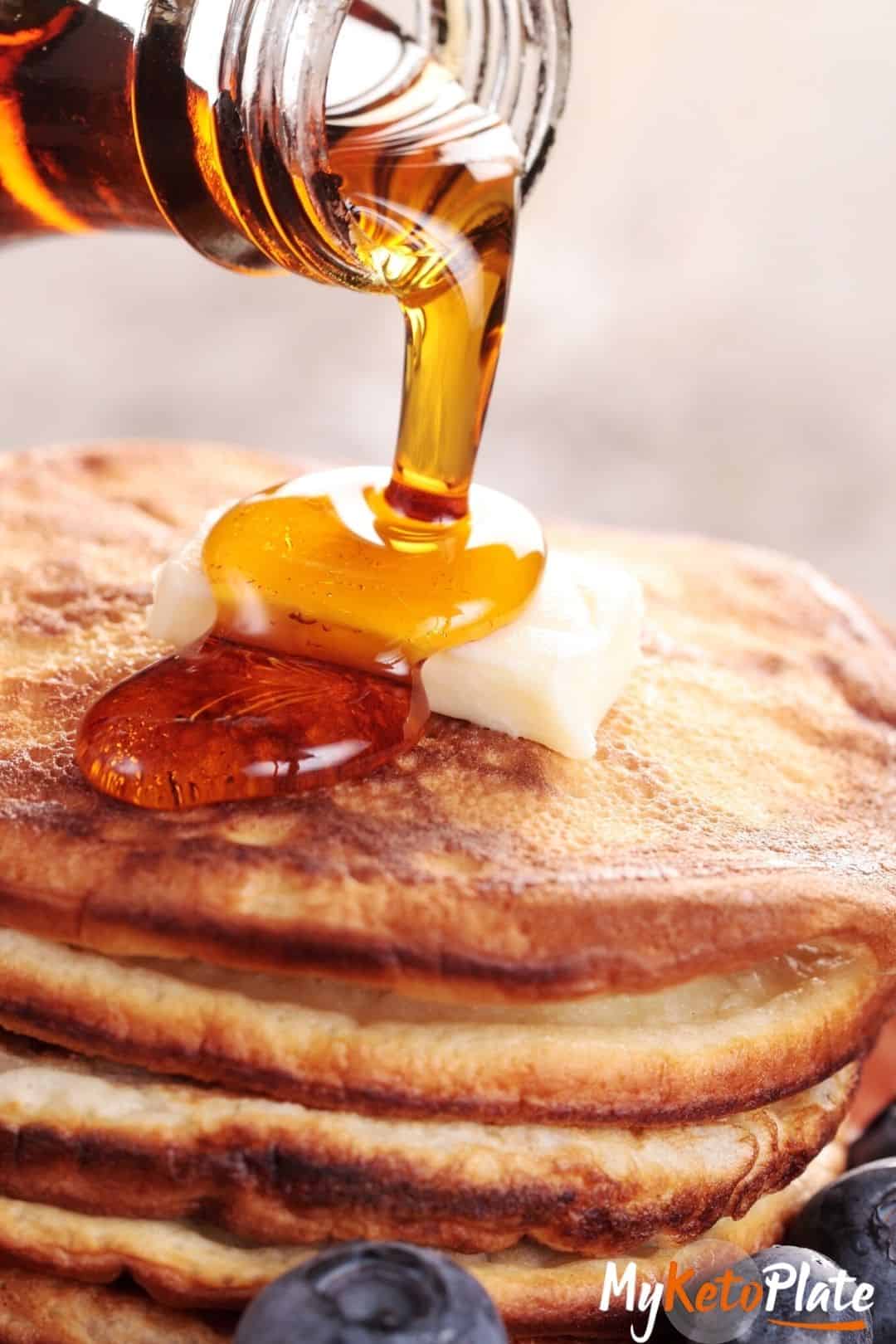 Try this simple keto pancake syrup recipe if you love your keto pancakes drenched in syrup, just like me.
I remember trying all the keto syrups on the market, and while I have a few favorites, making keto syrup at home is much cheaper and has no aftertaste.
No funky ingredients like sugar or high fructose corn syrup are needed for this sugar-free syrup. It's definitely the best low carb syrup alternative.
It's so easy to make keto maple syrup at home! Just make a batch of my coconut flour pancakes or these keto waffles and top them with tons of raspberry chia jam and syrup!
Is Maple Syrup Keto-Friendly?
Unfortunately, maple syrup is not keto since it is close to pure sugar. According to the USDA website, one tablespoon(20g) of maple syrup has 13g of net carbs. However, you can find a few keto options at the store or you can choose to make it at home.
Is This Homemade Keto Syrup Healthier Than Store-Bought?
Yes, even if you buy sugar-free syrups, they are loaded with unhealthy ingredients and sweeteners such as maltodextrin, sucralose, or maltitol.
Making a keto syrup at home is way better since you know exactly what it contains, and you can control the quality of the ingredients.
Reasons this is the Best Keto Maple Syrup Recipe
Easy to make in less than 10 minutes.
No carbs and no aftertaste. 
It can be stored in the fridge for up to 2 months. 
Cheaper than store-bought sugar-free maple syrup.
Ingredients For This Keto Maple Syrup
For this easy keto maple syrup recipe, you'll need just a handful of ingredients. Since it's a sugar-free option, you can enjoy this maple syrup whether you are following on keto diet or just want to eat less sugar. Here is everything you need to make it:
Brown Sugar Replacement – regular sweeteners such as Monk Fruit or Eryrtitol can be used, but I find the keto brown sugar has a richer and deeper flavor.
Xanthan Gum – this ingredient gives the syrup a perfectly thick consistency. Make sure to use the right quantity, or it can completely destroy the consistency of the sauce, making it too slimy.
Water – you will need warm water to dissolve the xanthan gum properly.
Maple Extract – This sugar-free Extract adds an intense maple taste and color.
Vanilla Extract – use the best quality you can find.
What Is Xanthan Gum?
Xanthan gum is a thickening and stabilizer frequently used in keto recipes. It is a flavorless thickener that provides texture, and it's the best way to thicken sauces, soups, dairy free ice creams without adding gluten-based products.
How to Make Keto Maple Syrup
You will be shocked to see how easy it is to make maple syrup at home, avoiding all those carbs and sugars. So follow the next instructions and enjoy:
Make a xanthan gum slurry- Start by combining the xanthan gum with a little warm water until well combined. Set aside to thicken.
Meanwhile, in a saucepan, add the rest of the water with the brown sugar replacement and stir until it's dissolved and begins to simmer.
Add the xanthan gum mixture and whisk until smooth and everything dissolves completely.
When the syrup reaches the desired consistency, remove the saucepan from the heat and mix the vanilla and maple extract.
Let it cool and enjoy!!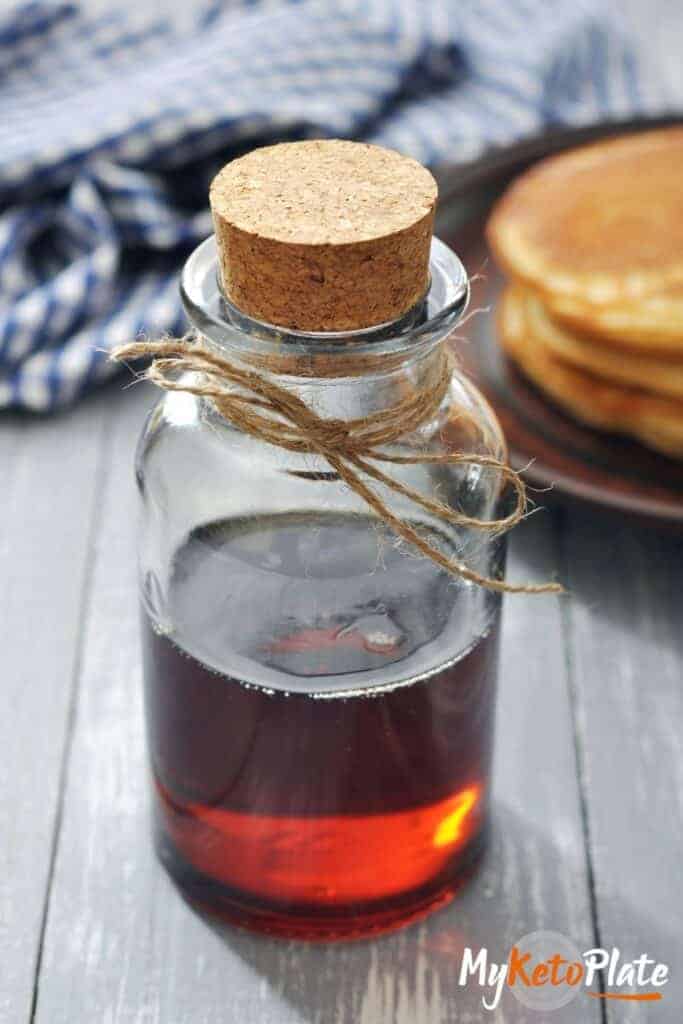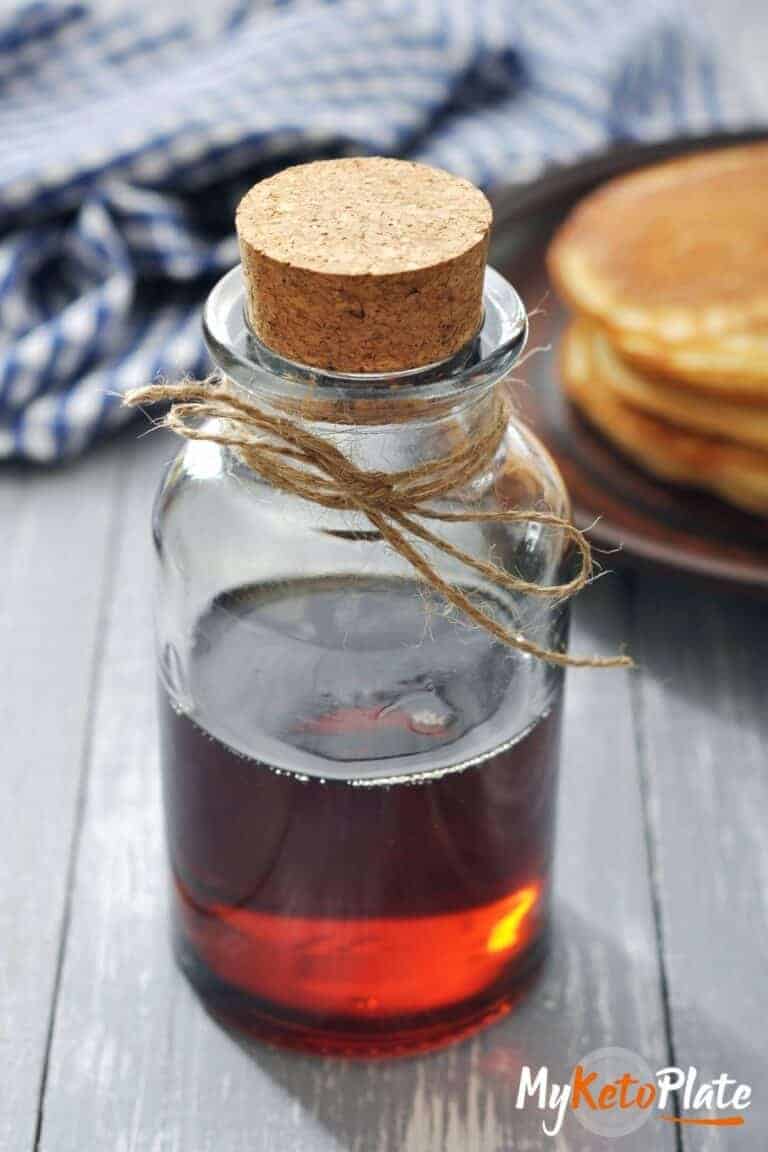 Tips and Variations
Get creative and use your favorite extract to flavor the syrups. To make sugar-free peppermint syrup add peppermint extract instead of the pure maple syrup extract.
Store in a glass container to keep this syrup fresh for as long as possible.
If the syrup looks too thick, add a few more tablespoons of water until it reaches the desired consistency.
If the syrup is cooled and it seems that its consistency is too liquid, you can sprinkle some xanthan gum on top and mix well.
How to Serve Keto Maple Syrup
Besides the fact that this syrup is easy to make and extremely delicious, you can serve it with many dishes. Here are some great ideas:
You can add it to your keto coffee.
It's great served with these keto pancakes.
Make some Keto Waffles and serve them with this keto maple syrup.
Keto French Toast
How Can I Store This Delicious Keto Maple Syrup
Fridge: transfer the syrup to an airtight jar and store it in the fridge for up to three months.
Another great option for storing this syrup is to put it in an airtight jar and store it at room temperature in a dark place.
Freezer: freezing this syrup is not a great option because it will change its consistency and taste.
How to Fix Crystals in Keto Syrup?
If your syrup gets crystallized, don't worry; it's super easy to fix the syrup. Just rewarm the sauce before using it, and the crystals will disappear. You don't even need to stir. The heat will melt the crystals.
This phenomenon often happens when using brown sugar substitute or any Erythritol-based product.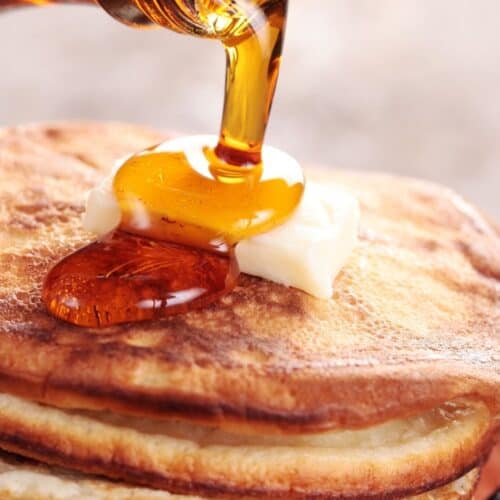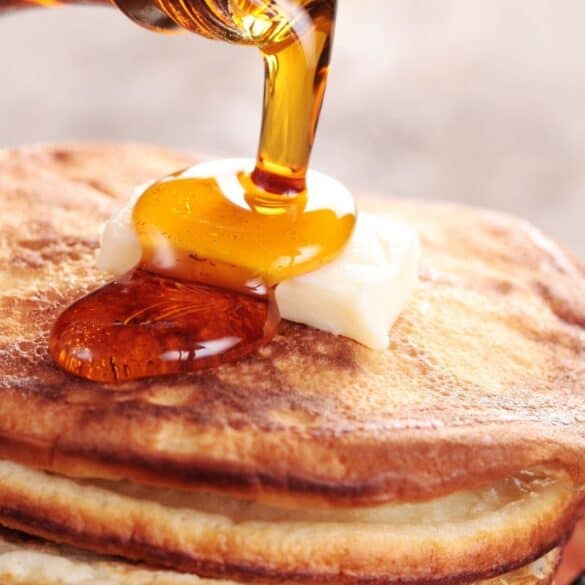 Homemade Keto Maple Syrup Recipe
---
Description
This keto maple syrup recipe has zero carbs, is rich, and it's perfect for enjoying over keto pancakes, waffles, or chaffles! Make the best sugar-free maple syrup that tastes just like regular maple syrup but without the carbs.
Instructions
In a small bowl, combine 1/4 cup of warm water and the xanthan gum. Whisk to combine well.

Place a saucepan over medium heat and add the water and sweetener. Bring to a simmer and mix until the sweetener is completely dissolved.

Add the xanthan gum mixture and whisk it into the warm liquid. Mix until the maple syrup looks thicker.

Remove the saucepan from the heat and mix in maple syrup and vanilla extract.

Let the maple syrup cool completely and transfer to a storing jar. It continues to thicken as it cools.
Nutrition Facts
Amount per serving.
How do we calculate the nutrition info?
These nutrition facts listed are determined using nutrition information from the USDA Food Database. Our nutrition facts are accurate, but if you are using different products, please make your calculations. Net carb count is calculated by subtracting both fiber and sugar alcohols because they don't raise blood sugar.