Learn how to make the perfect keto pie crust that is buttery, crispy, tender, and takes just 10 minutes to make. It's my long-time favorite almond flour pie crust that I choose to make either for fruit tarts, cheesecake, or creamy pies.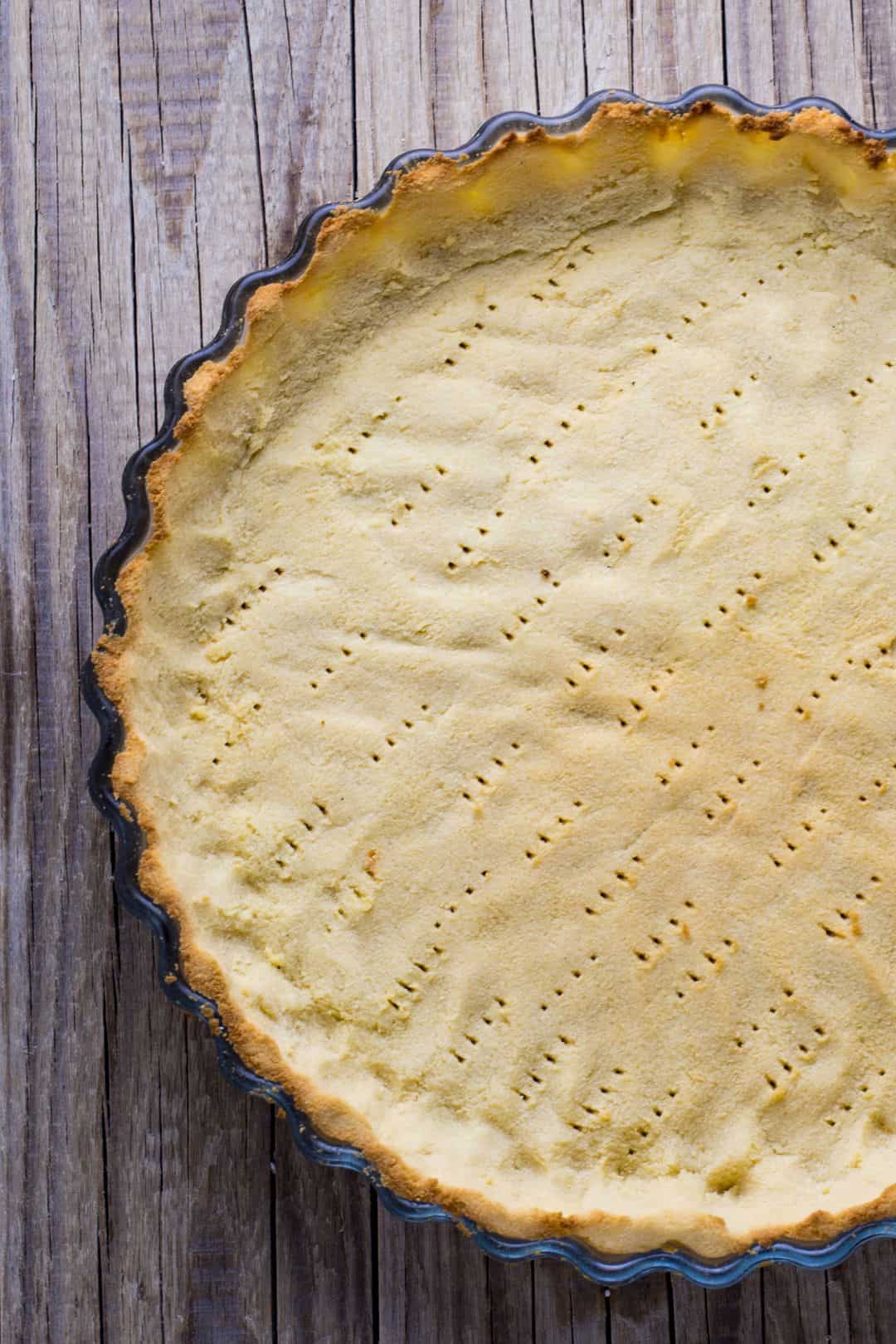 Truly versatile, it's perfect for both sweet and savory pies.
Once you try this keto pie crust recipe, you will never want to buy those premade pie crusts from stores. It's the perfect recipe, and it can be made ahead of time for all the pies you're planning to make for the holidays.
So if you are looking for the best keto pie crust, this is it. This gluten-free pie crust recipe requires only a few easy ingredients and 15 minutes of baking. So read the whole recipe if you want to find tips on how to make perfectly buttery, flaky pie crust.
What Is A Pie Crust?
A Pie crust is a dough made from flour, shortening, butter, and water. It can be bought in grocery stores already prepared.
Is Pie Crust Keto-Friendly?
If we are talking about traditional pie crust made with wheat flour and sugar, it's not keto-friendly.
But fortunately, by changing a few ingredients, you can create low carb keto pie crust recipe that's perfect for keto cheesecake and any pie.
Why Are You Going To Love This Recipe
You can make it ahead of time.
It's made with 7 naturally low-carb ingredients.
Ready in 15 minutes.
Contain only 3g net carbs
Perfectly rich, buttery, and tender
Perfect for both sweet and savory pies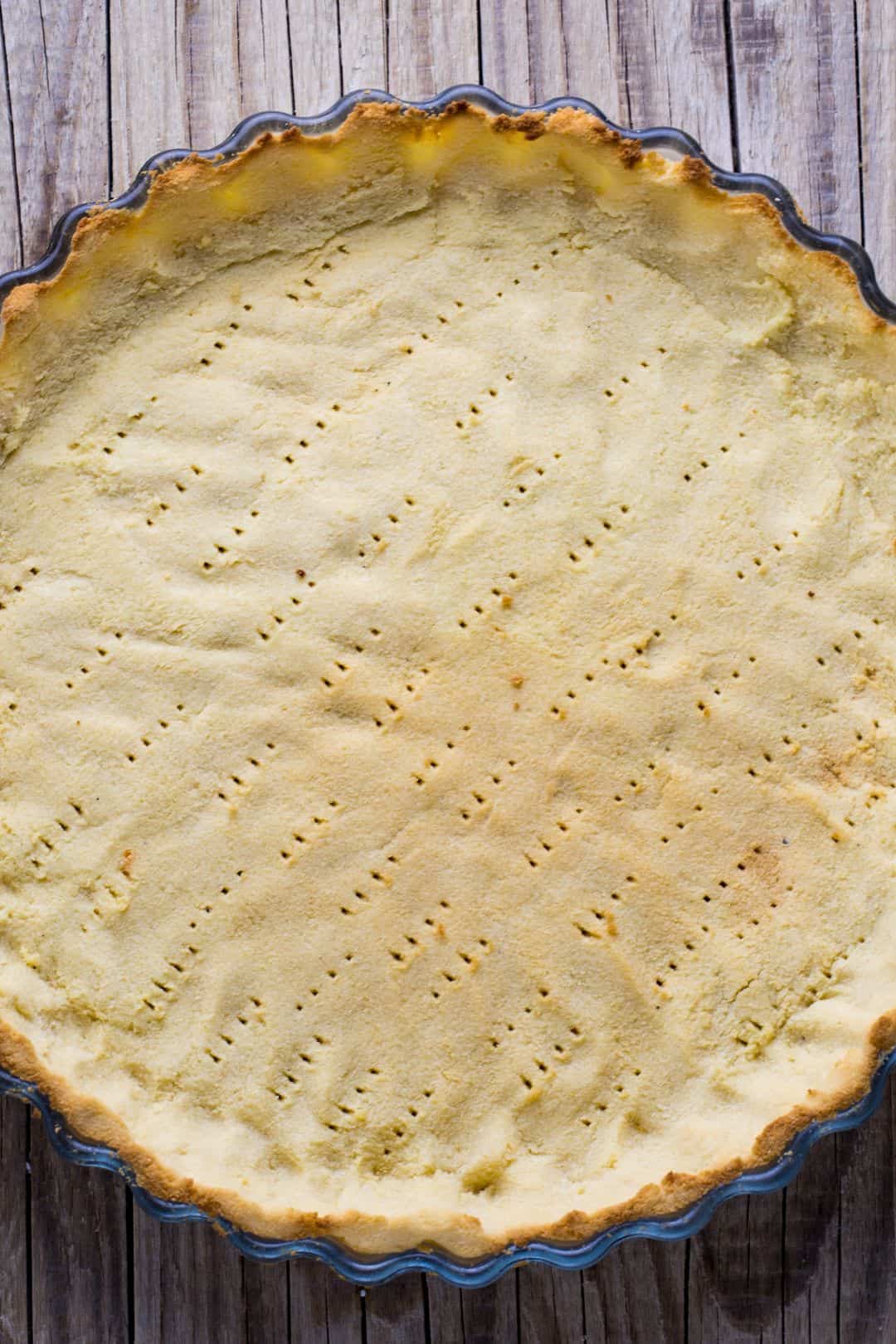 Keto Pie Crust Ingredients
You will need 7 ingredients that are easy to find, and you probably have them already in your pantry to create this easy keto pie crust recipe. Here is everything you will need:
Almond Flour – this is one of the best low-carb flour substitutes that gives the best texture to your pie. Choose a super fine almond flour for the best texture. Almond meal is also an option, and it can work beautifully.
Eggs – use room temperature eggs to avoid that eggy flavor.
Sweetener – use powdered sweetener to ensure good mixing. You can blend your granulated sweetener at home if you don't have any powdered.
Butter – use unsalted butter to create a melt-in-your-mouth crust with an extremely rich flavor.
Vanilla Extract – use the best quality vanilla extract that you can find.
Salt – to taste. It is used to enhance the flavors.
Xanthan Gum – this ingredient is optional. But you can use it to ensure the crust holds its shape.
How To Make Keto Pie Crust
Once you have all the ingredients, preparing this keto pie crust is extremely easy without needing any cooking skills. Here's how to make it:
Start by preheating your oven to 350F/180C.
Mix the dry ingredients until well combined.
Add in the wet ingredients and mix until a ball of dough is formed.
Once the dough is ready, press it carefully to a bottom of a pie pan.
Trim the excess crust on the pie plate's edges and remove away any extra dough.
Poke holes on the bottom of the crust using a fork to prevent large air bubbles and cracks.
Bake the pie crust in the preheated oven for 10-12 minutes or until the edges are golden brown.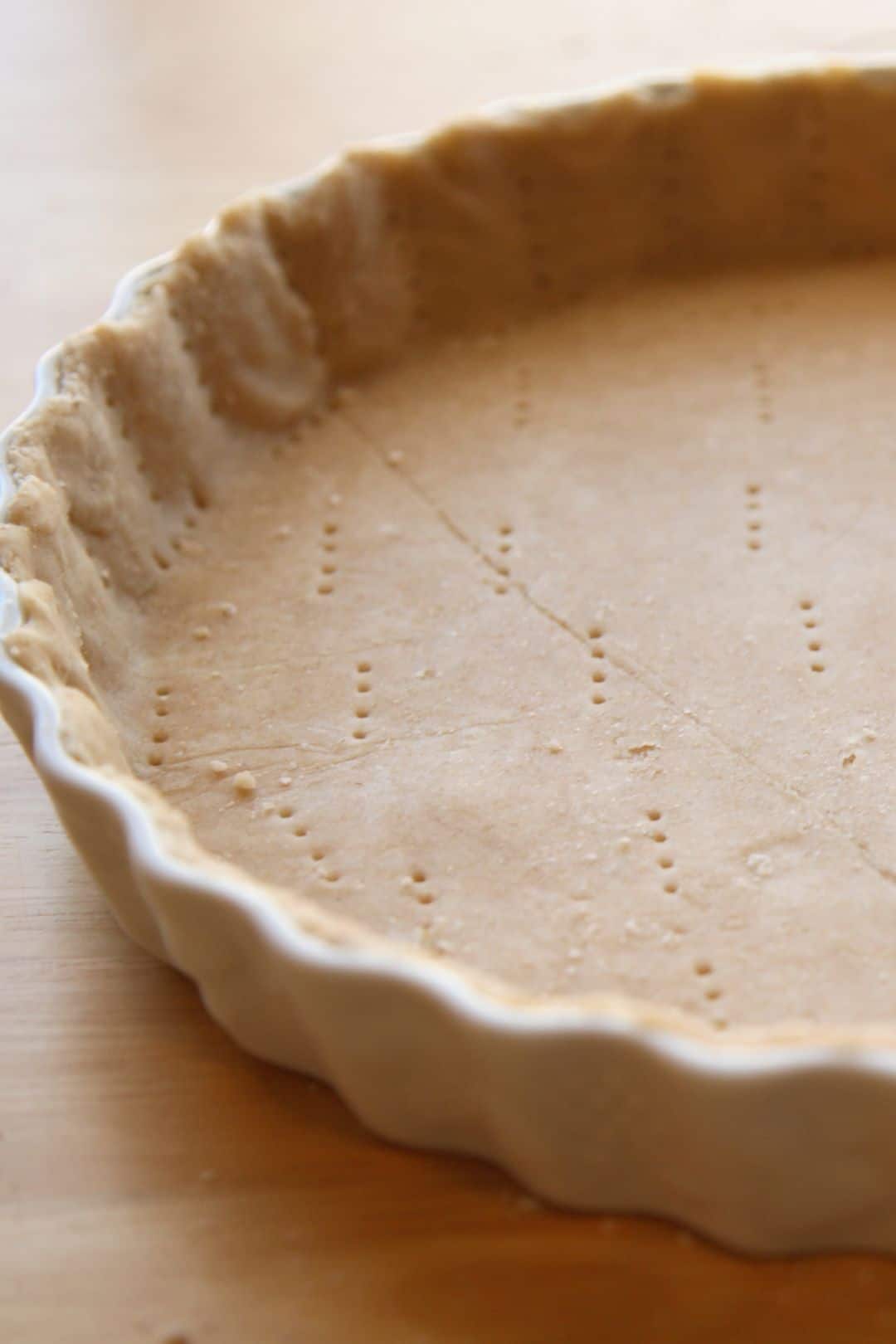 Tips For Making The Best Keto Pie Crust
Make sure you don't over-knead the dough; Otherwise, you will get a hard crust, not a soft one.
Chill the crust for at least 30 minutes if the dough looks too sticky.
Move fast when rolling and fitting the pie dough into the pie pan because the key to making the perfect pie crust is to keep it cool.
Use a food processor to make this recipe even faster. This tool is not mandatory, but you just mix all the ingredients and pulse until it comes together into a ball.
Storing Ideas
Fridge – If you plan to use the pie crust the next day, you can easily store it in the fridge and wrap it in plastic foil.
Freeze – You can choose to store the dough or the baked almond flour pie crust until ready to use. To thaw pie crust, remove it from the freezer and place it in the fridge overnight.
Frequently Asked Questions
How To Make A Savory Keto Pie Crust?
To make a savory low carb pie crust skip the sweetener and mix in some of your favorite spices, such as garlic powder or Italian seasoning.
Can I Make A Dairy Free Pie Crust?
Sure, you can make a dairy-free pie crust by replacing the butter with any oil you prefer, such as coconut, olive, or avocado oil. Just make sure that you grease your pan well to prevent the crust from sticking.
Can I Make This Recipe Ahead Of Time?
Definitely, this recipe is perfect for making ahead of time. First, make the crust just like we did in this recipe, then wrap it in plastic foil and store it in the freezer for up to one month.
Do I Need To Grease My Pie Pan?
If you are worried that your pie crust will stick to the pan, you can grease it with butter or olive oil. But this is not a necessary step since the crust is made with butter.
How To Prevent Burning The Edges Of The Crust?
After five minutes of baking, wrap the edge of your pie with a piece of foil to prevent it from burning.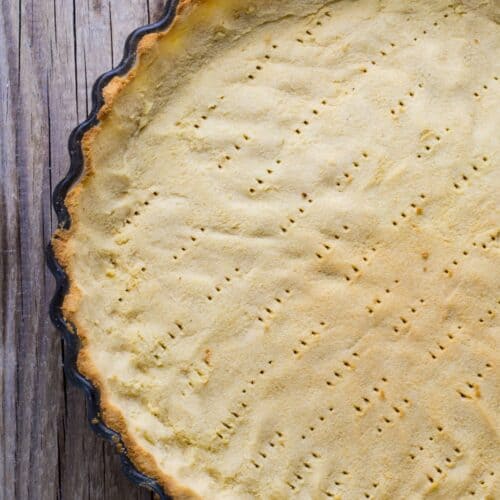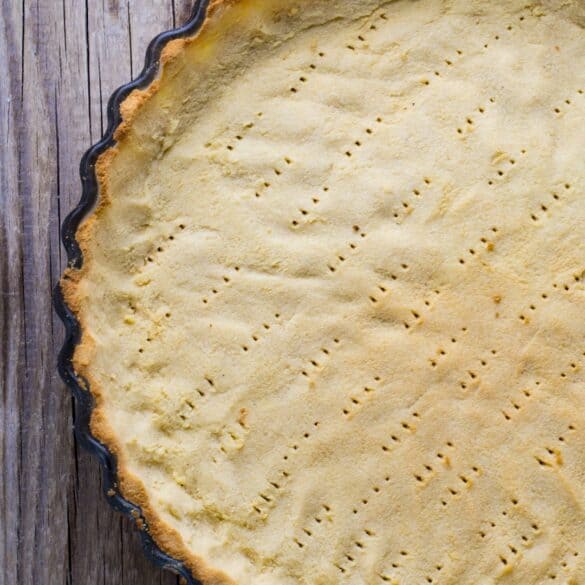 Description
Learn how to make the perfect keto pie crust that is buttery, crispy, tender, and takes just 10 minutes to make. It's my long-time favorite almond flour pie crust that I choose to make either for fruit tarts, cheesecake, or creamy pies.
Instructions
Preheat the oven to 350F/ 180C. Grease the bottom of a 9-inch (23 cm) pie pan or line it with parchment paper.

In a large bowl, add the almond flour, sweetener, xanthan gum (if using), and salt.

Mix in the melted unsalted butter and egg, then knead using oiled hands until it comes together into a ball. Alternatively, you can place all the ingredients into a food processor and pulse until the mixture looks like a ball. Press the dough into the bottom of the prepared pan. Poke holes in the bottom using a fork to prevent cracking.

Bake for 10-23 minutes, until lightly golden. Add your favorite filling, cover the edges and continue baking.
Nutrition Facts
Amount per serving.
How do we calculate the nutrition info?
These nutrition facts listed are determined using nutrition information from the USDA Food Database. Our nutrition facts are accurate, but if you are using different products, please make your calculations. Net carb count is calculated by subtracting both fiber and sugar alcohols because they don't raise blood sugar.