Made from a few simple ingredients and ready in 10 minutes, this keto guacamole is a Mexican sauce based on avocado and is extremely healthy and easy to prepare.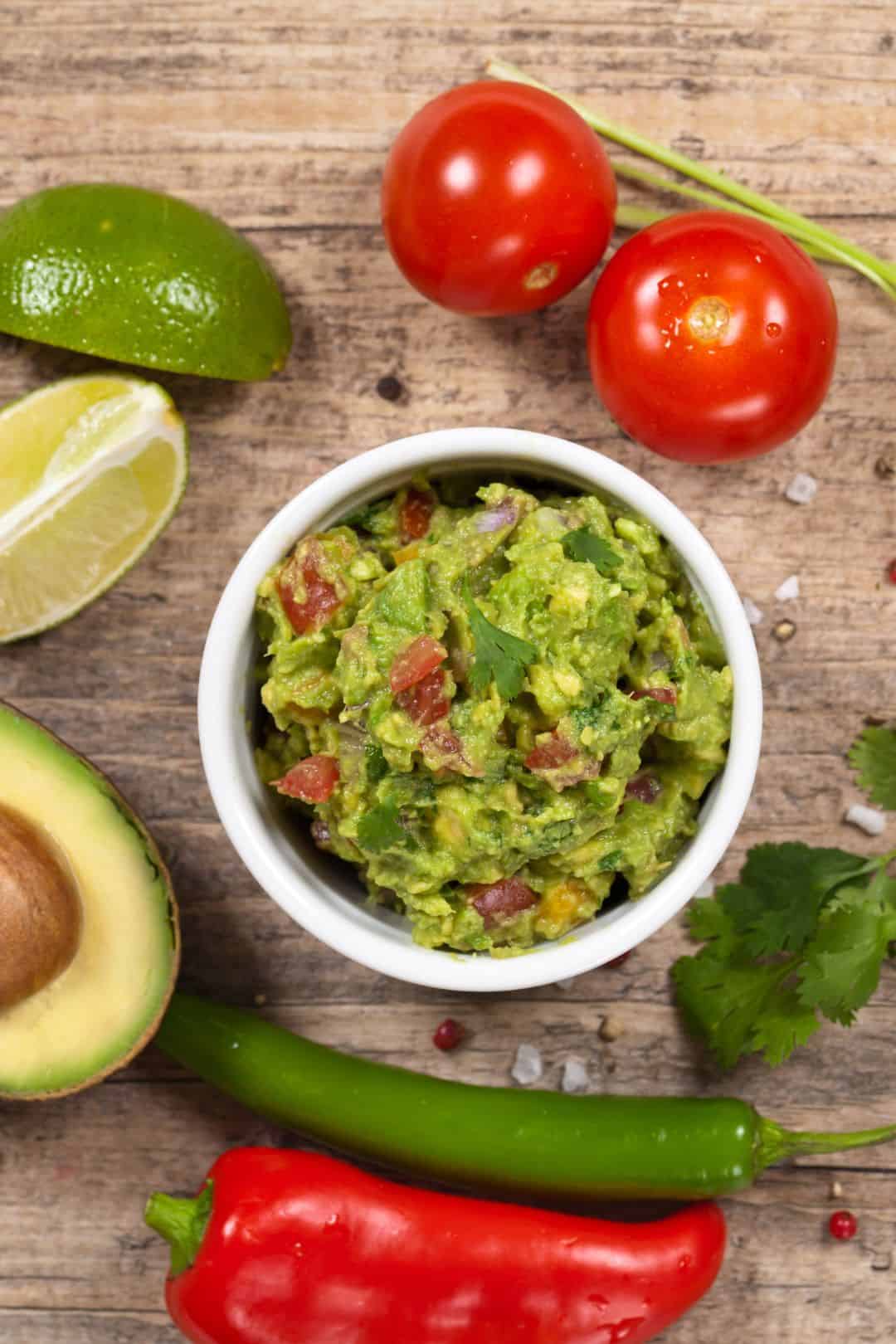 You need a few simple ingredients for this guacamole recipe, which you can find in any supermarket or store. After you try the recipe, you will definitely want to repeat it many times.
Guacamole is a vegan, fresh and natural dish that can be served in various ways. It can be a delicious sauce in a keto sandwich, served in front of the TV as a sauce for tortilla chips, or a delicious salad dressing.
Is Guacamole Keto?
Sure, guacamole is a keto-friendly food because it's loaded with healthy fats and has a minim carbohydrate content. And that makes it a delicious low-carb and keto snack that can be served in many different ways.
What Does Guacamole Taste Like?
The perfect words that describe this dish's taste are fresh, creamy, and tender. And the added vegetables give this guacamole a crunchy and pleasant texture.
Why Are You Going To Love This Recipe
Super easy and quick to make.
Contain only 9g net carbs per serving.
It can be served as a snack or appetizer at a party.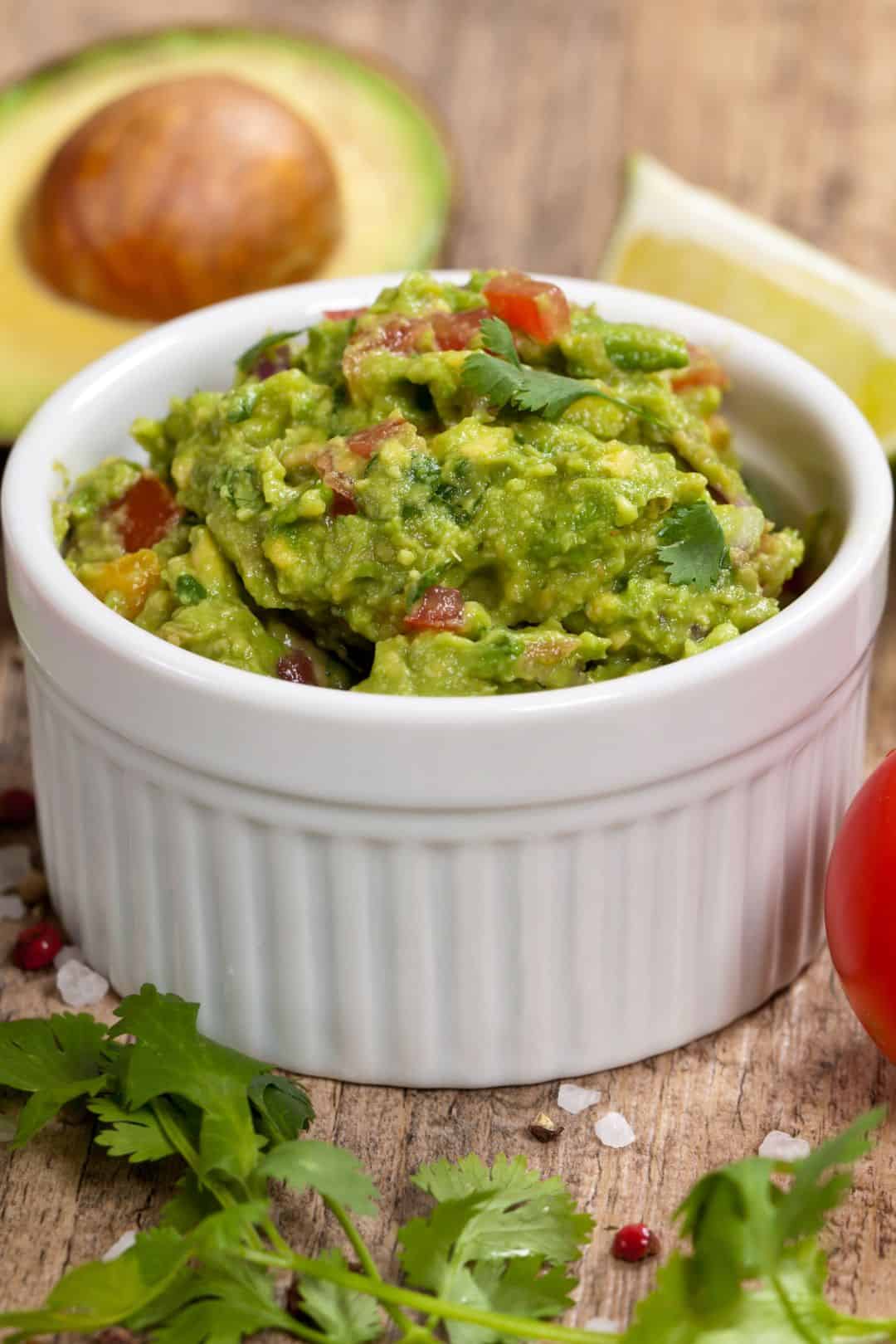 Ingredients For This Keto Guacamole
This keto guacamole is full of flavorful and healthy ingredients that are easy to find. Here is everything you will need:
Avocado – you will need ripe avocados. When you buy it, check that it is soft to the touch.
Tomatoes – use any tomatoes you like.
Onion – you can use either red or yellow onion.
Garlic – use fresh minced garlic for an intense flavor.
Cilantro is one of those fresh herbs that pairs perfectly with avocados.
Lime – gives a balance to the avocado's richness and prevents the guacamole from turning brown.
Salt&Pepper – to taste.
How To Make This Delicious Keto Guacamole
I love how easy it is to prepare this delicious keto guacamole. It's so easy to make that I choose to make it whenever I want a quick and delicious snack. Here is everything you have to do:
Start by cutting the avocados in half, then remove the pits and the pulp with the help of a spoon.
Put it in a bowl, add the lime juice and sour cream, then mash it with a fork.
Cut the tomatoes and onion, add them to the avocado paste, and mix until well combined.
Add the rest of the ingredients and stir to combine.
Recipe Variations
You can add some chopped jalapeno if you like eating spicy.
You can skip the vegetables and make guacamole only with avocado, lime, and olive oil.
You can use shallot instead of red onion.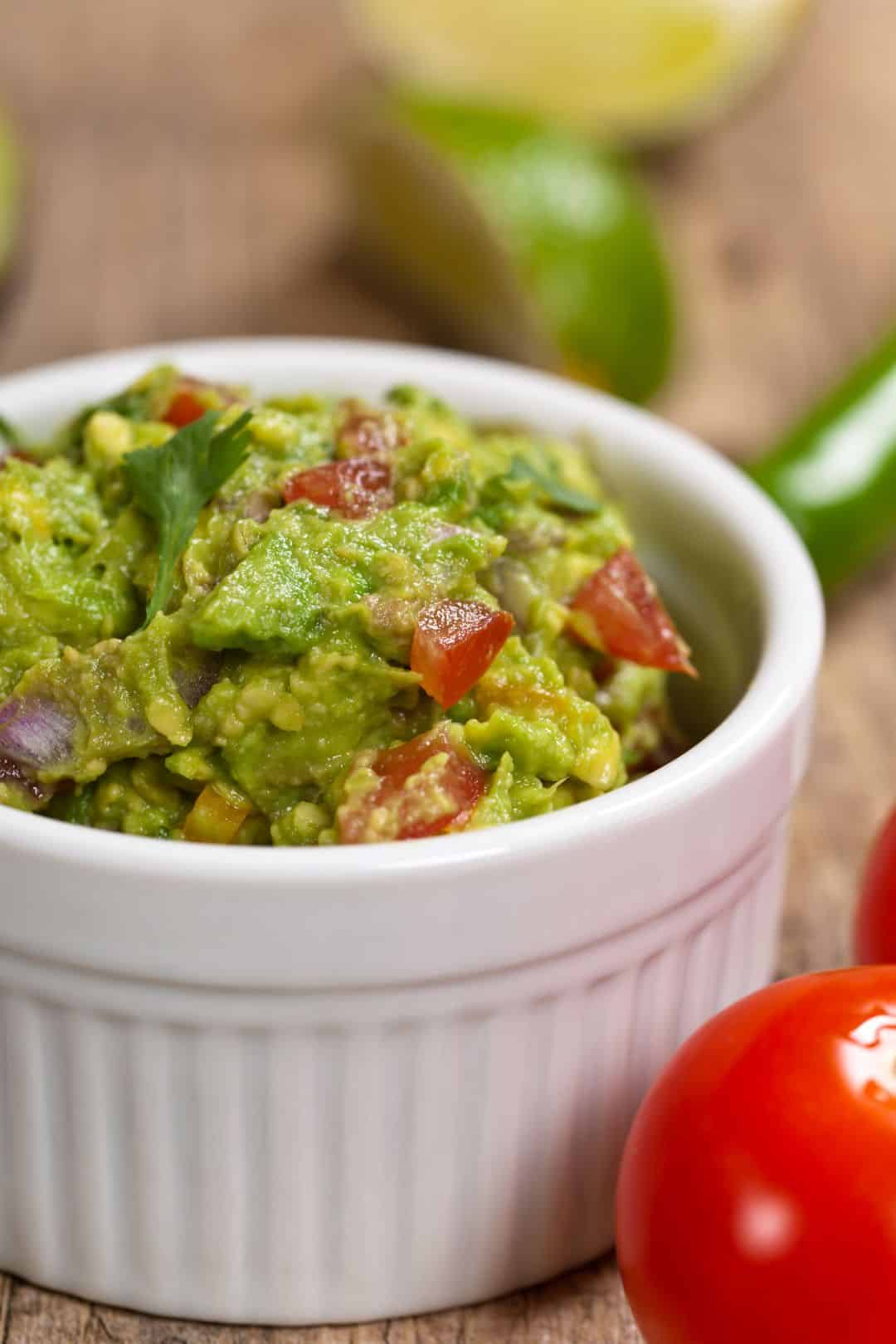 Storing Ideas
Guacamole dip should be consumed as soon as possible because it can quickly turn brown. But you can keep your guacamole fresh for a few days if you store it properly. So, choose your favorite method below and store your guacamole for up to 4 days.
Serving Ideas
Another great thing about guacamole is that it can be used in many different ways. Here are some of them:
You can use it as a dip with some tortilla chips.
Add it to a keto sandwich.
It pairs perfectly with a salad.
Frequently Asked Questions
Guacamole Vs.Guacamole Sauce
Guacamole is a specific Mexican dish based on the avocado- which is a fruit and not a vegetable, as many people think. Instead, guacamole sauce is a recipe Mexicans have had on their table for thousands of years.
Is Avocado Keto-Friendly?
Yes, avocados are a great keto food! Avocado is one of the best fruits to eat on this diet because it has a high fat content and low net carb count.
How To Choose The Perfect Avocado
To choose the perfect avocado for guacamole, you must know that it should not be raw but not too ripe. And to check this, you have to press it lightly. And if it is slightly soft, then it is perfect for preparing delicious guacamole.
How To Prevent Guacamole From Turning Brown?
Suppose you want to prepare the guacamole in advance. In that case, you can prevent oxidation by using the following method: put the guacamole in a casserole, cover it with plastic foil (stick it to the guacamole), and only put the lid on the casserole and put it in the refrigerator. Another way is to cover the contents of the casserole with 1 cm of cold water, then put the lid on and refrigerate.
Can I Freeze Guacamole?
Since guacamole it's made with tomatoes and onion, I don't recommend frizzing them because it will make the guac watery.
More Avocado Recipes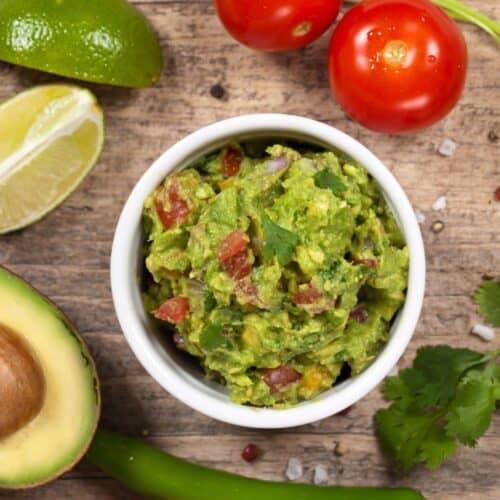 Description
Made from a few simple ingredients and ready in 10 minutes, this keto guacamole is a Mexican sauce based on avocado and is extremely healthy and easy to prepare.
Ingredients
4

large avocados

1

tomato

1/2

red onion

1

clove

garlic

1/4

cup

cilantro

1

lime

salt and pepper

to taste
Instructions
Cut the avocados in half and remove the seed.

Then remove the flesh using a spoon and add it to a mixing bowl.

Mash the avocado flesh using a fork until it has the consistency you prefer.

Add the chopped tomatoes, onion, parsley, and minced garlic and mix until well combined.

Next, mix in the lime juice, salt, and pepper.

Taste the guacamole and add lime juice and/or salt to get your desired flavor.

Enjoy.
Nutrition Facts
Amount per serving.
How do we calculate the nutrition info?
These nutrition facts listed are determined using nutrition information from the USDA Food Database. Our nutrition facts are accurate, but if you are using different products, please make your calculations. Net carb count is calculated by subtracting both fiber and sugar alcohols because they don't raise blood sugar.