This easy homemade keto ranch dressing is super versatile, easy to make, and loaded with flavor. It's the best low carb dressing sauce that's creamy and perfect for salads or as a dip for vegetable sticks.
Ranch dressing is my favorite sauce dip things such as keto pizza, air fryer chicken wings, keto chicken nuggets, or chicken meatballs. Ranch pairs perfectly with so many things, and it's a staple in our house.
This keto ranch dressing is such a breeze to make. You can make this popular salad dressing in just a few minutes by combining herbs, sour cream, and buttermilk. It's super silky and creamy!
What Is Ranch Dressing?
This dressing was created in the early 1950s by Steve Henson, a Nebraska plumber working in Alaska. The sauce features mayonnaise, sour cream, garlic, and herbs – dill, parsley, and chives. After concluding his contract in Alaska, Henson and his wife bought a ranch in California, selling the sauce. This is where the name ranch comes from.
Is Ranch Dressing Keto-Friendly?
Yes, ranch dressing is keto-friendly. Actually, homemade ranch dressing has less than 2g of carbohydrates per 2 tablespoons.
However, you have to be careful with store-bought ranch dressing, as some may contain ingredients high in carbs, such as sugar or buttermilk powder. So you'll have to check the nutrition facts label to see how many carbs are in your dressing.
Why Are You Going To Love This Recipe
It's an extremely versatile recipe. You can add your favorite herbs or spices.
Extremely easy and quick to make.
Ranch Dressing Ingredients
You will be surprised that you need such a few easy ingredients to whip up a delicious keto ranch dressing without added carbs. Here is everything you need to make my favorite low carb keto salad dressing recipe: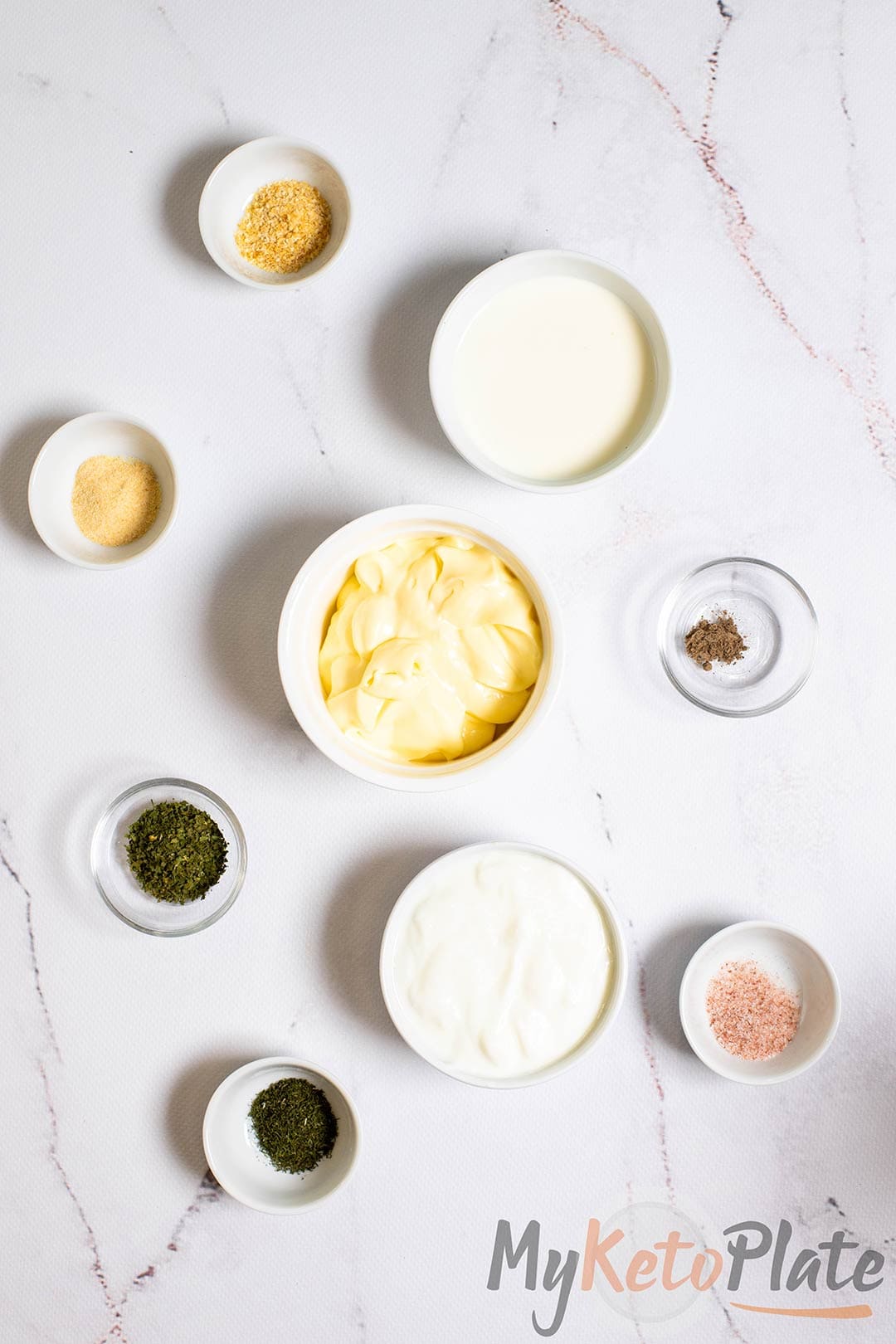 Mayonnaise – make sure you read the mayonnaise label you buy to ensure that it doesn't have added sugar or unhealthy oils like canola. My favorite is avocado oil mayonnaise.
Garlic – I used dried garlic, but you can also use fresh garlic for an intense flavor.
Herbs – I used dried parsley, dill, chives, and chives.
Buttermilk – A common ingredient used in ranch dressing that adds that specific tangy taste. If you're looking to reduce carbs, even more, you can use unsweetened almond milk and lemon juice to replicate the taste.
Salt & Pepper – feel free to add others seasonings to taste like smoked paprika.
How To Make Homemade Ranch Dressing
Well, this is one of the best parts of this recipe. This dressing is ready in just a few minutes by following the next easy steps:
Whisk all the ingredients in a large bowl.
Mix buttermilk in last so you can adjust the consistency as you desire. You can also use heavy cream or coconut milk. Also, add a touch of lemon to get that specific tangy flavor.
Refrigerate the sauce for a few hours to allow the flavors to develop.
It's incredible that I don't have to buy store bought dressing, and this one tastes even better. It's made entirely using low carb natural ingredients.
Recipe Variations
Add a jalapeno pepper or a few drops of Sriracha for some extra heat.
To make an extremely creamy avocado ranch dressing, blend in a ripe avocado.
For a little kick, add a tablespoon of Dijon mustard.
To prepare a cheesy ranch, add some shredded cheeses to the mixture.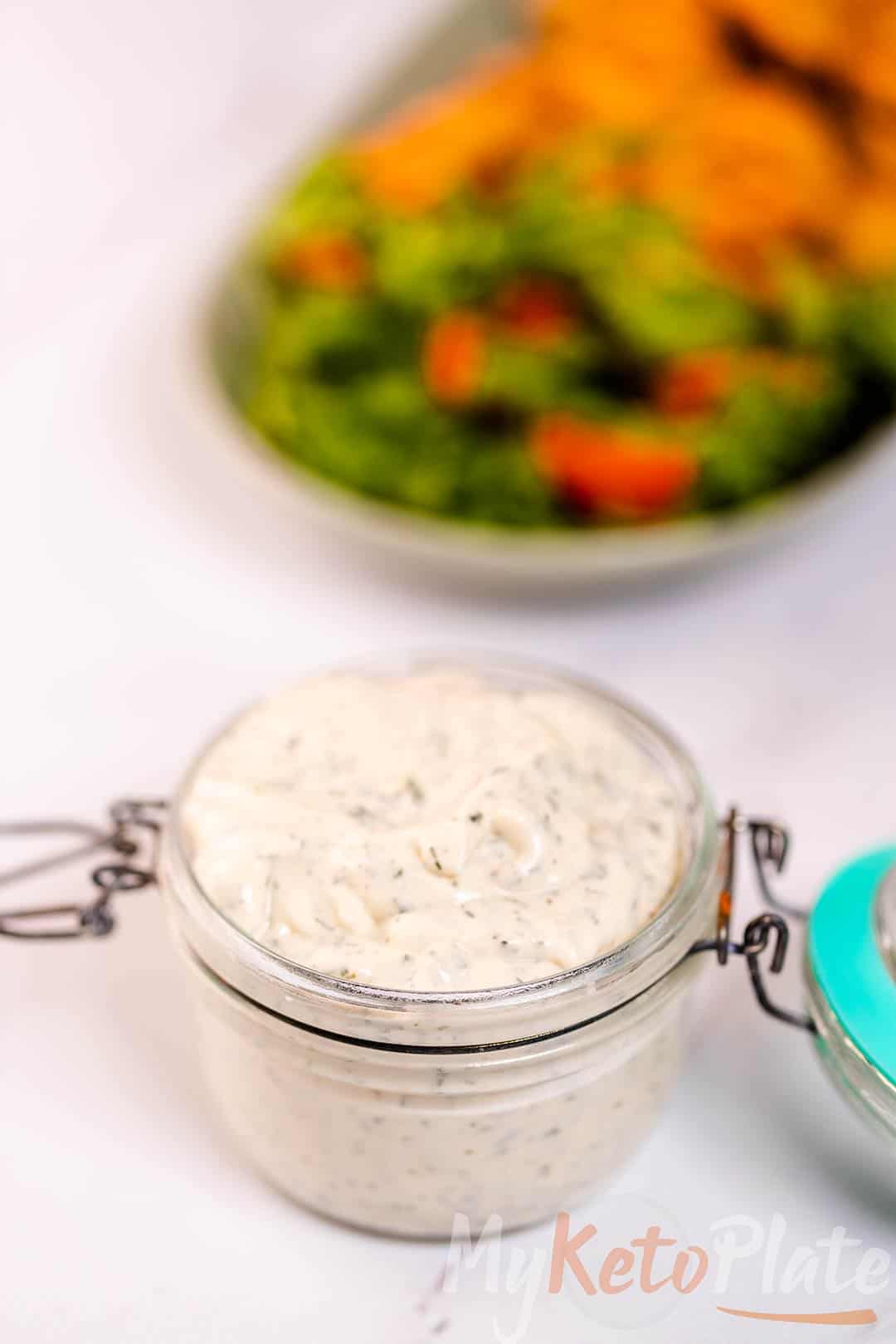 How To Store
Fridge: You can store this dressing in your fridge for up to two weeks.
Freezer: Storing ranch dressing in the freezer is not the best idea because it tends to separate and curdle when defrosted. It's easy to make a batch of this easy homemade keto ranch dressing just a few hours before serving.
What Can I Serve With This Delicious Keto Ranch Dressing
This ranch dressing is our go-to for any salad, and it's perfect for veggie dipping! Here are some great suggestions for serving this dipping dressing:
Serve it with fresh vegetables as a creamy dip.
Use it as a dressing for your favorite salad.
It's perfect for chicken nuggets and some keto fries.
You could put it in your favorite sandwiches.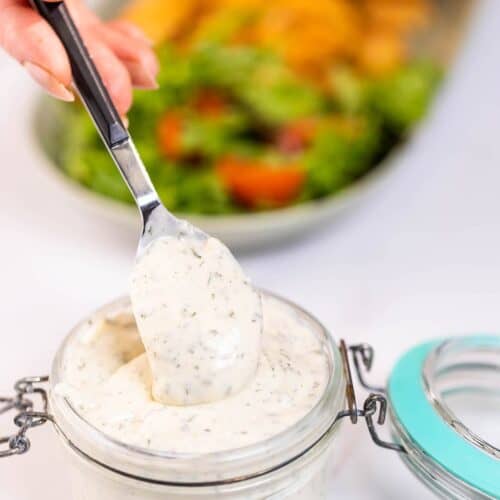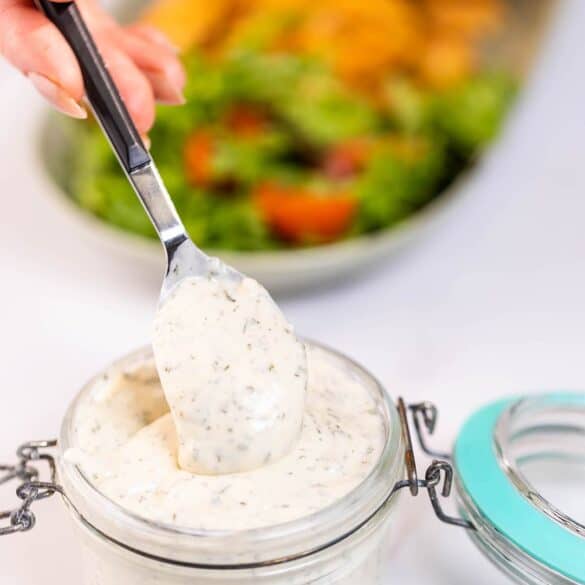 Creamy Homemade Keto Ranch Dressing
---
Description
This homemade keto ranch dressing is super versatile, easy to make, and loaded with flavor. It's the best low carb dressing sauce that's creamy and perfect for salads or as a dip for vegetable sticks.
Ingredients
1

cup

mayonnaise

1/2

cup

sour cream

or Greek yogurt

1

cup

buttermilk

or unsweetened almond milk

3

tsp

dried chives

1

tsp

dried dill

1

tsp

dried parsley

1

tsp

garlic powder

1

tsp

onion powder

1/2

tsp

salt

1/4

teaspoon

pepper
Instructions
In a large mixing bowl, whisk together the mayonnaise, sour cream, and all of the seasonings.

Gradually whisk in the buttermilk or almond milk until smooth and creamy. Use less milk to make a thick ranch dip.

Serve immediately or refrigerate for at least 2 hours for the best flavors.
Nutrition Facts
Amount per serving.
How do we calculate the nutrition info?
These nutrition facts listed are determined using nutrition information from the USDA Food Database. Our nutrition facts are accurate, but if you are using different products, please make your calculations. Net carb count is calculated by subtracting both fiber and sugar alcohols because they don't raise blood sugar.