Italian Seasoning is one of my favorite blends of herbs and spices that goes perfectly with almost anything from sauces and marinades for chicken, beef, or pork to pizza and roasted vegetables.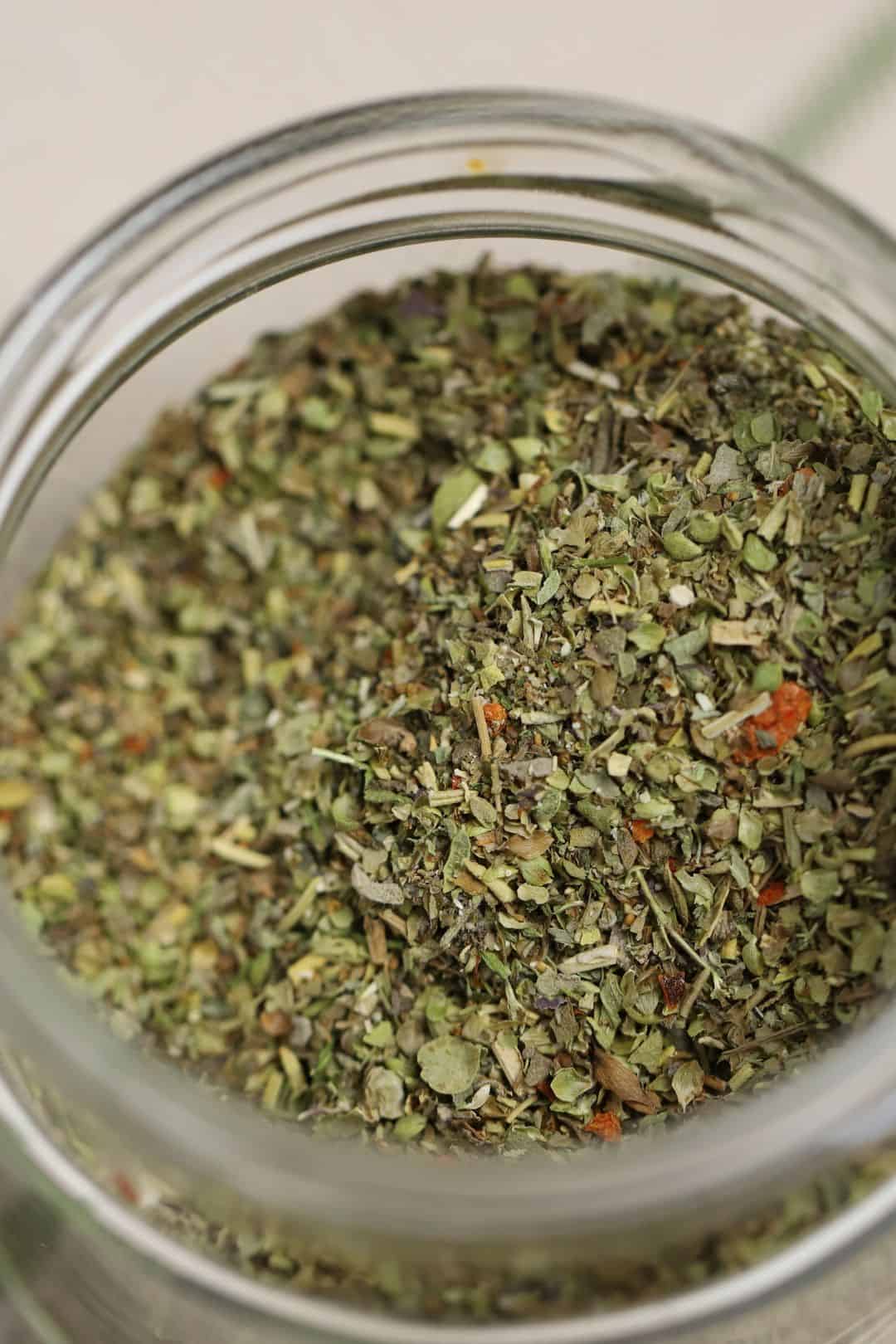 After making this homemade Italian seasoning, you will want to make it in advance to use when needed since it's extremely quick and tastes even better than store-bought seasoning.
The best part about this seasoning mix is that it can be used for many recipes, like flaxseed crackers, keto croutons, bruschetta chicken, and meatloaf.
While it might seem more convenient to use store-bought Italian seasoning, you can customize the homemade version to your preferences. So feel free to add other herbs and spices such as sage, dried cilantro, red pepper flakes, fennel, parsley, and more.
If you are a fan of homemade spice blends like me, you should also try my homemade everything bagel seasoning or my favorite pumpkin spice seasoning.
What Is Italian Seasoning?
Italian seasoning combines dried herbs and spices that complement your marinades, soups, sauces, and pasta. The main herbs are oregano, basil, thyme, rosemary, and marjoram.
Although it sounds ironic, this Italian seasoning is not very well-known in Italian cuisine.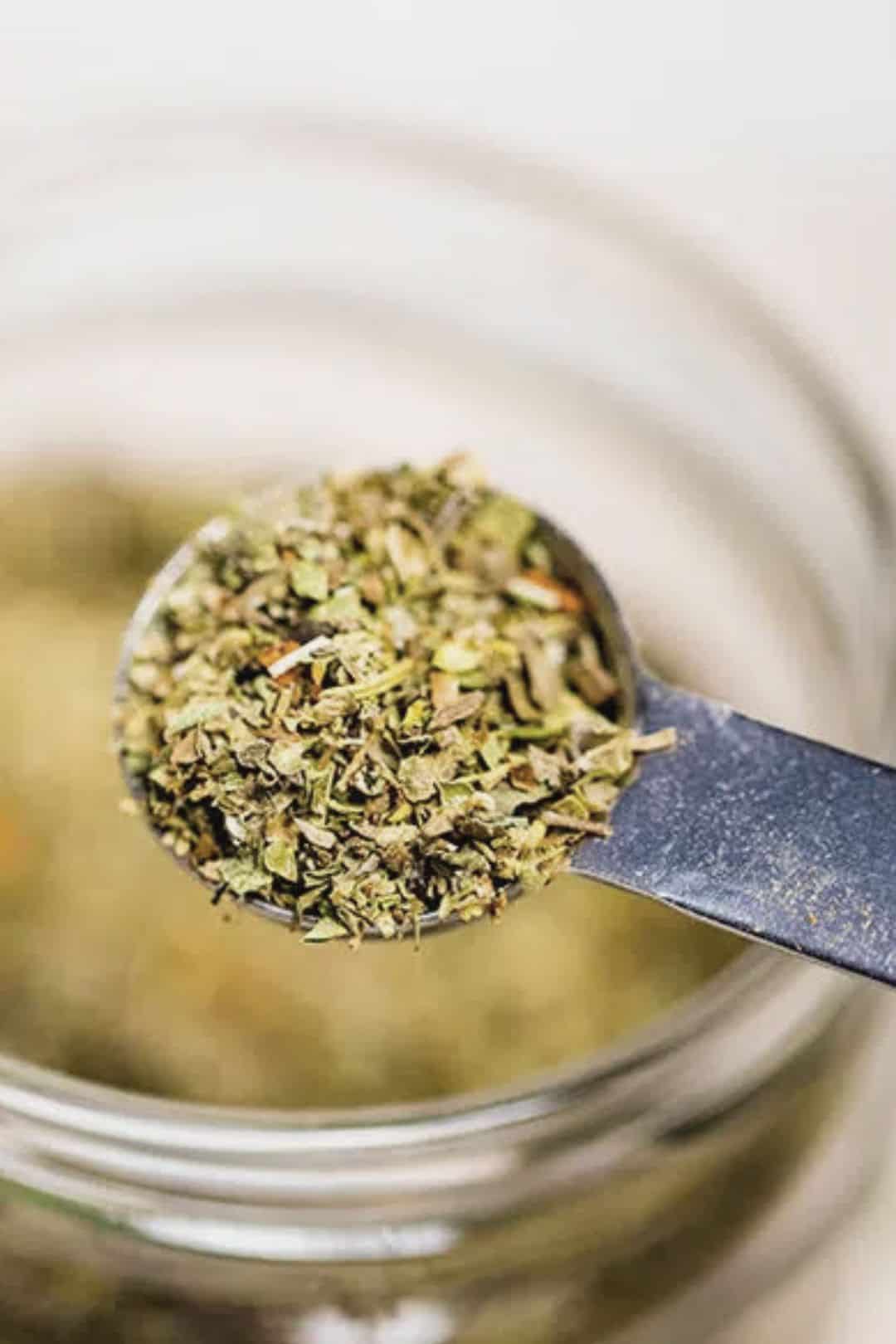 Why Are You Going To Love This Italian Seasoning Recipe
It can be used for many recipes
It's ready in 5 minutes.
It's a cheaper version of store-bought seasonings.
It's super customizable. You can add more or less of your favorite dried herbs.
It doesn't contain any additives or preservatives.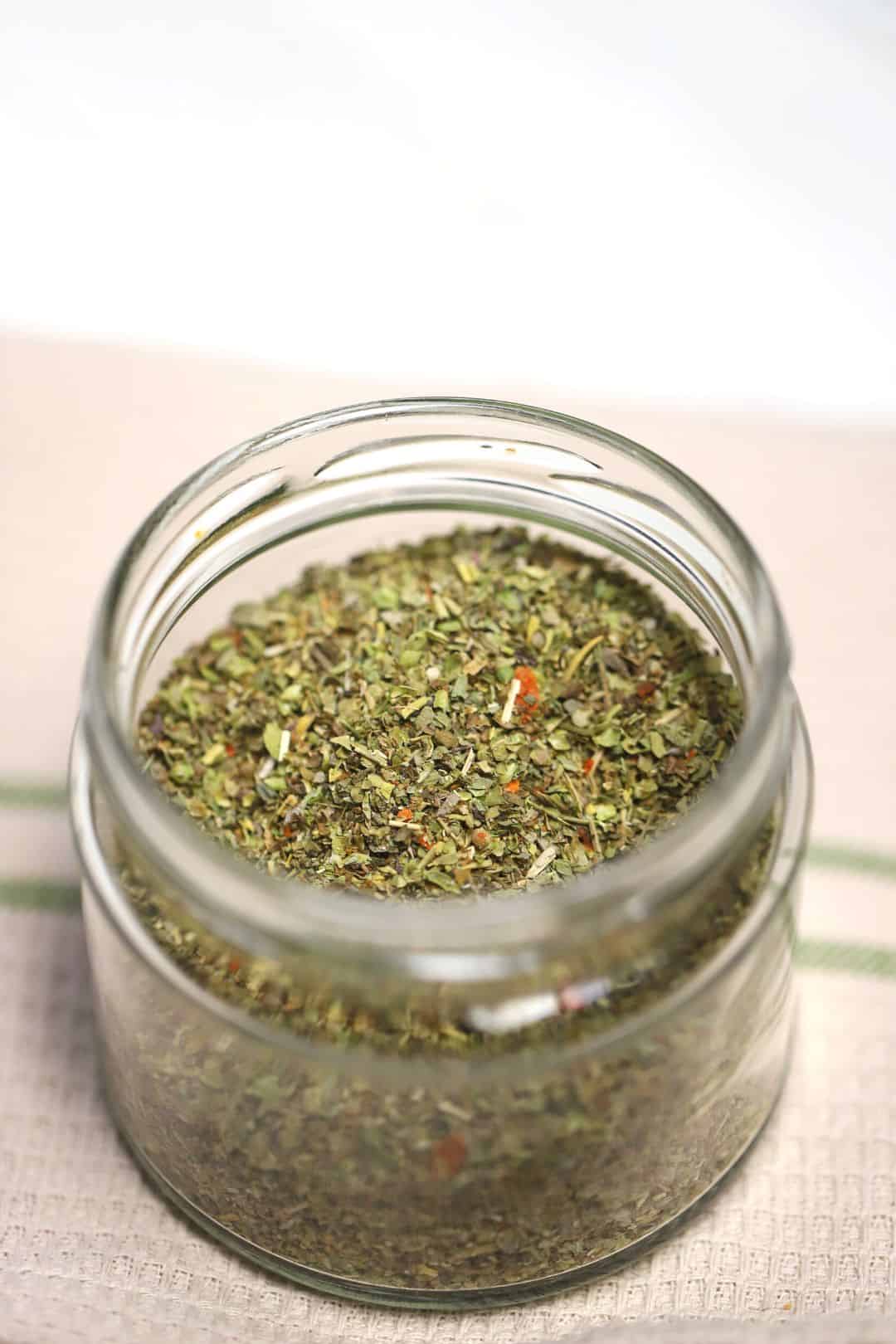 Italian Seasoning Ingredients
This delicious Italian seasoning requires only 8 ingredients you probably already have in your pantry. Here is a list of everything you will need:
Dried Oregano – don't skip this ingredient because it gives the strong and best aroma.
Marjoram – gives a sweeter and more delicate flavor.
Dried Thyme – adds an earthy and savory flavor.
Dried Basil – is mildly peppery and sweet.
Dried Rosemary – perfectly woody and slightly peppery, it pairs great with grilled chicken or pork chops.
Dried Sage – has an earthy, strong herbal flavor.
Garlic Powder – you can all replace it with onion powder.
Red Chili Flakes – give a spicy flavor. You can skip this ingredient if you are not a fan of spicy food.
How To Make Italian Seasoning
I love how easy it is to make this delicious Italian seasoning recipe; in only a few minutes, you can make the best seasoning you will ever try. Here is everything you have to do:
Start by adding all the ingredients to a bowl and mix until well combined.
Then transfer the seasoning mixture to a jar and store it until needed.
Easy, right?
Tips and Variations For This Italian Seasoning
You can choose to blend your seasoning if you want to obtain a fine texture.
You can skip red pepper chili flakes if you don't like spicy food.
The ingredients can be added to the jar directly and shaken to combine.
Make sure you store this seasoning mixture in a dark place away from heat.
Storing Ideas
This Italian seasoning can be stored in an airtight container in a dark and cool place for up to 6 months.
Frequently Asked Questions
How Does Italian Seasoning Taste?
This Italian seasoning is a mixture that gives a savory, earthy, and subtly sweet flavor to recipes that you use it.
Is This Italian Seasoning Sugar-Free?
That's another great thing about this recipe. Since it's a homemade recipe, it doesn't contain any added sugar or other ingredients high in carbs.
Can I Use Other Types Of Spices?
Sure, if this recipe contains ingredients you don't like, you can skip them or replace them with your favorite ones.
How To Use This Italian Seasoning
This Italian seasoning is great for pork, chicken, turkey, croutons, and even for vegetables.
Can You Use Spices After The Expiration Date?
According to the USDA, spices never truly expire and can be used for up to 4 years. So even after 4 years, we can say that they have not expired, only that they will lose their properties and taste.
How To Tell If My Herbs Need To Be Replaced?
To check if the seasoning mixture is still fresh, you will have to smell it, and if there is a strong flavor, you will know that the seasoning mixture is still good.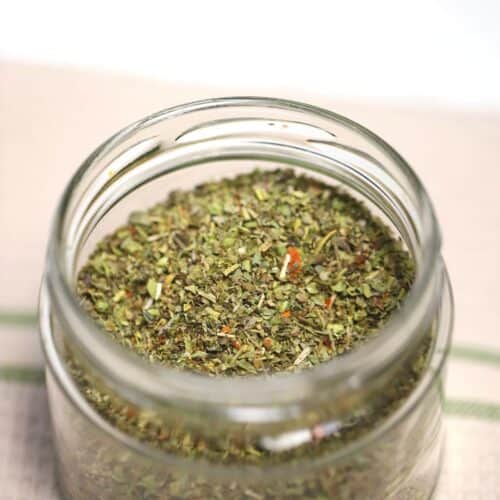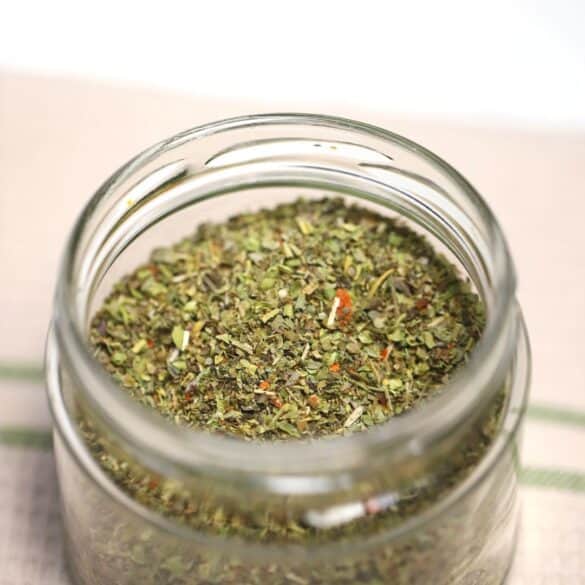 Description
Italian Seasoning is one of my favorite blends of herbs and spices that goes perfectly with almost anything from sauces and marinades for chicken, beef, or pork to pizza and roasted vegetables.
Ingredients
4

tsp

dried oregano

3

tsp

dried marjoram

3

tsp

dried thyme

2

tsp

dried basil

2

tsp

dried rosemary

2

tsp

dried sage

1

tsp

garlic powder

1/2

tsp

red chili flakes

optional
Instructions
Add all the ingredients to a bowl and whisk until well combined.

Transfer the Italian seasoning to an airtight container and store it in a dark, cool place.
Nutrition Facts
Amount per serving.
How do we calculate the nutrition info?
These nutrition facts listed are determined using nutrition information from the USDA Food Database. Our nutrition facts are accurate, but if you are using different products, please make your calculations. Net carb count is calculated by subtracting both fiber and sugar alcohols because they don't raise blood sugar.