Keto Lemon Bar recipe is a delightful sugar-free dessert with a wonderfully balanced sweet and tangy flavor. You'll love the bright yellow color of the sugar-free lemon curd filling, the melt-in-your-mouth shortbread almond crust, and the lusciously thick lemon filling.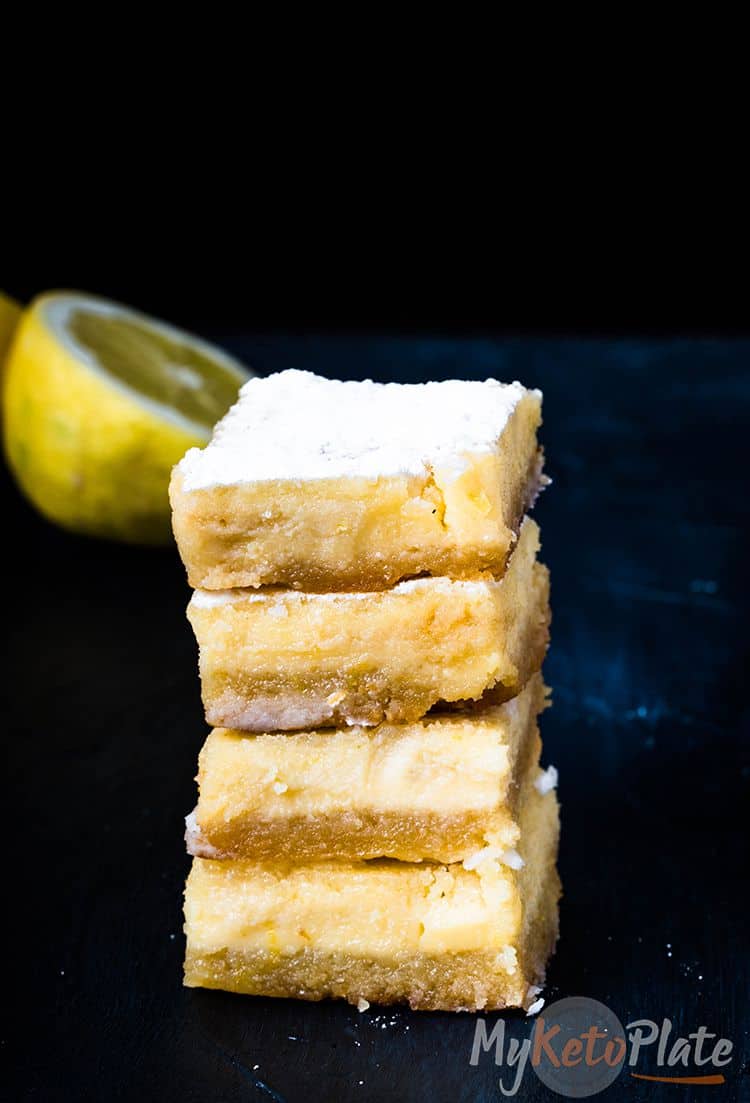 These are the best keto lemon bars and everyone loves them. They are super easy to make with only 7 ingredients, and each square has only 3 grams of net carbs!
I'm a huge chocolate fan, and I bet you are too. But sometimes, I crave a delicious summer lemony treat that I always bring to family gatherings. Nobody ever figures out that they are sugar-free, gluten-free, and keto desserts.
Why You'll Love This Keto Lemon Bars Recipe
The Ultimate Summer Keto Dessert: If you're a lemon lover, this recipe is a dream come true. These keto lemon bars are the perfect summer dessert that will satisfy your cravings while keeping you on track with your low-carb lifestyle.
Refreshing Lemon Flavor: Get ready for a burst of refreshing lemon goodness! These bars are loaded with delicious lemon flavors that will invigorate your taste buds and leave you feeling refreshed and satisfied.
Easy and Low-Carb: With just 7 low-carb ingredients, this recipe is a breeze to make. You don't have to sacrifice taste or your dietary goals to enjoy a delightful dessert. It's a win-win situation!
Dairy, Gluten, and Sugar-Free: These keto lemon bars are naturally free from dairy, gluten, and sugar. They are perfect for those with dietary restrictions or anyone looking for a healthier dessert option without compromising on taste.
Make-Ahead: Planning ahead? These bars can be made in advance, allowing you to enjoy a stress-free dessert experience. Whip them up ahead of time, refrigerate, and indulge whenever you desire.
Are Lemon Bars Keto Friendly?
Traditional lemon bars contain ingredients like flour and sugar, which are not good for a keto diet since they are too high in carbs. However, it is possible to make keto-friendly versions of lemon bars by using alternative ingredients, just like in the recipe provided.
Keto Lemon Bars Ingredients
The ingredients for these keto lemon bars have an almond flour shortbread crust, topped with a divine lemon topping. I'm grateful for almond flour and low carb sweetener because I have to opportunity to bake such delicious treats that everyone loves.
Unsalted Butter: Melted Butter is used in the shortbread crust and it's an essential ingredient making the base buttery and extremely decadent.
Sweetener: In this recipe, I use both granulated erythritol and powdered erythritol. It's essential to use granulated sweetener for the crust and powdered for the lemon filling to make it smooth and creamy.
Almond Flour: Almond flour is used both in the crust and the lemon filling because it helps with the texture and structure. I recommend using extra fine almond flour to be sure your lemon bars won't turn grainy.
Vanilla Extract: I use vanilla extract in the shortbread crust to enhance the taste.
Salt: A pinch of salt to balance the sweetness is perfect!
Eggs: Eggs bind everything together and give structure.
Lemon Juice: My suggestion is to use freshly squeezed lemon juice for the best flavor. You can also use lime juice or orange juice (not low carb).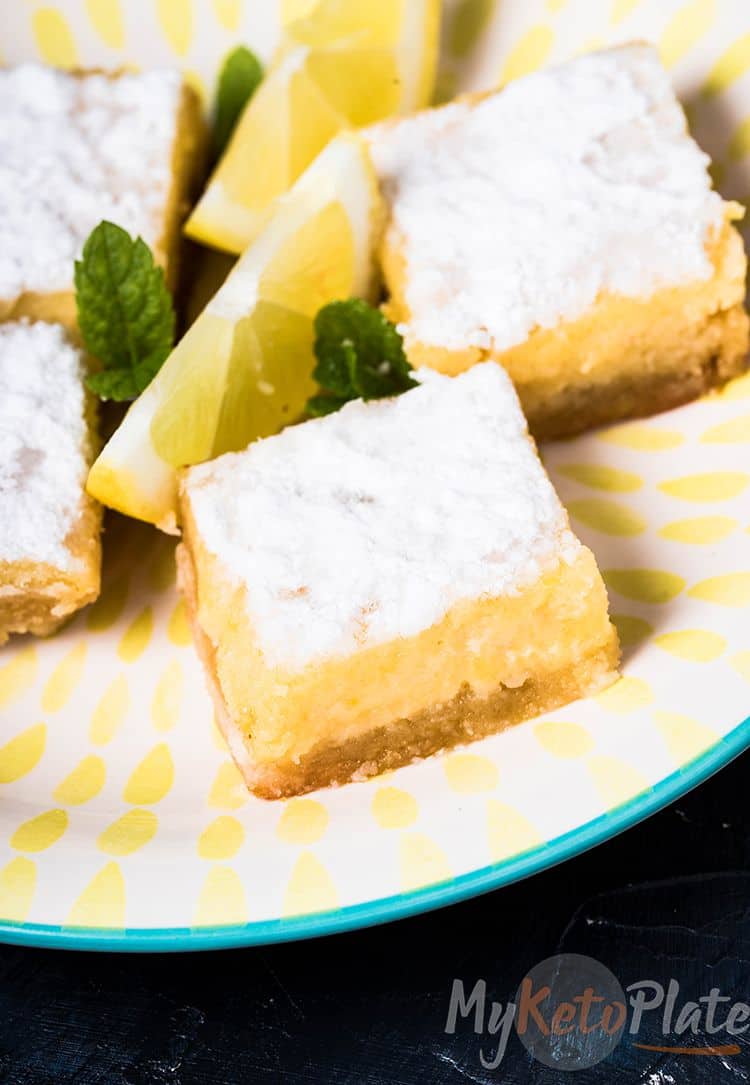 How to Make Keto Lemon Bars?
This recipe is incredibly quick and easy to make. You'll need to make a keto shortbread crust and a lemon filling. Follow a few easy steps to make perfect low carb lemon bars:
Prepare the crust: Mix all the ingredients for the shortbread crust and evenly press into an 8×8 inch glass baking pan lined with baking paper.
Bake the crust: Pre-baking the crust will ensure two beautiful layers.
Make the lemon filling: Just mix all the ingredients for the crust and wait for the crust to slightly cool down.
Bake the lemon bars: Bake again for 22-25 minutes or until the lemon filling is set.
Cool: Remove the bars from the oven and allow them to completely cool down before serving.
Dust with powdered sweetener and cut into 16 squares and enjoy!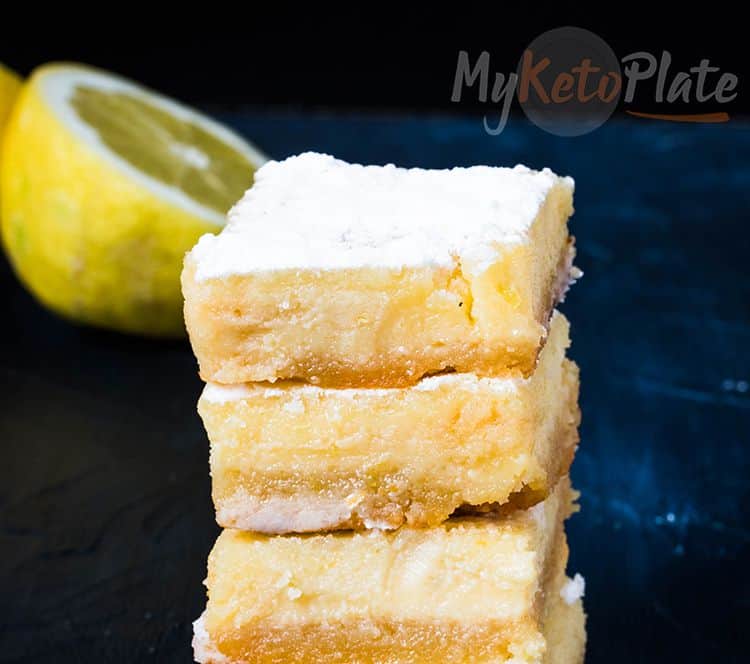 Tips to Make The Best Lemon Bars Every Time
Use freshly squeezed lemon juice – For that depth of flavor, I recommend using fresh lemon juice. I know it's convenient to get bottled lemon juice, but you'll miss the flavor.
Do not overbake! Keep a close eye on your lemon bars during baking to prevent overcooking. If you notice cracks forming on the top, it's a sign that they are overcooked. However, don't worry! These low-carb lemon squares will still be incredibly delicious. Simply dust them generously with powdered sweetener to add extra sweetness.
Use powdered sweetener – To achieve a creamy texture in your lemon bars, it's essential to use powdered sweetener. As mentioned earlier, this step is crucial for obtaining the desired consistency and flavor. Make sure to use a powdered sweetener for the best results.
Serving Ideas
Whipped Cream: Top your lemon bars with a dollop of fluffy whipped cream for an extra indulgent touch.
Mint Leaves: Garnish with fresh mint leaves for a pop of color and a refreshing flavor complement.
Lemon Zest: Sprinkle some lemon zest on top for an extra citrusy punch and a beautiful presentation.
Powdered Sweetener: Dust the bars with powdered sweetener to add a touch of sweetness and a beautiful finishing touch.
Toasted Coconut Flakes: For a tropical twist, sprinkle toasted coconut flakes on top of your lemon bars for added texture and flavor.
Sliced Almonds: Add a delightful crunch by sprinkling sliced almonds on top of your bars.
Berries: Serve alongside fresh berries like strawberries, blueberries, or raspberries for a burst of fruity goodness.
How To Store Keto Lemon Bars
Refrigerator: Place leftover lemon bars in an airtight container and store in the refrigerator for up to 2 weeks.
Freezer: Freeze lemon bars for up to 3 months and thaw overnight in the refrigerator when ready to enjoy!
Other Recipes You Might Like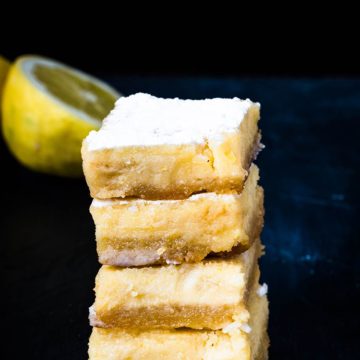 Description
Keto Lemon Bars are a delightful sugar-free recipe with a wonderful balanced sweet and tangy flavor. You'll love the bright yellow color, the melt-in-your-mouth shortbread almond crust, and the lusciously thick lemon filling.
Instructions
Preheat the oven to 350F / 180C. Line an 8X8 baking glass pan with parchment paper and set aside.

Make the crust: In a large bowl, using an electric mixer or a food processor, combine the crust ingredients: almond flour, melted butter, erythritol, vanilla extract, and salt.

Firmly press the thick dough into the prepared pan, making sure the crust is evenly distributed. Bake for about 15-20 minutes or until the edges are lightly golden brown.

Prepare the lemon filling: Sift the powdered sweetener, almond flour in a large bowl. Juice the lemons and add them to the bowl.

Over the lemon juice, add the room temperature eggs, lemon zest and whisk until well combined.

Pour the lemon filling over the warm crust. Bake for 22-25 minutes or until the filling looks set. Remove lemon bars from the oven and allow them to completely cool down at room temperature, then stick in the refrigerator for at least 2 hours before serving.

Use a sharp knife to cut them into squares. Enjoy!
Notes
How to store lemon bars? Store the leftover keto lemon bars in an airtight container for up to one week.
Don't use a hand mixer because overmixing the ingredients because they will crack when baked.
Nutrition Facts
Amount per serving.
How do we calculate the nutrition info?
These nutrition facts listed are determined using nutrition information from the USDA Food Database. Our nutrition facts are accurate, but if you are using different products, please make your calculations. Net carb count is calculated by subtracting both fiber and sugar alcohols because they don't raise blood sugar.