This hearty keto chili is ultra delicious, made without beans but loaded with all that traditional chili flavor. Don't forget the cornbread to serve this classic low carb chili that's perfect for a comforting weeknight meal.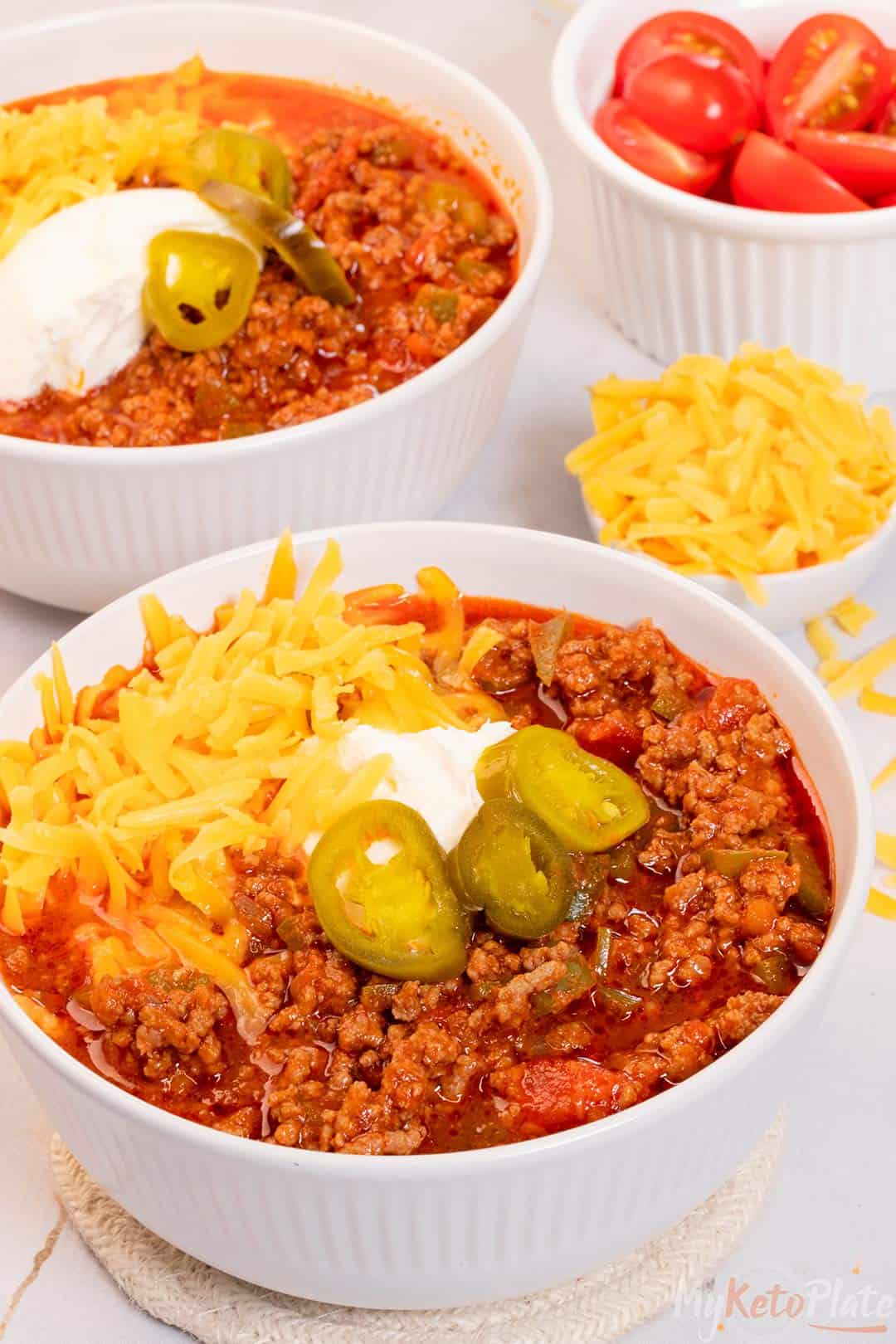 On cold days we want warm and delicious meals, and this keto chili recipe is the perfect choice for a fall culinary treat, like my keto pumpkin soup, taco soup, and keto broccoli cheddar soup.
Chili is a Mexican recipe , and there are many variations of this dish, but the essential ingredients are ground beef, hot peppers, onions, garlic, and tomatoes. It can be served very well with some crispy tortillas, fried rice, or a slice of keto cornbread.
If you haven't tried this recipe yet, it's time to do it. It is highly appreciated in our house, being a hearty dish that is easy to cook and full of flavors thanks to the spices.
So if you like hearty dishes with a spicy taste, we invite you to try this keto chili recipe, which is perfect for one of the day's main meals. 
Keto Chili Video Recipe
Why Are You Going To Love This Low Carb Keto Chili Recipe
Super easy to make with just 15 minutes of prep.
Doesn't contain any beans.
It's extremely versatile. It can be served in many ways according to your taste.
It can be made ahead of time.
Made from naturally low-carb ingredients.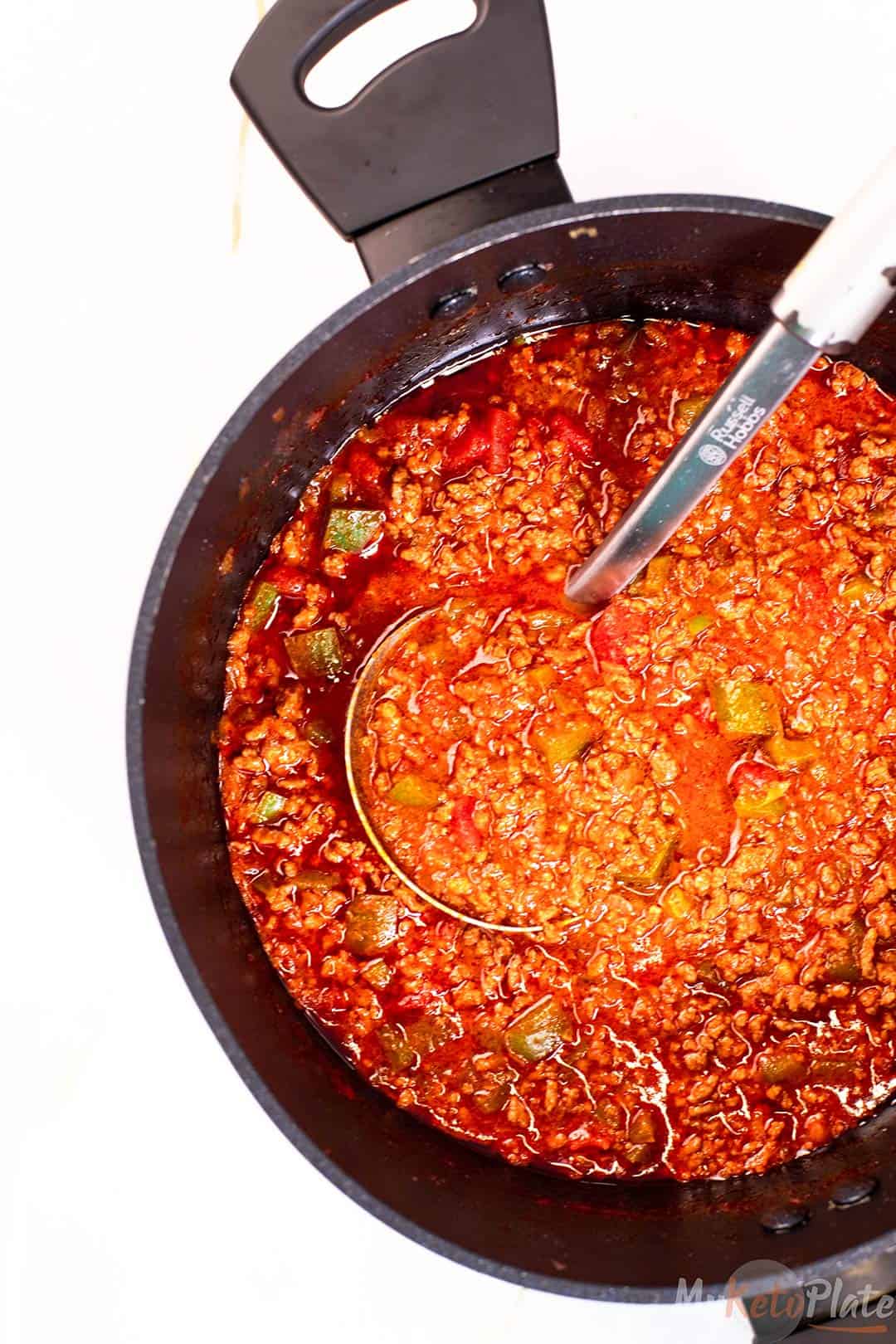 Is Chili Keto-Friendly?
No, regular chili recipe made with beans (which are extremely high in carbs) is not keto.
But fortunately, you can make a delicious keto chili recipe without beans that tastes like the regular one but with fewer carbs.
Ingredients For This Keto Chili Recipe
You will need just some easy-to-find ingredients that you probably have already in your pantry. Here is everything you will need: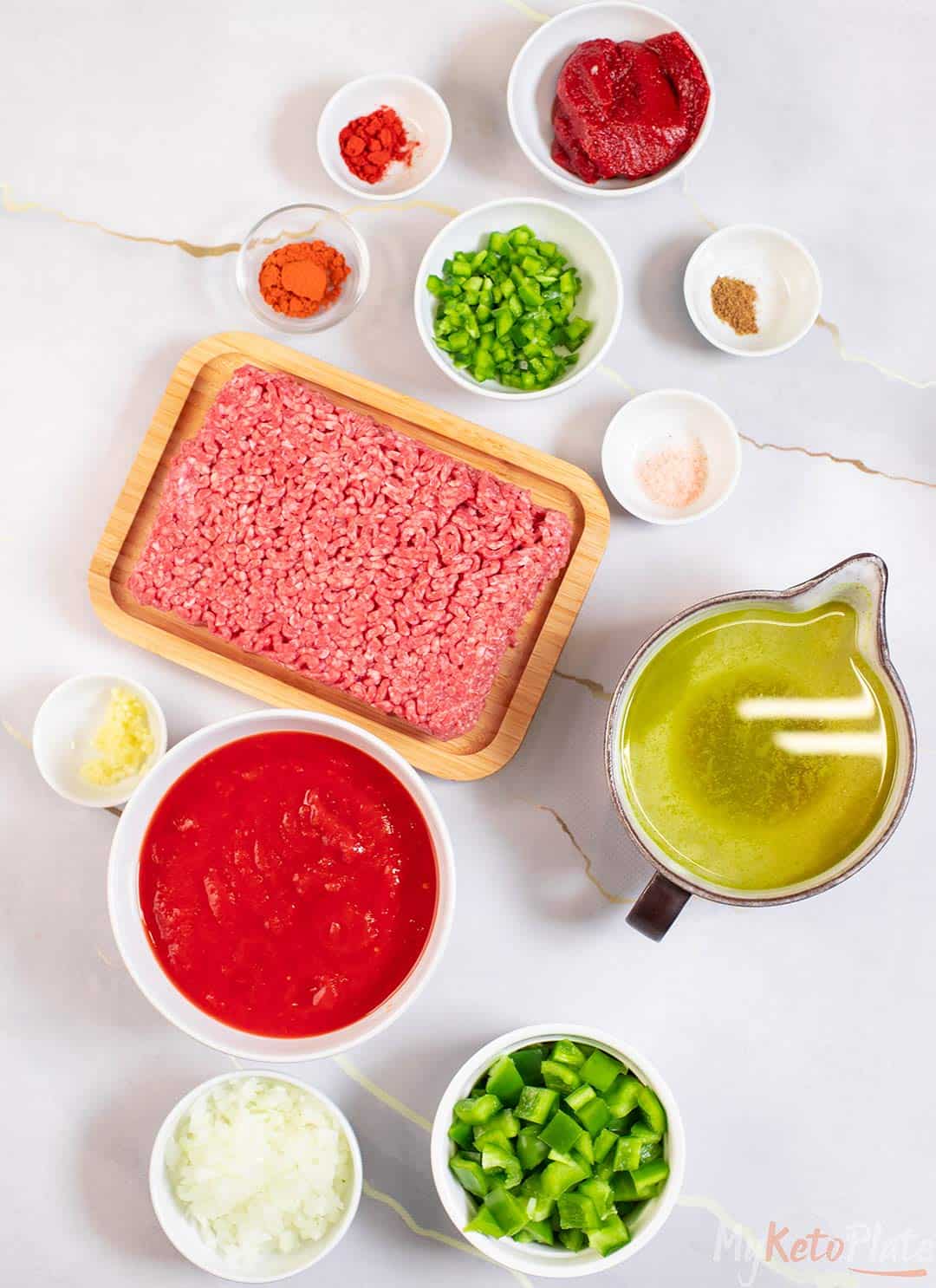 Ground Beef – You can use any type of ground beef you like, but I suggest using 85% lean meat for the best flavor and browning.
Onion – you can use yellow or red onion. Both types are fine for this recipe.
Olive Oil – you can use any vegetable oil you like or replace it with butter.
Garlic Cloves – fresh minced garlic is the best for this recipe.
Pepper – you can add any bell pepper. I like to add green or red pepper for a colorful dish.
Crushed Tomatoes and Tomato Paste – creates that delicious chili sauce and gives this dish a sour and sweet flavor.
Chili Powder – gives a mild and slightly spicy flavor to this dish.
Ground Cumin – gives a unique flavor to this dish. You can skip it if you are not a fan of it.
Salt&Pepper – to taste.
How To Make This Keto Chili Recipe
This delicious recipe is extremely simple to make. All you have to do is to combine the ingredients and let them cook to enhance all the flavors. Here is everything you have to do:
1. Start by heating the olive oil in a pot over medium-high heat.
2. Chop the onion and mince the garlic. Sautee for about 5 minutes or until translucent. Add the ground beef and break it apart using a spatula.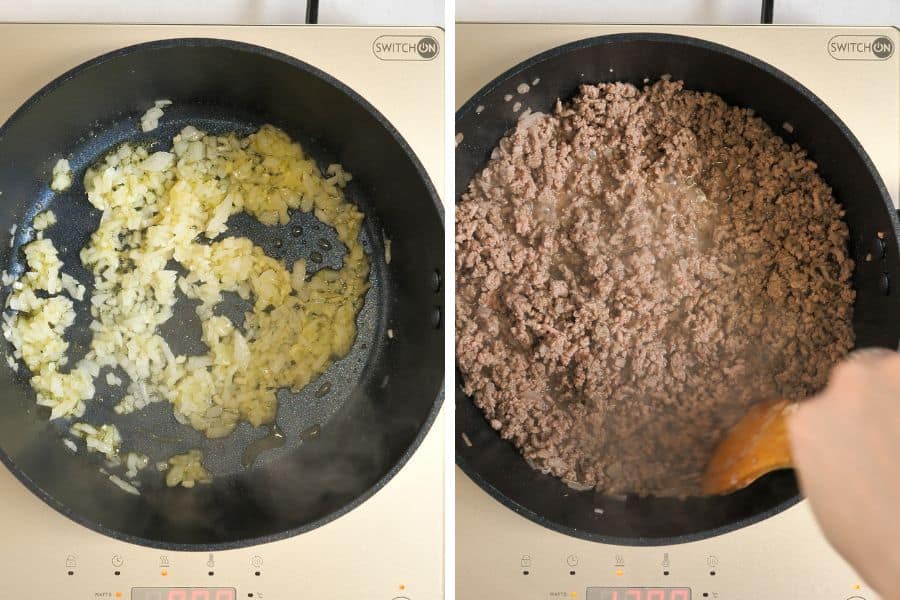 3. Add the rest of the ingredients over the meat and mix until well combined. Bring the mixture to a boil, then let it simmer on medium heat for about 25 minutes.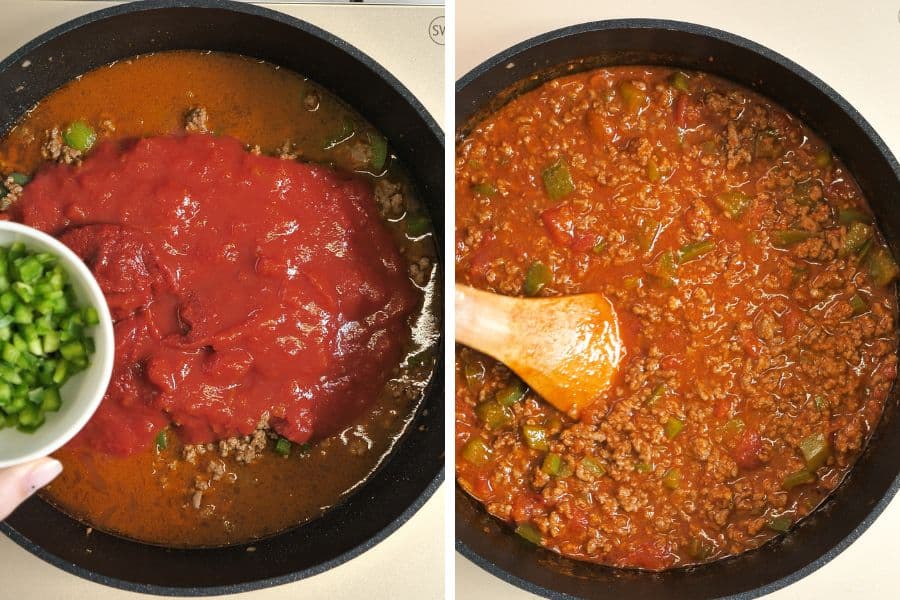 4. Adjust your chili according to your taste and let it rest for a few minutes before serving it.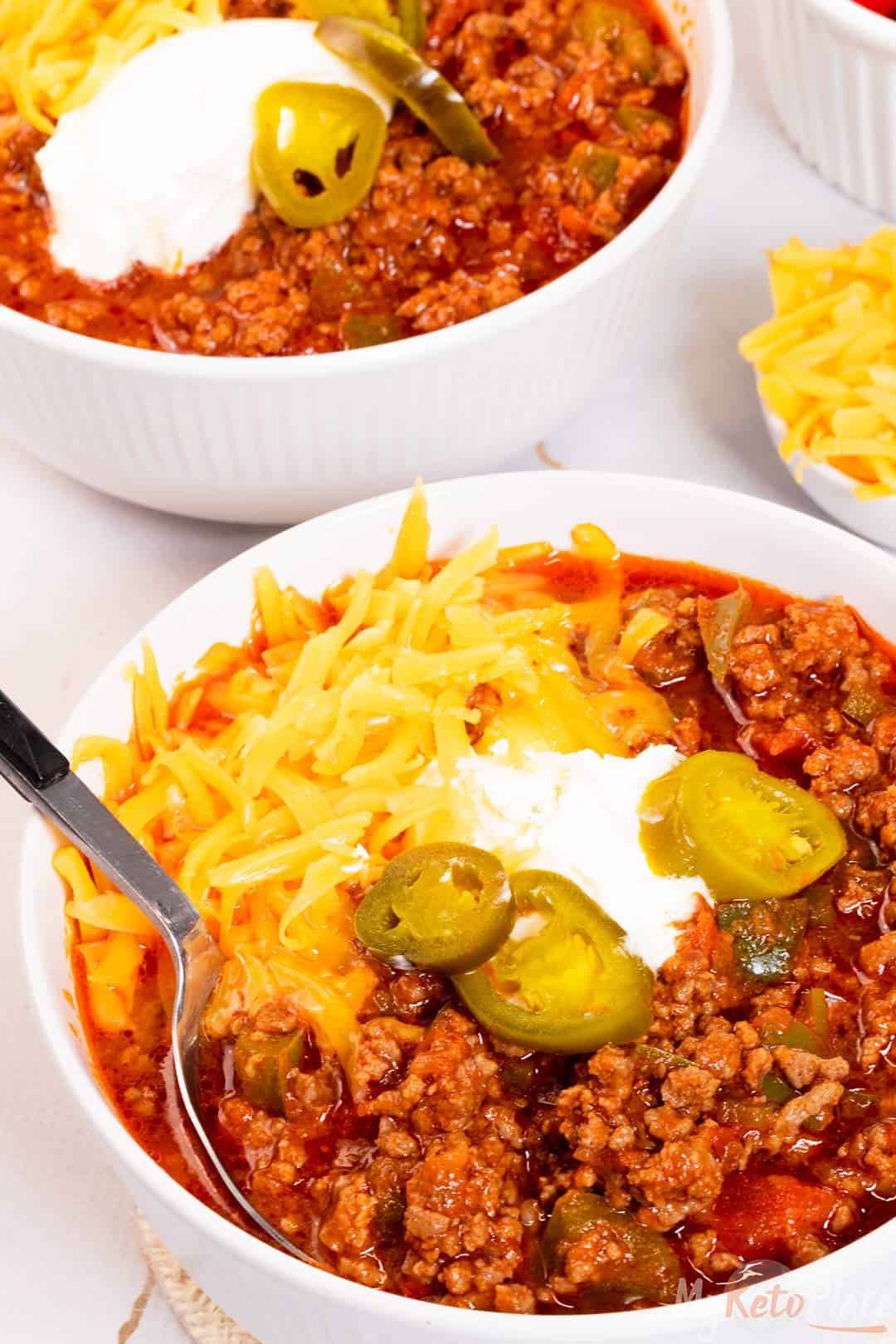 How To Serve
Another great thing about this low carb chili recipe is that it can be served in many different ways according to your taste. Here are some ideas:
You can top it with shredded cheddar cheese, sour cream, and a few slices of avocado.
Top with some jalapeno slices.
Make a keto cornbread and dip it in the juicy sauce of this chili recipe.
Another great idea is to garnish this chili soup with some slices of red onion or chopped green onion.
It's also great served with some tortilla chips.
Tips Variations For Making The Best Keto Chili Recipe
If you want a more intense and delicious flavor, I recommend using ground beef with higher fat content.
If you like spicy chili, you can add some red pepper chili flakes.
You can replace ground beef with ground turkey or ground chicken if you want to save money and cut calories.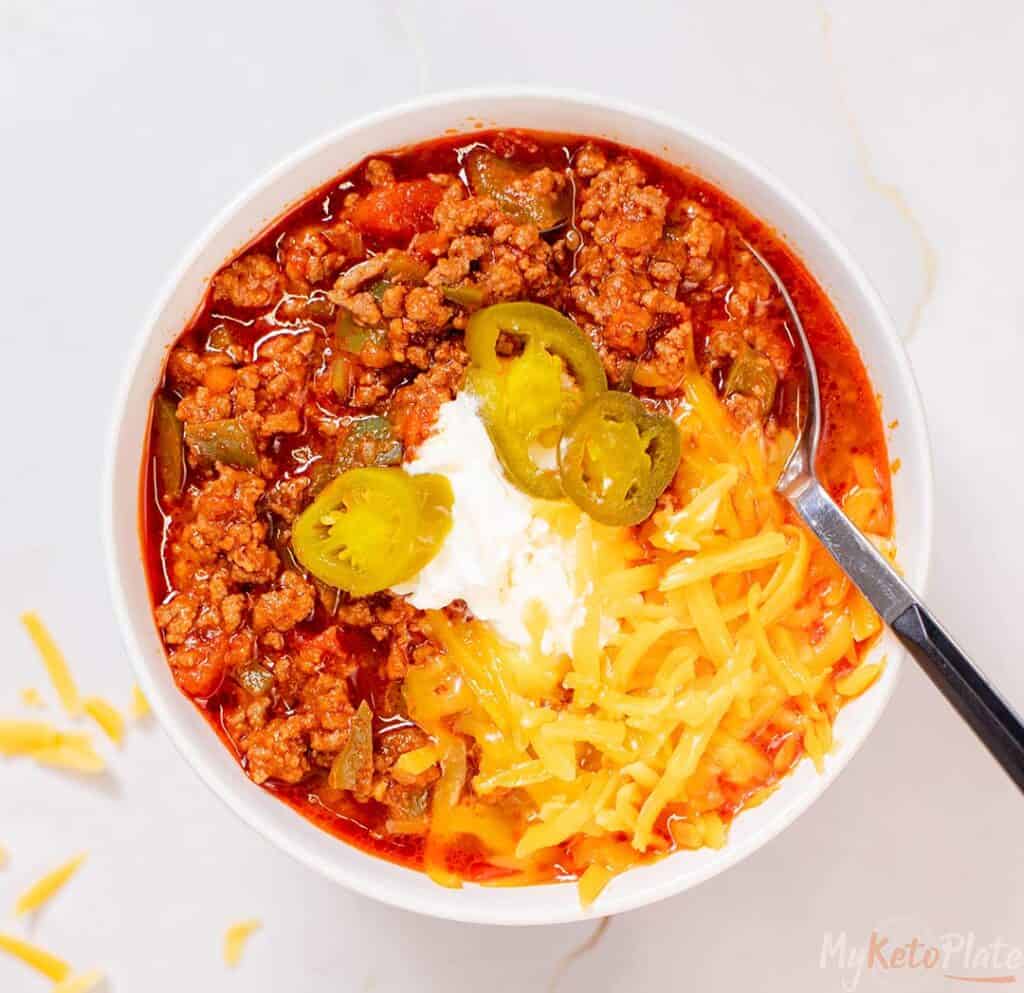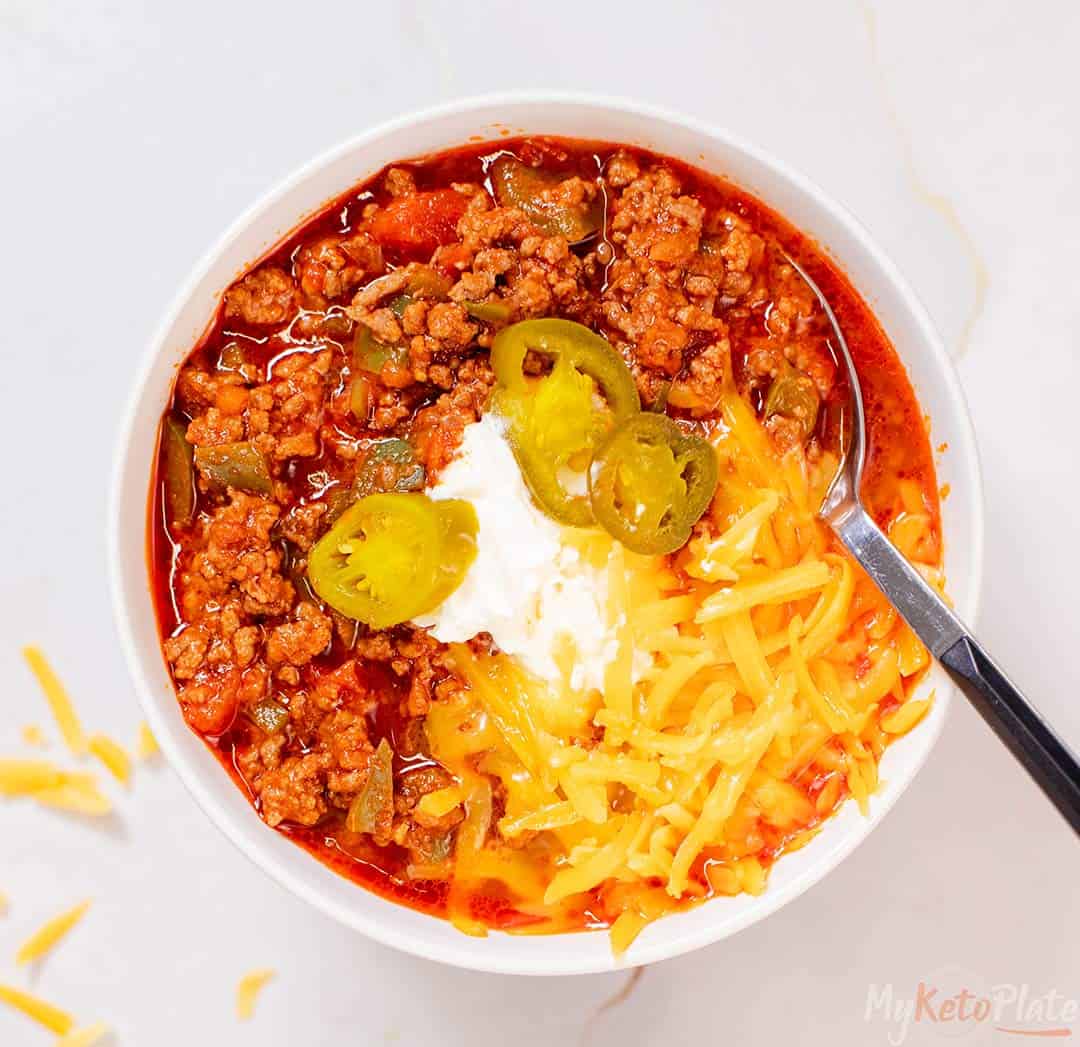 Storing Ideas
Fridge – You can store the leftover chili in an airtight container in the refrigerator for up to 5 days.
Freezer – This keto chili can also be stored in the freezer. Put the cooled leftover chili in freezer bags and store them in the freezer for up to one month.
When you want to eat the chili, defrost the leftovers in a saucepan with a lid on.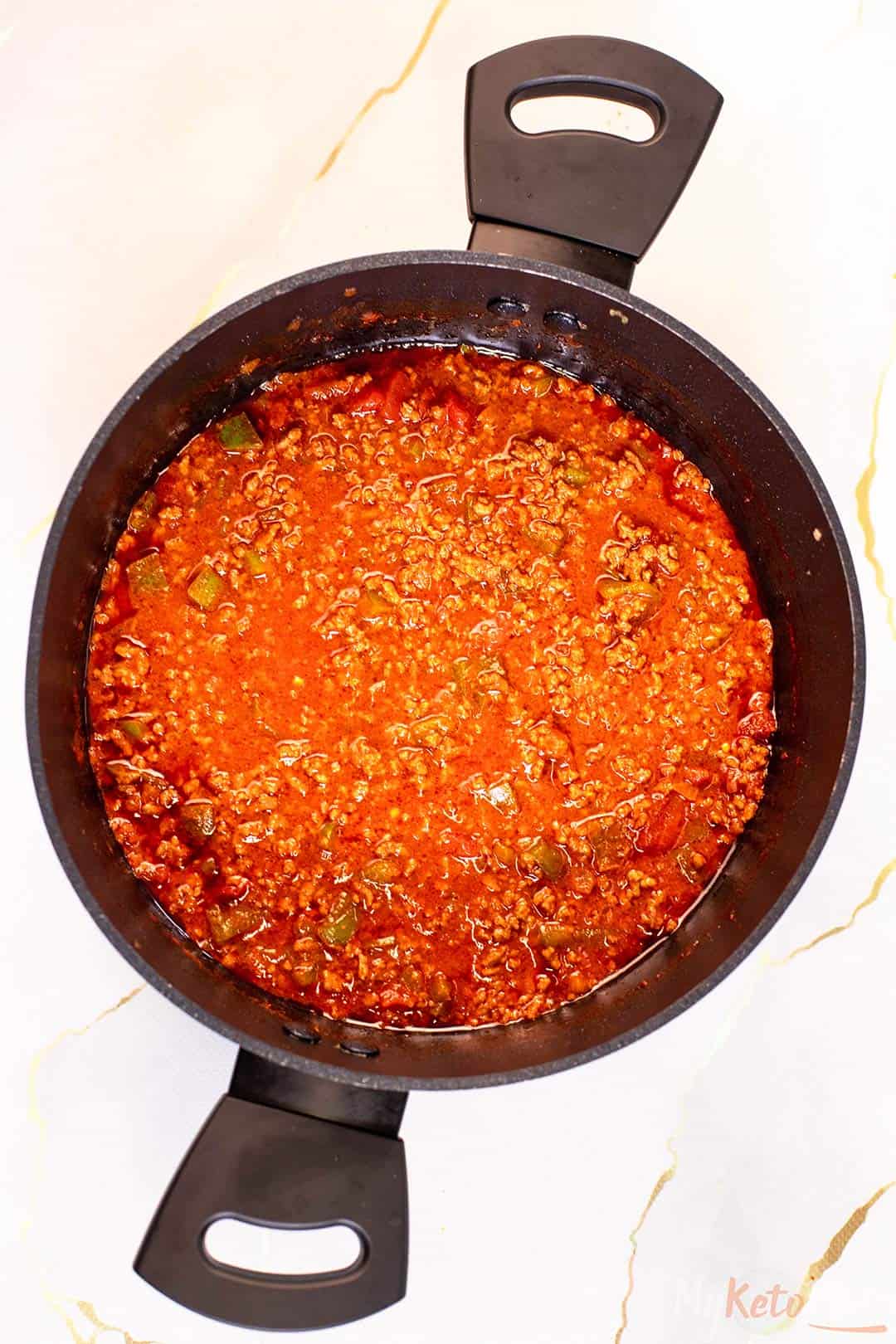 Frequently Asked Questions
Is Chili Healthy?
Sure, this chili recipe can be included in healthy recipe categories since it's made with ingredients packed with nutrients that are good for your health.
How To Thicken This Keto Chili Recipe?
If you want a thicker keto chili, you should remove the veggies from the chili and simmer until the sauce reaches the right consistency. This step will help chili thicken without using any flour or cornstarch.
Can I Make This Recipe In A Slow Cooker?
Definitely, yes, you can also make this recipe using a slow cooker.
Start by sautéing the onion and garlic in a skillet, then add the meat and cook until the meat is brown. Transfer the mixture to the slow cooker with the rest of the ingredients and cook on low for 6 hours.
Can I Make Instant Pot Chili?
Sure, this keto chili will taste the same as delicious if you want to make it in an instant pot. Start by browning the ground beef in the instant pot using the saute setting, then add the rest of the ingredients, place the lid on, and set to sealing. Set pressure for the following five minutes, then quickly release it, and you can enjoy it.
Can I Make This Recipe Ahead Of Time?
Sure, this is a great recipe to prepare ahead of time and store in the fridge to enjoy anytime you are too busy to cook dinner. And then, you need to reheat it in the microwave and enjoy.
Can I Make This Recipe With Ground Turkey?
Sure, this recipe is the same as delicious if you replace the ground beef with lean ground turkey.
Is There A Secret In Keto Chili Recipe?
Many traditional recipes say that a secret ingredient makes everything taste, even batter in chili recipes (which is hard to believe). And that ingredient is sugar. So you can choose to add a low-carb sugar substitute or maple syrup, to enhance all the delicious flavors from this chili recipe.
More Keto Soups Recipes
Creamy Keto Pumpkin Soup – This creamy keto pumpkin soup is thick, aromatic, and ultra comforting.
Creamy Keto Taco Soup – This Keto Taco Soup is loaded with your favorite Mexican flavors, packed with protein, and super filling.
Keto Broccoli Cheddar Soup – This keto broccoli cheddar soup is packed with tons of mouthwatering flavors without all the hidden carbs.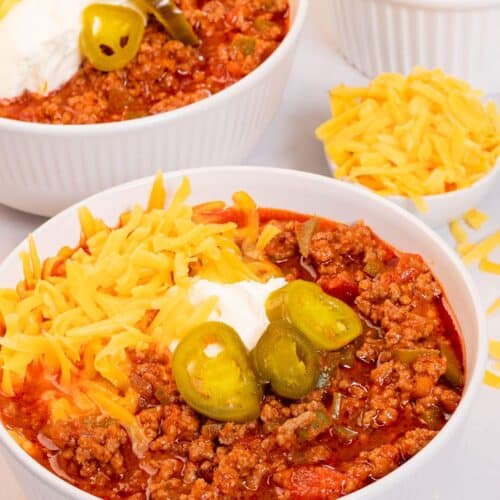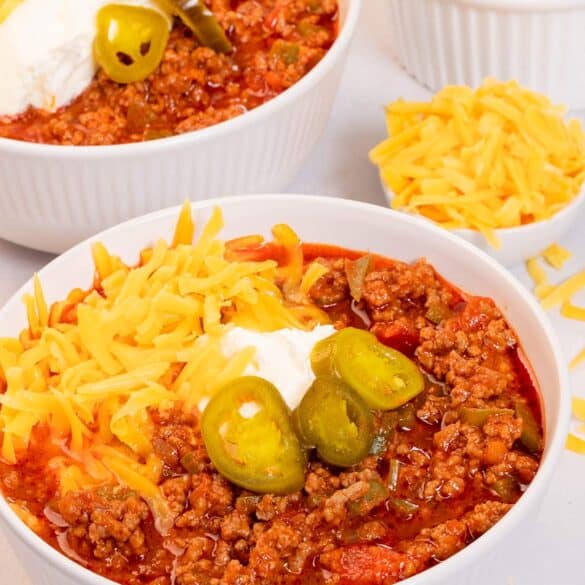 Description
Made with a few easy ingredients and extremely easy to make, this hearty keto chili is a Mexican recipe slightly spicy, extremely tasty, and filled with a lot of flavors!
Ingredients
1

pound

ground beef

1

medium

yellow onion

1

tbsp

olive oil

3

garlic cloves

minced

1

jalapeno

minced

1

medium

green pepper

chopped

1/2

cup

beef broth

or water

1

14 oz

can of crushed tomatoes

2

tbsp

tomato paste

2

tbsp

chili powder

1

tbsp

ground cumin

1/4

tsp

ground cayenne pepper optional

1/2

tsp

ground black pepper

1 1/2

tsp

salt
Instructions
Heat the olive oil in a large pot over medium-high heat. Cook the onion, and garlic for about 5 minutes or until tender.

Add the ground beef and break it apart using a spatula. Cook for about 10 minutes or until the meat is browned.

Add the rest of the ingredients and stir well.

Bring the mixture to a boil, then reduce the heat and simmer for about 25 minutes, stirring occasionally.

Add more seasonings to taste.

Let the chili rest for a few minutes to enhance the flavors before serving it.
Nutrition Facts
Amount per serving.
How do we calculate the nutrition info?
These nutrition facts listed are determined using nutrition information from the USDA Food Database. Our nutrition facts are accurate, but if you are using different products, please make your calculations. Net carb count is calculated by subtracting both fiber and sugar alcohols because they don't raise blood sugar.