These turkey stuffed peppers are delicious, perfect for a quick dinner that everyone will love. Filled with ground turkey, marinara sauce, and topped with cheese, enjoy a truly tasty stuffed peppers recipe that's ready in just 30 minutes.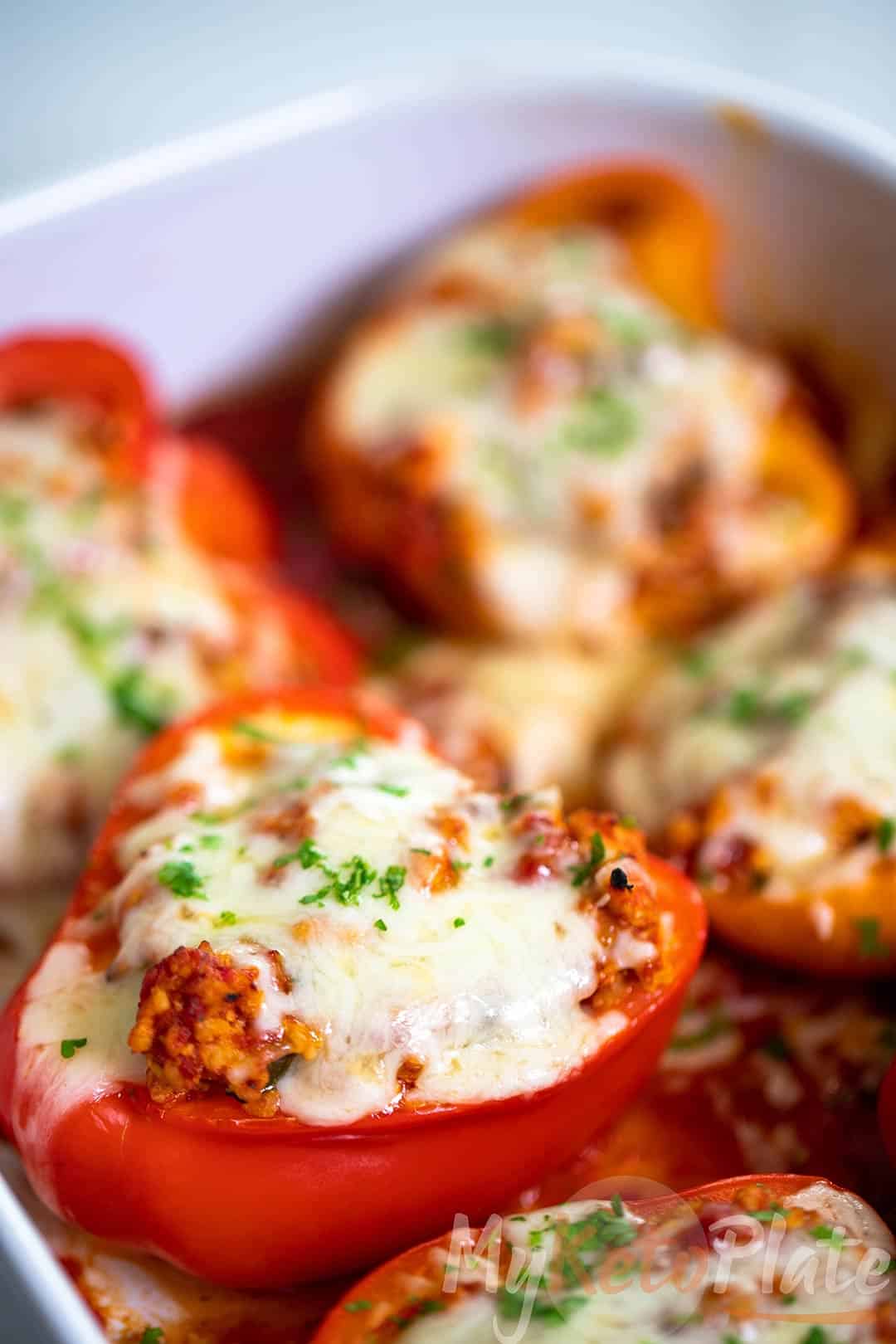 Ground turkey stuffed peppers are healthy, keto-friendly, kid-friendly, and super meaty.
If you love stuffed peppers but think you can no longer enjoy them if you follow a keto diet, let me tell you otherwise. We'll show you how easy u you can make keto stuffed peppers with ground turkey that will quickly become one of your family's favorite dinners.
What Are Stuffed Peppers?
Stuffed peppers are a recipe known in many parts of the world. The common ingredients in almost all recipes are peppers, ground beef, rice, and tomato sauce. You will be surprised to learn that this is a super customizable recipe that can be made without meat for a vegan but equally delicious version.
Are Stuffed Peppers Keto-Friendly?
Traditional stuffed pepper recipes are not keto because they contain rice or other high-carbohydrate ingredients. But fortunately, we can also make the keto version of these peppers by skipping rice or simply replacing the rice with other ingredients that are lower in carbs. So, for example, you won't miss the rice when we substitute it with chopped zucchini for some extra texture.
Stuffed peppers are easier to make than they look, and the leftovers taste even better the next day. Bonus, we include so many colorful vegetables that are fresh and super flavorful.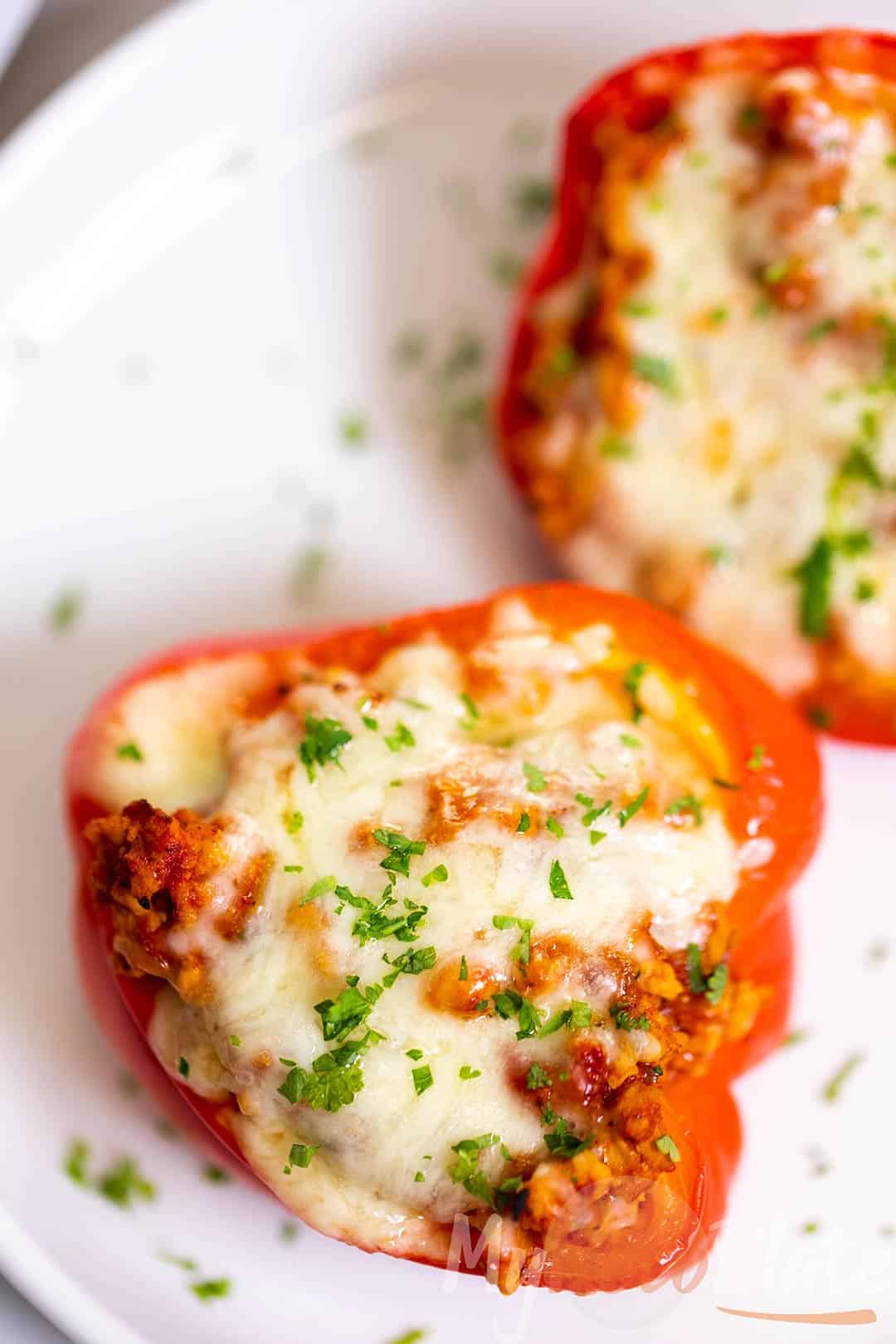 Are Peppers Keto-Friendly?
Because red peppers are low in carbohydrates and have excellent macros, they are acceptable on a ketogenic diet. According to the USDA website, one cup of sliced peppers has the following nutrients:
Carbohydrates: 5.5g
Fiber: 1.8g 
Calories: 24 kcal
Protein: 0.91g
Fats: 0.28g
Watch this quick video to see how to make the best turkey stuffed peppers.
Why Are You Going To Love Stuffed Peppers with Ground Turkey
Easy to make.
It's a gluten-free, low-carb keto recipe that everyone loves.
You can make it your way by adding your favorite ingredients.
Leftovers taste even better.
Ingredients For Turkey Stuffed Bell Peppers
Although the list of ingredients may seem long, after reading it, you will see that some ingredients are easy to find, and maybe you already have them in your kitchen.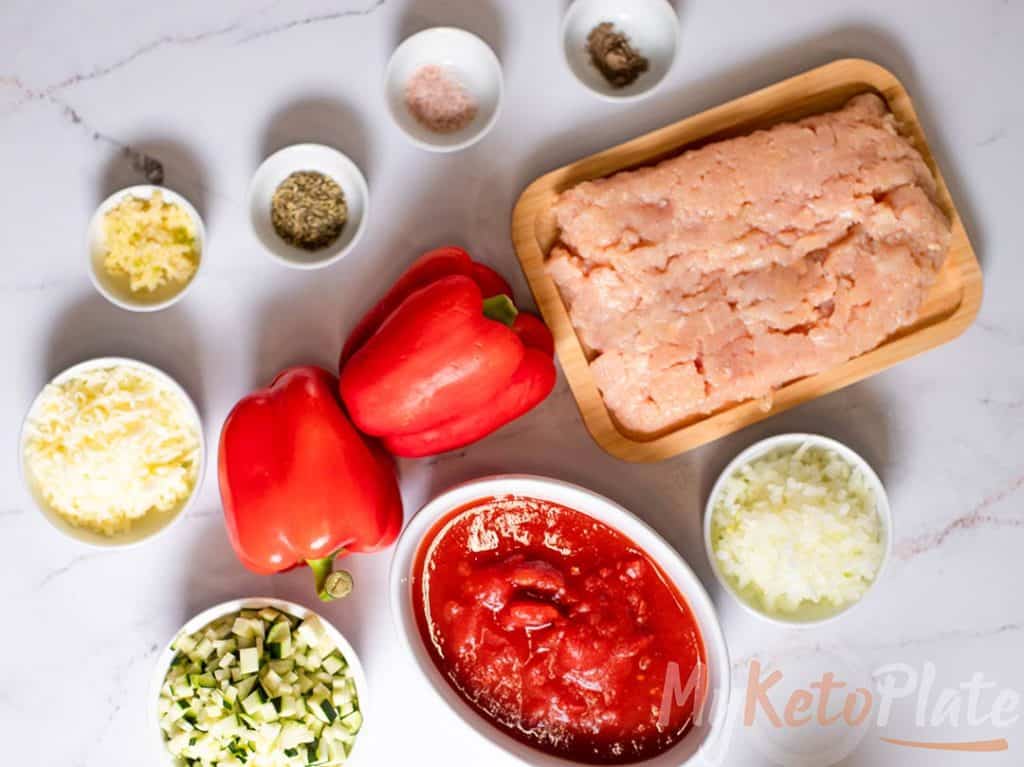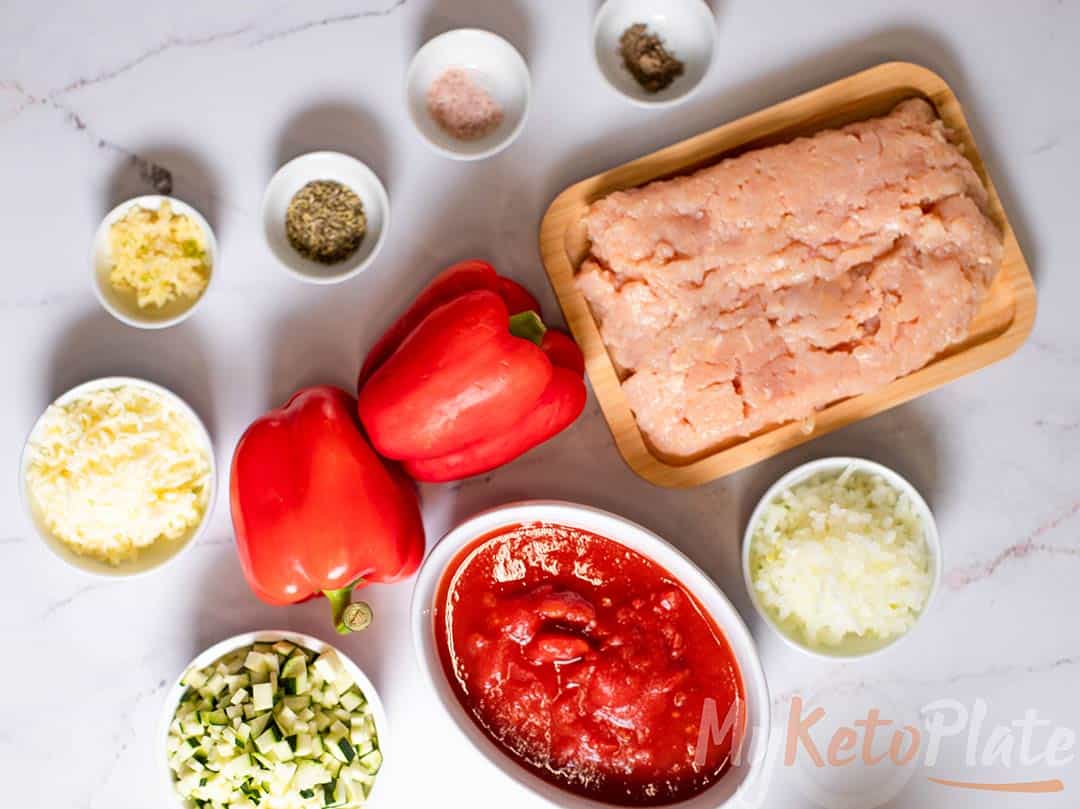 Bell Peppers- bell peppers are the best, either green, yellow or red. Avoid thin peppers and go for wide, large ones.
Ground Turkey- This type of meat is used for a lighter version. But you can also easily use minced chicken or beef.
Onion- Make sure you chop them extremely well.
Garlic – Fresh one is always the best for this recipe. I don't usually use garlic powder for this recipe because it loses its flavor when cooking. Even more, I like adding a little extra garlic for a more intense taste.
Zucchini – this is one of my favorite vegetables. Either grate it or chop it. It will taste delicious in the stuffed mixture while adding some extra nutrients.
Marinara Sauce– Look for a pasta sauce that has no sugar added or replace with fire-roasted tomatoes.
Italian Seasoning – you can make this mix at your home and use it whenever you want it. Italian seasoning is one of my favorite herb and spice mixes, and I use it to season just about everything.
Mozzarella Cheese – I think this cheese is the best choice when you want to have a dish with a delicious layer of melted cheese on top. You can also sprinkle some parmesan too.
How To Make the Best Ground Turkey Stuffed Peppers
Before I started making this recipe, I used to think that it was quite complicated to prepare, but after I made it for the first time, I chose to prepare this dish when I wanted to make something easy to cook. So here is how to make it: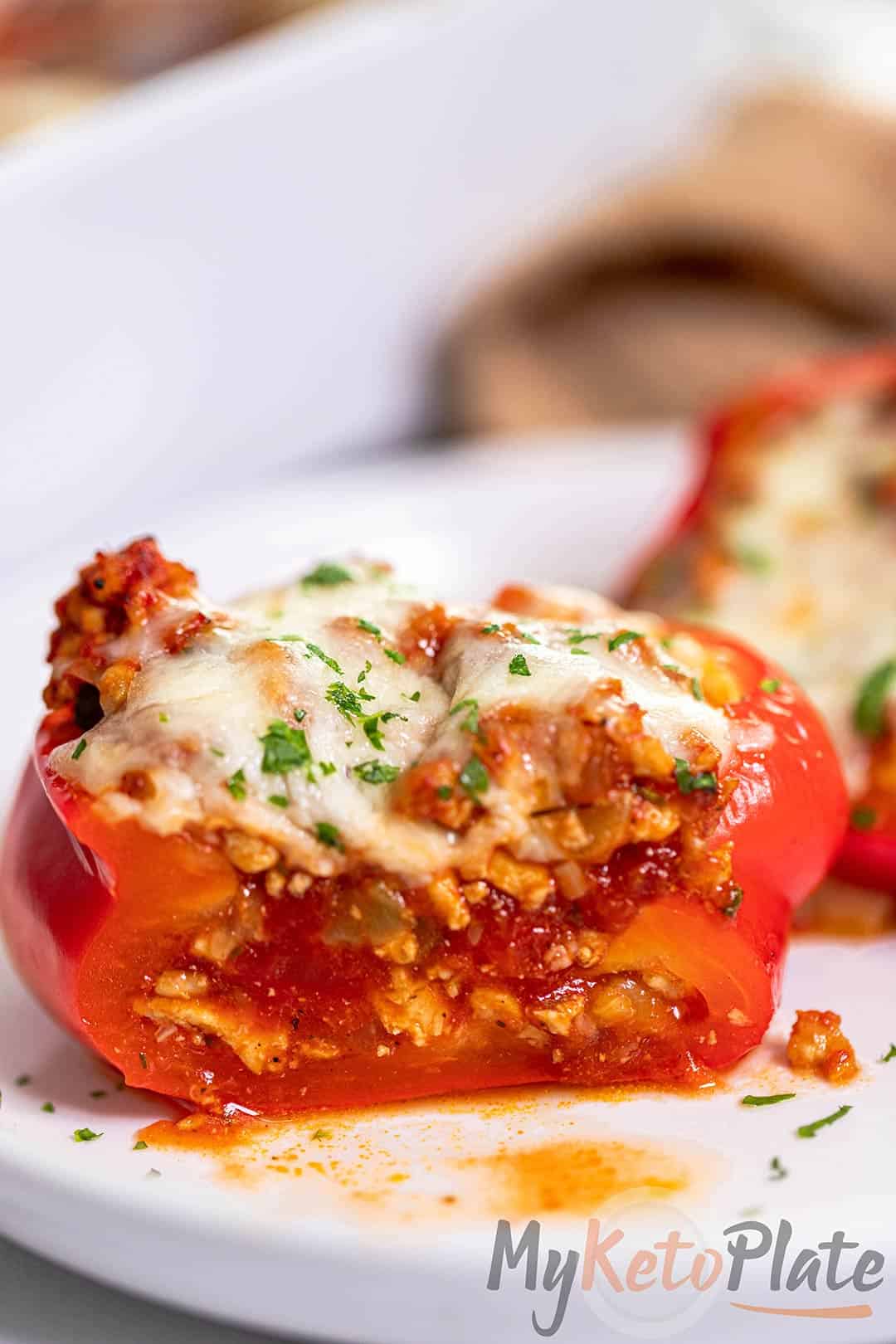 Prepare the peppers- First, you have to cut them in half and remove any seeds and membranes.
Second, you will have to microwave the peppers for about two minutes until they are barely softened. You can also boil them for three minutes and drain them well.
Make the stuffing- Cook the meat with onion and garlic until there are no more pink pieces of meat. Add the zucchini and cook the mixture for another four minutes.
Now you can add the marinara sauce, and the seasonings. Simmer for about five minutes.
Assemble the stuffed peppers– Arrange the peppers into a 9×14 in the baking pan. Start by putting some sauce at the bottom of the pan, then place the pepper fill them with the meat mixture.
Cover the tray with aluminum foil and bake for 25 minutes in the preheated oven. Remove the foil, top the peppers with mozzarella cheese and bake for another 10 minutes.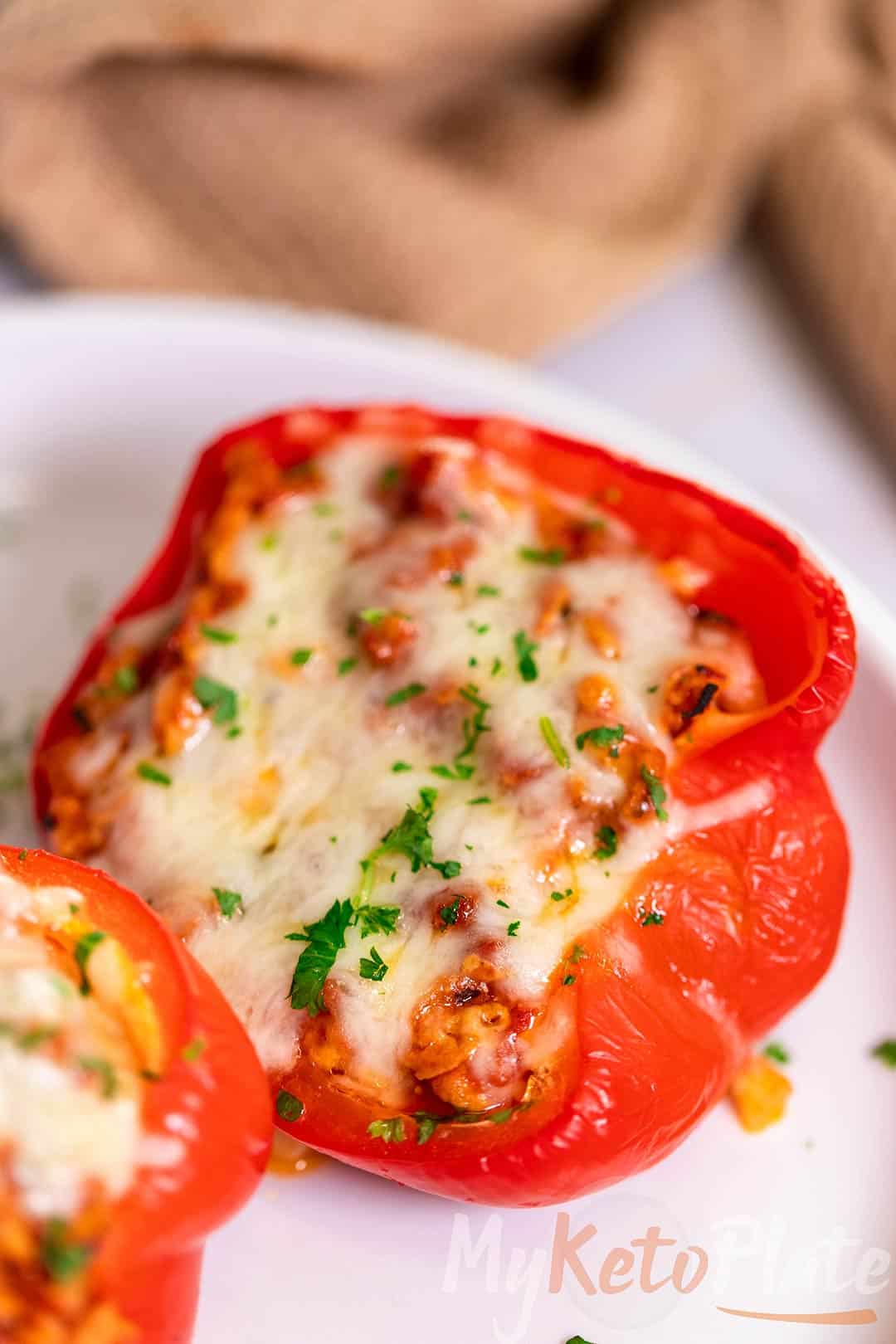 Tips For Making The Best Ground Turkey Stuffed Peppers
If your peppers don't stand up straight after being stuffed and placed in the dish, chop a little bit off the bottom to balance them out. That way, they won't tumble over and spill your filling.
You can also cut your peppers differently. You can cut the part where they have the tail, and after filling them, you can put that part on top, like a hat.
Spray the underside of the foil with cooking spray if you're worried about it sticking to the tops of the peppers/cheese.
Variations on These Ground Turkey Stuffed Peppers
If you really want to use rice, you can add some cauliflower rice. It will be delicious.
Make this dish vegetarian by replacing the meat with other keto vegetables.
I like to add some ground sausage to the filling for an intense taste.
For an extra spicy kick, top the peppers with Jalapeno Monterey Jack.
Ways To Cook Keto Stuffed Peppers
Another reason why I love this recipe is that it can be cooked in other ways.
You can make it in the air fryer. All you have to do is place the peppers in the air fryer and bake them for 15 minutes.
The quickest way is to cook them in an instant pot. The only thing you have to change is to add a cup of water to the pot, and they are ready in ten minutes.
My favorite method is to grill them. This way of cooking gives them a smoky flavor, and they are perfect for making in the summer.
What To Serve With This Recipe
This recipe is delicious as well as quite filling. But if you want to add something to these peppers, here are some great ideas:
Cauliflower Rice
Turnip Au Gratin
Cauliflower Mashed Potatoes
How To Store These Delicious Ground Turkey Stuffed Peppers
Fridge: If you have any leftovers, you can store them in an airtight container in the fridge for up to 3 days.
Freezer: These stuffed peppers are freezer friendly too. Just put them in an airtight container and freeze them for up to 3 months. Defrost in the refrigerator overnight and reheat in the oven for about 10 minutes at 350F.
More Quick Keto Recipes?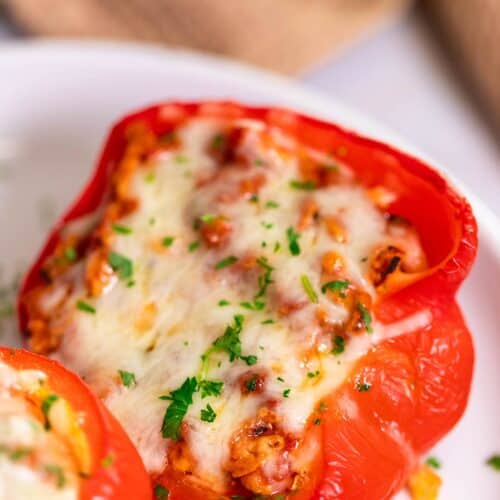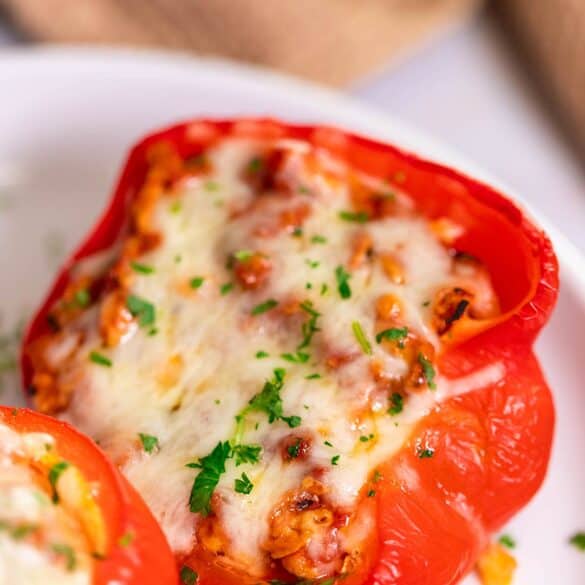 Ground Turkey Stuffed Peppers
---
Description
These turkey stuffed peppers are delicious, perfect for a quick dinner that everyone will love. Filled with ground turkey, marinara sauce, and topped with cheese, enjoy a truly tasty stuffed peppers recipe that's ready in under one hour.
Ingredients
4

medium bell peppers

*see notes

1

lb

lean ground turkey

or ground chicken

1

small onion

diced

2

garlic cloves

minced

1

small zucchini

diced

1

tbsp

olive oil

2 ½

cups

marinara sauce divided

1

tsp

Italian seasoning

½

cup

mozzarella cheese

shredded or cheddar cheese

salt

to taste
Instructions
Preheat the oven to 350°F/ 180°C. Spread 1/2 cup of marinara sauce on the bottom of a 9×13-inch baking dish.

Cut the bell peppers in half lengthwise remove seeds and membranes. Microwave or bake the peppers for a few minutes or until slightly softened.

Place a large skillet over medium heat and add olive oil. Cook onion and garlic for a few minutes. Add turkey and chopped zucchini and cook until the meat is no longer pink. Drain any excess fat.

Add the marinara sauce and Italian seasoning. Simmer for 5-7 minutes.

Arrange peppers over the sauce and fill each pepper with 1/2 cup of the meat mixture.

Bake covered for about 25 minutes. Remove foil, top with cheese, and bake for an additional 10 minutes or until the cheese is melted.

Serve hot topped with fresh parsley, greek yogurt, or hot sauce.
Notes
*Depending on the size of your peppers, you may need 4 or 5 peppers. If they are larger, use only 3 peppers.
** If you have any leftover mixture, you can cook it separately and serve it over zucchini noodles.
Nutrition Facts
Amount per serving.
How do we calculate the nutrition info?
These nutrition facts listed are determined using nutrition information from the USDA Food Database. Our nutrition facts are accurate, but if you are using different products, please make your calculations. Net carb count is calculated by subtracting both fiber and sugar alcohols because they don't raise blood sugar.