Rich, thick, and loaded with delicious flavors, this bolognese sauce recipe is one of the ultimate home-cooked comfort food recipes you will ever try.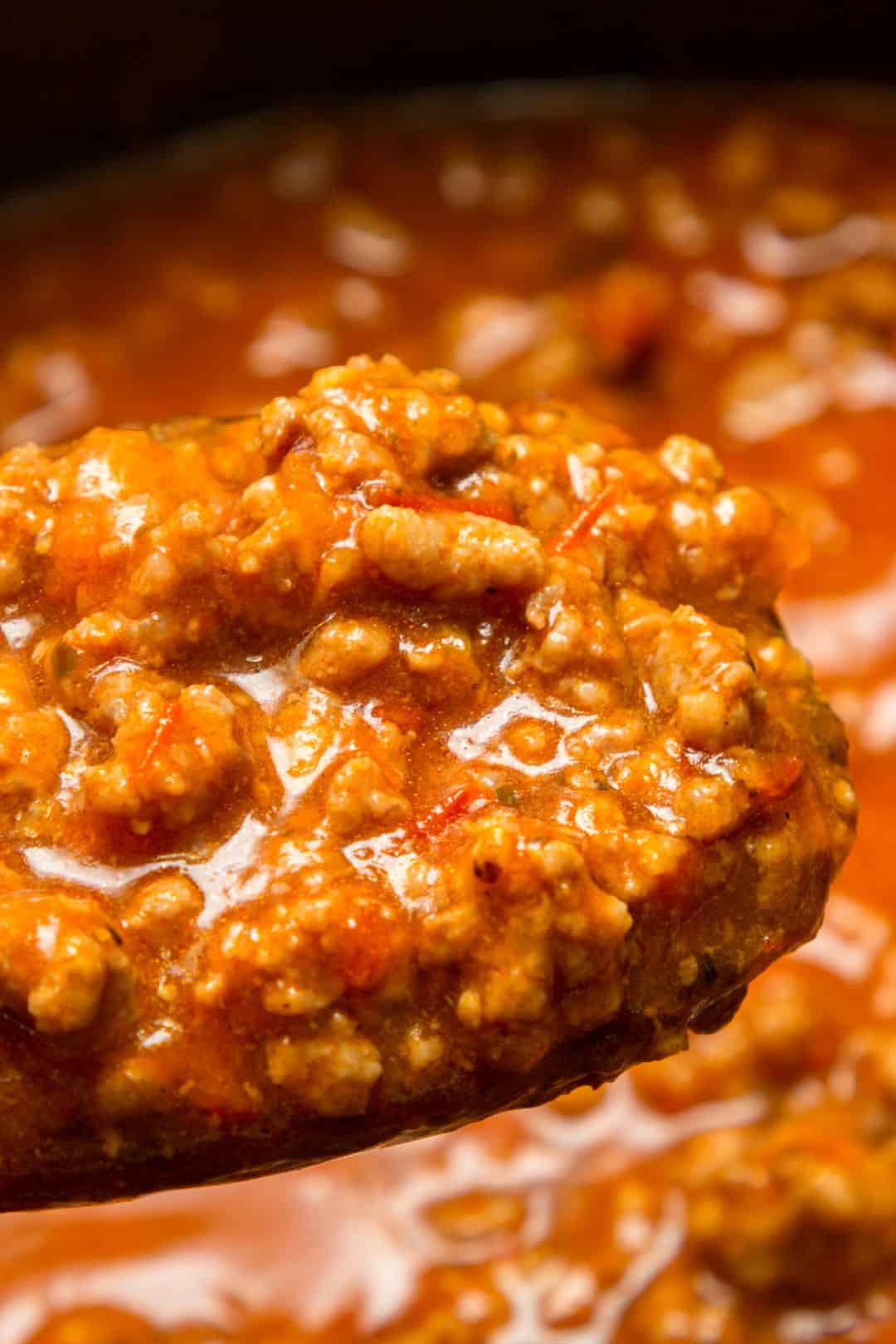 Ready in just 35 minutes and made from naturally low-carb and healthy ingredients, this delicious bolognese sauce tastes incredibly delicious, and it's the perfect dinner idea for a busy day.
Who doesn't love homemade pasta sauce, especially when you are struggling with a busy day and don't have much time for cooking? So if you are in this situation, make this delicious homemade bolognese sauce and serve it with your favorite side dish to create a complete meal.
What Is Bolognese Sauce?
Bolognese sauce, known as Bolognese ragu, is a common sauce in Italian cuisine used to prepare lasagna, pasta, or in combination with various vegetables like eggplant.
Why Are You Going To Love This Recipe
You can make it ahead of time.
Ready in just a few minutes.
Made from naturally low-carb ingredients.
It can be paired with many side dishes.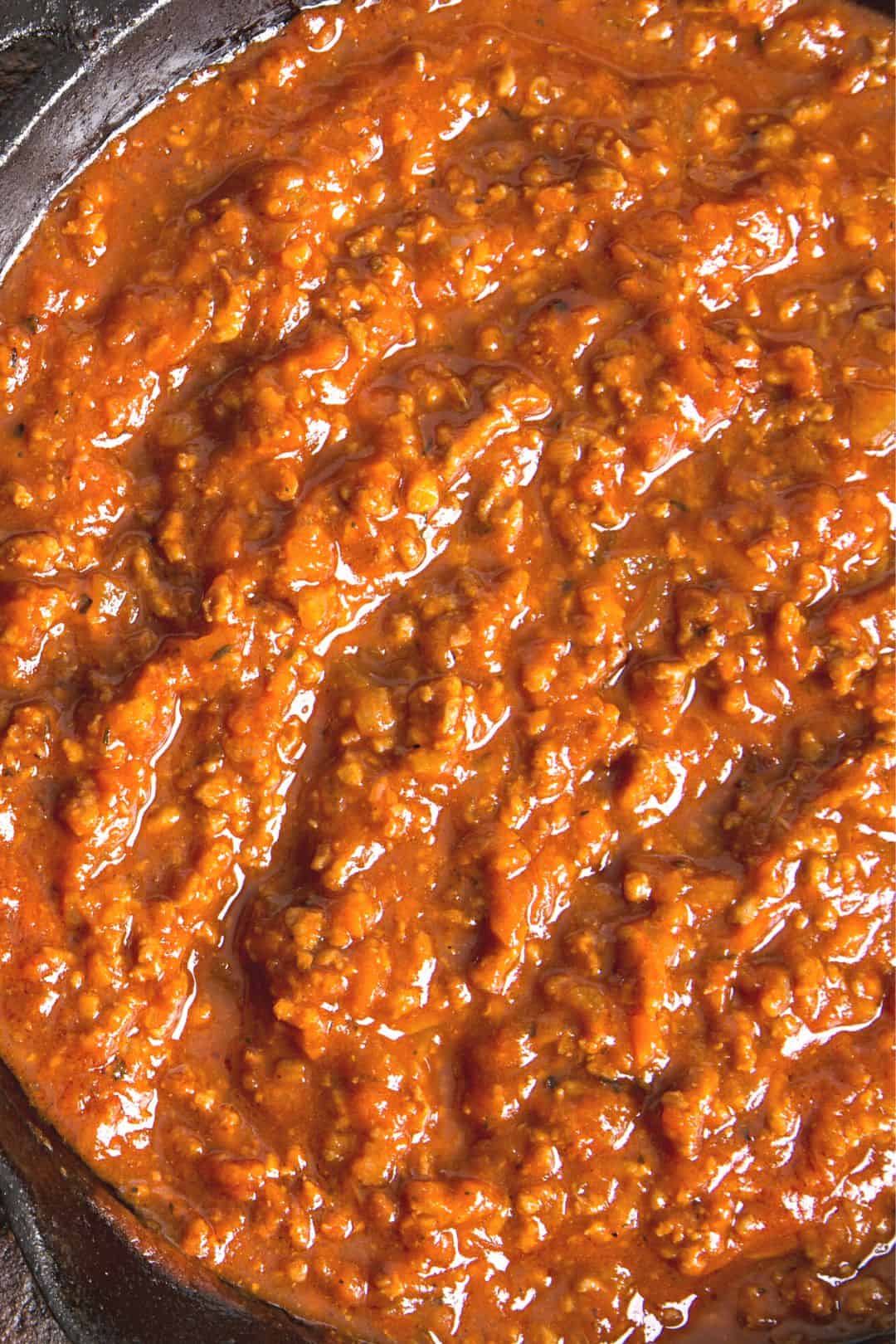 Ingredients For This Bolognese Sauce
You will need only a few ingredients that you probably already have in your pantry to create this delicious bolognese sauce. Here is a list of everything you will need:
Olive Oil – you can replace it with any other vegetable oil you want.
Ground Beef – Since I don't want to drain a ton of fat once the meat is cooked, I use 85% lean meat.
Canned Tomatoes – use your favorite brand that you like. Just make sure that you read the label to avoid those canned tomatoes with added sugar.
Tomato Paste – gives extra flavor and color to this dish.
Onion – you will need a finely chopped onion.
Garlic Powder – you can replace it with 2 minced garlic cloves.
Dried Herbs – I used oregano and basil, but you can also add your favorite dried herbs.
Sweetener – cuts the acidity and balances all the flavors.
Salt&Pepper – to taste.
Red Pepper Flakes – you can skip this ingredient if you are not a fan of spicy food.
Parmesan Cheese – there is no bolognese sauce without shredded parmesan cheese.
How To Make This Delicious Bolognese Sauce
You will be surprised to see how easy it is to prepare this sauce without needing cooking skills. Here is everything you need to do:
Heat 1 tbsp of olive oil in a large pan over medium-high heat and cook the onion for 2 minutes.
Add the ground beef and brown for 10 minutes until cooked through.
Add the seasonings and tomato paste and mix until well combined.
Add the tomato paste and sweetener, cover with a lid and simmer for 10 minutes.
Remove the lid and stir using a wooden spoon.
Let it cook for 10 more minutes until the sauce thickens. Turn off the heat and enjoy with some keto pasta or zucchini noodles.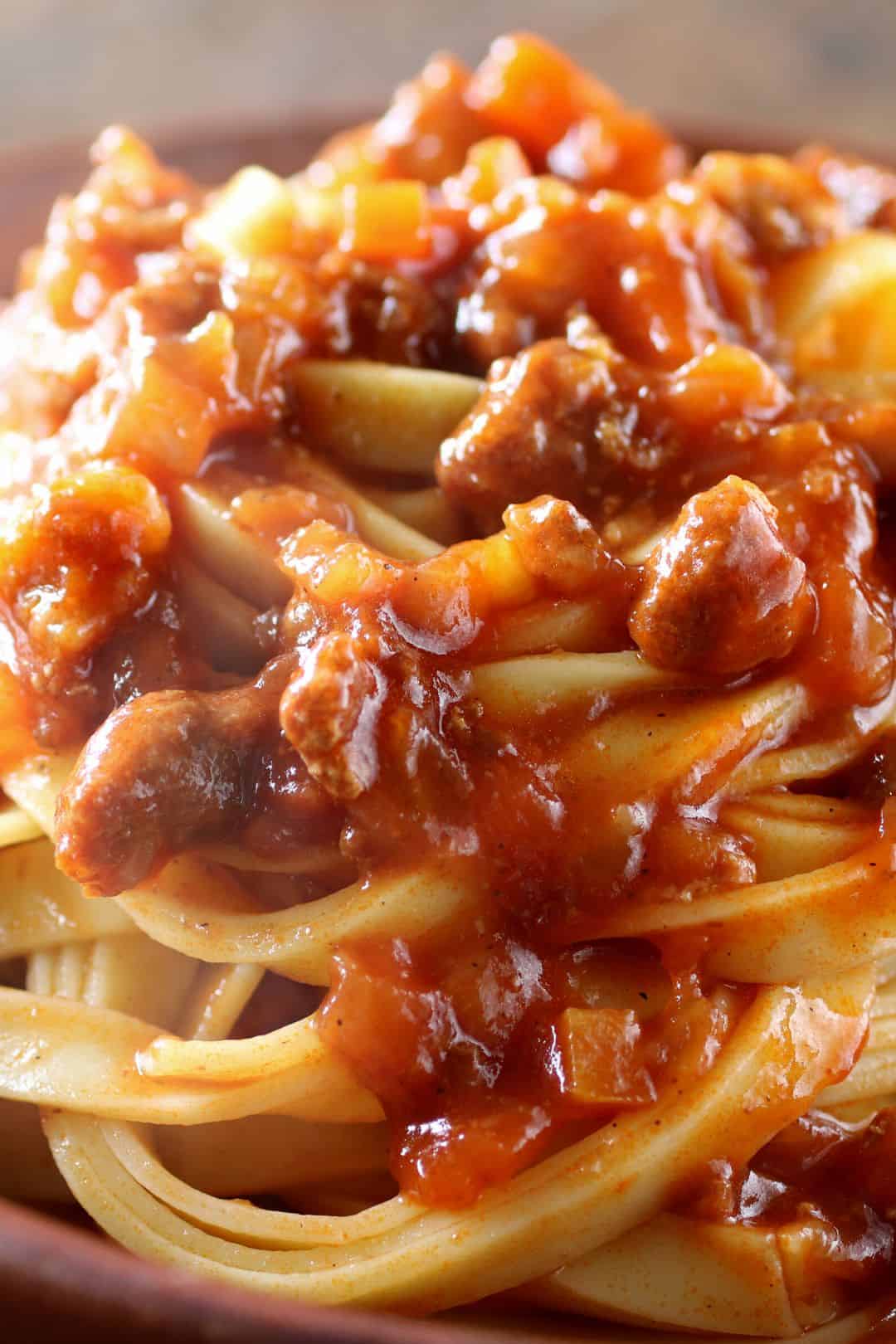 Tips&Variations For Making The Best Bolognese Sauce Recipe
For a thicker sauce, use canned tomatoes in puree rather than juice.
Let the sauce simmer on low to obtain tender meat and a thickened sauce.
Stir occasionally while the sauce simmer.
Add some Worcestershire sauce for a tangy, savory, and sweet flavor.
Serving Ideas
This bolognese sauce can be served with absolutely anything from pasta, cauliflower rice, mashed potatoes, and zucchini noodles.
You can also use this sugar-free bolognese sauce to make a delicious lasagna.
Storing Ideas
Fridge – you can store any leftovers from this bolognese sauce in an airtight container in the fridge for up to 7 days.
Freezer – this bolognese sauce is also freezer-friendly. Add it to a freezer-safe container and store it in the freezer for up to 2 months.
Frequently Asked Questions
Can I Make This Recipe With Other Type Of Meat?
Sure, if you are not a fan of ground beef, you can easily replace it with chicken, turkey, or pork ground meat.
Bolognese Sauce Vs. Spaghetti Sauce
The spaghetti sauce is different from the bolognese in one of the ingredients used to prepare it. While bolognese sauce is made from tomatoes and beef, pasta sauce can vary according to everyone's tastes.
More Dinner Recipes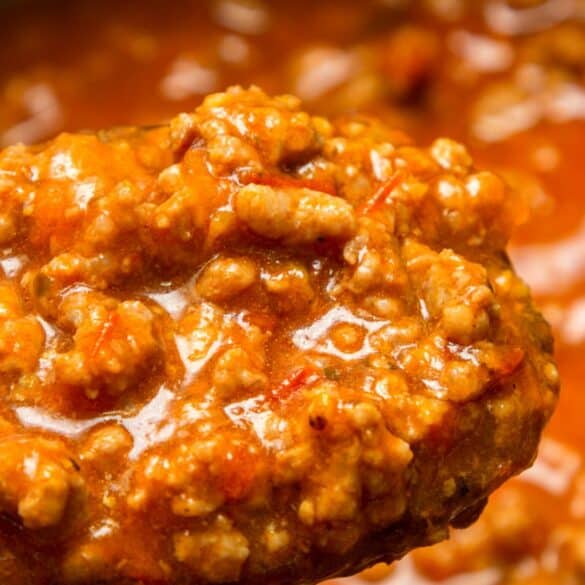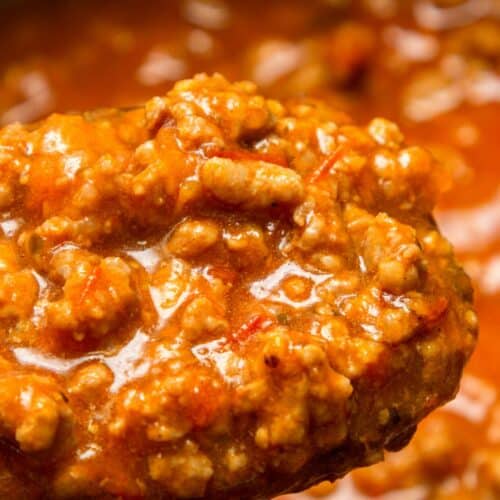 Description
Rich, thick, and loaded with delicious flavors, this bolognese sauce recipe is one of the ultimate home-cooked comfort food recipes you will ever try.
Ingredients
1

lb

ground beef

2

tbsp

olive oil

28

oz

canned tomatoes

2

tbsp

tomato paste

1/2

cup

onion

chopped

2

tsp

garlic powder

2

tsp

oregano

2

tsp

basil

2

tsp

sweetener

salt&pepper to taste

1/4

tsp

red pepper flakes

optional

2/3

cup

grated Parmesan

to garnish
Instructions
Heat one tbsp of olive oil in a large pan and cook the chopped onion for 2 minutes.

Cook the ground beef. Add the rest of the olive oil and the meat and cook for 10 minutes, breaking it down with a wooden spoon.

Add the tomato paste and seasonings: salt, pepper, garlic, oregano, basil, and red pepper flakes. Stir until everything is well combined.

Add the crushed tomatoes and sweetener. Cover with a lid and simmer for 10 minutes.

Remove the lid and cook uncovered for 10 more minutes on medium-low heat until the sauce is thick, stirring occasionally.

Turn off the heat, garnish with shredded parmesan cheese and enjoy!!
Nutrition Facts
Amount per serving.
How do we calculate the nutrition info?
These nutrition facts listed are determined using nutrition information from the USDA Food Database. Our nutrition facts are accurate, but if you are using different products, please make your calculations. Net carb count is calculated by subtracting both fiber and sugar alcohols because they don't raise blood sugar.