This sugar-free ketchup is super easy to make in just 15 minutes with all-natural ingredients. It's perfectly tangy and sweet and tastes just like regular ketchup. Use keto ketchup as a dipping for many recipes or as a sauce for pizza.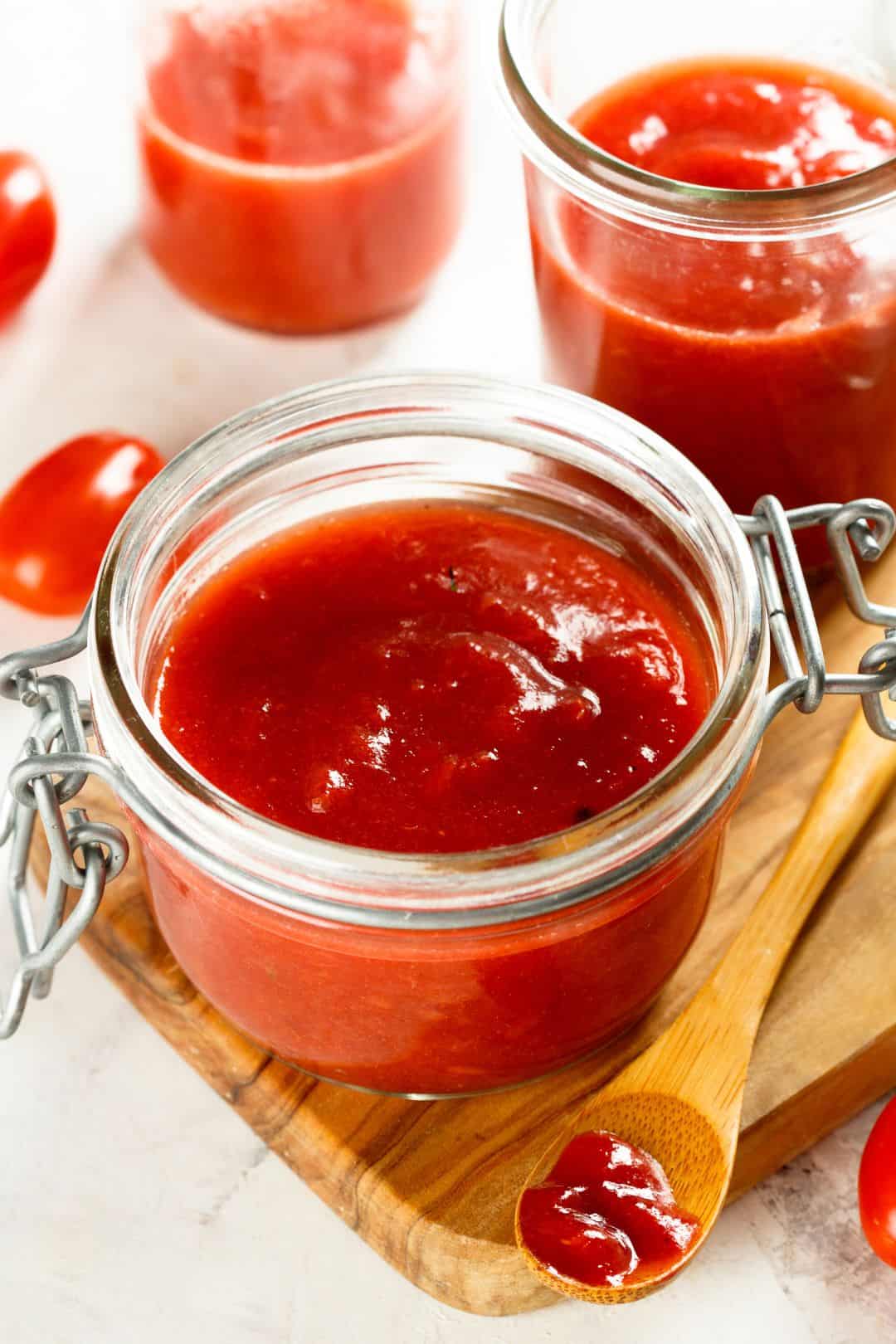 Ketchup is one of the most loved condiments worldwide because it's super versatile and pairs incredibly with many recipes.
Growing up, my favorite way of serving it was with a large side of French fries.
So, sugar-free ketchup became a staple in our house ever since I started my keto journey.
This low sugar ketchup recipe is quick to make and can be prepared by anyone, even people with little experience in the kitchen.
Unlike traditional ketchup, that's loaded with tons of sugars, my keto ketchup recipe contains no added sugars or funky ingredients. So you can enjoy the rich, tangy flavor of ketchup without worrying about any negative impact on your blood sugar or ketone levels.
What Is Ketchup?
Ketchup is a loved sauce all over the world that can be found in various forms and flavors, packaged in different containers.
Usually, ketchup is a smooth and fluid tomato-based sauce with a combination of sweet and savory flavors. It's made with a blend of sugar, vinegar, onions, garlic, and spices. Ketchup is often used as a dipping condiment sauce and adds a delightful flavor to many dishes.
Due to its versatility and taste, ketchup has become a staple in many households and restaurants around the world. Whether you prefer it with fries, burgers, or any other dish, ketchup has a place on everyone's plate.
Is Ketchup Keto-Friendly?
The ketchup that is commonly found in stores is not keto-friendly due to the inclusion of sugar and other high-carb ingredients. However, the good news is that you can create a homemade version that is not only better for your dietary needs but also offers a delicious taste.
Making ketchup at home allows you to have full control over the ingredients that go into it, ensuring that it aligns with your keto lifestyle. By using natural, low-carb ingredients, you can make a ketchup that is free from the added sugars and preservatives found in store-bought options.
Not only does homemade keto ketchup taste amazing, but it's also a healthier option for anyone following a low-carb or ketogenic diet. So why not try making your own batch of keto ketchup today and enjoy a delicious, guilt-free condiment that perfectly complements your favorite meals?
Why Are You Going To Love This Homemade Ketchup Recipe
Healthier option: Homemade keto ketchup is much healthier than the store-bought varieties as it is free from added sugars and preservatives.
Convenience: You can prepare it ahead of time, saving you time and effort when you need it.
Quick and easy: With a prep time of under 15 minutes, it's a quick and easy recipe to make.
Low carb: Homemade keto ketchup contains only 4g net carbs per serving, making it a great option for those following a low-carb or ketogenic diet.
Great taste: Despite being low in carbs, homemade keto ketchup tastes just like regular ketchup, ensuring that you don't have to sacrifice flavor for a healthy alternative.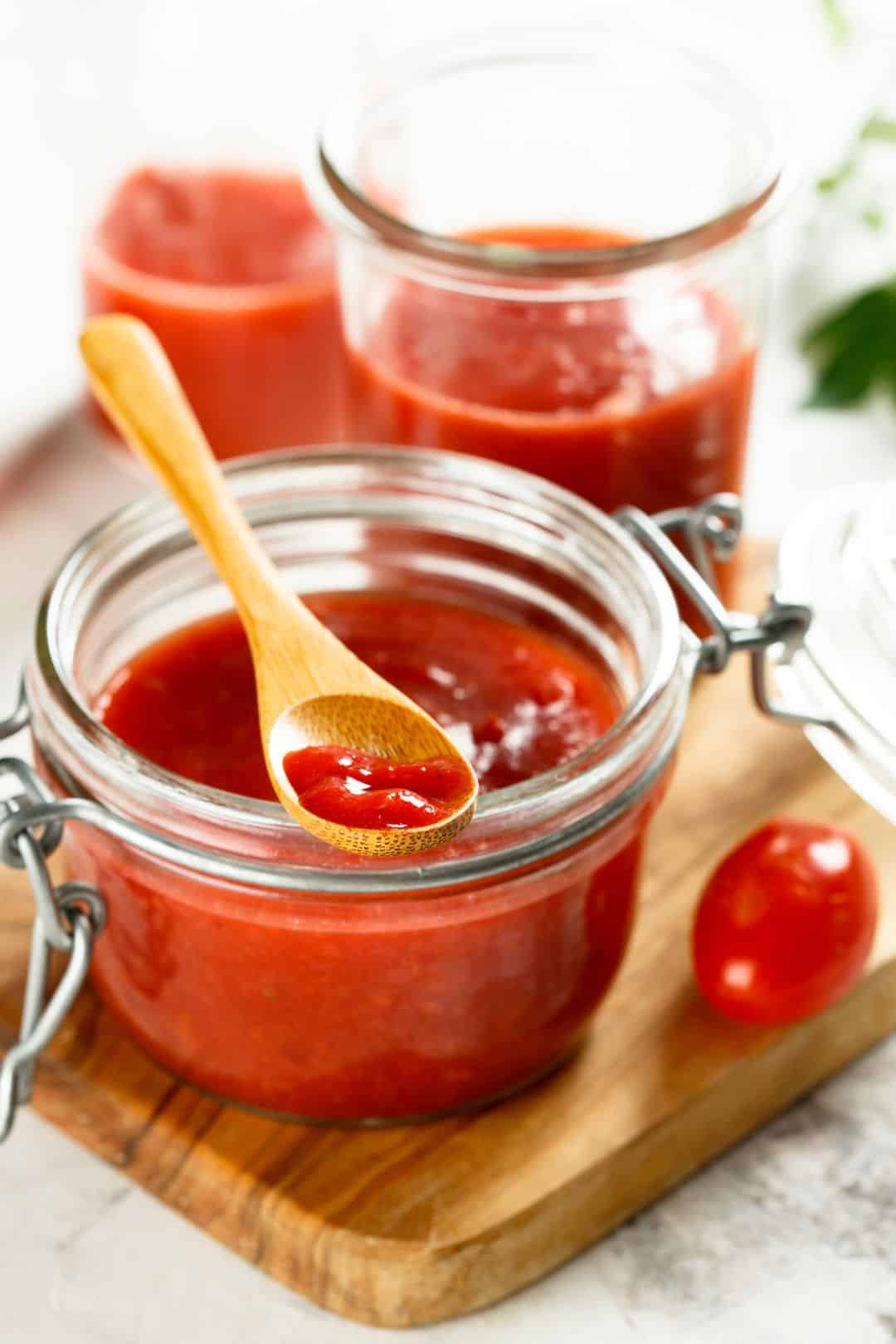 Ingredients For This Sugar-Free Ketchup
You will need only a few easy and common ingredients to create this delicious sugar-free ketchup. Here is a list with everything you will need:
Tomato Paste – Tomato paste is the key ingredient in this recipe, so it's important to use a high-quality option with no added sugar or other carb-heavy ingredients.
Vinegar – provides the signature tangy taste found in regular ketchup.
Brown Sugar Substitute – to balance the tanginess of the tomato paste and vinegar, we use a brown sugar substitute in this recipe.
Onion and Garlic Powder – added to enhance the flavor of the ketchup, but can be omitted if desired.
Water – used to adjust the consistency of the ketchup to your liking.
Salt – to taste, ensuring that the flavors are well balanced.
How To Make
Another great thing about this recipe is that it's super easy to make without needing cooking skills. Here is everything you have to do:
Start by preparing all the ingredients.
Next, add the ingredients to a saucepan over medium heat and mix them well until fully combined. Allow the mixture to simmer for approximately 10 minutes, and then remove it from the heat.
Taste the ketchup and adjust the seasoning if necessary.
Once you are satisfied with the taste and consistency, transfer the ketchup to a glass jar and store it in the refrigerator until needed.
Enjoy your delicious homemade keto ketchup as a condiment or dipping sauce.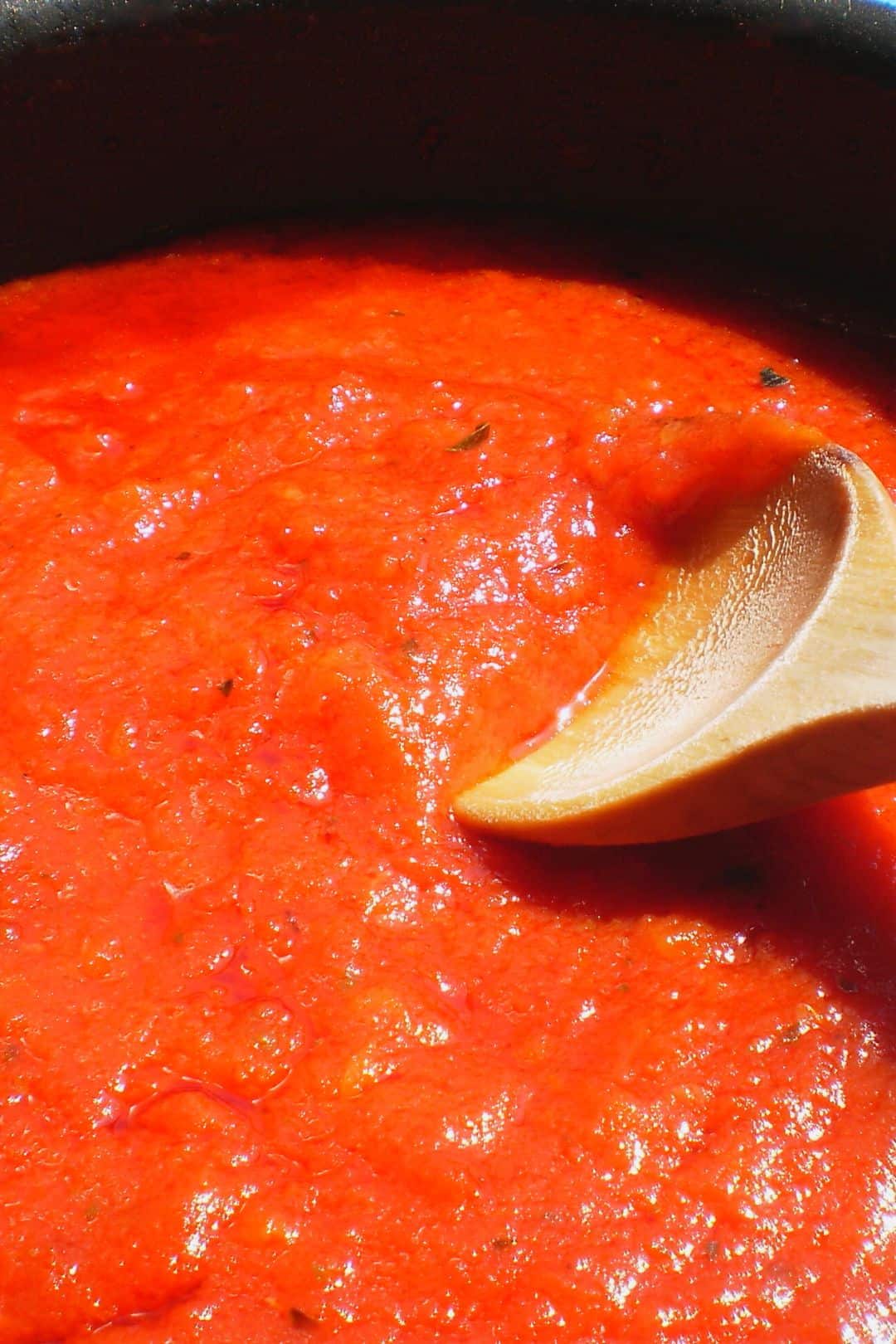 Tips for Making The Best Keto Ketchup
Use a good quality tomato paste with no added sugar or other carb-heavy ingredients.
For additional flavor, try adding fresh garlic or onion to the ketchup. This will give it a more intense flavor and aroma. You can also experiment with other dried herbs like dill or oregano to customize the flavor to your liking.
If you prefer a spicier ketchup, add some red pepper chili flakes to the mix. Be sure to adjust the quantity to your taste.
While making the ketchup, feel free to adjust the consistency as needed by adding more water. This will ensure that the ketchup is the right consistency for your desired use.
How To Store
Once you're happy with the flavor and consistency, transfer the ketchup to a glass jar and store it in the refrigerator until or up to 2 weeks
If you want to store homemade keto ketchup for longer periods of time, consider freezing it in smaller portions. Frozen keto ketchup can last for several months if stored properly in airtight containers or freezer bags..
How To Serve Keto Ketchup
This sugar-free ketchup it's extremely versatile because you can use it in many different ways. Here are some ideas
You can use it to create different sauces for pasta.
You can make some chicken meatballs or nuggets and use this sugar-free ketchup as a dip.
It's great with french fries or oven-roasted vegetables.
As a topping for omelets or scrambled eggs.
Mixed with mayo or other low-carb sauces to make a dip or dressing.
As a marinade for meat or veggies before grilling or roasting.
FAQ
How To Thicken This Sugar-Free Ketchup?
This sugar-free ketchup will thicken while it cools. To thicken this homemade ketchup, you may also add a teaspoon of cornstarch while simmering.
Can I Freeze This Sugar-Free Ketchup?
Sure, this ketchup can be stored in the freezer in an airtight container for up to one month. Then thaw it in the fridge overnight.
You can also store it in an ice cube tray and use it to create a sauce for pasta or different recipes.
What Ketchup Is Keto Friendly? 
Brands like Heinz Tomato Sugar-Free Ketchup and G Hughes are great low carb ketchup options you can get from the store.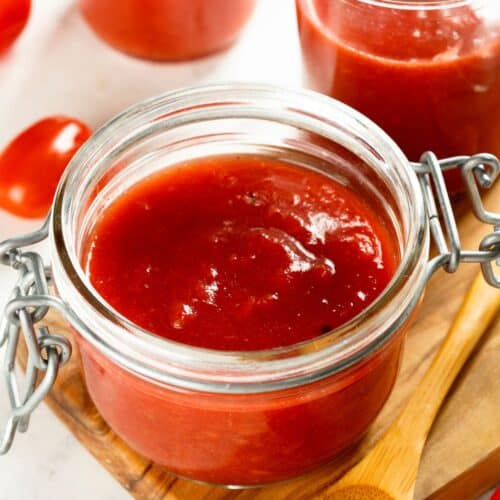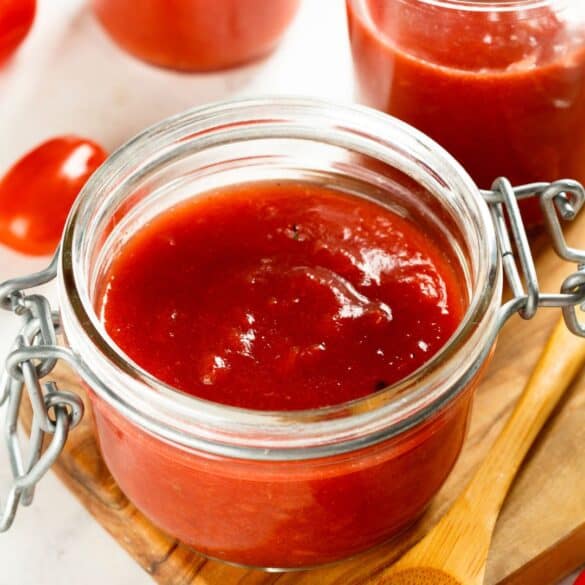 Description
This sugar-free ketchup is super easy to make in just 15 minutes. It's perfectly tangy and sweet and tastes just like regular ketchup. Use keto ketchup as a dipping for many recipes or as a sauce for pizza.
Ingredients
6

oz

tomato paste

1

cup

water

2

tbsp

apple cider vinegar

2

tbsp

white vinegar

1/4

cup

brown sugar substitute

1

tsp

onion powder

1/2

tsp

garlic powder

1/2

tsp

black pepper

1

tsp

salt

chili powder

optional
Instructions
Place a small saucepan over medium heat. Add all the ingredients to the pan and bring to a simmer.

Stir consistently for 5 minutes or until the sauce starts to thicken. Taste and adjust the seasonings.

Remove from the heat, allow to cool, and transfer to a jar. Store in the fridge for up to 10 days.
Nutrition Facts
Amount per serving.
How do we calculate the nutrition info?
These nutrition facts listed are determined using nutrition information from the USDA Food Database. Our nutrition facts are accurate, but if you are using different products, please make your calculations. Net carb count is calculated by subtracting both fiber and sugar alcohols because they don't raise blood sugar.