Learn how to make keto pasta with just two ingredients. This low carb pasta alternative tastes similar to regular pasta and has just 3g of net carbs per serving. Make these easy keto noodles and serve with your favorite sauce!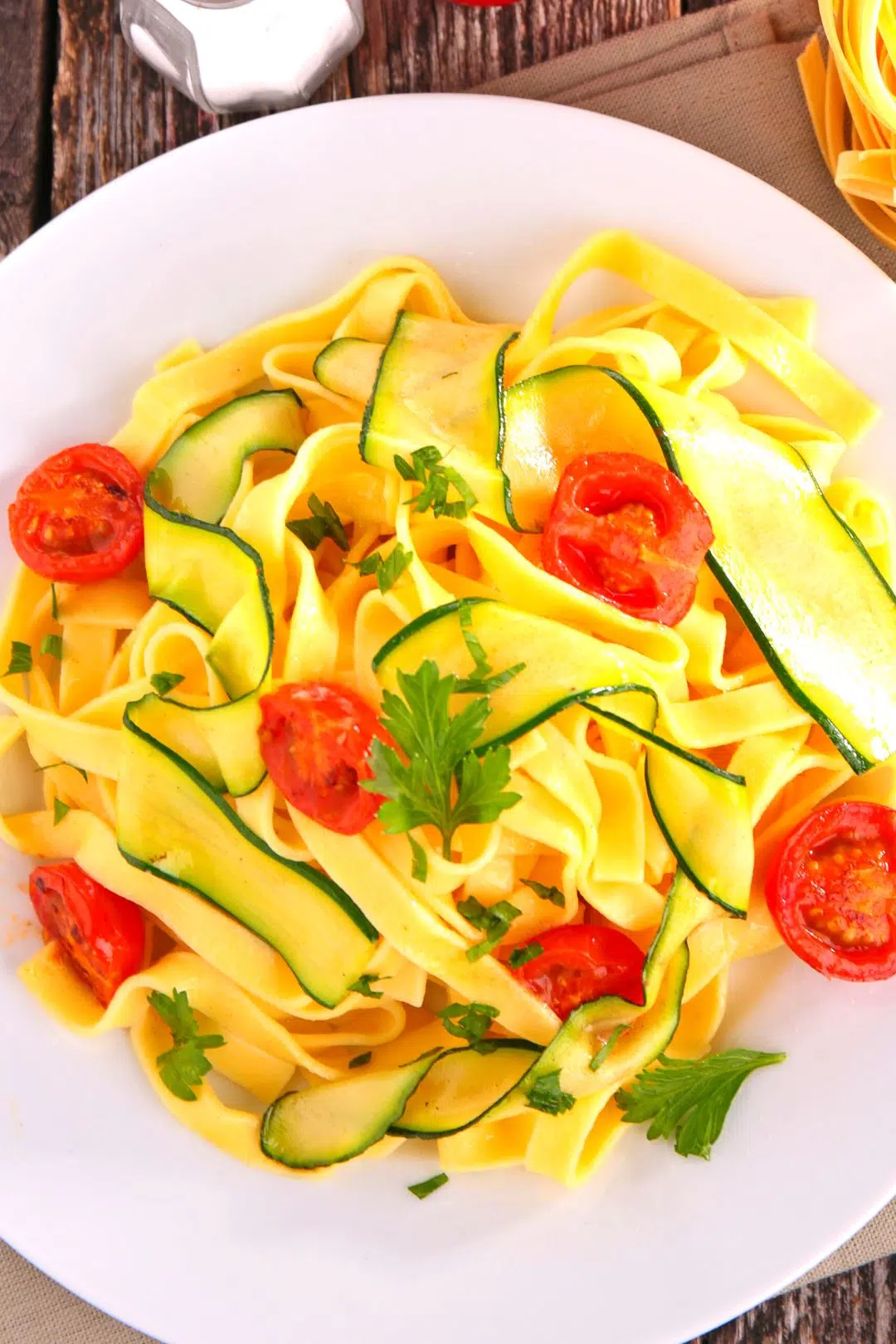 I'm a huge pasta fan, and ever since going keto, I've tried so many grain-free pasta alternatives such as zucchini noodles, shirataki noodles, or Palmini.
While I love them so much, they don't resemble much in flavor to regular pasta. However, the taste and texture of these keto pasta noodles are incredibly similar. The flavor is super rich but not overpowering, so it's amazing for any low carb pasta sauce.
Enjoy homemade gluten-free noodles that are chewy, frim, cheesy, and perfect to curb those pasta cravings.
Some of my friends didn't even notice this wasn't real pasta until I told them.
I'm thrilled to show you the best keto alternative for pasta!
Why Are You Going To Love This Keto Pasta
Quick to make with just 2 ingredients
Only 3g net carb per serving.
Tastes similar to regular pasta
Super chewy, soft, and light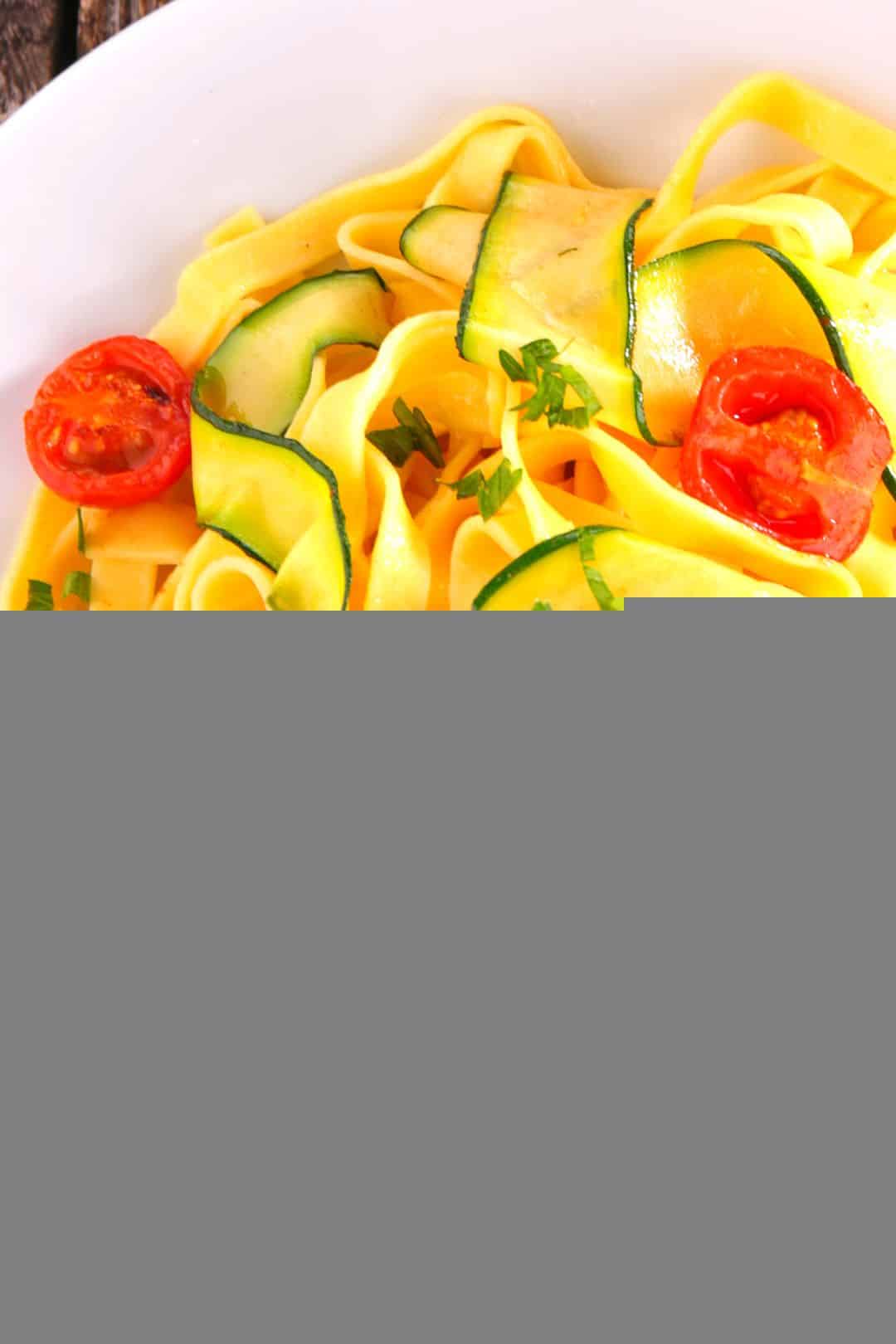 Is Pasta Keto-Friendly?
No, regular pasta/ egg noodles are not keto-friendly because they contain high carbohydrate ingredients such as white flour. But, no worries, it's easy to make homemade keto pasta that tastes similar to classic noodles.
Keto Pasta Ingredients
One of the best things about this recipe is that it requires only two easy ingredients that you probably already have on hand:
Egg Yolks – When making homemade pasta dough, use egg yolks at room temperature. They serve to hold and bind everything together as well as give the pasta a beautiful color.
Mozzarella Cheese – freshly shredded mozzarella is the best for this recipe. Use low moisture mozzarella cheese.
There's one optional ingredient that helps with the texture: xanthan gum. It adds that specific chewiness that you find in regular pasta.
How To Make The Best Keto Pasta
Making keto pasta from scratch at home is actually super quick and easy.
If you stick to instructions, you'll have some of the best low carb pasta that tastes similar to what you'd serve at an Italian Restaurant.
Here is everything you have to do:
Make the pasta dough: Melt the shredded mozzarella in a microwave-safe bowl. Use a spatula to mix well until it forms a ball. Add the egg yolk and xanthan gum (if using). Make sure your cheese is not too hot, or else it will cook the egg. Using a spatula or wooden spoon, thoroughly combine the egg yolks with the mozzarella cheese until dough forms. If the dough is too wet, refrigerate for about 10 minutes.
Roll the pasta dough: Place your dough on a sheet of parchment paper, then place another one over the dough. Next, roll the dough with a rolling pin until 1/8 inch thin. Try to keep a square shape if possible. Refrigerate again to make cutting easier.
Cut the dough lengthwise into pasta strips using a pizza cutter.
Cook the noodles: Add water to a pot and bring it to a boil. Then add the noodles and cook them for about 20-30 seconds.
Serve: Once you drain the water, you can serve the noodles with your favorite sauce.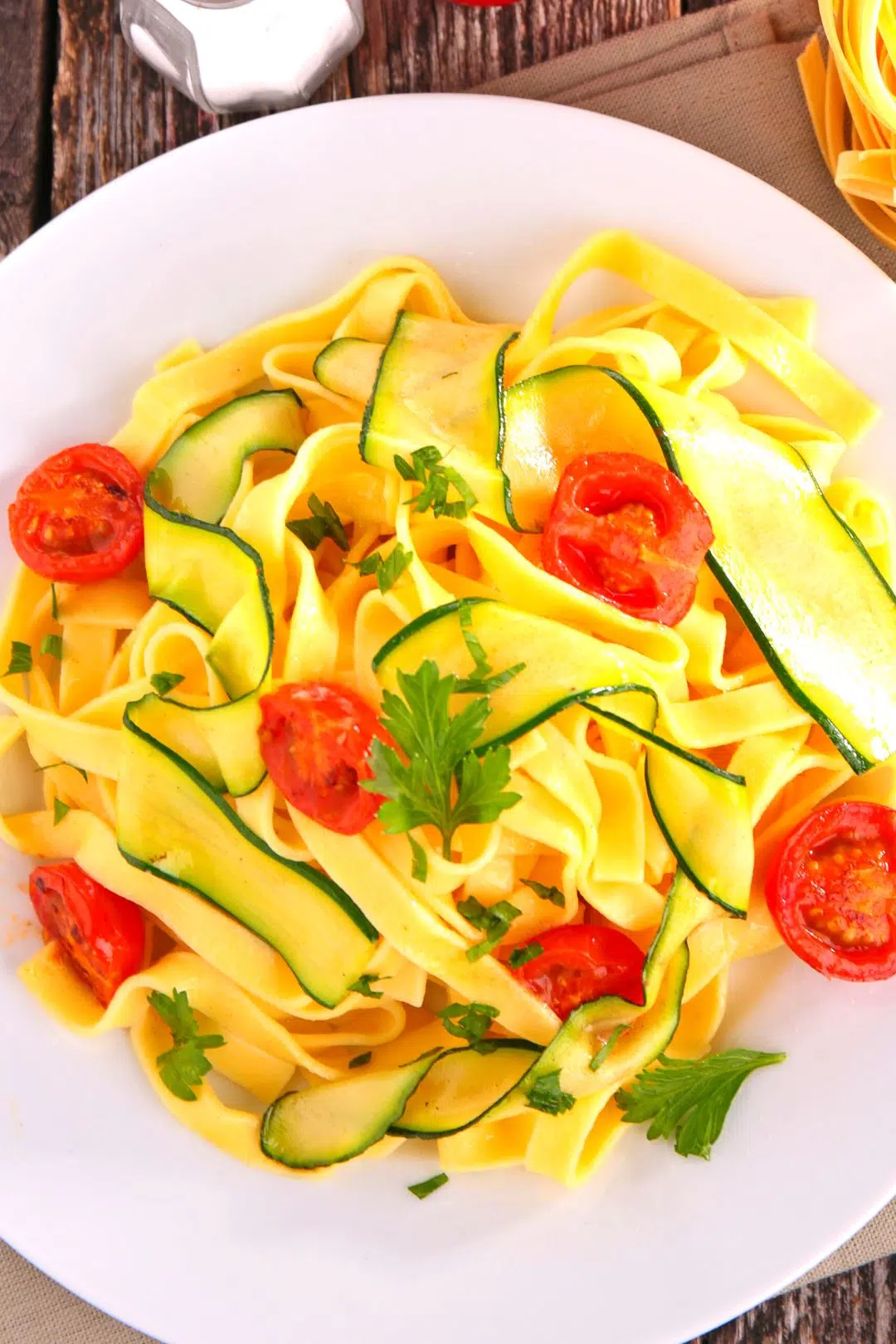 Tips For Making Keto Pasta
The key to creating pasta with a thin and smooth texture is to combine all the ingredients properly.
When cooking the pasta, use more boiling water than you would for regular pasta. This way, the pasta strips won't stick together.
Make that the mozzarella cheese is fully cooled before mixing the yolks; otherwise, the egg yolks will start cooking.
Make sure you don't overcook your pasta because it will break apart and dissolve into the water.
How To Serve Keto Pasta
You can choose to keto noodles them with your favorite sauce and some shredded parmesan on top.
Storing Ideas
Fridge: Store uncooked pasta in an airtight container for up to one week.
Freezer: Place low carb keto pasta in ziplock bags and store in the freezer for up to one month. Thaw completely in the fridge before serving.
Frequently Asked Questions
How Can I Make My Pasta Firm?
You can add some xanthan to the dough to make the pasta firm.
What Should I Do If My Pasta Dough Is Too Sticky?
In this case, the secret is to refrigerate the dough, then roll it and refrigerate it for at least 10 minutes before rolling.
Can I Make This Recipe Ahead Of Time?
Yes, you can prepare your keto pasta in advance and boil it whenever you want to have fresh pasta.
Make them as we did in this recipe, slice them into thin strips, and then place them in an airtight container. Store them in the fridge until you're ready to cook.
What Thickness Should Pasta Have?
In my opinion, the ideal thickness so that the pasta does not break or cook too hard is between 2-3mm.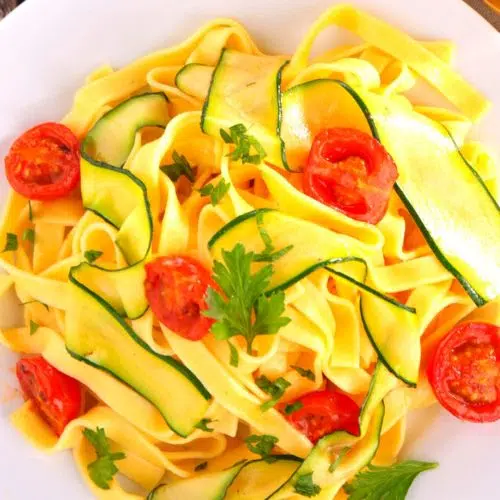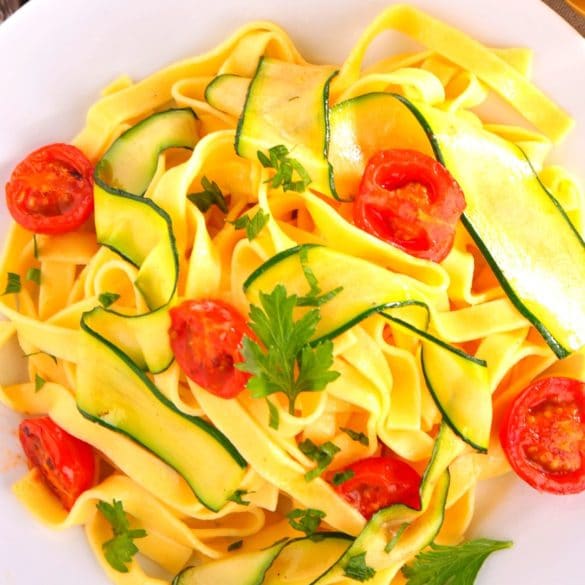 Description
Learn how to make keto pasta with just two ingredients. This low carb pasta alternative tastes similar to regular pasta and has just 3g of net carbs per serving. Make these easy keto noodles and serve with your favorite sauce!
Ingredients
2

cups

full fat mozzarella cheese

shredded

2

large egg yolks

room temperature

1/2

tsp

xanthan gum

optional
Instructions
Add shredded mozzarella cheese to a large bowl. Microwave for about 60 seconds or until the cheese melts. Mix the cheese and allow it to cool for 2 minutes.

Add the egg yolks, and xanthan gum (if using) and stir thoroughly to combine and form a ball. Refrigerate for 20 minutes if the dough looks too sticky.

Transfer the pasta dough onto a sheet of parchment paper, then cover with another paper. Refrigerate before cutting.

Use a rolling pin to roll out the pasta until it is about 1/8-inch thin. Refrigerate for about 30 minutes.

Cut it into thin pasta strips. Refrigerate for 10 minutes.

Fill a large pan with water and bring to a boil. Once the water is boiling, cook the pasta for 1 minute.

Drain the water and wash the pasta under cold water. Top with your favorite sauce and enjoy.
Nutrition Facts
Amount per serving.
How do we calculate the nutrition info?
These nutrition facts listed are determined using nutrition information from the USDA Food Database. Our nutrition facts are accurate, but if you are using different products, please make your calculations. Net carb count is calculated by subtracting both fiber and sugar alcohols because they don't raise blood sugar.