This homemade keto cranberry sauce is made from fresh or frozen cranberries and is ready in 15 minutes. Only 3g net carbs!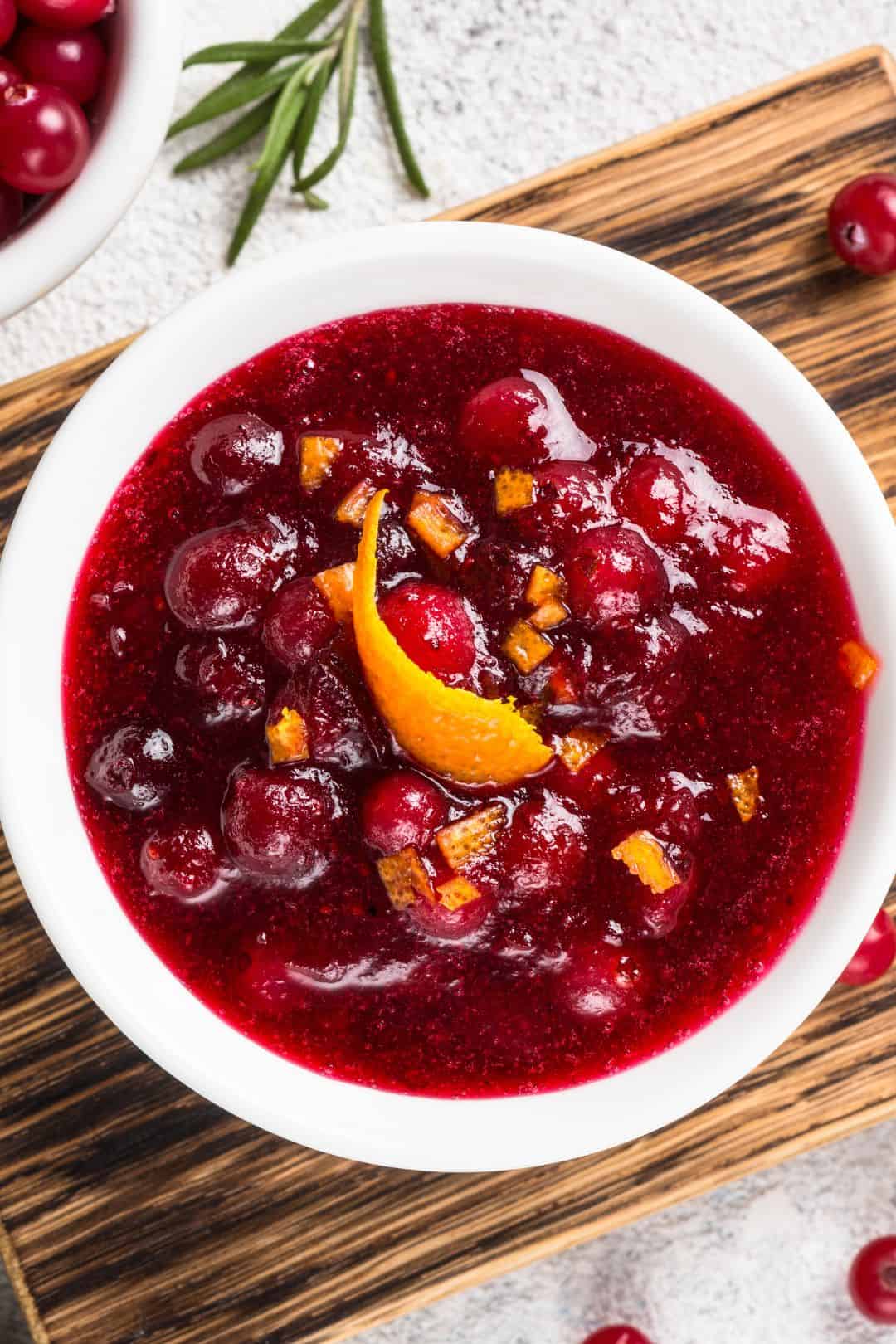 Since the fall season is almost here, what about an aromatic sugar-free cranberry sauce with orange zest, perfect for the festive season?
This cranberry sauce for savory steaks is a recipe of American origin, which pairs perfectly with the famous Turkey Thanksgiving.
I love that healthy cranberry sauce is easy to prepare, extremely aromatic, and delicious. You can make a double batch of this sauce and store it in the fridge for several weeks.
Are Cranberries Keto-Friendly?
Absolutely, yes. You may consume fresh cranberries on your own or add them to delectable keto recipes since they are keto-friendly. Cranberries contain 7.6 grams of net carbohydrates per cup and can be enjoyed on a keto diet in moderation.
Is Cranberry Sauce Keto-Friendly?
Regular cranberry sauce is not keto-friendly because it's full of sugar and extremely high in calories.
But fortunately, this recipe for sugar-free cranberry sauce is keto-friendly and is as delicious as the regular one.
Why Are You Going To Love This Cranberry Sauce Without Sugar
It's extremely easy to make.
It can be made ahead of time.
Made from only naturally low-carb ingredients.
Contain only 2g net carbs per serving.
Ingredients For Keto Cranberry Sauce
Learn how to make cranberry sauce using just a few common ingredients: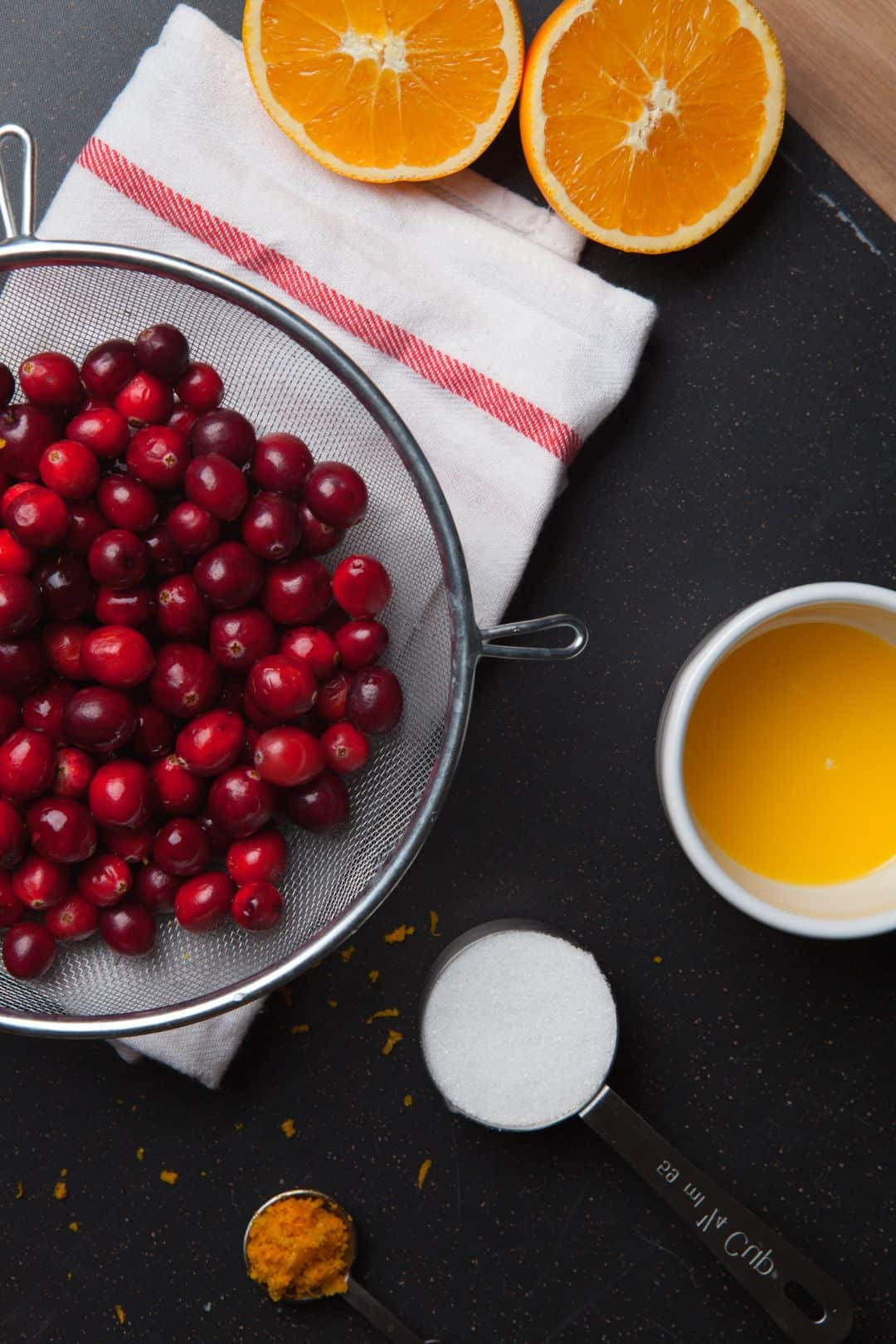 Cranberries – these are the base of this sauce, so make sure that you choose them carefully.
Sweetener – you can use any powdered sweetener, like erythritol, monk fruit, or xylitol.
Water – helps the sauce to be thinner.
Orange Zest – this ingredient pairs perfectly with the cranberries and gives the sauce a refreshing flavor.
How To Make This Sugar-Free Cranberry Sauce
Making keto friendly cranberry sauce from scratch without sugar follows the same technique as the regular sauce. Here is what you have to do: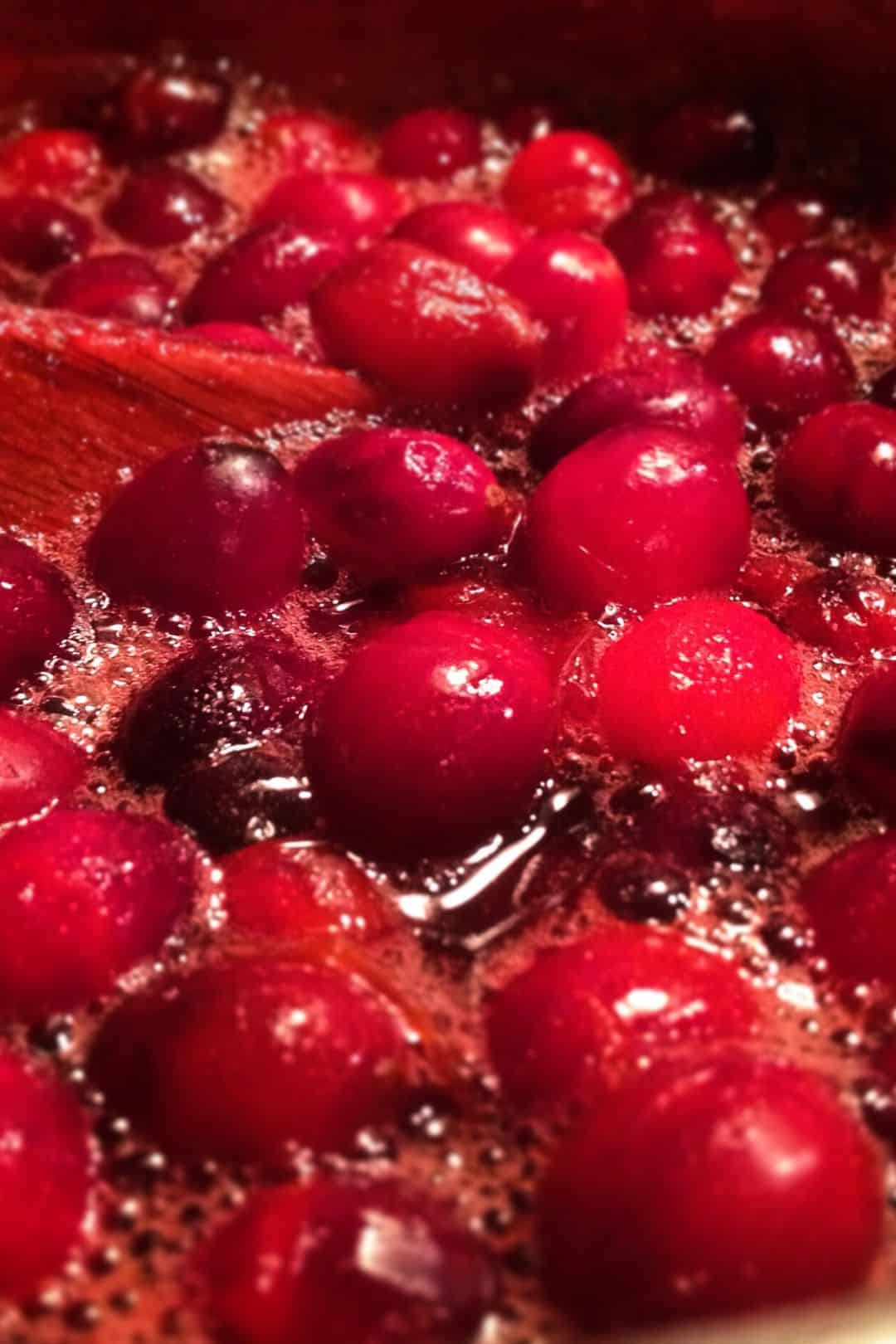 Start by adding all the ingredients into a saucepan over medium-high heat.
Bring the mixture to a boil, then let it simmer for 10 minutes, stirring from time to time.
Remove the pan from the heat, and enjoy your sauce.
Tips and Variations for this Homemade Keto Cranberry Sauce
To make a smooth cranberry sauce, use a blender to blend it until it reaches the desired consistency. You can also strain the sauce using a mesh strainer.
Add some cinnamon or vanilla extract to the sauce to make it flavourful.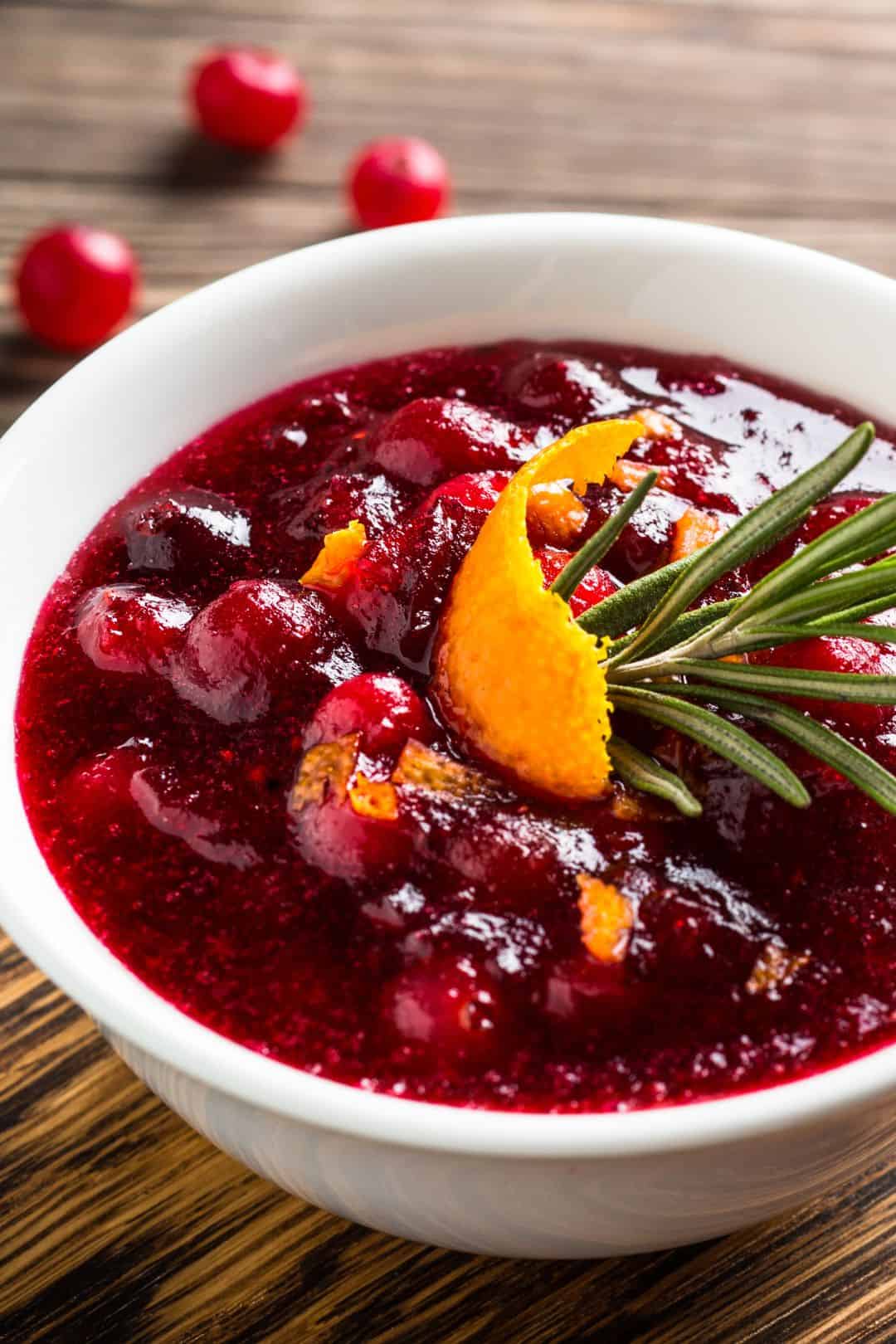 Storing Ideas
Fridge – You can store this sugar-free cranberry sauce in a glass jar in the fridge for up to five days.
Freezer – This delicious homemade cranberry sauce can also be frozen in an airtight container for up to one month.
Serving Ideas
Another great thing about this recipe is that it pairs perfectly with many recipes. Here are some great ideas:
Frequently Asked Questions
Can I Make This Cranberry Sauce In an Instant Pot?
Sure, this cranberry sauce can also be made in an instant pot. Add the cranberries, orange zest, and water to the instant pot and set it to manual high pressure for 4 minutes. Then let the instant pot release pressure for 10 minutes and remove the lid. Using a spoon, mash the cranberries and mix the sweetener until it gets the right consistency.
Can I Make This Low Carb Cranberry Sauce With Frozen Cranberries?
Sure, if you can't find fresh cranberries, you can use frozen cranberries. Just make sure you add a bit less water.
Can I Make This Sauce Ahead Of Time?
Yes, you can prepare this sugar-free cranberry sauce ahead of time and store it in a jar for up to one week. You can also double or triple the recipe and store it until you want to enjoy it.
What Should I Do If My Sauce Is Too Liquid?
If the sugar-free cranberry sauce is too liquid, cook a bit longer on low heat. Also, the cranberries' sauce thickens while cooling.
How many carbs are in keto cranberry sauce?
This keto cranberry sauce has 3g net carbs per serving.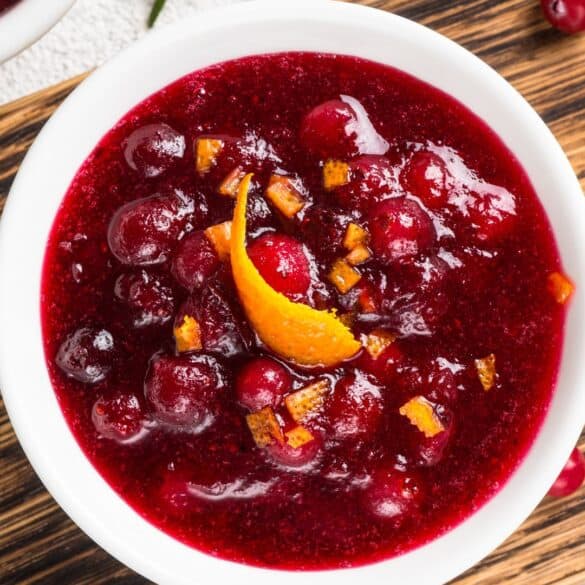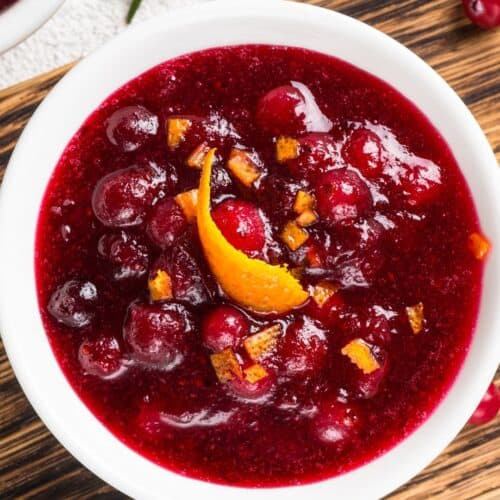 Sugar-Free Keto Cranberry Sauce
---
Description
Made with only 4 ingredients and ready in 15 minutes, this sugar-free cranberry sauce can be used as a sauce for main dishes or as a topping for desserts or snacks. It is prepared quickly, with just a few ingredients, and you can keep it for a week in the refrigerator!
Ingredients
12

oz

whole cranberries

fresh or frozen

1

cup

powdered sweetener

1

cup

water

1

tbsp

fresh orange zest

or more to taste

1

cinnamon stick

optional
Instructions
Place a saucepan over medium heat. Add all the ingredients and bring to a boil.

Reduce the heat and simmer for 10-12 minutes. Stir from time to time until the sauce reaches the desired consistency.

Remove from the heat and chill at room temperature. Refrigerate until ready to serve.
Nutrition Facts
Amount per serving.
How do we calculate the nutrition info?
These nutrition facts listed are determined using nutrition information from the USDA Food Database. Our nutrition facts are accurate, but if you are using different products, please make your calculations. Net carb count is calculated by subtracting both fiber and sugar alcohols because they don't raise blood sugar.