Experience pure indulgence with our Keto Pumpkin Mousse – a creamy delight infused with the warmth of pumpkin spice. Delight in this fluffy fall dessert, perfect for Thanksgiving or any occasion. Revel in the essence of pumpkin cheesecake, expertly lightened for an easy treat.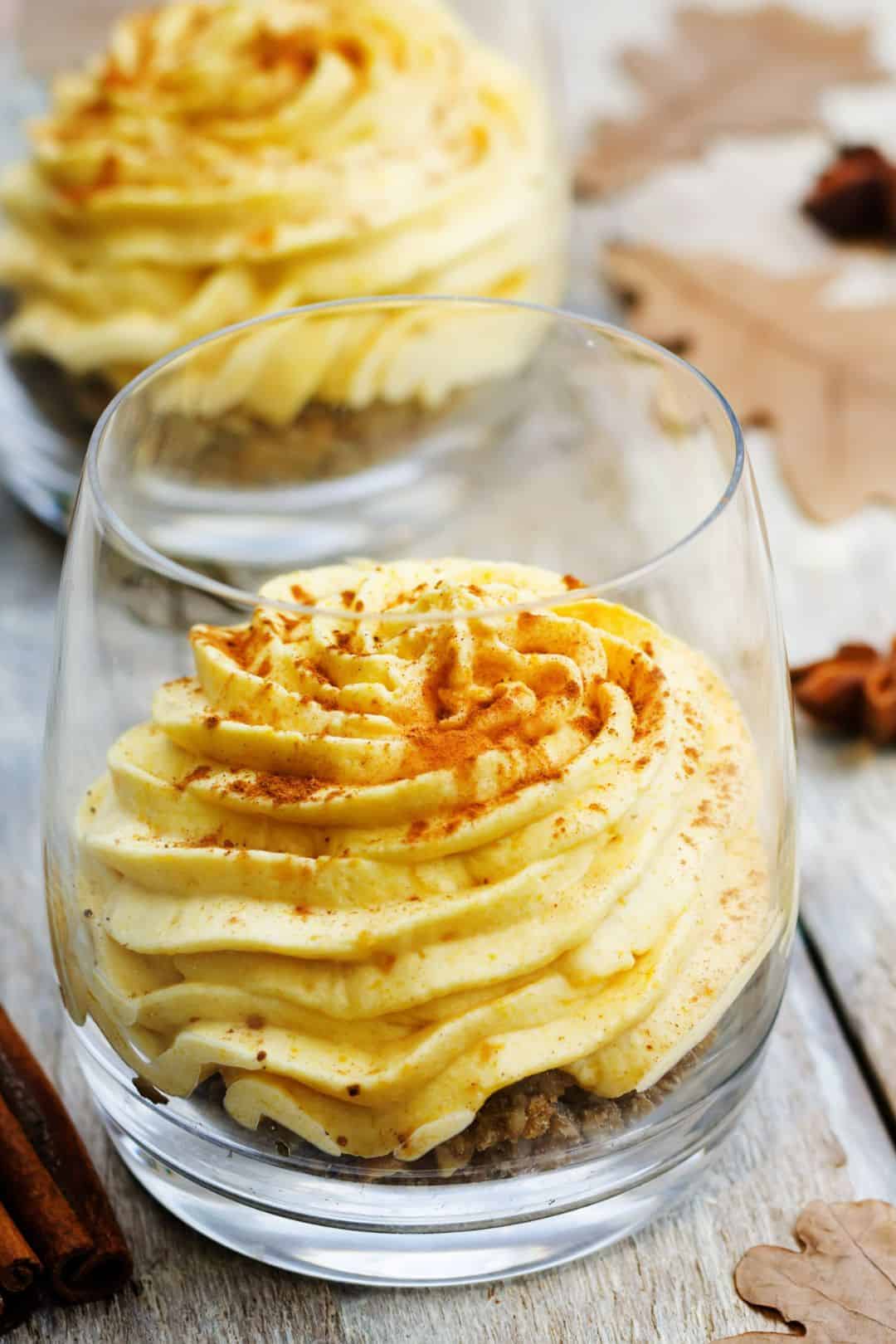 With a light and airy texture, this sugar-free keto pumpkin mousse is the perfect recipe for you and your family.
Made with only 6 ingredients and 10 minutes of prep, then tipped with sugar-free whipped cream, you're in for an extra indulgent treat.
Although this keto pumpkin mousse looks impressive and quite complicated to prepare, once you make it, you will see that it is actually easy to make without needing any cooking skills.
If you are a pumpkin lover, you just try this recipe, and if you like it as much as we do, then you also have to try our keto pumpkin spice latte, pumpkin pie, or keto pumpkin soup.
So if you are looking for a delicious and sugar-free dessert to prepare, I'm sure this keto pumpkin mousse will become your favorite, especially with the Thanksgiving and holiday season almost here.
Is Pumpkin Keto-Friendly?
With fewer carbohydrates than other fruits and vegetables, pumpkin is great for a keto diet making it a great ingredient for many keto recipes.
What Is Pumpkin Mousse?
Pumpkin mousse is a dessert based on cream cheese, heavy cream, and pumpkin puree filled with fall season spices. Its consistency is like a classic mousse and no-bake cheesecake, with an airy, velvety texture.
Why Are You Going To Love This Keto Pumpkin Mousse Recipe
It's super easy to make in only 10 minutes.
It's perfect for making it ahead of time.
Super creamy, fluffy, and airy
A no-bake, one-bowl dessert that everyone loves
Made using only 6 naturally low carb ingredients.
Ingredients For Keto Pumpkin Mousse
You will need only a few easy and common ingredients to make this delicious keto pumpkin mousse. Here is a list with everything you will need:
Cream Cheese – you will need full-fat softened cream cheese for a velvety airy texture.
Heavy Cream – use full-fat heavy cream to obtain a creamy and fluffy pumpkin mousse.
Pumpkin puree – you can make it at home or buy it from the store. Just make sure that you read the label to check if no sugar or other additives are added.
Pumpkin Pie Spice – You can buy this spice blend from the store or make it at home since it's extremely easy to do and more flavourful than that store-bought.
Sweetener – use your favorite powdered sweetener. For extra flavor, you can choose a brown sugar replacement.
Vanilla Extract – use the best quality of vanilla extract for an intense flavor.
Salt – it's used to enhance all the flavor in this keto pumpkin mousse.
Whipped Cream – make a batch of my homemade whipped cream for the topping.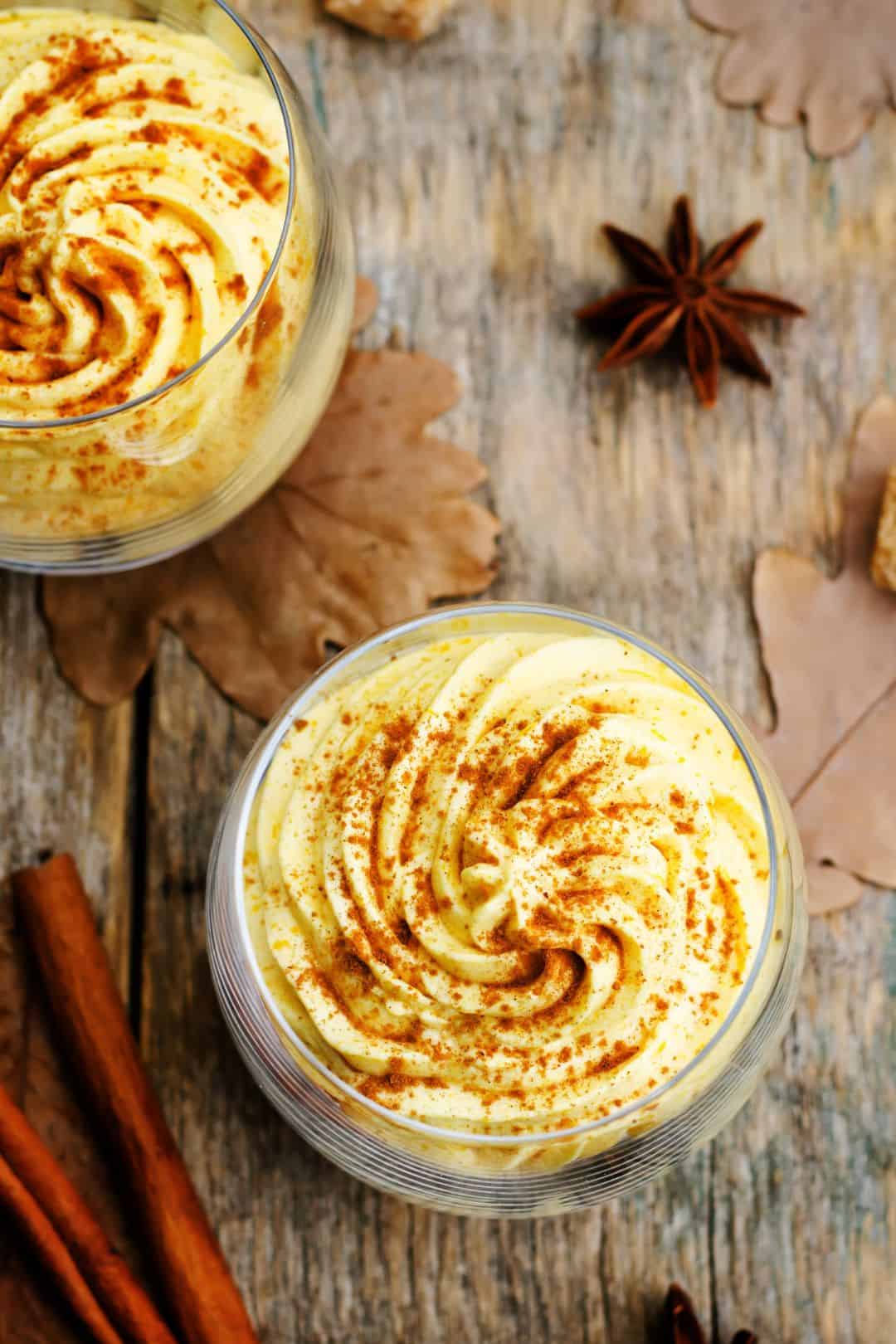 How To Make Keto Pumpkin Mousse
You will love this delicious keto sweet treat once you see how easy it is to prepare. Here is everything you have to do to enjoy one of the best keto pumpkin mousses that you will ever try:
Making The Creamy Base
In a generously sized mixing bowl, combine the cream cheese (8 oz) at room temperature, pumpkin puree (7 oz), powdered sweetener (2 tbsp), and vanilla extract (1 tsp). Blend these ingredients until they form a creamy and uniform mixture.
Add the pumpkin pie spice (1 tsp) into the mixture and incorporate it thoroughly for a delightful infusion of autumn flavors.
Pour in the heavy cream (3/4 cup) to further enrich the texture and creaminess of the mousse. Continue mixing until the components are harmoniously combined.
Chilling for Perfection
Divide the resulting keto pumpkin cheesecake mousse evenly among 4 small serving glasses. This resting time melds the flavors beautifully.
While the mousse is chilling, prepare your preferred batch of sugar-free whipped cream.
Assemblage with Elegance
Once the pumpkin mousse has been adequately chilled, take it out and portion it into serving glasses.
Elevate the presentation by adding a finishing touch of pumpkin spice if desired.
Tips For Making The Best Keto Pumpkin Mousse
Make sure you use room-temperature ingredients to ensure a creamier and smoother texture.
Feel free to add some cinnamon or nutmeg while mixing the cream cheese for a more intense fall-season flavor.
For great results, chill this keto pumpkin mousse before serving it.
Make sure you're using pumpkin puree, and avoid the pumpkin pie filling. The latter one is loaded with sugar and other spices that are not keto friendly.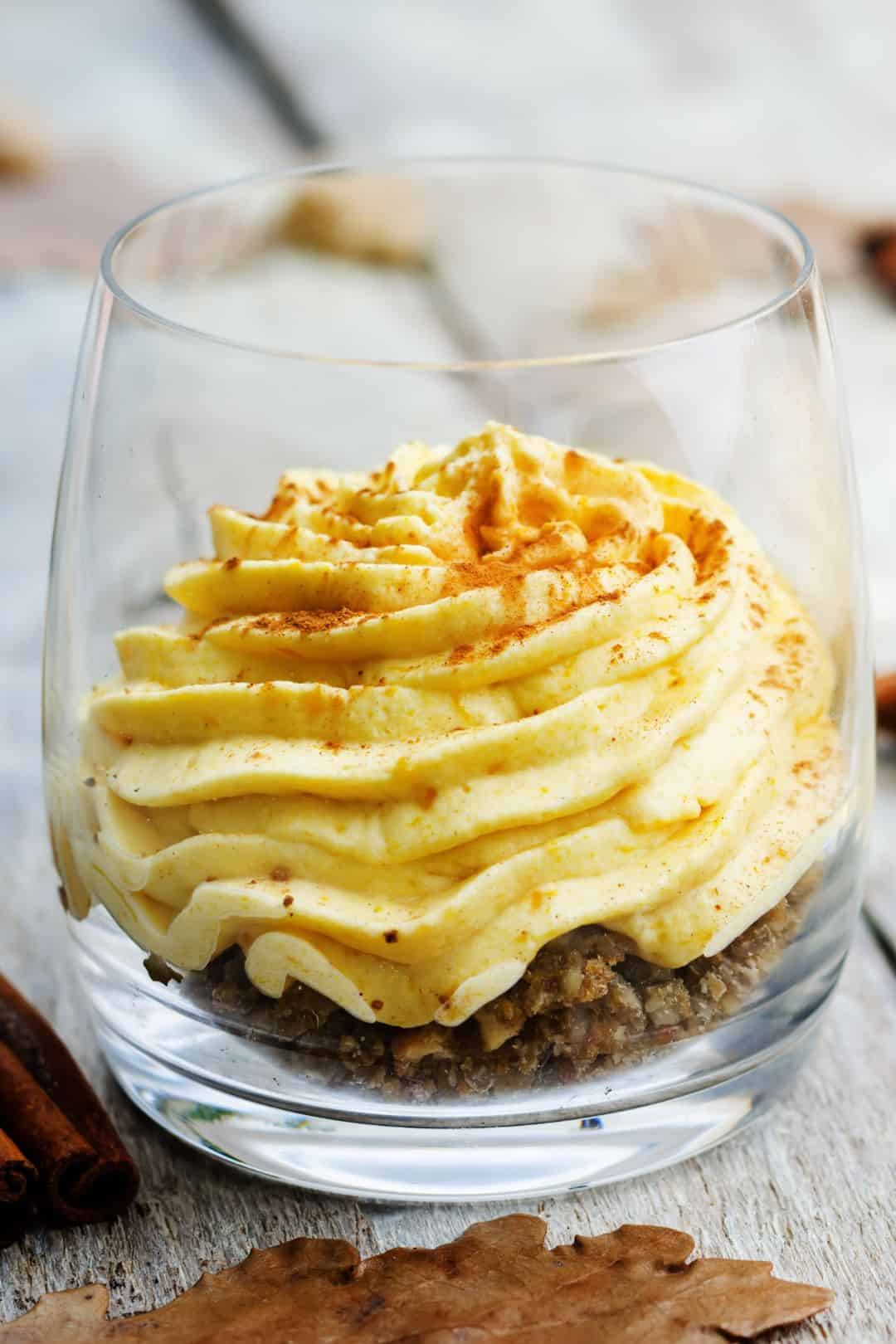 Storing Ideas
Fridge – You can store this keto pumpkin mousse covered with plastic foil in the fridge for up to five days.
How To Serve Pumpkin Mousse
There are many creative ways to serve this low carb pumpkin mousse. It's best served cold straight from the refrigerator. Use a piping bag to transfer into small serving glasses.
Pumpkin Parfaits: You can use this mousse to create a delicious layered dessert. Alternate layers of cookies, granola, or brownie bits, then finish with whipped cream.
Keto Chocolate Pumpkin Mousse – Mix in a tablespoon of chocolate powder and sprinkle a few chocolate chips on top before serving.
A delicious filling for keto pancakes or keto crepes.
Pumpkin Pie Filling vs. Pumpkin Puree
Although pumpkin puree and pumpkin pie filling may seem the same, you need to be careful not to use pumpkin filling because it will also change the entire result and the macros.
Can I Freeze This Keto Pumpkin Mousse?
Sure, if you want to freeze this keto mousse, transfer it to individual freezer-safe glasses and wrap each glass with plastic foil; then, you can store them in the freezer for up to one month. However, I prefer to make this pumpkin mousse a day before serving it and then store it in the fridge since it's quite easy to prepare.
More Keto Desserts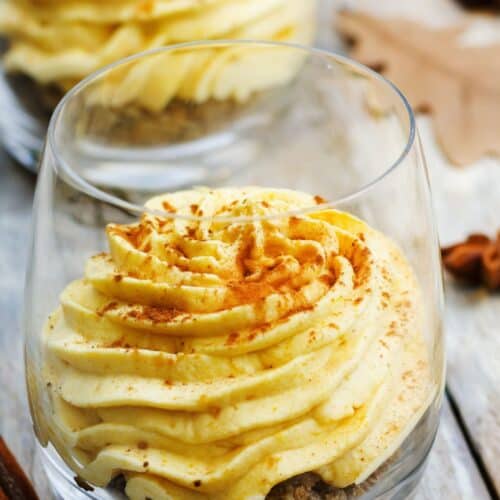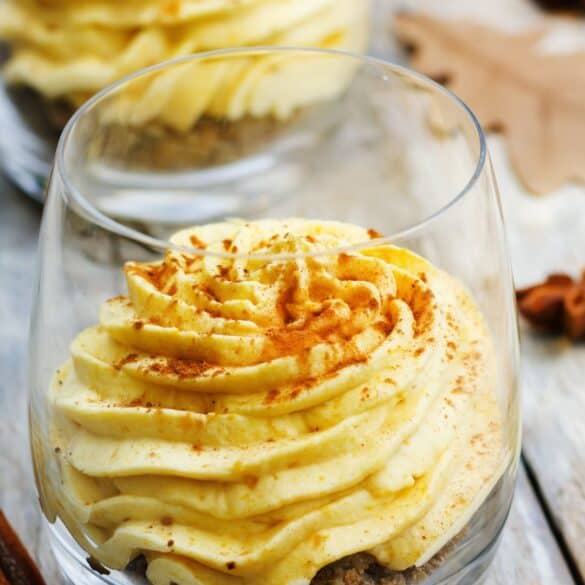 Description
This keto pumpkin mousse is super creamy and loaded with cozy pumpkin flavors. It's the perfect fluffy keto dessert for fall on Thanksgiving day or any other occasion.
Instructions
Beat the cream cheese, powdered sweetener, and pumpkin using an electric mixer until fluffy and smooth.

Mix in the heavy cream, pumpkin spice, and vanilla extract until smooth and creamy.

Divide the keto pumpkin cheesecake mousse into 4 small serving glasses. Refrigerate for at least 4 hours or overnight.
Nutrition Facts
Amount per serving.
How do we calculate the nutrition info?
These nutrition facts listed are determined using nutrition information from the USDA Food Database. Our nutrition facts are accurate, but if you are using different products, please make your calculations. Net carb count is calculated by subtracting both fiber and sugar alcohols because they don't raise blood sugar.