Made from naturally low-carb ingredients, this keto stollen recipe is the best gluten-free version of the traditional one that's gluten-free, rich, and buttery.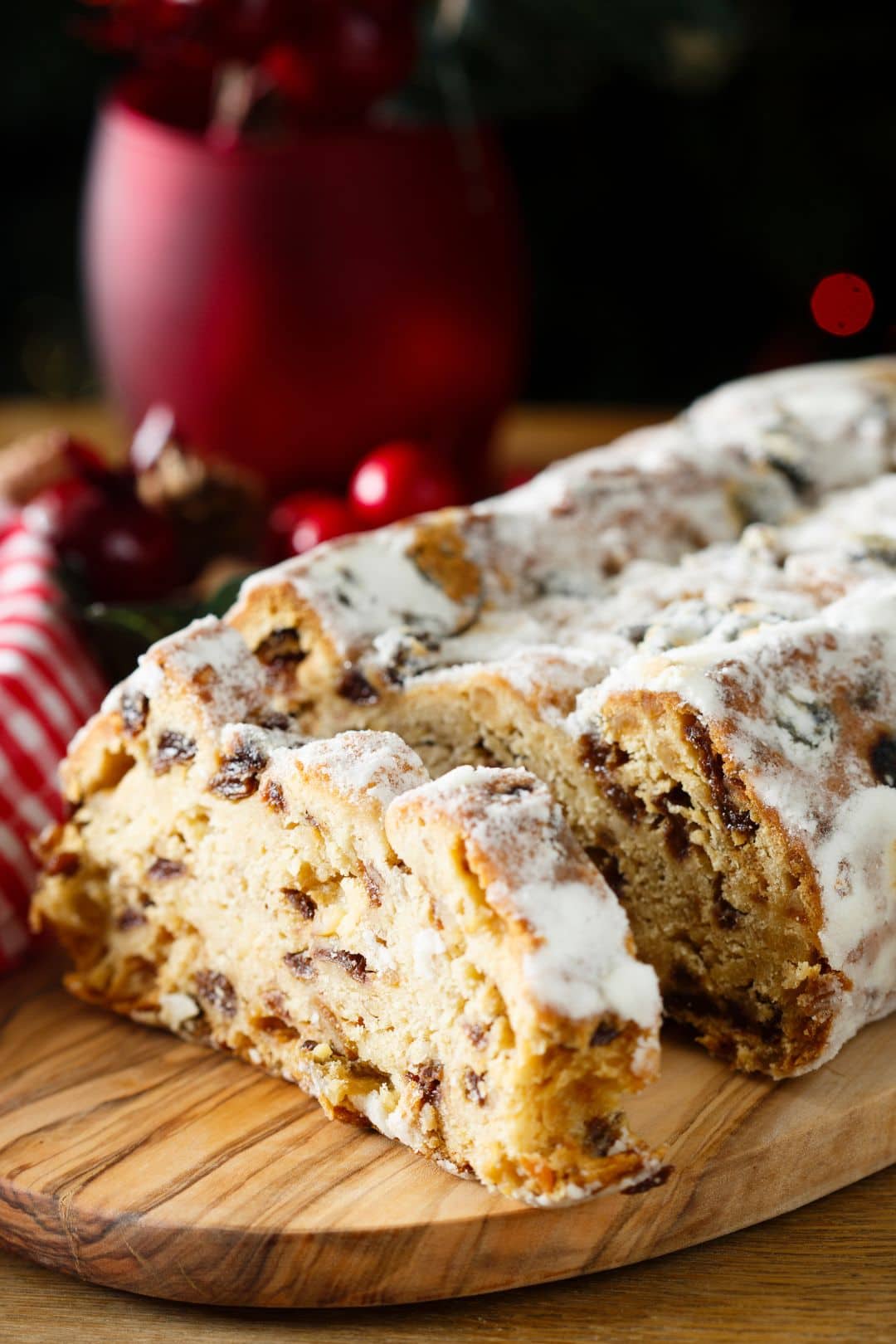 The best thing about this recipe is that it tastes exactly like the original German one but with fewer carbs. So make this recipe for Christmas if you want to surprise your loved ones with a sugar-free special sweet treat.
Once you try this recipe, you won't want to celebrate Christmas without this delicious sugar-free stollen. Loaded with citrus fruit, cinnamon, and roasted almonds, this keto stollen it's the best recipe to make on holidays.
What is Christmas Stollen?
Stollen is a German yeast fruit bread made with almonds, spices, and dried fruit that is usually made with marzipan and then dusted with powdered sugar or icing sugar. It's super flaky, moist, loaded with Christmas spices, and perfect for the holidays.
It's Usually dusted with tons of powdered sugar to resemble a snowy German landscape.
Why Are You Going To Love This Keto Marzipan Stollen
Made from naturally low-carb ingredients.
You can make it ahead of time.
Has just a few net carb per serving.
It's a sugar-free, gluten-free, and low-carb sweet treat.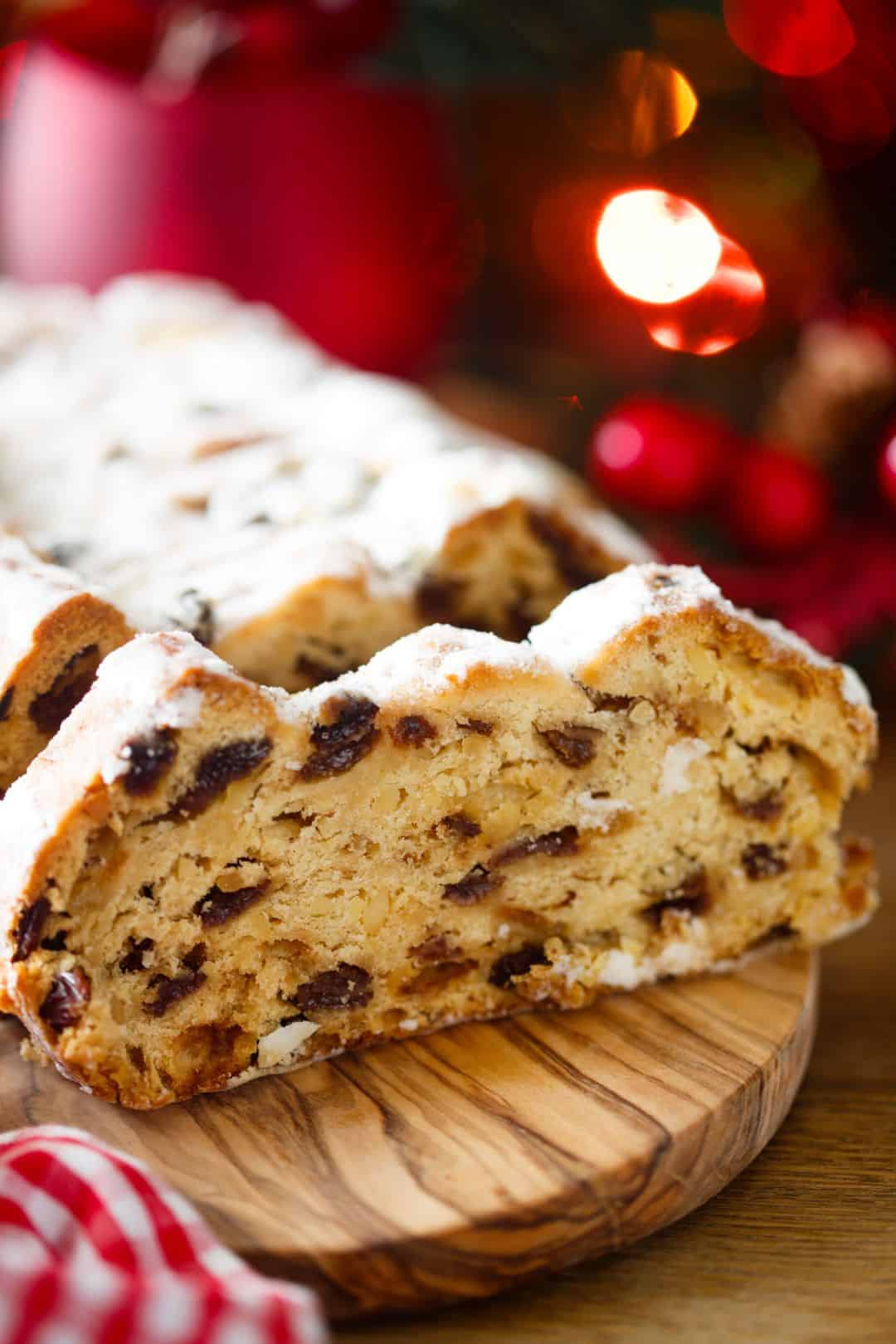 Ingredients For Keto Stollen
Although there is a long list of ingredients, you will be surprised to discover that you probably have most of them in your pantry. Here is a list of everything you will need:
For The Stollen Dough
Almond&Coconut Flour – this is my favorite mix of keto flour that I choose to use anytime I want to make something sweet.
Eggs – help everything to bind together. Use room-temperature eggs to avoid that eggy smell and flavor.
Sour Cream
Butter – you will need unsalted butter.
Sweetener – feel free to use your favorite sweeteners, such as erythritol or monk fruit.
Baking Powder – helps the stollen rise.
Vanilla Extract – use the best quality vanilla extract to boost flavor.
Spices – I used a mix of cinnamon, ground cloves, and allspice for that holiday smell and flavor.
Orange Zest – feel free to replace it with lemon zest.
For The Fruit Filling
Water
Orange & Rum Extract – you can choose only one type of extract.
Raisins – if you are not a fan of raisins, you can choose to add cranberry instead.
Almond Flour – helps everything to bind together.
For The Topping
Butter – you will need unsalted butter.
Sweetener – use powdered sweetener to mix well.
How To Make The Best Keto Stollen
This is one of my favorite keto Christmas desserts that I make almost every year since it's extremely delicious and easy to make. Here is everything you need to do to enjoy the best Keto christmas stollen recipe:
Make the fruit filling. Add all the ingredients to a mixing bowl and stir until well combined. Then let macerate for 40 minutes.
Make the stollen dough. Start by preheating the oven to 350 degrees and line a baking sheet with parchment paper.
Roast the chopped almond in a pan over medium heat until golden brown. Then set aside.
Add the eggs, sour cream, melted butter, and vanilla extract to a bowl and mix until frothy.
Then in another different bowl, mix all the dry ingredients.
Add the fruit filling, almonds, lemon zest, and dry ingredients over the egg mixture. Whisk until well combined and smooth.
Let it rest for 10 minutes until the moisture absorbs.
Transfer the dough to the prepared pan and form it into a loaf, about 28 x 15 cm.
Bake it for 45 minutes in the preheated oven. Once baked, remove it from the one, brush the stollen with melted butter, and dust it with powdered sweetener.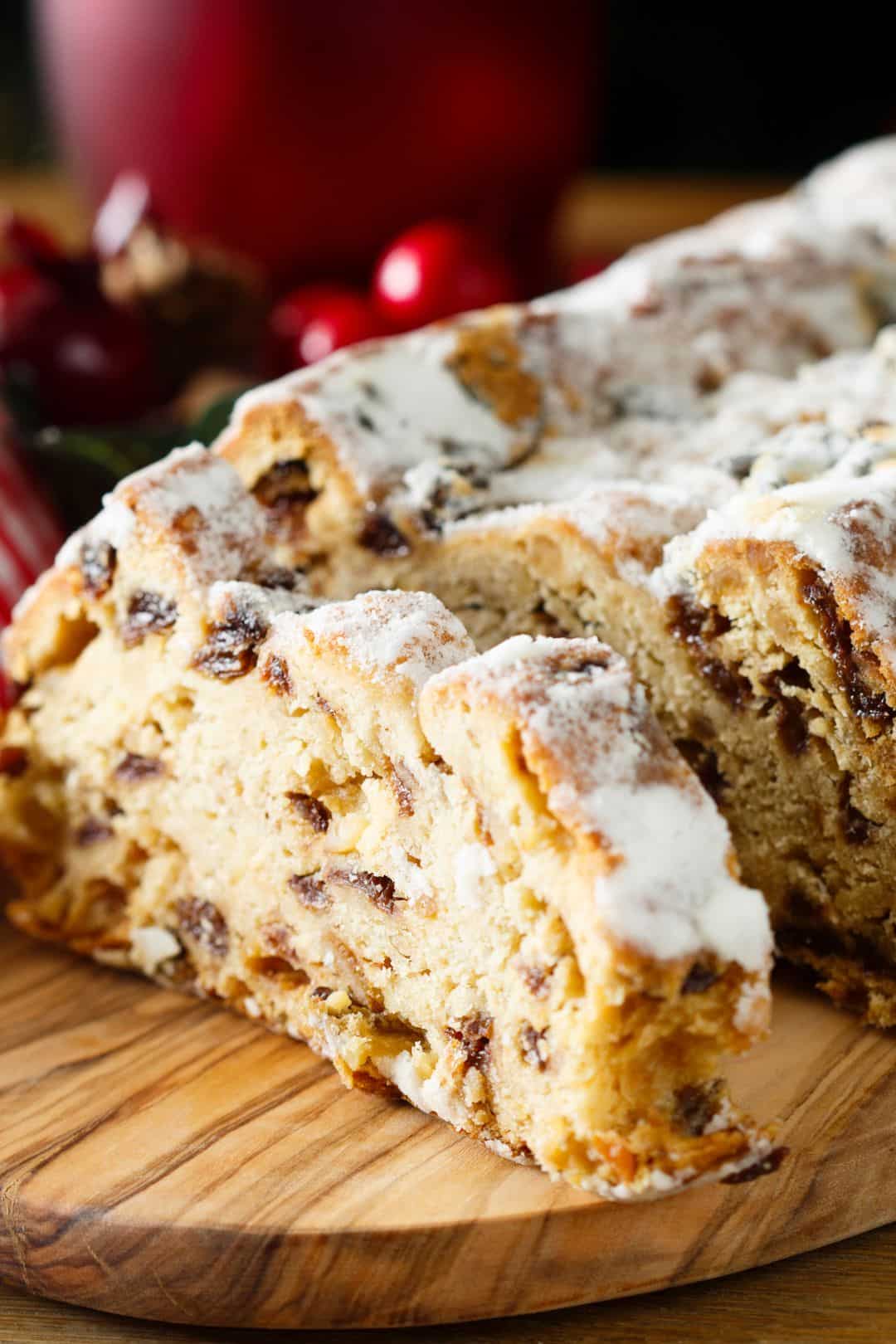 Storing Ideas
Room Temperature: transfer the leftovers of this keto stollen to an airtight container and store them on the counter at room temperature for up to 5 days.
Fridge: you can also store this keto stollen in an airtight container in the fridge for up to 2 weeks.
Frequently Asked Questions
What Should I Do If My Dough Is Too Sticky?
You need to know that the dough texture has to be like play dough. And if you end up with a sticky texture, you can add one more tbsp of coconut flour and mix until you reach the right texture.
What's The Right Consistency Of An Stollen?
This Keto Stollen recipe is not fluffy but has a soft and consistent texture. It's an extremely aromatic dessert and a must on the Christmas table.
Can I Make This Recipe In Advance?
Definitely!! Actually, it's great if you prepare this keto stollen for 1 or 2 weeks before serving it. And that's because it needs time to mature the taste and flavors from this keto stollen recipe.
Much more, after maturing, the stollen becomes a little denser with a texture close to a softer gingerbread.
Stolen Vs. Fruitcake
Similar to stollen, but without the rum soaking, stollen is created with candied fruit and nuts. Additionally, it is a little less dense and truly more like bread.
Can I Freeze This Keto Stollen?
Sure, if there are any leftovers(which is hard to believe), you can store them in the freezer wrapped in plastic foil for up to 2 months.
More Keto Desserts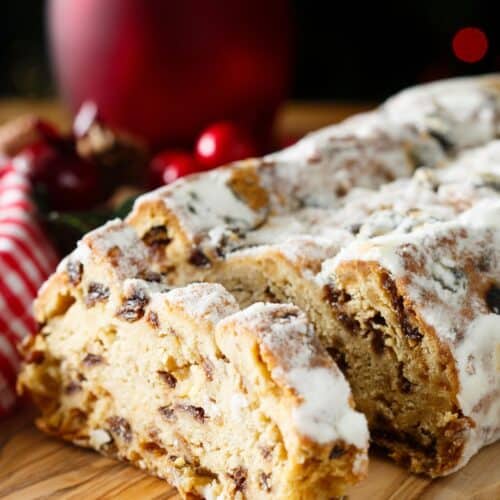 Description
Made from naturally low-carb ingredients, this keto-stollen recipe is the best gluten-free version of the traditional one that's gluten-free, rich, and buttery.
Ingredients
For The Fruit filling
¼

cup

water

1½

tsp

rum extract

½

tsp

orange extract

¼

cup

chopped raisins

¼

cup

cranberries

¼

cup

almond flour

blanched
For The Topping
1

tbsp

melted butter

Powdered Sweetener for dusting
Instructions
Make the fruit filling. In a medium bowl, add the water, extracts, raisins, cranberries, and almond flour. Soak for at least 30 minutes, or overnight.

Preheat oven to 350°F/180°C. Line a baking sheet with parchment paper.

Make the dough. In a large bowl, add the eggs, sour cream, melted butter, and vanilla extract. Whisk until smooth.

Add the almond flour, coconut flour, sweetener, baking powder, spices, and salt to a large bowl.

Combine the fruit filling (remove the excess water), orange zest, and dry ingredients with the egg mixture. Mix well to combine, and let the dough rest for 5-10 minutes.

Shape the stollen. Place the dough onto the prepared baking sheet and wet your hands to shape it into a 9″x5″ loaf. You can also place keto marzipan in the middle of the stollen.

Bake the keto stollen for 40-45 minutes or until a skewer inserted in the middle comes out clean. Cover with aluminum foil to prevent burning.

Remove the stollen from the oven and brush with melted butter and dust with powdered sweetener.
Nutrition Facts
Amount per serving.
How do we calculate the nutrition info?
These nutrition facts listed are determined using nutrition information from the USDA Food Database. Our nutrition facts are accurate, but if you are using different products, please make your calculations. Net carb count is calculated by subtracting both fiber and sugar alcohols because they don't raise blood sugar.