This creamy keto pumpkin soup is thick, aromatic, and ultra comforting. Delicious and perfect for cold days, this is the best low carb soup recipe made with canned pumpkin, cream, and tons of spices.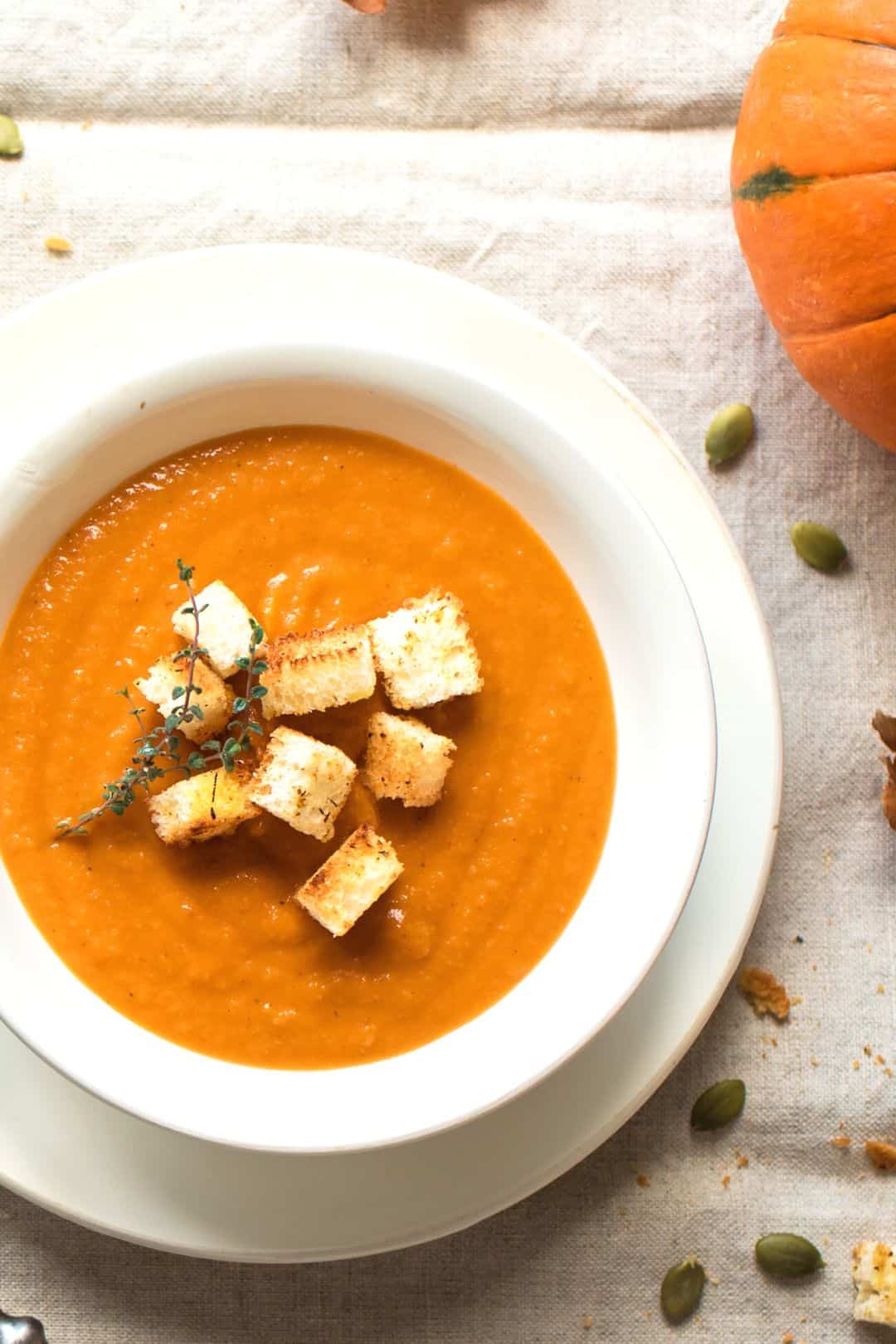 Made with just a few simple pantry ingredients, enjoy a healthy pumpkin soup that's the perfect comfort food for a busy weeknight dinner.
It is a perfect soup for cold days when you feel cold just looking out the window. And what can be better in those days if not a bowl of hot soup in your hands? Sounds great, doesn't it?
Enjoy this silky, rich, delicious, and easy-to-prepare fragrant soup that goes perfectly with some freshly baked keto croutons.
This keto pumpkin soup is incredibly tasty, and it's one of my favorite fall recipes, along with this keto pumpkin pie or the best keto pecan pie.
Is Pumpkin Keto-Friendly?
Sure, with only 7g net carbs per 100g, pumpkin is a great keto-friendly option because it has fewer carbohydrates than other similar fruits and vegetables.
Why Are You Going To Love This Easy Keto Pumpkin Soup Recipe
Extremely easy to prepare in just 30 minutes
Loaded with pumpkin flavor and fall spices
Contain only 7g net carbs per serving.
Creamy, silky, and comforting
The best addition to your holiday table from fall through winter
Leftovers taste even better the next days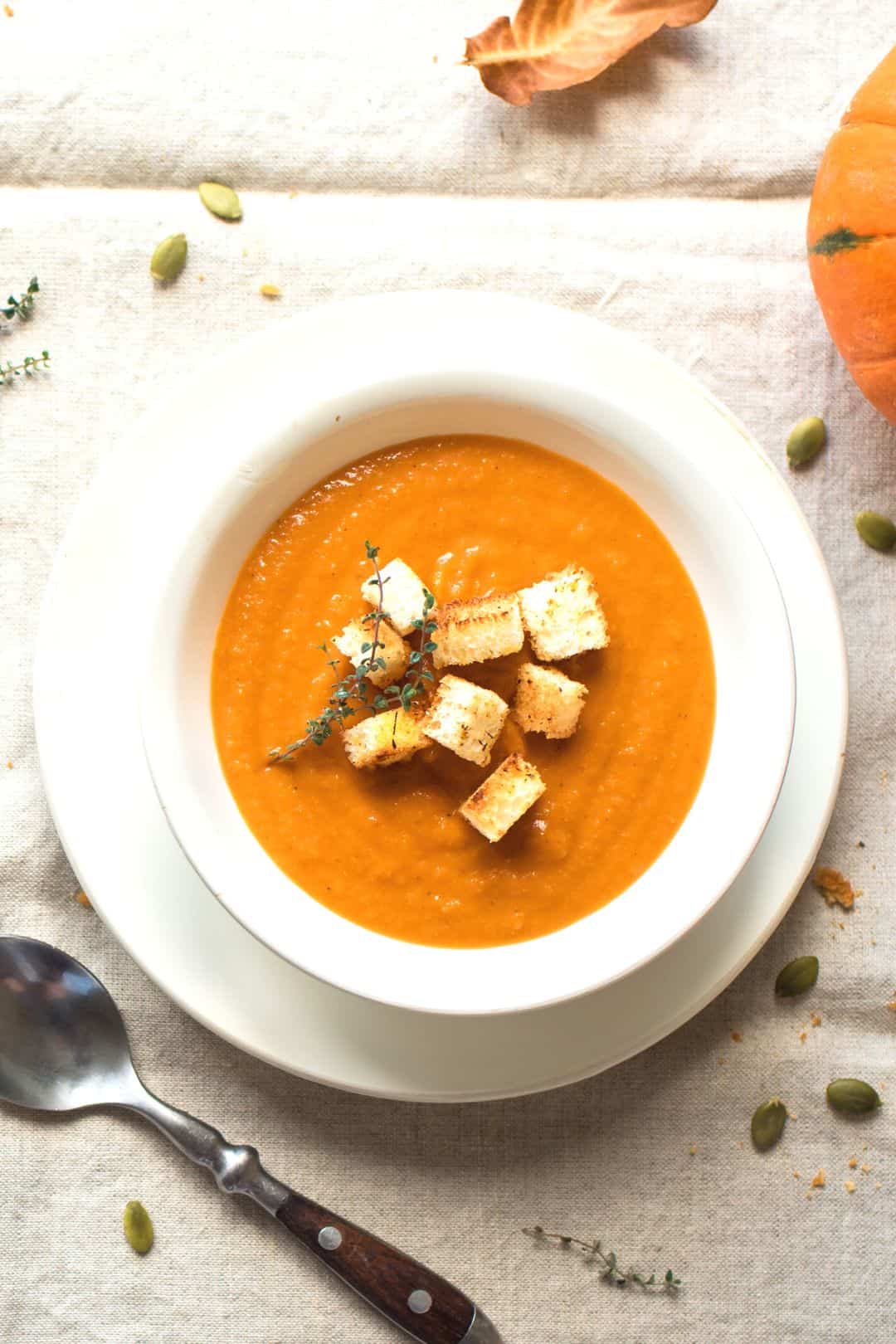 Keto Pumpkin Soup Ingredients
This keto pumpkin soup requires only a few healthy and naturally low-carb ingredients that are easy to find in any store. Here is a list of everything you need:
Pumpkin Puree – I used homemade pumpkin puree, but you can also use canned pumpkin puree. Just make sure that you check the label to see if it has any added sugar or spices. Do not use pumpkin pie filling!
Vegetables Broth – You can replace it with chicken broth.
Heavy Cream – This ingredient adds a silky and creamy texture to the soup. You can skip it to make a dairy-free version of this soup and use coconut cream instead.
Butter – use unsalted butter since the broth is quite salty. You can also use olive oil or any other vegetable oil.
Onion and garlic – give an intense flavor and extra savouriness to the soup.
Salt&Pepper – to taste.
Thyme – this is one of the common ingredients used to season soups since it gives a sweet and peppery flavor.
How To Make This Keto Pumpkin Soup
You will be surprised at how easy it is to prepare this delicious keto pumpkin soup. Here is everything you have to do:
Add the butter to a saucepan over medium heat. Once the butter is melted, add the chopped onion and cook for 3 minutes or until translucent. Add the minced garlic and cook for 1 minute.
Add the broth, pumpkin puree, and all the seasonings and simmer for 20-25 minutes.
Remove the pot from the heat, and using a blender, blend the soup to puree.
Add the heavy cream and stir until well combined.
Serve this keto pumpkin soup with some keto croutons and a drizzle of heavy whipping cream.
Topping Ideas
This keto pumpkin soup is great because you can play with the toppings to add extra texture and flavor to the final dish. Here are some great ideas:
Keto Croutons – make these crunchy and delicious low carb croutons to complete perfectly this pumpkin soup.
Garnish this keto soup with some shredded parmesan for a delicious cheesy flavor.
Add some crumbled bacon to your soup for a great flavor and extra crunch.
Drizzle some heavy cream on top of the pumpkin soup.
Add roasted pumpkin seed for an extra crunch.
You can also add some crumbled feta.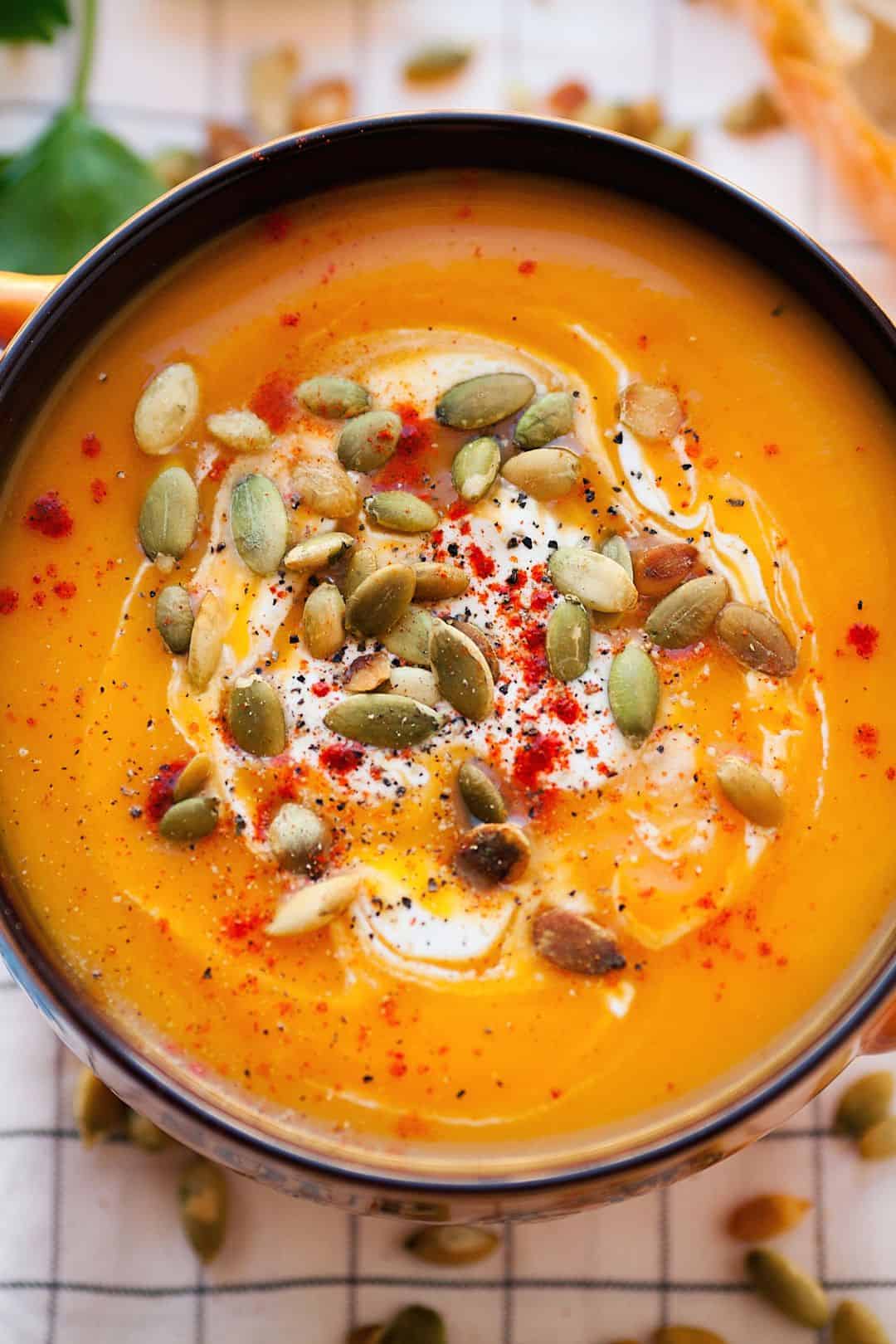 Storing Ideas
Fridge – You can store this keto pumpkin soup in the fridge for up to 5 days in an airtight container.
Freezer – You can also freeze this keto pumpkin soup. Place the soup in a freezer-safe container and keep it frozen for up to 3 months.
Reheat the soup in a saucepan over the stove or in the microwave.
Place it on the stove over medium heat when you want to reheat it.
Frequently Asked Question
Are Soups Healthy?
Sure, soups are considered good and healthy for the body. Most soups are low in calories and are an easy way to include more vegetables in our daily diet.
What Is The Right Consistency For A Cream Soup?
The consistency of a cream soup should be creamy. This should not have the consistency of a thick puree, but neither should it have the consistency of a sauce. It has to be somewhere in the middle.
Can I Make This Recipe In A Dairy-Free Version?
Sure, if you follow a dairy-free diet, you can still enjoy this keto pumpkin soup by skipping the heavy cream and replacing the butter with olive oil.
More Keto Soup Recipes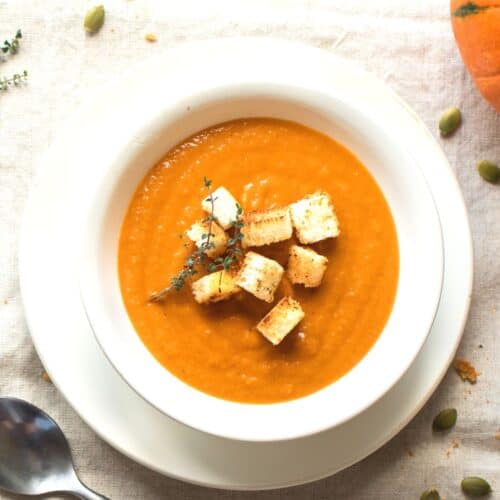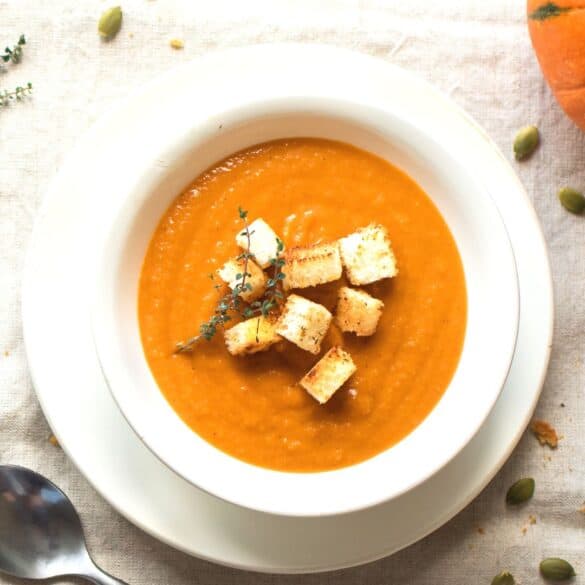 Description
This keto pumpkin soup is thick, creamy, aromatic, and ultra comforting. Delicious and perfect for cold days, this is the best low carb soup recipe made with canned pumpkin, cream, and tons of spices.
Ingredients
5

oz

pumpkin puree canned or homemade

4

cups

vegetable broth

or chicken stock (reduced sodium)

1/3

cup

heavy cream

or canned coconut milk

1/4

cup

onion

diced

2

garlic cloves

minced

1

tbsp

unsalted butter

or olive oil

1/2

tsp

pink salt

1/2

tsp

pepper

1/2

tsp

garlic powder

1/2

tsp

fresh thyme

1/4

tsp

cayenne pepper
Instructions
Place a large saucepan over medium heat and add the butter. Once melted, cook the onions for 5 minutes or until translucent.

Add the minced garlic and saute for 1 minute until fragrant.

Add the pumpkin puree, broth, salt, pepper, garlic, cayenne pepper, and fresh thyme. Use a blender or an immersion blender to puree the soup.

Bring to a boil, then reduce the heat and simmer for 20-25 minutes until the soup starts to thicken.

Remove the soup from the heat and stir in the heavy cream.

Serve immediately, topped with keto croutons, heavy cream, and roasted pumpkin seeds.
Nutrition Facts
Amount per serving.
How do we calculate the nutrition info?
These nutrition facts listed are determined using nutrition information from the USDA Food Database. Our nutrition facts are accurate, but if you are using different products, please make your calculations. Net carb count is calculated by subtracting both fiber and sugar alcohols because they don't raise blood sugar.