This Chicken Fajitas recipe features ultra juicy, perfectly spiced chicken, sautéed bell peppers and onions, and all the fixings that make this classic Tex-Mex dish an absolute crowd-pleaser. Our homemade fajitas are not only bursting with authentic flavors, but they're also super easy to prepare.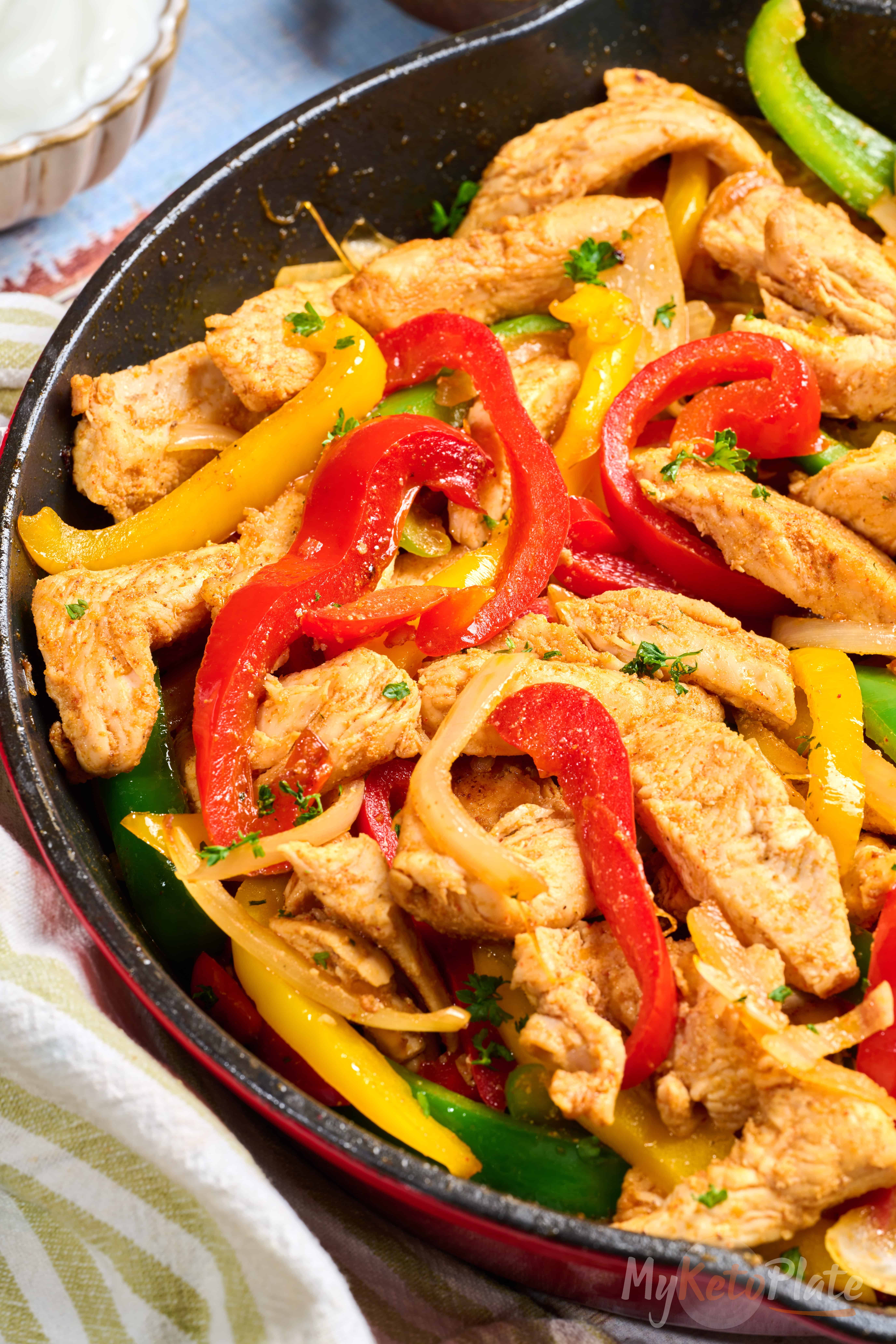 Packed with tender chicken bites, a vibrant mix of bell peppers, and a mouthwatering fajita seasoning blend, this recipe is guaranteed to wow everyone at your table. Get ready to elevate your dinner game and experience the vibrant flavors of Mexico in under 30 minutes!
We get it, life can get busy. That's why our chicken fajitas recipe is designed to be quick, easy, and absolutely delicious. With just one pan, you can create a crowd-pleasing meal that will transport you straight to the bustling streets of Mexico. Imagine the sizzle, the flavor, while being a nutritious dinner option.
Whether you're hosting a casual gathering with friends or simply craving a burst of Mexican flavors on your plate, our chicken fajitas recipe is your ticket to a restaurant-worthy experience right at home.
What Are Fajitas?
Fajitas are a delicious Tex-Mex dish that features grilled or sautéed strips of meat, typically beef or chicken, along with onions and a medley of colorful bell peppers. These flavorful ingredients are seasoned with spices like cumin, chili powder, and garlic, adding a robust and savory taste to the dish.
One of the highlights of fajitas is the presentation. They are often served on a sizzling hot skillet, creating an enticing visual and aromatic experience. Fajitas are traditionally enjoyed by wrapping the meat and vegetables in warm tortillas and adding toppings such as guacamole, sour cream, salsa, and other condiments to enhance the flavors.
Whether you're dining at a Mexican restaurant or recreating the experience at home, fajitas are a popular choice for their bold flavors and versatility. It's a fantastic dish to enjoy with friends and family, bringing a touch of Tex-Mex flair to your table.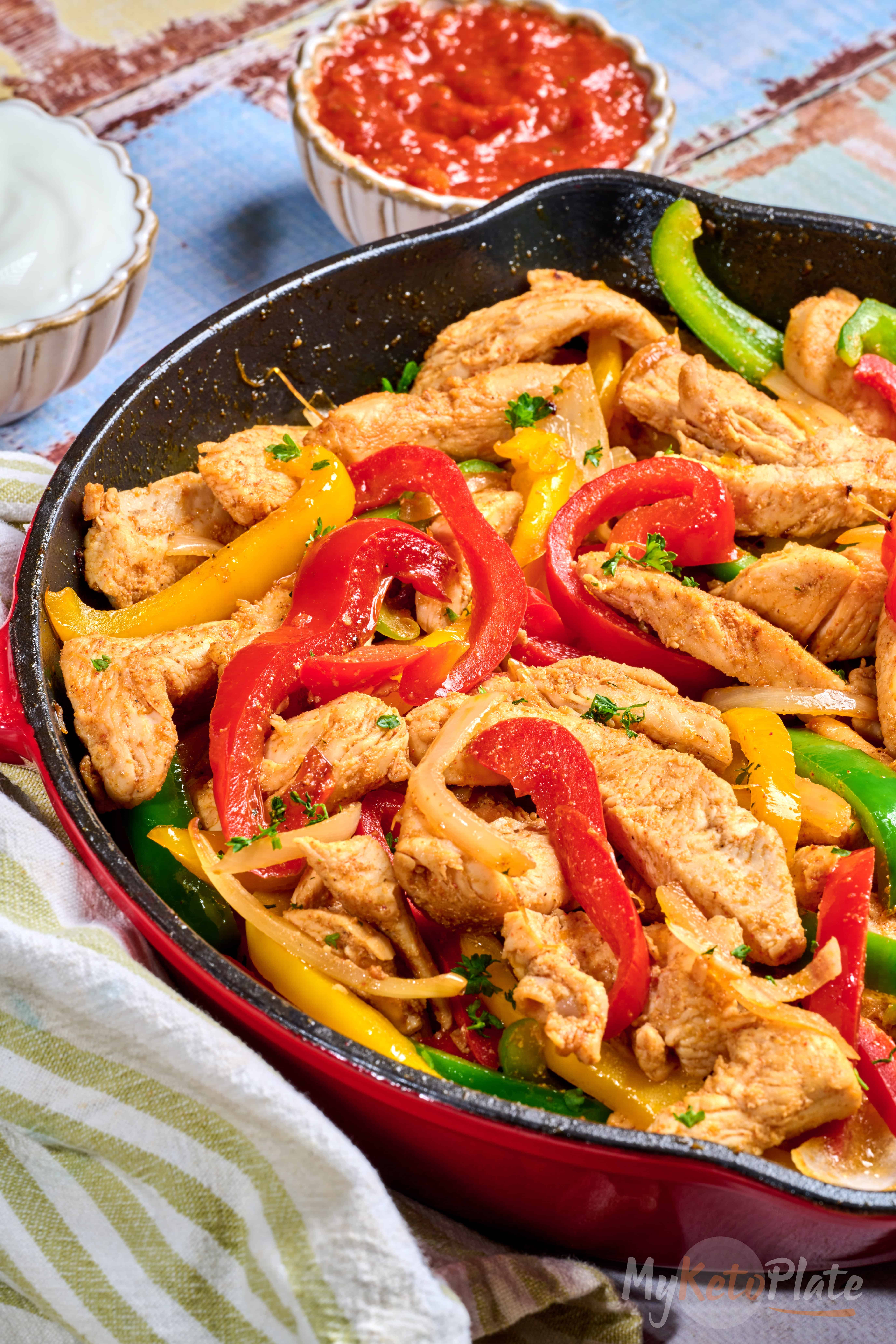 Why Are You Going To Love This Chicken Fajitas Recipe
Super easy to make: Ready in under 30 minutes, this fajitas recipe is super easy to make without needing any cooking skills.
Loaded with delicious flavors: Loaded with bold and vibrant flavors, chicken fajitas will impress everyone. The combination of tender chicken, colorful vegetables, and well-balanced seasonings creates a mouthwatering experience.
Meal Prep Friendly: Prepare a batch of chicken fajitas in advance and enjoy them throughout the week. This recipe is great for meal prepping, ensuring you have a nutritious and tasty option ready to go.
Customizable: Make these fajitas your own by adding your favorite vegetables or experimenting with different seasonings.
Healthy and nutritious: This chicken fajitas recipe can be a healthy meal option since it's made with colorful vegetables like bell peppers and onions, which provide essential vitamins, minerals, and dietary fiber.
Budget-friendly recipe: Made from affordable ingredients such as chicken breast, bell peppers, and onions, this recipe offers a cost-effective way to savor flavorful and satisfying fajitas without straining your budget.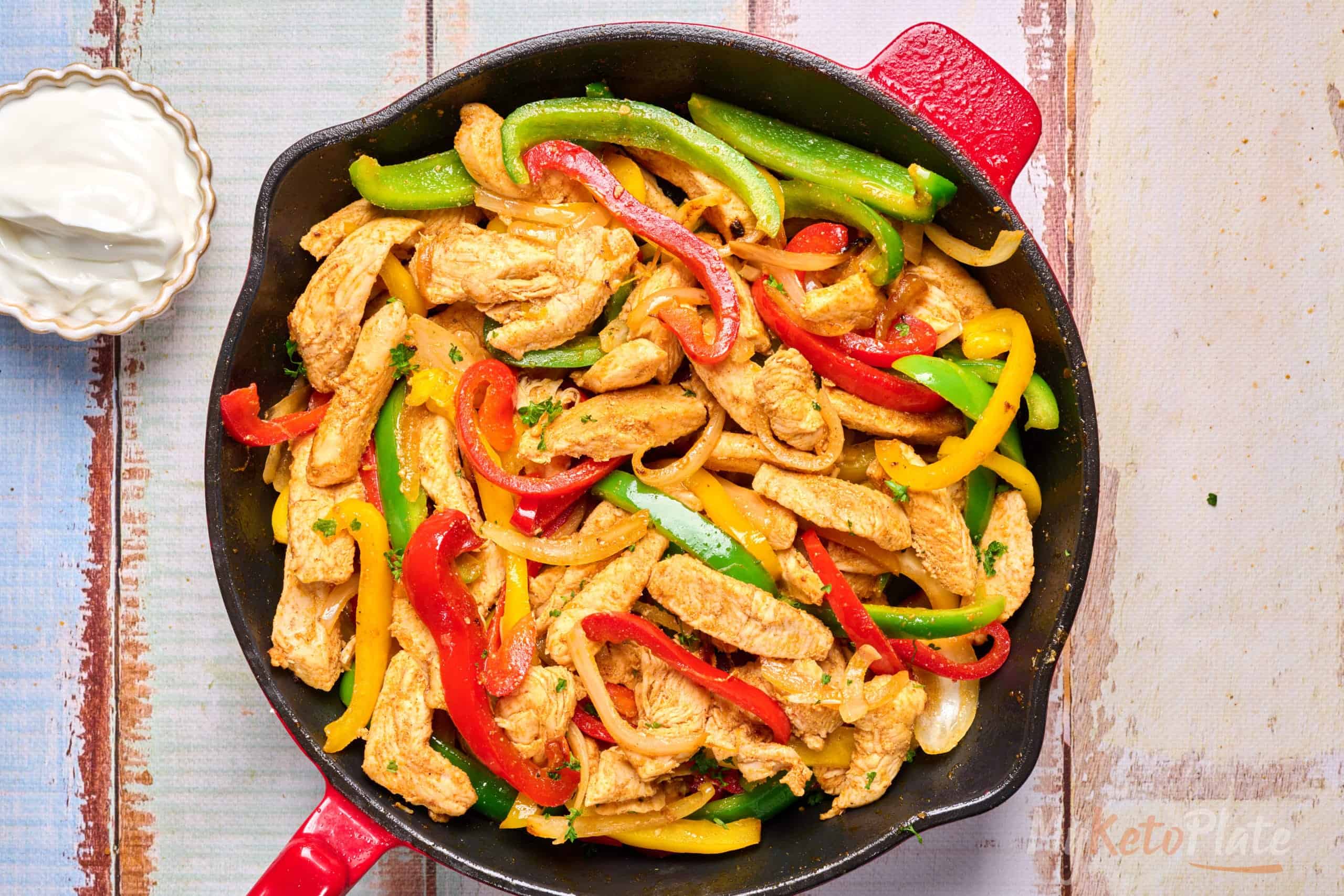 Ingredients For Chicken Fajitas Recipe
You will need only a few ingredients that you probably already have in your pantry to make this delicious chicken fajitas recipe. Here is a list of everything you will need: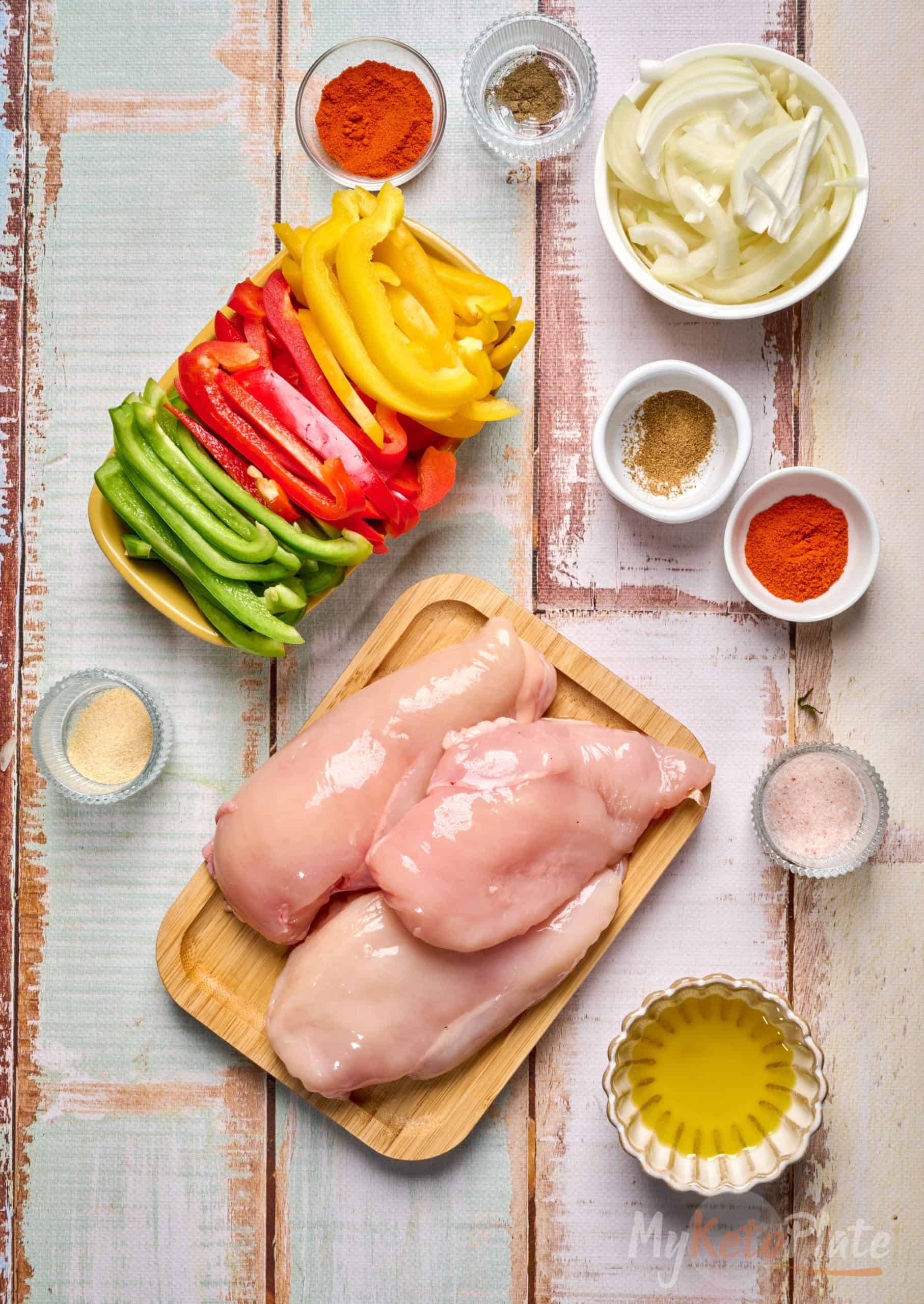 Chicken Breast – this is the ingredient that provides this dish with protein. Opt for boneless, skinless chicken breasts for convenience. However, chicken thighs can also be used for their juiciness and added flavor.
Olive Oil – Use olive oil or any other vegetable oil of your choice to cook the chicken and vegetables.
Onion – Choose a medium-sized yellow, white, or red onion. It adds flavor and texture to the dish.
Bell Peppers – Go for a colorful mix of green, yellow, and red bell peppers to enhance the visual appeal and provide a variety of flavors.
Chili Powder – Add some heat and spice to your fajitas with chili powder. Adjust the amount according to your preference.
Ground Cumin – This aromatic spice is a must-have in fajitas recipes. It adds a distinct and delightful flavor to the dish.
Garlic Powder – Enhance the overall flavor with garlic powder. Alternatively, you can use minced garlic cloves for a stronger garlic taste.
Paprika – Use smoked paprika for a smoky flavor and a vibrant color. It adds depth to the fajitas.
Oregano – Dried oregano brings an earthy and robust flavor to the chicken fajitas.
Salt&Pepper – Season the dish with salt and pepper to enhance all the flavors.
Parsley – Freshly chopped parsley is used as a garnish to add a touch of freshness. You can also replace it with cilantro.
How To Make This Chicken Fajitas Recipe
Here's a step-by-step guide on how to make this delicious chicken fajitas recipe:
Prepare The Chicken Breast and Vegetables
Start by patting dry the chicken breast with a paper towel to remove any excess moisture. This will help the chicken cook evenly.
Cut the chicken breast into thin strips. You can do this by slicing it against the grain to achieve tender and bite-sized pieces.
Peel and slice the onion into thin strips. You can use a sharp knife or a mandoline slicer for precise cuts.
Remove the seeds and core from the bell peppers, then slice them into thin strips. Aim for uniform slices to ensure even cooking.
Pan Sear The Chicken Breast
Heat a large skillet over medium-high heat and add a drizzle of olive oil to coat the pan.
Add the chicken strips to the skillet and season them with salt, pepper, ground cumin, garlic powder, paprika, and optional chili powder. These seasonings will add a delicious flavor to the chicken.
Cook the chicken for about 15 minutes, stirring occasionally, until it is no longer pink and cooked through. This ensures that the chicken is fully cooked and safe to eat. Transfer the cooked chicken to a plate and set it aside.
Cook The Vegetables
In the same skillet, add a bit more olive oil if needed, and heat it over medium heat.
Add the onion and bell pepper strips to the skillet and cook for about 4-6 minutes until they are slightly softened and crisp-tender. Stir occasionally to prevent burning and ensure even cooking.
Assemble
Once the vegetables are cooked, return the cooked chicken to the skillet and stir everything together. This step allows the flavors of the chicken and vegetables to meld together.
Sprinkle fresh chopped parsley or cilantro over the chicken fajitas for added freshness and flavor. This garnish adds a vibrant touch to the dish.
Transfer the chicken fajitas to a serving platter and serve hot.
Serve with warm tortillas, guacamole, sour cream, salsa, or any desired toppings to enhance the meal.
Tips For Making The Best Chicken Fajitas
Cut the chicken thinly: Using a sharp knife, slice the chicken breast into thin strips, about ¼-inch thick. This ensures that the chicken cooks quickly and absorbs the flavors of the spices.
Don't overcrowd the pan:  Cook the chicken in batches, if necessary, to avoid overcrowding the pan. This allows the chicken to sear properly and prevents it from steaming.
Marinate for flavor: For an extra boost of flavor, you can marinate the chicken strips before cooking. In a bowl, combine the chicken strips, your choice of spices, a splash of olive oil, and a squeeze of citrus juice (such as lime or lemon). Allow the chicken to marinate in the refrigerator for at least 30 minutes or up to overnight for maximum flavor.
Make it a complete meal by serving the fajitas with a side of Mexican rice or a fresh salad.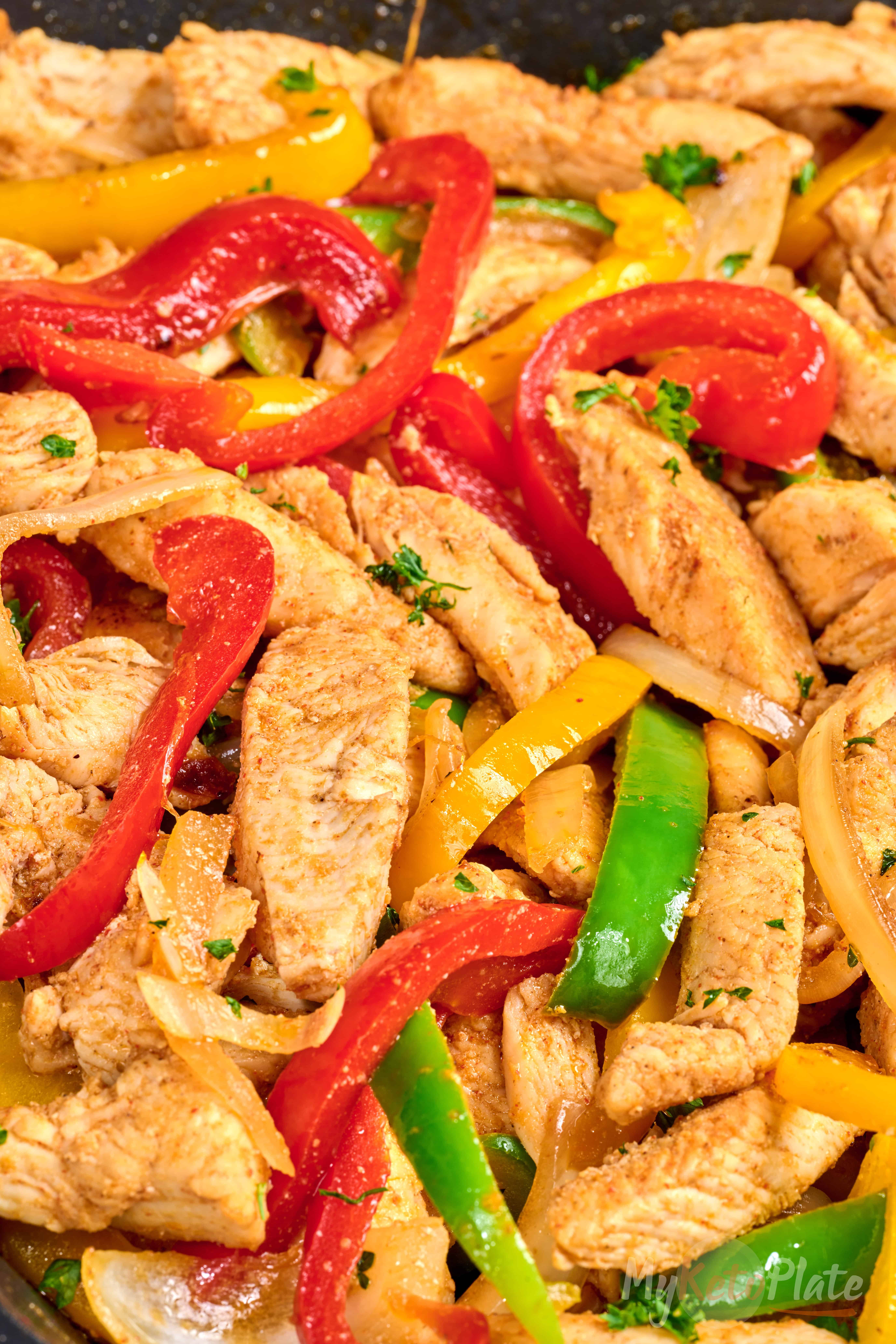 Recipe Variations
If you prefer, you can replace the chicken breast with beef meat, such as flank steak or sirloin, sliced thinly against the grain. Alternatively, you can use shrimp for a seafood twist on the fajitas.
While bell peppers and onions are traditional choices for fajitas, you can customize the recipe by adding your favorite vegetables. Consider including zucchini, yellow squash, eggplant, or any other vegetables that you enjoy. Slice them into similar-sized strips as the bell peppers and onions for even cooking.
If you prefer a different flavor profile, feel free to use your favorite spice blend instead of the classic fajitas seasoning. Experiment with options like Cajun seasoning, or taco seasoning.
Storing Ideas
Leftovers from these chicken fajitas are like little bundles of joy that keep on giving. They're perfect for adding a Mexican twist to your salads, tacos, burritos, and whatever else your culinary imagination desires. Talk about versatility!
Fridge: You can store any chicken fajitas leftovers in the fridge in an airtight container for up to 5 days. Ensure the container is properly sealed to maintain freshness and prevent any cross-contamination with other foods.
Freezer: Transfer leftovers to a freezer-safe container or zip-top freezer bag. Label the container with the date and store them in the freezer for up to 2 months. Freezing may slightly affect the texture of the vegetables, but the flavor should still be enjoyable.
To Reheat: When you're ready to enjoy your leftover chicken fajitas, there are a few options for reheating. If the fajitas were frozen, thaw them overnight in the refrigerator before reheating. Once thawed (if needed), you can reheat the leftovers in the microwave by placing them in a microwave-safe dish and heating them in short intervals, stirring occasionally, until heated through. Alternatively, you can reheat them on the stovetop by gently warming them in a skillet over medium heat, stirring occasionally until thoroughly heated.
More Chicken Recipes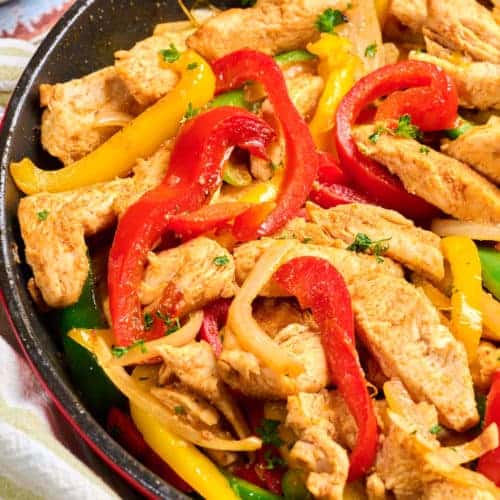 Description
Loaded with vibrant flavors and textures, this chicken fajitas recipe is perfect for bringing friends and family together since it's super easy to make and tastes incredibly delicious.
Ingredients
3

boneless skinless chicken breasts

1

onion

thinly sliced

3

bell peppers

thinly sliced

2

tbsp

olive oil
For The Seasoning
1/2

tbsp

chili powder

1/2

tbsp

ground cumin

1

tsp

garlic powder

1/2

tsp

paprika

1/2

tsp

oregano

1/2

tsp

salt

1/4

tsp

pepper
Instructions
Cut the chicken breast cut it into thin strips.

Heat one tablespoon of olive oil in a large skillet over medium-high heat.

Cook the chicken strips for 15 minutes until no longer pink, then remove from the skillet and set aside. Add the chicken strips to the skillet and season them with fajitas seasoning. Stir the chicken strips to coat them evenly with the seasoning. Once cooked, remove the chicken from the skillet and set it aside on a plate.

While the chicken is cooking, wash the bell peppers and onion. Slice the onion and bell peppers into long, thin strips

In the same skillet, add the remaining olive oil. Heat it over medium heat. Then, add the sliced onion and bell peppers to the skillet. Cook them for about 4-6 minutes, stirring occasionally, until they become slightly cooked and crisp-tender.

Return the cooked chicken strips back to the skillet with the onion and bell peppers. Stir everything together to combine well. Cook for an additional 5 minutes to allow the flavors to meld together and ensure the chicken is heated through.

Once cooked, garnish the chicken fajitas with fresh chopped parsley or cilantro for added freshness and flavor. You can also squeeze some lime juice over the fajitas for a tangy kick.
Nutrition Facts
Amount per serving.
How do we calculate the nutrition info?
These nutrition facts listed are determined using nutrition information from the USDA Food Database. Our nutrition facts are accurate, but if you are using different products, please make your calculations. Net carb count is calculated by subtracting both fiber and sugar alcohols because they don't raise blood sugar.