Keto Dalgona Coffee is an incredible Iced Sugar-Free drink that's made with only 4 ingredients. Whip them into a fluffy and velvety coffee cream for the perfect morning coffee or afternoon treat.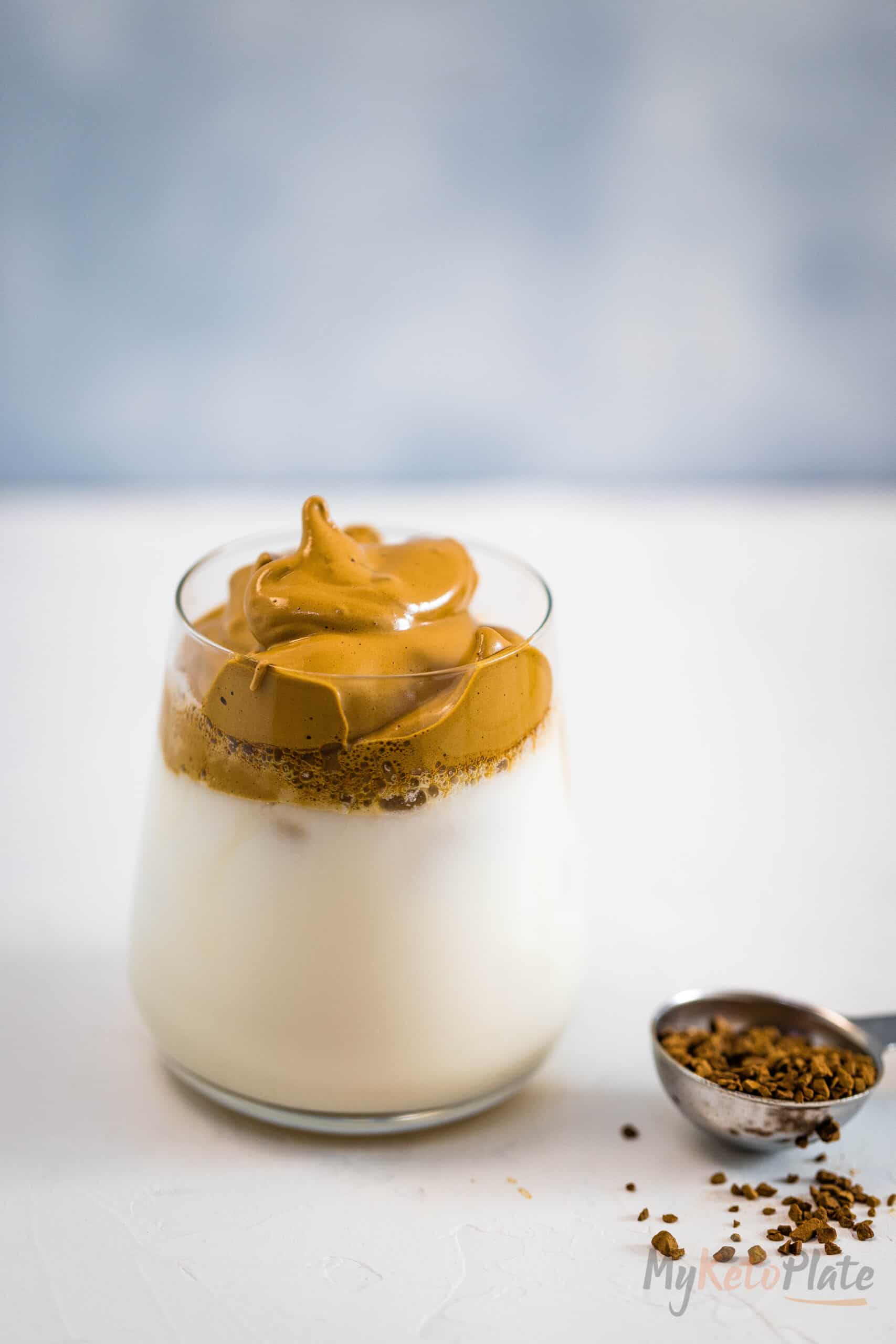 This summer, you'll enjoy this crazy keto Dalgona Coffee that is super popular among TikTok users.
I made this step-by-step video for you to see how incredibly easy it is to make a keto Dalgona Coffee
What is Dalgona Coffee?
Dalgona coffee is a whipped Korean coffee that's inanely delicious and made by mixing only 4 ingredients: instant coffee, sugar, and hot water until it turns into a creamy topping.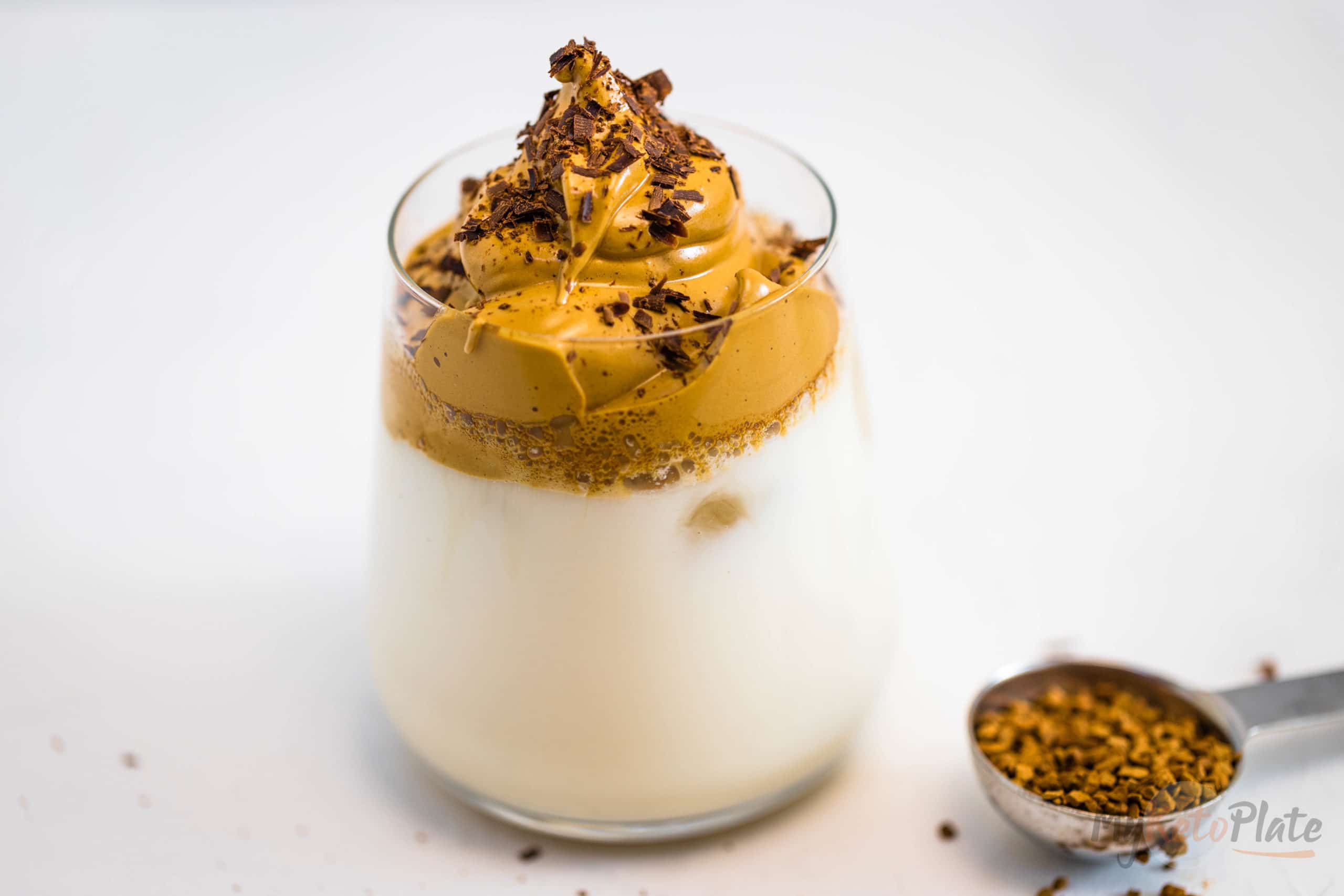 It is usually served over hot or cold milk. I love to enjoy it over iced unsweetened plant-based milk.
Are you wondering if Dalgona coffee is keto? Well, the original recipe is loaded with sugar and milk, which are not very keto-friendly ingredients. 
Is Dalgona Coffee Keto?
Dalgona coffee has taken the world by storm with its frothy texture and rich flavor. But if you're following a keto diet, you might be wondering if you can still enjoy this trendy drink without compromising your carb intake. The original Dalgona coffee recipe is not considered keto-friendly due to its high sugar content. However, fear not! We have a modified version of this delightful beverage that is both delicious and keto-approved.
Reasons You'll Love Our Keto Dalgona Coffee Recipe:
Why settle for less when you can enjoy a delicious keto-friendly Dalgona coffee? Here's our modified recipe that checks all the boxes:
Super Easy and Quick: This recipe is incredibly easy to make, requiring just a few simple steps. In a short amount of time, you can whip up a frothy and indulgent keto Dalgona coffee to enjoy.
Low in Carbs: Each serving of this Dalgona coffee contains only 3g of carbs, making it a great option for those following a keto or low-carb diet.
Easy-to-Find Ingredients: The ingredients needed for this recipe are readily available and easy to find. Instant coffee, granulated sweetener, hot water, and your choice of plant-based milk are all commonly found in most grocery stores.
Impressive Presentation and Delicious Taste: Dalgona coffee has a visually appealing layered presentation, with the whipped coffee mixture sitting atop the milk. It makes for an Instagram-worthy drink that is sure to impress your friends and family. Plus, it tastes incredibly delicious, with the rich flavors of coffee complementing the creamy milk.
Perfect for the Summer Season: Dalgona coffee is a refreshing and chilled beverage, making it a perfect choice for the summer season. Whether you're lounging by the pool, enjoying a picnic, or simply seeking a cool pick-me-up, this keto Dalgona coffee will hit the spot.
Ingredients for Whipped Dalgona Coffee
For this keto coffee drink recipe, you'll need only 4 ingredients.
2 tbsp instant coffee
2 tbsp granulated or powdered sweetener
2 tbsp boiling water
2 cups unsweetened plant-based milk (almond milk or coconut milk)
Optional Add ins:
2 cups Ice cubes
½ tsp Vanilla extract
Chocolate shavings to decorate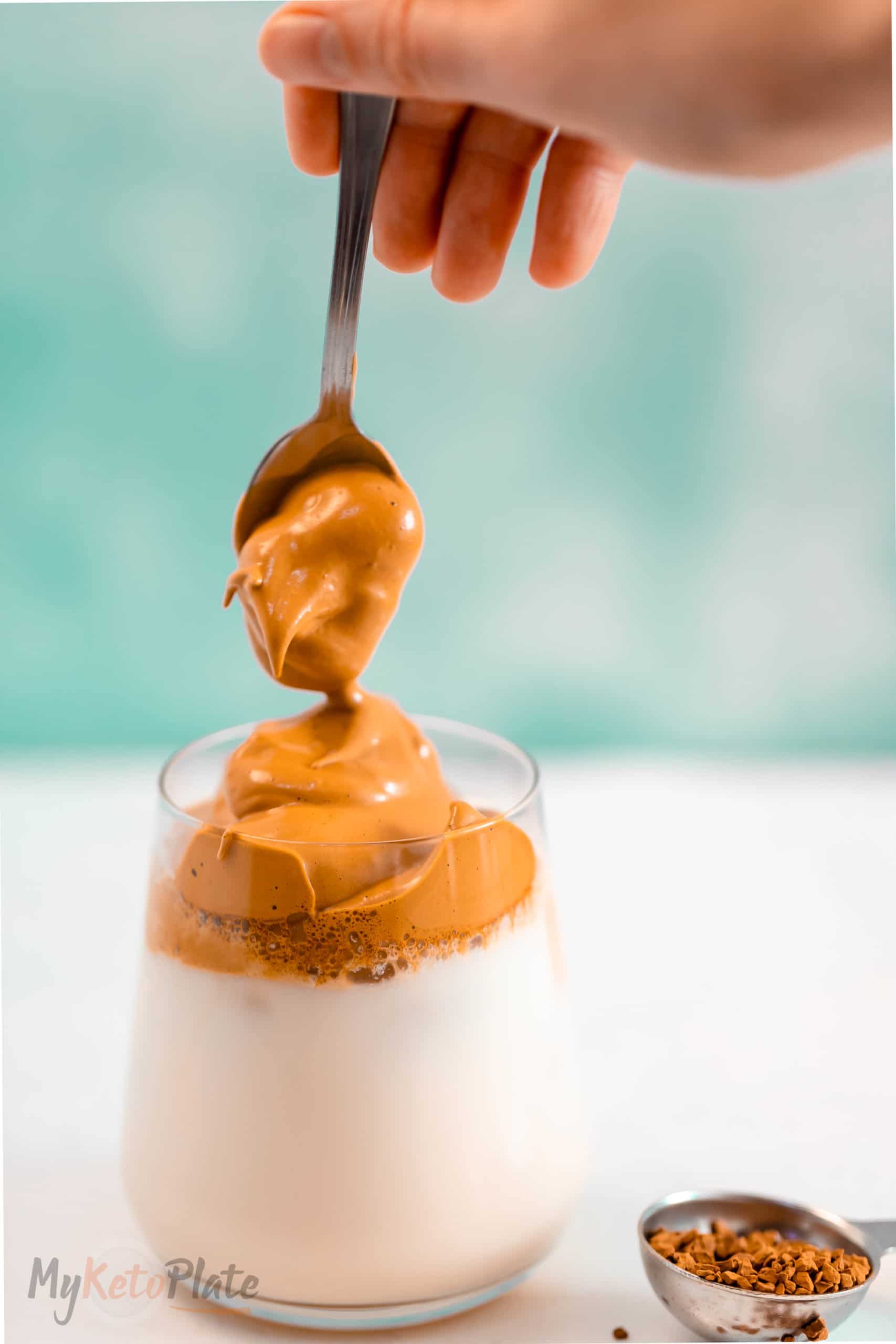 How To Make Keto Dalgona Coffee?
To make Dalgona coffee without sugar, simply whip equal amounts of instant coffee, granulated sweetener (Erythritol or Monk Fruit), and hot water.
Use an electric mixer or a whisk to whip the mixture at high speed vigorously. Keep going until it transforms into a fluffy, creamy concoction with stiff peaks resembling meringue or whipped cream.
Divide the whipped coffee mixture into two portions, as this recipe yields two servings.
Fill two glasses with your preferred low-carb plant-based milk, such as unsweetened almond milk.
If desired, add a few ice cubes to the glasses for a refreshing touch, perfect for warmer days.
Spoon the whipped coffee mixture onto the milk in each glass, evenly distributing it.
For an added touch, you can sprinkle a dusting of cocoa powder or cinnamon on top of the whipped coffee layer.
Serve immediately and relish in the luxurious taste of your homemade Keto Dalgona Coffee.
Can You Make Keto Dalgona Coffee Without Instant Coffee?
It's possible to make sugar-free whipped coffee without instant coffee. Pour a scoop of your favorite coffee beans and use your coffee grinder to turn it into a fine powder. Then, sift through a sieve to get only the finest powder. Replace instant coffee with the resulting powder and make the best keto Dalgona coffee.
It looks like you can use matcha powder, cocoa powder, or strawberry powder instead of instant coffee and make other keto iced drinks to enjoy this summer.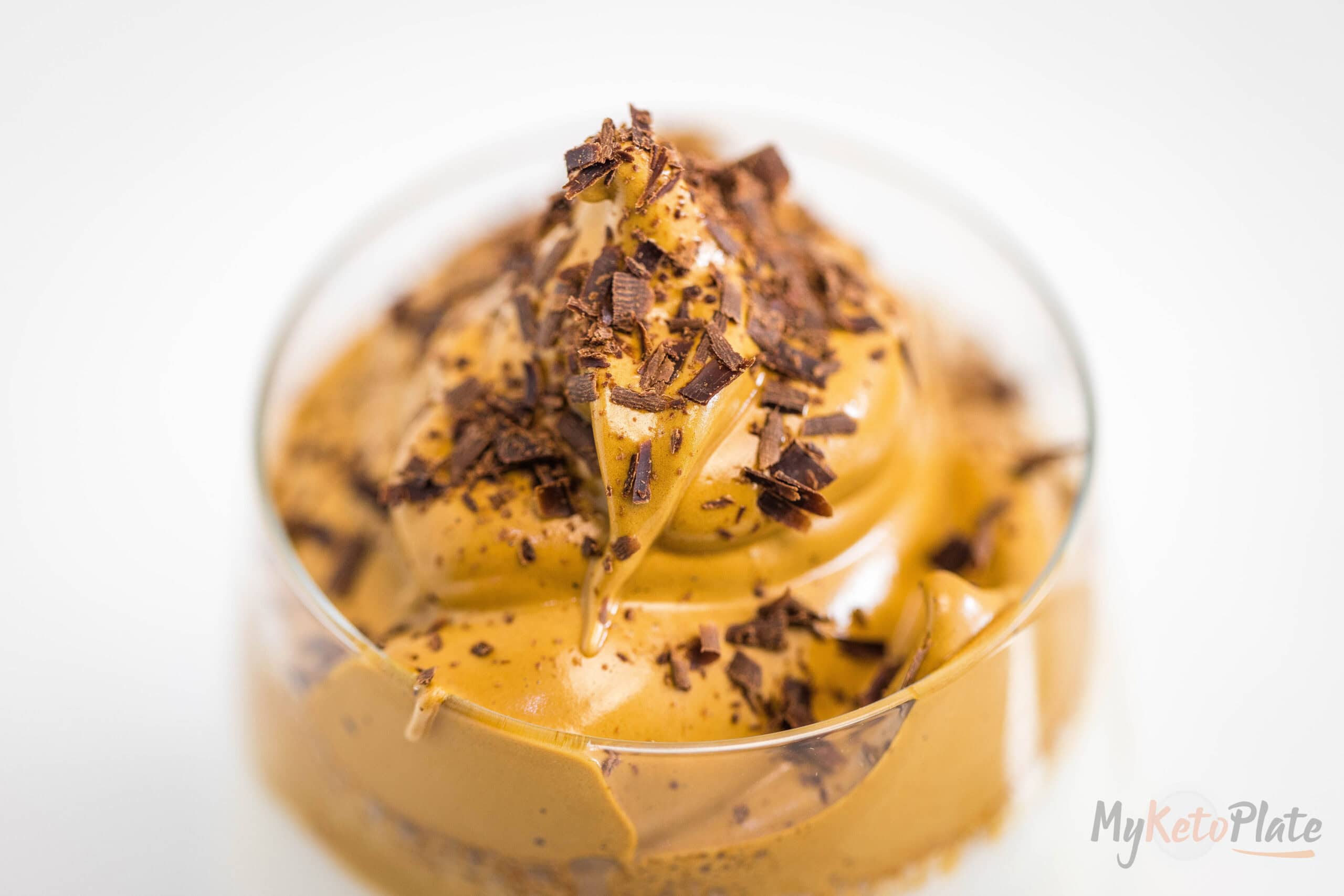 Recipe Variations
Vanilla Delight: Enhance the taste by adding a dash of vanilla extract to the whipped coffee mixture. It will give your drink a delightful twist.
Caramel Infusion: Indulge your taste buds by preparing homemade caramel sauce and adding one tablespoon of it to the bottom of your glass before pouring in the milk and whipped coffee. The result is a heavenly caramel-flavored treat.
Warm and Spicy: For those who enjoy a hint of warmth and spice, sprinkle half a teaspoon of cinnamon into the whipped coffee mixture. It adds a cozy touch to your keto Dalgona coffee.
More Keto Drink Recipes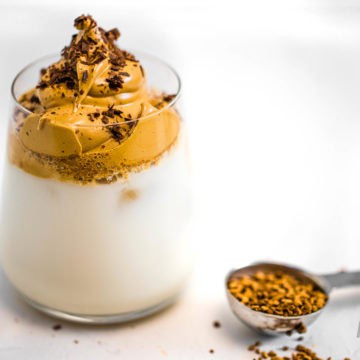 Keto Dalgona Coffee | How to Make Sugar-Free Dalgona Coffee
---
Description
Keto Dalgona Coffee is an incredible Iced Sugar-Free drink that's made with only 4 ingredients. Whip them into a fluffy and velvety coffee cream for the perfect morning coffee or afternoon treat.
Ingredients
2

tbsp

instant coffee

2

tbsp

sweetener

granulated or powdered

2

tbsp

boiling water

2

cups

almond milk or coconut milk

2

cups

Ice cubes

½

tsp

Vanilla extract

Chocolate shavings

to decorate
Instructions
Add instant coffee, sweetener, and boiling water to a medium mixing bowl,

Using a hand mixer at medium speed, beat for about 2 minutes until stiff peaks start to form. The mixture looks thick and silky.

To serve, fill a glass with ice, pour cold milk, and top with the frothy whipped coffee.
Notes
Can I use a whisk to make keto Dalgona coffee? If you prefer to use a round whisk, you'll have to whisk vigorously for about 4-5 minutes or until stiff peaks start to form.
Nutrition Facts
Amount per serving.
How do we calculate the nutrition info?
These nutrition facts listed are determined using nutrition information from the USDA Food Database. Our nutrition facts are accurate, but if you are using different products, please make your calculations. Net carb count is calculated by subtracting both fiber and sugar alcohols because they don't raise blood sugar.