This 4-Ingredient Chia pudding is a healthy dessert or breakfast that's low carb, and loaded with nutrients, protein, fiber, and fats. It's a dairy-free recipe made with unsweetened plant-based milk, chia seeds, and a sweetener of choice.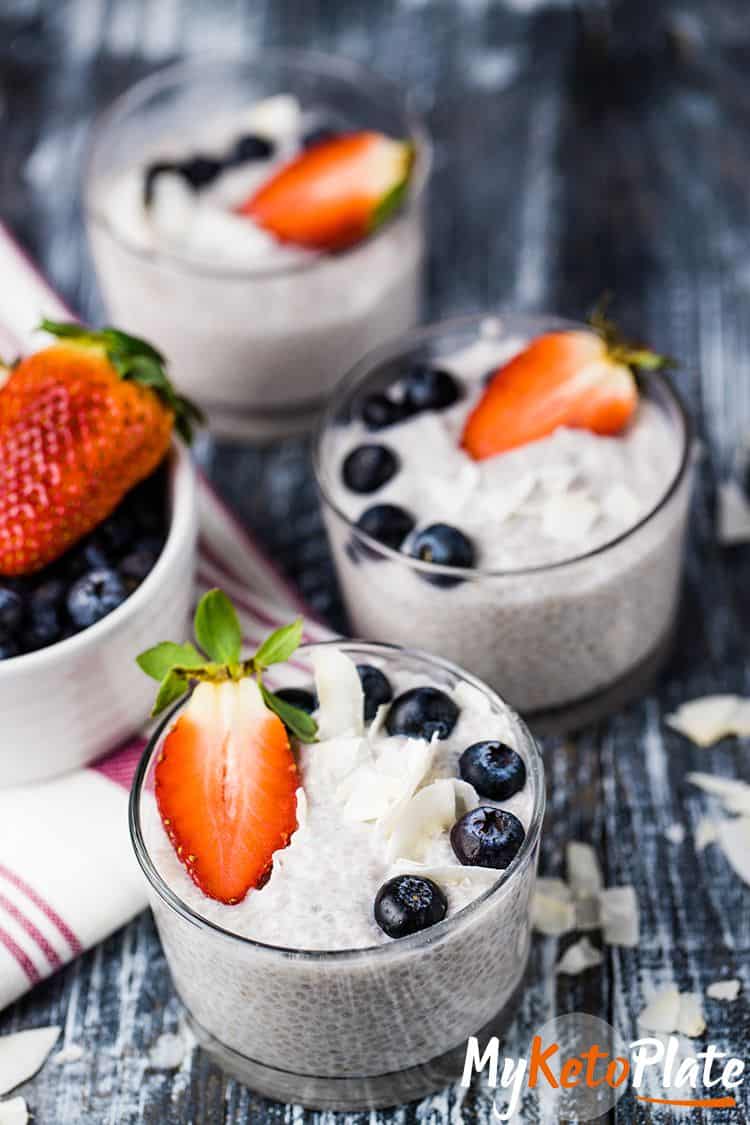 This Chia Seed Pudding has a fantastic vanilla flavor that's perfect for different toppings such as fruits, chocolate, nuts & seeds. Adding toppings makes the pudding satisfying, nutrient-dense, and delicious. It keeps me full for hours!
Watch my quick step-by-step video below to see how easy it is to make this creamy chia pudding!
Ingredients for Vanilla Chia Pudding
To start making chia pudding, you'll need a medium bowl, unsweetened plant-based milk (almond milk, coconut milk, chia milk, or any milk you love), a few tablespoons of chia seeds, your sweetener of choice, vanilla extract.
Sometimes I don't add any sweetener and prefer to sweeten the pudding with toppings such as fresh low carb fruits, sugar-free chocolate chips, or frozen berries.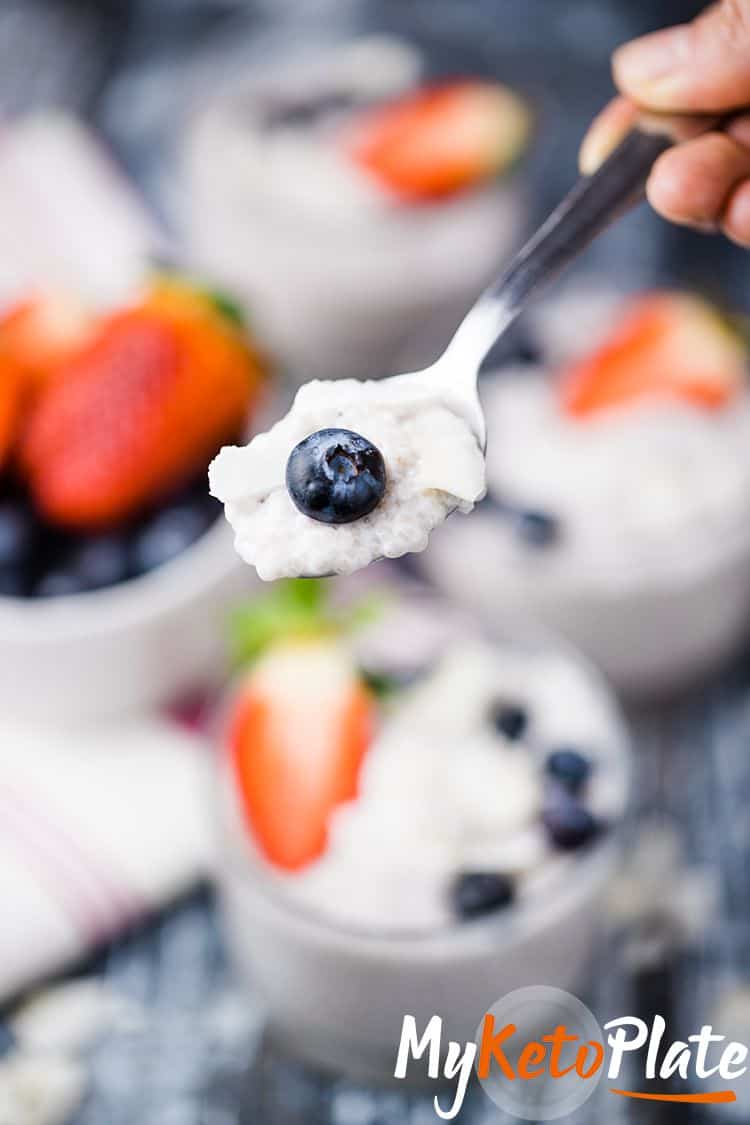 Here are all the ingredients you'll need:
Milk – choose your favorite plant-based milk that's sugar-free. Almond milk, coconut milk, oat milk, or cashew milk are my favorites.
Chia seeds – I like to use 3 tablespoons of chia seeds for every cup of milk to make thick and creamy pudding and get the perfect texture.
Sweetener – Use your favorite sweetener, including low-carb sweeteners, maple syrup, or honey. I love to use monk fruit to keep my chia pudding low-carb.
Vanilla extract
PRO TIP 1. Coconut milk is naturally sweet, so you don't have to add too much sweetener. You can use a combo of canned creamy coconut milk (add about 2 heaping tablespoons) and coconut milk for a super creamy pudding.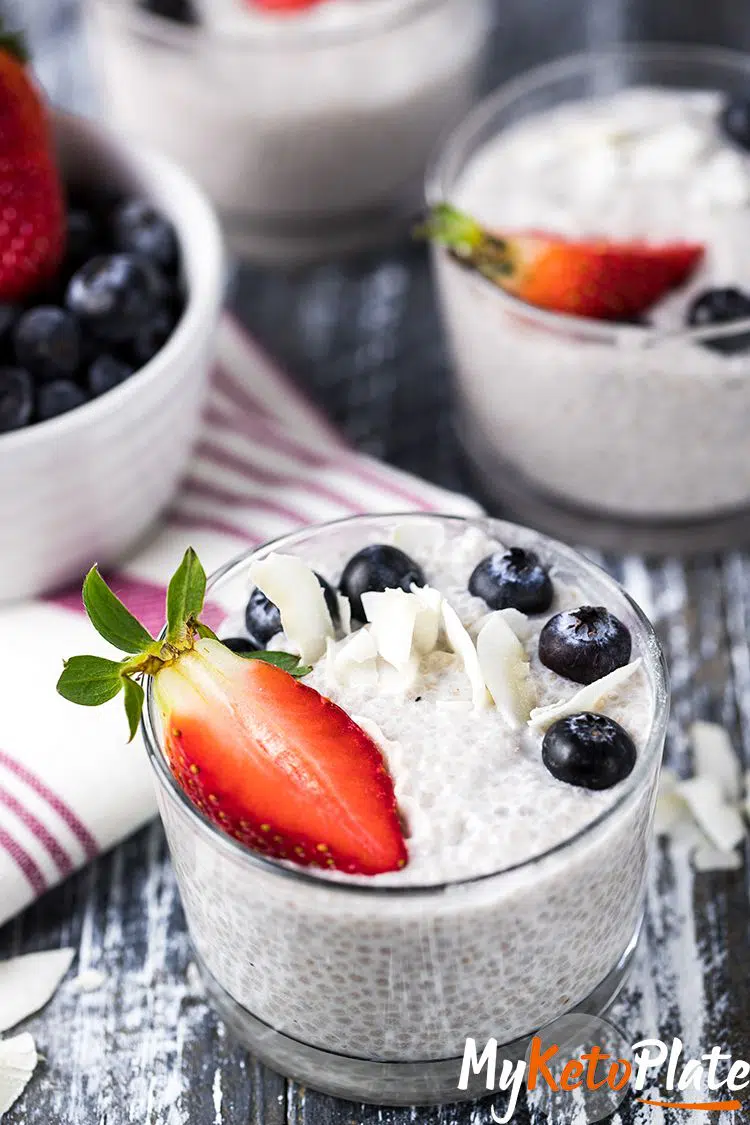 PRO TIP 2. There's one trick I want to share with you: using warm milk will hydrate the chia seeds faster! This way, you don't have to wait at least four hours until it is ready. It will still be liquid, but once the chia absorbs the liquids, it will become very creamy and tasty.
If time isn't a problem, you can make overnight chia pudding by combining all the ingredients and refrigerating until the next day for the creamiest breakfast. Chia pudding has the best consistency if you allow sitting in the fridge overnight.
How to Make Chia Pudding?
When making chia pudding, the essential part is to whisk the seeds into the milk. You should do this step twice: once in the beginning and once after 10 minutes. This will ensure that your pudding has no clumps and it's creamy.
Finally, transfer the gluten-free chia pudding mixture into individual servings in small mason jars and refrigerate for at least 30 minutes before serving. It should be enough for the chia seeds to absorb the milk and the sweetener.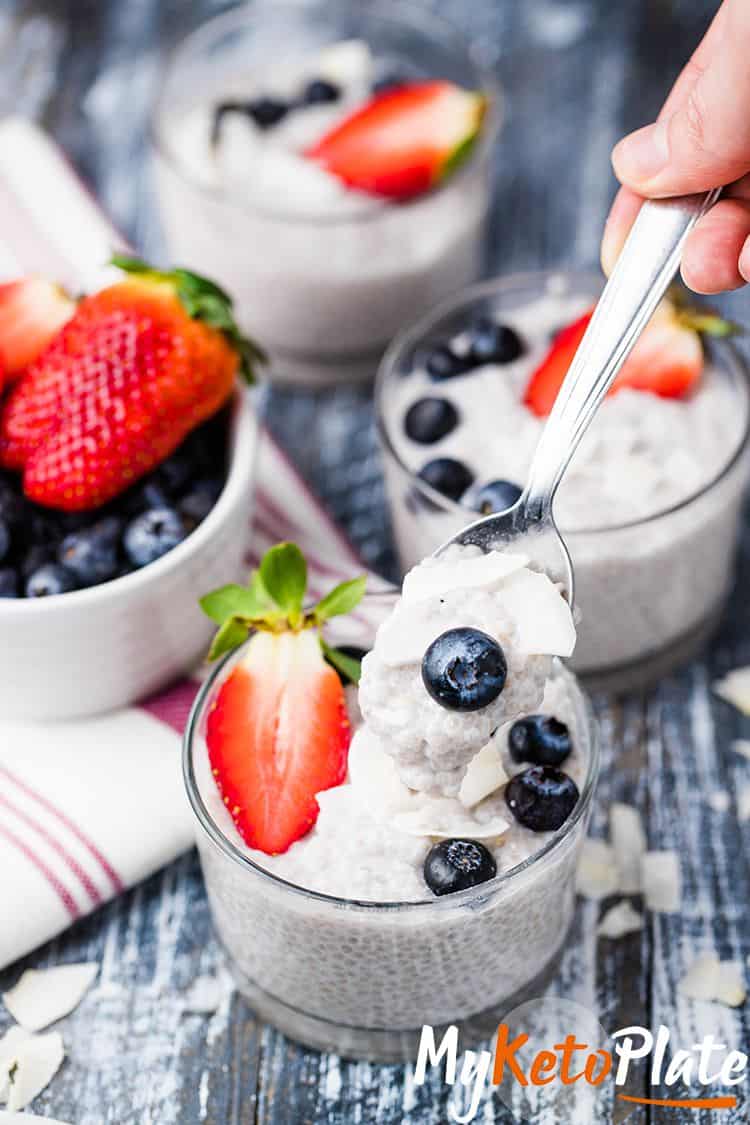 Toppings for Vegan Chia Pudding
Fresh Fruit: Top your easy chia pudding with strawberries, blueberries, raspberries, or Bananas.
Nuts and Seeds: Add some crunch and healthy fats. Sprinkle almonds, walnuts, pecans, or your favorite nuts over the chia pudding for extra fiber.
Granola: Sprinkle a tablespoon of my homemade granola on top of your pudding for extra texture.
Nut Butter: A drizzle of your favorite nut butter, such as almond butter or peanut butter, adds some extra creaminess to the pudding.
Chocolate Chips: For a sweet and indulgent touch, add a few sugar-free chocolate chips on top.
Shredded Coconut: add a subtle coconut flavor and sweetness to your chia pudding.
Maple Syrup Or Honey: for some extra sweetness.
Mint: freshly chopped mint adds a fresh flavor to the chia pudding.
Dried Fruit: Cranberries, raisins, or other dried fruits can add natural sweetness and texture to your chia pudding.
Cacao nibs: for some extra chocolate flavor and texture.
Spices: A sprinkle of cinnamon, cardamom, nutmeg, or other spices adds warmth and depth of flavor to your chia pudding.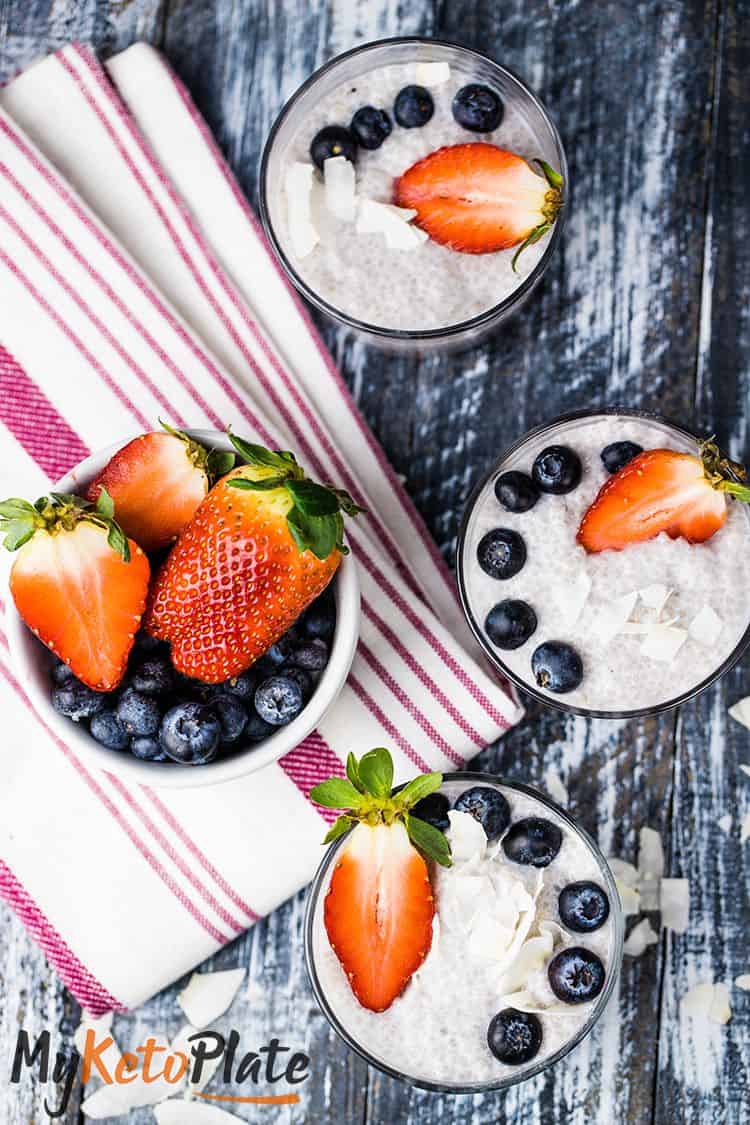 How to Make Smooth Chia Pudding
If you're not a fan of whole chia seeds and find the texture too slimy, I have a solution!
GRIND THE SEEDS! Yes, you heard right. To make the creamiest chia pudding, use a food processor to turn the chia seeds into a powder. Then add the chia flour to the milk and combine it with the rest of the ingredients.
This fine chia powder has many uses as it's a great thickening agent. You have to try my raspberry chia jam and serve it with 90 seconds bread!
How to Store Chia Pudding?
I usually love to prep it at night and enjoy it in the morning. It's best to consume it within 2 days for the best flavor and freshness.
In our house, everyone loves chia pudding, so it never lasts for more than one day, but I suggest making the number of servings you plan on eating over 2 or 3 days.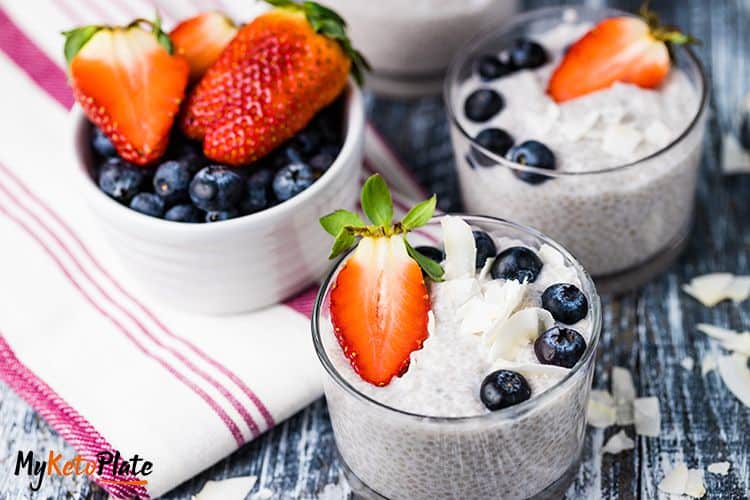 Is Chia Pudding Keto?
If you are wondering if you chia pudding is keto, the answer is YES!
Not only that chia seeds are a superfood, but they are recommended to eat in a keto diet because they are high in fiber, protein, and healthy fats.
These tiny seeds are packed with tons of nutrients: Calcium, Manganese, Magnesium, and Phosphorus. They also contain zinc, vitamin B3 (niacin), potassium, vitamin B1 (thiamine), and vitamin B2.
Carbs in Chia Pudding
Look at these fantastic macros: 1 oz (2 tablespoons) of chia seed contains:
Calories: 138 kcal
Fiber: 10 grams
Protein: 5 gram
Fat: 9 grams (5 grams are Omega-3s -> the stuff that's good for you!)
Other Low Carb Breakfast Recipes you'll Love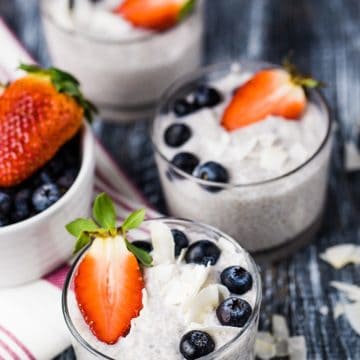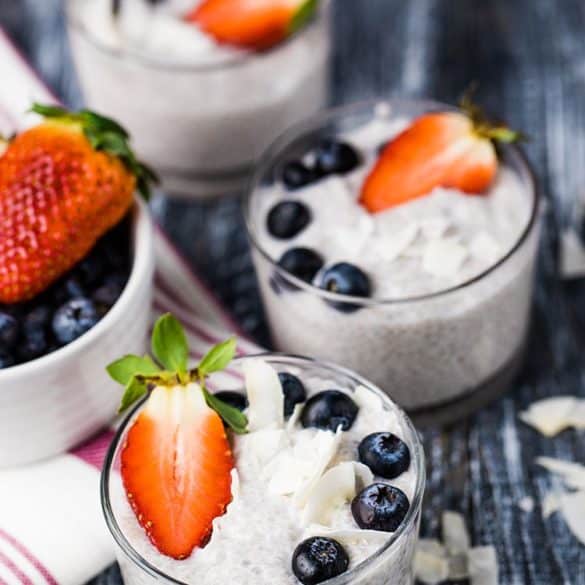 Easy 4-Ingredient Vanilla Chia Pudding Recipe
---
Description
This 4-Ingredient Chia pudding is a healthy snack or breakfast that's very low in carbs and loaded with nutrients, protein, fiber, and fats. It's a dairy-free recipe made with unsweetened plant-based milk, chia seeds, and sweetener of choice. 2 cups unsweetened almond milk or coconut milk
Ingredients
Toppings
Fresh Berries

Mint Leaves

Chocolate Chips

Shredded Coconut
Instructions
Add all the ingredients to a medium bowl and stir well.

Put the bowl into the fridge and after 10-15 minutes give it another stir to prevent clumping. This will help the chia seeds gel evenly.

Top with your favorite low carb fruits, nuts, seeds.Enjoy!
Nutrition Facts
Amount per serving.
How do we calculate the nutrition info?
These nutrition facts listed are determined using nutrition information from the USDA Food Database. Our nutrition facts are accurate, but if you are using different products, please make your calculations. Net carb count is calculated by subtracting both fiber and sugar alcohols because they don't raise blood sugar.