This Keto Taco Soup is loaded with your favorite Mexican flavors, packed with protein, and super filling. Make the best keto soup in under 30 minutes that's filled with ground beef, peppers, tomatoes, and taco seasoning. Everyone's going to love this creamy low carb soup.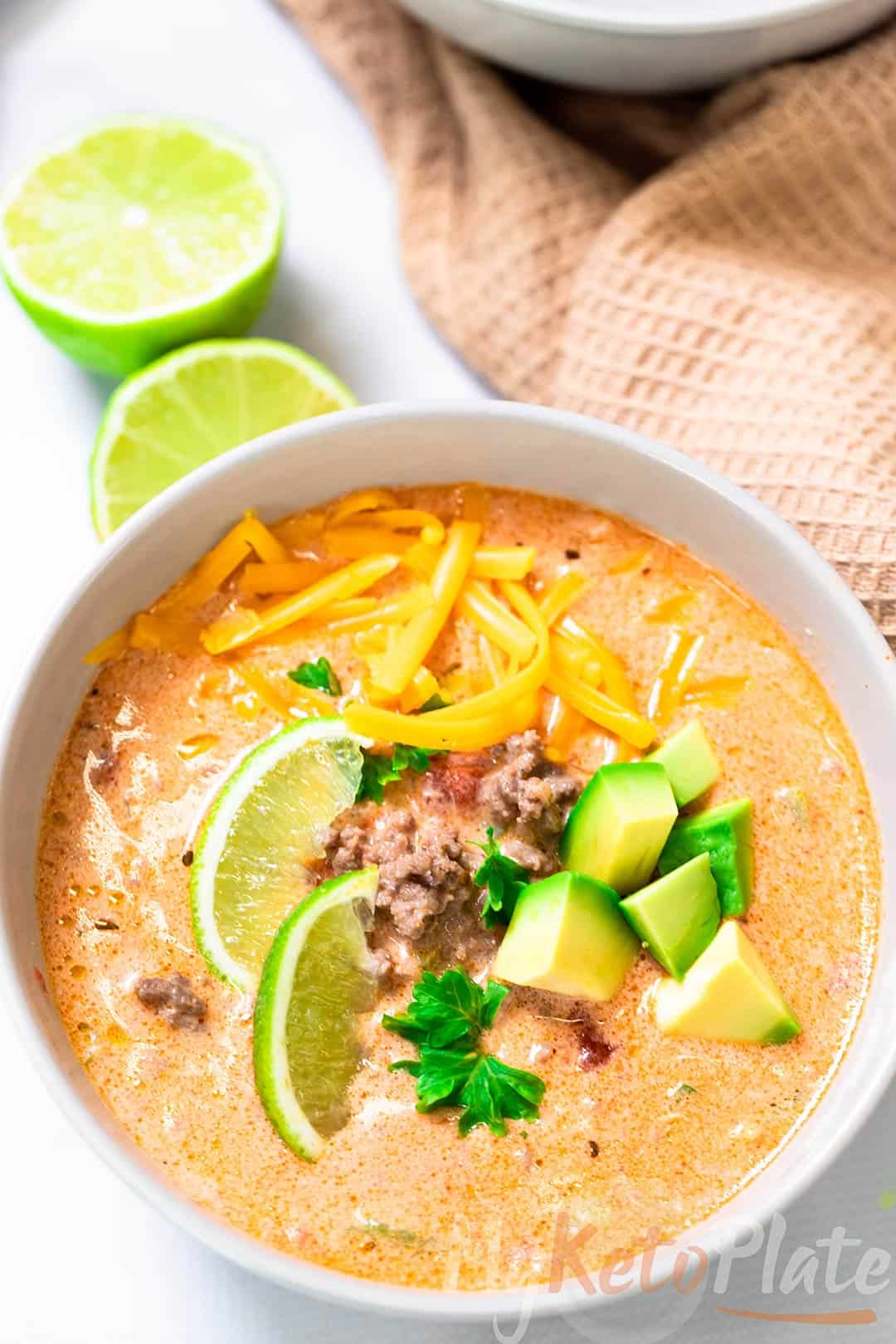 Made with just a few ingredients, you can enjoy a delicious keto taco soup with only 3g net carbs – the perfect low carb comfort food.
Trust me when I tell you that this low carb soup it's extremely delicious! You won't miss the black beans at all! I believe that this cheesy keto taco soup is the key to achieving a happy and healthy balance in eating! This recipe is both simple to make and flavorful. Even on a hectic weeknight, it's simple to put together.
Bonus, I added instructions on how to make this keto taco soup in your Instant Pot!
Why is This The Best Keto Taco Soup Recipe
It's super easy to make in under 30 minutes.
Super versatile-this tasty keto soup may be prepared in various ways.
A one pot meal- so less dishes to clean.
Perfect for meal prep- an idea soup to make ahead and serve during a busy week.
It's a gluten-free, keto, and low-carb family-friendly recipe.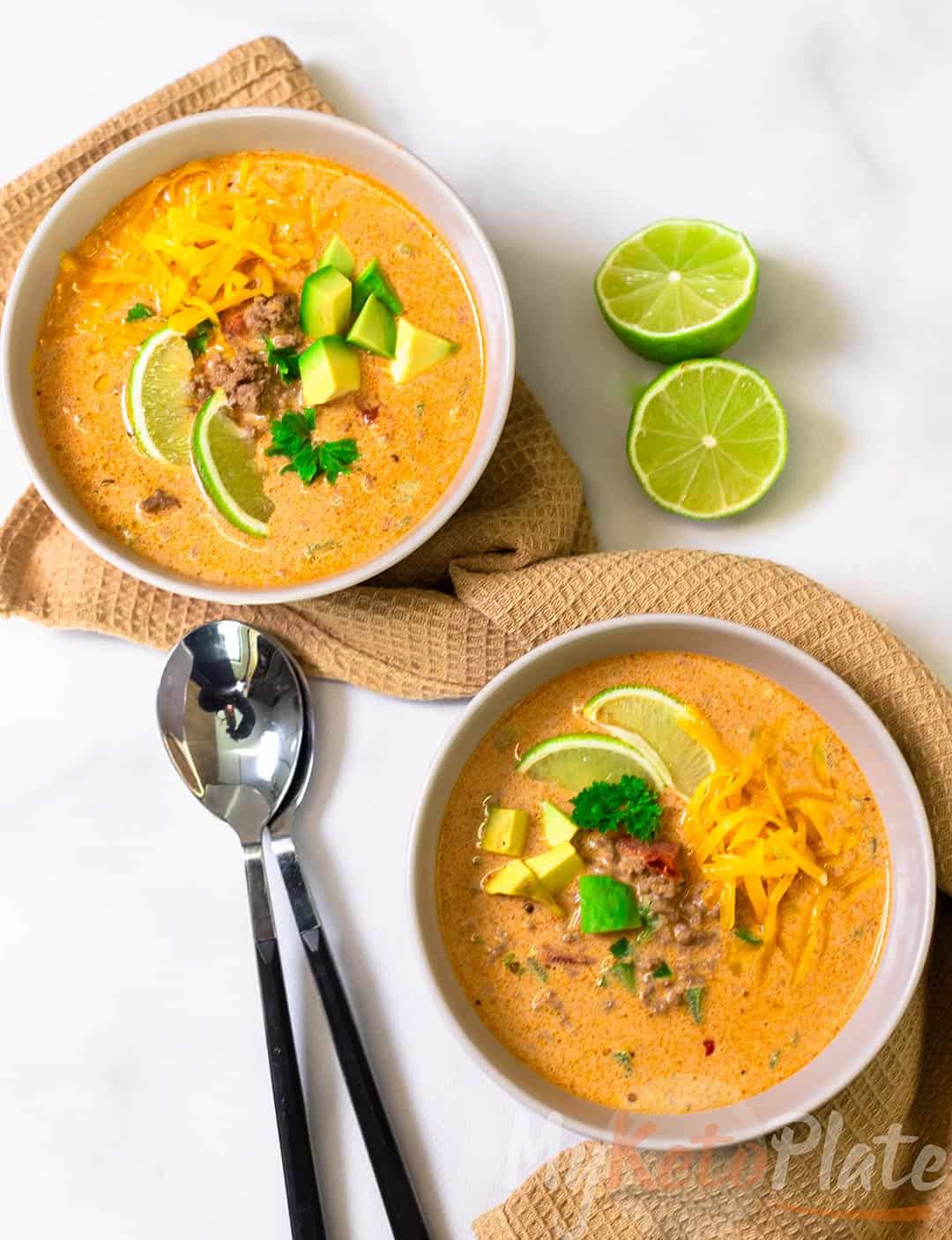 Watch How To Make Taco Soup
What are Tacos?
Tacos are a traditional Mexican recipe based on spicy meat served in a corn tortilla with various toppings such as vegetables and sauces. There are many recipes for tacos and many more adaptations. In the USA, tacos are perhaps more popular than in Mexico, and Americans have their own tacos recipes, which are not very similar to the classic variants. Instead, they use crispy shells and soak each taco in sauces and cheese.
What Is Taco Soup?
Taco soup is nothing more than a dish made from the same ingredients from which a taco is created and transformed into a soup that can be served on those cold days.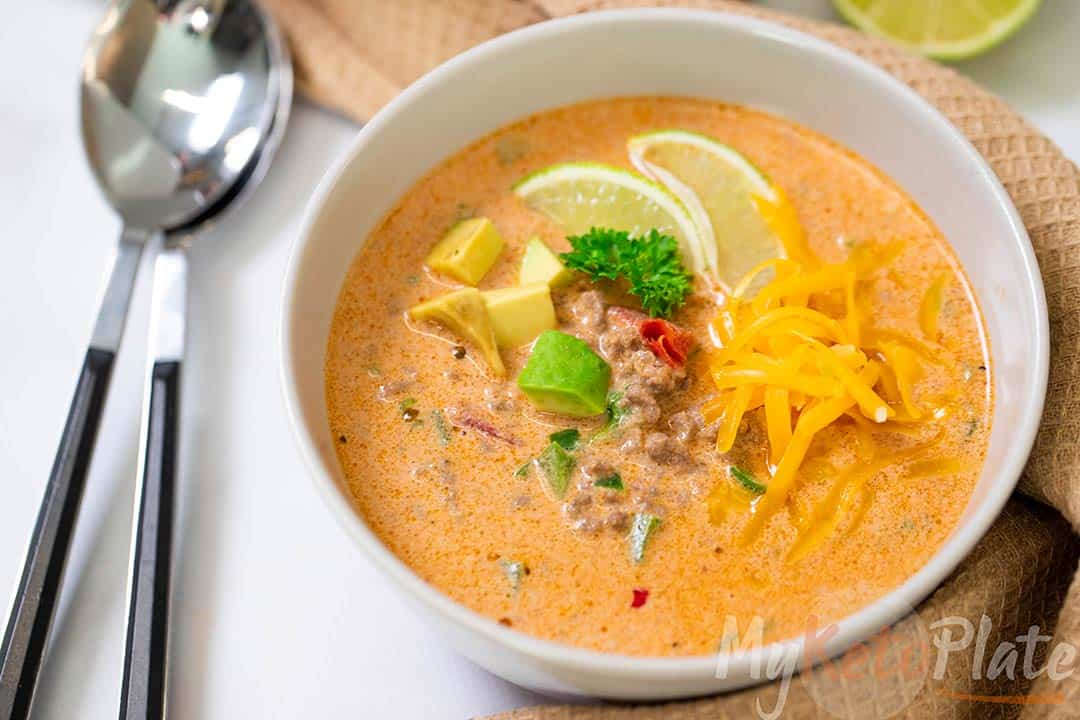 Is Taco Soup Keto?
Any taco soup can be keto as long as you don't use beans, corn, and tortilla chips.
So, yes, this creamy taco soup is keto-friendly. All you have to do is pay attention to the ingredients and amounts you use. Then you can serve it with my crispy keto tortilla chips.
How To Make The Best Taco Soup
It's super easy to make this keto taco soup that I'm sure will be on your dinner rotation. Everyone loves this healthy beef taco soup.
Ingredients
I am pretty sure that you already have some of the next ingredients in your kitchen.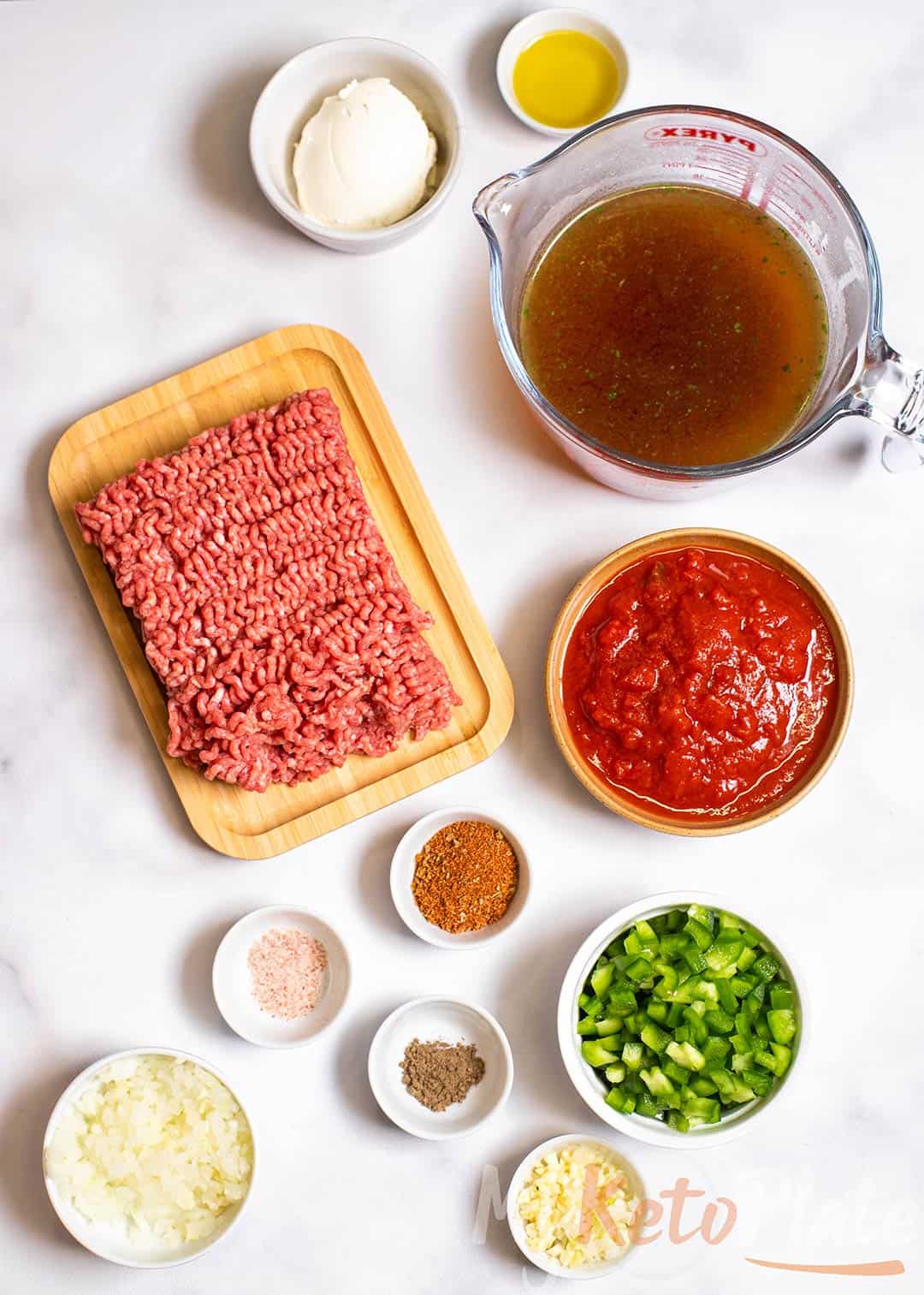 Ground Beef- I like to make this taco soup with ground beef, but you easily replace the ground beef with chicken or turkey meat. Use 90% lean ground beef, or drain the excess fat after browning.
Oil- Olive oil or avocado oil are both great for this soup.
Onion & Garlic- You can also use powdered onion and garlic, but I think fresh ones will give the dish a much more intense and delicious taste.
Bell Pepper- either they are red, green, or yellow. Any type of them is great as well.
Canned Tomatoes- you can also use some fresh tomatoes and chop them well. But if you choose to buy canned tomatoes, make sure that you read the label. I love using diced tomatoes with green chilis. But you can also use a can of diced tomatoes combine with some canned green chiles or jalapeños.
Cream Cheese – make sure it is at room temperature. It is used for adding creaminess to the soup.
Taco Seasoning- I recommend using homemade taco seasoning because most of the store-bought seasonings contain added sugar.
Beef Broth- for an extra boost of flavor and liquid. Beef stock is also a great option.
Salt& Pepper – to taste.
You will be surprised to find out how making this delicious creamy taco soup is.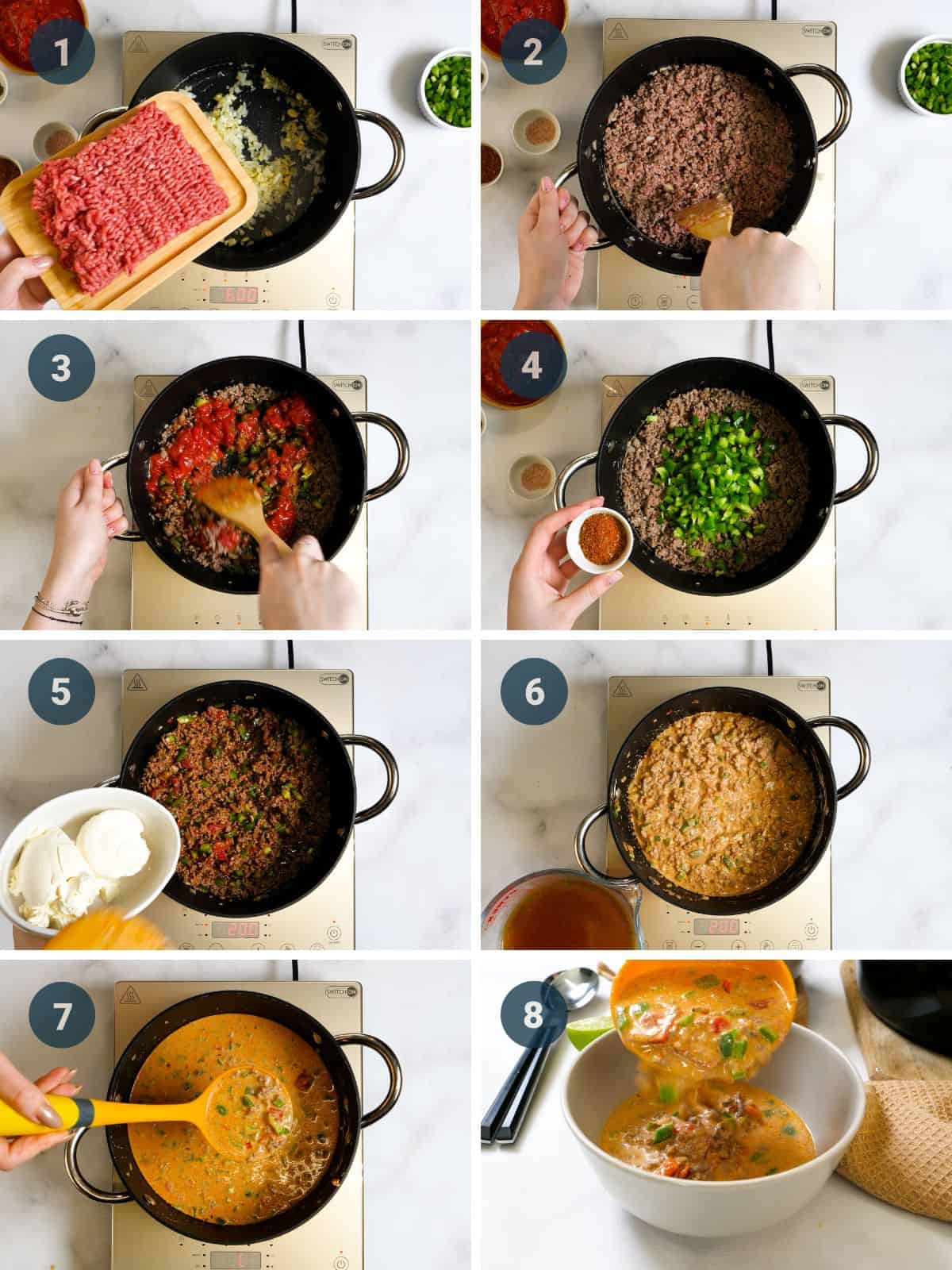 Browning the Beef
Start by browning the meat over medium heat in a large non-stick soup pot.
Stir in chopped onions, minced garlic and continue cooking for a few minutes or until the meat is almost done.
Add the green pepper, diced tomatoes, cream cheese, and taco seasoning.
Pour in the beef broth after the cream cheese has melted.
Bring the soup to a boil, then reduce to low heat and cook for 20 minutes.
Tips For Making The Best Creamy Taco Soup
If you want to make a thicker version of this soup, feel free to add extra cream cheese or simmer for 5 more minutes or until the desired thickness is reached.
Make sure the cream cheese is at room temperature before adding it to the soup to avoid curdling.
For a milder soup, use less taco seasoning and adjust the spice on your preference.
Can I Make Taco Soup in an Instant Pot?
Of course, this is actually the easiest way to make soup. Brown the meat and sauté the onions and garlic using the Instant Pot's saute setting. Add the rest of the ingredients, excluding the cream cheese and heavy cream. Set the pressure to high manually for 10 minutes with a natural release. Once the program has finished, add the dairy products, and stir until well incorporated.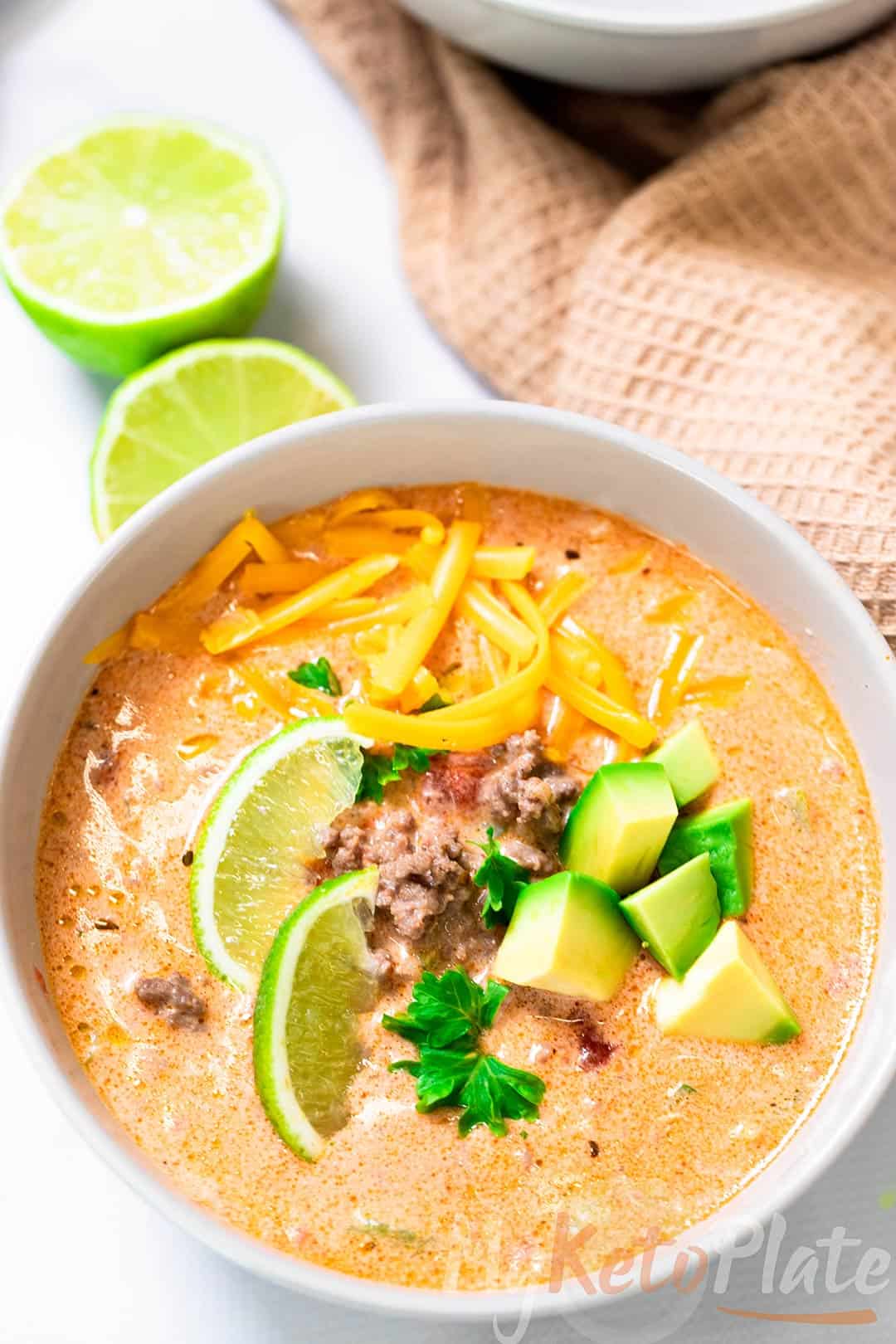 Toppings for Keto Taco Soup
This keto taco soup is all about the toppings, just like a taco. Here are our favorite ones:
Shredded cheddar
Chopped cilantro
Sour cream
Sliced avocado
Jalapeno slices
Avocado
Variations For This Taco Soup
If you want to make a vegetarian option, you can skip the meat, and replace it with chopped mushrooms.
Add some jalapeno to make a spicier soup.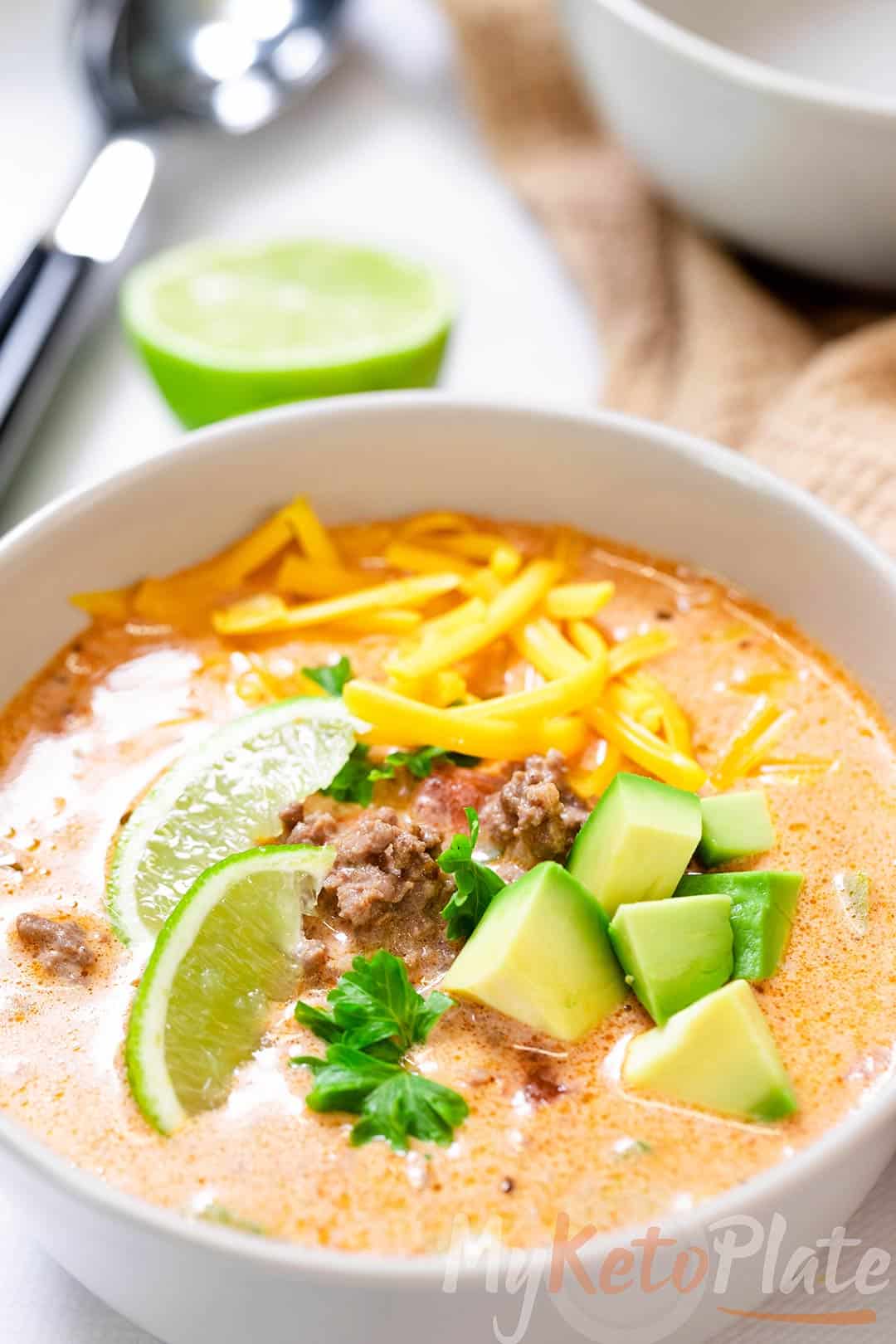 How To Store Keto Taco Soup
Fridge: This dish will keep in the refrigerator for 2-3 days if stored in an airtight container.
Freezer: This taco soup may also be frozen. Just freeze each serving for up to six months in an airtight container.
When you want to eat it, you have two options for reheating it: Warm the soup in 30-second spurts in the microwave or a small saucepan over low heat.
Carbs In Taco Soup
Are you wondering how many carbs does taco soup have? A regular serving of classic taco soup has over 50 grams of carbs and 330 calories.
However, my keto taco soup is made using low carb ingredients and provides just 8 grams of net carbs for a large serving.
More Keto Recipes for You to Try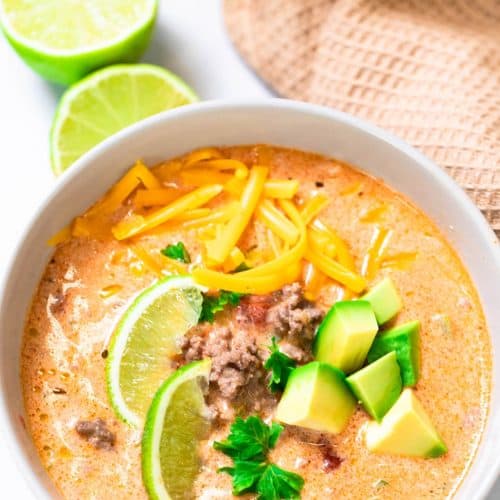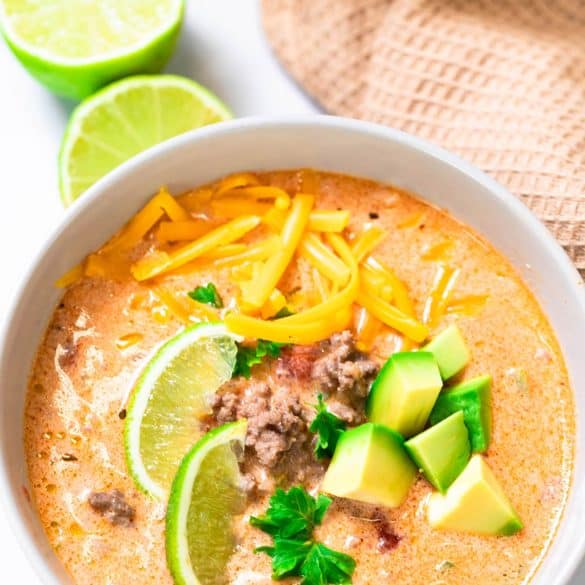 Description
This Keto Taco Soup is loaded with your favorite Mexican flavors, packed with protein, and super filling. Make the best keto soup in under 30 minutes that's filled with ground beef, peppers, tomatoes, and taco seasoning. Everyone's going to love this creamy low carb soup.
Ingredients
1

lb

ground beef

1

small onion

chopped

3

cloves

garlic minced

1

small green bell pepper

diced

1

(10 oz) can Rotel tomatoes

8

oz

cream cheese

2

cups

beef broth

1

tbsp

olive oil

2

tbsp

taco seasoning

Salt and pepper

to taste
Instructions
Place a large pot over medium heat, add the onion, garlic, and ground beef. Brown the beef for 10 minutes or until the beef is cooked through.

Add the chopped green bell pepper (or jalapeno), diced tomatoes, cream cheese, and taco seasoning. Mix well until the cream cheese is well incorporated.

Add the beef broth and simmer on low heat for 20 minutes or until desired thickness. Taste and season with salt and pepper if needed.

Serve hot topped with avocado, sour cream, shredded cheddar cheese, minced cilantro, jalapeno slices, or lime slices.
Nutrition Facts
Amount per serving.
How do we calculate the nutrition info?
These nutrition facts listed are determined using nutrition information from the USDA Food Database. Our nutrition facts are accurate, but if you are using different products, please make your calculations. Net carb count is calculated by subtracting both fiber and sugar alcohols because they don't raise blood sugar.