Learn how to make the best Tom Kha Gai Soup that's creamy, rich, and has a unique flavor profile. This Thai Coconut Chicken Soup is quick and easy to make, even on those busy weeknights.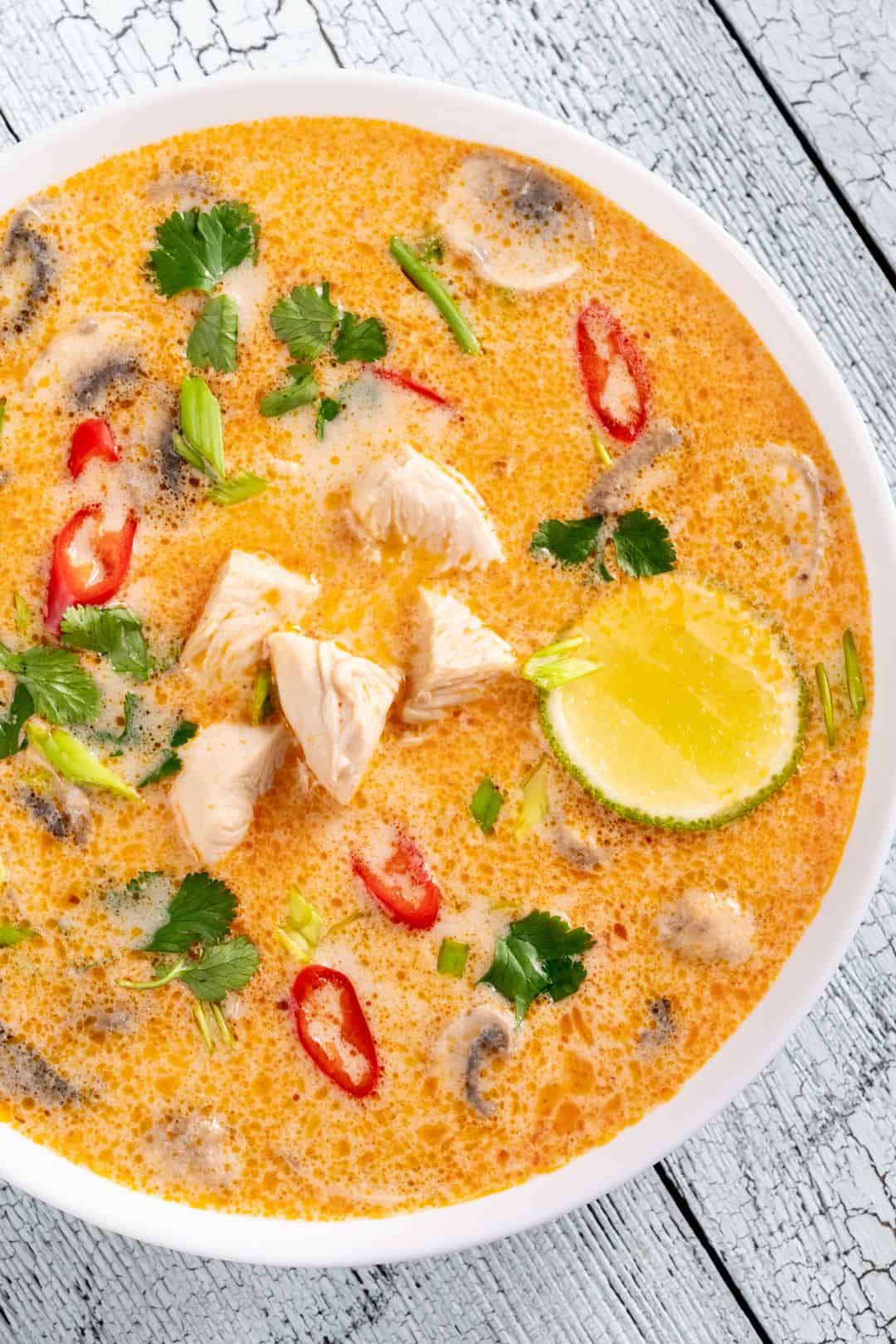 Loaded with tender chicken breast, mushrooms, and fresh ginger, this quick and easy soup recipe is perfect for making on those cold days.
Once you try this tom kha gai soup, you will call it a crowd-pleaser because your entire family will love it. Creamy and loaded with delicious flavors, this delicious soup tastes even better than the one from the restaurant.
Another great thing about this recipe is the smell from your home while cooking it. Just think about a creamy, sour, and sweet flavor in a bowl of warm soup that your family and friends will love.
What Is Tom Kha Gai Soup?
Tom Kha Gai Soup, also known as tom kha gai, is a beloved recipe in Thai cuisine. This soup is made using coconut milk, lemongrass, ginger, lime, chicken, and an assortment of other ingredients such as mushrooms, chili peppers, and fish sauce.
The richness and creaminess of the soup come from the luscious coconut milk, while the sweetness is derived from brown sugar. The fish sauce not only provides the saltiness but also contributes to the umami flavor. Thai bird's eye chili peppers give the soup a delightful spiciness, while the lemongrass and kaffir lime leaves add a bright and refreshing flavor.
The result is a delectable blend of sweet, sour, spicy, and salty flavors that create a unique and satisfying meal. Tom Kha Gai Soup is a comforting and filling dish that can be served as a main course or as part of a larger meal.
Overall, Tom Kha Gai Soup is a must-try for those who appreciate bold and distinct flavors in their food. Its harmonious combination of flavors and textures make it a popular and well-loved dish in Thai cuisine. Once you try it, you'll understand why it's a favorite among Thai food enthusiasts.
Why Are You Going To Love This Recipe
Tastes even better the next day as all the flavors enhance.
It's super easy to make.
You can make it as meal prep.
It's super silky and creamy.
Loaded with a ton of flavors.
Made from naturally low-carb ingredients.
Ingredients For This Tom Kha Gai Soup
For this delicious tom kha gai soup recipe, you will need some easy-to-find ingredients that are naturally low-carb. Here is a list of everything you will need:
Coconut Oil – feel free to use any other vegetable oil like olive or avocado oil.
Onion – you will need a yellow onion cut julienne.
Garlic – fresh minced garlic is the best for this recipe to give an intense flavor.
Chicken Breast
Mushrooms – I used white mushrooms, but you can use any type you like.
Jalapeno Pepper – feel free to use either red or green jalapeno pepper.
Ginger – fresh ginger adds a sweet and spicy flavor to this delicious soup.
Curry Paste – adds color and a warm taste.
Chicken Broth – you can also use vegetable broth if you want.
Coconut Cream – adds a creamy texture and a great taste to this soup.
Lime – you will need lime juice to brighten up and balance this soup's salty and rich flavor.
Green Onions – freshly chopped green onion to garnish.
Salt&Pepper – to taste.
How To Make This Delicious Tom Kha Gai Soup
This soup is one of my favorites since it's easy to make and doesn't require any cooking skills. Here is everything you need to do:
Heat the coconut oil in a medium pot over medium heat. Add the onion, garlic, jalapeño, ginger, and curry paste and cook for about 5 minutes, stirring occasionally.
Pour the chicken broth and bring it to a boil. Reduce to heat, and simmer for 20 minutes.
Remove the garlic, onion, and ginger from the soup mixture, then add the chicken breast, mushrooms, and coconut cream.
Cover with a lid and simmer until the chicken breast is cooked through, then add the lime juice and season according to your taste.
Cook for another 5 minutes, then remove the pot from the heat and enjoy with freshly chopped parsley and green onion.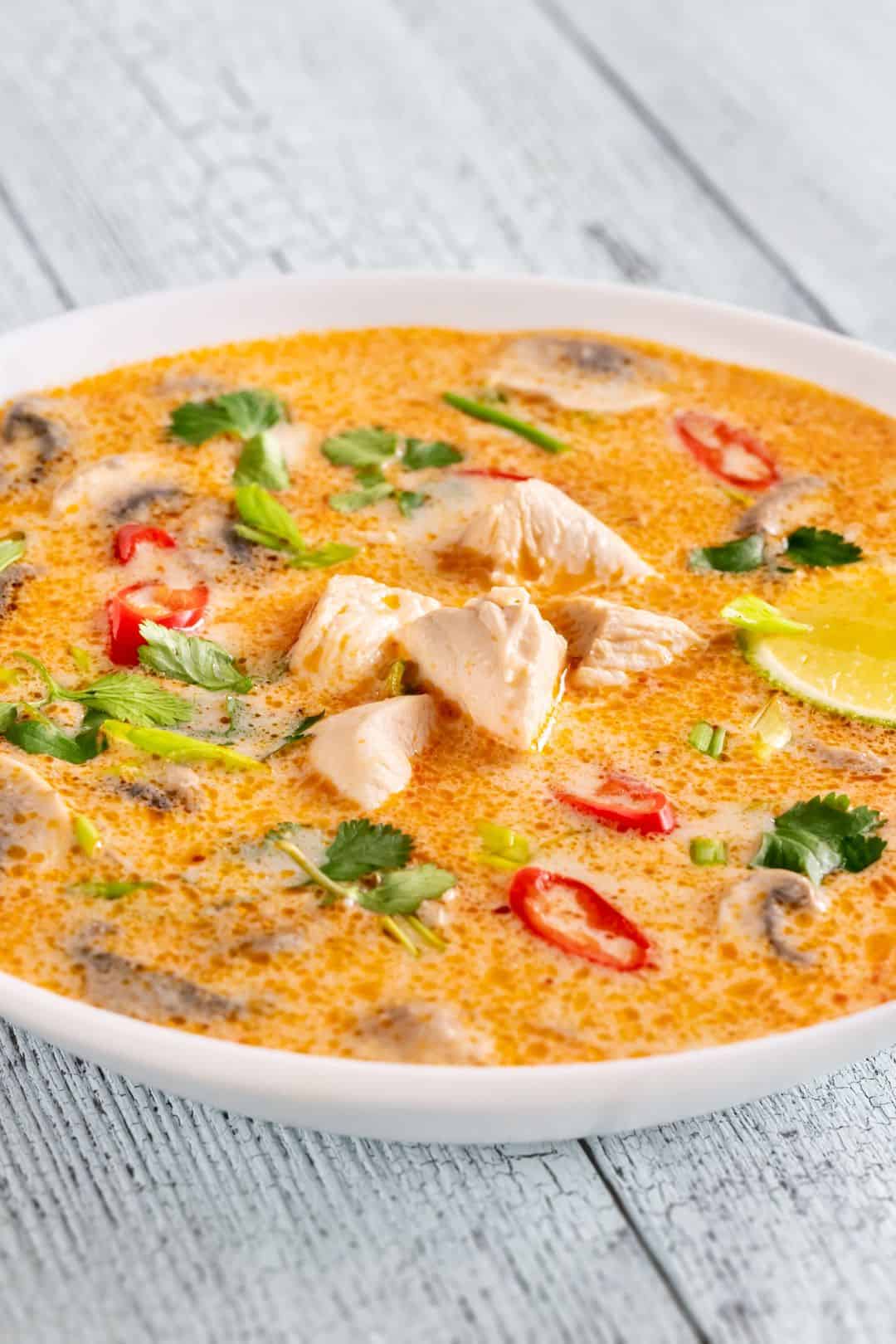 Storing Ideas
Fridge: You can store this soup in the fridge in an airtight container for up to 5 days.
Freezer: You can also freeze this soup in a sealed container and store it in the freezer for up to 2 months.
Reheating: Transfer the frozen soup from the freezer to the refrigerator and let it thaw overnight. If you're in a rush, you can thaw the soup in the microwave using the defrost setting. Once the soup is fully thawed, pour it into a pot and heat it on medium-low heat, stirring occasionally.
Frequently Asked Questions
Can I Make This Soup In A Vegan Version?
If you are following a vegan diet, you can still enjoy this delicious soup by replacing the chicken broth with vegetables and the chicken breast with another protein source such as tofu, tempeh, or more mushrooms.
Tom Yum Vs. Tom Kha
The main difference between Tom Yum and Tom Kha is that Tom Kha contains more canned coconut milk, making it creamier and richer. In addition, Tom Yum Soup is often cooked with a spicy paste and is sour and spicy. In comparison, Tom Kha is rich and creamy with sweeter notes.
Can I Make Tom Kha Gai Soup in Advance?
Once the soup is cooked, let it cool to room temperature, then transfer it to an airtight container and store it in the refrigerator for up to three days. When you're ready to serve the soup, heat it up gently on the stovetop, and then add the chicken or tofu to cook until it's fully heated through.
More Keto Soup Recipes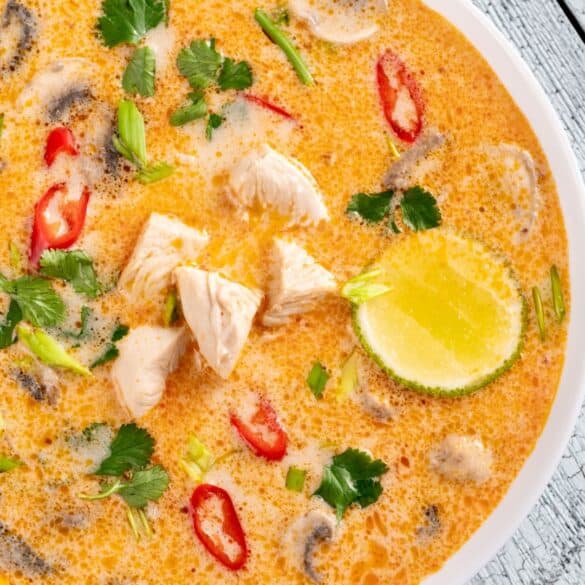 Description
Learn how to make the best Tom Kha Gai Soup that's creamy, rich, and has a unique flavor profile. This Thai Coconut Chicken Soup is quick and easy to make, even on those busy weeknights.
Ingredients
1

tbsp

coconut oil

½

onion sliced

2

cloves

garlic minced

½

of one red jalapeno pepper sliced

3 ¼-

inch

slices of ginger

2

tsp

curry paste

4

cups

chicken broth

4

cups

canned coconut cream

2

medium chicken breasts cut into bite-sized pieces

8

ounces

white mushroom sliced

3

tbsp

fresh lime juice

3

green onions sliced thin

salt&peper to taste
Instructions
Add the coconut oil to a medium pot over medium heat.

Add the sliced onion, garlic, jalapeno, ginger, and curry paste.

Cook, frequently stirring, for about 5 minutes or until softened.

Add the chicken broth and bring it to a boil.

Reduce heat to low and simmer uncovered for 20 minutes.

Remove the garlic, onions, and ginger from the liquid.

Add coconut cream, chicken breast bites, and sliced mushrooms.

Cover with a lid and simmer until chicken breast pieces are cooked through.

Then add the lime juice, and adjust to salt and pepper.

Cook for 2 more minutes, and enjoy garnished with fresh chopped parsley.
Nutrition Facts
Amount per serving.
How do we calculate the nutrition info?
These nutrition facts listed are determined using nutrition information from the USDA Food Database. Our nutrition facts are accurate, but if you are using different products, please make your calculations. Net carb count is calculated by subtracting both fiber and sugar alcohols because they don't raise blood sugar.