With only 5g net carbs per serving, these keto bagels are made with just six ingredients. If you're craving bagels for breakfast, these fathead bagels are easy to make, chewy, and delicious.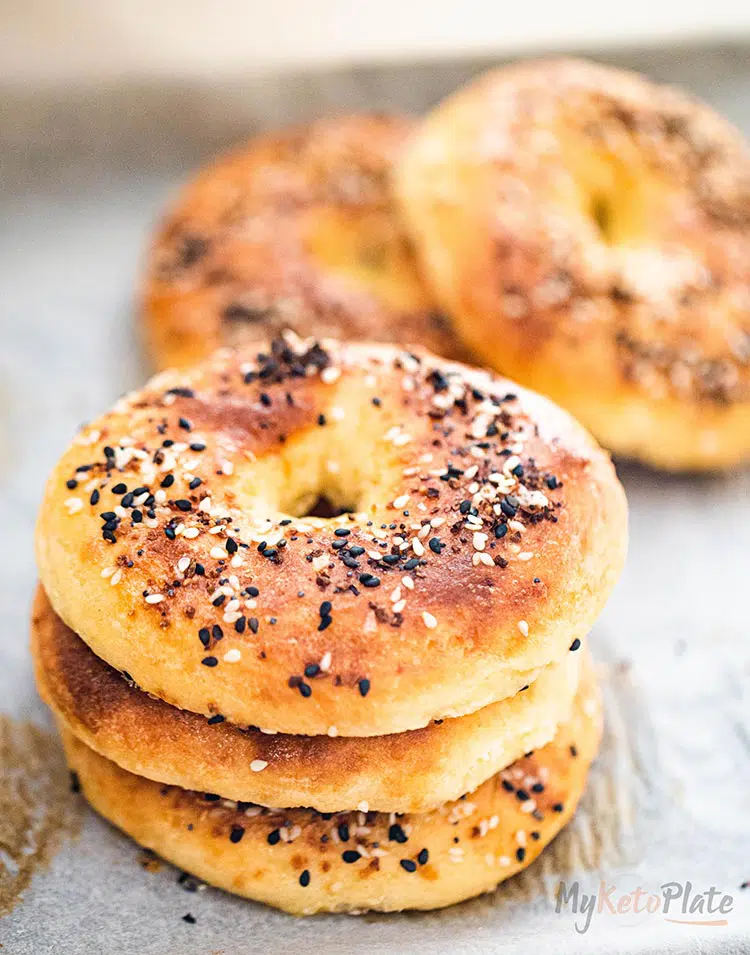 Why Is This The Best Low Carb Keto Bagels Recipe
just as good as the original ones
incredible toasted
fantastic with cream cheese
soft in the middle
delicious with a crunchy crust
Are Bagels Keto?
Unfortunately, bagels are not keto-friendly. They are made with wheat flour which is not keto-approved because it's way too high in carbs.
But, we have a solution for turning these super high carb bagels into perfect low carb ones that are just as incredible as the original.
To make so, we'll replace wheat flour for almond flour that's much lower in carb and frankly make these bagels super soft and flavorful.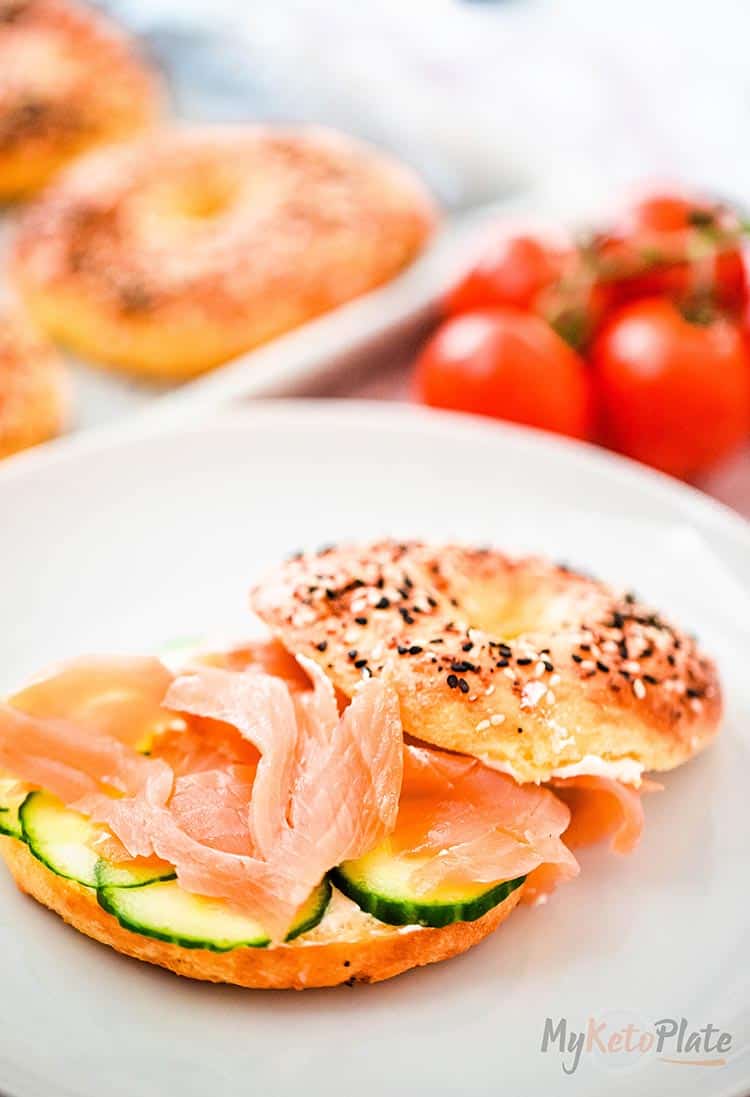 Fathead Dough Bagels
Bread is one of the most challenging things for me to give up at the beginning of a ketogenic diet.
I tend to miss bread more than desserts, and that's why on the blog, you can find many different keto bread options, such as my favorite 90 seconds bread or this beautiful keto bread.
It took a while to perfect this recipe to make them perfect, not just "okay" or "almost right". I couldn't believe that mozzarella dough is that delicious until I made a fantastic keto pizza with a chewy crust. 
Even better, fathead dough can be used to make low carb desserts such as keto cinnamon rolls.
The texture is glorious, they look amazingly golden on the edges, and the everything bagels seasoning is the perfect touch.
Keto Bagels Video Recipe
Keto Bagels Ingredients
First, let's take a look at all the ingredients needed for the keto low carb bagels with fathead dough . There are only 6 ingredients to make fathead dough, even 5 if you don't count the salt.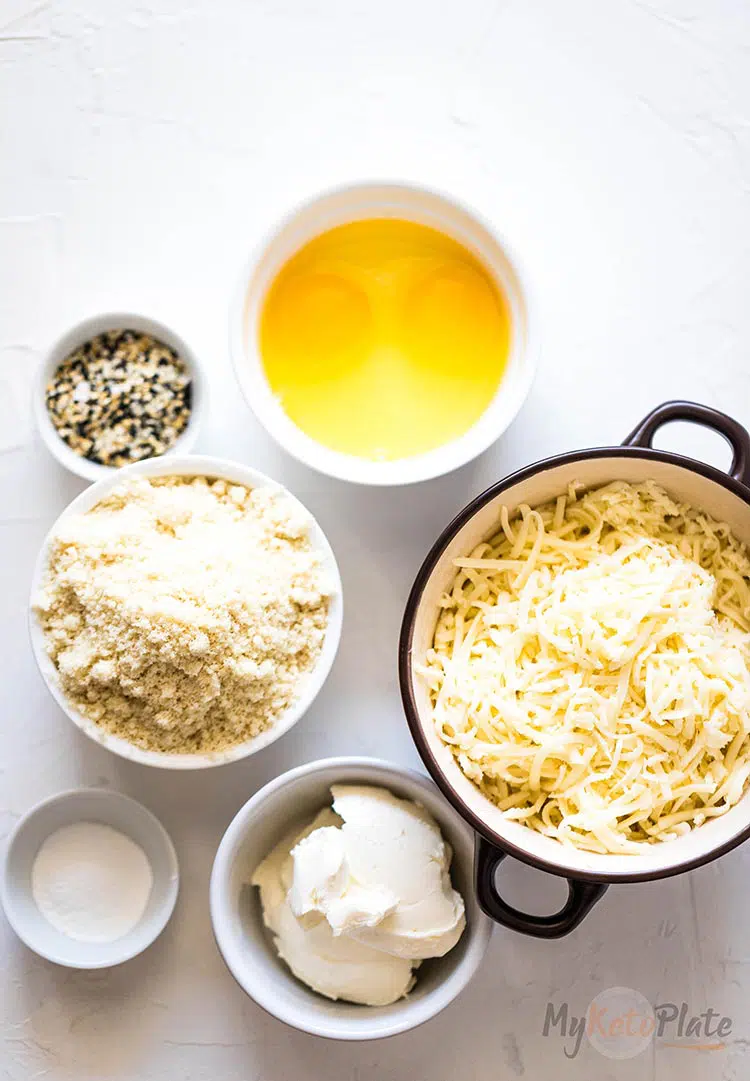 Mozzarella cheese – You'll need to hard mozzarella that's shredded not the fresh one that usually comes in packed with liquid.
Almond flour – Choosing the right almond flour is so important. Go for a super fine blanched almond flour for the best results. DO NOT USE ALMOND MEAL!
Cream cheese – full fat is key here. Don't try to replace or omit. The result won't be as pleasing.
Large eggs – help the dough stick together while creating a beautiful golden crust.
Everything Bagel Seasoning– my all-time favorite seasoning, I use it to season everything. You can order a jar online, but that's never enough for more, so I make it at home cheaper!
How to Make Keto Bagels
Homemade keto bagels aren't difficult to make as long as you follow a few easy steps. It's a breeze to make once you gather and measure out all the ingredients.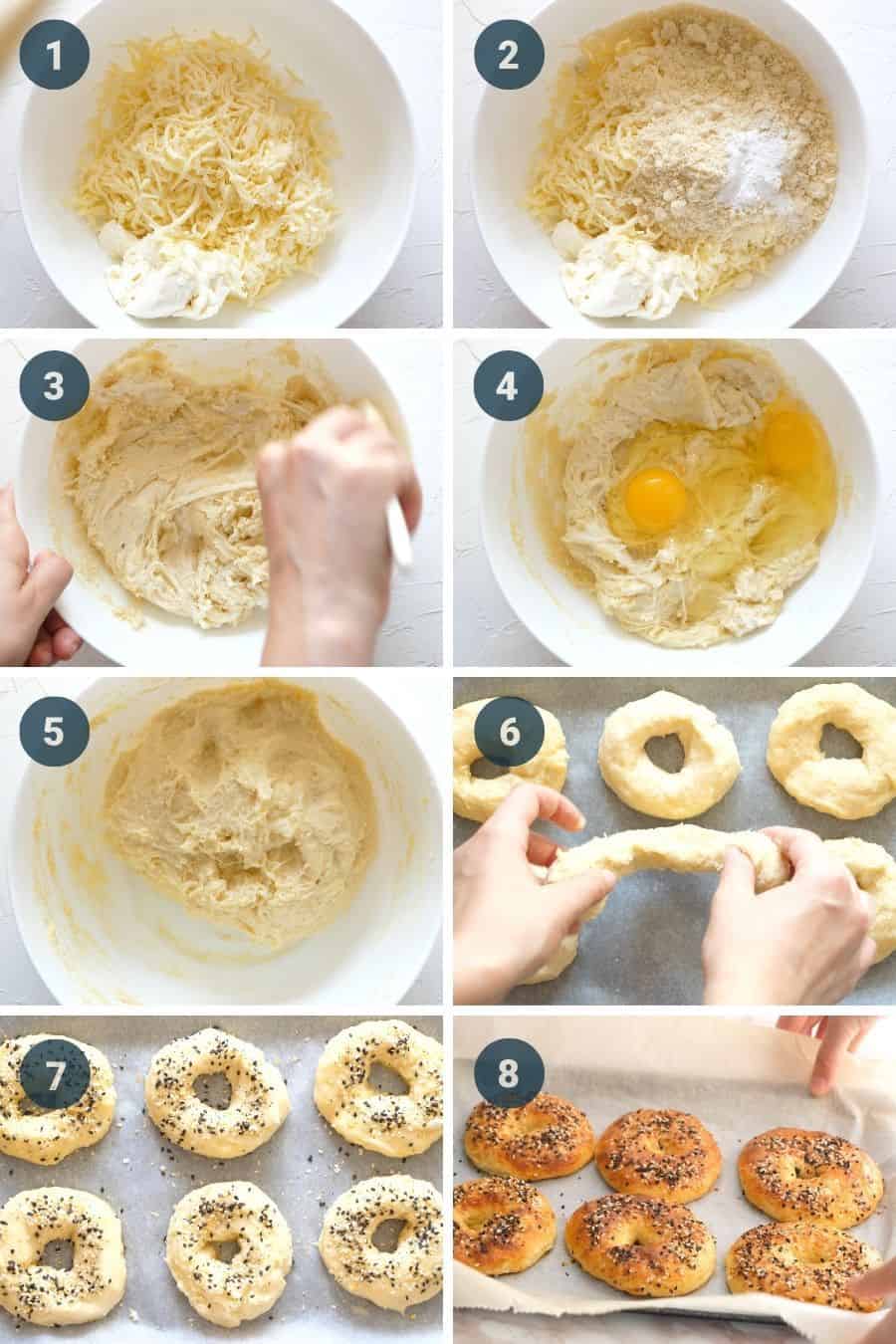 Make Bagels Dough
Combine shredded mozzarella, almond flour, baking powder, and cream cheese in a large bowl. Use a rubber spatula to incorporate all the ingredients. 
Place the bowl in the microwave and let the cheese mixture melts. Remove and mix well to combine.
Incorporate the egg while the cheese mixture is warm, not hot. Allow the dough to cool. If the dough is too sticky, add a little more almond flour. You can use a food processor to make the dough.
Shape Low Carb Bagels
To shape the bagels, divide the dough into six equal balls. Form long strings and shape them into a round bagel. You can also poke your finger through the middle of the bagel dough. Brush with egg wash and top with everything bagel seasoning, poppy seeds, or sesame seeds.
Baking the Bagels
Bake the best keto bagels for 12 minutes in the preheated oven until they get a nice brown color.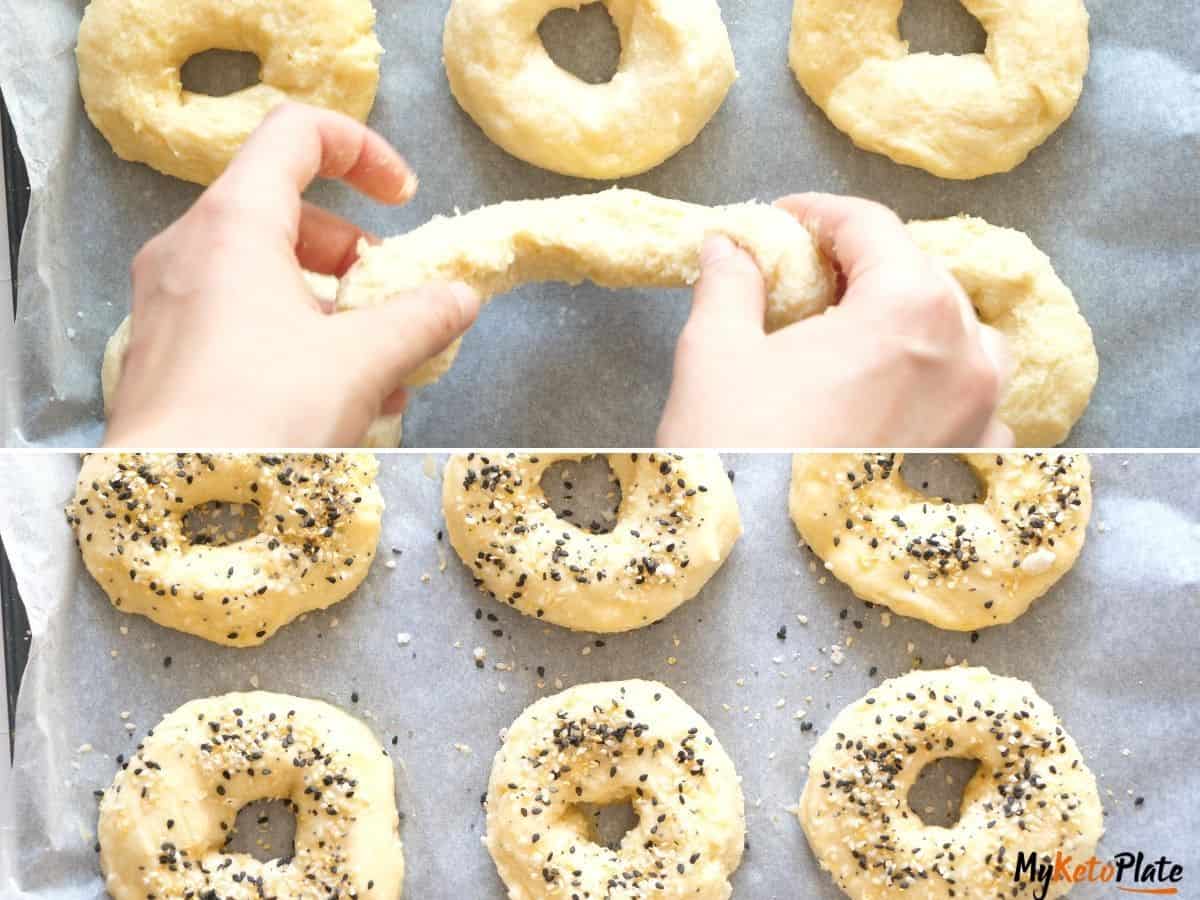 Place all the formed bagels on a baking sheet and sprinkle with Everything Bagel Seasoning Mix.
Bake for 12-15 minutes or until the bagels are golden on the edges.
Carbs in Keto Bagels
Each almond flour bagel is only 5g net carbs per serving. Most carbs come from almond flour.
It's still significantly lower than a classic bagel that has over 49 grams of total carbs.
Ways to Serve Fathead Low Carb Bagels
My favorite way to serve keto bagels is warm fresh out of the oven, smothered with cream cheese and smoked salmon. But they are just as good when warmed up!
Here are some simple topping ideas for gluten-free topping ideas:
butter
cream cheese
eggs, bacon, and cheese bagel keto breakfast sandwiches
tuna melt
The options are endless. Just use your favorite combo and share it with us by tagging me on Instagram! I can't wait to see your beautiful keto bagels.
Can I Make Nut-Free Bagels?
If you don't like almonds, you can make coconut flour fathead dough with coconut flour. Replace almond flour with 1/4 cup of coconut flour.
Remember that almond flour doesn't have a not 1:1 substitution ratio with coconut flour. They have different properties, and you'll always need less coconut flour in a recipe than almond flour.
How to Store Keto Bagels?
It's best to store the leftover keto fathead bagels in an airtight container for up to one week.
These are freezer-friendly keto bagels and can be stored in the freezer for up to 3 months.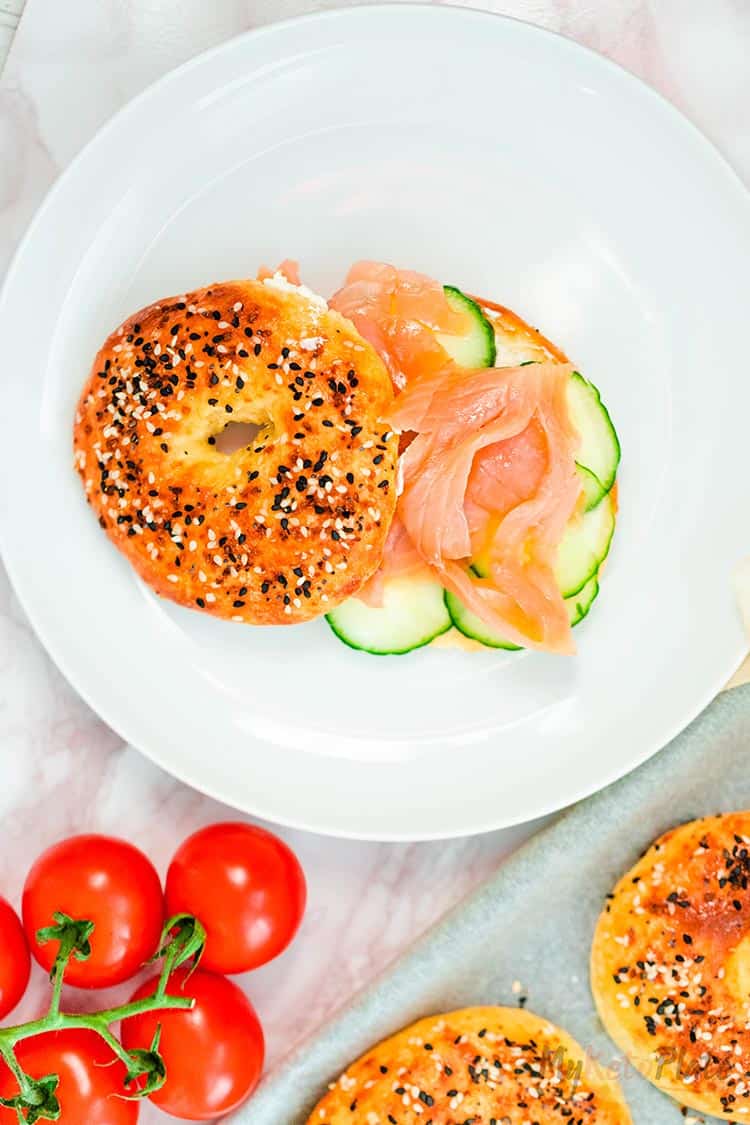 More Keto Bread Recipes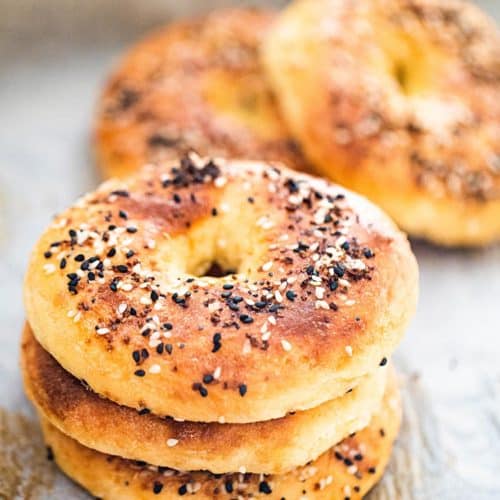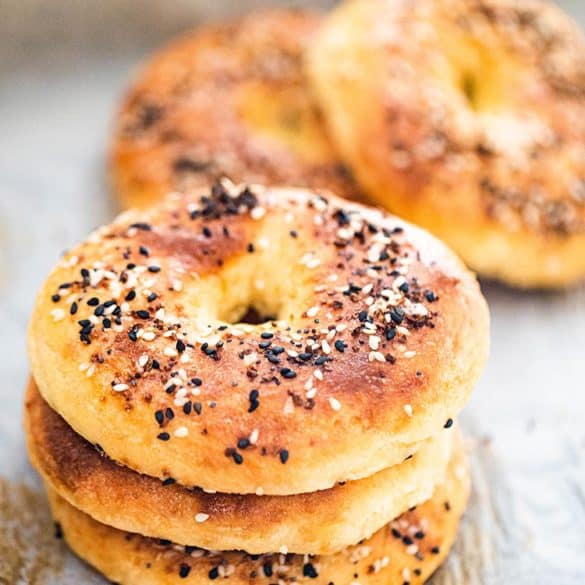 Easy Everything Keto Bagels – Low Carb Fathead Bagels
---
Description
With only 5g net carbs per serving, these keto bagels are made with just six ingredients. If you're craving bagels for breakfast, these fathead bagels.
Ingredients
2 ½

cups

mozzarella cheese

shredded

1 ½

cup

super fine blanched almond flour

3

oz

cream cheese

softened

2

large eggs

lightly beaten, room temperature

1

tsp

baking powder

1

tbsp

Homemade Everything But the Bagel Seasoning
Instructions
Preheat the oven at 400°F /200°C. Line a baking sheet with parchment paper and set it aside.

Add the shredded mozzarella, cream cheese, almond flour, the baking powder to a large bowl.

Microwave for about 60 seconds, stirring halfway until the cheese is melted and all the ingredients are well incorporated.

Let the mixture cool for a few seconds and incorporate the eggs.

Form six long strings and shape them into rounds.

Place the bagels on a baking sheet, brush with egg wash, and top with everything seasoning.

Bake on the middle rack for 12-15 minutes or until the bagels are golden brown.
Nutrition Facts
Amount per serving.
How do we calculate the nutrition info?
These nutrition facts listed are determined using nutrition information from the USDA Food Database. Our nutrition facts are accurate, but if you are using different products, please make your calculations. Net carb count is calculated by subtracting both fiber and sugar alcohols because they don't raise blood sugar.