Looking to add some variety to your keto meal plan? Why not try air frying? We've compiled a list of 30+ easy-to-make keto air fryer recipes that require just a few affordable ingredients and can be cooked in no time.
Keto air fryer recipes offer all the mouthwatering flavors of fried food without compromising on health.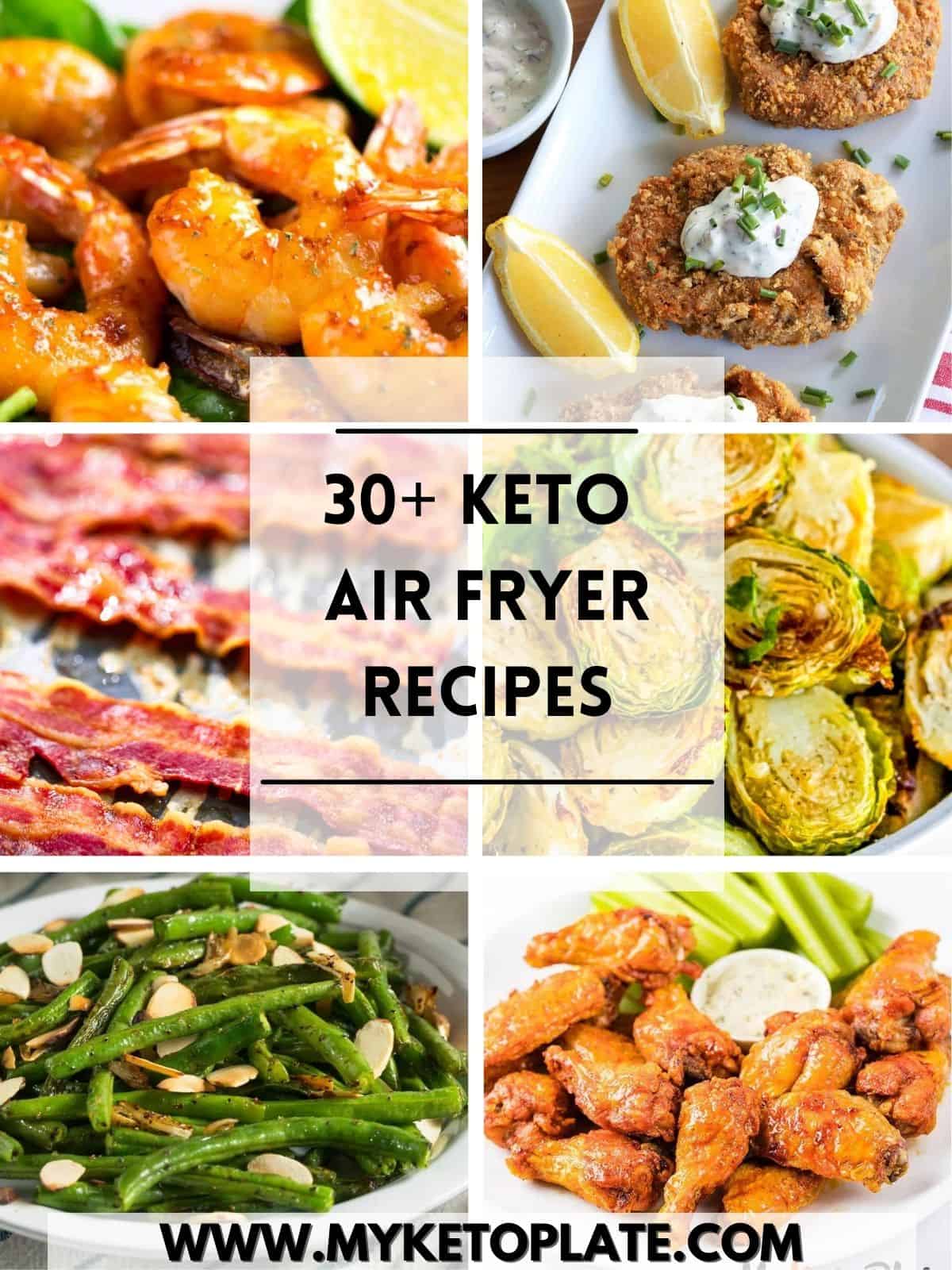 This post has everything for everyone, starting from quick treats like party snacks, bbq party appetizers to main dishes perfect for a quick dinner with your family.
Air frying has become one of the most popular cooking methods, and for a good reason. Not only does it result in crispy, flavorful meals, but it's also a great way to cut down on unhealthy fats and oils. And that's why you should check this list with 25 keto air fryer recipes. Trust you are going to love each recipe from this post.
Ready to get started? Here's everything you need to know about creating tasty dishes with your air fryer that won't break the bank (or your waistline!).
What Is An Air Fryer?
An air fryer is a popular kitchen appliance that uses hot air to cook food with less oil than traditional frying methods.
While an air fryer shares some similarities with an oven, it differs in its heating method. The air fryer's heating elements are only positioned on top and are supported by a powerful fan. This unique combination results in food that is super crispy in a short amount of time, and with less oil than traditional deep frying methods. Thanks to the concentrated heat source and the fan's size and placement, air fryers heat up rapidly and cook food evenly, making them an efficient cooking tool.
This makes it possible to enjoy fried foods with fewer calories and less fat.
With air fryers, you can cook a diverse selection of foods, including but not limited to french fries, chicken wings, fish, and vegetables. They are highly regarded for their capacity to produce a crispy exterior and a moist interior, regardless of what food you're cooking.
In addition, air fryers are often smaller than traditional ovens. They can be more energy-efficient, making them a convenient appliance for smaller households or those looking to save space in their kitchen.
Why Use An Air Fryer?
There are several reasons why people should buy an air fryer.
It helps you cook healthier since they use hot air for cooking food without needing oil or other fats.
They are super easy to use and cook food quickly. So they are perfect for making quick meals on those busy days.
You can use an air fryer for cooking a wide range of recipes, from side dishes to meat and snacks.
Use less energy than regular ovens or stovetops.
Creates a delicious crispy texture while keeping inside moist and juicy.
Drastically reduce the mess from your kitchen that comes with regular frying methods.
Essential Ingredients for Keto Air Fryer Recipes
If you are looking to make Keto-friendly meals using an air fryer, here are some essential ingredients that you may want to have on hand:
Low-carb vegetables: Vegetables such as broccoli, cauliflower, asparagus, zucchini, bell peppers, and Brussels sprouts can be cooked in the air fryer. They are low in carbs and can be seasoned with herbs and spices to add flavor.
Protein: Air fryers are great for cooking any protein such as chicken, pork, beef, salmon, and bacon.
Healthy fats: You'll need just a small amount of avocado oil or coconut oil.
Almond flour: Almond flour is a low-carb flour alternative that can be used to make breaded coatings for chicken or fish. It can also be used to make Keto-friendly desserts in the air fryer.
Cheese: for added flavor and texture, I love to use mozzarella cheese, cheddar, and Parmesan.
Spices and seasonings: I love to season my air fryer recipes with garlic powder, onion powder, oregano, paprika, cumin, and chili powder.
What Is The Best Type Of Air Fryer To Use For Keto Recipes?
When it comes to air fryers, there is a wide variety of models available. Choosing the right one for keto recipes can be tricky. It's important to consider factors such as size, wattage and temperature range when selecting an air fryer that will meet your needs.
In order to make sure you're getting the best model for keto cooking, look for higher wattages with greater temperature ranges. This ensures that the food cooks quickly and evenly. Additionally, opt for larger capacity units if you plan on making multiple batches of food in one go or prepping ahead of time for meal prep purposes.
A digital interface with customizable settings allows more precise control over temperatures and cook times, which can really come in handy when preparing specific dishes like low-carb desserts or fried chicken tenders.
No matter what type of air fryer you choose, make sure to read up on tips from experienced users before using it for the first time so you know exactly how to get the most out of your appliance. With a bit of research and practice, soon enough you'll become a pro at creating delicious and healthy keto meals!