Are you looking for keto Instant Pot recipes that are both foolproof and quick to prepare? We've gathered 30+ mouthwatering keto recipes that can be prepared effortlessly in your Instant Pot. From savory main courses to hearty soups, sides, and even desserts, these recipes offer a wide variety of flavors and textures to satisfy your keto cravings.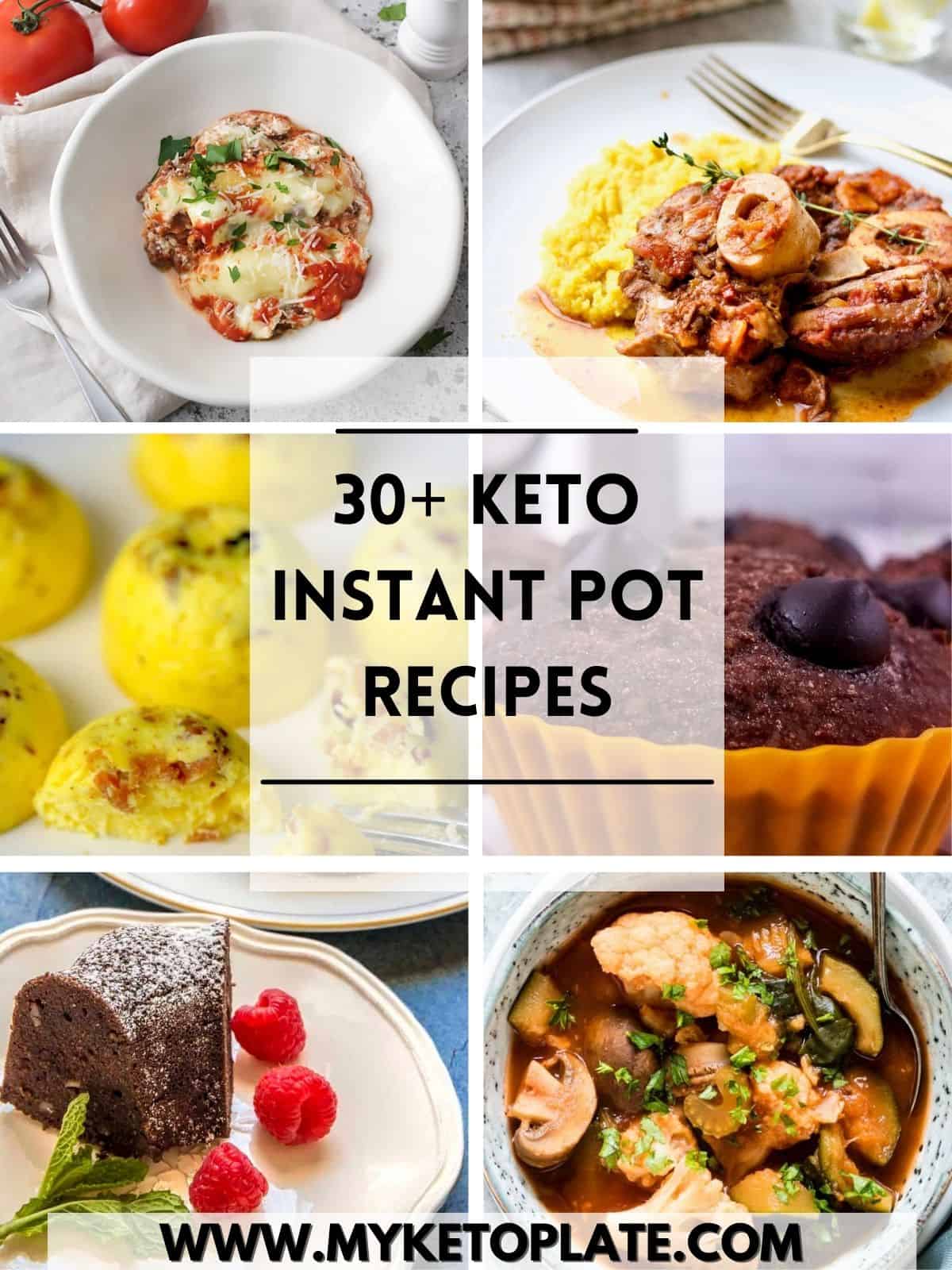 Starting from sweet quick treats to savory soups and hearty stews, you will find in this post something for everyone. And the best part? There are fewer dishes to clean since you can do almost anything in the Instant Pot.
These 30+ keto-friendly Instant Pot recipes are perfect for those days when you need a quick and satisfying meal. We've collected one of the best and most popular recipes that are keto-friendly, flavorful, and perfect for Instant Pot, especially when you are struggling with a busy day and don't have much time for cooking.
What Is A Keto Diet?
The ketogenic diet, or keto diet for short, has gained immense popularity recently due to its potential to help with weight loss and improve overall health. This high-fat, low-carb diet forces your body to enter a state of ketosis, which burns fat for energy instead of carbohydrates. While following a keto diet can be highly effective, it often requires some planning and preparation. That's where the Instant Pot comes to the rescue!
An Instant Pot is a versatile kitchen appliance that combines the functions of a pressure cooker, slow cooker, rice cooker, and more. It's a keto dieter's best friend because it simplifies meal preparation and saves time. In this post, we'll explore 30 keto Instant Pot recipes that are delicious and easy to make. These recipes will help you stay on track with your keto diet and satisfy your taste buds without sacrificing flavor or nutrition.
What Is An Instant Pot?
An Instant Pot is an electric pressure cooker that can be used for pressure cooking, slow cooking, sautéing, steaming, and yogurt making.
It's a very famous tool since its cooking method uses heat and pressure extremely quickly and efficiently and has safety features to prevent accidents.
Reasons For Using Instant Pot
It saves time: Instant Pots are the best for cooking food quickly and efficiently, so you can prepare meals in a fraction of the time it would take using traditional cooking methods.
It's super easy to make. Turn any recipes that might take time to cook into an easy and fun process.
You can cook various dishes using different cooking methods, like pressure cooking, slow cooking, sautéing, steaming, and yogurt making, all in one appliance.
There's no need to thaw your food in the microwave before cooking since you can cook frozen meat or other ingredients directly.
Tips for Preparing Keto Instant Pot Recipes
Choose fatty cuts of meat: Opt for cuts of meat that are higher in fat, such as chicken thighs, pork shoulder, beef chuck roast, or lamb. The Instant Pot helps tenderize these cuts while retaining their moisture.
Choose low-carb vegetables: Incorporate low-carb vegetables into your Instant Pot meals, such as cauliflower, broccoli, zucchini, spinach, kale, or bell peppers.
Use high-quality fats: Consider using avocado oil, coconut oil, ghee, or grass-fed butter when sautéing ingredients or adding flavor to your dishes.
Experiment with herbs and spices: My favorite include options like garlic, ginger, turmeric, cumin, paprika, oregano, or rosemary to enhance your meals.
Be mindful of sauces and seasonings: Many store-bought sauces and seasonings may contain hidden sugars or fillers that can add unwanted carbs to your meals. Read labels carefully and opt for homemade or low-carb options to control the ingredients.
Use the "Sauté" function: The Instant Pot's "Sauté" function allows you to brown meat, sauté vegetables, and enhance the flavors of your dishes before pressure cooking. This step can enhance the overall taste and texture of your keto meals.
Utilize the "Manual" or "Pressure Cook" settings: The "Manual" or "Pressure Cook" settings are perfect for tenderizing meats and cooking low-carb ingredients quickly. Adjust the cooking time according to the recipe and the thickness of the ingredients.
Make use of the "Keep Warm" feature: The Instant Pot's "Keep Warm" feature can be handy when you need to keep your keto meals warm until you're ready to serve. Just be sure not to leave food in the "Keep Warm" mode for too long to avoid overcooking.
Meal prep and freeze: Take advantage of the Instant Pot's ability to cook large batches of food. Prepare keto-friendly meals in advance, portion them out, and freeze them for future quick and convenient meals.