If you are a fan o seafood, then you've come to the right place. We've created a list with 30 keto seafood recipes that are not only low-carb but also packed with many nutrients and delicious flavors.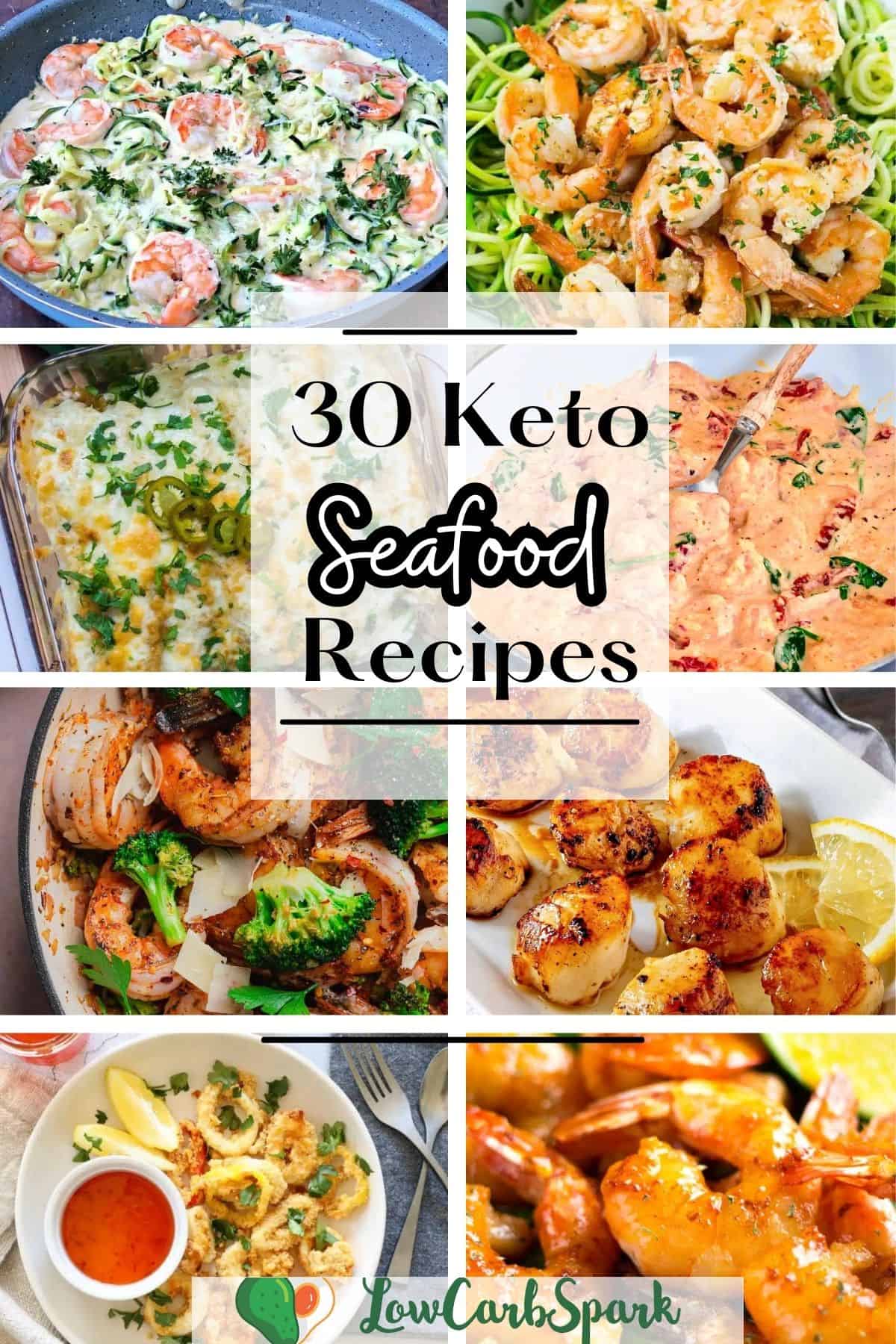 Calling all seafood lovers!! If you are tired of the same old chicken and beef recipes and want to switch things up, look no further than these 30 delicious seafood recipes.
Starting from fried shrimp and scallops to delicious keto paella, this post has everything for everyone. And not only are they delicious and packed with many delicious flavors, but they are also low in carbs and protein.
So whether you want to lose weight or eat healthier, these recipes satisfy your seafood cravings without crossing the limit of carbs.
Best Seafood Seasoning
Seafood seasonings are an essential part of making delicious seafood dishes. Here are some common seafood seasonings:
Old Bay Seasoning: It is a blend of celery salt, pepper, paprika, and other spices that give it a savory and slightly spicy flavor.
Lemon Pepper: This seasoning is made by combining lemon zest, black pepper, and salt. It is a great addition to seafood dishes, especially those that are grilled or baked.
Cajun Seasoning: It typically includes paprika, cayenne pepper, and garlic powder.
Garlic Butter Seasoning: It is a popular seasoning for lobster, crab, and other shellfish.
Creole Seasoning: This seasoning blend is similar to Cajun seasoning but has a slightly different flavor profile. It typically includes paprika, cayenne pepper, and onion powder.
Dill: Dill is a popular herb that goes well with many types of seafood, including salmon and shrimp.
Tarragon: Tarragon is an herb that has a subtle anise flavor and goes well with seafood.
Tips For Cooking With Seafood
Use fresh seafood. When making seafood recipes look for fresh fish or shellfish that smells like the ocean, has bright eyes and firm flesh, and is free of any fishy or ammonia-like odors.
Clean the seafood properly. Before starting, make sure to clean the seafood thoroughly and remove any scales or shells. Then pat dry them with a paper towel to remove any excess moisture.
Don't overcook the seafood. Overcooking them can produce a dry, rubbery texture. So keep a close eye on the seafood while cooking and remove it from the heat as soon as it's cooked.
Is Seafood Keto-Friendly?
Sure, seafood is a good choice for a keto diet due to its high protein and low carbohydrate content.
Also, many types of seafood are rich in healthy fats like omega-3 fatty acids. Some examples of keto-friendly seafood include salmon, tuna, shrimp, crab, lobster, mussels, and oysters.