Learn how to make this easy keto pumpkin pie recipe with a crispy almond flour crust. Bursting with fall flavors, this low carb pumpkin pie recipe is extra smooth, rich, and melts in your mouth.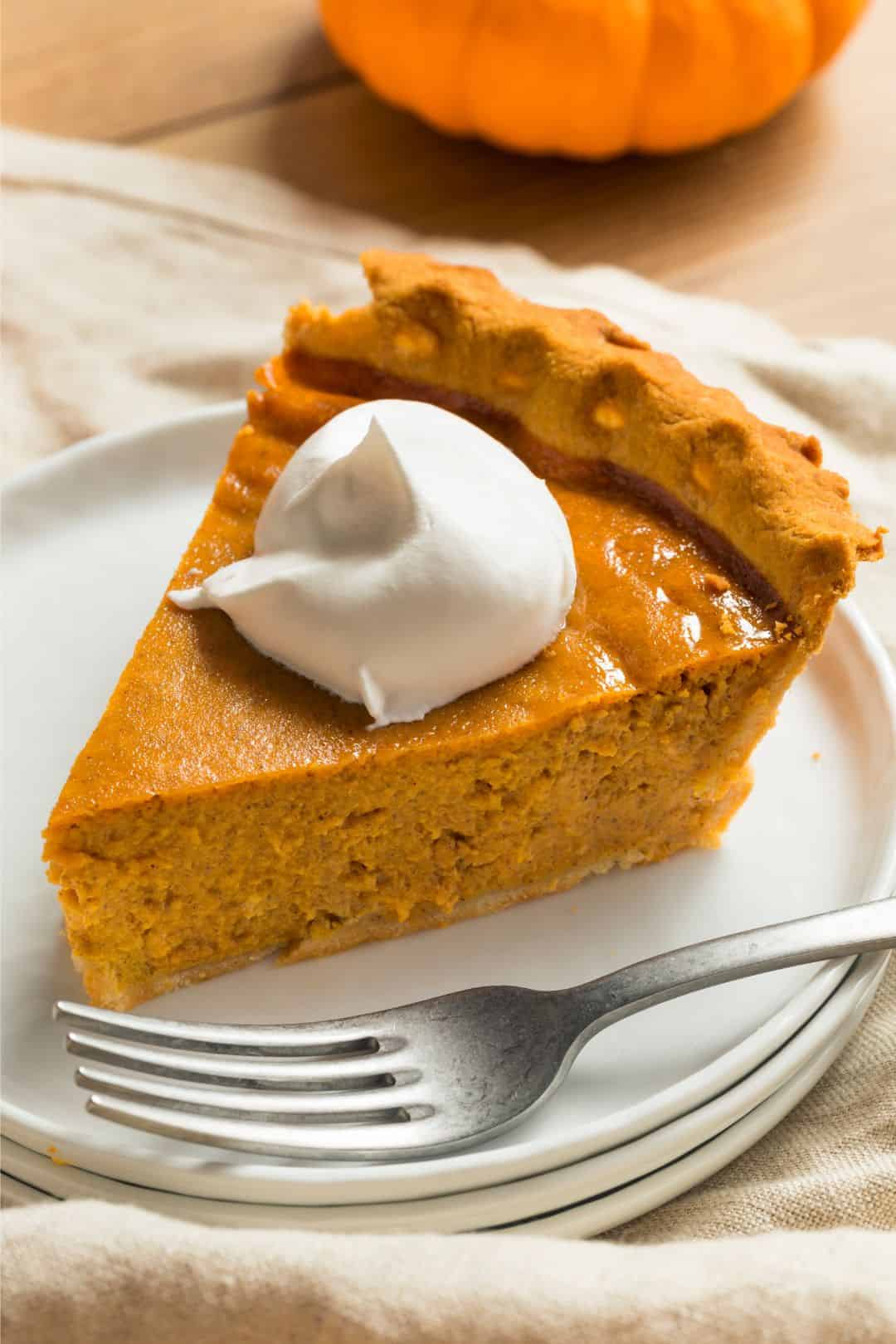 The weather starts to chill, and I'm already making everything pumpkin. I don't know about you all, but I can only think about pumpkin spice lattes and pies!
Not to mention that nothing smells better than a homemade pumpkin pie with plenty of fall spices! But, of course, I love easy keto desserts, so my only thought for this pie recipe was to be simple enough so everyone could make it.
This sugar-free pumpkin pie recipe tastes just like a traditional pumpkin pie, so your friends and family will definitely love it.
Serve it plain or with a whipped cream dollopp for an extra festive Thanksgiving dessert.
The almond flour crust is flaky, tender that it melts in your mouth, and the sugar-free filling is super creamy.
When it comes to keto Thanksgiving recipes, I'm always making keto apple pie, pecan pie, and this keto pumpkin pie.
Okay, pumpkin pie is one of our favorite pies, and it's a fantastic make-ahead dessert that everyone loves.
Is Pumpkin Pie Keto?
Classic pumpkin pie is not keto-friendly because it is usually made with sugar, a wheat flour crust, and other high-carb ingredients. A traditional pumpkin pie slice has over 45 grams of carbs.
But no worries, you can still enjoy pumpkin pie. By making a few changes to the ingredients, you can make a keto pumpkin pie that tastes just as delicious as the regular one but with fewer carbs.
Why Are You Going To Love This Keto Pumpkin Pie Recipe
Creamy, perfectly spiced with the right amount of sweetness
It's gluten-free, sugar-free
Only 5g net carbs per slice
Can be made ahead of time for any special occasion
It's a delicious dessert recipe that's perfect for gatherings or special occasions.
Ingredients For This Keto Pumpkin Pie
The ingredients required to make this keto pumpkin pie are easy to find, and it's possible to have most of them in your pantry. Here is a note on the ingredients:
Pie crust – I love making my favorite keto pie crust recipe to make this pie, but any storebought crust works great too.
Pumpkin Puree – I recommend using canned or homemade pumpkin puree and not pumpkin pie filling because it's loaded with sugar and spices.
Pumpkin Pie Spice – you can use the pre-packaged mixes you can find in the store (but make sure that you read the label) or make a batch of homemade pumpkin pie spice to ensure that it is sugar-free. The classic spices in a pumpkin pie are cinnamon, ginger, cloves, and nutmeg.
Sweetener – feel free to use any powdered sweetener such as Erythritol or Monk Fruit. Brown sugar substitute greatly improves the flavor.
Eggs – use large and room-temperature eggs to bind everything together in a custard-like consistency. Lightly beat them to ensure they mix properly with the rest of the ingredients.
Heavy Cream – use full-fat heavy cream to make the filling extra silky and rich.
Vanilla Extract – pure vanilla extract.
Salt – helps to enhance the flavor.
How To Make Low Carb Pumpkin Pie with Almond Flour Crust
This Keto Pumpkin Pie is super easy to make just by following a simple few steps. So even while it seems like a lot of work, it isn't that difficult once you blind-bake the pie crust. Here is everything you have to do:
Start by making the crust using my almond flour crust recipe.
Make the pumpkin pie filling – Add all the ingredients for the sugar-free pumpkin filling into a large mixing bowl. Whisk until everything is well combined.
Pour the pumpkin filling into the cooled crust and bake in the preheated oven until the filling looks set but still jiggles a bit in the middle (just like a custard). The pie continues cooking after removing from the oven.
Allow the pie to cool for at least 3 hours at room temperature, then chill in the refrigerator. Slice it and serve plain or with sugar-free whipped cream on top or keto caramel.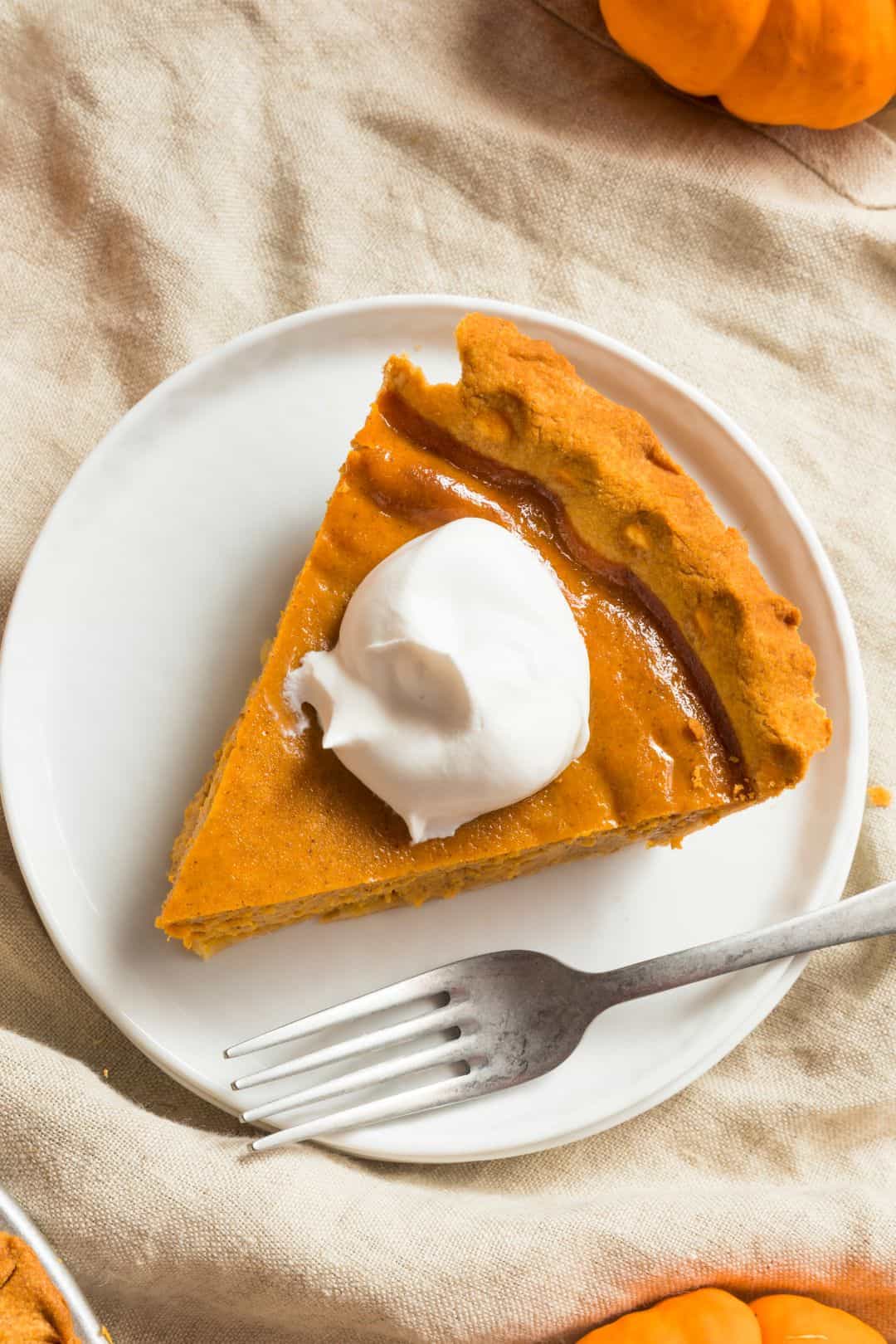 Storing Ideas
Fridge – Store the leftovers in the fridge in an airtight container for up to one week.
Freezer – You can also store this keto pumpkin pie in the freezer. First, wrap the pie slices in plastic foil, then store them in the freezer for up to one month. To defrost, place the pie in the refrigerator for a few hours or overnight.
Tips for Making The Best Keto Pumpkin Pie
Be careful not to overcook because overcooking the pie will cause the pumpkin filling to crack. After 45 minutes, the center of the pie it's slightly giggly, so it's time to remove it from the oven. It continues cooking as it cools down.
You can use fresh or canned pumpkin puree, but I love to use canned pumpkin puree because it makes the pie super thick, creamy, and bright orange. If you're using homemade pumpkin puree, make sure to remove as much moisture as possible.
Make pie crust leaves using the crust dough.
To make it easier, use storebought pie crust.
Frequently Asked Questions
Is Pumpkin Keto?
Yes, pumpkin is keto-friendly fruit that can be used in many low carb keto fall recipes, including desserts, soups, or pies.
How To Prevent The Pie From Cracking
Usually, overbaking causes the pies to crack. So if you don't want your pie to crack, you should remove it from the oven when it seems to be set, but the center it's still has a jiggly texture because once it cools to room temperature, the pie continues to cook.
How To Make The Best Pumpkin Puree?
Start by roasting the pumpkin in the oven for 40 minutes or 50, depending on the size of the pumpkin. After it's done, let it cool and puree it in a food processor until smooth.
Can I Make This Recipe Ahead Of Time?
Sure, you can make this keto pumpkin pie ahead of time, store it in the fridge and enjoy it at your thanksgiving party with your family.
How Can You Tell If Pumpkin Pie is Done?
The pie is done baking when the center looks almost set and jiggles slightly. The center continues cooking as the pie cools down. Allow the pie to bake for about 45 to 50 minutes at 375ºF/ 190°C.
More Keto Desserts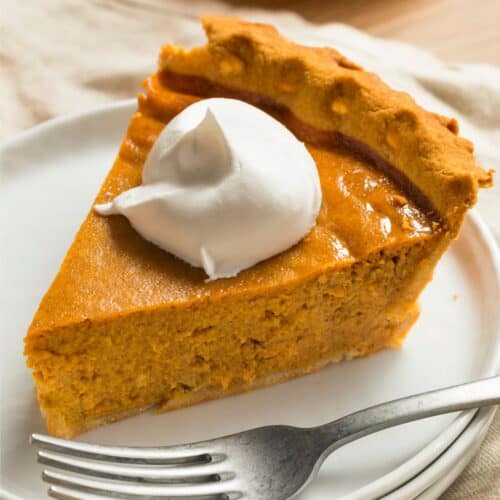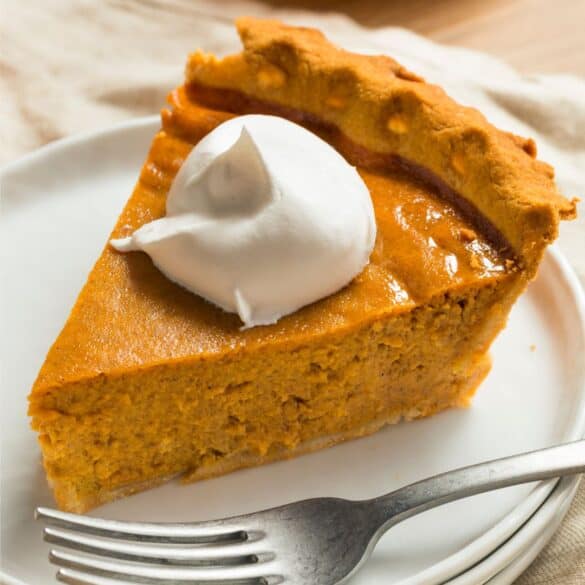 Description
Learn how to make this easy keto pumpkin pie recipe with a crispy almond flour crust. Bursting with fall flavors, this low carb pumpkin pie recipe is extra smooth, rich, and melts in your mouth.
Instructions
Preheat the oven to 375°F /190°C.

In a large bowl, whisk pumpkin puree, 3 eggs, and sweetener until frothy.

Add heavy cream, pumpkin pie spice, and salt. Whisk vigorously until smooth.,

Pour the filling into the pie crust. Only fill 3/4 of the way up.

Bake the pie in the preheated oven for 45-50 minutes until almost set. Cover the edges of the crust after 25 minutes of baking to prevent the edges from burning.

Remove from the oven and allow to cool completely at room temperature for at least 3 hours.

Serve with keto whipped cream or keto caramel.
Nutrition Facts
Amount per serving.
How do we calculate the nutrition info?
These nutrition facts listed are determined using nutrition information from the USDA Food Database. Our nutrition facts are accurate, but if you are using different products, please make your calculations. Net carb count is calculated by subtracting both fiber and sugar alcohols because they don't raise blood sugar.