This sugar-free keto pavlova is perfectly smooth and elegant, with a crunchy texture from the delicate baked meringue topped with lots of fresh berries. It's the best dessert for any dinner party or for Valentine's day.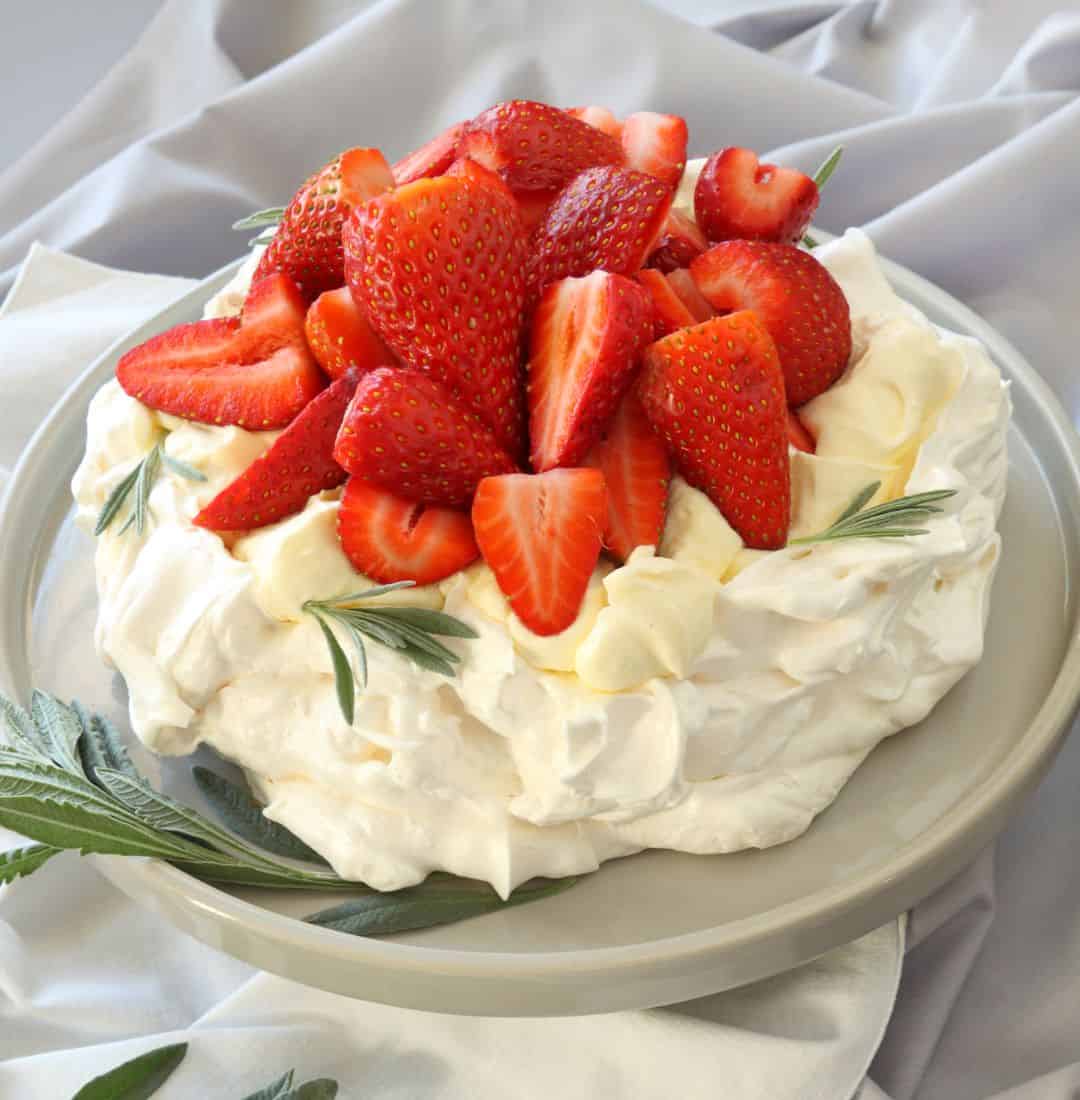 If you are looking for a super easy keto dessert recipe with minimal prep that will impress anyone, then you should try this low carb pavlova recipe. It's soft on the inside and crispy on the outside, looks incredibly fancy, and tastes heavenly.
With a crispy meringue exterior, smooth whipped cream, and fresh berries, this keto dessert is spectacular both aesthetically and in taste. Honestly, I fell in love with it at the first bite.
And although initially, I thought it would be way too sweet, the fruit perfectly balances the final taste of this perfect summer dessert.
You will love this keto pavlova because, besides the fact that it looks extremely fancy, it's extremely easy to make. Just think about that crispy on the outside meringue and fluffy on the inside that melts in your mouth and then topped with a delicious homemade whipped cream and fresh berries.
What Is Pavlova?
The "Pavlova" dessert is a traditional dessert in Australia and New Zealand. This delicate dessert with divine taste, made of meringue with whipped cream and berries, has a history linked to the famous Russian ballerina Anna Pavlova.
Pavlova is made using egg whites and sugar and has a crisp and light texture.
Is Pavlova Keto-Friendly?
Regular pavlova recipes are usually made with a lot of sugar and contain a high amount of carbs which are definitely not good for a keto diet.
But fortunately, you can still enjoy pavlova on a keto diet with this recipe made with naturally low-carb ingredients; it tastes the same as delicious as the real one but with fewer carbs.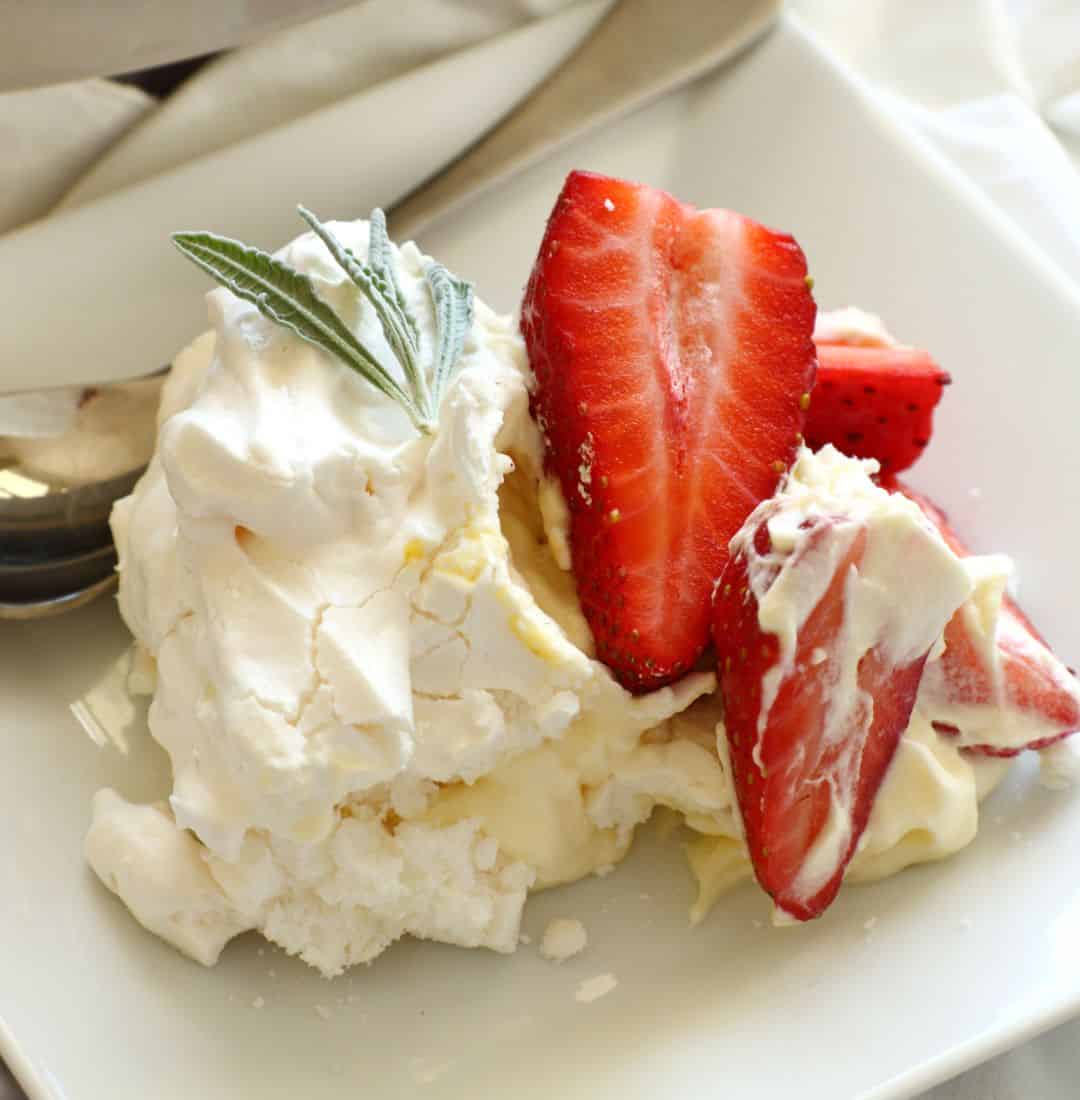 Why Are You Going To Love This Keto Pavlova Recipe
Super festive and elegant
Melt in your mouth delicious
A show-stopping dessert that's easy to make
Crisp exterior with a soft center
You can make mini pavlovas
It's a sugar-free and gluten-free dessert recipe that everyone loves.
Keto Pavlova Ingredients
Another great thing about this recipe is that it doesn't require any fancy ingredients. Actually, you probably have all the ingredients in your kitchen. Here is a list with everything you will need:
For The Sugar-Free Meringue
Egg Whites – Bring your egg whites to room temperature so they can whip more quickly and easily reach stiff peaks.
Sweetener – use powdered sweetener to mix and combine well while mixing the egg whites.
Cornstarch – The pavlova has a little chewy interior thanks to the cornstarch.
White Vinegar – the acid helps the egg white hold in some air and prevent the egg whites from slumping. You can replace it with cream of tartar.
Vanilla Extract – always use the best quality vanilla extract that you can find.
For The Topping
Keto Whipped Cream – make a batch of our sugar-free whipped cream.
Berries – feel free to use your favorite berries, or you can replace them with other keto fruits.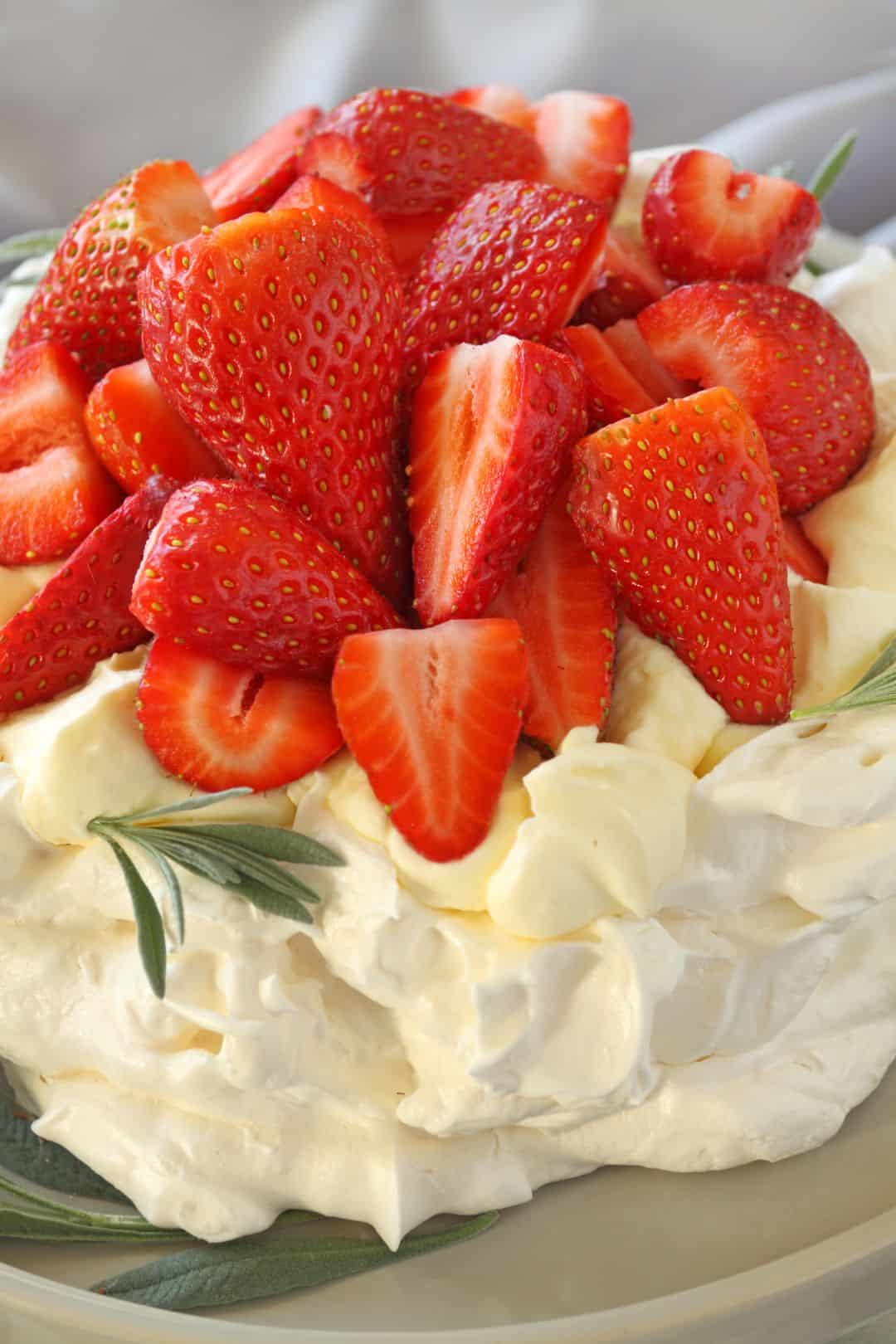 How To Make Keto Pavlova
Although it may be one of the fanciest desserts on this keto blog, you will be surprised to find that it is super easy to make. Here is everything you have to do: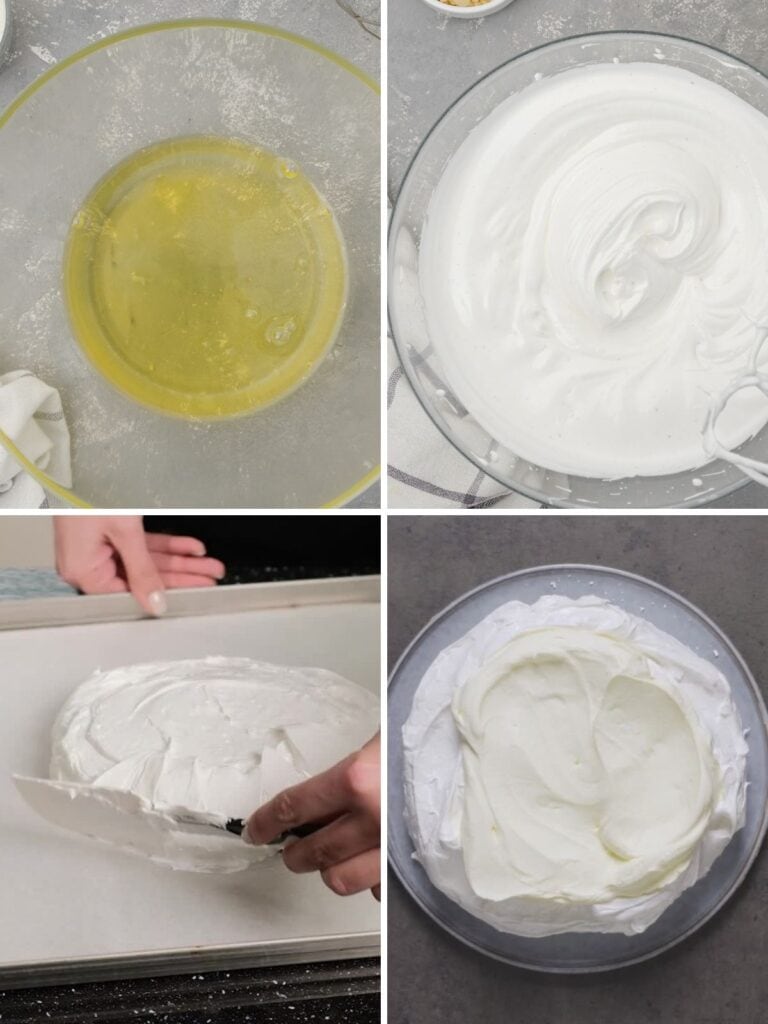 Start by preheating your oven at 220 degrees F.
Add the egg whites into a mixing bowl and beat until firm peaks form. Then add the sweetener and mix until it melts and turns glossy.
Add the rest of the ingredients and mix until well combined.
Transfer the mixture to the prepared baking sheet and form a circular shape using a silicone spatula.
Bake it in the oven for 90 minutes or until golden and firm around the edges.
Then turn off the oven and leave the meringue inside with the door closed.
Meanwhile, prepare the whipped cream using this recipe.
Spread the whipped cream over the meringue and top with fresh berries.
Tips For Making The Best Keto Pavlova
Preheat your oven and prepare a baking sheet with parchment paper to keep the pavlova from sticking to the pan.
Pay attention to the bowl you use to beat the egg whites. It has to be extremely clean to help the egg whites whip into perfectly stiff peaks.
Keep the oven door closed. Avoid opening the oven door once the pavlova is inside.
Make sure you don't drop egg yolks, as it can ruin the whole recipe because the yolks won't fluff up.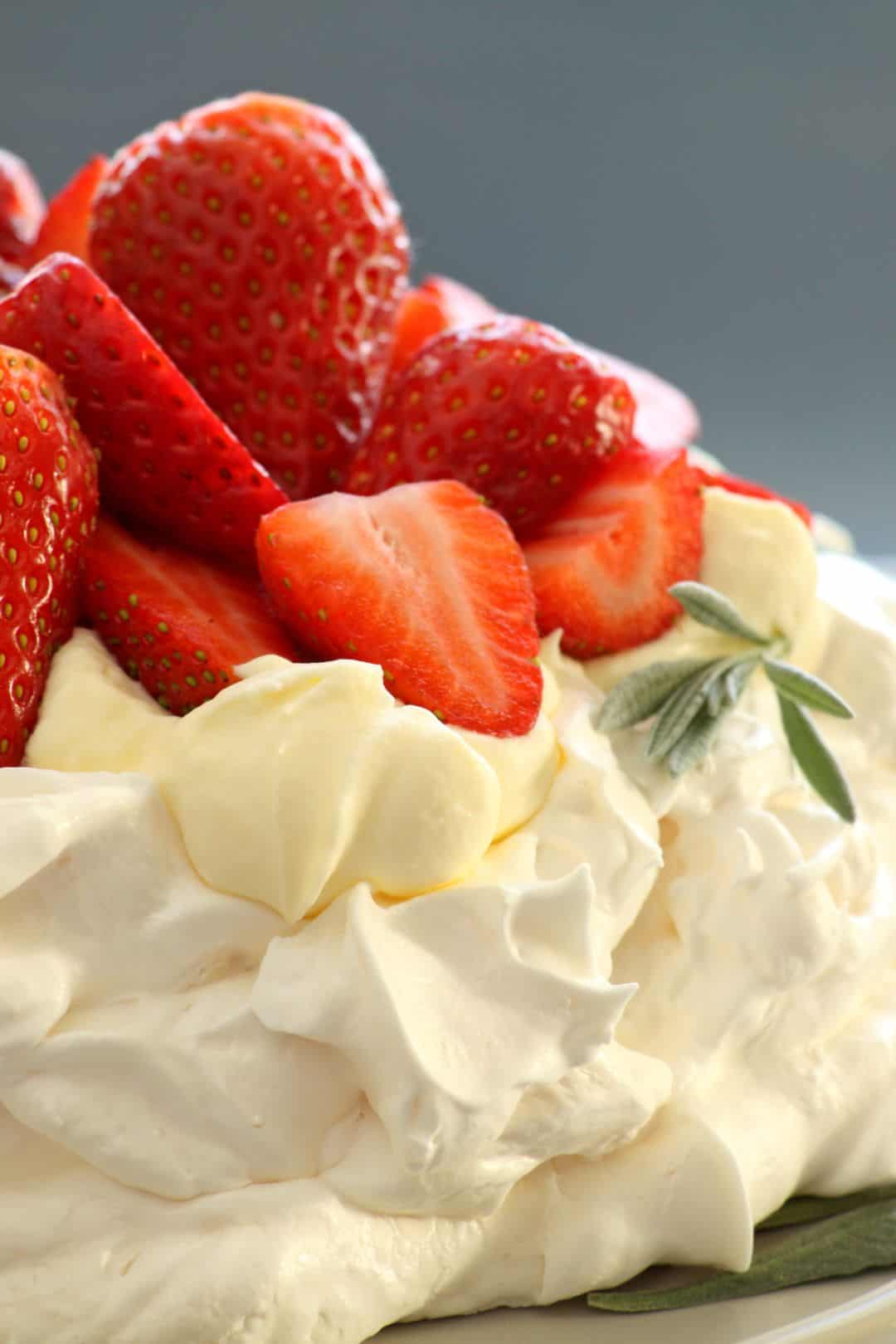 Topping Ideas
Another great thing about this keto pavlova is that it can be topped in many ways. Here are some great ideas:
You can make a batch of my keto lemon curd recipe and top your pavlova with it for a lemony and tangy flavor.
You can top it with some homemade cream cheese frosting.
If you are a chocolate lover, you can make a batch of our keto chocolate frosting for this pavlova recipe.
Fresh berries are the best: strawberries, blueberries, blackberries, and raspberries.
Storing Ideas
Fridge – You can store this keto pavlova covered in the fridge for up to 5 days.
Freezer – If you want to freeze this keto pavlova, you must know that only the meringue can be frozen. Just make sure that it is fully wrapped in plastic foil.
Make ahead – you can make the meringue up to 24 hours before. Just put all the toppings just before serving. Store it in an air-tight container.
Frequently Asked Questions
How To Prevent My Pavlova From Cracking?
Low-temperature baking is helpful, allowing the cake to cool gradually in the oven and being particularly patient when transferring it to the cake stand.
Can I Make This Keto Pavlova Ahead Of Time?
Sure, you can prepare this pavlova ahead of time and store it in the fridge for a few days before serving it.
More Festive Keto Desserts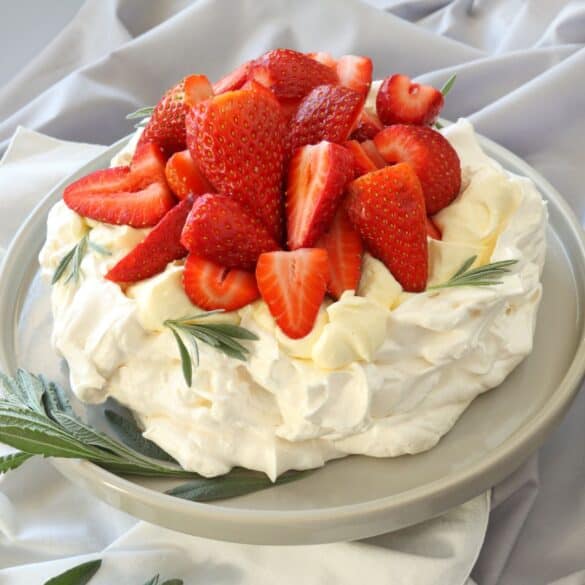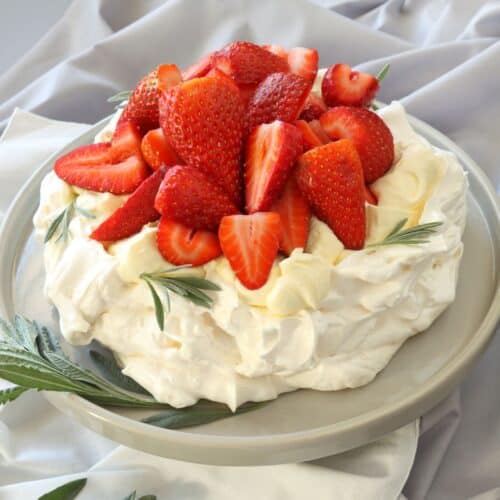 Description
This sugar-free keto pavlova is perfectly smooth, elegant with a crunchy texture from the delicate baked meringue, and topped with lots of fresh berries. It's the best dessert for any dinner party or for Valentine's day.
Instructions
Preheat the oven to 225°F/110°C. Line a large baking tray with parchment foil and set it aside.

Using a handheld mixer or a stand mixer fitted with a whisk attachment, beat the egg whites until soft peaks form for about 5 minutes.

Gradually add the powdered sweetener and continue beating until glossy stiff peaks form.

Incorporate the cornstarch, vinegar, and vanilla extract using a rubber spatula.

Spread the meringue mixture into an 8-inch circle.

Transfer the pavlova to the oven and bake for 90 minutes, or until firm and golden on the sides. Turn the oven off, and without opening the door, let the meringue in the oven for another hour.

Remove the pavlova from the oven and transfer it to a cookie rack. Allow to cool completely.
Nutrition Facts
Amount per serving.
How do we calculate the nutrition info?
These nutrition facts listed are determined using nutrition information from the USDA Food Database. Our nutrition facts are accurate, but if you are using different products, please make your calculations. Net carb count is calculated by subtracting both fiber and sugar alcohols because they don't raise blood sugar.