This keto lemon cake is a moist, delicious, fluffy cake recipe that requires only 10 minutes of prep. You will love this sugar-free lemon cake made from almond flour layers topped with a delicious lemon cream cheese frosting. Everything it's soo refreshing.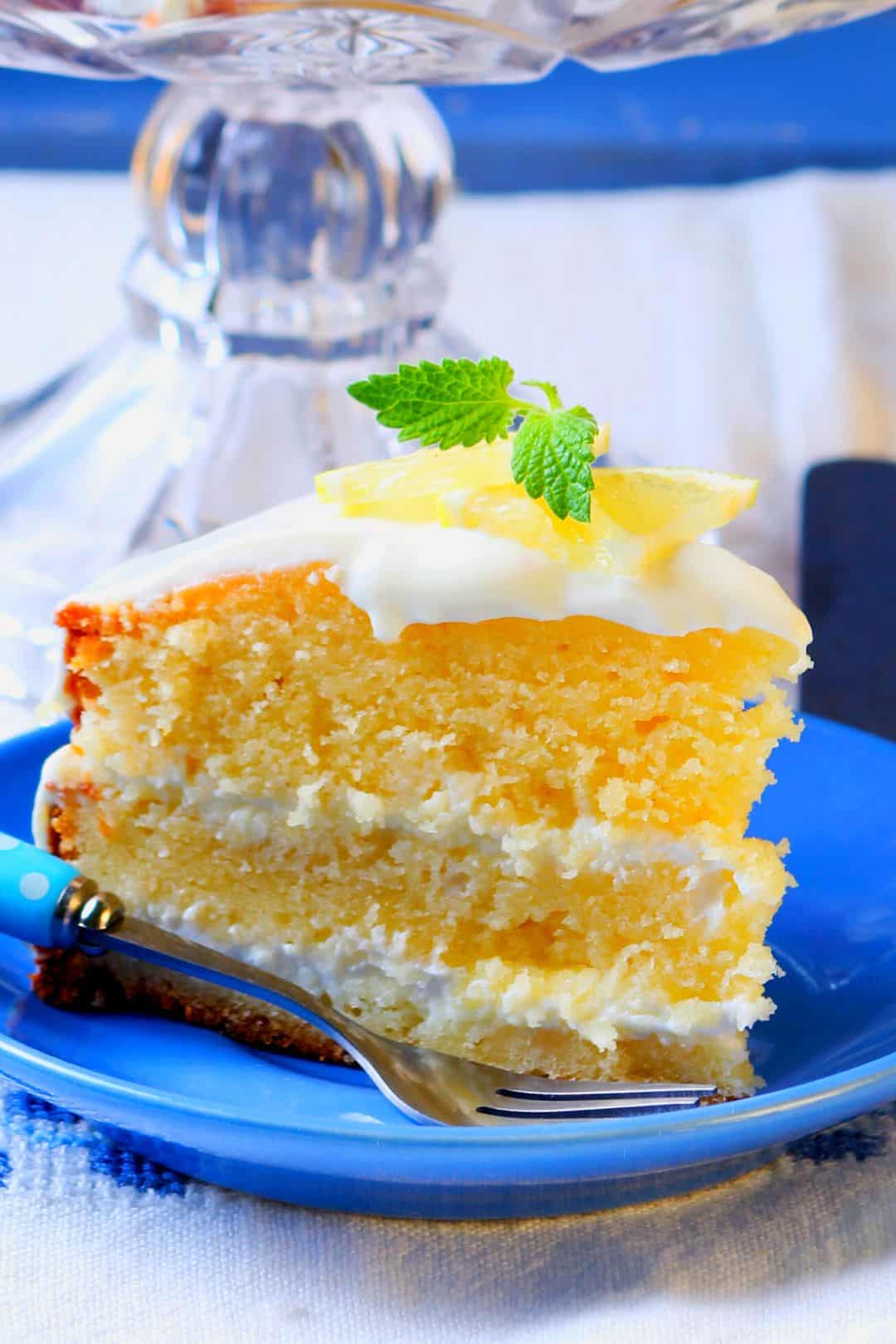 I am a big fan of cakes, and I choose to prepare them anytime I have the occasion. So, starting from almond flour cake to chocolate cake, pound cake, coconut flour cake, and keto carrot cake, I could not stop trying all possible cake recipes.
And so it was with this recipe of keto lemon cake. I mean, think about a moist and decadent almond flour layer topped with a zing and fresh lemon cream cheese frosting. It sounds heavenly and delicious, right?
The best part about this recipe is that it is made without sugar or grains and is extremely easy to make. Nobody will believe that this sugar-free lemon cake is actually keto.
Why Are You Going To Love This Recipe
It's super easy to make in less than 40 minutes.
Has just a few net carbs per slice.
Made from naturally low-carb and healthy ingredients.
Perfect for parties, an anniversary, or a holiday.
It's naturally sugar-free and gluten-free.
Is Lemon Cake Keto-Friendly?
Regular and traditional lemon cake is not keto because it contains sugar and other ingredients high in carbs that are not good for a keto diet.
But since I am a lemon lover, and I made a lot of lemon dessert keto recipes like keto lemon crud, lemon pound cake, and lemon bars, I decided to try a keto version of this recipe as well.
And I was surprised to see that it tastes even better than the traditional one.
Keto Lemon Cake Ingredients
You will love this recipe once it requires only some common basic ingredients you probably already have in your pantry. Here is a list of the ingredients:
Below you will find a list of the ingredient amounts for this recipe.
For The Cake Batter
Almond Flour – Use superfine, blanched almond flour to obtain the perfect texture for the cake layers.
Sweetener – feel free to use your favorite low-carb sweeteners such as monk fruit, erythritol, or allulose.
Baking Powder – helps the cake rinse and become super fluffy.
Eggs – use large room-temperature eggs to avoid that eggy smell and flavor.
Coconut Oil – helps the batter to be moist. You can also use the same amount of melted butter to avoid making a dairy-free version.
Lemon Extract – used to enhance that lemon flavor and taste.
For The Frosting
Cream Cheese – make sure you use softened cream cheese to ensure good mixing.
Lemon Juice – use freshly squeezed lemon juice for a great flavor.
Sweetener – use any low-carb sweetener as long as it is powdered to mix well into the frosting.
How To Make Keto Lemon Cake
This easy-to-make keto lemon cake is incredibly simple to prepare using 2 mixing bowls. Here are the instructions that you need to follow to enjoy this sugar-free cake:
Start by preparing the cake pans.
Make the lemon cake batter. Add all the dry ingredients to a mixing bowl and combine them until there are no visible lumps.
Add the wet ingredients over the dry ones and mix until the batter looks creamy.
Bake the lemon cake. Pour the batter into the cake pans and bake them for 20 minutes. Remove the cakes from the oven and allow them to cool.
Make the lemon frosting. Add all the ingredients to a mixing bowl until there are no visible lumps.
Assemble the cake. Add half of the lemon frosting over the first layer of cake and spread it evenly, then add the second layer and frost with the rest of the lemon frosting.
Refrigerate the cake for at least one hour before serving it.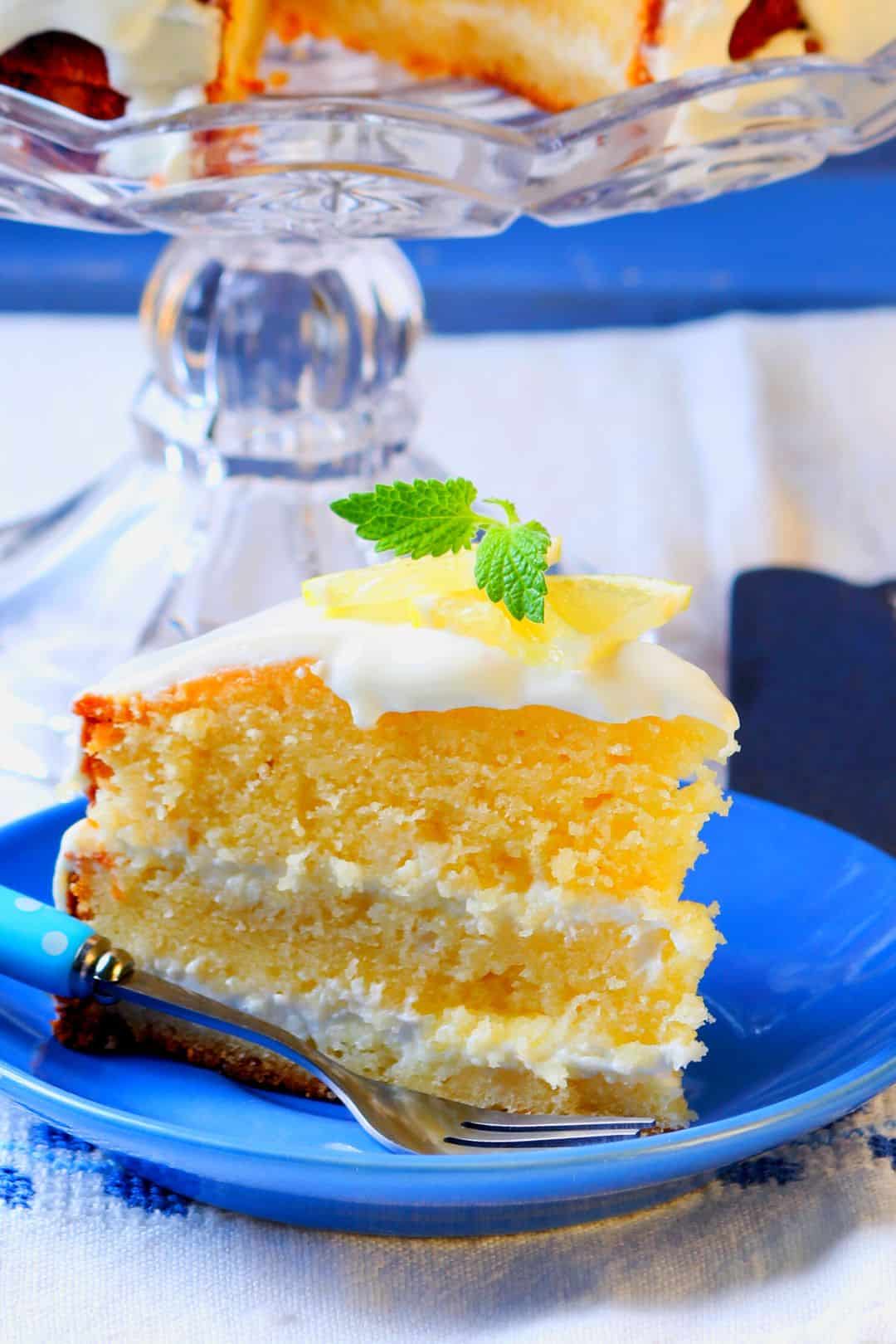 Tips For Making The Best Keto Lemon Cake
Sift the almond flour to avoid creating any clumps. By doing this, you will obtain some fluffy and lighter cake layers.
Make sure you are using fresh baking powder; otherwise, your cake will have a dense texture.
Don't over-mix the batter because the cake will become dense.
Decorating Ideas
If you want to make this cake look fancier, then here are some great ideas for decorating it:
You can make homemade whipped cream and paste it into the cake in patterns.
You can decorate it with lemon slices and mint leaves to boost fresh colors.
Make some keto lemon curd and spread it on top of the cake for an intense lemon flavor.
Storing Ideas
Fridge – You can store this sugar-free lemon cake in an airtight container in the fridge for up to 7 days.
Freezer – Freeze the lemon cake leftovers for up to one month. Wrap each slice in plastic foil before freezing it, then thaw it in the fridge overnight.
Frequently Asked Questions
How To Give A More Intense Taste Of Lemon To This Cake?
If you are a fan of lemon as we are, then you can add to the cake batter and lemon frosting the zest of one lemon. Trust me when I tell you that it will taste heavenly.
Can I Make Cupcakes From This Recipe?
Sure, this is a great idea, especially if you are having a party with guests. All you have to do is prepare the batter as we did in this recipe, divide the batter into a muffin pan, and bake for 20 minutes. Then let them cool on a cooling rack and frost them with cream cheese lemon frosting.
More Keto Cakes Recipes
Keto Carrot Cake – perfect for easter and not only. So if you have too many carrots, you must make this sugar-free carrot cake.
Keto Chocolate Cake – this gluten-free keto cake is the dream of any chocolate lover.
Almond Flour Cake – is one of the easiest cake recipes I have ever tried.
Coconut Flour Cake – this cake is one of the most delicious and moist recipes I have ever tried. And the chocolate frosting..you definitely should try this recipe.
Lemon Pound Cake – refreshing, easy to make, and filled with lemon flavor.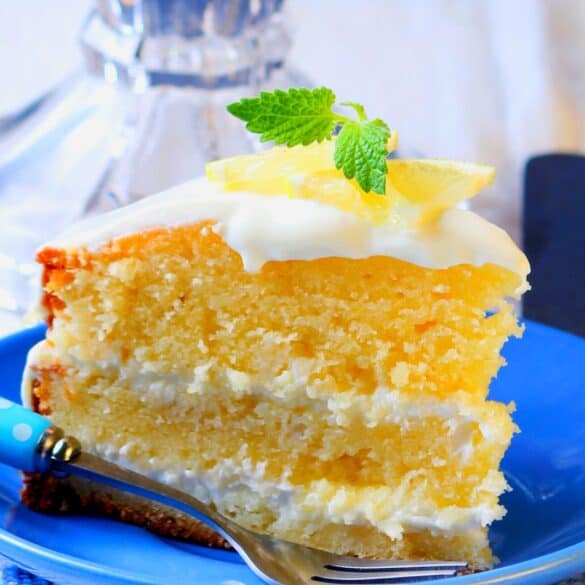 Description
This keto lemon cake is a moist, delicious, fluffy cake recipe that requires only 10 minutes of prep. You will love this sugar-free lemon cake made from almond flour layers topped with a delicious lemon cream cheese frosting. Everything it's soo refreshing.
Instructions
Preheat the oven to 180°C/350°F. Line two 9-inch round cake pans with parchment paper. Set aside.

Add all the dry ingredients(almond flour, baking powder, sweetener) to a mixing bowl and mix until there are no lumps.

Add the rest of the ingredients over the dry mixture and mix until well combined.

Divide the batter evenly between the two prepared cake pans. Bake for 25 minutes until firm to touch. Remove from the oven and allow to cool completely.

Make the frosting. In a large mixing bowl, add all the ingredients and mix together until combined.

Assemble and decorate the lemon cake. Place one cake layer on a large plate and top with half of the frosting. Top with the second layer and spread the remaining frosting to coat the tops and sides. Refrigerate for at least 2 hours.
Nutrition Facts
Amount per serving.
How do we calculate the nutrition info?
These nutrition facts listed are determined using nutrition information from the USDA Food Database. Our nutrition facts are accurate, but if you are using different products, please make your calculations. Net carb count is calculated by subtracting both fiber and sugar alcohols because they don't raise blood sugar.