These keto bounty bars are super easy to make with just 5 ingredients. Also called mounds bars, these sugar-free coconut bars are coated in chocolate, completely vegan, dairy-free, and require no baking!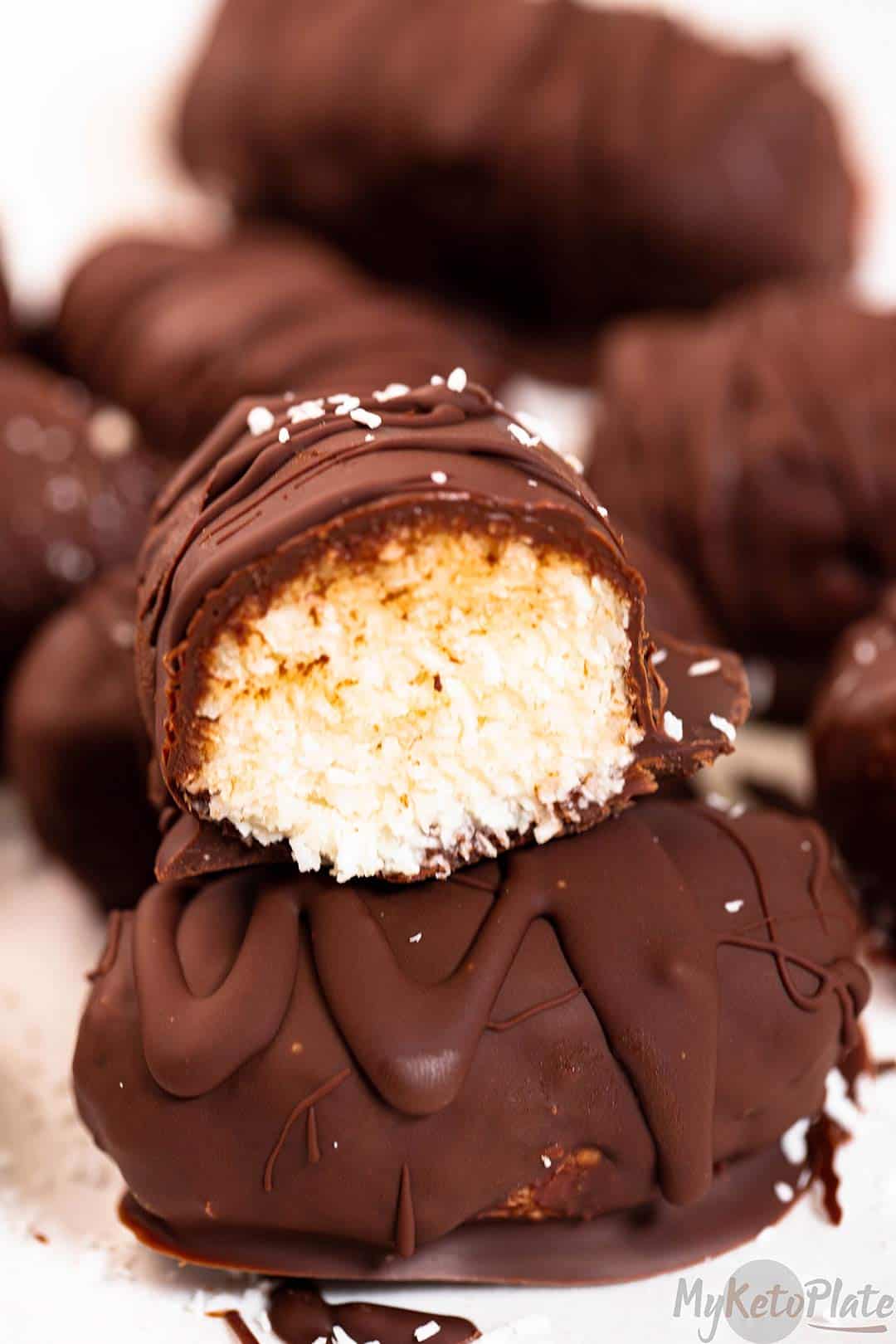 If you love coconut, these keto bounty chocolate bars are definitely going to become one of your favorites.
Healthy coconut bars are a great alternative to those commercial bars full of sugar and saturated fat.
When it comes to keto chocolate snacks, I'm always making keto fudge, brownies, truffles, and these easy keto bounty candy.
What Are Bounty Bars?
Bounty Bars, or Mounds Bars as known in the US, is a type of candy with a coconut center that is covered in either milk chocolate or dark chocolate. It is often sold as two little bars that are packaged together.
Are Bounty Bars Keto-Friendly?
Classic bounty bars are not keto-friendly because they are high in carbs and loaded with sugar.
A bounty bar (57g) has over 34g net carbs, while a homemade keto bounty bar has less than 3g net carbs and zero sugar.
Is Coconut Keto Friendly?
Sure, coconut is a keto-friendly ingredient since it's low in carbs and high in fiber and fat. However, make sure to use unsweetened coconut flakes.
Why Are You Going To Love These Low Carb Keto Bounty Bars Recipe
Delicious and easy to make.
You can make these bars ahead of time and enjoy them as a sweet treat.
Only 5 simple ingredients are required.
Naturally gluten-free and sugar-free.
Keto Bounty Bars Ingredients
A great thing about this recipe is the fact that it is made with only five naturally low-carb ingredients. Here is a note on the ingredients
Shredded Coconut – use unsweetened shredded coconut.
Coconut Cream – if you are not a fan of coconut cream, you can replace it with the same amount of heavy cream.
Sweetener – use your favorite low carb sweeteners such as Erythritol or Monk fruit.
Coconut Oil – helps everything to bind together. You can also use butter.
Unsweetened Dark Chocolate – bounty bars are fully coated in melted chocolate. Make sure you are using one of the best quality chocolate that you can find.
Vanilla extract – adds great flavor to the coconut filling.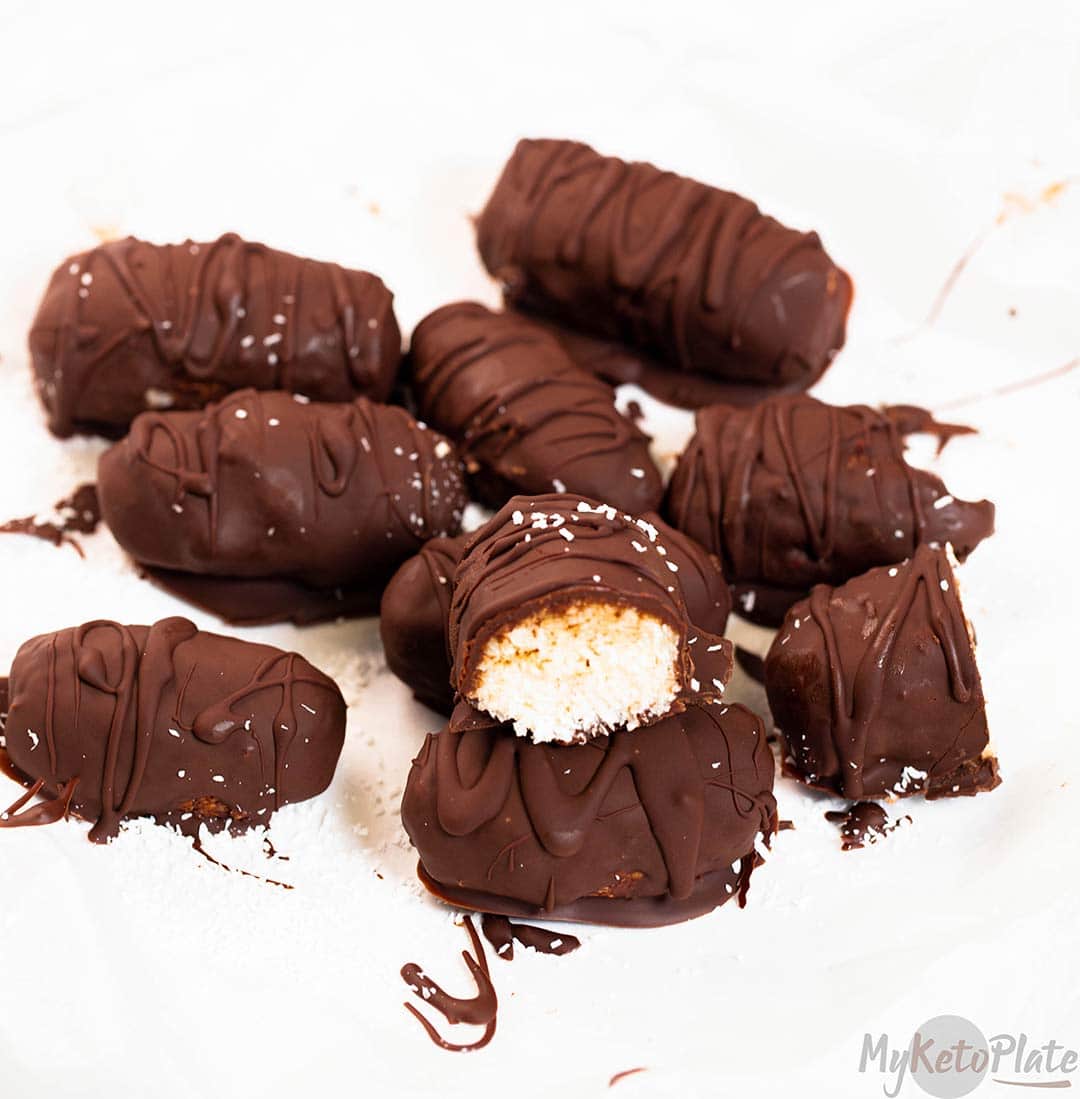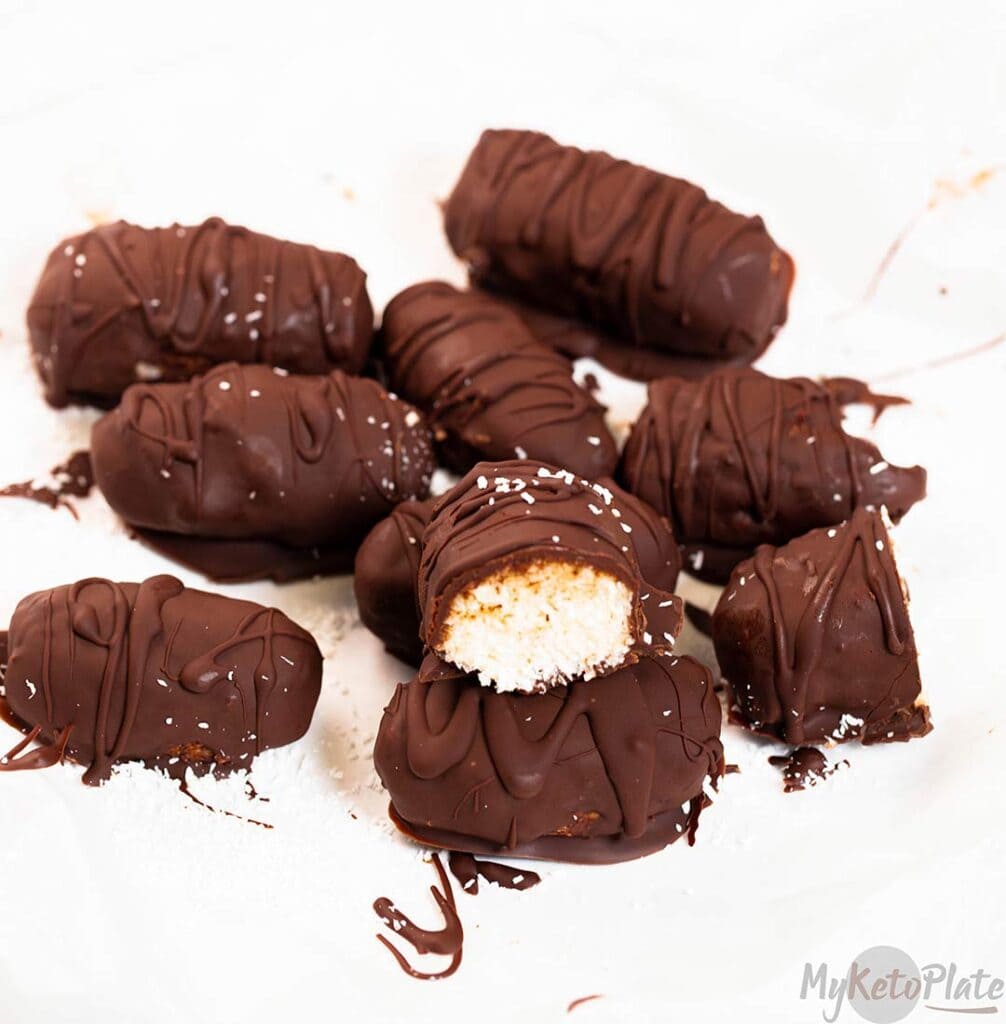 How To Make Keto Bounty Bars
Make the coconut bars: Start by adding all the ingredients for the coconut filling to a food processor and process them for about two minutes. The mixture should come together slightly sticky.
Form the bars: Scoop out about 2 tablespoons of the mixture and form rounded rectangles. Refrigerate for about one hour.
Prepare the chocolate coating: Add the chocolate and coconut oil into a microwave-safe bowl and microwave until completely melted. Stir well to combine into a glossy chocolate coating.
Dip bars in chocolate: Remove the coconut bars from the fridge and dip them into the melted chocolate, ensuring that they are fully coated.
Refrigerate: Place on parchment paper and refrigerate for 30 minutes to harden.
Recipe Tips and Variations
You can place an almond in the middle of the coconut bar before dipping it in chocolate to make delicious keto almond joy bars.
Use two forks to coat the bars easily.
Before dipping the coconut bars in chocolate, store them in the fridge for a couple of minutes to give them time to set; otherwise, they may crumble.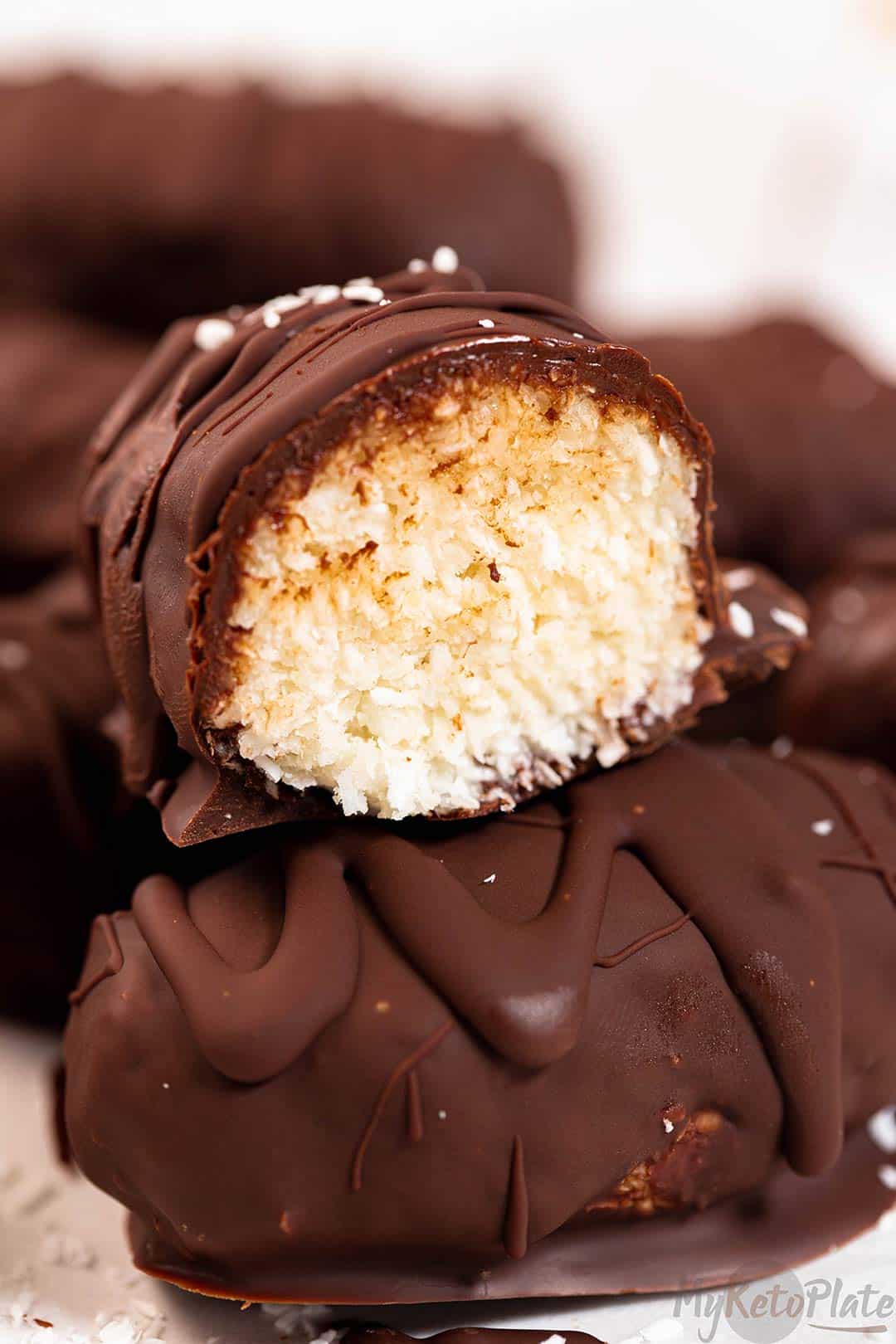 Storing Ideas
Fridge – You can store them in an airtight container in the fridge for up to 2 weeks.
Freezer – These keto bounty bars can also be stored in the freezer for up to about a month. However, ensure that you remove them from the freezer a few hours before serving for best results.
More Keto Desserts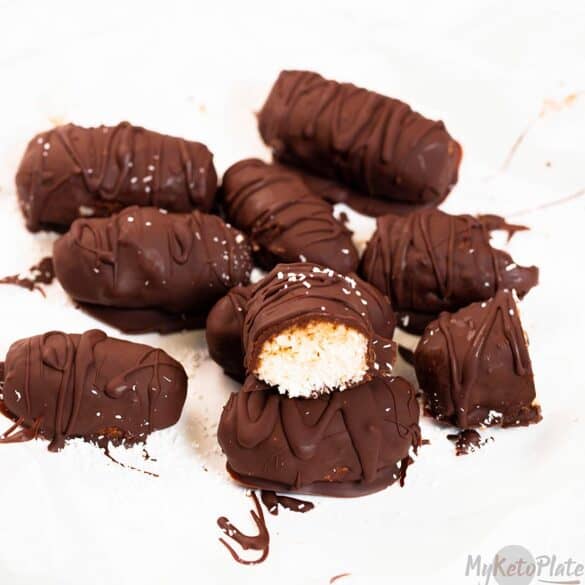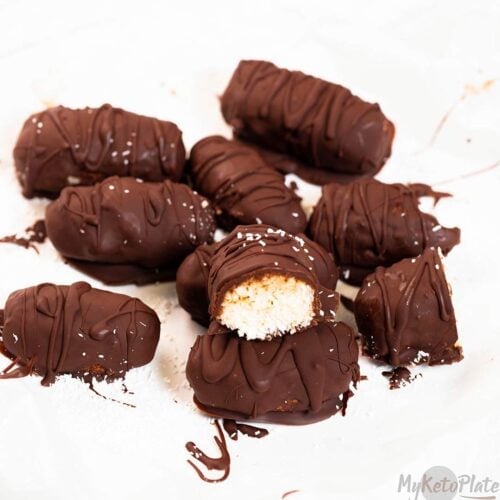 Description
These keto bounty bars are super easy to make with just 5 ingredients. Also called mounds bars, these sugar-free coconut bars are coated in chocolate, completely vegan, dairy-free, and require no baking!
Instructions
Shake the can of coconut milk before opening, then measure the amount required.

In the bowl of a food processor with the S blade attachment, add shredded coconut, melted coconut oil, sweetener, and canned coconut cream, and vanilla extract.

Blend on high speed for about 60 seconds. Stop the food processor if needed, scrape the sides, and process until it comes together into a firm, sticky ball.

Form the blended mixture into 18-20 rounded rectangles using wet hands. Refrigerate for one hour or freeze for 10 minutes.

Melt the dark chocolate and coconut oil in the microwave. Stir until smooth. If you're using unsweetened dark chocolate, make sure to stir in a few stevia drops.

Dip coconut bars in chocolate until covered on both sides. Place on a baking sheet lined with parchment paper or on a wire rack. Refrigerate for 30 minutes to harden.
Nutrition Facts
Amount per serving.
How do we calculate the nutrition info?
These nutrition facts listed are determined using nutrition information from the USDA Food Database. Our nutrition facts are accurate, but if you are using different products, please make your calculations. Net carb count is calculated by subtracting both fiber and sugar alcohols because they don't raise blood sugar.