This keto Crème Brûlée is a delicate, vanilla-flavored "burned cream" dessert that resembles a decadent custard. It's my sugar-free take on this classic dessert that's equally delicious and easy to make. You'll need just 5 ingredients to make the creamiest keto creme brulee recipe that's also gluten-free and low carb.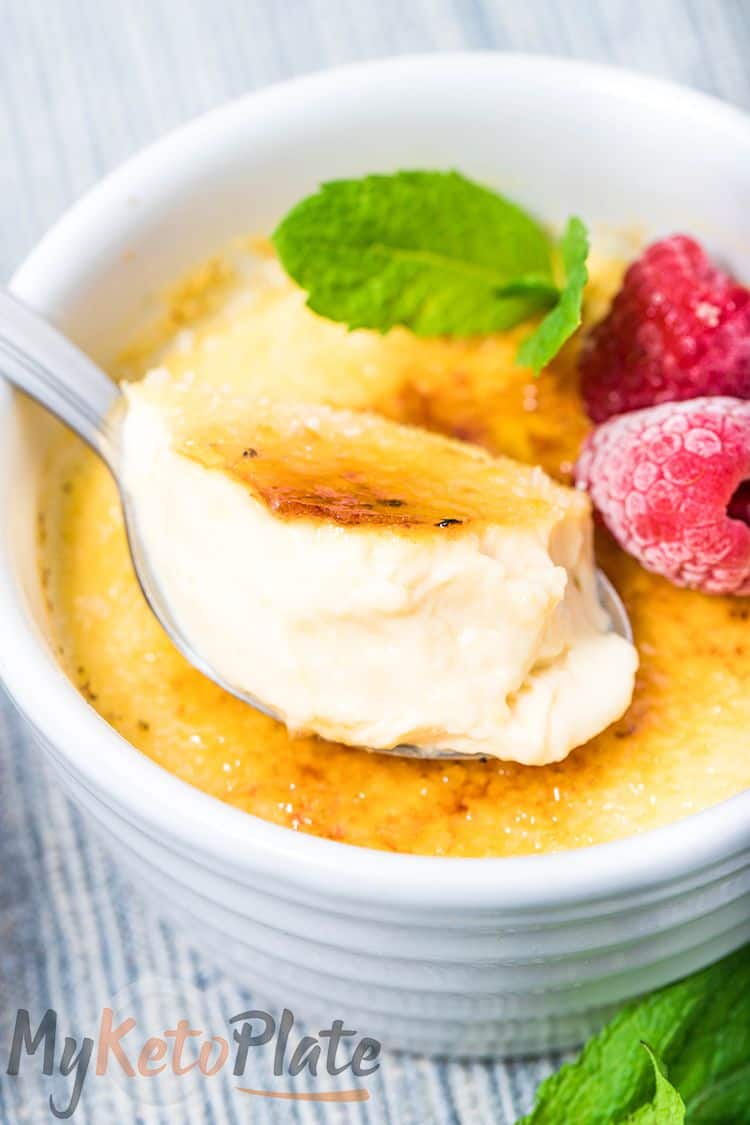 The glorious silky custard reminded me of our family trips to Spain when I was just a little child. I ate it for breakfast, lunch, and dinner at our hotel. It was that good!
Although the origins of this dessert are not certain, I first enjoyed it in Spain, then in France, and then I ate a donut filled with custard cream in England.
It's one of those recipes easy to make low carb. The only thing that's different from the original is that we use a sweetener instead of sugar.
What is Crème Brûlée?
Crème Brûlée is a dessert that has a creamy custard filling that's topped with a caramelized sugar topping. It's one of those relatively easy to make desserts, with few ingredients – just 5 ingredients. It's usually served with fresh berries.
I'm all about simplicity when it comes to cooking, especially with my full-time job and night shifts. My program is super chaotic, so I'm always looking for flavorful dishes that take under 1 hour to be ready.
This recipe is actually as easy to make as my mug cake or keto lava cake. You can try those desserts if you're more into chocolate.
Is Crème Brûlée Keto?
No, traditional creme brulee is not keto-friendly because it's made with sugar as a sweetener. Luckily, it's super easy to make keto low carb creme brulee without sugar.
Keto Crème Brûlée Ingredients
This keto creme brulee recipe requires only 5 ingredients and turns into such a decadent vanilla flavored sugar-free dessert.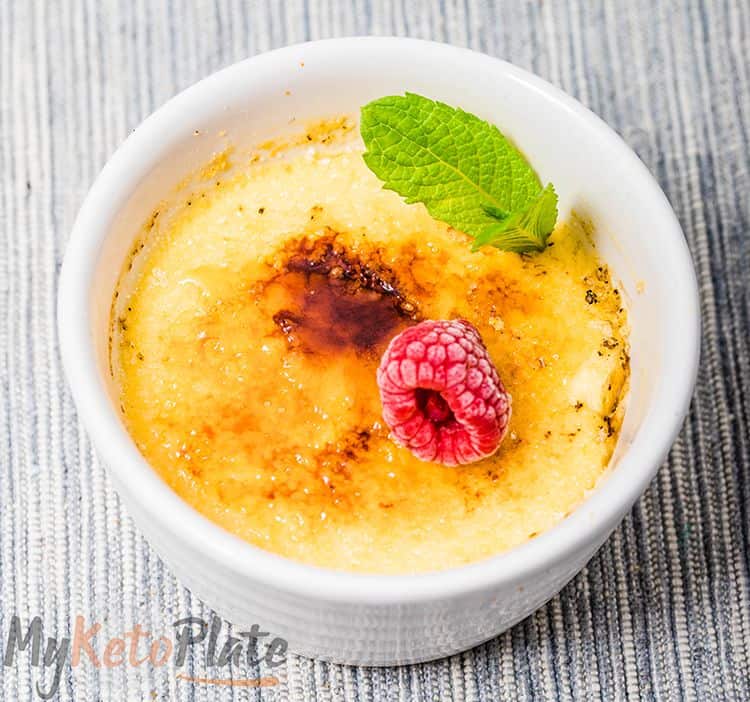 For this easy keto dessert, you'll need just a few basic ingredients that you probably already have in your kitchen.
Heavy cream – don't opt for low-fat cream here because we'll miss the creaminess.
Egg yolks – gives creme brulee that classic velvety taste, making this keto vanilla custard set.
Sweetener – choose a sweetener replacement that caramelizes nicely and gives that subtle caramel flavor.
Whole vanilla bean – brings out the best vanilla flavor and it's my favorite to use in this recipe. Vanilla extract is also great, but it's essential to be pure vanilla flavor. You can also use vanilla bean powder. Imitation vanilla essence will make this dessert taste artificial. 
How to Make Keto Crème Brûlée?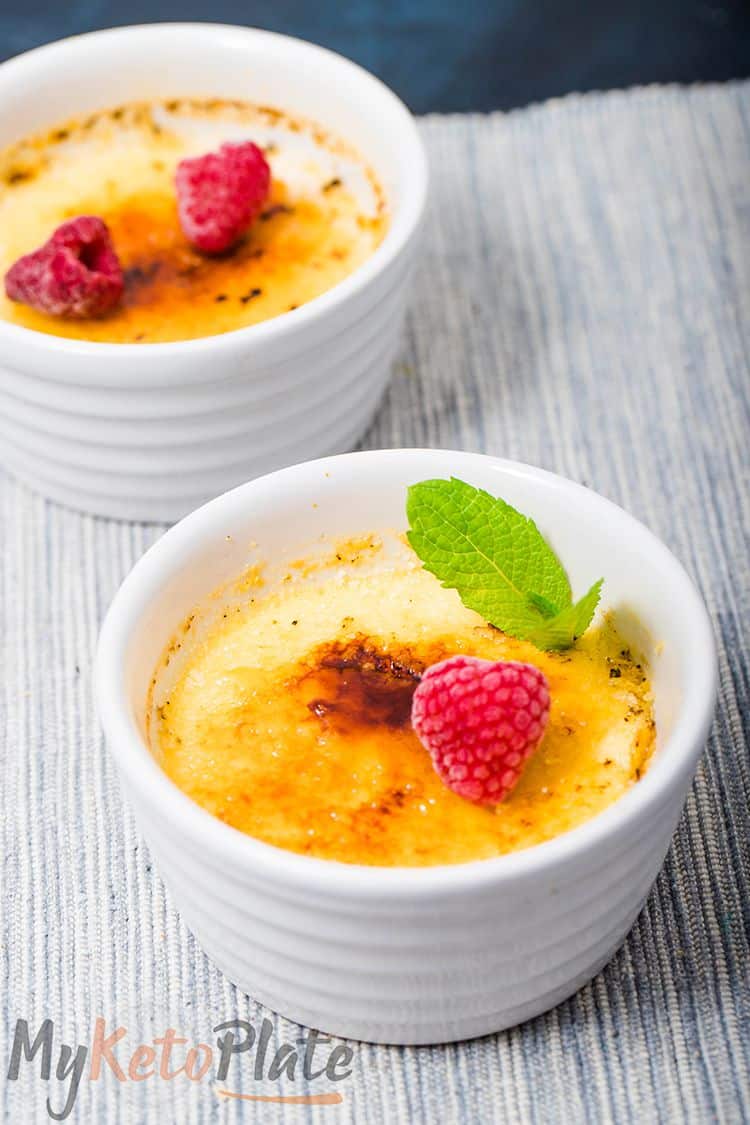 Start by prepping the ramekins. I've made this recipe using different sizes of ramekins, and while all sizes work, my favorite is the 4-ounce ramekin. Add the ramekins to a metal pan and set them aside. We'll bake them in a water bath.
To make the custard filling: beat egg yolks with vanilla bean seeds and sugar substitute. Using organic eggs will give that pretty yellow color. The vanilla pod won't get to waste because it will simmer in the heavy cream mixture to bring out the incredible flavor. If you don't have a vanilla bean, replace it with a high-quality pure vanilla extract.
To bake the vanilla custard: Combine the warm heavy cream mixture with the egg yolks and pour into the ramekins. Surround the ramekins with boiling water and bake for 30-35 minutes or until the center is slightly jiggly. It's important to cool completely before refrigerating for at least 3 hours.
Serve the keto creme brulee: When you're ready to serve, sprinkle some powdered erythritol and use a torch to caramelize and get crispy. Serve with a dollop of whipped cream and fresh berries.
PRO TIP: If you don't have a kitchen torch, move your oven rack to the top position and heat your broil to high. Once hot, add the custards topped with sweetener and broil for about 1 to 3 minutes. Watch closely, so it doesn't burn.
What Sweetener to Use?
Choosing the right sweetener for this low carb creme brulee recipe sounds a little intimidating because you have to find one that caramelizes well. Here are the best sweeteners that caramelize and brown just like sugar:
Allulose – has zero carbs and acts just as sugar in baked goods.
Inulin – Another great sweetener that caramelizes, but it's not that sweet.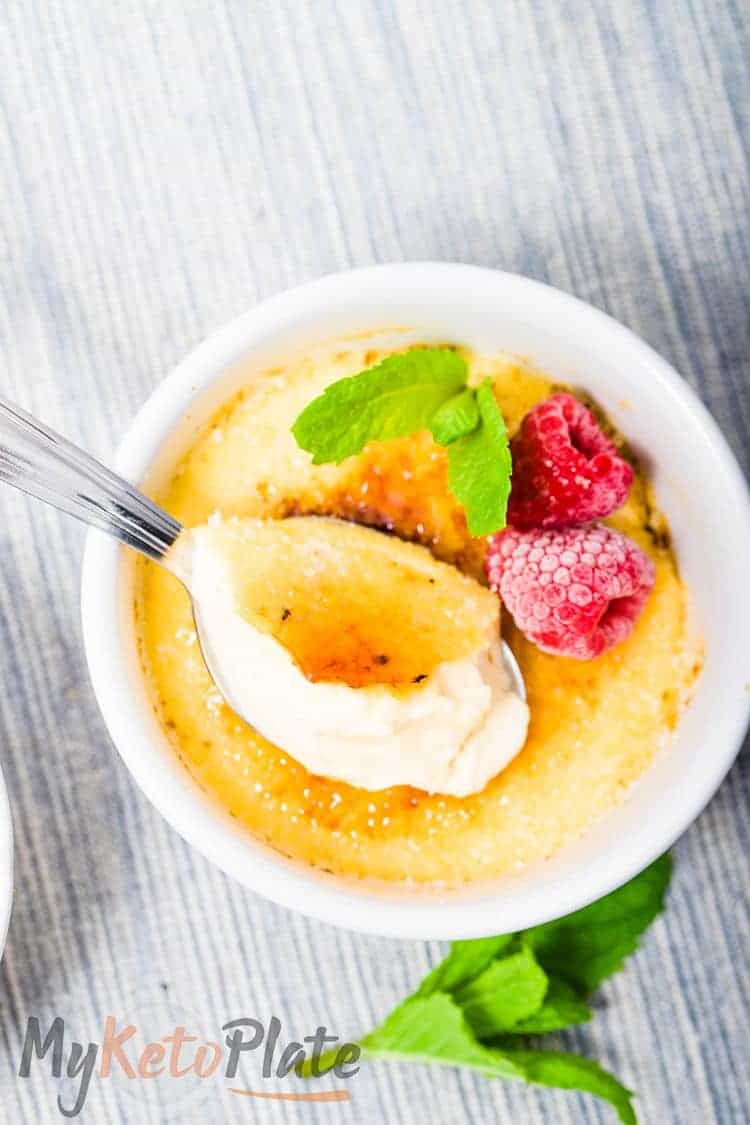 Can I Make Vegan Creme Brulee?
It's possible to make a keto vegan creme brulee but you'll need to switch this recipe and follow other directions to make sure it tastes incredible.
Ingredients you'll need for dairy-free creme brulee:
3 cups unsweetened vanilla almond milk or coconut
3/4 cup sugar substitute of choice
1/2 cup cornstarch
1 tbsp vanilla extract
To make vegan custard mix all the ingredients in a large bowl using a whisk. All the ingredients should be well mixed without any clumps. Transfer the mixture to a saucepan over medium heat and whisk constantly until it starts to thicken. Transfer the mixture to 6 ramekins and let cool at room temperature. Refrigerate for at least 4 hours before serving. Optional, you can spring;e some sweetener and use a torch to caramelize. Enjoy with fresh berries and coconut whipped cream.
Is Keto Creme Brulee Low Carb?
All the ingredients used in this recipe are low carb and a serving of this keto vanilla dessert is only 4g of carbs.
More Keto Desserts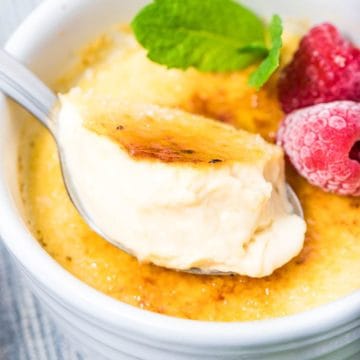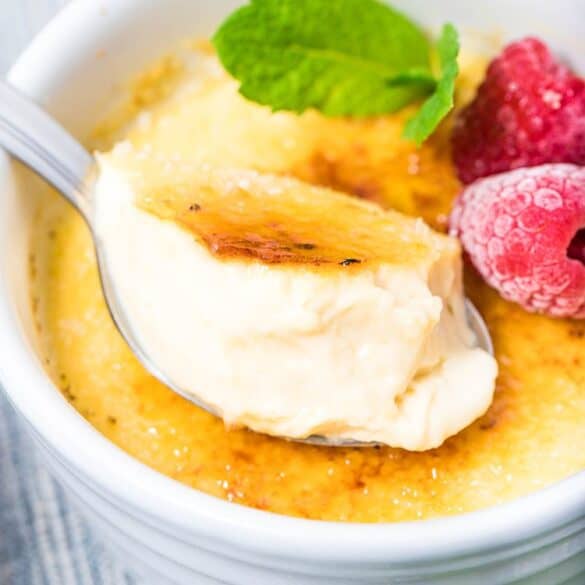 Keto Crème Brûlée – Just 5 ingredients
---
Description
This keto Crème Brûlée is a delicate, vanilla-flavored "burned cream" dessert that resembles a decadent custard. It's my sugar-free take on this classic dessert that's equally delicious and easy to make. You'll need just 5 ingredients to make the creamiest keto creme brulee recipe that's also gluten-free and low carb.
Ingredients
Crème
2

cups

heavy cream

6

egg yolks

6

tbsp

sweetener

I used Sukrin

¼

tsp

sea salt

1

vanilla bean

whole
Instructions
Preheat the oven to 325°F/165°C.

Scrape out all the seeds from the vanilla bean. Take the vanilla pod and place it in a small pot. Add heavy cream and sea salt. If using vanilla extract, you'll add it later.

Place the pot on the stove, on medium heat until the heavy cream starts to simmer (do not boil). Remove from the stove and allow to slightly cool. Remove the vanilla pod. Add vanilla extract (if using).

In a medium bowl, add the egg yolks and the sweetener and whisk until the sweetener is completely dissolved.

Slowly incorporate the hot cream to the egg yolk mixture and whisk to combine.

Pour the mixture into the six 4-oz ramekins and place them in a metal baking pan. Add boiling water to the pan until the water reaches about halfway up the sides.

Bake for about 30 minutes, just until set, but still jiggly in the center.

Remove the custard from the oven and allow it to get to room temperature.

Refrigerate for at least 3 hours. When ready to serve, sprinkle about 1 tsp of sweetener on top and use a kitchen torch to caramelize it.

Serve and enjoy!
Nutrition Facts
Amount per serving.
How do we calculate the nutrition info?
These nutrition facts listed are determined using nutrition information from the USDA Food Database. Our nutrition facts are accurate, but if you are using different products, please make your calculations. Net carb count is calculated by subtracting both fiber and sugar alcohols because they don't raise blood sugar.