This is the best keto stuffing recipe made with low carb cornbread, onion, celery, butter, and other delicious herbs. It's loaded with flavor, crunchy on the outside and buttery on the inside.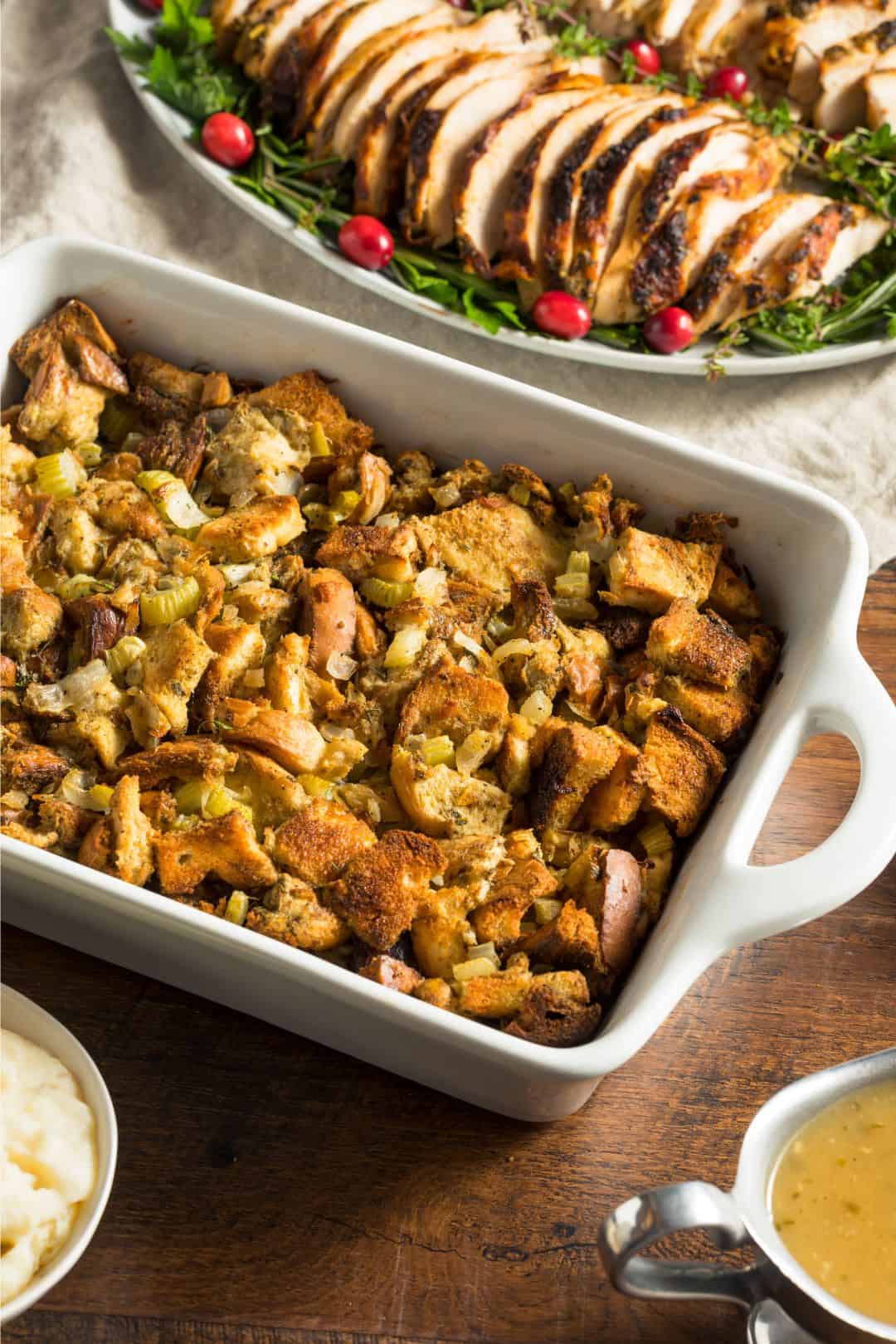 Also called dressing, this easy low carb stuffing recipe goes wonderful with any Thanksgiving meal.
Until recently, I thought that turkey was the star on the Thanksgiving table, but stuffing is also really important on a Thanksgiving spread.
So if you are looking for easy and delicious low-carb stuffing for thanksgiving and not only, then you need to try this recipe. It's easy to make, feeds a crowd, doesn't take long to put together, and the result is well worth it! Trust me when I tell you that you won't find a better recipe and easier to prepare than this.
Why Are You Going To Love This Recipe
You can make it ahead of time.
It has all the traditional stuffing flavor that everyone loves, minus the carbs.
Considered a dressing since it's not stuffed inside the bird.
Is Stuffing Keto Friendly?
Traditionally, stuffing is not keto-friendly because it's made with white bread that's too high in carbs. But fortunately, you can still enjoy stuffing on a keto diet by making a few easy changes.
Keto Stuffing Ingredients
For this low-carb stuffing, you need a few ingredients that are cheap and very accessible. Here is a note on the ingredients:
Keto Cornbread – make the homemade almond cornbread the day before. You can also use keto croutons instead.
Vegetables – I used yellow onion, celery stalks, and carrots to replicate the classic flavor.
Seasonings – feel free to use your stuffing seasonings like dried oregano, chicken seasoning, and garlic powder.
Chicken Broth – you can also use vegetable broth if you want. It helps to moisten the stuffing.
How To Make Keto Stuffing (Dressing)
To prepare this delicious stuffing, follow the next few simple, easy steps. Here is everything you have to do:
Make the keto cornbread according to the instructions here. Allow to cool and cut into cubes. Bake at 350F for 20 minutes or until crispy.
Brown the sausage into a skillet over medium heat and transfer to a plate lined with paper towels.
Melt the butter, and saute the onion, celery, and carrots for 2-3 minutes.
In a large bowl, combine the cornbread croutons, sausage, and sauteed vegetables. Add the seasonings and chicken broth. Stir well to combine.
Transfer the mixture to a 9×13 inch casserole and bake for 30-40 minutes or until golden.
Tips and Variations For Making The Best Low Carb Keto Stuffing
Make the bread the day before to save time. Also, day-old bread soaks up all the liquids and flavor without getting soggy.
Don't add too much broth; otherwise, your stuffing will be too soggy.
Make a double batch if you're planning to feed a crowd that loves stuffing or plan to store the leftovers. This recipe makes 8 decent servings, but you might enjoy an extra portion.
For a vegetarian stuffing, leave out the sausage.
You can also replace the cornbread with cooked cauliflower florets for even more fiber and flavor.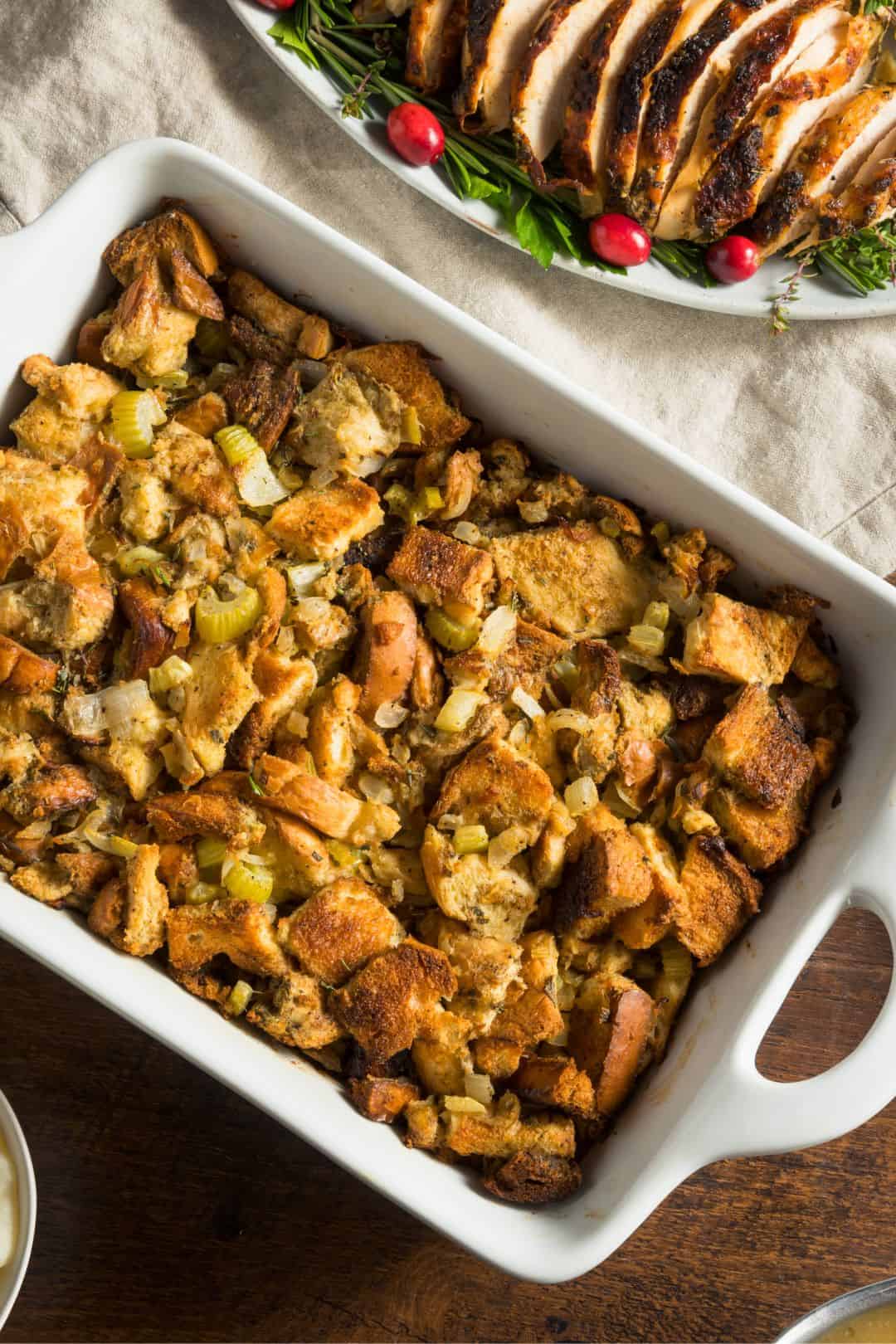 Storing Leftovers
Fridge – You can store the leftovers in an airtight container for three days and reheat them with a little extra chicken broth when you want to eat them.
Freezer – You can also freeze the leftovers for up to two months and thaw them in the fridge until you are ready to eat them.
Frequently Asked Questions
Stuffing Vs. Dressing
Stuffing and dressing are usually confused since they are practically the same thing with a few small differences, depending on how they are cooked. So since stuffing is generally used to stuff a turkey or chicken, dressing requires only to be baked and then enjoyed as a side dish.
What Bread Is The Best For This Low-Carb Stuffing?
When choosing the bread for this recipe, make sure that it is moist and fluffy because once cooked in the oven, it will get the perfect texture for the stuffing.
Can I Use This Recipe To Stuff My Turkey?
Sure, use the following steps of this recipe until the baking step. Then instead of baking it in a pan, fill your turkey with it. Just make sure the stuffing reaches 160 degrees Fahrenheit.
Can I Make This Recipe Ahead Of Time?
Sure, prepare the stuffing as instructed in the recipe card below. Then, after you put it into the baking dish, wrap it in plastic foil and store it in the fridge. Then when you are ready to eat it, bake it in the oven for 20 minutes.
Can I Use Eggs to Make Stuffing?
My recipe doesn't call for eggs, but you can use eggs to bind everything together and help the stuffing hold its shape. Whisk 2 large eggs into the stuffing mixture before baking.
More Keto Thanksgiving Recipes
Keto Cranberry Sauce
Keto Apple Pie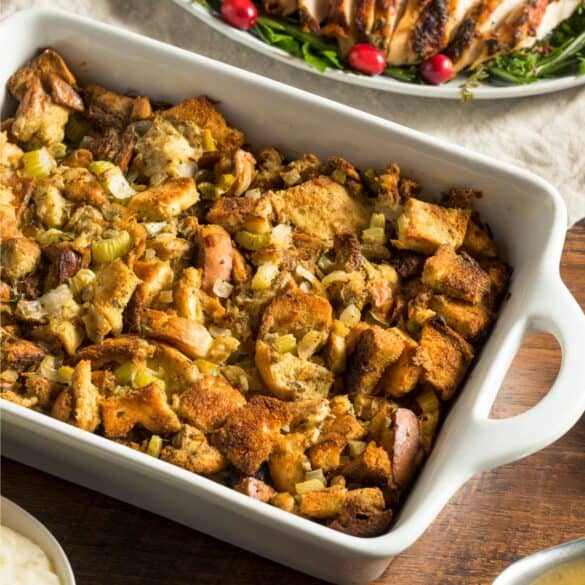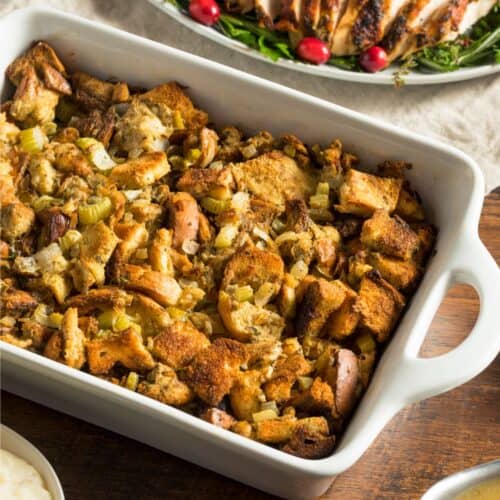 Description
This is the best keto stuffing recipe made with low carb cornbread, onion, celery, butter, and other delicious herbs. It's loaded with flavor, crunchy on the outside and buttery on the inside.
Ingredients
1

cup

yellow onion

diced

1

medium carrot

grated

3

celery stalks

diced

½

lb

ground sausage

1/2

cup

butter

1

tsp

poultry seasoning

½

cup

chopped pecans

1

cup

chicken broth

1

tbsp

fresh sage

freshly chopped

salt and pepper

to taste
Instructions
Preheat the oven to 350F/180C. Cut the keto cornbread into cubes, drizzle with olive oil, and place them o a baking sheet lined with parchment paper.

Bake for 20-25 minutes until crispy. Transfer to a large bowl to cool.

Meanwhile, brown the sausage breaking it into small pieces. Transfer to paper towels to remove any excess grease.

In the same pan, melt the butter, and saute the onions, grated carrots, and celery for 2-3 minutes.

Add the cooked sausage, vegetables, and cornbread cubes to a large bowl. Season with poultry seasoning, sage, salt, and pepper. Add the chicken broth and chopped pecans. Stir well to combine.

Transfer the mixture to a 9×13 inch casserole dish and cover with foil. Bake for 20 minutes at 350F, then uncover and bake for 15-20 minutes until golden brown.
Nutrition Facts
Amount per serving.
How do we calculate the nutrition info?
These nutrition facts listed are determined using nutrition information from the USDA Food Database. Our nutrition facts are accurate, but if you are using different products, please make your calculations. Net carb count is calculated by subtracting both fiber and sugar alcohols because they don't raise blood sugar.