If you're new to the ketogenic diet and wondering what foods you should be adding to your grocery list, you've come to the right place. Creating a keto shopping list can be overwhelming, but it doesn't have to be. This article will provide you with the best keto grocery list for beginners that will help you achieve your goals faster.
Take this free keto diet printable shopping list with you at the grocery store, and you'll know exactly what to buy and what to avoid.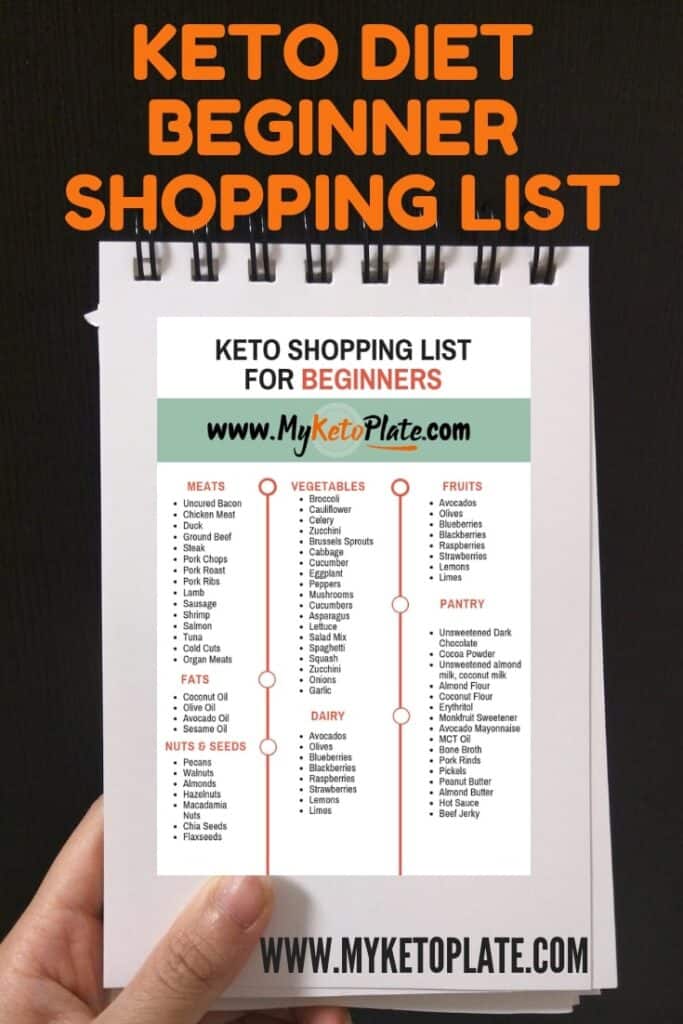 Keto Grocery List
The Keto diet is essentially a lifestyle that revolves around whole foods. The primary focus is on consuming nutrient-dense foods that are rich in vitamins to provide our bodies with the necessary nutrients and energy. Unlike traditional diets that encourage avoiding fats, the Keto diet embraces fats as the primary source of energy.
The objective of eliminating carbohydrates is to reach a state of ketosis, which is a healthy metabolic state. In this state, the body uses stored fats as a primary source of fuel, resulting in weight loss and improved overall health.
How To Make A Keto Shopping List?
Making a Keto grocery list is a crucial step in ensuring success on the Keto diet. Here are some tips on how to make a Keto grocery list:
Plan your meals – Before heading to the grocery store, plan your weekly meals. This will help you to determine the foods that you need to buy.
Gather keto recipes: On this blog, you can find tons of keto-approved recipes you can try.
Focus on whole foods – The Keto diet emphasizes the consumption of whole, nutrient-dense foods. Make sure that your grocery list includes plenty of fresh vegetables, healthy fats, and quality sources of protein.
Eliminate high-carb foods – When making your grocery list, eliminate high-carb foods such as bread, pasta, rice, and potatoes. These foods are not Keto-friendly and should be avoided.
Include healthy fats – Include healthy sources of fat such as avocados, nuts, seeds, and olive oil on your grocery list.
Consider Keto-friendly snacks – To stay on track with your Keto diet, it is important to have Keto-friendly snacks readily available. Add cheese, jerky, hard-boiled eggs, and nut butter to your grocery list.
Don't forget about hydration – Staying hydrated is crucial on the Keto diet. Make sure that your grocery list includes plenty of water, herbal teas, and other low-carb beverages.
Foods to completely avoid completely at the grocery store
When I first started the ketogenic diet, it was easier for me to understand what foods I should avoid. Once I learned what foods are too high in carbs and won't help my body reach ketosis, it all became easier. Here are the foods you should never buy:
Grains – wheat, corn, rice, oats, rye;
Pseudocereal grains: amaranth, quinoa, buckwheat;
Sugar – honey, agave syrup, maple syrup, coconut sugar;
Fruits – apples, bananas, pears, pineapple, plantains, oranges, watermelon;
Starchy Vegetables – white potatoes, sweet potatoes, yams beets, corn;
Legumes – chickpeas, lentils, green peas, beans, soybeans;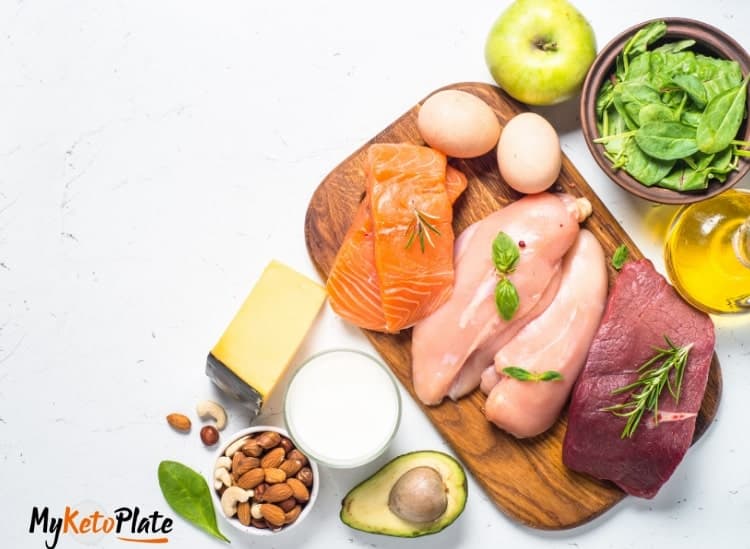 Keto Protein Shopping List
Dairy & Eggs
Always choose full-fat cheese and try to stay away from the low fat labeled products. Read labels because the carb count is different from brand to brand. In other words, eat foods that don't come with an ingredient list.
Eggs
Heavy Whipping Cream
Full Fat Yogurt
Butter
Ghee
Sour Cream
Full Fat Cheese: Cheddar Cheese, Parmesan Cheese, Cream Cheese
Meat & Fish
Meats are usually 0 carbs, and it's best always to choose the higher fat cuts. Processed meats like bacon, sausage or deli usually contain hidden sugars and more carbohydrates.
Bacon
Chicken Meat
Duck
Ground Beef
Steak
Pork Chops
Pork Roast
Pork Ribs
Lamb
Sausage
Shrimp
Salmon
Cold Cuts
Organ Meats
Keto Vegetables & Fruits Shopping List
Vegetables should not be missing from your grocery list. Include many greens and vegetables in your keto meals as they are loaded with fiber, and nutrients and will keep you in ketosis. Some vegetables have a higher carb content than others, therefore, you should stick to the keto-approved vegetable list. I am sharing below my favorite low in carbs vegetables and fruits to enjoy as a side dish.
Low Carb Vegetables
Broccoli
Cauliflower
Cabbage
Cucumber
Eggplant
Bell Pepper
Cucumbers
Asparagus
Lettuce
Salad Mix
Spaghetti Squash
Zucchini
Onions
Garlic
Low Carb Fruits
Fruits have a higher carb count. Make sure you eat them in moderation, as a treat or in keto desserts.
Avocados
Olives
Blueberries
Blackberries
Raspberries
Strawberries
Lemon
Limes
Keto Fats and Oils
Fat is an essential part of the ketogenic diet, but not all fats are healthy. Avoid canola oil and margarine as they are high in polyunsaturated fats, which can increase inflammation.
Keto Snacks
Pork rinds
Beef jerky
Cheese crisps
Nut butter
Sweeteners
Stevia
Monk Fruit
Allulose
Erythritol
Keto Nuts & Seeds to add to the Grocery List
Macadamia Nuts
Pistachios
Pecans
Hazelnuts
Sunflower Seeds
Almonds
Peanuts
Chia Seeds
Nut Butter
Keto Pantry Items to Get from the Grocery Store
Here are some things that I love to have on hand while cooking to improve the taste of a recipe making the whole transition to keto a lot more pleasant.
Hot Sauce
Pickle Juice
Beef Jerky
Pork Rinds
Coconut Milk
Almond Milk
Cashew Milk
Coffee
Black Pepper
Basil
Italian Seasoning
Chili Powder
Cayenne Pepper
Curry Powder
Mustard
What are some keto staples to order from Amazon
I usually stock up on keto staples from Amazon because the products are cheaper and buying in bulk helps me save money.
I hope that this keto shopping list for beginners gives you the courage to begin and reach your goals. What is a staple keto product in your kitchen?