This keto tiramisu features a fluffy gluten-free cake layer and a creamy, luscious mascarpone filling that's perfectly sweet. It's a spectacular low carb keto tiramisu that is also sugar-free and extremely easy to make with just 15 minutes of prep.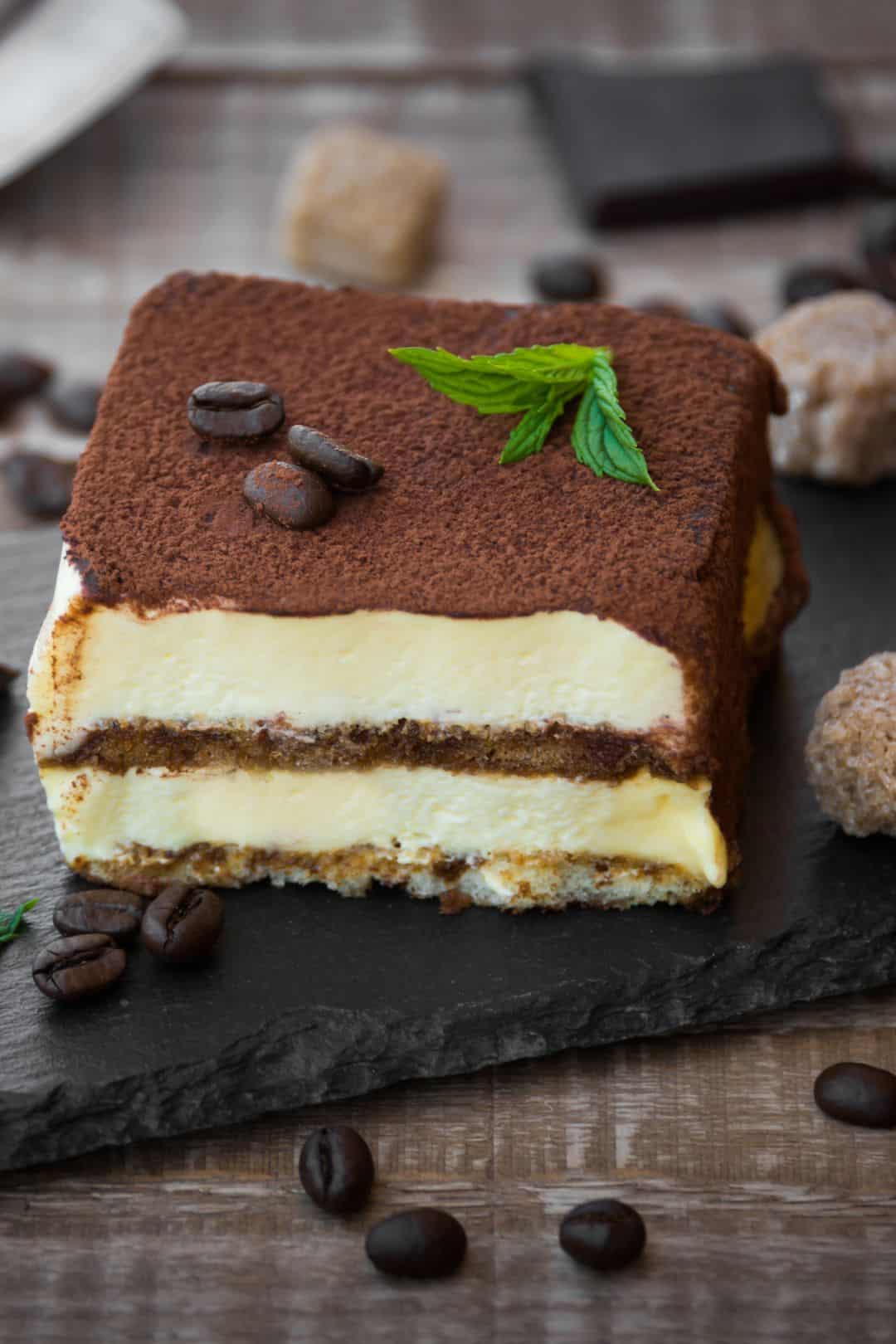 It's the perfect dessert, especially if you love coffee, rum, and an extra creamy mascarpone filling that's not too sweet. This keto tiramisu is a quick dessert to make, perfect for any special occasion or as a simple weeknight dinner treat.
Just think about those cake layers soaked in coffee syrup and creamy mascarpone filling that are generously dusted with cocoa powder.
The best part? It gets better as it sits, so it's the perfect make ahead dessert for holidays.
So if you want to make a keto dessert that will impress everyone, make this low carb tiramisu recipe, and you won't regret it.
What Is Tiramisu?
Tiramisu is perhaps the most famous Italian dessert that has become famous worldwide. The original Tiramisu recipe calls for ladyfingers soaked in strong coffee, a fine and airy mascarpone cream made with sugar and eggs, and dusted abundantly with cocoa or coffee.
Is Tiramisu Keto-Friendly?
Traditional tiramisu is not keto-friendly because it's made with ladyfingers, sugar, and other ingredients that are too high in carbs.
Fortunately, you can still enjoy tiramisu even if you are following a keto diet just by making a few changes to the ingredients.
To make tiramisu keto, we'll bake a cake layer made with almond flour and coconut flour to replace the ladyfingers.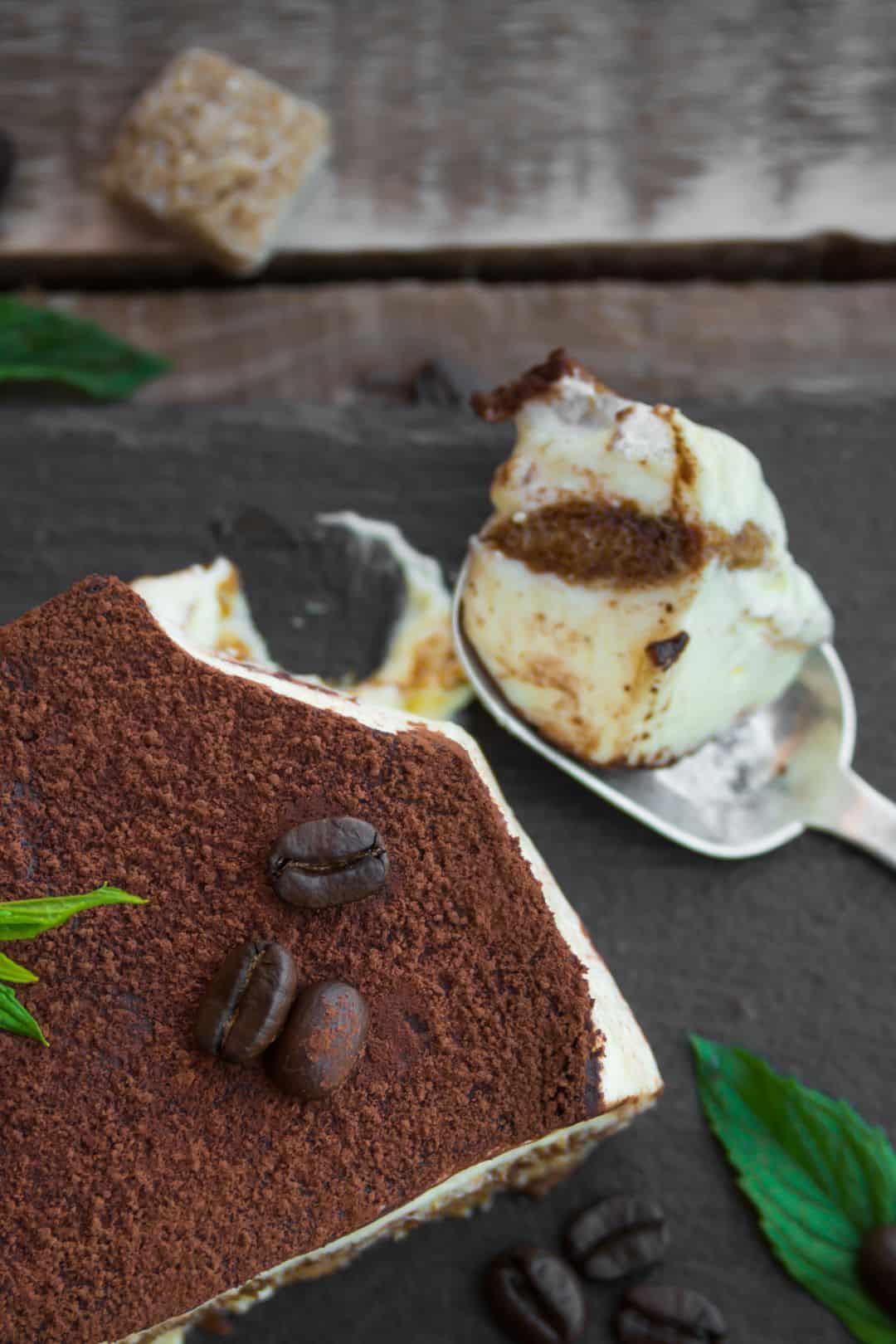 Why Are You Going To Love This Recipe
A gluten-free and sugar-free twist on the classic Italian dessert
It can be made ahead of time.
No raw eggs are required.
Super easy to make with just a few low carb ingredients
Ingredients For Keto Tiramisu
Although it may seem a complicated recipe, you will be surprised to see that you will need a few easy ingredients that you probably already have in your kitchen. Here is a list with everything you will need:
For The Cake Layer
Almond Flour and Coconut Flour – these are my favorite flour substitutes I use in keto baking to get a super fluffy cake that's not gritty or dry.
Sweetener – You can use any sweetener like Erythritol, Monk Fruit sweetener, or Allulose. These are the best choices because they don't have any aftertaste and taste like sugar.
Baking Powder – helps the layer cake rise and become fluffy.
Eggs – use room temperature eggs to avoid that eggy taste and flavor.
Butter – use unsalted butter.
Almond Milk – adds moisture to the cake layer. You can also replace it with coconut milk.
Vanilla Extract – use the best quality vanilla extract that you can find.
Salt – to enhance the flavors.
For Mascarpone Filling
Mascarpone – make sure that it is softened to ensure good mixing.
Heavy Whipping Cream – makes the filling extra creamy.
Sweetener – use powdered sweetener to ensure that there are no visible lumps.
Vanilla Extract
For Coffee Syrup
Espresso – Both cold brew and instant coffee are fine to use. You can make it decaf if you want or use hot chocolate instead.
Dark Rum – this ingredient is optional, but you can add it if you want to obtain that classic tiramisu flavor.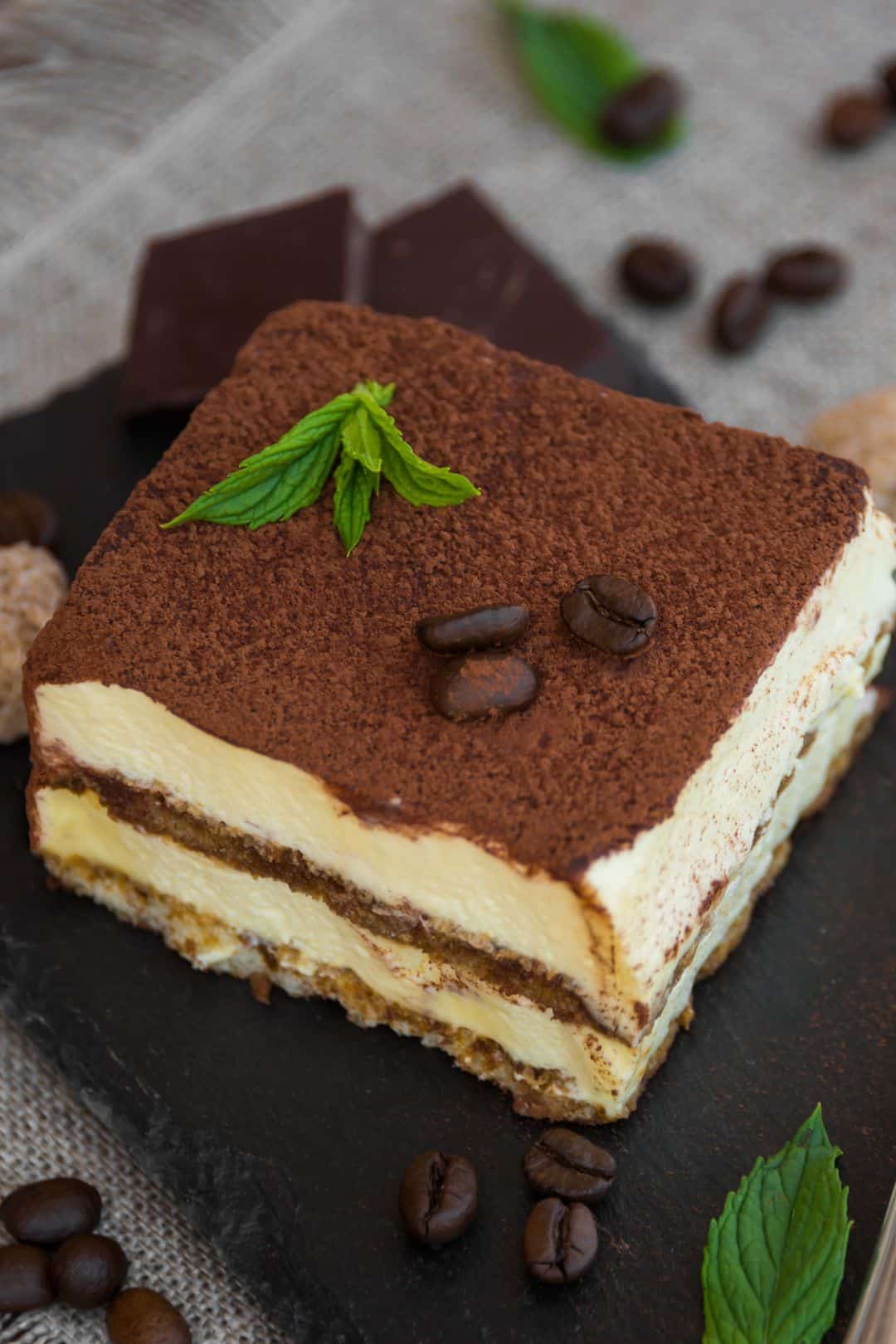 How To Make This Delicious Keto Tiramisu
This Keto Tiramisu recipe is incredibly easy to make in just a few simple steps. Here is everything you have to do to enjoy of the best keto desserts ever:
Start by making the cake layer. Mix all the dry ingredients until well combined. Then add the wet ingredients and mix until there are no lumps.
Pour the batter into a prepared pan and bake for 15-20 minutes until golden brown.
Make the mascarpone filling. Add all the ingredients into a mixing bowl and mix them until creamy for 3 minutes.
Make the coffee syrup by combining the espresso coffee with rum.
Assemble the tiramisu. Cut the cake in half, pour some coffee syrup over the first layer, add half of the mascarpone filling, and spread it well.
Add the second layer of cake over the mascarpone filling, pour the rest of the coffee syrup, and top it with the rest of the mascarpone filling.
Garnish with cocoa powder and refrigerate it for at least 2 hours.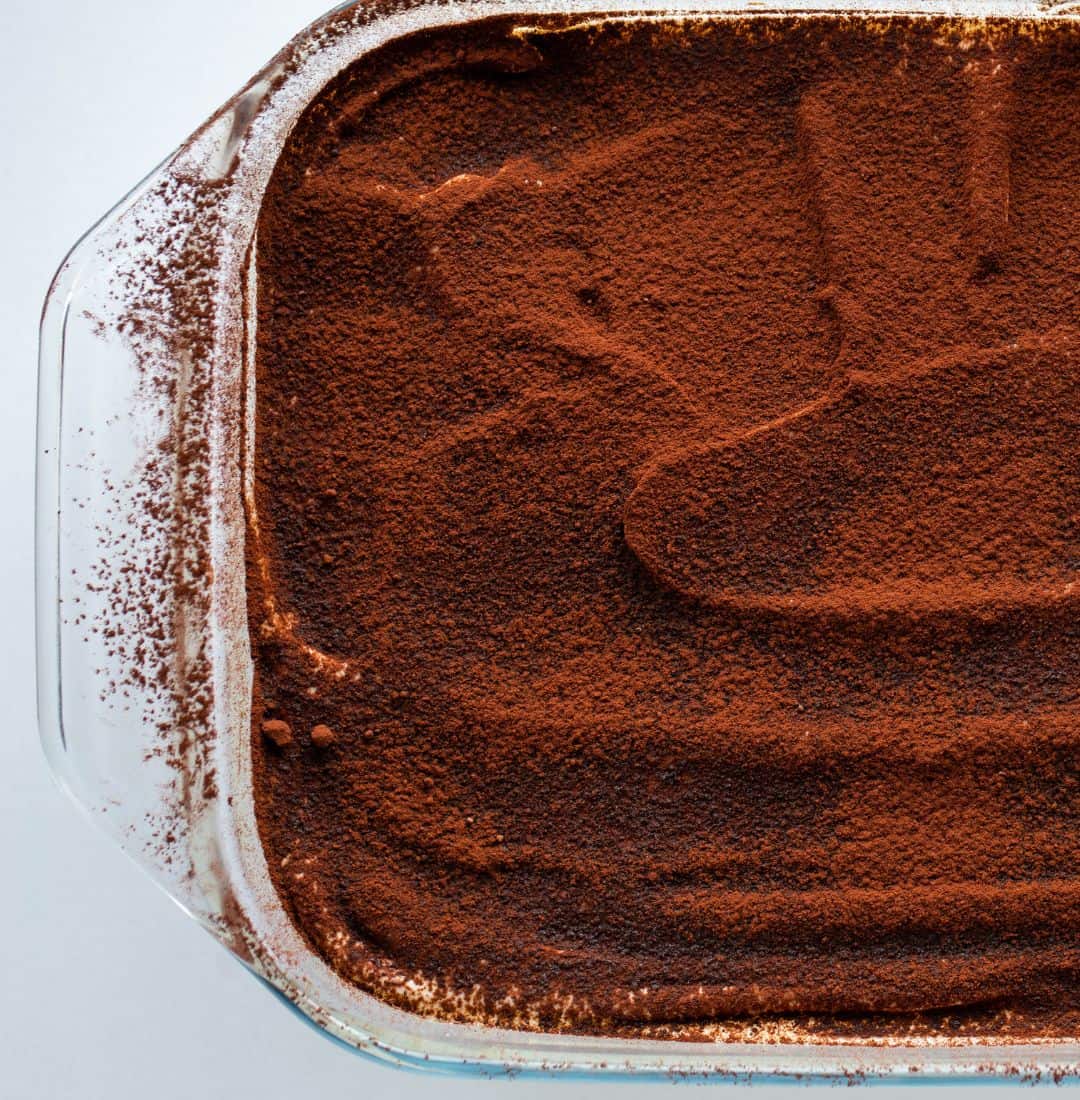 Tips For Making The Best Keto Tiramisu
Make sure that you are using room-temperature mascarpone.
You can dip the cake layer in the coffee syrup instead of brushing it.
Storing Ideas
Fridge – You can store this keto tiramisu in an airtight container in the fridge for up to 5 days.
Freezer – You can store any leftovers of this tiramisu in the freezer in freezer-safe containers and freeze for up to two months.
Frequently Asked Questions
Can I Use Cream Cheese Instead Of Mascarpone?
Sure, you will need 8 ounces of room temperature cream cheese, 1/4 cup heavy cream, and 2 tablespoons of butter to replace the mascarpone to make the filling for this recipe. However, you need to know that the original tiramisu is made with mascarpone that has a slightly sweet and soft taste, and if you use cream cheese, your tiramisu may taste more like a cheesecake.
Can I Make Tiramisu Ahead Of Time?
Sure, you can make this keto tiramisu ahead of time by preparing the cake layer in advance and storing it in the fridge. Then, make the mascarpone filling and assemble the cake for a few hours before enjoying it.
Is Mascarpone Keto?
Yes, mascarpone cheese is ok to eat on a keto diet because it's extremely low carb and high in fats. For 1/4 cup, mascarpone has less than 1g net carbs.
More Low Carb Desserts to Try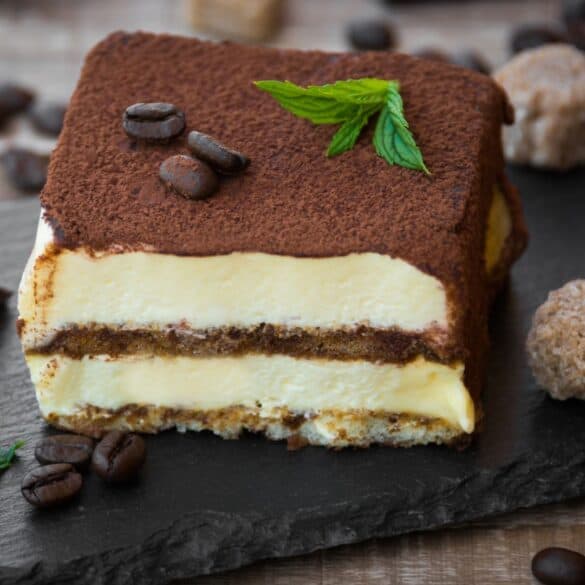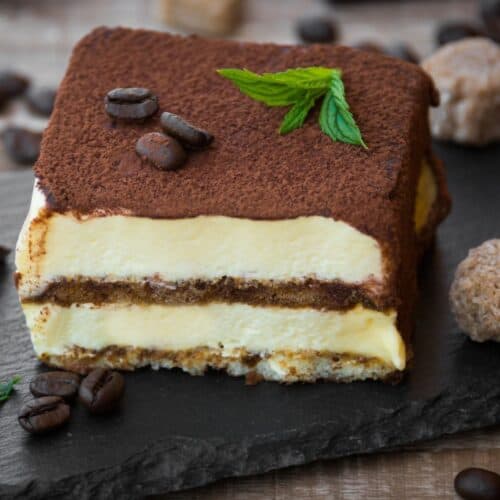 Description
This keto tiramisu has a fluffy gluten-free cake layer and a creamy, luscious mascarpone filling that's perfectly sweet. This spectacular low carb keto tiramisu is also sugar-free and extremely easy to make with just 15 minutes of prep.
Ingredients
Coffee Syrup
1/2

cup

espresso

or strongly brewed coffee

2

tbsp

dark rum

or brandy
Instructions
Make the Cake Layer
Preheat the oven to 350°F/ 180°C. Line a 9×13 inch sheet pan with parchment paper.

In a large bowl, combine eggs, unsalted butter, almond milk, and vanilla extract using an electric mixer.

Add the almond flour, sweetener, coconut flour, baking powder, and salt. Mix until the batter looks smooth.

Transfer the mixture to the prepared pan. Smooth the top using a rubber spatula.

Bake in the preheated oven for 15-20 minutes or until the top looks set and firm to touch. Remove from the oven and allow to cool completely.
Make the Tiramisu Filling
Add all the ingredients to a large bowl and mix on low for 2-3 minutes until smooth and creamy. Refrigerate until ready to use.
Assemble the Keto Tiramisu
In a small bowl, combine coffee and rum.

Cut the cake in half to form two equal rectangles.

Place on layer on a serving platter. Brush with half of the coffee mixture and top with half of the mascarpone filling. Top the second layer and spread the remaining filling.

Sprinkle cocoa powder using a fine mesh sieve. Refrigerate for at least 2 hours before serving, preferably overnight.
Nutrition Facts
Amount per serving.
How do we calculate the nutrition info?
These nutrition facts listed are determined using nutrition information from the USDA Food Database. Our nutrition facts are accurate, but if you are using different products, please make your calculations. Net carb count is calculated by subtracting both fiber and sugar alcohols because they don't raise blood sugar.