This keto strawberry smoothie is super creamy, perfectly sweet, and easy to make. Loaded with nutrients, make the best keto smoothie that requires only 4 ingredients, and it's only 4g net carbs.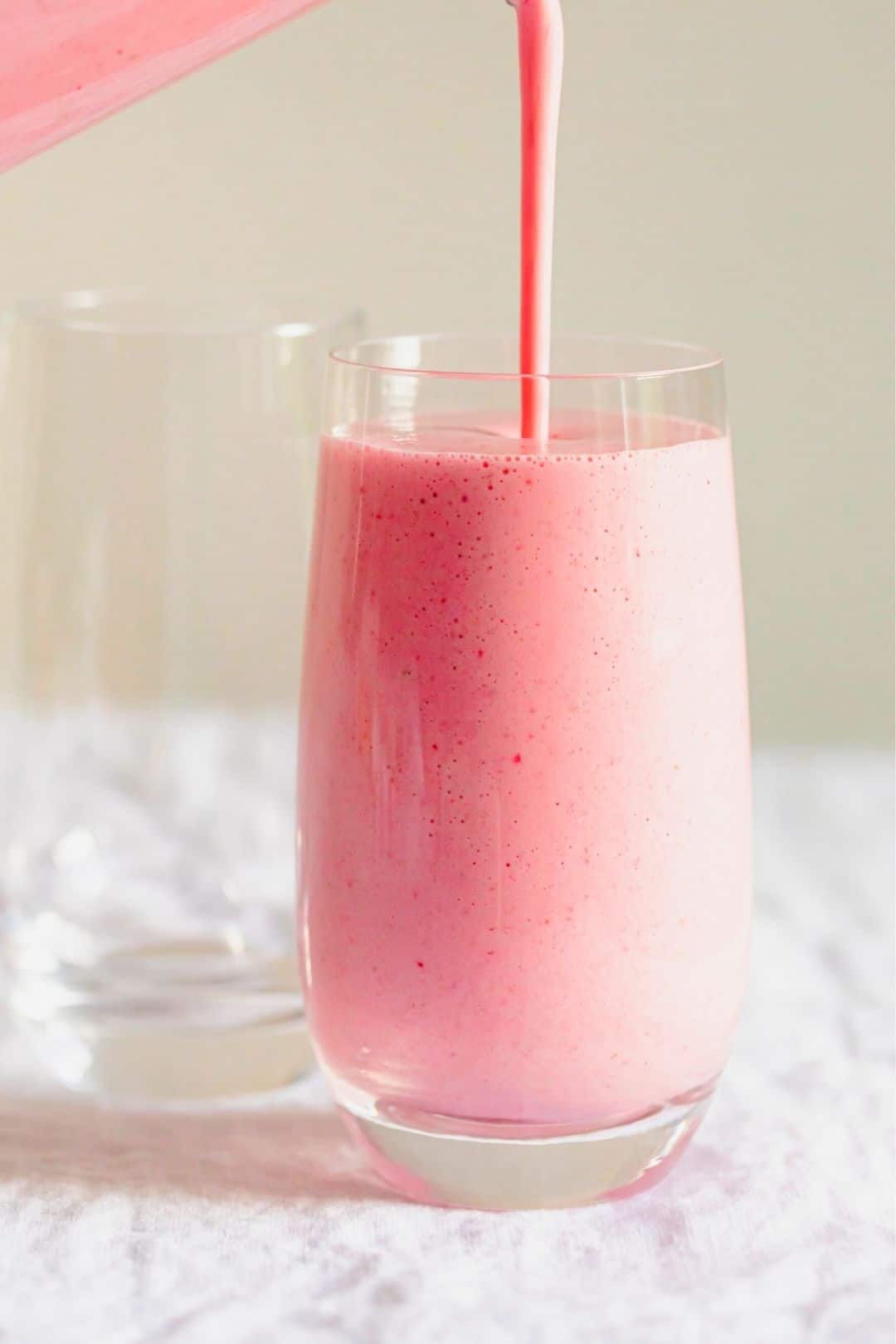 Plus, this low carb strawberry smoothie recipe with almond milk is super refreshing, filling, and perfect for a delicious keto breakfast or snack. Fix your sweet tooth with a healthy strawberry smoothie.
I love my keto smoothie, and my favorites are keto peanut butter smoothie, avocado smoothie, and this delicious keto strawberry smoothie.
Are Smoothies Keto?
Regular smoothies are not keto-friendly since they frequently contain fruits such as bananas, sugar, or honey that are super high in total carbs.
Fortunately, you can still enjoy smoothies on a keto diet by just using the right low carb fruits and keto-approved sweeteners.
Why Are You Going To Love This Keto Low Carb Strawberry Recipe
Ready in just 5 minutes 
It's a thick, creamy, and refreshing perfect option for breakfast.
Super customizable with your favorite berries, nuts, or protein.
Only 4 ingredients 
Keto Smoothie Ingredients
You will need only four ingredients (not counting the ice) that are easy to find to make this delicious keto strawberry smoothie. Here is everything you will need:
Strawberries – you can use either fresh or frozen strawberries; both will work fine.
Unsweetened Milk – use any keto milk that you like; for this recipe, I used almond milk, but coconut milk is another great option.
Greek Yogurt – makes the keto smoothie super thick.
Ice – for foamy and thick texture.
Sweetener – use your favorite low carb sweeteners such as Monk fruit or Erythritol.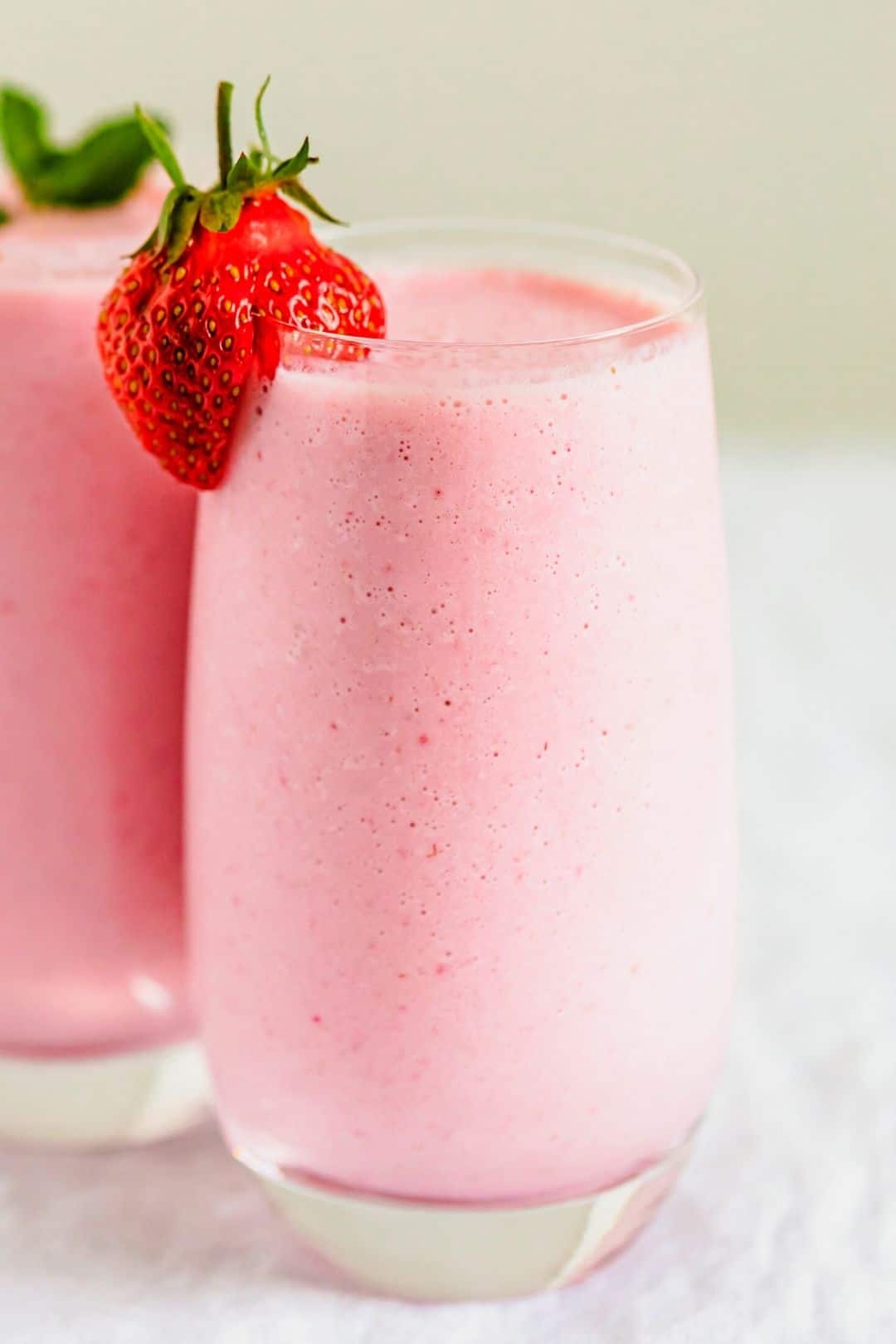 How To Make This Keto Smoothie
Making smoothies is one of my favorite things for breakfast because it's extremely easy and versatile. You'll need just a high-speed blender to combine all the ingredients.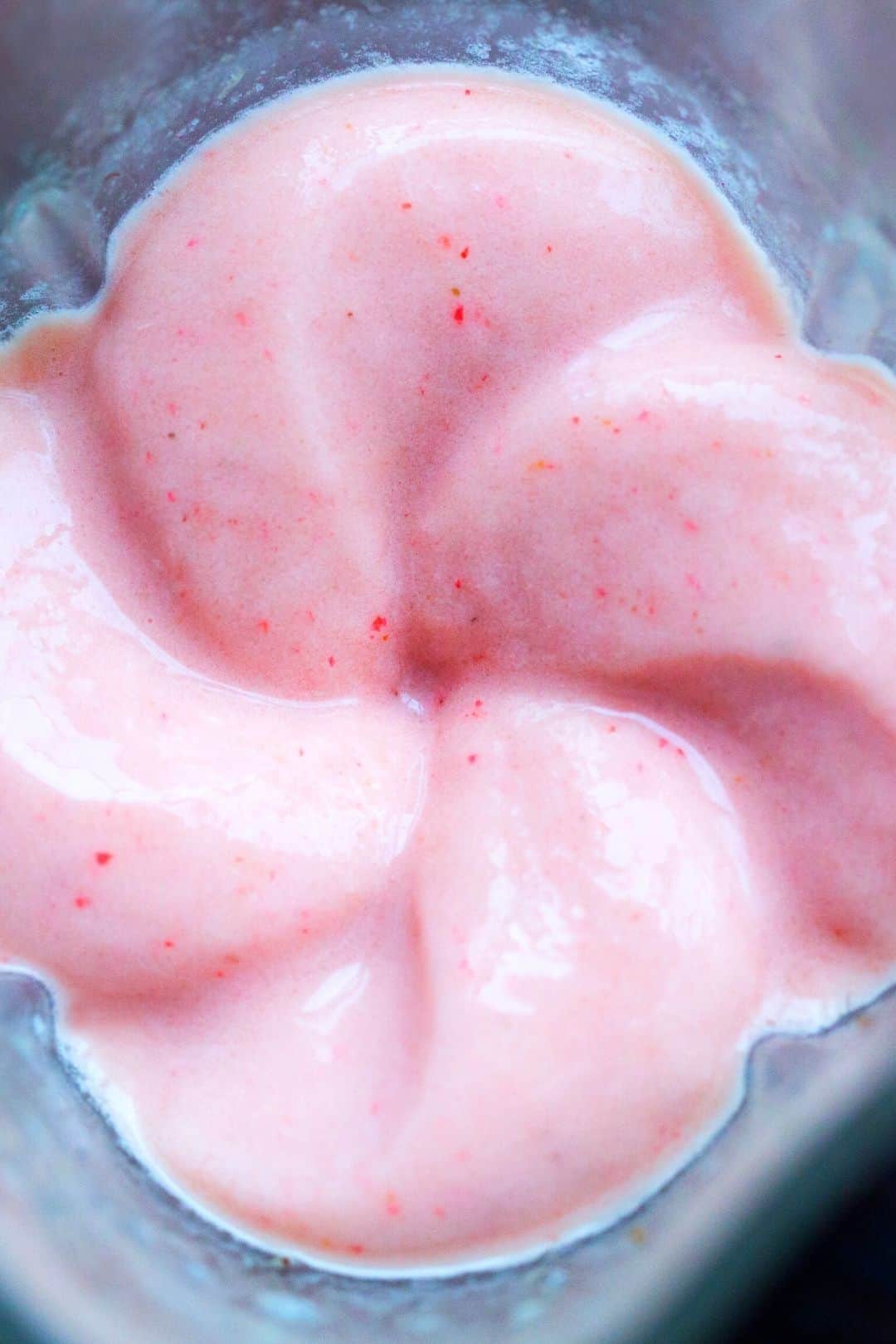 Place all the ingredients into your blender, and pulse the smoothie until smooth. We can add more milk or water until we reach the desired consistency.
Transfer the smoothie to serving glasses and enjoy.
Tips And Variations
Chia seeds or flaxseeds to load your smoothie with fiber, protein, tons of minerals, and vitamins.
Leafy Greens– Add some baby spinach for more vitamin C, lutein, and K to the diet.
Protein Powder – add a scoop of keto protein powder.
Xanthan Gum – Just a pinch of xanthan gum to thicken this smoothie.
You can replace the strawberries with low-carb fruits like fresh blueberries, blackberries, or raspberries.
Storing Ideas
Fridge – It is recommended to drink this strawberry smoothie right away. If you decide to keep it in the refrigerator for longer than 24 hours, it will start to separate and lose its creamy texture.
Freezer – You can also freeze this smoothie in an ice cube tray, and when you're ready to serve it, blend the ice cubes.
Frequently Asked Questions
What Are Smoothies?
A Smoothie is a drink made from a mixture of fruits or vegetables, with yogurt or vegetable milk and ice. Whether you eat them for breakfast or as a snack during the day, smoothies are a healthy option that provides beneficial vitamins and minerals to the body.
Are Smoothies Healthy?
Sure, furthermore, making smoothies at home is simple, and you have control over the ingredients' quality and added sugar content. Additionally, they are versatile, low in carbohydrates, and rich in protein, fiber, and vitamin C!
Are Strawberries Healthy?
Sure, strawberries are a great option for people who want to boost their immune system and prevent cardiovascular disease because they are low in calories and high in vitamin C. Among the health benefits are lowering cholesterol levels, boosting the immune system, reducing inflammation, and delaying the appearance of wrinkles.
How To Thicken My Smoothie?
You can add more ice or use more frozen ingredients to make it thicker. Using less milk or adding additional heavy cream to the recipe will also help thicken this keto strawberry smoothie.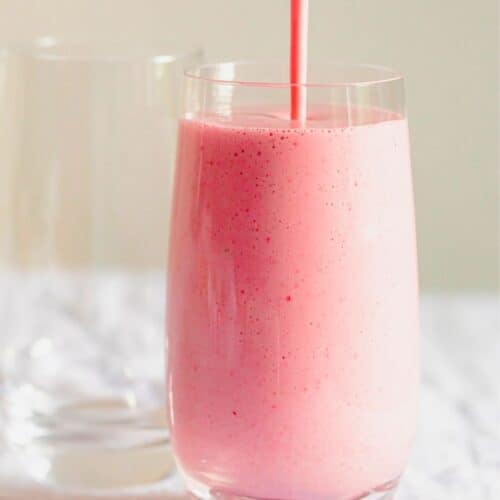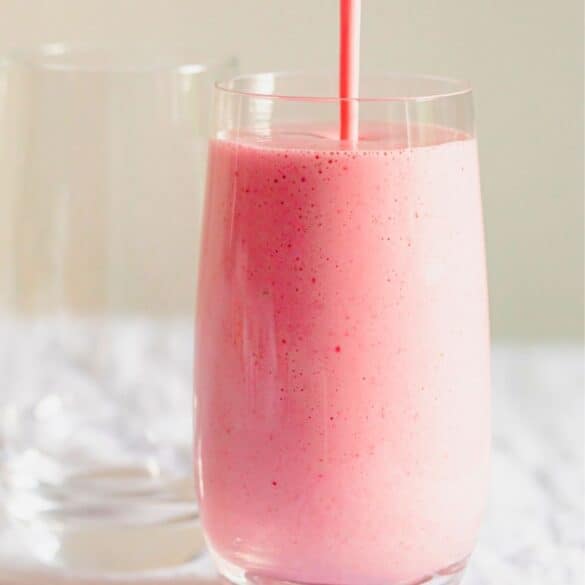 Description
This keto strawberry smoothie is super creamy, perfectly sweet, and easy to make. Loaded with nutrients, make the best keto smoothie that requires only 4 ingredients, and it's only 4g net carbs.
Ingredients
Optional Mix-Ins
1/2

ripe avocado

1

scoop of protein powder

for a keto protein shake

4

tbsp

coconut cream
Instructions
Add all the ingredients into a powerful blender and blend until smooth and creamy. Taste and adjust the sweetness to your taste. Blend again.

Serve immediately in your favorite glass.
Nutrition Facts
Amount per serving.
How do we calculate the nutrition info?
These nutrition facts listed are determined using nutrition information from the USDA Food Database. Our nutrition facts are accurate, but if you are using different products, please make your calculations. Net carb count is calculated by subtracting both fiber and sugar alcohols because they don't raise blood sugar.