These keto blondies will quickly become your new favorite keto dessert since they are incredibly soft, gooey, and chewy! In addition, they are sugar-free, low carb, and made in just one bowl—only 2 grams of net carbs.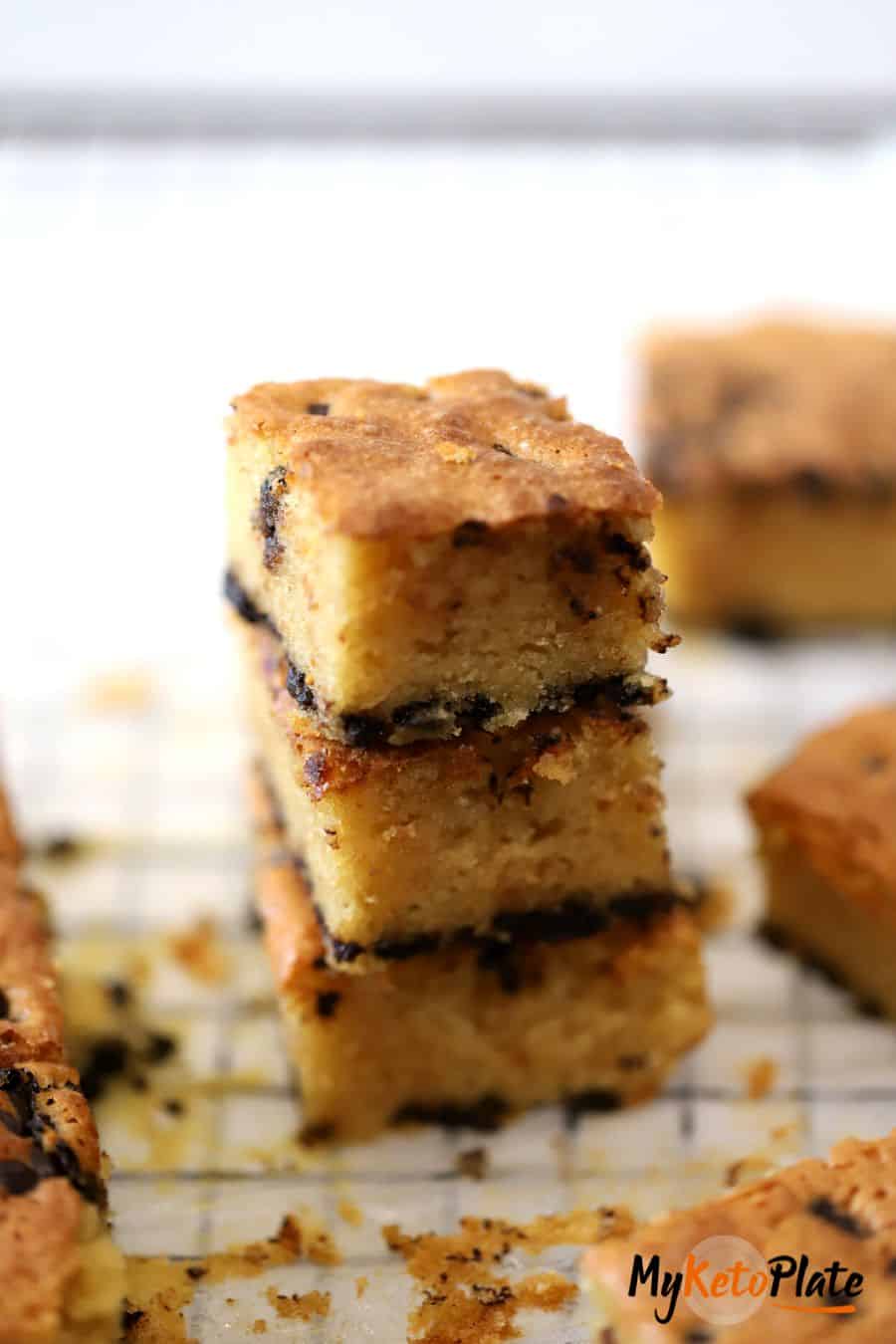 Just imagine that you can enjoy a fluffy and gooey dessert that is also keto, gluten-free and sugar-free.
These Keto Blondies are super easy to make in just one bowl using some super simple ingredients that you already have in your kitchen.
Since I started to make these delicious keto blondies, my family always requests them over traditional brownies any day for any occasion. Why? Because they are soft and moist in the middle and with a unique flavor from the low carb brown sugar. Trust me when I say that will satisfy any sweet tooth.
What are Blondies?
Blondies are a type of dessert bar that are similar to brownies, but are made without cocoa powder. They have a light brown color and a texture that is similar to a soft, chewy cookie. They are often flavored with vanilla and may contain nuts or chocolate chips. Some variations of blondies include ingredients such as caramel, peanut butter, or fruit.
Are Blondies Keto?
Blondies can be made to be keto-friendly by using low-carb ingredients such as almond flour, coconut flour, and sweeteners such as erythritol or stevia instead of traditional flour and sugar. It's also important to check the other ingredients such as chocolate chips or nuts, to ensure that they are also low in carbohydrates and fit within your daily macro nutrient intake.
However, traditional blondies are not naturally keto-friendly as they are made with regular flour and brown sugar which contain high amount of carbohydrates and sugar that doesn't fit in a keto diet.
To make keto blondies, you'll need to replace traditional flour and sugar with low-carb alternatives. Almond flour and coconut flour are great options for replacing regular flour.
Ingredients For Keto Blondies
To make these delicious keto blondies, you will need these simple ingredients:
Eggs – They are used to bind these keto blondies and provide structure. Large eggs are best in this recipe. If your eggs are smaller you'll probably need more.
Butter – provides that buttery taste and makes the keto blondies super moist.
Vanilla Extract – Keto Blondies are always better with vanilla extract! It adds that fantastic flavor that you can't get in any other way!
Brown Sugar Alternative – You can use erythritol-based sweeteners or brown sugar substitutes such as Sukrin Gold.
Almond Flour – Almond flour help these keto blondies to be fluffy and light. It's full of healthy fats, fiber, and some plant-based protein. One of the best replacements there is for regular flour.
Coconut Flour – Using both of these gluten-free flour helps with the texture.
Baking Powder & Salt – helps to fluff the blondies when baking.
Dark Chocolate Chips – You can chop your favorite sugar-free dark chocolate if you don't have any chocolate chips.
How To Make Keto Blondies
You only need to follow some easy steps to make these tasty keto blondies. Trust me when I say that you are not going to find an easier recipe than this.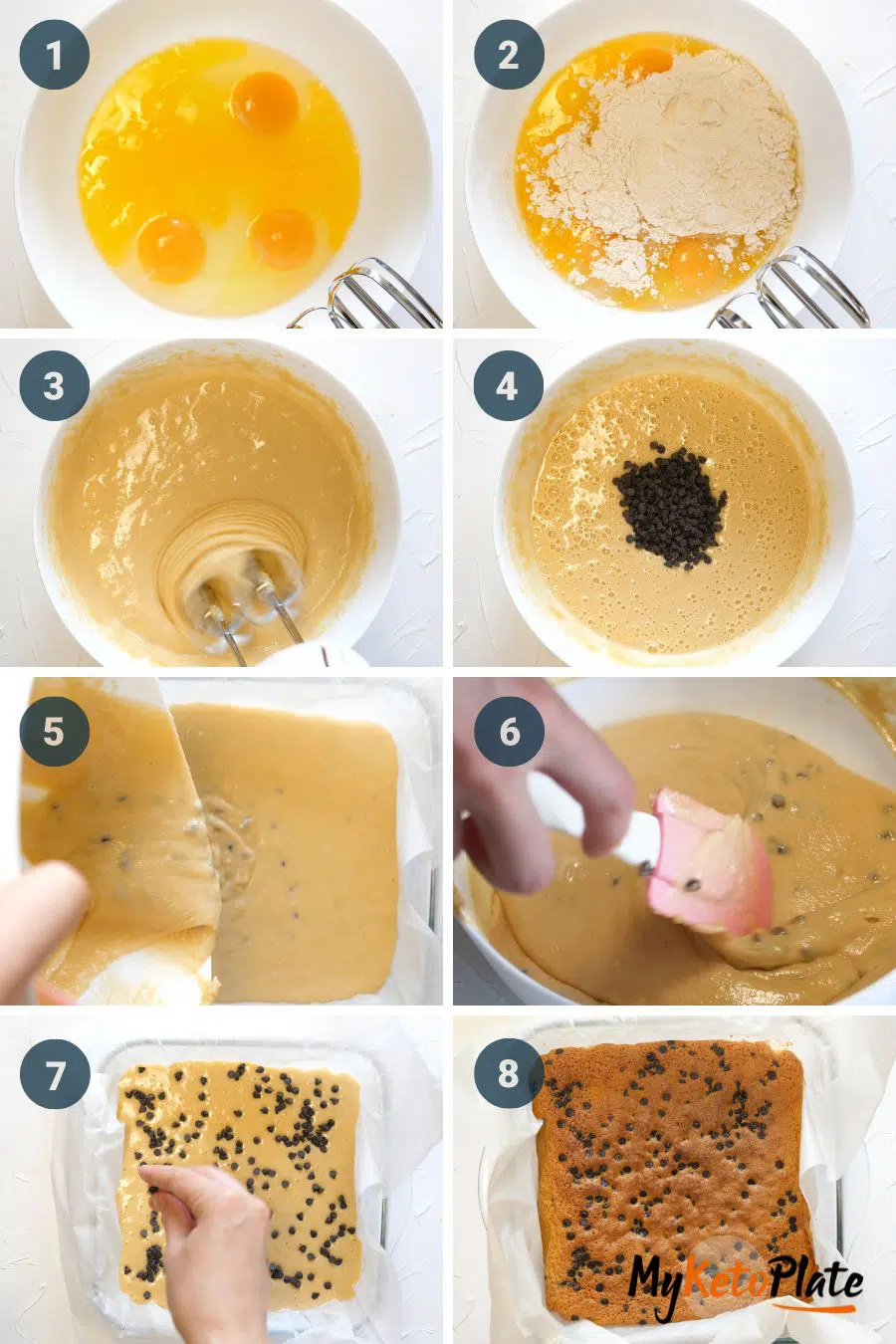 Preheat the oven to 350°F/180C and prepare a baking pan. I prefer to use parchment paper because it makes lifting the pieces out of the pan and cutting them into squares simpler.
Make the keto blondies batter. Combine all the wet ingredients and mix until frothy.
Incorporate the dry ingredients until a smooth batter with no lumps visible forms.
Add the sugar-free chocolate chips or your favorite nuts. You can keep a few for the top.
Bake these low carb blondies for almost 30 minutes. Allow them to cool before cutting into squares.
Tips For Making The Best Keto Blondies
Make sure to beat the batter for at least 5 minutes. It will help the ingredients to combine well and become thicker.
On the top of these keto blondies, you can add some flaky sea salt for a sweet and salty combo.
To make the blondies even more delicious, you can add some extra flavors such as almond extract, cinnamon or even low carb fruit such as strawberries or blueberries.
Can I Add Nuts To This Recipe?
Yes! Adding chopped pecans or walnuts can give these keto blondies a little bit of a crunch and additional flavor.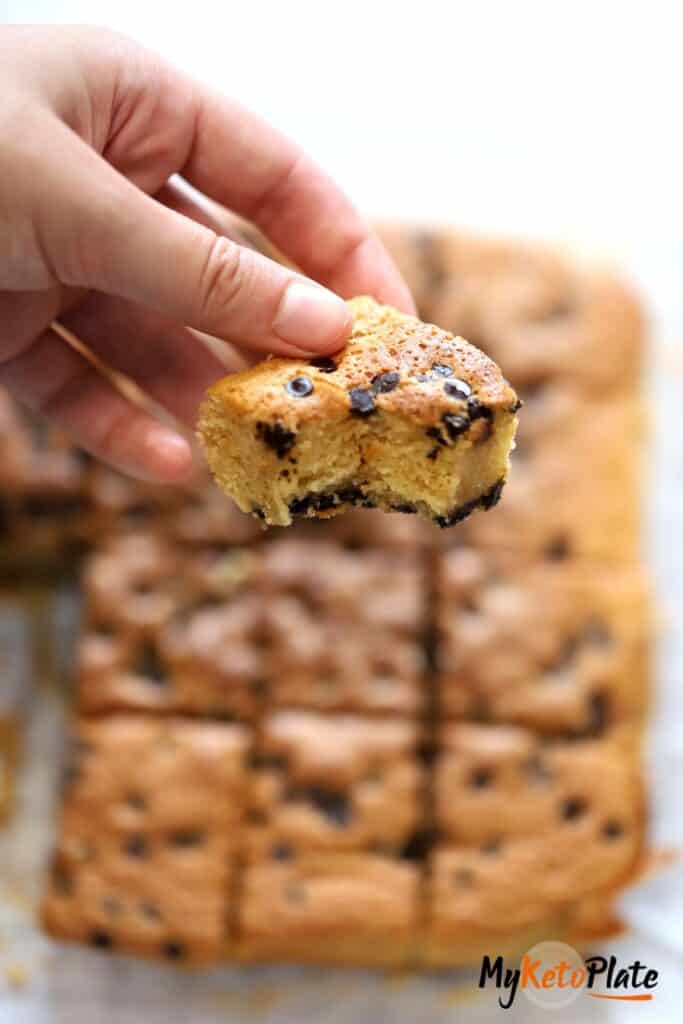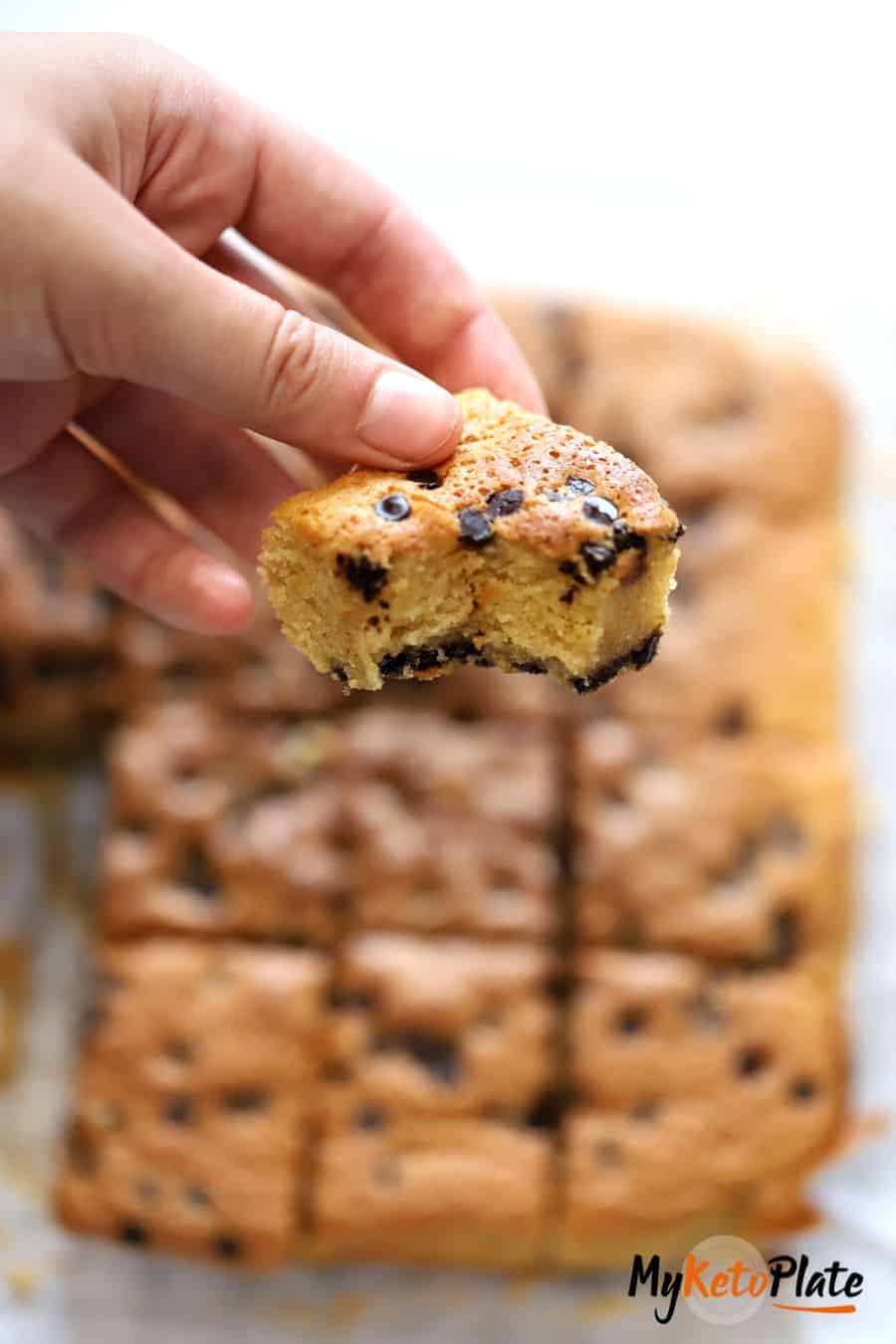 How To Store These Sugar-Free Keto Blondies
You can store them in the fridge for up to one week.
If you are not a big fan of storing the desserts in the refrigerator, you will be happy to know that these keto blondies can be stored at room temperature for about three days.
You can even freeze them. Place blondies in the fridge for about one hour, then transfer them to a freezer bag and place them in the freezer. When you want to eat them, defrost them overnight and reheat in the microwave for a few seconds.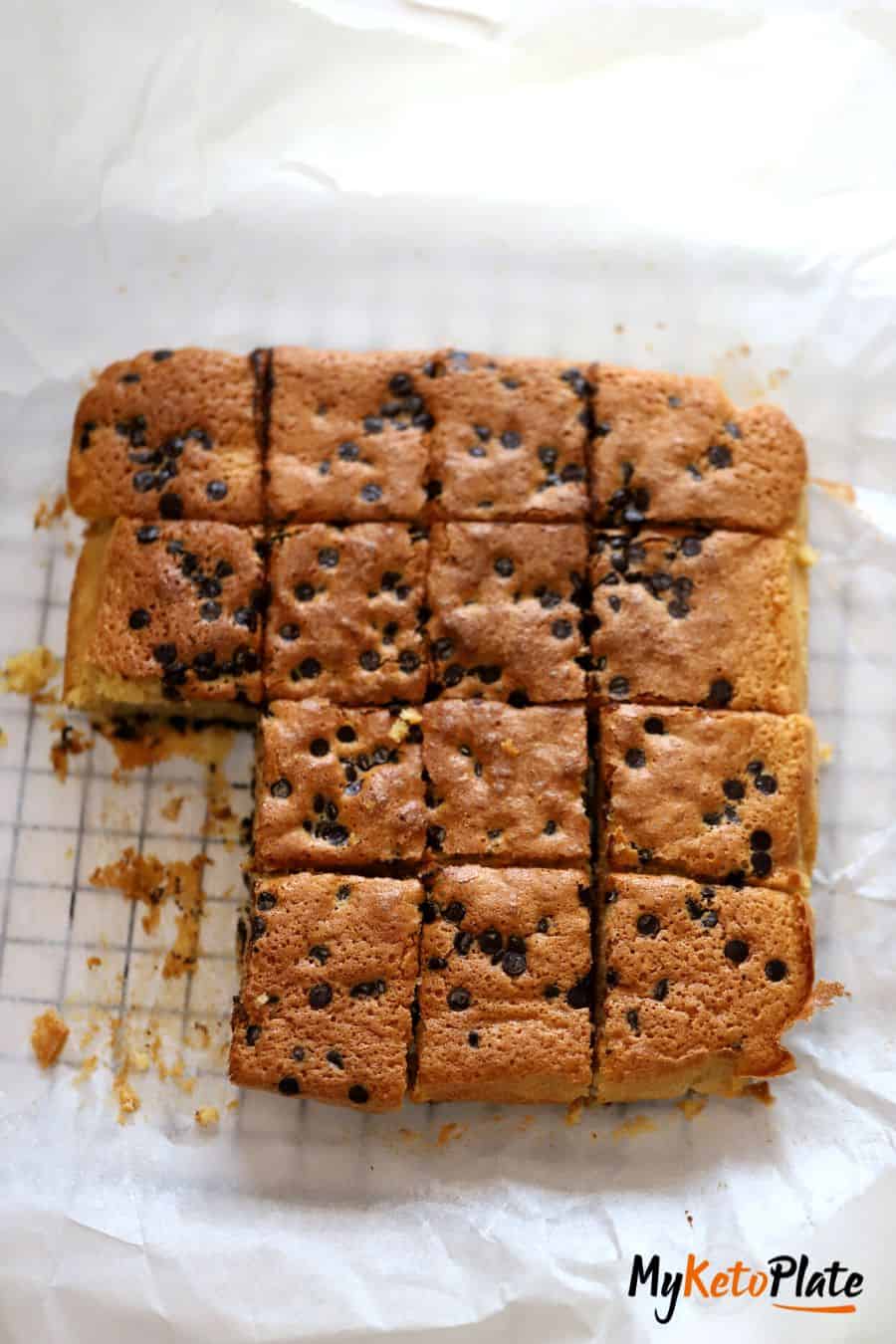 How Do I Know When the Keto Blondies Are Done?
Look for blondies to be golden around the edges and to pull away from the sides of the pan slightly.
The top should be set, but the middle may appear softer (or less done) than the sides. This is fine! Allow it to rest fir a few minutes. Also, a skewer inserted in the middle should come out clean.
How Are Blondies Different From Brownies?
The main difference between a brownie and a blondie is that blondies don't contain cocoa powder. While brownies have a strong chocolatey taste, blondies are made without cocoa and have rich notes of vanilla and butter.
Blondies have a chewier texture and a more molasses-like flavor than brownies because of brown sugar and butter. And thanks to brown Swerve, you can adapt the traditional keto blondie recipe to a keto diet.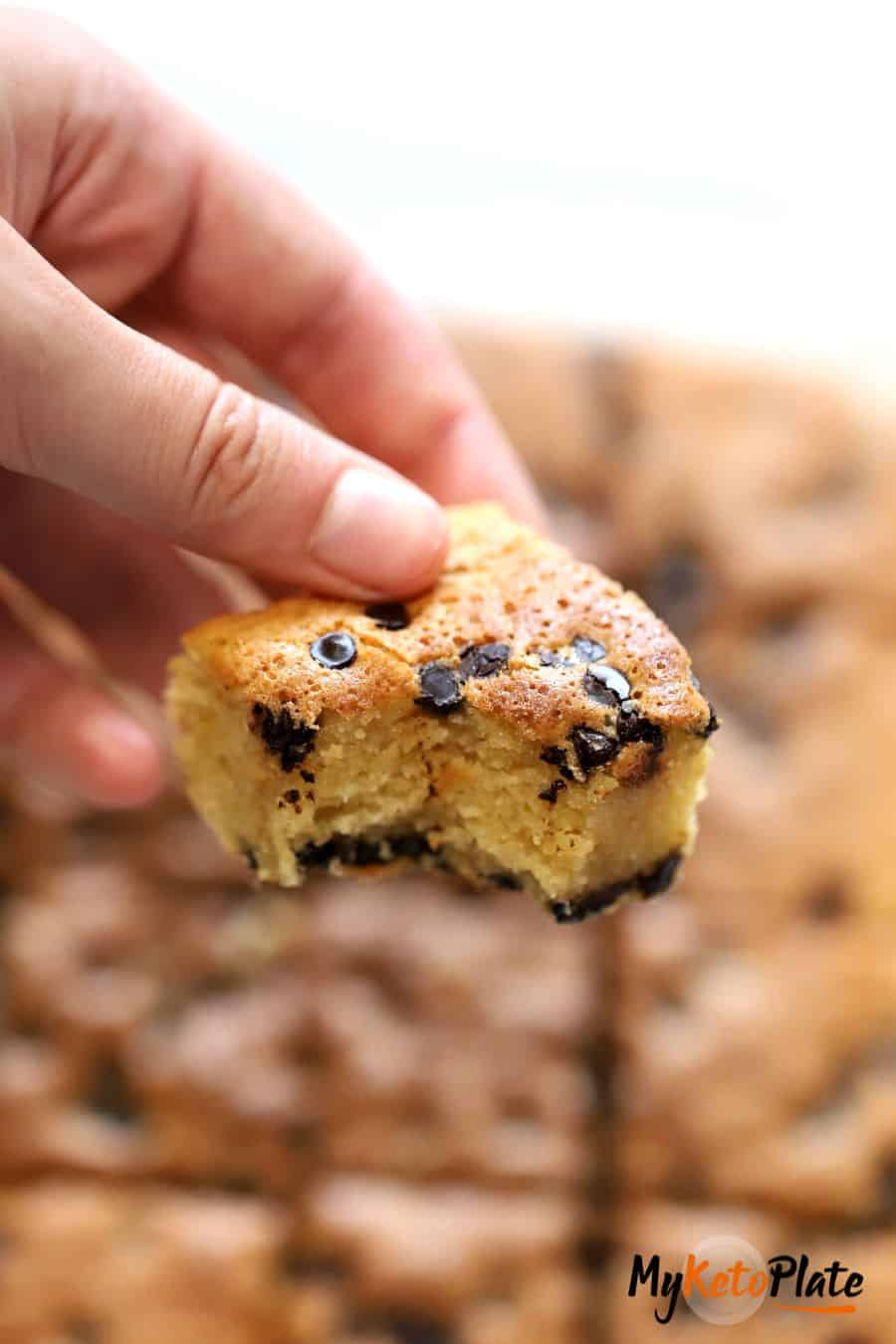 Can You Make These Keto Blondies Vegan?
Certainly yes. These delicious keto blondies are keto and gluten-free, but there is no problem if you are following a dairy-free or vegan diet.
You can easily replace the butter and eggs with coconut oil and flax eggs.
By following these tips and substitutions, you can enjoy the taste of blondies while sticking to your ketogenic diet. Give this recipe a try and let us know how you like it in the comments below!
Love keto desserts? Try these: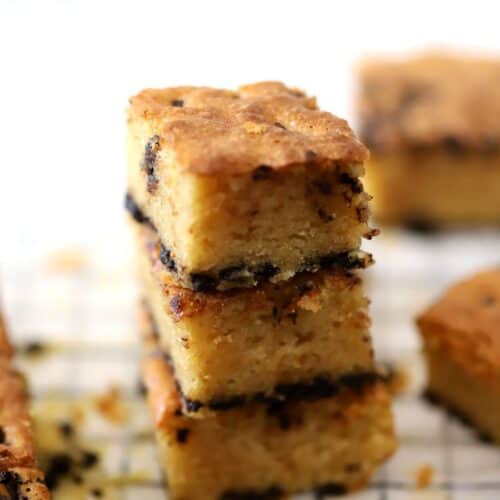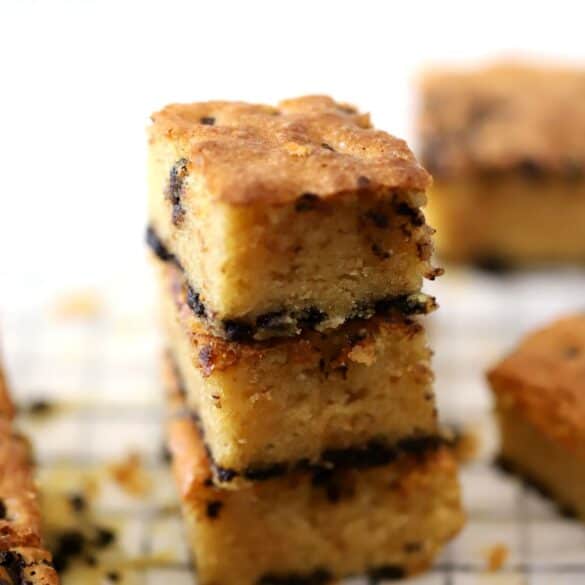 Description
These keto blondies will quickly become your new favorite keto dessert since they are incredibly soft, gooey, and chewy! In addition, they are sugar-free, low carb, and made in just one bowl—only 2 grams of net carbs.
Instructions
Preheat the oven to 350°F/175°C. Line an 8×8-inch pan with parchment paper and set aside.

In a bowl, combine dry ingredients: almond flour, coconut flour, baking powder, and a pinch of salt.

In a different large mixing bowl, add the eggs, melted butter, vanilla extract, sweetener. Whisk for 1-2 minutes until frothy.

Combine the dry and wet ingredients until smooth, and there are no visible lumps. Incorporate the chocolate chips.

Transfer the batter to the prepared pan and sprinkle with more chocolate chips.

Bake for 27-30 minutes in the preheated oven. You know it's ready when a skewer inserted in the middle comes out clean.
Nutrition Facts
Amount per serving.
How do we calculate the nutrition info?
These nutrition facts listed are determined using nutrition information from the USDA Food Database. Our nutrition facts are accurate, but if you are using different products, please make your calculations. Net carb count is calculated by subtracting both fiber and sugar alcohols because they don't raise blood sugar.