Are you looking for new healthy and delicious keto breakfast recipes to prepare for you and your family? Then, you are in the right place. We've collected 30+ keto breakfast recipes that are perfect if you want to start the day in a new and delicious way.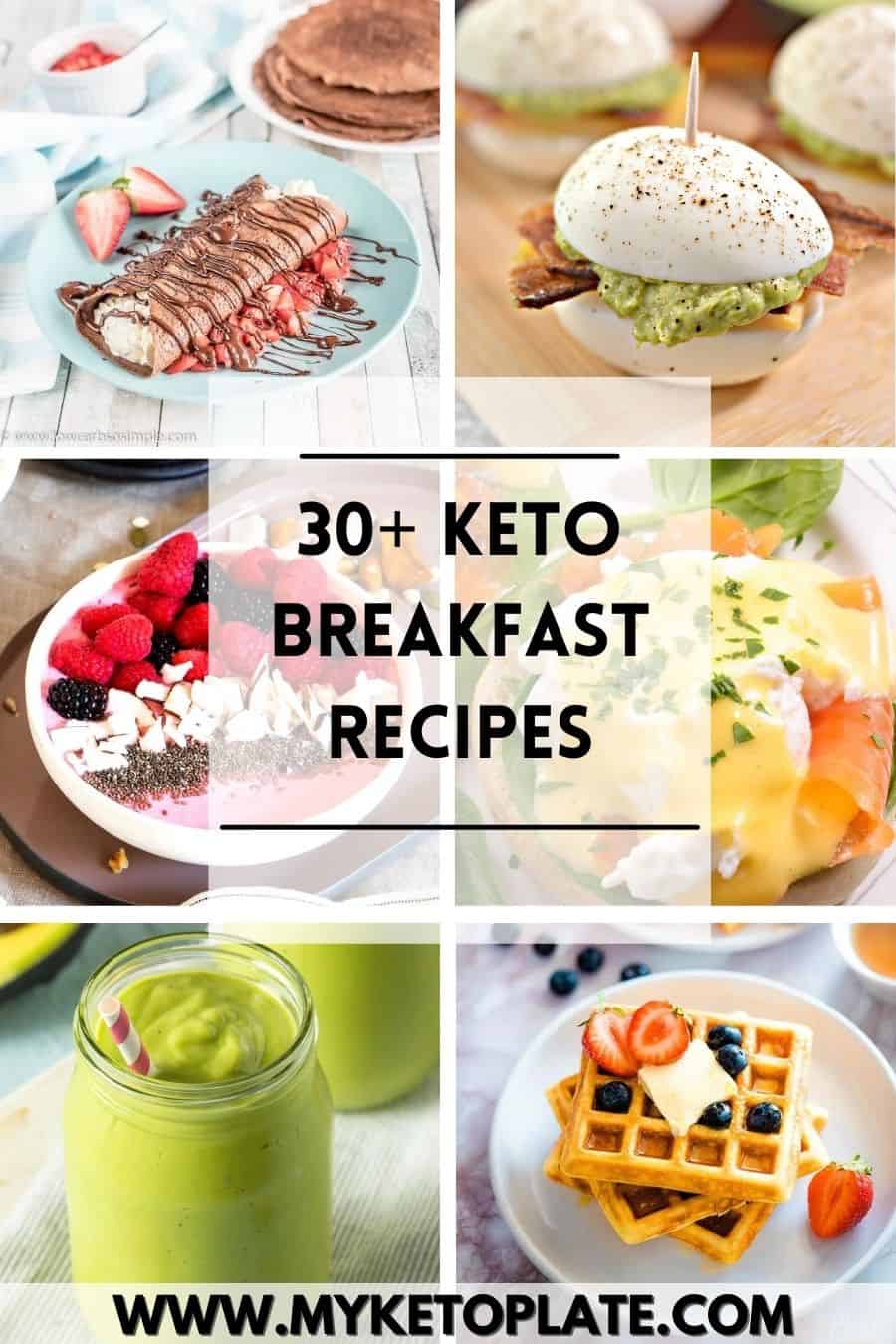 Following a keto diet doesn't mean you have to forget about those delicious and satisfying breakfast dishes. This collection of 30+ keto breakfast recipes proves you can still enjoy your favorite breakfast dishes healthier without worrying about extra carbs.
So whether you want something savory or sweet in the morning, this post has everything for everyone. From delicious smoothies to cheesy egg muffins and satisfying casseroles, these recipes will impress and keep you full and satisfied until your next meal.
During the past few months, I've tried many of these keto breakfast recipes, and I was surprised by each one. My favorite ones are keto oatmeal, egg muffins, frittata, and shakshuka. These recipes are perfect for those mornings when you don't know what to cook.
So choose your favorite ones, prepare them, and tell us how they turned.
Benefits Of Keto Breakfast
Starting the morning with a keto-friendly breakfast can help you improve weight loss, maintain constant energy levels, and reduce cravings. In addition, you'll be able to go through your morning without feeling tired or hungry by supplying your body with wholesome fats and protein.
Also, a keto breakfast can help you stay in ketosis, which is essential for reaping the full benefits of a ketogenic diet.
Tips For Making Keto Breakfast
Choose high-quality fats. Since the keto diet is high in fat, choosing healthy fat sources is important to fuel your body. Avocado, almonds, seeds, coconut oil, olive oil, and grass-fed butter or ghee are some great ingredients for a keto breakfast.
Pay attention to protein. Protein is vital to a keto breakfast because it helps you feel full and satisfied. Eggs, bacon, sausage, smoked salmon, and Greek yogurt are a few foods that make excellent protein sources for breakfast.
Don't forget about vegetables. Non-starchy vegetables like bell peppers, spinach, and kale are excellent ways to boost the flavor, texture, and nutritional value of your keto breakfast. Add them to omelets, frittatas, or breakfast bowls for a healthy, filling meal.
Common Ingredients For Keto Breakfast
Eggs: Due to their high protein, healthy fat content, and low carbohydrate content, eggs are a staple in many keto breakfast recipes. They can also be scrambled, fried, poached, boiled, or baked, making them highly flexible.
Avocado: Due to its high fiber and healthy fat content, it is another common ingredient in keto breakfast recipes. It tastes fantastic sliced on top of toast, in omelets, breakfast salads, and other dishes.
High in Protein Ingredients. Both bacon and sausage are delicious ingredients high in protein and healthy fats, making them great options for a keto breakfast. Just make sure to pick those without added sugars or preservatives.
Another great source of healthy fat is nuts and seeds like almonds, walnuts, chia seeds, or flaxseeds. They can be added to a smoothie bowl, oatmeal, or waffles.
Non-starchy vegetables like spinach, kale, and bell peppers are a great way to add flavor, nutrients, and fiber to your keto breakfast.
What Is A Keto Diet?
The ketogenic diet is high in healthy fats and low in carbs. Therefore, the diet calls for significantly lowering the amount of carbs consumed and substituting fats in their place. This technique aids the body's natural metabolic state of ketosis.