Who doesn't love the sweet flavor of butternut squash in savory or sweet recipes on a cold day? This guide will help to know if butternut squash is keto and how to prepare it in 5 different ways.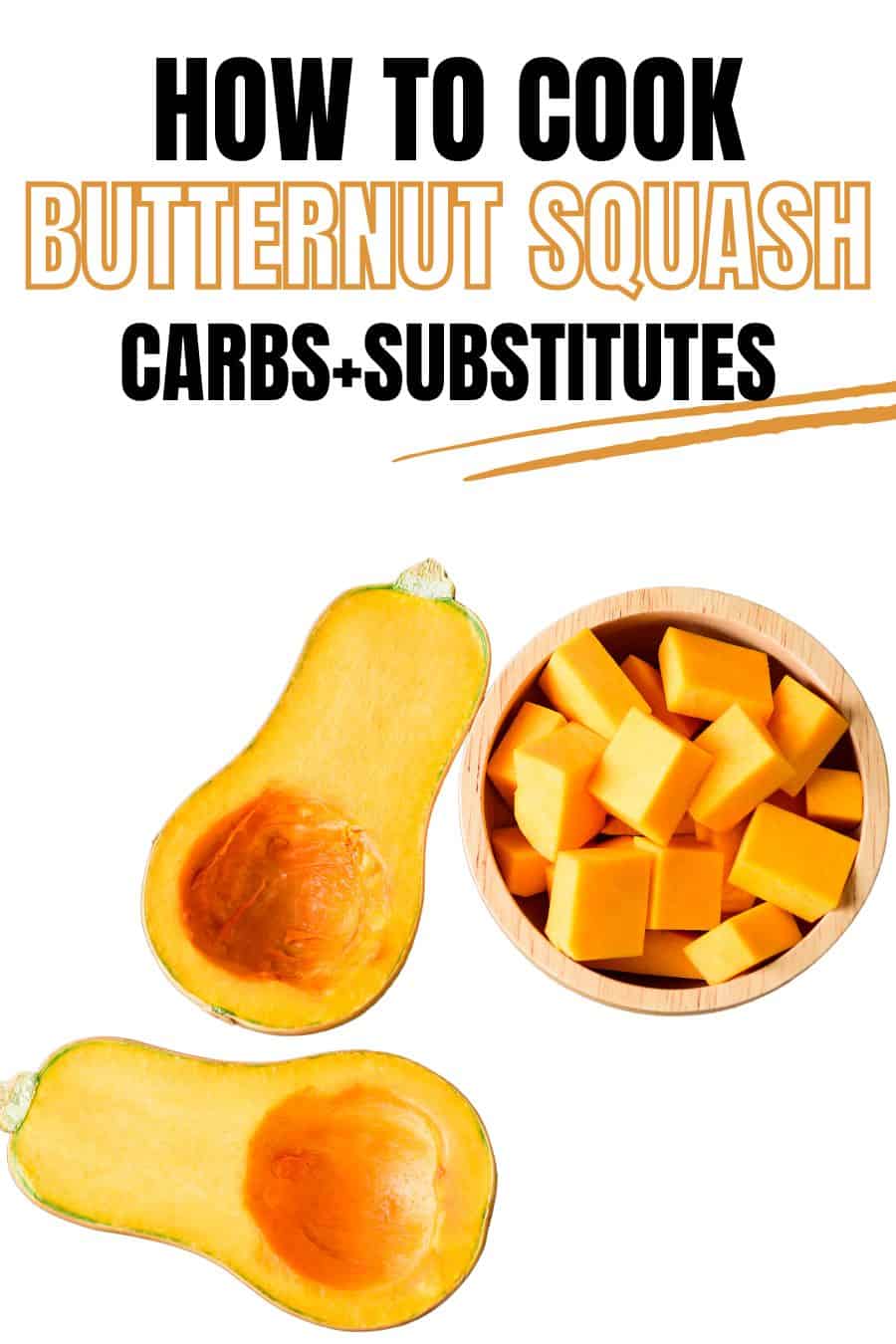 Apples, pumpkins, cranberries, and butternut squash, are just a few of the seasonal ingredients we can use to make some delightful and cozy meals ideal for the fall season.
In this post, you will learn how to peel, seed, cut, and cook butternut squash in many ways. You will also find instructions on storing this cooked butternut squash in the freezer for many delicious recipes.
Is Butternut Squash Keto-Friendly?
As long as you keep track of your carbs, you can consume butternut squash while following a ketogenic diet. This is because butternut squash net carbs that eating too much of it could result in consuming too many carbs.
Nutrition Values per 100g of Butternut Squash
Carbs 11.69 g
Fat 0.1 g
Protein 1 g
Sugar 2.2 g
Dietary Fiber 2 g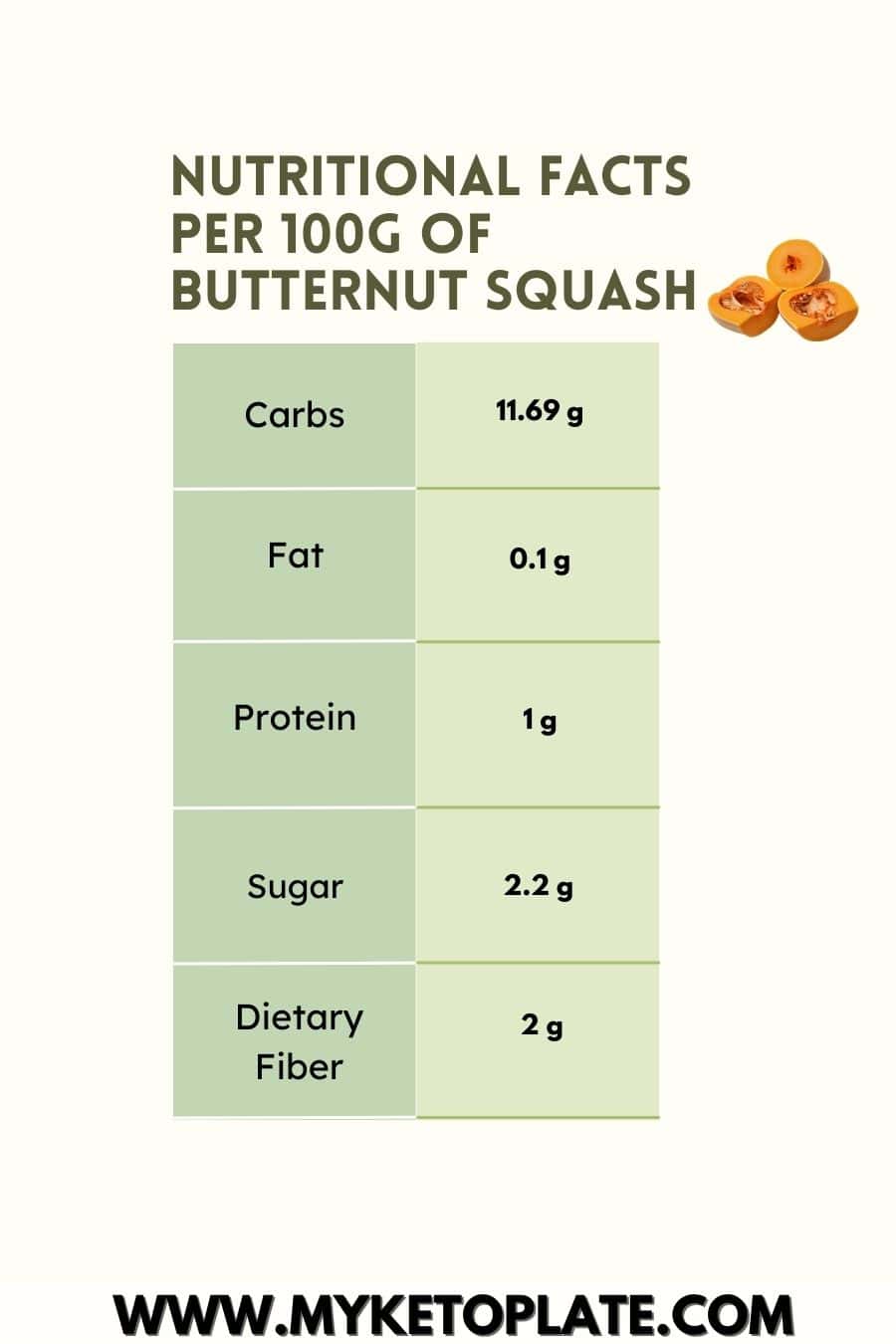 Ways To Cook Butternut Squash
A great thing about butternut squash is that it can be cooked in different ways. Here are some great ideas:
1. How To Cook Butternut Squash In The Oven
Start peeling and cutting the butternut squash, then cut it into 1-inch cubes.
Transfer the butternut squash cubes to a baking sheet lined with parchment pepper, add the seasonings and mix until well combined.
Preheat the oven to 200 C degrees and bake the butternut squash for 25-30 minutes.
Remove it from the oven and enjoy.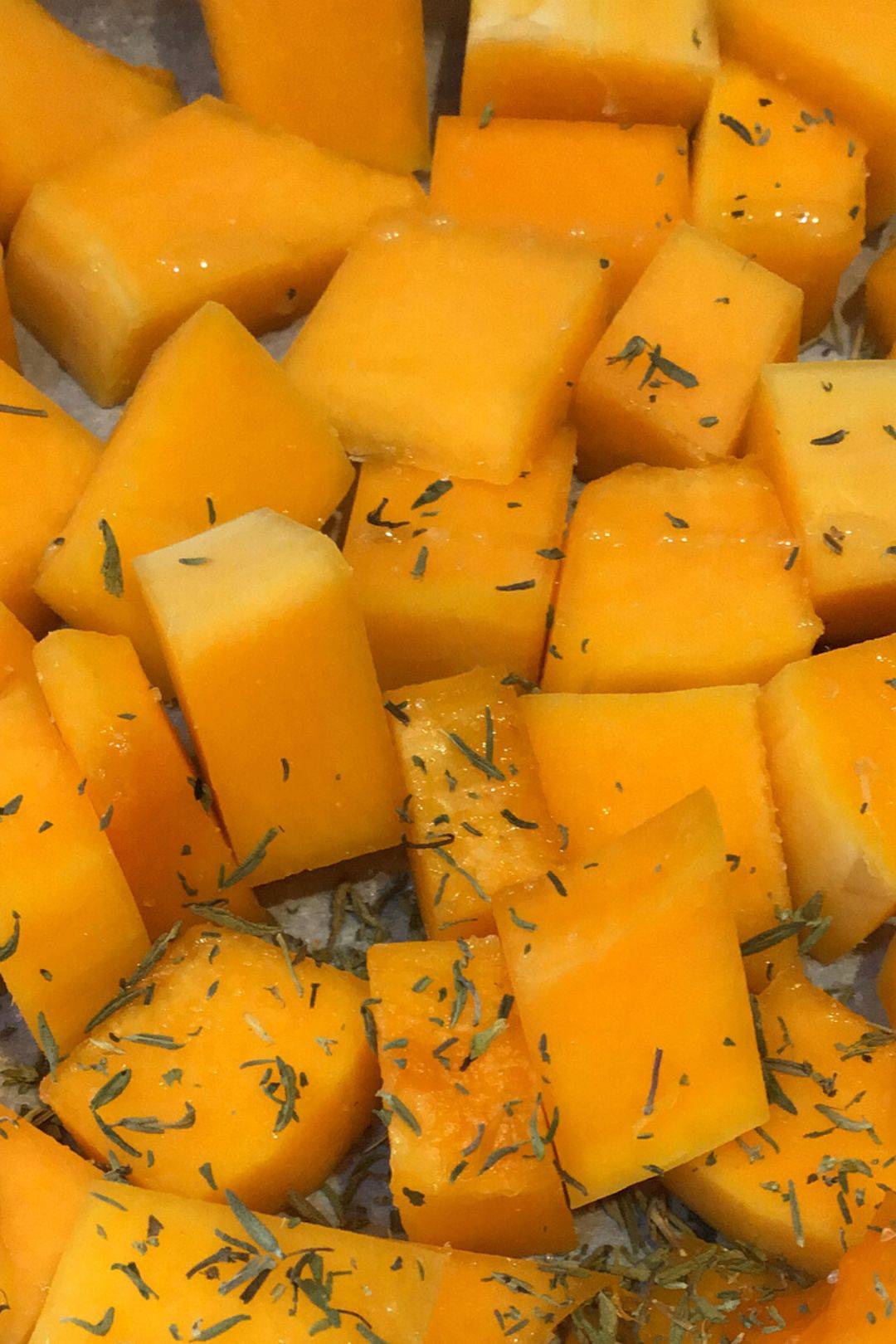 Can I Bake Halves of Butternut Squash?
Sure, wash and cut your butternut squash in half, remove the seed, brush it with olive oil, and season it with salt and pepper.
Add the butternut squash to a baking sheet, then bake it in the preheated oven for 30-40 minutes.
How Long To Bake Butternut Squash?
The butternut squash needs to be cooked in the oven for 30 minutes or until it is lightly browned and can be easily inserted with a fork.
2. How To Cook Butternut Squash On The Stove
After you have peeled and cut the butternut squash, add the 1-inch pieces of squash to salted hot water and boil until tender for about 12 minutes. After they are cooked, make sure that you drain the water to prevent the butternut squash from becoming too mushy.
3. Mashed Butternut Squash
Just like mashed cauliflower, you can choose to cook the butternut squash(either roasted or boiled) and puree it. Then, add butter and seasonings to make it taste better and warmer.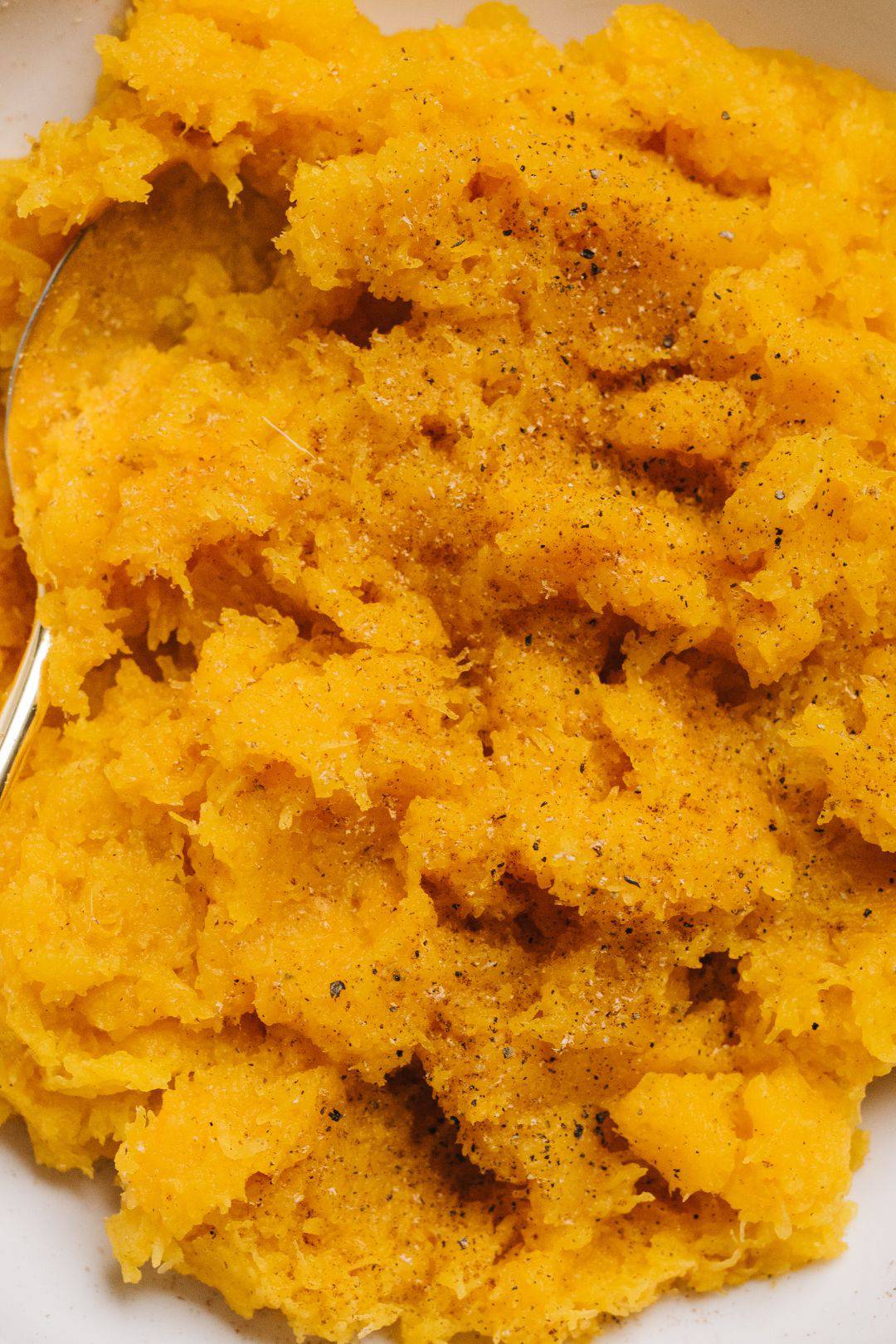 4. How To Cook Butternut Squash On The Grill
Another great way to cook butternut squash is on the grill. Start by cutting it in half and removing the seeds. Brush the butternut squash halves with olive oil, season with salt and pepper, then grill them for 30 minutes until slightly caramelized.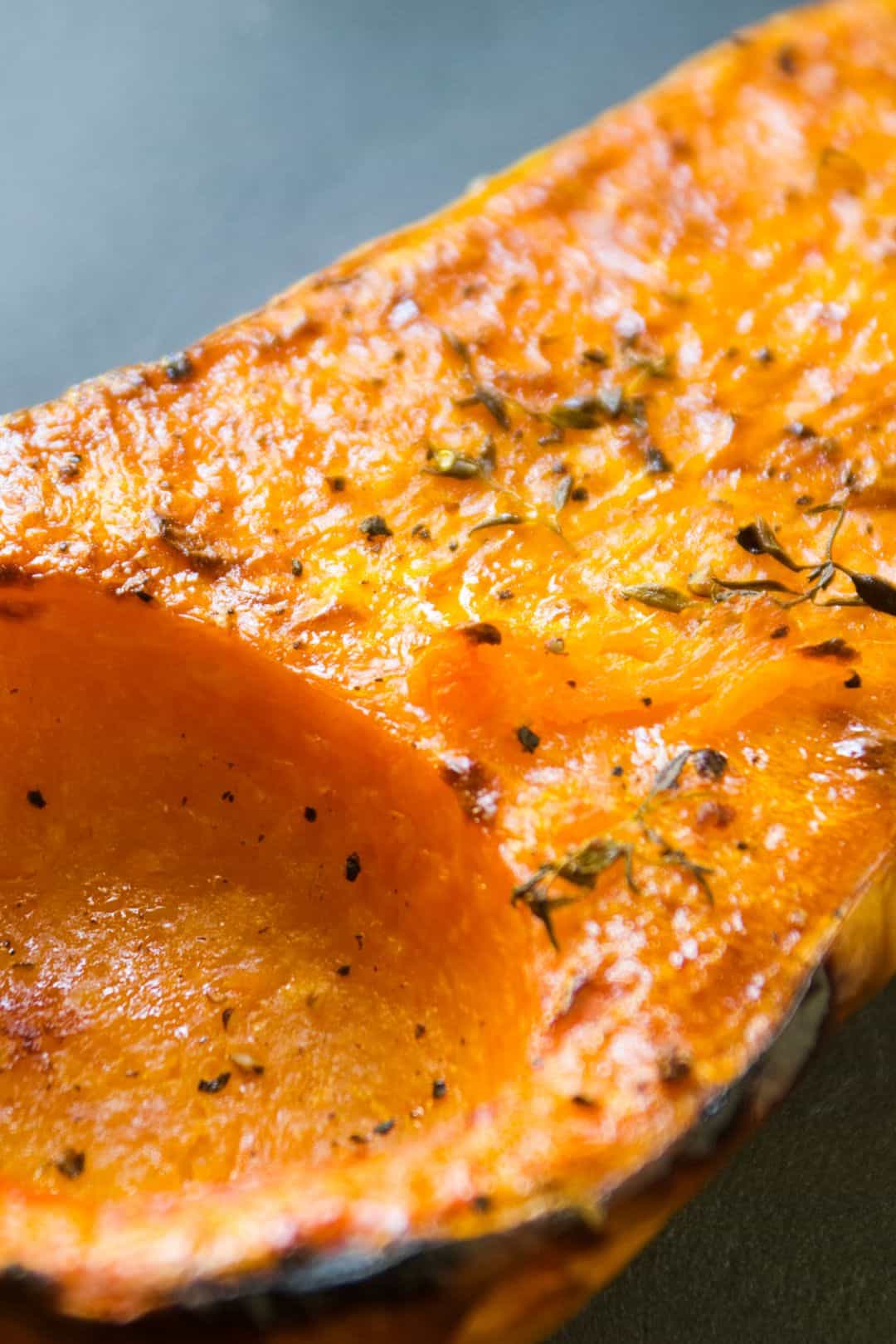 5. Air Fryer Butternut Squash
Start by cutting the butternut squash, then remove the seeds and pulp.
Brush the squash with olive oil and sprinkle your favorite seasonings.
Place the squash in the air fryer and cook for 30 minutes at 350F until tender.
Seasoning That Pairs Well With Butternut Squash
When I cook butternut squash, I use seasonings like salt, pepper, and garlic powder, but other great seasonings go well with butternut squash. Here is a list:
Rosemary
Thyme
Cayenne Pepper
Smoked Paprika
Cumin
Red Pepper Flakes
Keto Butternut Squash Substitutes
If you find a recipe that calls for butternut squash but doesn't have any in your kitchen, some substitutes taste the same as delicious as butternut squash. Here are some of them:
Summer Squash
Pumpkin – tastes and has almost the same texture as butternut squash.
Yellow Squash
Health Benefits Of Eating Butternut Squash
Vitamin C, abundant in butternut squash, supports healthy immune system functioning and tissue healing.
Butternut squash is rich in folates, which are necessary for the production of DNA during pregnancy.
Vitamins E and beta-carotene are just a few of the potent antioxidants that are abundant in butternut squash.
Certain antioxidants found in butternut squash, such as carotenoid antioxidants and vitamin C, have been linked to a lower risk of developing certain malignancies.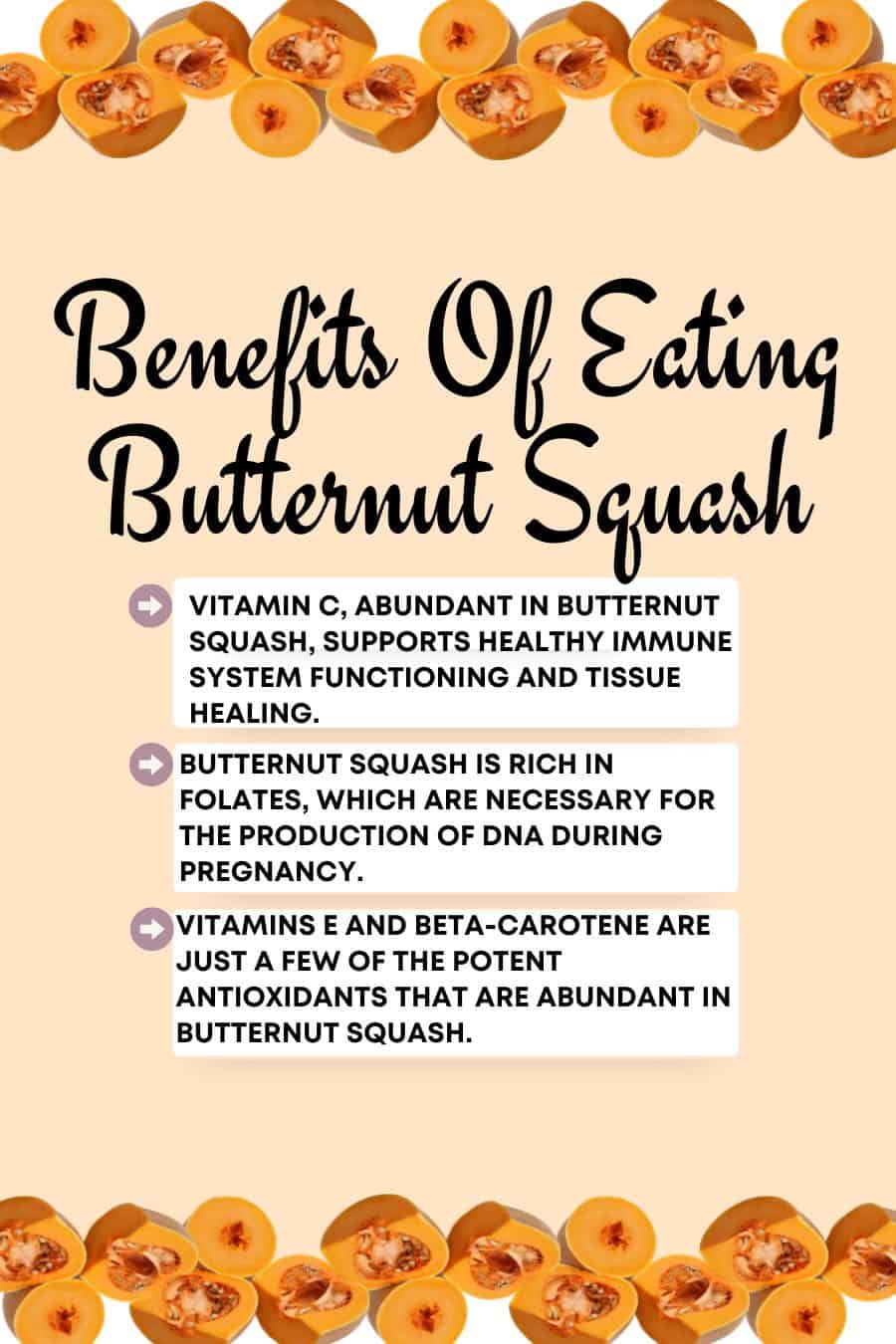 Frequently Asked Questions
How To Peel Butternut Squash?
Cut the squash's stem and top using a sharp knife, then cut the bottom 1/2 inch and throw them away. Then, holding the squash carefully in your other hand, use a sharp vegetable peeler to completely remove the squash's skin.
How To Cut Butternut Squash?
Cut the peeled squash in half, remove the seeds using a spoon, and then slice each half into 1-inch slices. Each slice can then be quickly sliced into 1-inch cubes in any size you like, depending on how you plan to use it.
Can I Freeze Cooked Butternut Squash?
Sure, after you cook the squash, let it cool, mash it, then transfer the puree to freezer-safe bags, and store them in the freezer for up to 4 months.
You can use the thawed puree to make pumpkin brownies, muffins, or delicious keto soups.